Tea tree oil has been praised for its antibacterial properties in fighting acne. First reported in the 1920s for its medicinal properties in an Australian survey, this oil "was considered so important for its medicinal uses that Australian soldiers were supplied oil as part of their military kits during World War II [source]." Tea tree oil saw a resurgence in use during the 1970s during the widespread interest in natural choices. The majority of species are native only to Australia but have been introduced to other regions throughout the world.
So why is tea tree oil such a popular ingredient in the medicinal and skincare world?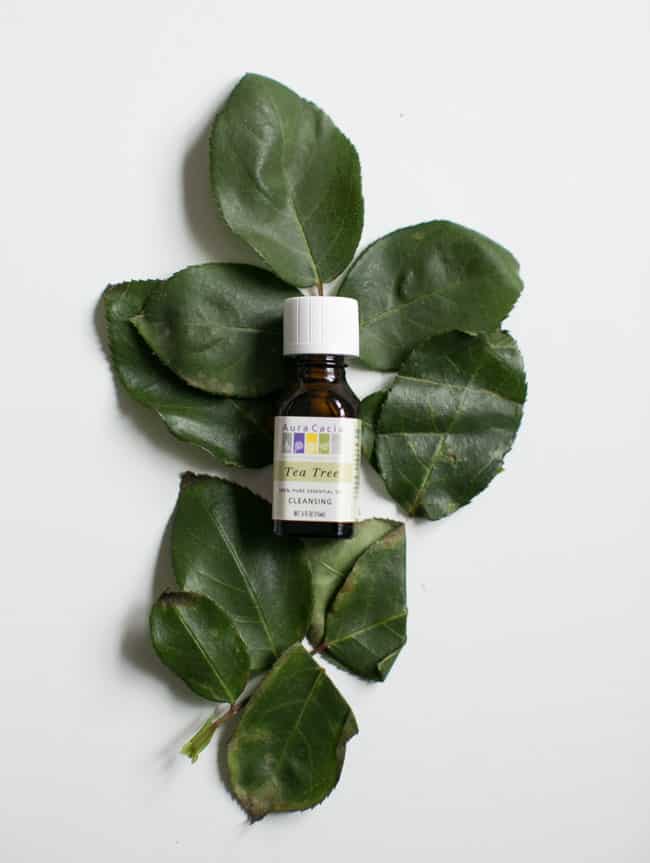 Why We Love Tea Tree Oil

Not only is tea tree essential oil effective for treating mild to moderate acne, but it isn't as irritating or drying to the skin compared to other active acne ingredients such as benzoyl peroxide or salicylic acid. Note that irritation can occur if the oil is applied neat (concentrated, without dilution), but combined with a proper carrier oil, tea tree can be extremely helpful in fighting acne-associated bacteria.
Additionally, this natural antimicrobial alternative is fantastic for spot treatment for hormonal acne or that pimple that likes to show up just before important events! It's ideal for use on the skin because it's one of the milder essential oils.
Another reason tea tree oil is beneficial for acne is because of its wound-healing properties due to its ability to activate white blood cells [source]. Some of its components also fight cells that cause inflammation [source]. So with both of these actions, you can see why it can help inflammatory acne, especially when it causes open sores.
8 Tea Tree Essential Oil Acne Remedies

1. Acne Roll-On Spot Treatment
Jojoba, hemp seed, and grapeseed oils are excellent carrier oil choices for fighting acne. They are non-greasy, easy to find, and gentle on the skin.
—Roll-on applicator bottles – 5 or 10 mL
—Tea tree essential oil (melaleuca)
—Carrier oil – jojoba, hemp seed, or grapeseed oil
Using a 5 or 10 mL roll-on applicator, fill 3/4 of the way with your choice of carrier oil. Fill the remaining 1/4 with tea tree essential oil.
Mix and roll it on the next time you face a breakout. Store in a dark location to keep the roll-on recipe effective.
2. Tea Tree Oil Face Wash
Tea tree oil makes an excellent face wash. Since it's gentle on the skin yet has potent antimicrobial properties, it's a fantastic choice for cleansing your face.
—Facial cleanser
—Tea tree oil
Simply add a drop to your favorite facial cleanser and (gently) scrub away!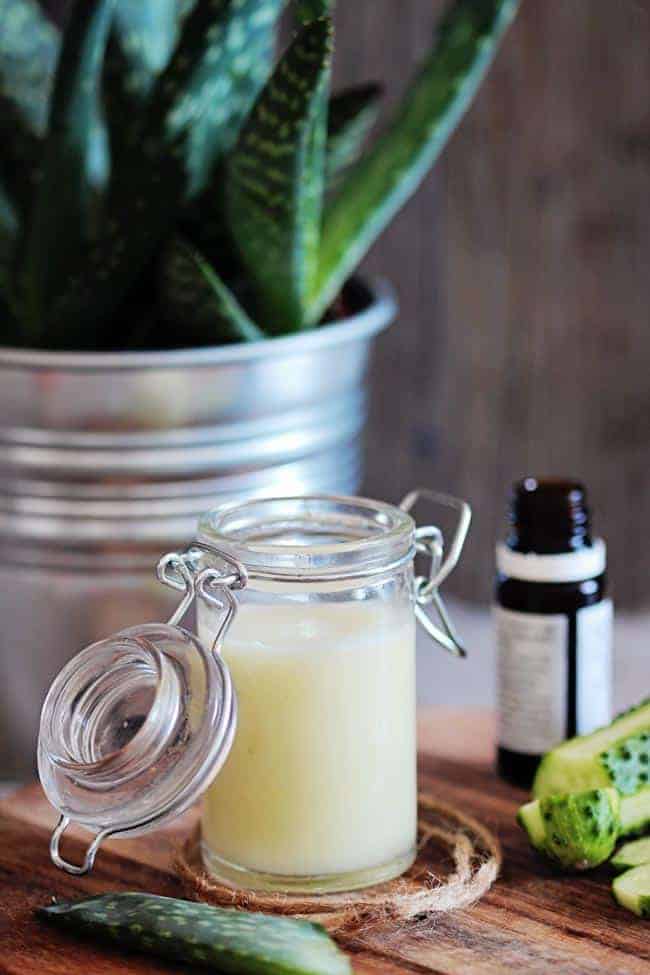 3. Tea Tree Acne-Fighting Mask
The aloe and cucumber will soothe inflamed skin since cucumbers have cleansing and soothing properties [source], making them a great choice for treating blemishes.
—4 tablespoons aloe vera gel
—2 drops tea tree essential oil
—1/2 peeled cucumber
Mix the aloe vera gel, tea tree oil, and cucumber well in a blender. Apply the mixture to your face with your fingertips or a facial brush.
Leave it on for 10 to 15 minutes. Rinse thoroughly and follow with moisturizer or serum.
4. Tea Tree Oil Facial Toner
Tea tree oil also works well in a facial toner. You'll boost the cleansing and anti-inflammatory properties of your toner in no time!
—Facial toner
—Tea tree oil
Use one of these recipes for making your own DIY facial toner, and add a few drops of tea tree oil to the mix. Just make sure to shake well before each use.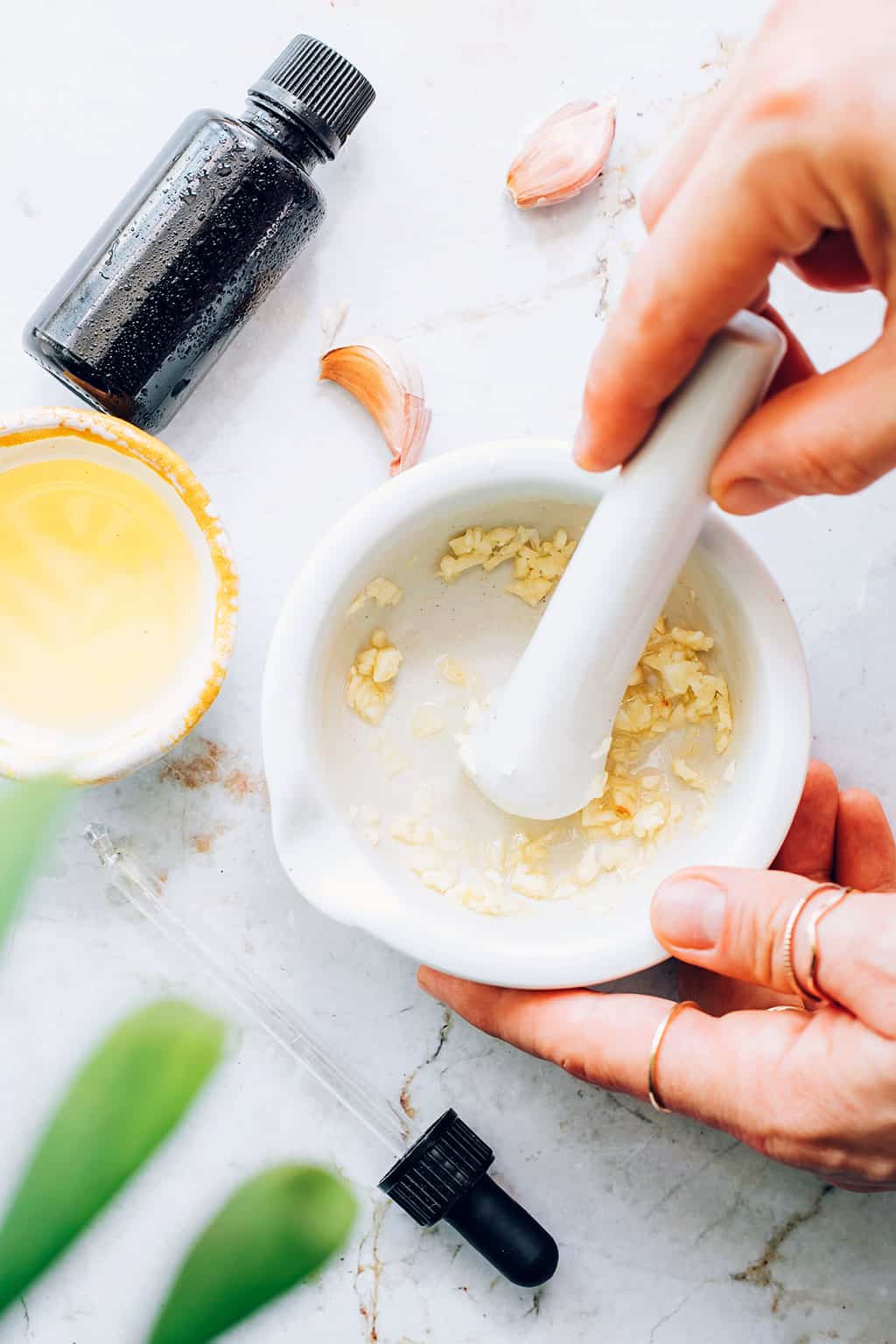 5. Tea Tree Oil Acne Spot Treatment
This easy-to-make spot treatment is great to leave on overnight. Just apply sparingly with a cotton swab, and you are good to go.
—1/2 clove fresh garlic crushed and finely mashed
—1/2 teaspoon jojoba oil
—1-2 drops of tea tree oil
Take half a garlic clove and chop finely or mash it really well with the back of a spoon (or mortar and pestle). Add 1/2 teaspoon jojoba oil to the garlic. Add 1-2 drops tea tree oil and mix.
Apply to any acne spots or pimples with a clean finger or Q-tip. Don't be afraid to leave pieces of garlic on pimples to let them work their magic.
Leave the spot treatment on overnight and then wash off in the morning. The mixture can be stored in the refrigerator for a few days, but again, fresh is best for potency.
6. Tea Tree Oil Facial Scrub
A tea tree facial scrub is a great item to have on hand when you're fighting acne. When used gently, sugar can help slough off dead skin, while jojoba oil helps to moisturize. When you add tea tree oil to the mix, you get the added bonus of its antimicrobial and anti-inflammatory properties as well!
—2 tablespoon organic sugar
—1 tablespoon jojoba oil
—1 drop lavender essential oil
—1–2 drops tea tree essential oil
Combine ingredients in a small bowl. Use clean fingers to massage the mixture onto clean skin. Rinse thoroughly with warm water.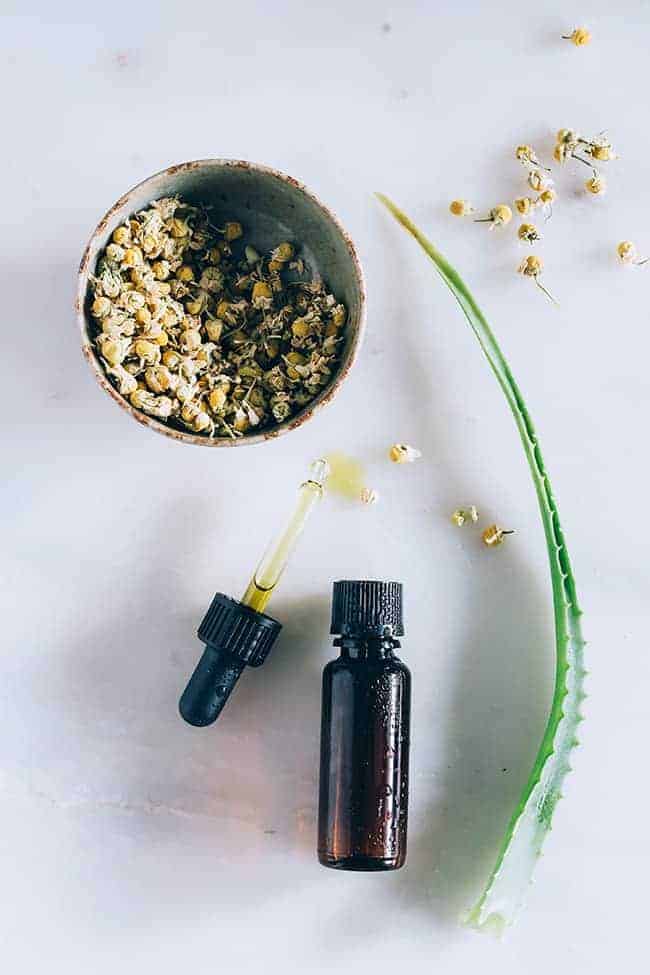 7. Acne-Fighting Tea Tree Face Serum
—1 ounce grapeseed, hemp or jojoba oil
—6 drops tea tree essential oil
—Aloe vera gel
Mix the tea tree essential oil into your chosen carrier oil using 2 essential oil drops per 1 ounce of carrier oil and store in a dark glass bottle.
To use, place a pea size amount of the oil in the palm of your hand and add a few drops of aloe vera gel, mix together and apply all over your face and neck.
8. DIY Acne Treatment Balm
A few go-to ingredients that really help with the clogging, redness and inflammation can be used together to work wonders on pesky pimples. Zinc oxide is not a typical ingredient that comes to mind when fighting acne, but don't underestimate its power. Its benefits include healing wounds, regenerating cells, and bringing inflammation down–all of which work well in fighting acne.
—1/2 scoop or 1/2 teaspoon zinc oxide powder (non-nano and lead-free)
—1/2 teaspoon aloe vera gel
—3-4 drops tea tree oil
—2 teaspoons coconut oil, melted
—Empty lip balm tube
—Funnel
Combine all of the ingredients in a small glass bowl and whisk well. Use the funnel to pour the mixture into the empty lip balm tube and refrigerate to harden. Apply the balm to acne twice a day.
Do you use tea tree oil regularly in your home? Some add it to their laundry detergent or diffuse it in their homes. Placing a few drops in the vacuum bag can also do wonders to help eliminate odors.
This article was medically reviewed by Dr. Gina Jansheski, a licensed, board-certified physician who has been practicing for more than 20 years. Learn more about Hello Glow's medical reviewers here. As always, this is not personal medical advice and we recommend that you talk with your doctor.
111