As a regular reader, you have probably figured out that we love to try all sorts of face masks. Clay, to get all those impurities out. Yogurt, to amp up probiotics. Avocado, honey, egg whites—you name it!
But all of these homemade masks can be a little messy. Making them is fun; having them on your face is relaxing, but cleaning the sink afterward? Not so much. That's why sheet masks are a godsend.
And it's even socially acceptable now to take a selfie in a sheet mask, so that's a win-win! Super hydrating because of the high water content and the sheet acting as a barrier against evaporation, this type of face mask offers visible results on the spot. Perfect if you're impatient like us!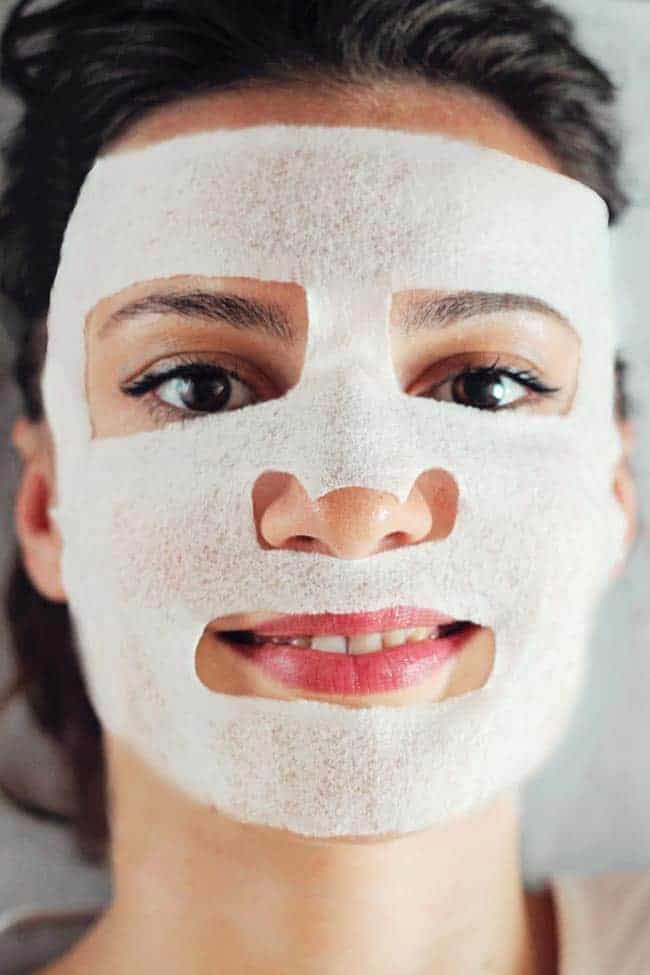 5 Ways to DIY a Sheet Mask
The sheet is simply a vehicle to transport the fluids or ingredients to the skin. You can DIY your own sheet mask at home in a few different ways; here are five options. Just remember, always apply masks to clean skin.
1
.
Use a tissue
Grab a Kleenex and separate the tissue pieces. Fold each piece in half. Now you've got two pieces to use, one for the top half of your face (forehead, eyes, tops of cheeks) and one for the bottom (chin, lower cheeks, jawline).
2
.
Try cotton pads
Grab a few cotton pads that you use to remove makeup and soak them in the liquid face mask mixture. Then separate cotton layers and place them all over the face, including the forehead, nose, cheeks, chin, and jawline.
3
.
Buy pre-made blank sheet masks
Yes, you can buy blank sheet masks that are ready to use with your homemade facial mixtures!
4
.
Make your own fabric face template
Or cut your own, using a piece of cotton or silk to make a DIY reusable sheet mask. You can add holes for the eyes or nose or simply use extra sections to avoid these areas.
5
.
Seaweed or rice paper
You don't have to stick to tissue or fabric! Pantry items like seaweed strips and rice paper can be repurposed into sheet masks. See the recipes below for how to use them.
What to Put in a Sheet Mask
Step 1
:
Start with a liquid
.
Strong brewed tea
Try green or black tea for an antioxidant boost [source]; tea also has caffeine to tone skin and reduce puffiness. Use chamomile for redness or irritation [source]. Hibiscus [source] or rosehip [source] teas are great for a topical dose of vitamin C.
Steep the tea longer than you normally would for drinking, and then let it cool completely before using it on your face.
Rosewater
Rosewater is an excellent all-purpose sheet mask liquid that works for every skin type, especially combination or mature skin. The floral water has a calming effect, is hydrating, and has a natural mild antiseptic action [source].
Witch hazel
If you're battling blemishes, witch hazel has astringent properties [source] that help dry out excess oil as well as antibacterial actions that ward off blemishes.
Fruit or veggie juice
If you're a juice fan, save a bit next time for a sheet mask. Cucumber, tomato, and carrot juice are all great sheet mask options. You can also use fruit juices like pomegranate or pineapple.
Milk
Milk can help hydrate and soften dry, itchy skin, while its natural lactic acids exfoliate [source]. Use organic whole milk, if possible.
Step 2
:
Add beneficial extras
.
Honey: Its antifungal and antibacterial properties [source] combined with its natural ability to draw in moisture make it a favorite addition.
Carrier oil: Sheet masks are a great place to use powerhouses like avocado [source], pomegranate [source], and rosehip seed [source] oils, where a few drops go a long way in conditioning and hydrating the skin.
Activated charcoal: Stir in ¼ teaspoon of activated charcoal to help clean out clogged pores.
Vitamin C powder: Vitamin C fights free radical damage and combats the effects of aging while it helps to balance the skin's pH levels [source]. Add just a tiny pinch and patch test before using.
Hyaluronic acid: Add a few drops of hyaluronic acid serum to hydrate dry skin and plump up wrinkles and sagging [source].
Collagen: Stir a teaspoon of collagen into the liquid until it's fully dissolved.
4 Homemade Sheet Face Mask Recipes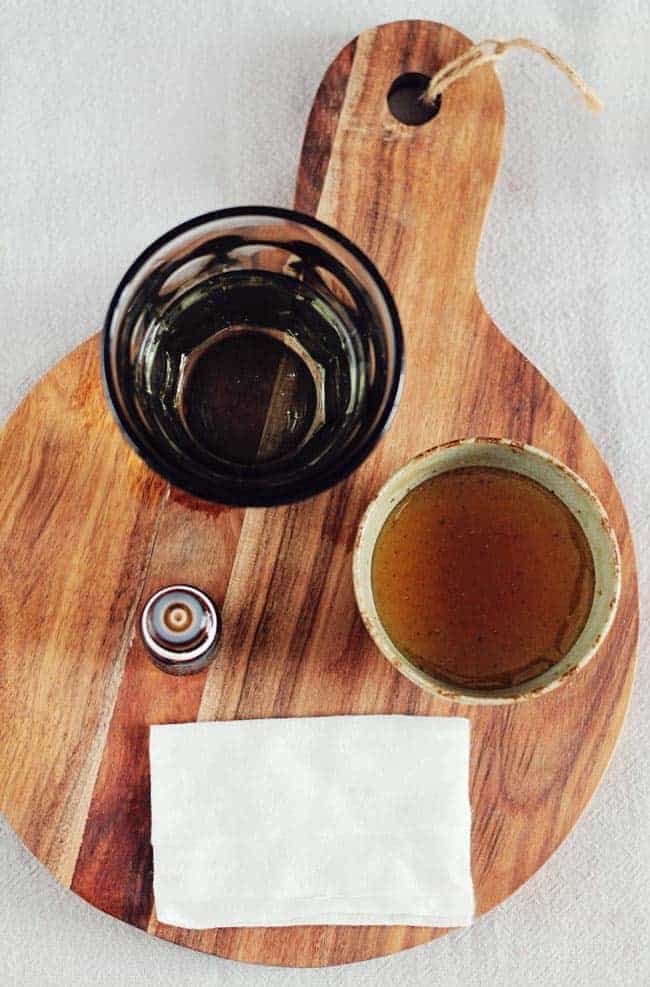 1
.
Hydrating Anti-Aging Sheet Mask
Rosehip seed oil is full of vitamins and essential fatty acids [source] that hydrate and treat aging skin. This nourishing oil is also a potent antioxidant [source] that promotes cell regeneration and brightens skin.
Combine these benefits with the dramatic dermatological effects of honey, which draws moisture into the skin, is naturally antibacterial, and is an excellent antioxidant [source], and—voila! A powerhouse combination is created with just these two ingredients.
—3 tablespoons hibiscus tea, cooled
—½ teaspoon raw honey
—5–7 drops rosehip seed oil
In a bowl, combine the tea, ½ a teaspoon of honey, and 5–7 drops of rosehip seed oil. Mix together with a spoon or fork. Gently dip the tissue into the bowl until it is fully saturated.
Place the tissues over the face and press them into the skin. Leave on for 10–15 minutes or longer. Close your eyes, listen to music or a podcast, and relax.
When finished, peel off the sheet and rinse the face. Be sure to follow with an appropriate serum or moisturizer.
2
.
Acne DIY Sheet Mask
Tea tree's antibacterial properties [source] are a great addition to any sheet mask, especially for battling acne. Witch hazel is also wonderful for drying out oily skin, treating inflammation [source], and warding off infection by skin bacteria [source].
Chamomile tea calms inflammation and redness [source], commonly seen in sensitive skin. Together, the components in this serum make it a beneficial acne treatment mask.
—2 tablespoons chamomile tea, cooled
—3 drops tea tree essential oil
—1 tablespoon witch hazel
Combine the tea tree, cooled chamomile tea, and witch hazel in a bowl and mix. Next, place the tissue into the bowl to absorb the liquid. When the tissue is fully saturated, place it on the face for 10–15 minutes.
Gently pat with your fingertips any excess liquid after removing the sheet mask. Rinsing is not necessary for this mask but optional. Follow with an appropriate serum or moisturizer.
3
.
Wrinkle-fighting sheet mask
Use honey, egg white, and green tea to restore moisture, tighten and lift skin, and destroy free radicals that cause aging.
—¼ cup green tea, cooled
—1 egg white
—1 teaspoon honey
—3 drops Roman chamomile essential oil (optional)
Brew 1 cup of green tea and let it cool. Put ¼ cup of cooled tea in a small bowl and whisk in one egg white. Add the honey and essential oils if using and stir. Soak the mask in the liquid and apply it to your skin for 15 minutes.
When finished, peel off the sheet and pat the skin dry. Follow with an appropriate serum or moisturizer.
4
.
Redness calming sheet mask
Soothe skin irritation with a combination of aloe vera and chamomile. Aloe vera reduces swelling and promotes healing, and chamomile eases inflammation. Add a bit of oil to moisturize while treating your skin.
—¼ cup chamomile tea, cooled
—2 tablespoons aloe vera gel
—6 drops grapeseed oil
Brew the tea and let it cool; then stir in the aloe vera gel and oil. Soak the mask and apply it to your skin for 15 minutes.
When finished, peel off the sheet and pat your skin dry. Follow with an appropriate serum or moisturizer.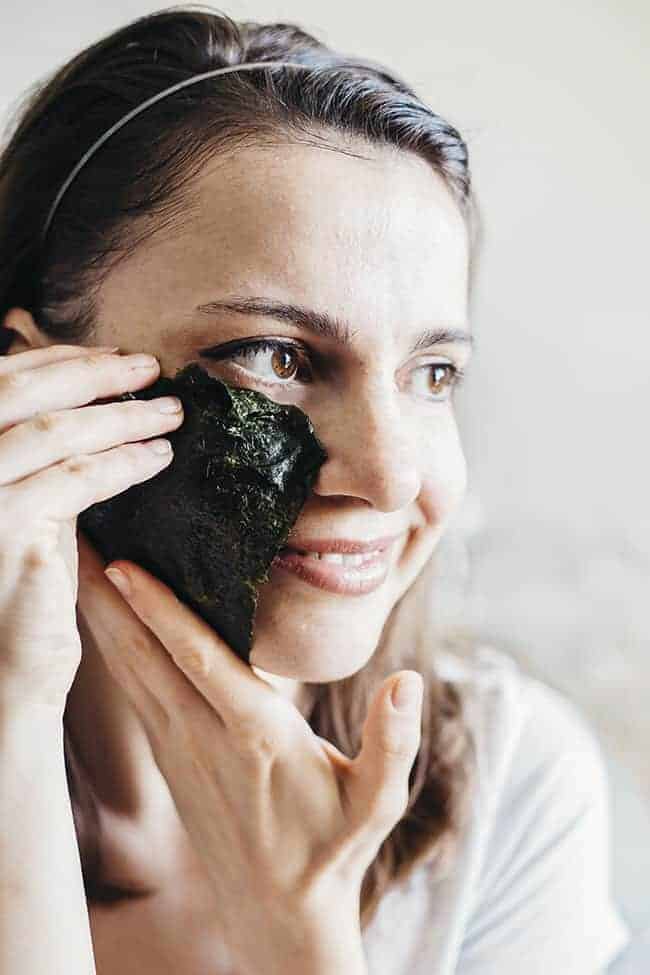 5. Exfoliating seaweed sheet mask
Seaweed's anti-inflammatory and natural exfoliant properties make it a perfect choice for those suffering from acne or rosacea. The vitamins found in seaweed can help ease the swelling and redness often associated with breakouts and the pooling of blood beneath the skin for those with rosacea.
Seaweed sheet masks are easy and inexpensive to use, and the ingredients can be found at your local health food store.
—A few sheets of organic Nori seaweed
—Filtered water or green tea if you'd like to focus on anti-aging benefits
Place filtered water in a plate that has a small lip so nothing spills over. For just a second or two, dip the seaweed in the water to moisten. You also can substitute green tea for the filtered water if you would like a more anti-oxidant/anti-aging focused mask. Place the moistened sheets all over your face, you'll need about 3-5 sheets depending on the size of the seaweed, and several more if you are including your neck.
Homemade Sheet Mask Tips
What if my sheet mask falls apart
?
If your sheet mask is delicate, like a tissue, you don't want it to disintegrate before it gets to your face. To avoid this, you can combine the mask ingredients in a bowl and then pour the liquid onto a plate. Lay the mask flat onto the plate, let it absorb the liquid, and then carefully pick it up and apply it to your face.
Can I just use a serum I already have
?
Yes! You can easily make a sheet mask just by adding a few drops of a serum you already own to a bit of liquid, like rosewater or tea. You can even use filtered water.
Can I add essential oils
?
Yes, but don't add more than 1–3 drops, and stick to essential oils that are gentle enough to be used on the face. You can find our guide to the right essential oils for your skin type here.
6 More DIY Sheet Face Mask Recipes
These are some of our favorite DIY sheet mask recipes and tutorials: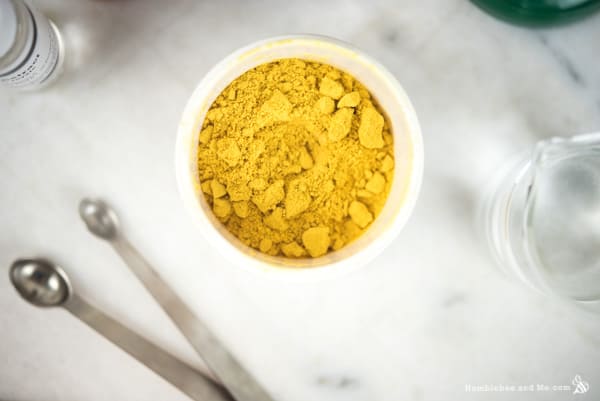 Honey is loaded with enzymes and antibacterial properties [source], making it the perfect base for a hydrating face mask. When paired with pollen and propolis, this mask will make you feel like the queen bee.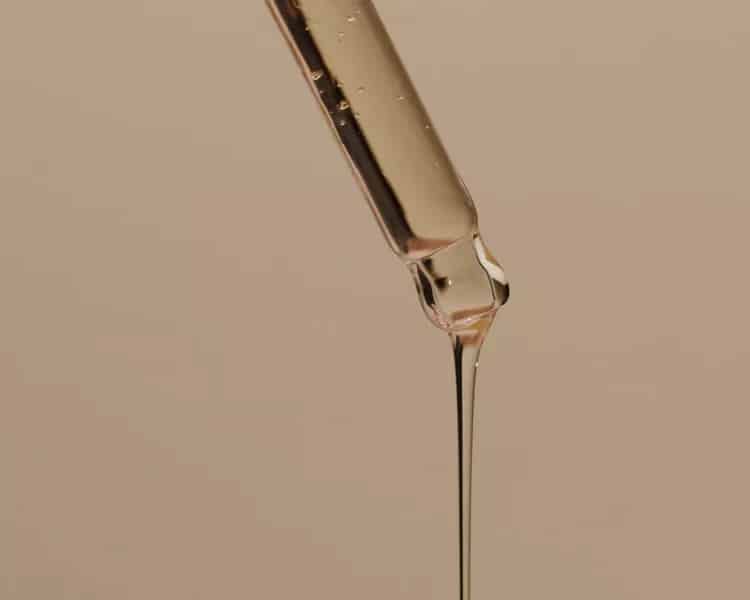 Use a cloth and your favorite serum to make a reusable, custom sheet mask that's just right for your skin!

Tighten and brighten your skin with just three ingredients: rosewater, glycerin, and your favorite serum. This way, you'll use a mask that's most suitable for your skin's particular needs.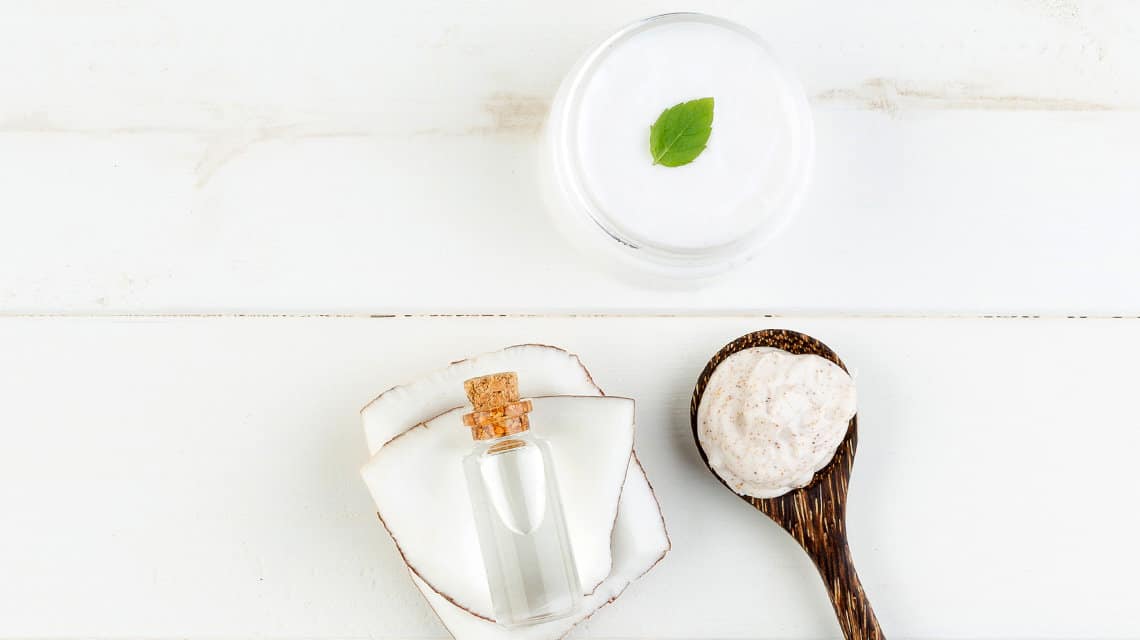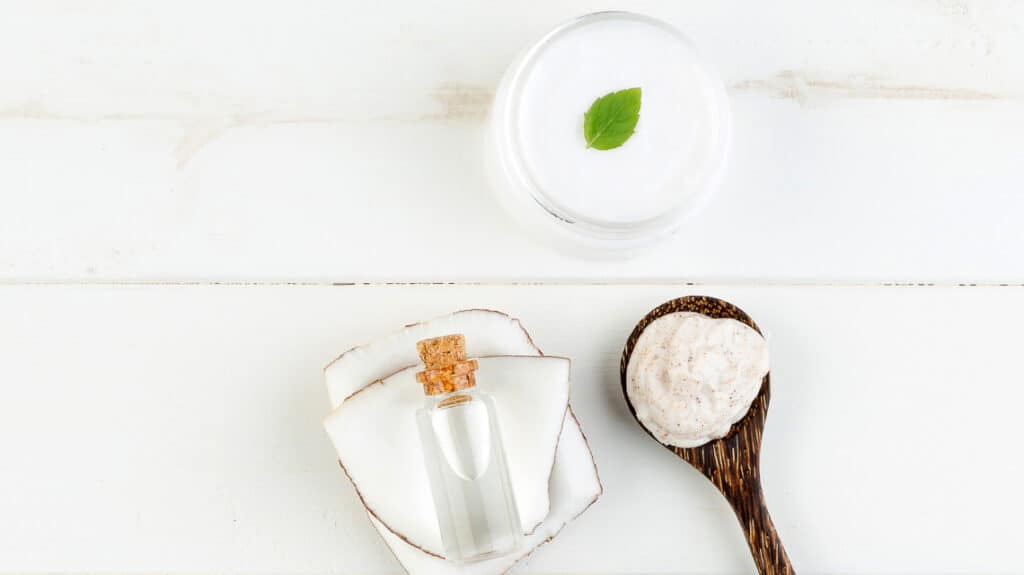 Make your own homemade formula to use with reusable sheet masks, depending on your skin's needs. Acne prone? Aging? Oily? There's a sheet mask for that!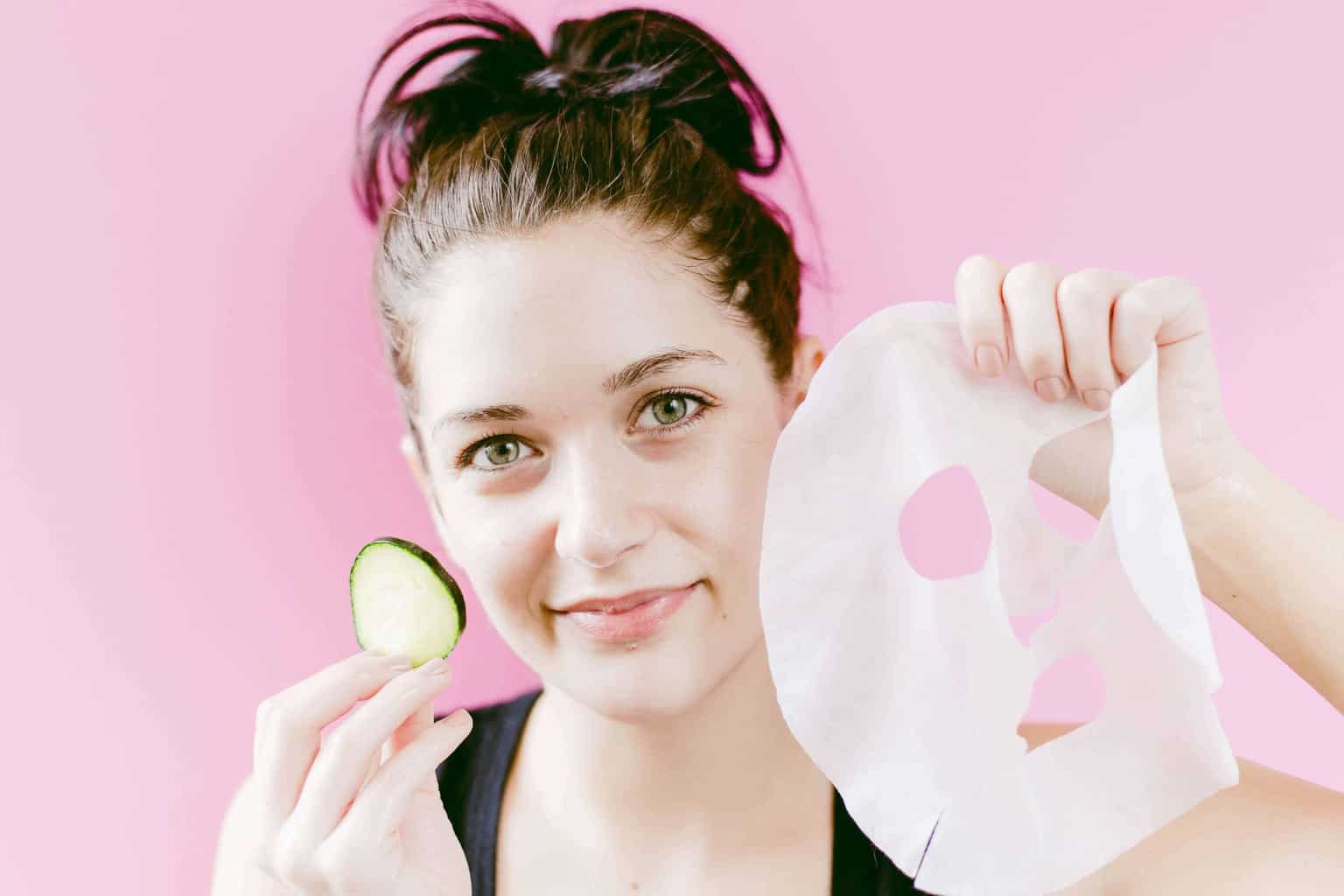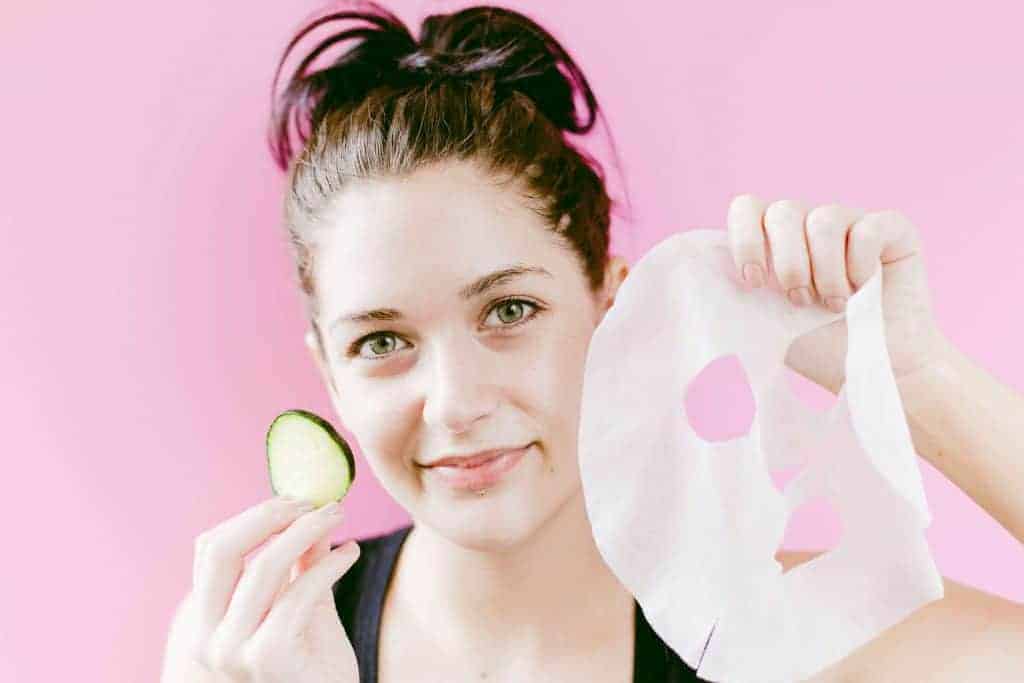 Hydrate your skin with a combination of rosewater, witch hazel, and rosehip oil without spending a ton of money on an imported sheet mask.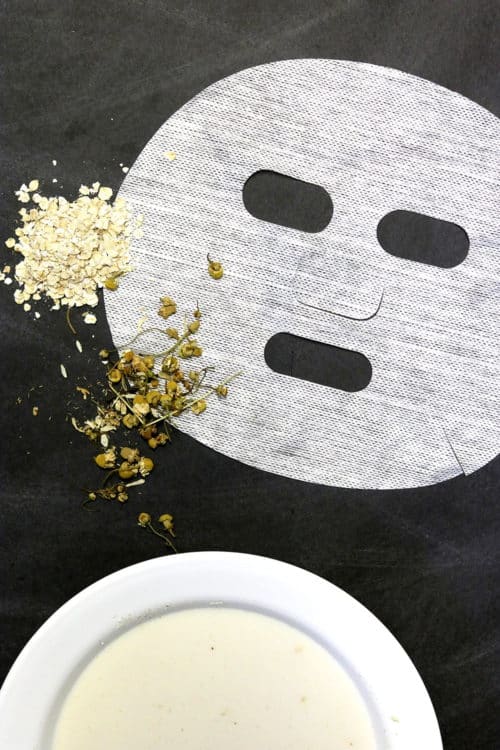 Ever noticed how expensive sheet masks can get, especially the Korean ones? Even if you only apply a mask weekly, you're still spending plenty.
This DIY version from Soap Deli News is perfectly customized for sensitive skin. And they're also frugal at under 10 cents apiece!
References:
1. Lambert JD, et al. The antioxidant and pro-oxidant activities of green tea polyphenols: a role in cancer prevention. Arch Biochem Biophys. 2010.
2. Srivastava JK, et al. Chamomile: a herbal medicine of the past with bright future. Mol Med Report. 2010.
3. Izquierdo-Vega JA, et al. Organic acids from Roselle (Hibiscus sabdariffa L.)—a brief review of its pharmacological effects. Biomedicines. 2020.
4. Mármol I, et al. Therapeutic applications of rose hips from different rosa species. Int J Mol Sci. 2017.
5. Mahboubi M. Rosa damascena as holy ancient herb with novel applications. J Tradit Complement Med. 2016.
6. Thring TSA, et al. Antioxidant and potential anti-inflammatory activity of extracts and formulations of white tea, rose, and witch hazel on primary dermal fibroblast cells. J Inflamm (Lond). 2011.
7. Smith WP. Epidermal and dermal effects of topical lactic acid. J Am Acad Dermatol. 1996.
8. Mandal MD, et al. Honey: its medicinal property and antibacterial activity. Asian Pac J Trop Biomed. 2011.
9. Lin TK, et al. Anti-inflammatory and skin barrier repair effects of topical application of some plant oils. Int J Mol Sci. 2018.
10. Pullar JM, et al. The roles of vitamin C in skin health. Nutrients. 2017.
11. Bukhari SNA, et al. Hyaluronic acid, a promising skin rejuvenating biomedicine: a review of recent updates and preclinical and clinical investigations on cosmetic and nutricosmetic effects. Int J Biol Macromol. 2018.
12. Du H, et al. Extraction and the fatty acid profile of Rosa acicularis seed oil. J Oleo Sci. 2017.
13. McLoone P, et al. Honey: a therapeutic agent for disorders of the skin. Cent Asian J Glob Health. 2016.
14. Carson CF, et al. Melaleuca alternifolia (tea tree) oil: a review of antimicrobial and other medicinal properties. Clin Microbiol Rev. 2006.
15. Colantonio S, et al. Botanicals with dermatologic properties derived from first nations healing: part 2 - plants and algae. J Cutan Med Surg. 2017.
16. Cheesman MJ, et al. An assessment of the growth inhibition profiles of Hamamelis virginiana L. extracts against Streptococcus and Staphylococcus spp. J Tradit Complement Med. 2021.
17. Miraj S, et al. A systematic review study of therapeutic effects of Matricaria recuitta chamomile. Electron Physician. 2016.
18. Cheong KL, et al. Oligosaccharides derived from red seaweed: production, properties, and potential health and cosmetic applications. Molecules. 2018.
19. Eteraf-Oskouei T, et al. Traditional and modern uses of natural honey in human diseases: a review. Iran J Basic Med Sci. 2013.
View this post on Instagram
This article was medically reviewed by Dr. Gina Jansheski, a licensed, board-certified physician who has more than 20 years of practice experience. Learn more about Hello Glow's medical reviewers here. As always, this is not personal medical advice, and we recommend that you talk with your doctor.
629