Anyone else hate going sleeveless? Let's face it—underarms can be kind of ugly. I know I'm not the only one that's self-conscious about having dark pits (how does that even happen anyway?). So if you're looking for a way to lighten your dark underarm skin, these simple home remedies could be just what you need.
Underarm discoloration can be caused by a variety of factors, including shaving, the use of certain deodorants, and even genetics. However, using a gentle scrub made from natural ingredients can help to exfoliate dead skin cells and reveal brighter, smoother skin. In this article, we'll go over how to make a homemade scrub for underarms, as well as some tips for using it effectively to achieve the best results.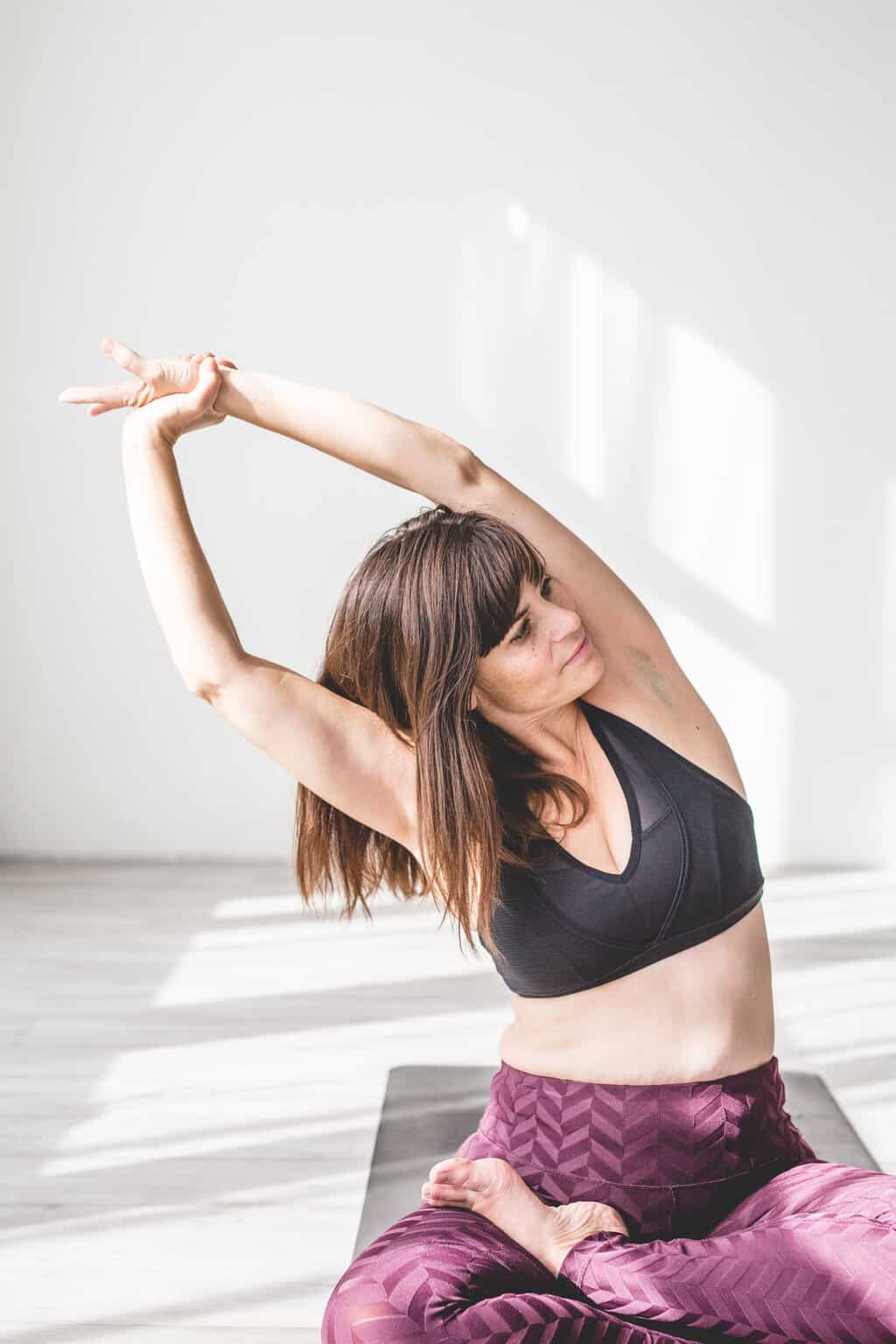 What Causes Dark Underarms
?
The term for darkened areas of skin is hyperpigmentation. This can occur anywhere on the body, but there are some characteristic locations and causes [source]. Dark underarms can be caused by a variety of factors, including:
Shaving
Shaving your underarms actually removes the uppermost skin layers, leading to irritation [source]. More frequent shaving leads to more irritation and a bunch of other issues [source], like increased thickness [source], ingrown hairs, dryness and redness [source], and post-inflammatory darkening of the skin.
Deodorant use
Certain deodorants contain chemicals and fragrances that can interact with the skin, leading to chronic irritation and skin discoloration.
Friction
Wearing tight clothes or constantly rubbing your underarms can cause the skin to darken over time due to long-term irritation.
Hyperpigmentation
This is a condition where the skin produces excess melanin in response to inflammation, which can lead to dark patches on the skin, particularly in more highly pigmented skin types [source].
Medical conditions
Certain medical conditions involving insulin resistance, such as type 2 diabetes or obesity, can cause acanthosis nigricans or darkening of the underarms, neck, and body folds. Hormone disorders or medications, including oral contraceptives and steroids, can also lead to this effect [source].
Genetics
Some people may be genetically predisposed to having darker underarms.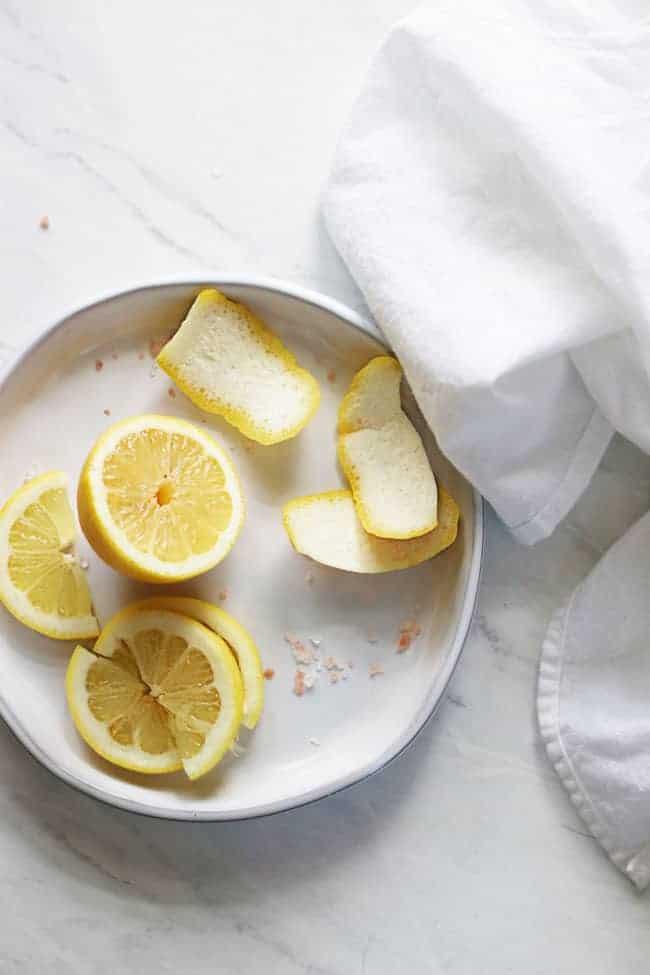 Common Home Ingredients for Dark Armpits
Here are some home remedies for dark underarms:
Lemon: Lemon juice is a natural bleaching agent and has been known to help lighten skin areas on repeated use. This has not yet been proven, but studies have clearly shown that vitamin C and alpha-hydroxy acids can brighten skin color [source], and lemons contain both. Cut a lemon in half and rub the juice onto your underarms, and leave it on for 10 to 15 minutes before rinsing it off with water.
Potato: Potatoes contain natural bleaching properties and are said to help lighten underarms. Cut a potato into thin slices and rub them onto your underarms for a few minutes before rinsing off with water.
Baking soda: Baking soda is sometimes used to exfoliate dead skin cells and remove dark stains. Mix a small amount of baking soda with water to form a paste, and gently massage it onto your underarms. Leave it on for a few minutes before rinsing off with water.
Turmeric: It's hard to imagine that this bright yellow spice can lighten skin. But studies have clearly demonstrated its anti-inflammatory action in skin disorders [source] as well as its usefulness for skin whitening [source].
Coconut oil: Coconut oil can help to moisturize and lighten the skin. Apply a small amount of coconut oil onto your underarms and massage it in for a few minutes before rinsing off with water.
Cucumber: Cucumber contains natural bleaching properties and is thought to help lighten underarms. Cut a cucumber into thin slices and rub them onto your underarms for a few minutes before rinsing off with water.
Green tea: Since it's packed with antioxidants and polyphenols, researchers have looked at green tea as a natural treatment for skin lightening. Certain components in green tea have been shown to block the pathway for making melanin [source].
Lavender essential oil: Lavender essential oil has anti-inflammatory properties and can help to soothe irritated skin. While it is not a bleaching agent, it can help to improve the overall appearance of the skin.
Frankincense essential oil: Frankincense essential oil has been used for centuries for its skin-healing properties. It is an anti-inflammatory [source] that can help to improve skin tone and reduce the appearance of dark spots.
Sandalwood essential oil: Sandalwood essential oil is known for its antioxidant effects [source], and its skin-brightening properties can help to improve skin texture and tone.
Homemade Recipes to Lighten Underarms
If you have those red upper arm bumps (technically called keratosis pilaris), it's even worse. So, while you're whipping your biceps into Michelle Obama-shape, here's a simple at-home treatment to make your pits (and your upper arms, if needed) more presentable.

Homemade Lemon Scrub
Lemon and peroxide are effective natural bleaching agents—they work on your clothes and your underarms!
—Juice from ½ lemon
—⅛ cup hydrogen peroxide
—¼ cup baking soda or cornmeal
Instructions
Combine these ingredients in a lidded jar. After washing, apply scrub to underarms and upper arms (if you have bumps) and rinse.
If your skin is more sensitive, it's best not to do this on the same day that you shave your armpits (if you do shave them). Freshly shaved skin is always a bit more sensitive! Also, be sure to rinse it all off thoroughly—lemon juice can make some people more reactive to the sun and cause brightening of your underarms.
This recipe also helps to battle any body odor—the acidity of the lemon juice helps to make your pits a place where odor-causing bacteria don't want to live and can help keep any funk at bay.
Exfoliating underarms also helps to get rid of any deodorant buildup. Yep, it blew my mind that that was a thing too, but it's sometimes the source of super persistent body odor!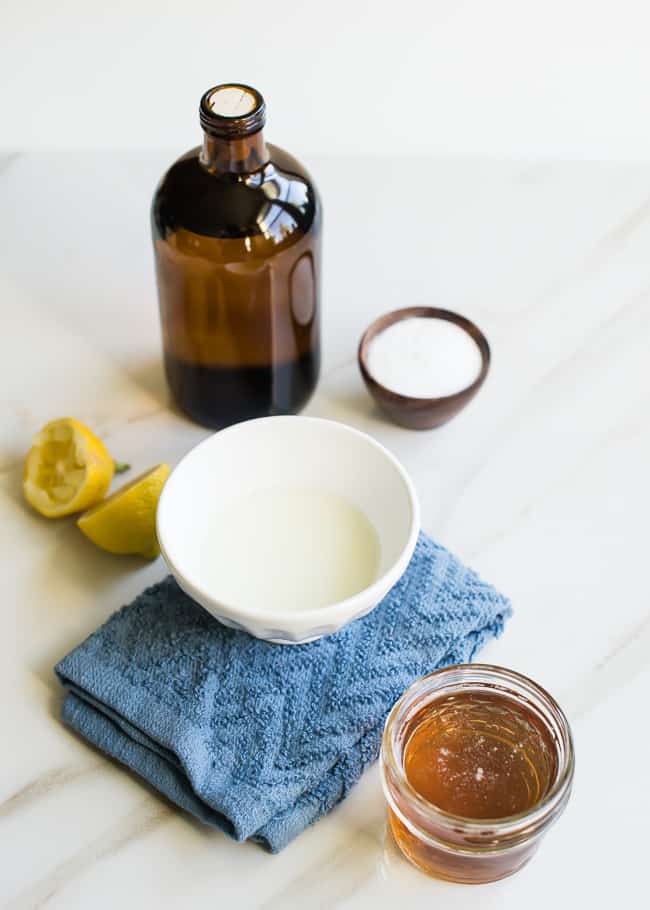 Apple Cider Vinegar Underarm Mask
Apple cider vinegar is amazing for a lot of skin issues. On your body, it's fine to use it undiluted, but on your scalp and face, it's best to dilute it a little. And putting ACV on your underarms helps correct any pH balance issues caused by using homemade deodorant with baking soda (make sure to wash the baking soda off first). Combining ACV with coconut oil soothes irritated skin from frequent shaving, saving your pits from irritation and razor rash.
Instructions
Melt 2 tablespoons of coconut oil or use fractionated (liquid) coconut oil and mix it with 2 tablespoons of apple cider vinegar. (The oil and ACV don't really combine, but that's okay.) Keep the mixture in a closed container in the shower. My tip is to use an old shampoo bottle—you don't want too many glass jars in your shower, especially if you've got kids!
Just slap a label on so you'll know this stuff isn't for your hair. If your coconut oil solidifies, stick the container under the shower stream while you're applying the above scrub, and it'll melt in no time. Or just use the fractionated form to prevent this from happening.
When you are ready to use, apply the ACV/coconut oil mask to underarms. Do not rinse. Giving yourself a deep massage really helps to get the mixture to help soften and smooth your underarms—just in time for summer!
Homemade Remedies for Dark Underarms
Here are some more home recipes for lightening underarms:
Lemon and Honey Scrub
Mix 1 tablespoon of lemon juice and 1 tablespoon of honey with ½ cup of sugar to make a scrub. Gently massage onto the underarms and leave for a few minutes before rinsing off.
Potato and Cucumber Mask
Blend 1 small potato and ½ cucumber until smooth. Apply to the underarms and leave on for 15–20 minutes before rinsing off.
Milk and Turmeric Paste
Mix 2 tablespoons of milk with ½ teaspoon of turmeric powder to make a paste. Apply to the underarms and leave on for 10–15 minutes before rinsing off.
Orange Peel Powder and Yogurt Mask
Mix 1 tablespoon of organic orange peel powder with 2 tablespoons of yogurt to make a mask. Apply to the underarms and leave on for 15–20 minutes before rinsing off.
Aloe Vera and Lemon Juice Gel
Mix 1 tablespoon of aloe vera gel with 1 teaspoon of lemon juice to make a gel. Apply to the underarms and leave for a few minutes before rinsing off.
It's important to note that while these home remedies can be effective for some people, they may not work for everyone.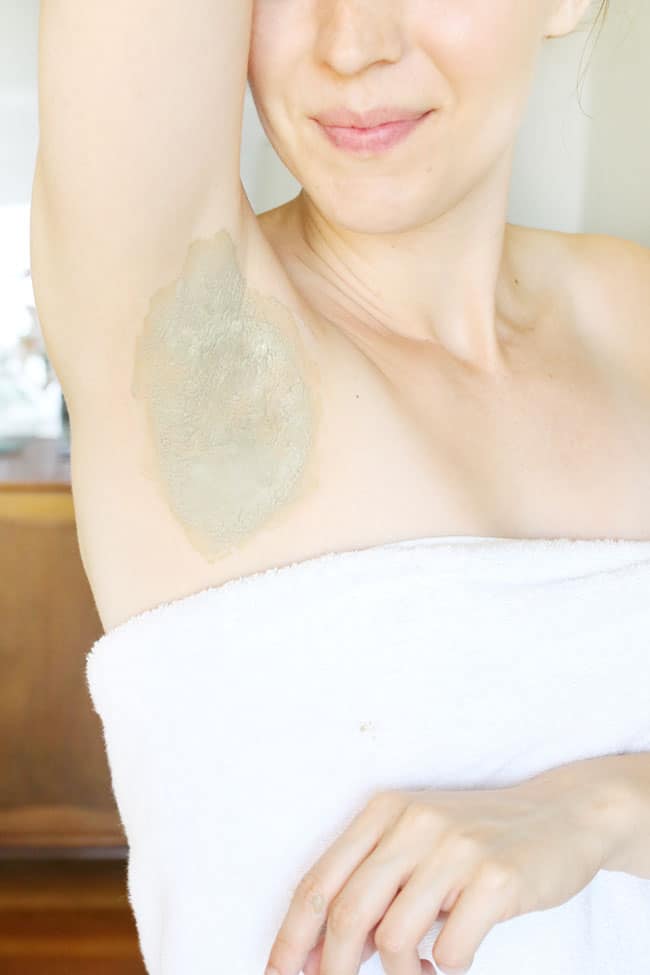 Lifestyle Changes for Dark Underarms:
In addition to home remedies, there are several lifestyles changes you can make to help whiten your underarms:
Shave less frequently: Shaving can irritate the skin and cause darkening over time. Consider shaving every few days whenever possible to give the skin a chance to heal in between shaves. Also, shaving causes exfoliation, so avoid exfoliating on the days you shave!
Use shaving cream: And when you do shave, make sure you are using moisturizing shaving cream to prevent nicks and skin irritation. Try using this recipe for a great DIY coconut shaving cream, and follow these tips for shaving safely.
Change out your razor blades often: It's easy to lose track of when you last replaced your razor blade, but it's important to do so frequently to avoid those tiny nicks from a dull razor.
Keep your razor dry: Don't store your razor in the shower because it won't dry out fast enough to prevent dullness. Let it breathe, and store it blade-side up.
Use a natural deodorant: The chemicals in many deodorants can irritate the skin, leading to discoloration. Switch to a natural deodorant that does not contain harsh chemicals.
Wear loose clothing: Tight clothing can cause friction with movement, leading to irritation and darkening of the skin. Wear loose, breathable clothing to avoid this and allow your skin to breathe.
Exfoliate regularly: Regular exfoliation can help to remove dead skin cells and reveal brighter, smoother skin. Use a gentle exfoliating scrub or detox pit mask to avoid irritation.
Moisturize: Moisturizing your underarms can help to prevent dryness and flakiness. Use a gentle, natural moisturizer to keep your underarms well hydrated.
Maintain a healthy weight and avoid eating a high-sugar diet: A healthy weight can help to prevent friction, and avoiding conditions related to glucose intolerance prevents darkening of the skin in the underarm area.
By making these lifestyle changes, you can help to prevent skin darkening and promote a brighter, more even complexion in your underarms.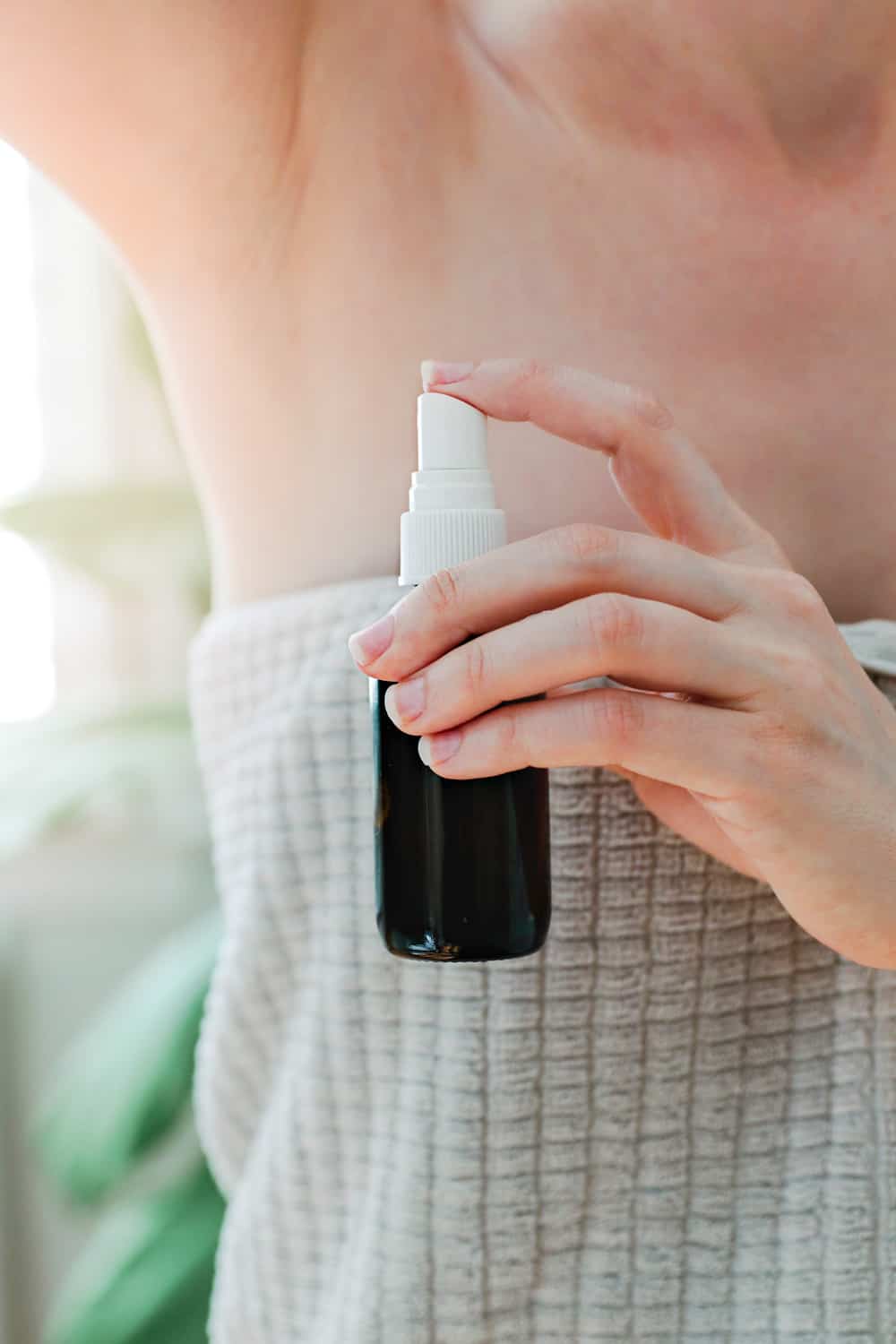 Before you go
...
Commercial antiperspirants can contribute to dark underarms, so give them some TLC and make the switch to natural deodorant. It's one of the best things you can do to detox your pits! Read our post with 5 easy recipes and what to expect when you make the switch...
5 Ways to Make Homemade Deodorant + 12 to Buy If You Don't Want to DIY
Dark Underarm FAQs
How do you make your armpits glow?
You can make your armpits glow by exfoliating regularly, moisturizing, avoiding shaving, wearing loose clothing, using a natural deodorant, and considering medical treatments if necessary.
How does toothpaste get rid of dark underarms?
Toothpaste is believed to help lighten dark underarms due to its mild abrasive properties and ability to exfoliate dead skin cells. However, there is limited scientific evidence to support this claim, and it may not work for everyone.
Is lemon juice good for underarms?
Lemon is known for its natural bleaching properties and can help to lighten underarms. However, it can also be irritating to the skin and should be used with caution. It's also important to protect the skin from the sun when using lemon to avoid photosensitivity caused by exposure to UV light, which can lead to inflammatory rashes.
Can I leave aloe vera gel on my armpits overnight?
Yes, you can leave aloe vera gel on your armpits overnight. Aloe vera has cooling and soothing properties and can help to moisturize and brighten the skin. However, if you experience any irritation or discomfort, it's best to discontinue use and consult with a dermatologist.
Why do underarms get dark after waxing?
Underarms can get dark after waxing due to irritation and inflammation of the hair follicles. This can cause the skin to produce more melanin, leading to darkening of the skin. Using gentle hair removal methods and avoiding harsh products can help to prevent this.
How to get rid of underarm odor?
To get rid of underarm odor, you can try using a natural deodorant, practicing good hygiene by washing regularly and using antibacterial soap, wearing breathable clothing, and avoiding certain foods that can cause body odor, such as garlic and onions.
How can I clean my underarms?
You can use soap and water to wash the underarm area thoroughly, making sure to rinse well. Antibacterial soap or a gentle exfoliating scrub is helpful for removing any buildup of dead skin cells and bacteria. After washing, be sure to dry the area completely to prevent moisture buildup.
Does shaving cause dark underarms?
Shaving can cause dark underarms over time due to irritation and inflammation of the hair follicles. This can lead to the production of more melanin, resulting in darkening of the skin.
References:
1. Nautiyal A, et al. Management of hyperpigmentation: current treatments and emerging therapies. Pigment Cell Melanoma Res. 2021.
2. Evans RL, et al. Axillary skin: biology and care. In J Cosmetic Sci. 2012.
3. Marti VPJ, et al. Effect of shaving on axillary stratum corneum. Int J Cosmet Sci. 2003.
4. Turner GA, et al. Impact of shaving and anti-perspirant use on the axillary vault. Int J Cosmet Sci. 2007.
5. Evans RL, et al. The impact of different hair‐removal behaviours on the biophysical and biochemical characteristics of female axillary skin. Int J Cosmet Sci. 2020.
6. Markiewicz E, et al. Post-inflammatory hyperpigmentation in dark skin: molecular mechanism and skincare implications. Clin Cosmet Investig Dermatol. 2022.
7. Brady MF, et al. Acanthosis nigricans. StatPearls. NIH: National Library of Medicine website.
8. Hollinger JC, et al. Are natural ingredients effective in the management of hyperpigmentation? A systematic review. J Clin Aesthet Dermatol. 2018.
9. Vollono L, et al. Potential of curcumin in skin disorders. Nutrients. 2019.
10. Shah S, et al. Integrative approaches to hyperpigmentation therapy. J Integr Dermatol. 2022.
11. Kim YC, et al. Anti-melanogenic effects of black, green, and white tea extracts on immortalized melanocytes. J Vet Sci. 2015.
12. Han X, et al. Biological activities of frankincense essential oil in human dermal fibroblasts. Biochim Open. 2017.
13. Moy RL, et al. Sandalwood album oil as a botanical therapeutic in dermatology. J Clin Aesthet Dermatol. 2017.
3