Our mornings tend to be hectic even though the kids are still out of school. There's always something to do or someplace to go. So it's nice to whip up a thick, substantial yogurt smoothie to have with a piece of toast.
I like to reach for this yummy, non-dairy smoothie with coconut yogurt. You could also use coconut-flavored yogurt, or even half coconut milk and half yogurt.
Or skip the coconut entirely, if that's more your speed -- I won't tell. But in any case, it's creamy and delicious.

Lavender-Berry Smoothie Recipe with Coconut Yogurt
Raise your hand if you love an interesting smoothie? Oh, just me?
To make this smoothie a little more special, I added some lavender buds. It gave just a hint of floral flavor without overpowering it as flowers, particularly lavender, often can.
Not only that, but lavender blossoms are loaded with the same essential oils used to relax the body and give the skin a smooth, radiant glow. And eating them gives your body many of those same benefits.

Why coconut yogurt?
Coconut yogurt is full of good gut-friendly bacteria and dietary fiber. It does not contain protein like cows milk yogurt does; but it does have medium-chain fatty acids.
The extra fat will help keep you feeling satisfied, but if you miss the protein, add some protein powder or 1-2 tablespoons of chia seeds. While this coconut-yogurt smoothie is nice and thick to begin with (so thick you can eat it with a spoon!), adding chia sees will make it feel thicker and more substantial, so use them wisely!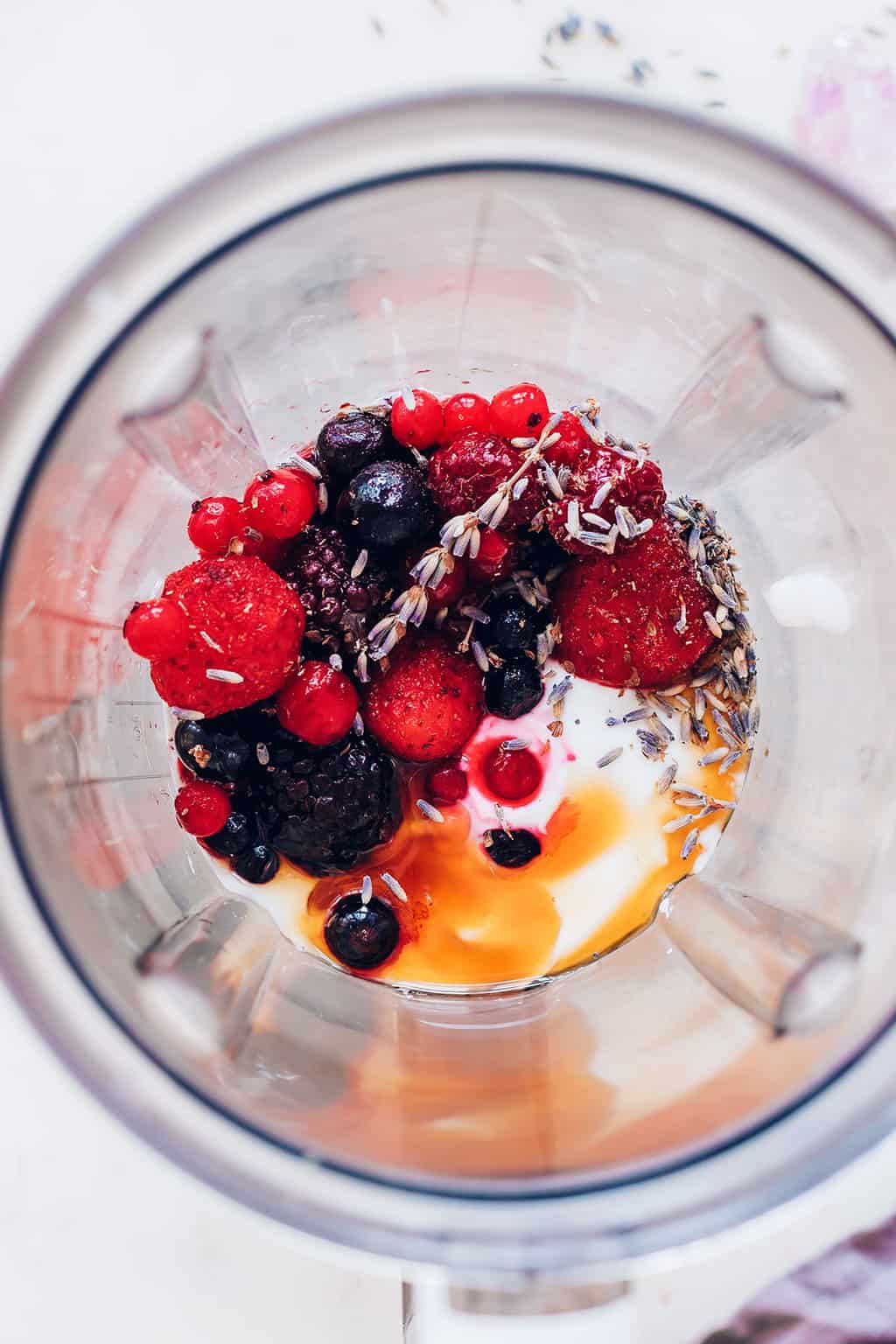 You can mix and match your favorite antioxidant-loaded berries for this recipe. I use a frozen mix of blueberries, raspberries and strawberries, but any berries will work in this since they're all relatively low in sugar and high in healthy fiber.
If you use frozen berries, let them thaw just a bit so it blends easier. Or if you're low on time, add extra liquid so the blender blade can move freely.
I've used raw honey here, but maple syrup would work, too. I think the recipe needs just a little bit of sweetness to offset the tang of the yogurt, but feel free to omit it entirely if you're trying to cut back. (If you use sweetened yogurt, then there's no need to add the honey or maple syrup.)
And lastly, the lavender is optional, but encouraged. It adds a little something without overpowering or tasting like you're sipping on perfume. Just make sure to choose organic or food-grade lavender if you can find it, in order to avoid added chemical exposure.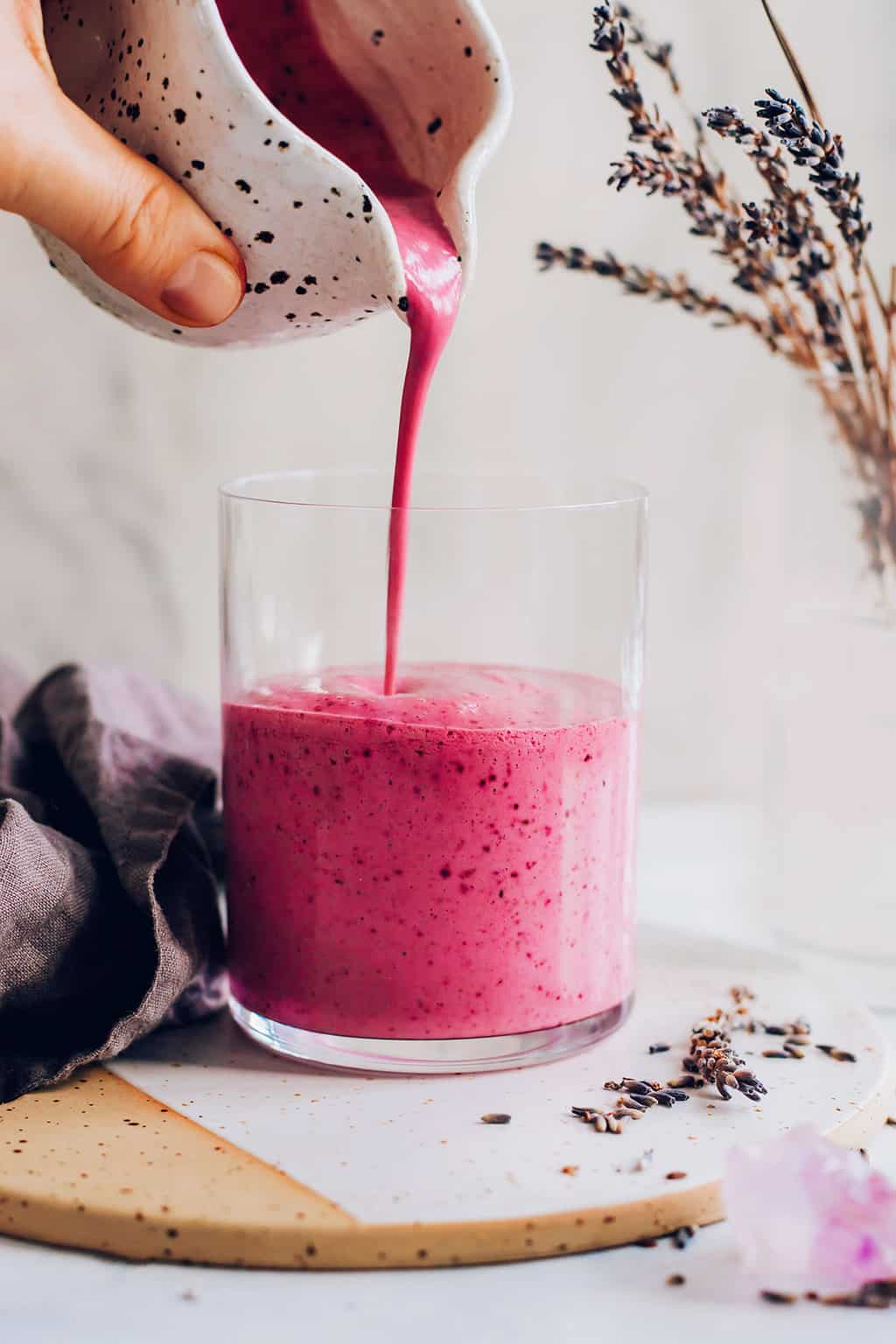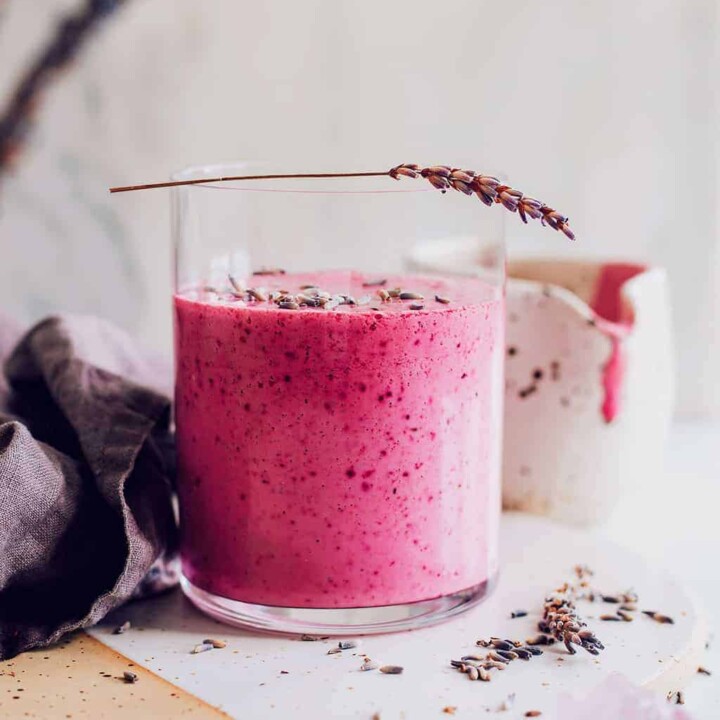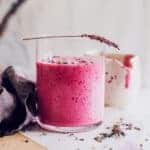 Print Recipe
Berry-Coconut Yogurt Smoothie
A creamy, berry-licious smoothie made with coconut yogurt.
Ingredients
2

cups

coconut yogurt or coconut-flavored yogurt

3

cups

mixed berries

slightly thawed if frozen

1

Tablespoon

raw honey or pure maple syrup

½ to 1

teaspoon

organic lavender buds
Instructions
Place yogurt, berries, honey, and lavender into a blender. Puree until smooth, stopping and scraping down sides as needed.

Pour into four glasses and serve.
Notes
If you can't drink it all at once, pour leftover smoothie into an ice cube tray and freeze. When ready to eat, place smoothie ice cubes in a blender with a dash of nut milk and puree until smooth.
Photos by Ana-Maria Stanciu
72