There are a few qualifications for a good breakfast: It has to be tasty, it has to actually keep you full, it has to be good for you, and it has to be so easy you can make it in your sleep—or at least when you're really sleepy. This coconut yogurt parfait with berries, cinnamon and sunflower seeds fits the bill completely.
It's so delicious, easy to make, and filling. Layers of creamy yogurt, homemade fruit compote, and high-protein granola are irresistible.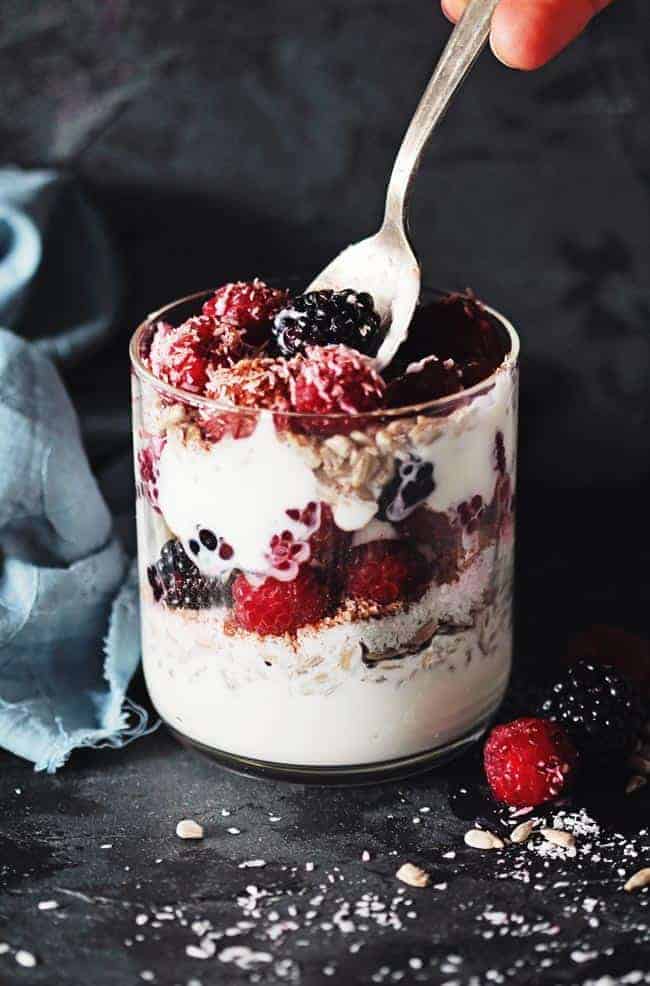 Whereas sugary cereals or store-bought yogurt blends can cause your blood sugar to spike (without giving you enough protein or fiber to stay full—resulting in that awful shaky, crabby feeling when it crashes), this slightly sweet parfait will help keep it stable and keep you full until lunch.
Combining the creamy and tangy taste of coconut yogurt with the crunch of protein-packed granola, this parfait is a powerhouse of flavor and health benefits.
Jump to:
Ingredients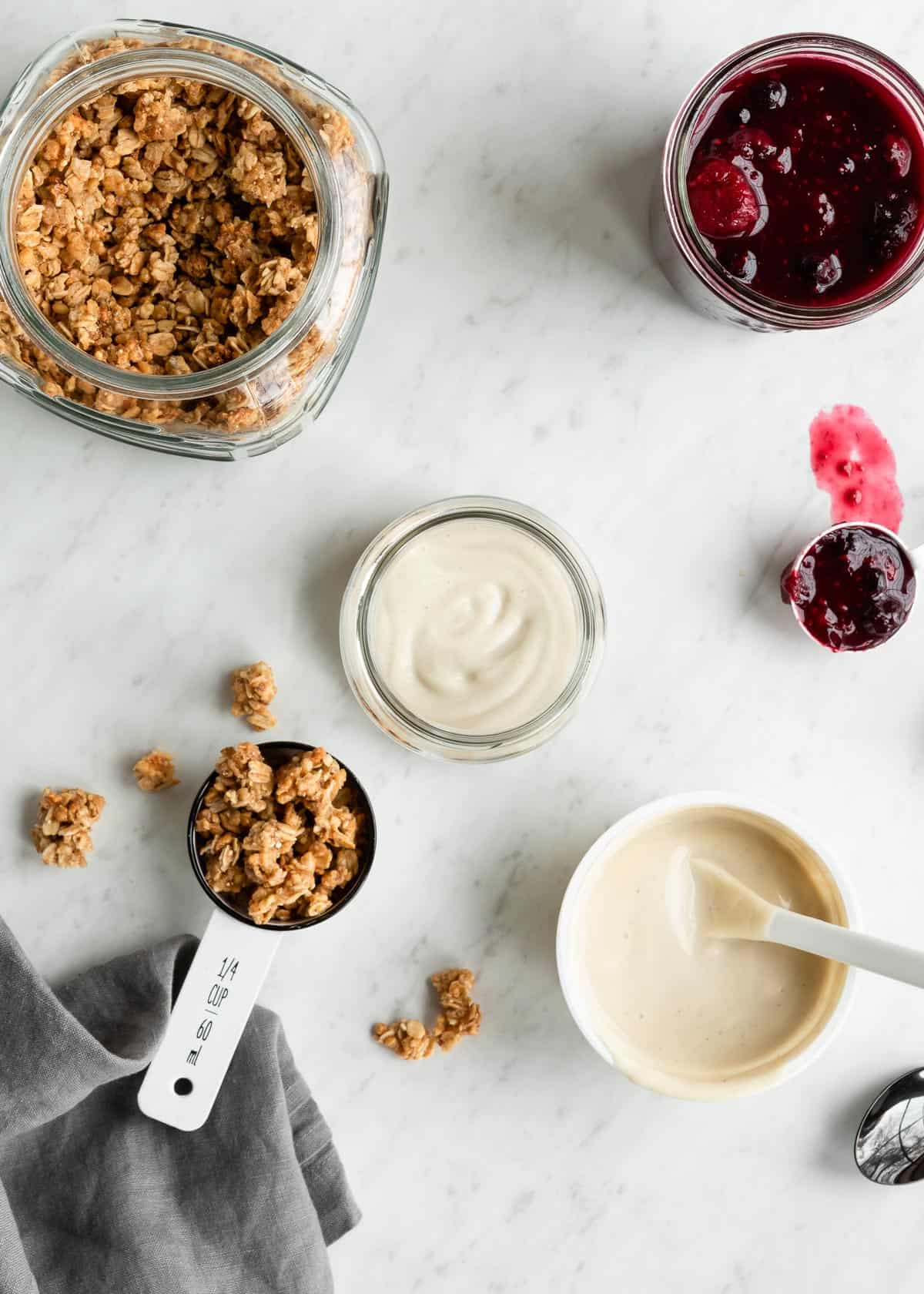 Coconut milk yogurt — An amazing non-dairy alternative to yogurt with probiotics that promote gut health and a dose of healthy fats to benefit your skin, hair, and nails. Stick with unsweetened varieties.
Berry compote — The berries add antioxidants, fiber and other nutrients. The fruit compote is super easy to make. I just place frozen berries in a saucepan and add a little sweetness, if needed, and lemon juice. Simmer until the juices start to thicken up.
Protein superfood granola — To create a delicious and nutrient-dense protein granola, you'll need:
Old-fashioned rolled oats
Sliced almonds
Hemp hearts
Pumpkin seeds
Sunflower seeds add a satisfying crunch, protein and magnesium, which helps put you in a good mood. Which is pretty important in the morning :)
Cinnamon plays a part: this spice helps reduce inflammation in the body and regulate blood sugar.
See recipe card for quantities.
Instructions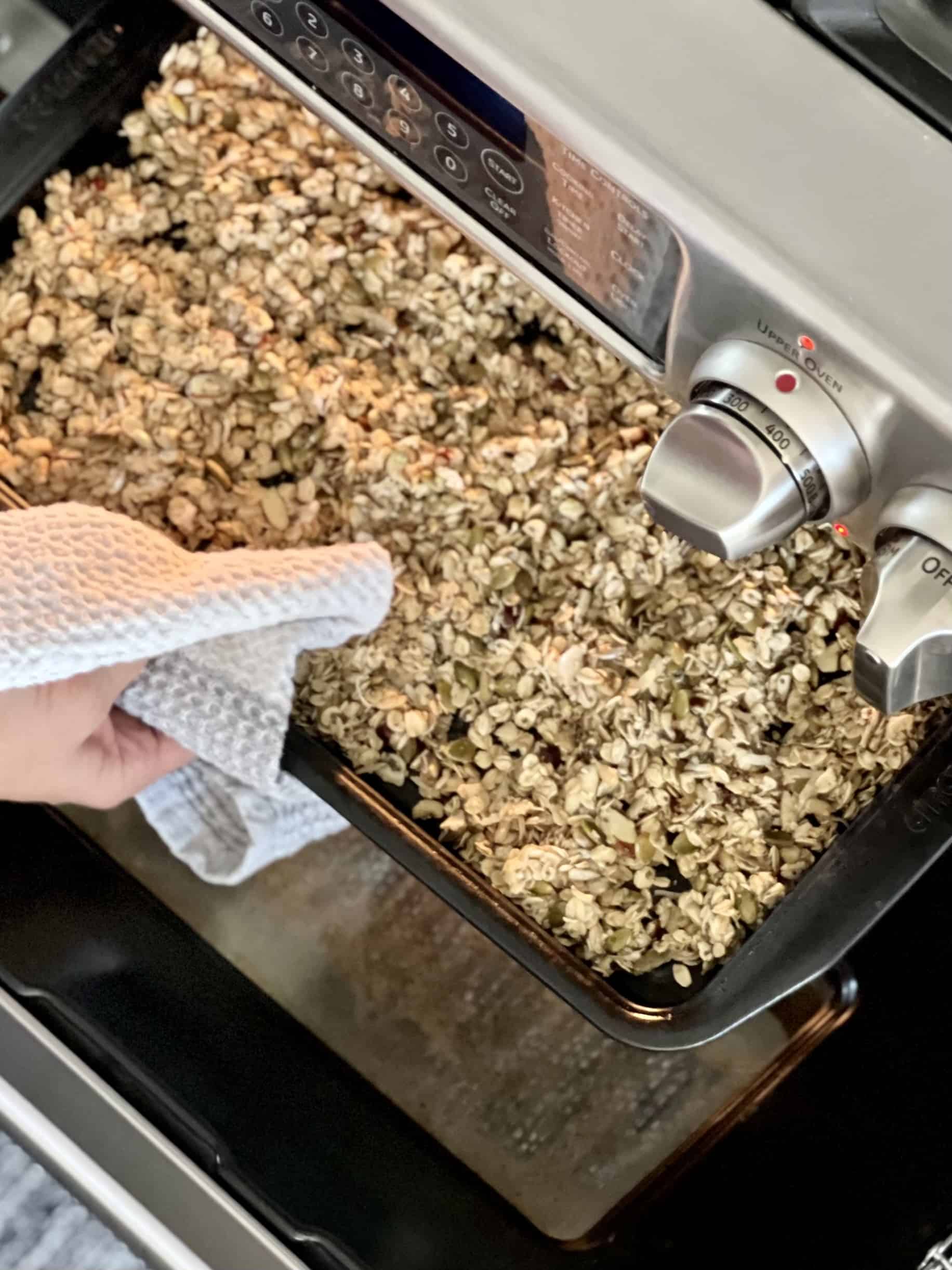 Start by making your granola. If you've never made a batch before, it's shockingly easy. Just mix ingredients and bake.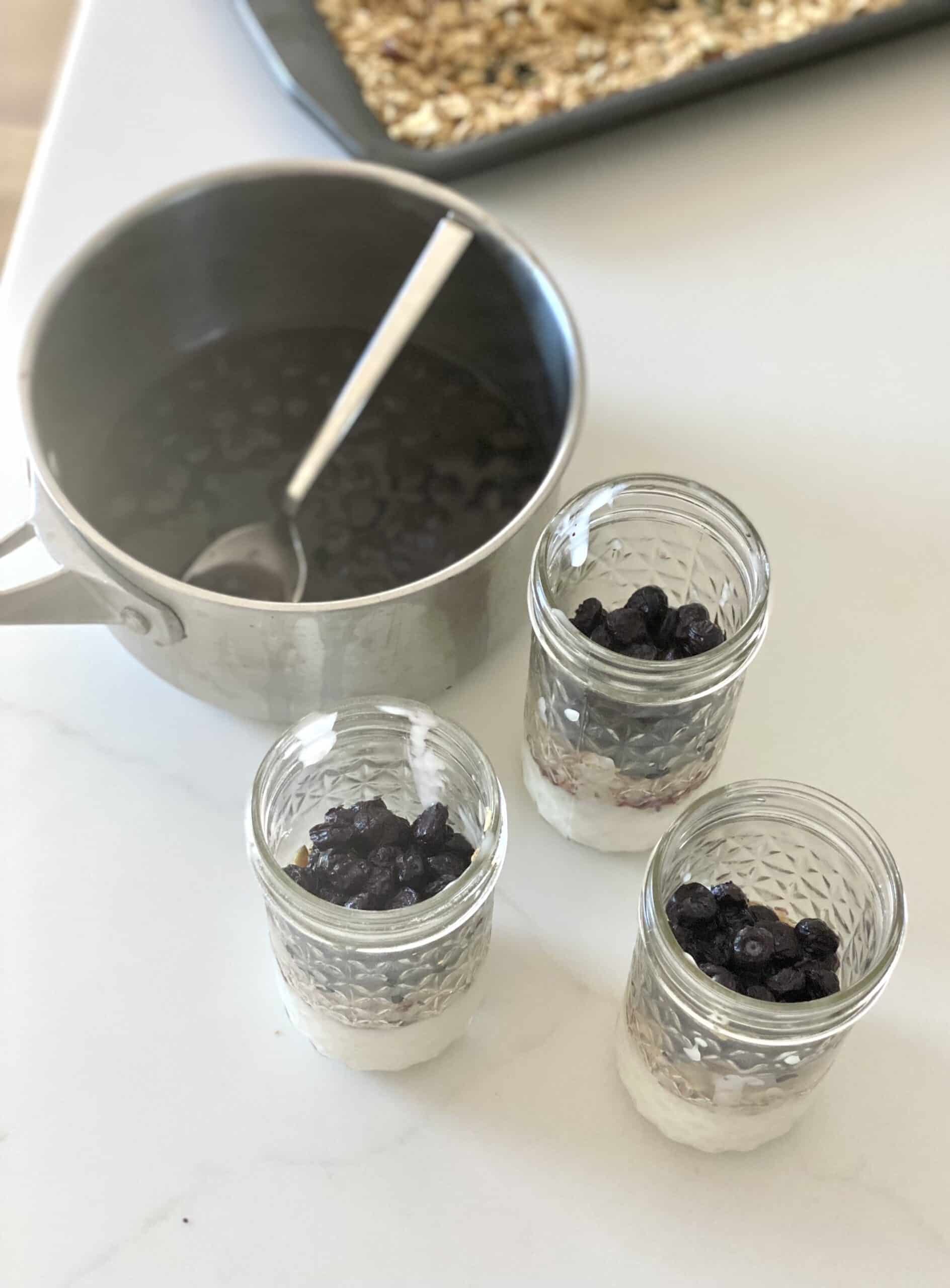 To assemble the parfait, put ¼ to ½ cup yogurt in a pint-sized jar or dessert glass. Add 3 tablespoons protein granola then 3 tablespoons berries.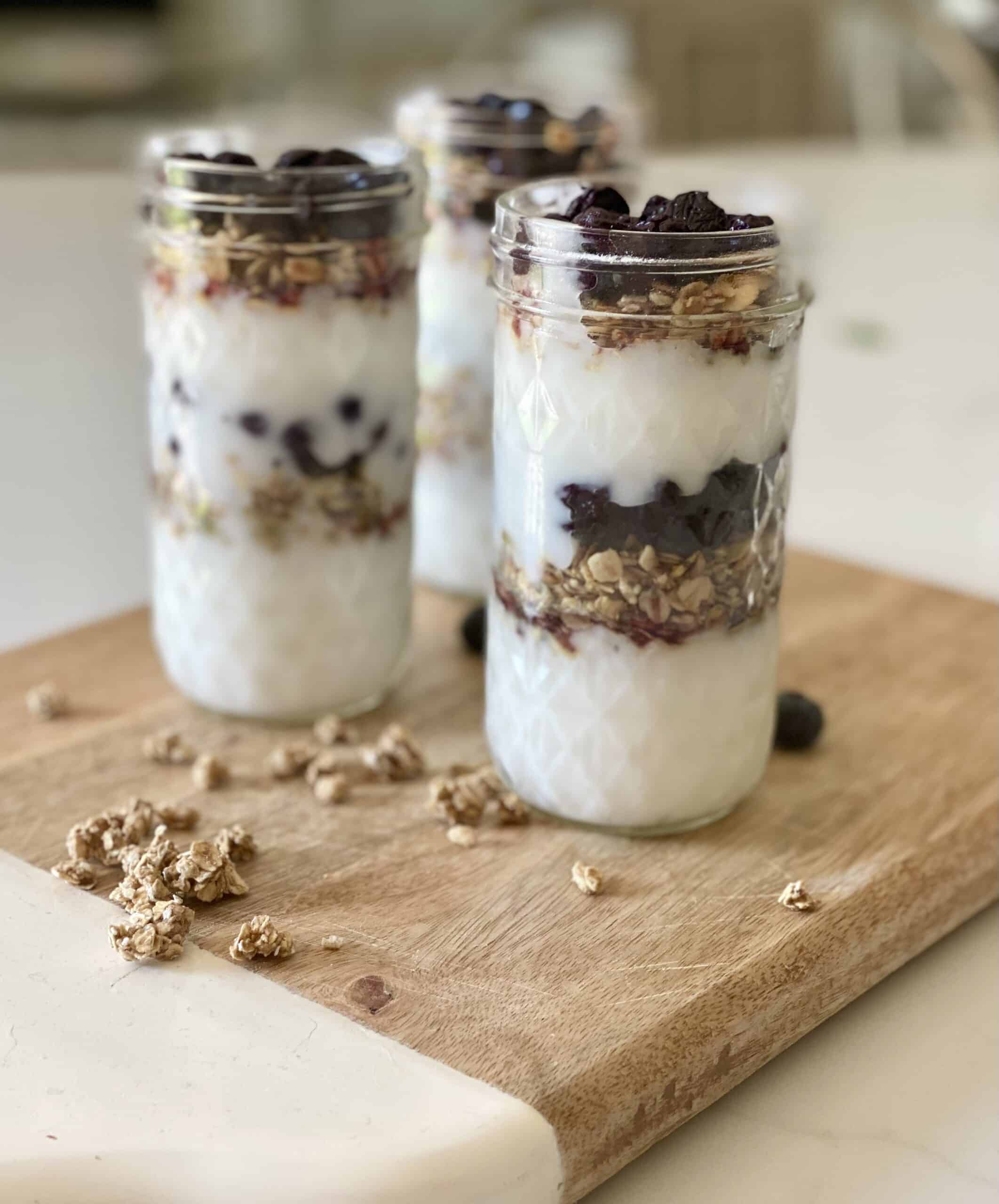 Repeat the layering process, adding more yogurt, granola, and fruit until you reach the top of your glass or jar. I used ¼ of yogurt on my second layer.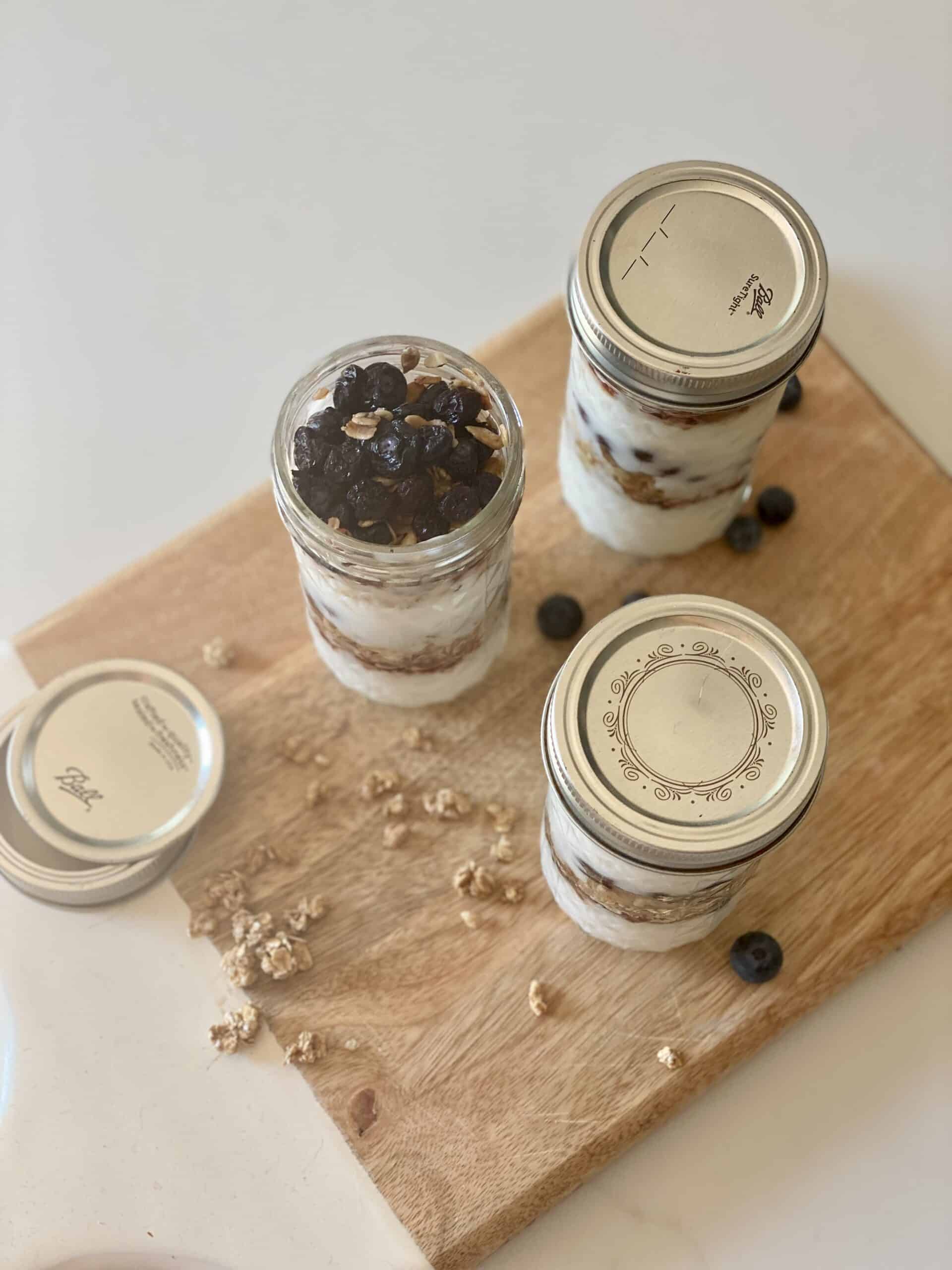 Put on the lids and refrigerate the parfaits until you're ready to eat.
Hint: Yes, the granola loses some of its crunch sitting between the yogurt and berries. If you want to keep it crunchy and fresh, you can portion out the granola separately and add it just before serving.
Substitutions
Yogurt — You can use Greek yogurt, which has plenty of protein, or whatever plant-based yogurt you like. If you're not a yogurt fan, try using chia pudding.
Compote — If you don't have time to make a compote, you can use fruit jam. Or use fresh berries and combine a heaping ¼ cup sliced strawberries and ¼ cup raspberries.
Granola — Use a store-bought granola and add a scoop of plant-based protein powder to ½ cup of granola. You can also stir the protein powder into the yogurt.
Or skip making granola and add 3 tablespoons of nuts and seeds between layers. Try sunflower seeds, shredded coconut, chia seeds, sliced almonds, hemp hearts, or pumpkin seeds.
Paleo — Make a paleo-friendly yogurt parfait by using coconut yogurt instead of dairy-based yogurt and choosing a gluten-free, grain-free paleo granola made from nuts and seeds, like this recipe.
Variations
So much fruit! — You have plenty of choices when it comes to incorporating fruits into your parfait:
Berries: Try blackberries or blueberries to add color and flavor as well as nutrients and antioxidants.
Tropical fruits: Mango, papaya, and pineapple can bring a tropical twist to your parfait while supplying essential vitamins and minerals.
Stone fruits: Peaches, plums, and cherries make a delightful addition to your coconut yogurt parfait during their peak seasons.
Make it a smoothie — If you're strapped for time, blend it all up in smoothie form, adding a little coconut or almond milk to thin if needed. In a mixer combine 1 container of yogurt with 1 banana, ½ cup frozen blueberries, ½ cup frozen raspberries and blend until smooth. If you want to thin it out you can add ¼ cup of coconut milk. Pour into a bowl and layer with fresh blueberries, raspberries, coconut flakes, and banana slices.
See this coconut yogurt smoothie or find more ways to make a probiotic-rich smoothie.
Serving
For breakfast or a larger snack, aim for 12 to 16 ounces. This size would usually contain 1 cup coconut yogurt, ½ cup protein granola, and ½ cup fruit.
3 layers: ⅓ cup yogurt + 2 tablespoon granola + 2 tablespoon fruit. Repeat three times
2 layers: ½ cup yogurt + 3 tablespoon granola + 3 tablespoon fruit. Repeat twice.
Storage
To store the individual components of your parfait separately, follow these guidelines:
Coconut yogurt: Keep the coconut yogurt in its original container, tightly sealed, in the refrigerator. It should last for approximately 7 to 10 days. If you notice an off smell, discoloration, or mold, discard the yogurt immediately.
Protein granola: Store the granola in an airtight container at room temperature, away from light and heat. The granola should last about two weeks if stored properly. Avoid storing granola in the refrigerator, as the humidity could make it soggy.
Fruits and other toppings: Store fresh fruits in the refrigerator, ideally in separate containers or wrapped in a paper towel to absorb excess moisture. It's best to use up your fruits within 3 to 5 days. However, frozen fruits can last up to several months in the freezer.
Top tip
To assemble your coconut yogurt parfait in advance, layer the yogurt, protein granola, and fruit in mason jars with airtight lids. They'll keep in the fridge for about a week.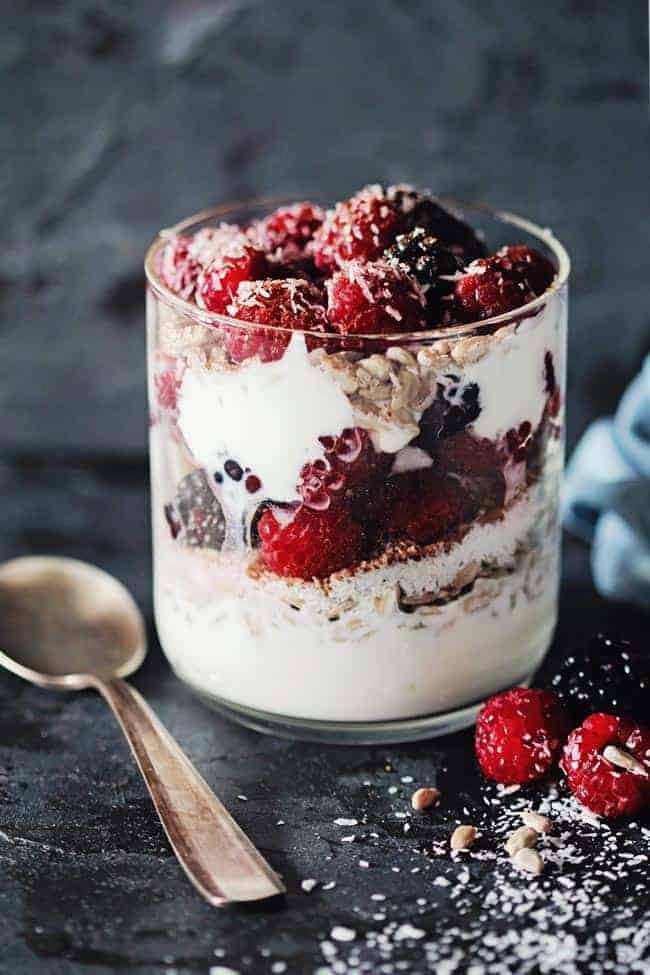 FAQ
How to make a nutritious protein granola?
To create a nutritious protein granola, combine oats with nuts, seeds, and a protein source like protein powder or nut butter. Add some coconut oil and honey or maple syrup to bind the ingredients and enhance the flavor. Spread the mixture on a baking sheet, and bake at a low temperature (around 220°F) until golden and crisp.
How many calories should I expect in a coconut yogurt parfait with protein granola?
The calorie count in your coconut yogurt parfait with protein granola will depend on the specific ingredients and quantities used.
Breakfasts
Looking for other tasty breakfast recipes like this? Try these: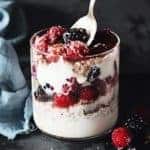 Print Recipe
Coconut Yogurt Parfait with Berries + Protein Granola
An antioxidant-, mineral- and protein-packed breakfast that's as easy as can be.
Ingredients
Protein granola
2

cups

rolled oats

¼

cup

sunflower seeds

¼

cup

pumpkin seeds

2

tablespoon

hemp hearts

2

tablespoon

chia seeds

2

tablespoon

unsweetened coconut flakes

½

cup

nuts

sliced almonds, etc

½

cup

maple syrup

1

teaspoon

vanilla extract

2

tablespoon

melted coconut oil
Parfait
1

cup

coconut yogurt

½

cup

mixed berries

frozen or fresh

½

cup

protein granola
Instructions
Protein granola
Preheat the oven to 270 degrees.

Mix all the ingredients in a small bowl and toss to combine.

Spread the mixture on a parchment lined baking sheet and bake for 30 minutes. Let it cool completely before transferring to a glass jar.

To make parf ½ cup coconut milk yogurt.
Parfaits
In a bowl or glass add ⅓ - ½ cup coconut yogurt. Top with 3 tablespoon granola then 3 tablespoon berries.

Repeat yogurt, granola and berry layers 1-2 more times then replace the lid and refrigerate.
89