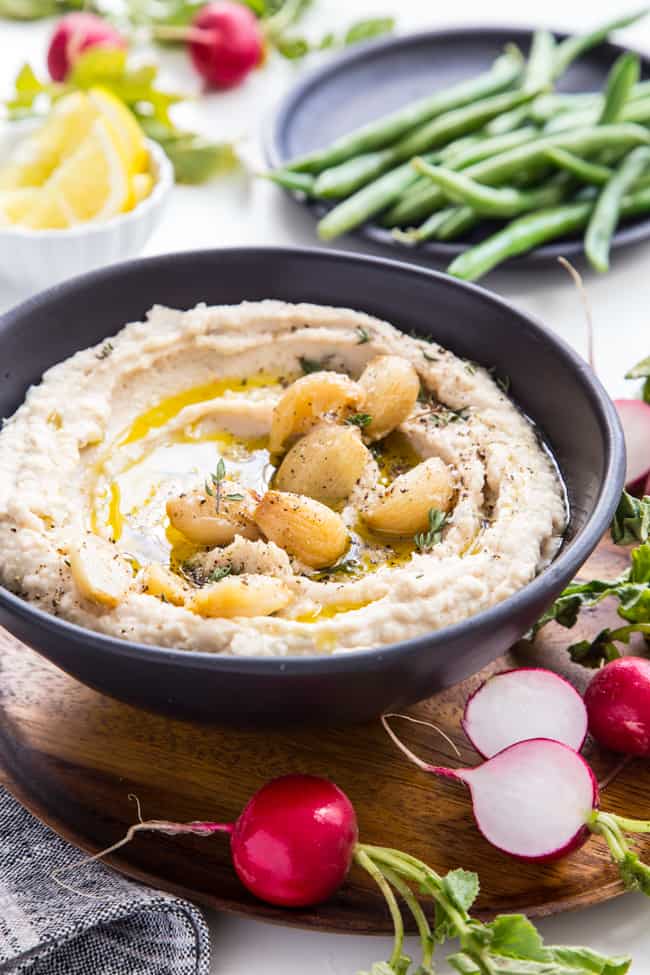 If you have never tried making your own bean dip or hummus at home, now is the time to give it a try. The weather is warming up and summer picnics are on the rise. A big bowl of this Roasted Garlic & Herb White Bean Dip served with fresh seasonal veggies is just the appetizer that you need to keep your friends coming back for more. The fact that it is incredibly simple to make is only a bonus.
Let's start with the roasted garlic.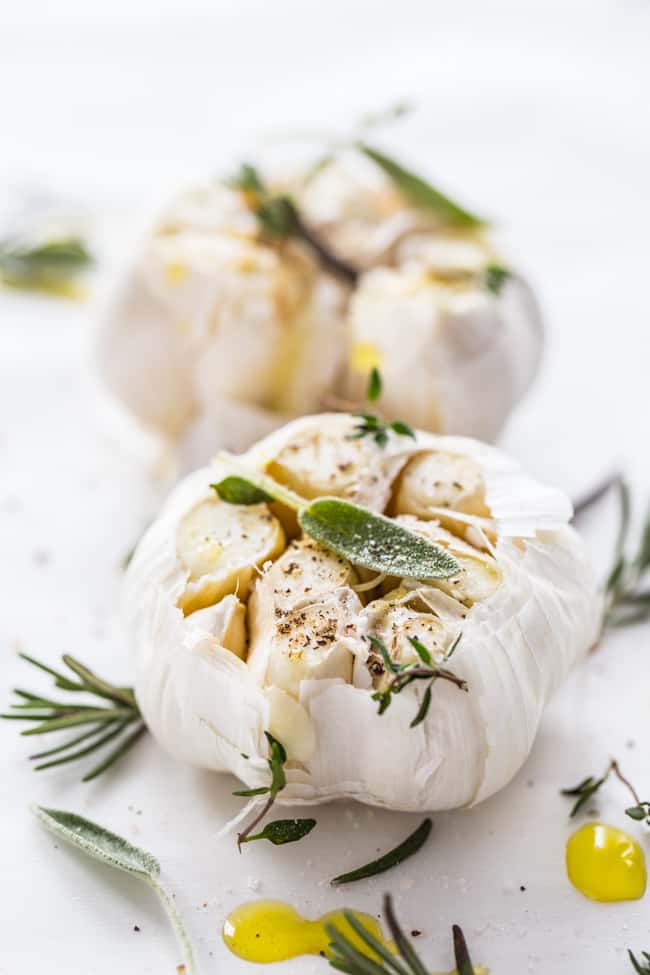 Making roasted garlic is not difficult and I have a few tips that will give you delicious, caramelized results every time.
Cut the stem ends off the heads of garlic to expose the top of each garlic clove
Place garlic heads cut-side-up onto a piece of parchment paper
Drizzle garlic heads with olive oil
Sprinkle with salt, pepper, and herbs
Wrap up head of garlic with parchment paper and one layer of foil to keep bundle together
Roast at 400°F for about 30-45 minutes
Garlic is done when it becomes fragrant, golden, and soft
That's all it takes! This Roasted Garlic & Herb White Bean Dip calls for one head of roasted garlic, but whenever I am roasting garlic, I typically roast a few heads and keep the extras on hand for future meals.
Besides this Roasted Garlic & Herb White Bean Dip, I love adding roasted garlic to my mashed potatoes or cauliflower. I even spread a few cloves onto some whole grain toast for the ultimate garlic bread. Roasting garlic brings out its natural sweetness and cuts down on the spicy bite of fresh garlic, replacing it with a milder flavor.
Garlic has many nutritional benefits and you may have seen garlic supplements in the vitamin aisle for just this reason. Garlic is full of antioxidants, can help improve cholesterol levels, and is even thought to combat the common cold. Increasing the garlic in recipes is a simple and delicious way to reap its health benefits.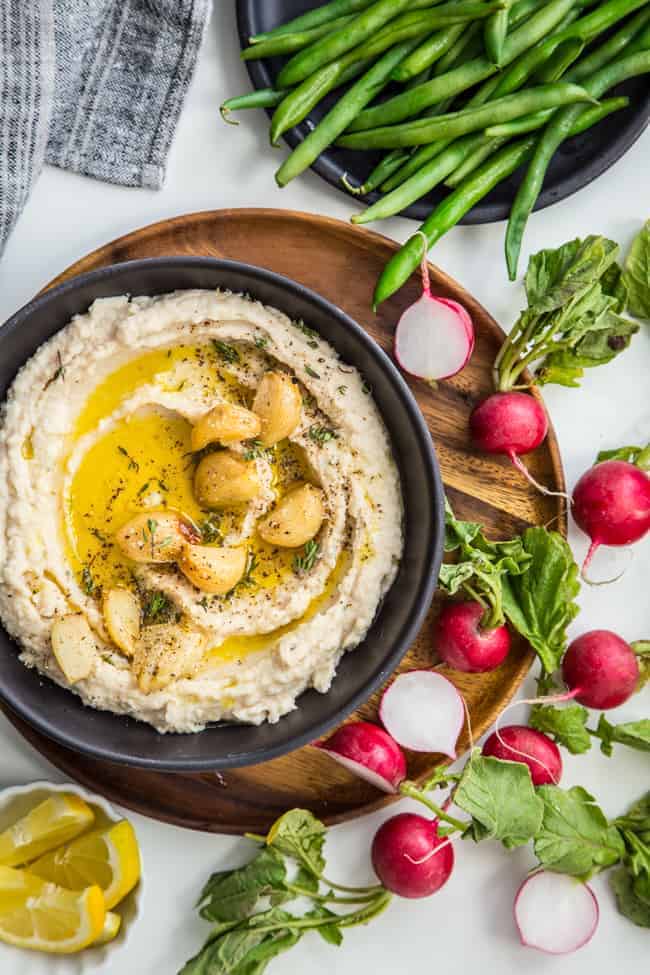 The roasted garlic in this white bean dip provides an enormous amount of flavor. I used organic canned cannellini beans that I rinsed and drained. If you would like to use dried beans that you cooked yourself, that is a great option as well. The beans and roasted garlic get pulsed in a food processor with a bit of extra virgin olive oil, fresh lemon juice, salt, pepper, and a few fresh herbs such as thyme, rosemary and sage making this recipe incredibly quick and with a beautifully short ingredient list.
When serving your Roasted Garlic & Herb White Bean Dip look for fresh seasonal vegetables and a bit of toasted baguette. I love radishes this time of year as well as blanched fresh green beens. They both make for great dippers. Try toasting up some whole grain baguette for the bread lovers at your party or whip up a batch of these Super Seed Crackers for a gluten-free option.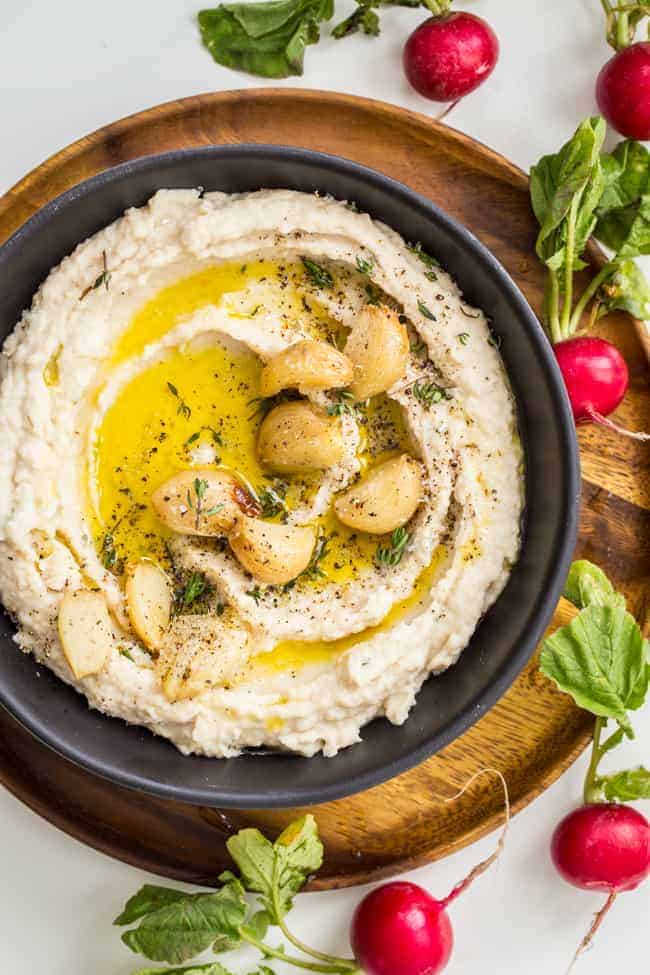 No matter what you chose to serve with this dip, it's going to be a hit!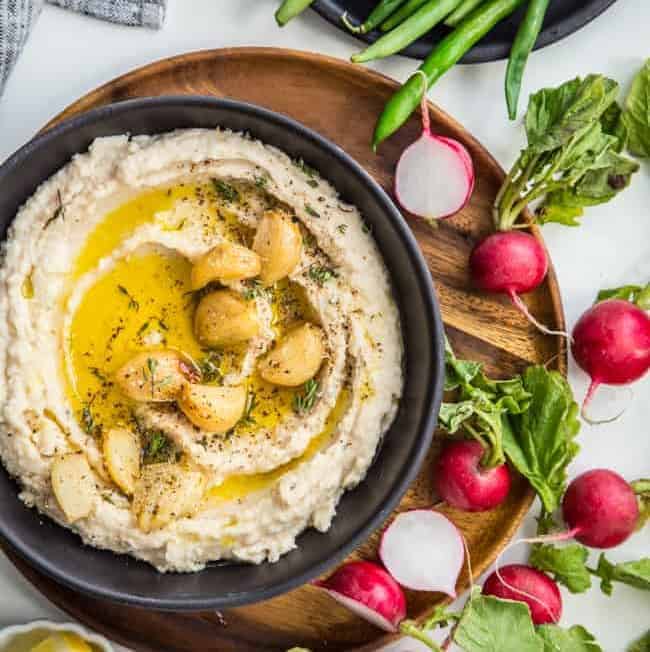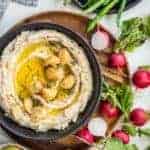 Print Recipe
roasted garlic & herb white bean dip
Ingredients
1

medium head of garlic

3

tablespoons

extra virgin olive oil

divided

1 1/2

teaspoons

kosher salt

3/4

teaspoon

cracked black pepper

1-2

sprigs of fresh herbs

thyme, rosemary, or sage

2

15-ounce cans white beans (Northern beans or cannellini beans), rinsed and drained

1/4

cup

fresh lemon juice

Fresh vegetables or toasted baguette slices

for serving
Instructions
Preheat oven to 400°F.

Cut the top off of the garlic head, exposing the tops of the cloves. Place the garlic head cut side up on a 12-inch square piece of parchment paper. Drizzle the garlic with 1 tablespoon of extra virgin olive oil, 1/2 teaspoon kosher salt, and 1/4 teaspoon cracked black pepper. Remove the herb leaves from stems and sprinkle half of them over the garlic (more or less depending on your liking). Reserve remaining herbs for the dip. Fold up the edges of the parchment paper over the garlic head and twist shut. Wrap the entire package in heavy duty foil. Place this in a shallow pan and roast for about 30-45 minutes or until the garlic becomes fragrant. Roasted garlic should be golden and soft. Remove the roasted garlic cloves from the papery skins. Set the garlic cloves aside.

Place the white beans, roasted garlic cloves, 2 tablespoons of extra virgin olive oil, 1/4 cup fresh lemon juice, 1 teaspoon kosher salt, and 1/2 teaspoon fresh cracked black pepper in a food processor. Pulse until the mixture is smooth. Add reserved fresh herbs, if desired.

Transfer the dip to a serving bowl and garnish with additional olive oil, garlic cloves, and herbs (optional). Serve the Roasted Garlic White Bean dip with fresh seasonal vegetables or toasted whole grain baguette slices.
13