Feeling snackish? Doing Whole30? If you're accustomed to snacking on crackers and cheese, it can seem like a daunting task to come up with a simple snack that satisfies.
We've got good news, though! There are lots of healthy and convenient snack options, even if you've given up sugar, grains, dairy, and legumes. Want more snack ideas? Try these metabolism-boosting combinations!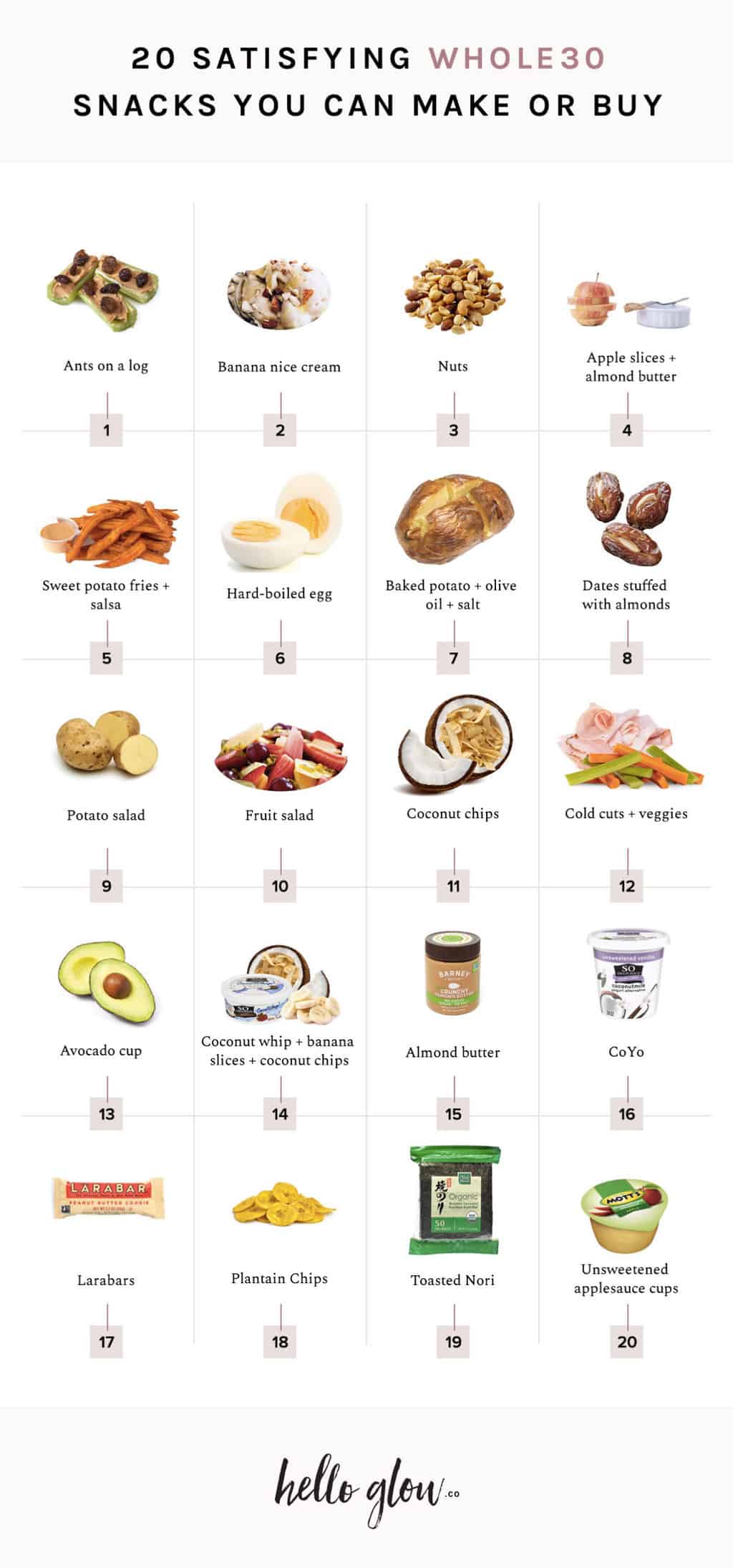 Whole30 Snacks at Home
1. Ants on a Log - This snacking classic isn't just for kids! Smear some peanut butter or almond butter into the crevice of a celery stick, top with raisins, and snack away!
2. Banana Nice Cream - In the mood for something creamy, sweet, and cool? Good news! Banana Nice Cream is totally Whole30 compliant.
3. Nuts - Grab a handful of mixed nuts and enjoy! Best if they're raw nuts, so you avoid those that are roasted with any funky ingredients. If you prefer 'em toasted, you can roast your own!
4. Apple slices + almond butter - This combination of protein and produce is satisfying and sure to keep the snack monsters at bay.
5. Sweet potato fries + salsa - Oven bake these beauties and dunk them in sugar-free salsa (read your labels!) for a healthy and satisfying Whole 30snack.
6. Hard-boiled egg - Sliced in half and sprinkled with salt and pepper, a hard-boiled egg can make a protein-rich snack.
7. Baked potato + olive oil + salt - You know this will be delicious.
8. Dates stuffed with almonds - Remove the pit from a Medjool date, and replace it with an almond, cashew, or even a walnut. Sprinkle with a little salt, and you've got that ultimate sweet/salty/crunchy snack combo.
9. Potato salad - A small serving of classic potato salad is a great Whole30 snack. Load in some veggies, add a chopped hard-boiled egg, and bonus points if you make your own mayo.
10. Fruit salad - Any and all fruit is allowed when you're doing Whole30, so mix it up with whatever fruit is available seasonally.
11. Coconut chips - Toasted or raw coconut chips make a great snack on Whole30. Toss them with some nuts and dried fruit for a DIY trail mix.
12. Cold cuts + veggies - Make yourself a plate of unprocessed cold cuts, veggies, and olives. It's almost like a cheese plate, without the cheese.
13. Avocado cup - Sprinkle half an avocado with a bit of salt, top with hemp seeds, and dig in.
14. Coconut whip + banana slices + coconut chips - It's almost like a banana split!
15. Almond butter - A spoonful straight out of the jar. You know you wanna...
Store-Bought Whole30 Snacks
Keep in mind that although store-bought snacks may be Whole30 compliant ingredient-wise, they often go against the Whole30 philosophy. Nevertheless, sometimes desperate times call for store-bought snacks, so here are our favorite picks:
16. CoYo - Look for a coconut yogurt brand that doesn't contain any sweetener or other additives.
17. Lärabars - These are one of the few bars on the market that are Whole30 compliant.
18. Plantain Chips - Trader Joe's has plantain chips that are within Whole30 guidelines.
19. Toasted Nori - Maybe you can't eat chips or crackers, but you can still enjoy a crunchy, salty snack with some nori.
20. Unsweetened applesauce cups - Look for a brand that contains nothing but apples and maybe some cinnamon, and you're good.
This article was medically reviewed by Dr. Gina Jansheski, a licensed, board-certified physician who has been practicing for more than 20 years. Learn more about Hello Glow's medical reviewers here. As always, this is not personal medical advice and we recommend that you talk with your doctor.
181