The smell of pumpkin spice is in the air! I've been experimenting with a new warming diffuser, trying out different fall essential oil blends. I love how the spicy scents of ginger, clove and cinnamon make the house feel warm and cozy while the woodsy notes of fir and juniper remind me of a walk through the leaves. We've put together a list of our favorite blends so get your diffuser ready!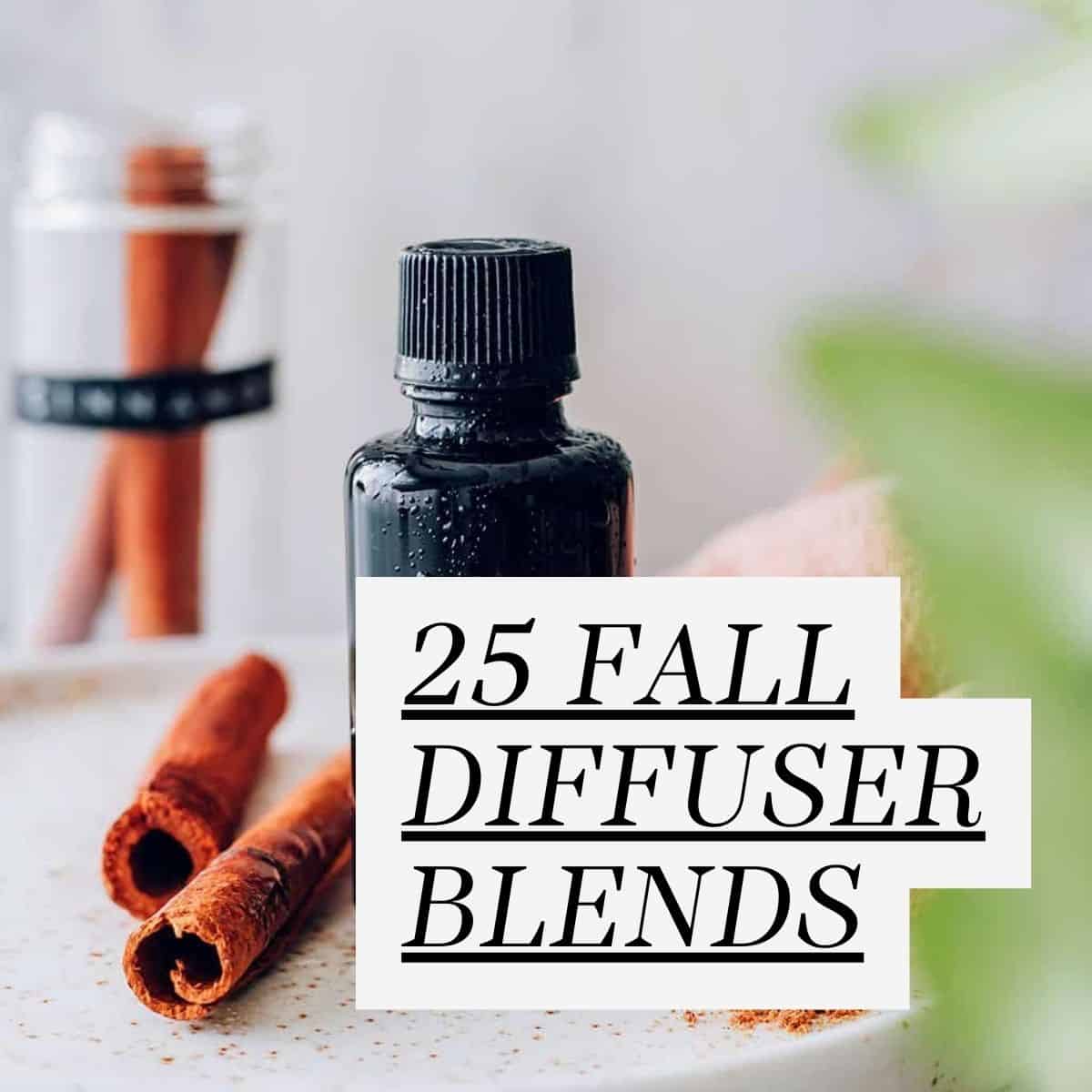 Jump to:
Our Favorite Fall Essential Oils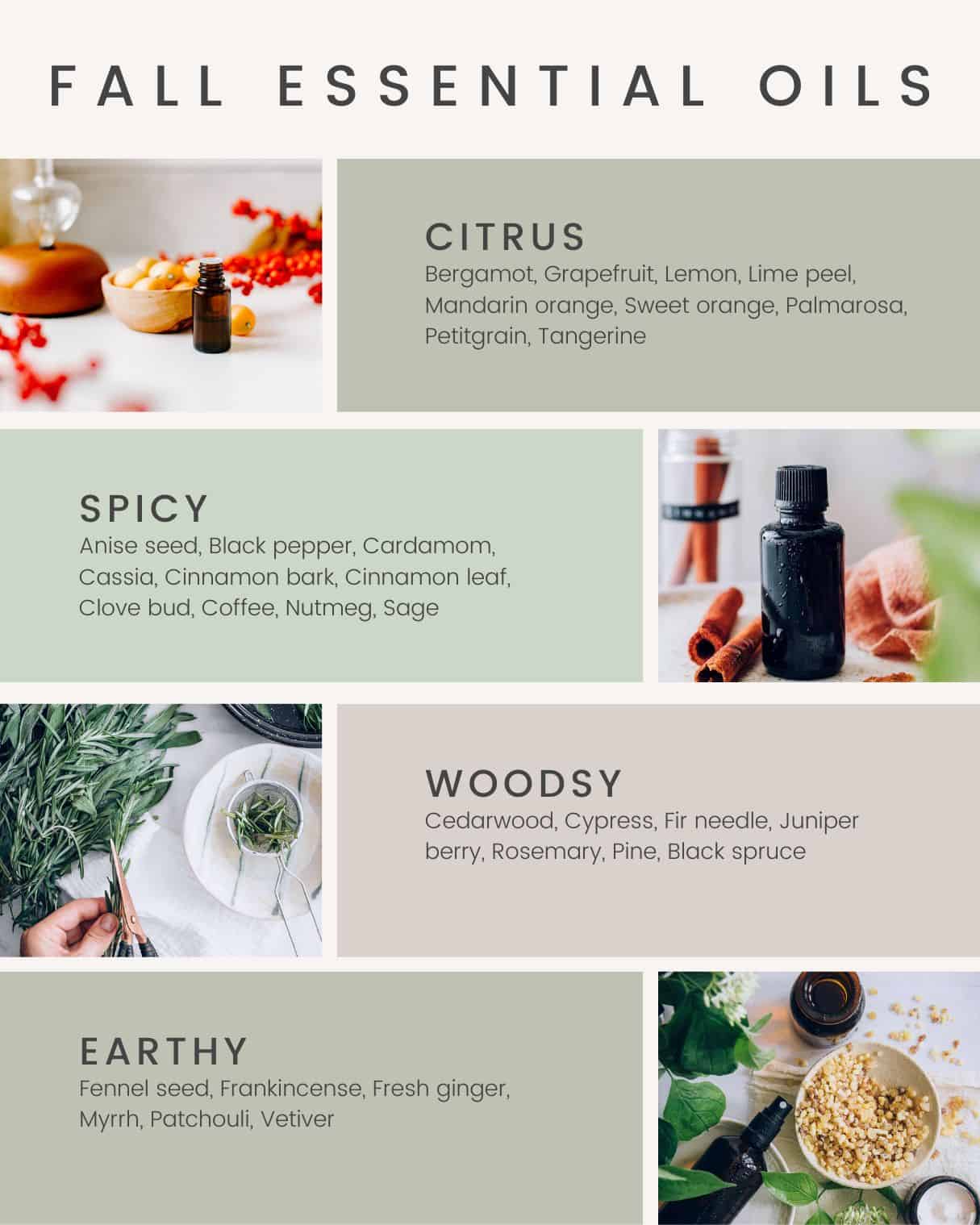 Be warned, spice oils like clove and cinnamon oils are strong! They will easily overpower other scents and can even irritate the mucous membranes. Citrus scents go well with the spicier ones, so I like to start with a base of orange, lemon, lime, grapefruit, or bergamot and then add a drop or two of a spicier oil like cinnamon, clove, myrrh, or nutmeg.
Use these four categories to mix and match oils to make homemade air fresheners that will make your home smell like fall.
Spicy
Cinnamon bark + leaf: Cinnamon essential oil has a warm, spicy scent that is reminiscent of baked goods and fall spices. It can create a cozy atmosphere and is often associated with the holidays.
Clove: Clove essential oil has a rich, spicy aroma that pairs well with other fall scents like cinnamon and orange. It can also have a comforting and grounding effect.
Nutmeg: Nutmeg essential oil has a sweet and spicy fragrance that is perfect for fall. It can promote relaxation and is often used in blends for a cozy atmosphere.
Other spicy oils: Anise seed, Black pepper, Cardamom, Cassia, Sage
Earthy
Frankincense: Frankincense essential oil has a deep, resinous scent that can help create a sense of tranquility and spiritual connection. It's great for grounding and relaxation during the fall season.
Ginger: Ginger essential oil has a spicy and warming scent that is perfect for fall. It can help with feelings of warmth and comfort.
Vetiver: Vetiver essential oil has a deep, earthy aroma that can promote relaxation and grounding. It's often used in blends to create a sense of stability.
Patchouli: Patchouli essential oil has a rich, earthy scent that can be both grounding and comforting. It's often used in fall blends for its warm and inviting properties.
Other earthy oils: Fennel seed, Myrrh
Citrusy
Orange: Orange essential oil has a sweet and uplifting scent that can add a touch of brightness to fall blends. It's often used in combination with spices for a warm and inviting aroma.
Bergamot: Bergamot essential oil has a citrusy and slightly floral aroma that can add a touch of brightness to fall blends. It can also have mood-lifting properties.
Other citrusy oils: Grapefruit, Lemon, Lime peel, Palmarosa, Petitgrain, Tangerine
Woodsy
Cedarwood: Cedarwood essential oil has a woody, earthy aroma that is reminiscent of forests and autumn foliage. It can provide a grounding and calming effect.
Juniper Berry: Juniper berry essential oil has a fresh and invigorating aroma that can help create a refreshing atmosphere, which can be especially nice as the days get shorter and the air gets cooler in the fall.
Rosemary: Rosemary essential oil has a herbaceous and slightly woody scent. It's an excellent choice for fall because it can promote mental clarity and focus, which can be helpful as you adjust to the changing routines of the season.
Pine: Pine essential oil has a crisp, piney scent that is reminiscent of a forest. It can create a calming and grounding atmosphere, making it ideal for fall when you may seek a sense of stability and tranquility.
Other woodsy oils: Cypress, Fir needle, Black spruce
25 Fall Essential Oil Blends For The Diffuser
Check the instructions of your diffuser before blending. You might need more or less essential oil based on its size. And if you don't have all of the oils listed, don't fret.
Try substituting something in the same family (grapefruit for orange, for example) or just pick another scent that you like. And to make sure you're using essential oils safely, I like these guidelines from AromaWeb.
And if you don't have a diffuser there are plenty of ways (19 in fact!) to make your own diffuser. We also love these pot simmer, room spray, and potpourri recipes to bring the scents of fall indoors!
🍊 Citrus + Spice Fall Diffuser Blends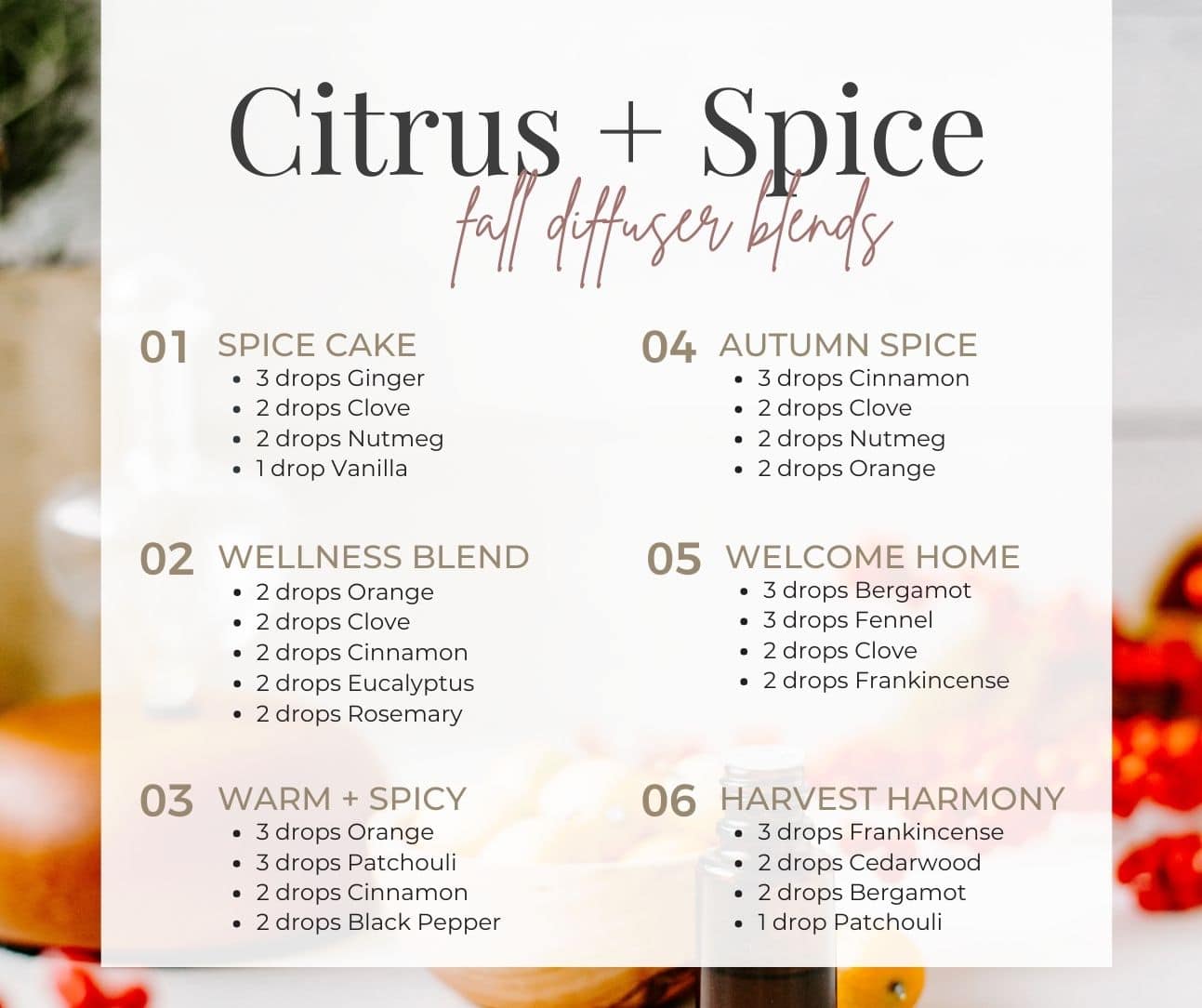 1. Autumn Spice Cake
Ginger, clove, nutmeg, and vanilla combine to mimic the fragrance of a freshly baked spice cake, filling your space with the delightful aroma of fall baking and dessert.
2. Wellness Blend
I have a blend called On Guard from DoTerra that contains these essential oils. It's a perfect immunity booster and air purifier when everyone starts coughing and sneezing.
3. Warm + Spicy Fall Diffuser Blend
The warm, spicy aroma of this blend makes me think of being wrapped up in a cozy blanket, enjoying a warm cup of tea on a crisp fall day!
4. Autumn Spice Blend
Cinnamon and clove combine in this blend to create a warm and spicy base, while nutmeg adds a touch of sweetness and orange provides a fresh, citrusy top note.
5. Welcome Home Blend
This blend completely reminds me of fall. It's the perfect combination of sweet, spicy, and earthy and has such a welcoming aroma.
6. Harvest Harmony
Frankincense provides a serene backdrop for the earthy and grounding qualities of cedarwood, while bergamot adds a hint of brightness. Patchouli's subtle richness ties everything together.
🌰 Earthy + Woodsy Fall Diffuser Blends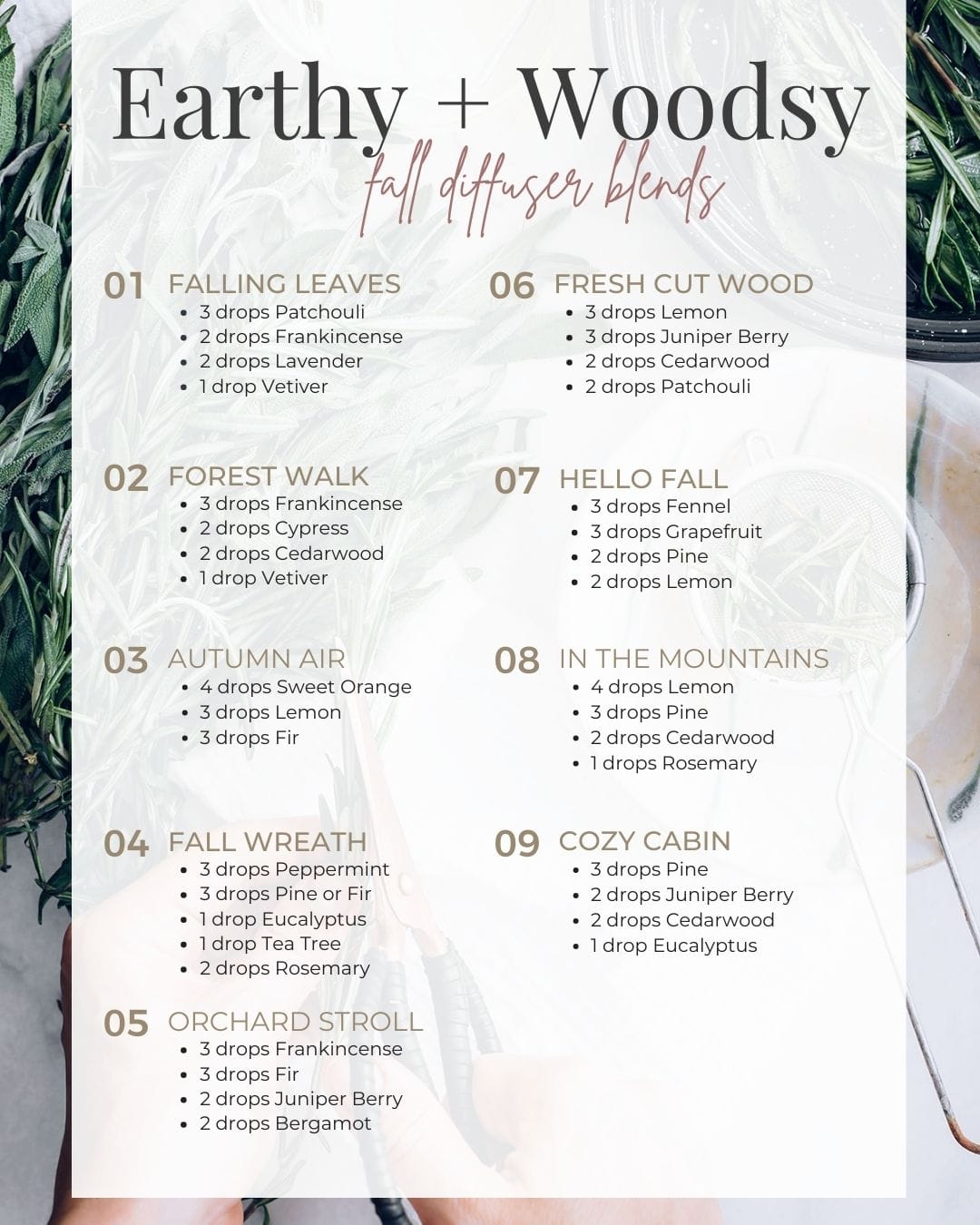 7. Falling Leaves Tranquility
Patchouli's earthiness mingles with the calming influence of frankincense, while lavender adds a serene touch. Vetiver's grounding properties complete the blend.
8. Autumn Air
This one is simple and uplifting. Citrus always energizes me and boosts my mood.
9. Fall Wreath
If I ever get around to making a fall wreath I want it to smell like this. Peppermint and eucalyptus are my essential oil go-to's.
10. Stroll thru the Orchard
Ready for a walk in the woods? I'm new to the slightly more exotic scents of frankincense and bergamot, but they go well with the coniferous oils.
11. Fresh Cut Wood
I just love the smell of fresh cut wood, don't you? It totally reminds me of fall! With a bit of lemon added, this blend is lovely and uplifting.
12. Goodbye Summer, Hello Fall
The fennel and pine really add some depth here. This blend is a great way to incorporate those uplifting citrus oils into an aroma that feels less like summer and more like fall.
13. Autumn in the Mountains
This blend reminds me of fresh mountain air on a cool day. The aroma transports me to time spent in the mountains making memories with friends and family.
14. Cozy Cabin Retreat
The blend of pine, juniper berry, and cedarwood creates a rustic forest ambiance, reminiscent of a cozy cabin nestled in the woods. Eucalyptus adds a refreshing note, like the invigorating breeze that sweeps through the trees during an autumn hike.
15. Fall Forest Walk
Frankincense brings a sense of tranquility while cypress and cedarwood transport you to a serene forest setting. Vetiver's earthy depth grounds the blend, evoking the essence of a peaceful autumn forest walk, where the fallen leaves rustle underfoot.
🍲 Warm + Cozy Fall Diffuser Blends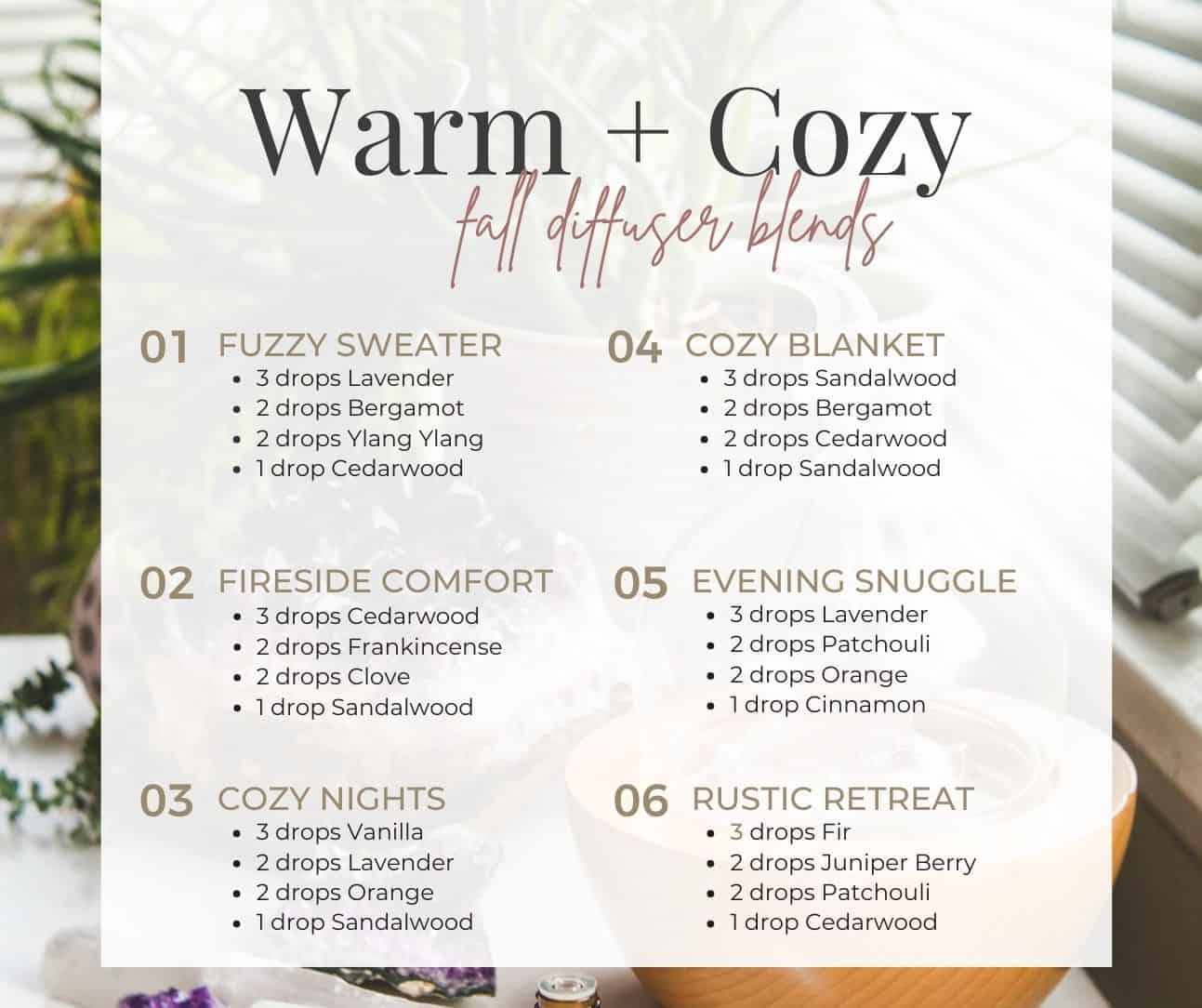 16. Fuzzy Sweater Weather
Lavender's calming influence combines with the uplifting qualities of bergamot, and ylang-ylang adds a touch of floral sweetness. Cedarwood's woody undertones wrap you in a metaphorical cozy sweater!
17. Fireside Comfort
Cedarwood and frankincense create a woody, smoky base, while the hints of clove and vanilla add a comforting warmth, reminiscent of sitting by a crackling fireside on a crisp autumn evening.
18. Cozy Nights
Vanilla's creamy sweetness is complemented by the soothing qualities of lavender and the uplifting aroma of sweet orange. Sandalwood conjures images of snuggling up on a warm and cozy fall night.
19. Cozy Blanket Bliss
Sandalwood and cedarwood offer a woody and grounding aroma, while bergamot's citrusy brightness and a hint of vanilla envelop you in a sense of warmth and comfort, much like snuggling under a soft, cozy blanket.
20. Autumn Evening Snuggle
Lavender's soothing presence mingles with earthy patchouli, while orange and cinnamon provide a spicy sweetness, evoking the feeling of wrapping yourself in a cozy blanket on a cool fall night.
21. Rustic Retreat
Balsam fir, juniper berry, patchouli, and cedarwood combine to transport you to a rustic cabin nestled in the woods.
☕ Coffee Shop Fall Blends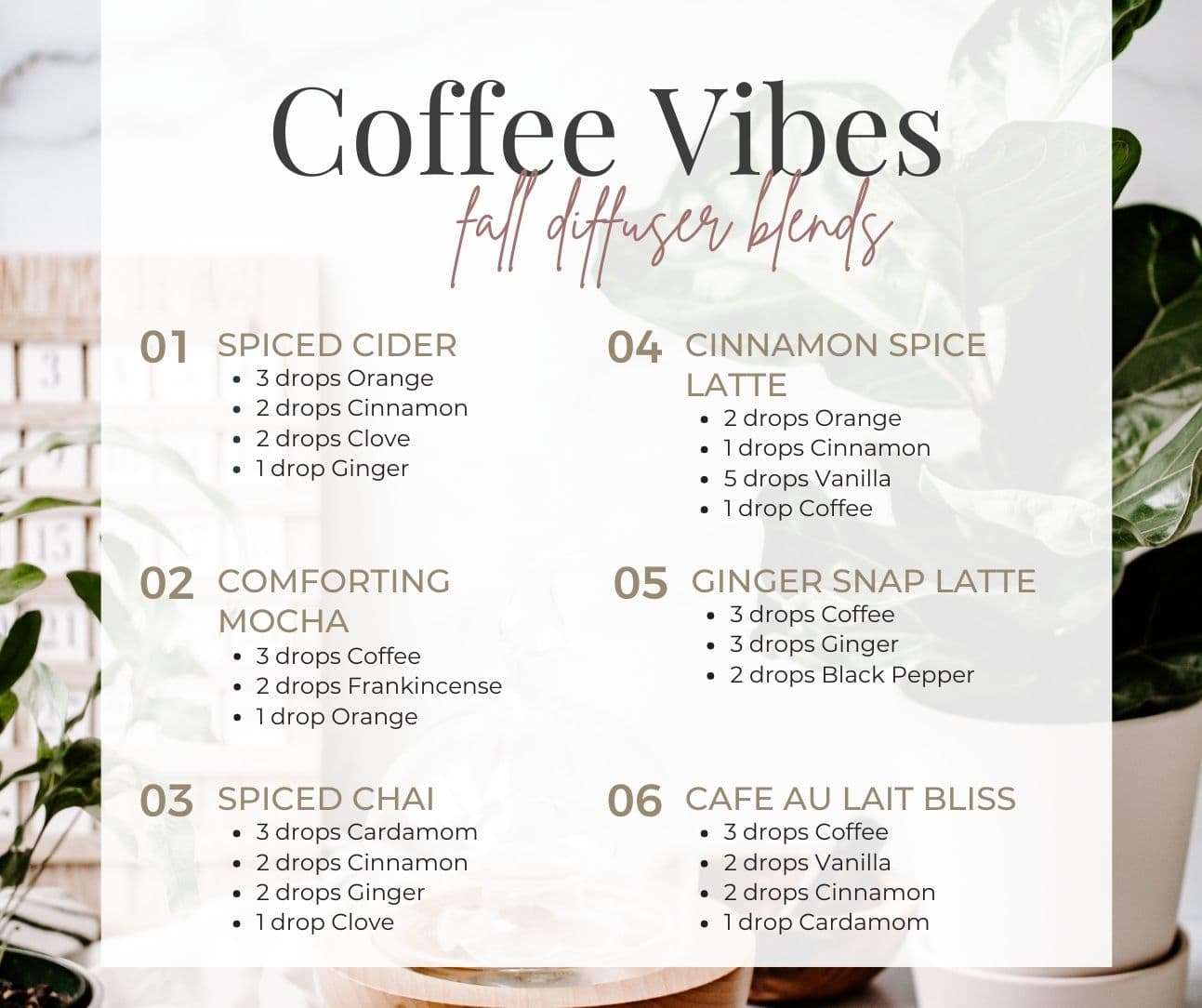 22. Spiced Apple Cider
Orange's zesty burst mingles with the comforting scents of cinnamon and clove. A hint of ginger adds a touch of zest and spice to evoke sipping spiced apple cider by a crackling fire on a chilly fall day.
23. Comforting Mocha
And my new favorite fall scent is coffee! Diffusing a 'peppermint latte' (coffee, peppermint, vanilla) makes me feel like I'm working from my local Starbucks. This spiced mocha is another fave:
Here are few other scents to pair with coffee:
24. Spiced Chai Latte
Cardamom, cinnamon, ginger, and clove come together to replicate the aromatic spices found in a spiced chai latte, filling the air with a comforting and invigorating scent, like sipping on a warm chai by the fireplace.
25. Cinnamon Spice Latte
The next best thing to my favorite latte! Vanilla is such a soothing scent and it pairs well with cinnamon and clove. Add a drop of nutmeg if you have it.
Can't get enough? You might also enjoy these cozy Christmas diffuser blends, perfect for the holiday season! 
163