A few years ago, it seemed like magnesium was a bit of an underdog in the mineral world, overshadowed by the dietary big guns like calcium and iron. Thankfully, that has changed, and now it seems like magnesium has taken a more prominent role in the minds of a lot of people. And so it should be!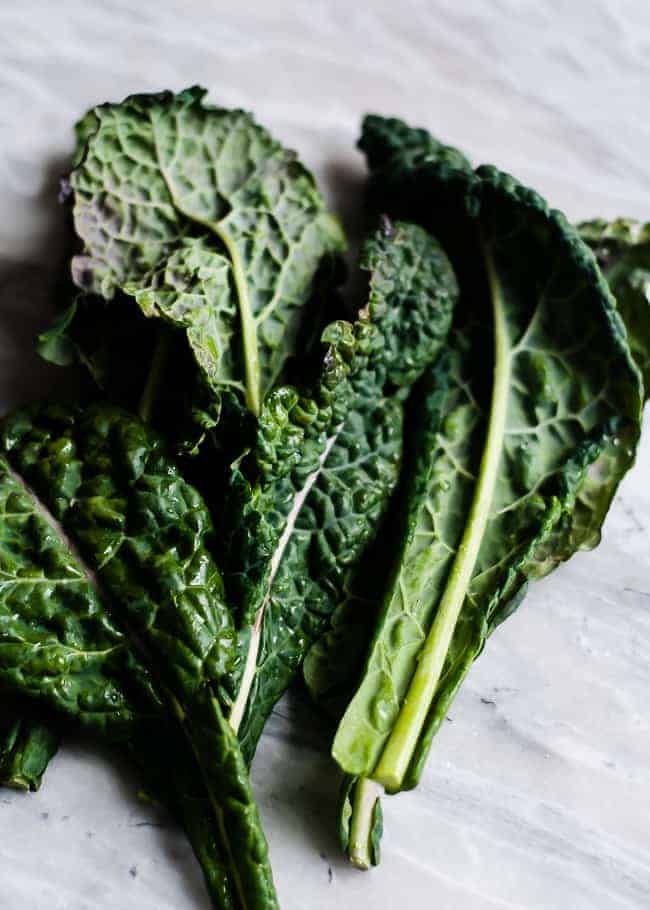 Why you need magnesium
Magnesium has been linked with relieving insomnia [source] to improving athletic performance [source] to relieving menstrual cramps [source]. It's incredibly important for bone health, as much of your body's magnesium supply is deposited in bone [source].
Hypomagnesemia, low levels of magnesium in the blood, is fairly common these days. Certain medications can cause poor absorption of this vital nutrient [source]. And if magnesium in the body is low, our ability to absorb calcium also suffers [source].
Magnesium plays an important role in proper muscle contraction [source], and let's not forget that the heart is a muscle. It also contributes to heart health by counteracting the effect of sodium (salt) on the arteries, thereby lowering blood pressure [source]. And if you've ever been kept awake at night by restless legs or intense muscle cramps—this happened to me a lot when I was pregnant—low magnesium levels may be to blame, or at least magnesium supplements have been shown to help [source].
There is some evidence to suggest that magnesium also helps calm anxiety symptoms [source], and some people find that taking a supplement at bedtime helps them get to sleep more easily. If you're considering a magnesium supplement, have a chat with your doctor first as it can interfere with some medications, and also keep in mind that taking too much supplemental magnesium can lead to loose stools.
How much magnesium do you need?
The recommended daily intake for women ranges from 310–320 mg [source], bumping up to 350–400 mg during pregnancy and 310–360 mg while breastfeeding [source]. It's important to note that while magnesium supplements should not exceed 350 mg per day, it's fine to consume more than the recommended daily intake from your diet.
And it's really not difficult to reach your magnesium targets with a healthy diet as long as you don't have a medical condition or take a medication that interferes with absorption [source]. It's naturally present in beans, nuts, seeds, fish, and some grains. You'd easily meet your daily needs and get more magnesium in your diet by combining a few of these foods.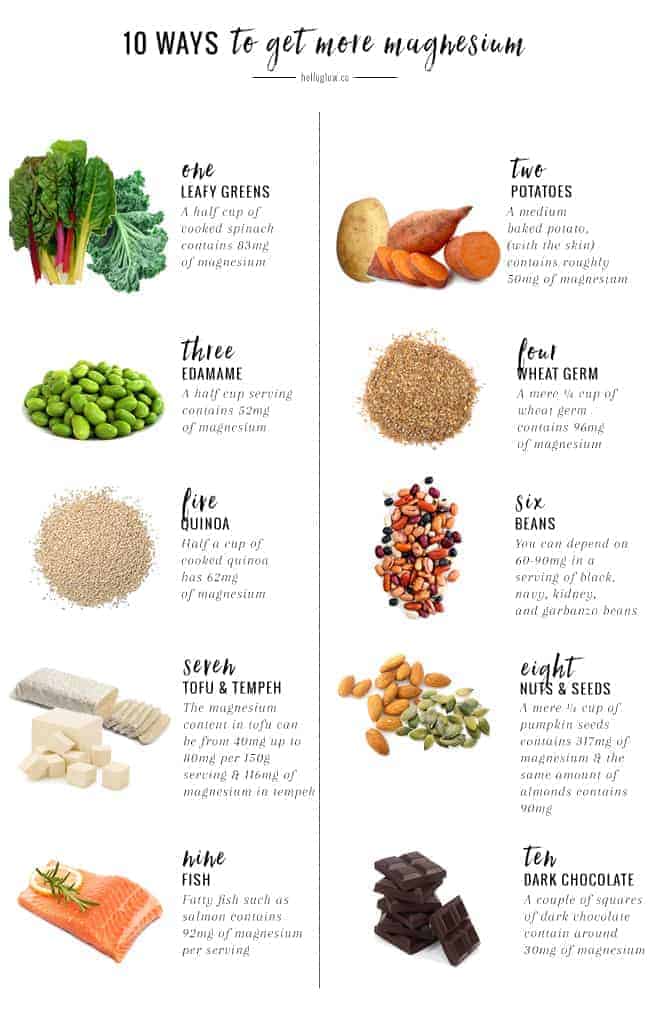 Ten Foods for Magnesium
1. Leafy greens
A half-cup of cooked spinach contains 83 mg of magnesium and the same amount of cooked chard rings in at 80 mg. Maybe it's high time you learned to like salad?
2. Potato
A medium baked potato, with the skin still on, contains roughly 50 mg of magnesium. Leaving the skin on is really important here, as the nutrients are concentrated there. For an extra punch of flavor, try this recipe for bone broth mashed potatoes.

3. Edamame
Like popping steamed edamame into your mouth? Good news then: a half-cup serving contains 52 mg of magnesium.
4. Wheat germ
The oily, nutrient-dense portion of the wheat grain is loaded with nutrients. A mere ¼ cup of wheat germ contains a whopping 96 mg of magnesium. Should you be growing your own?
5. Quinoa
Another great source of magnesium, half a cup of cooked quinoa has 62 mg of magnesium.
6. Beans
The magnesium content varies a bit from bean to bean, but you can depend on 60–90 mg in a serving of black, navy, kidney, or garbanzo beans.
7. Tofu and tempeh
Tofu ranges in magnesium content, depending on how it was prepared. If it was made using magnesium chloride, the magnesium content can range from 40 mg up to 80 mg per 150-gram serving. The fermentation process that creates tempeh from soybeans unlocks a lot of nutrients not otherwise available; a 150-gram serving of tempeh serves up 116 mg of magnesium.
8. Nuts and seeds
Nutrient-dense nuts and seeds are little magnesium powerhouses! A mere ¼ cup of pumpkin seeds contains a whopping 317 mg of magnesium. The same amount of sunflower seeds contain about 115 mg, and almonds have about 90 mg. Just 2 tablespoons of flax seeds contain 111 mg.
9. Fish
In particular, fatty fish such as salmon (92 mg per serving) and mackerel (73 mg per serving), but even a flaky fish like halibut, contains around 20 mg of magnesium per serving.
10. Dark chocolate
As if we needed another reason to love chocolate. A couple of squares of dark chocolate (at least 70% cocoa solids) contains around 30 mg of magnesium.
References:
1. Abbasi B, et al. The effect of magnesium supplementation on primary insomnia in elderly: a double-blind placebo-controlled clinical trial. J Res Med Sci. 2012.
2. Zhang Y, et al. Can magnesium enhance exercise performance? Nutrients. 2017.
3. Parazzini F, et al. Magnesium in the gynecological practice: a literature review. Magnes Res. 2017.
4. Boomsma D. The magic of magnesium. Int J Pharm Compd. 2008.
5. Gröber U. Magnesium and drugs. Int J Mol Sci. 2019.
6. Fiorentini, D, et al. Magnesium: biochemistry, nutrition, detection, and social impact of diseases linked to its deficiency. Nutrients. 2021.
7. Gröber U, et al. Magnesium in prevention and therapy. Nutrients. 2015.
8. Schutten JC, et al. Magnesium and blood pressure: a physiology-based approach. Adv Chronic Kidney Dis. 2018.
9. Garrison SR, et al. Magnesium for skeletal muscle cramps. Cochrane Database Syst Rev. 2012.
10. Boyle NB, et al. The effects of magnesium supplementation on subjective anxiety and stress—a systematic review. Nutrients. 2017.
11. Pickering G, et al. Magnesium status and stress: the vicious circle concept revisited. Nutrients. 2020.
This article was medically reviewed by Dr. Gina Jansheski, a licensed, board-certified physician with more than 20 years of practice experience. Learn more about Hello Glow's medical reviewers here. As always, this is not personal medical advice, and we recommend that you talk with your doctor.
84