I think everyone would agree that we have a thing for scrubs here at Hello Glow. Heck, we practically have a scrub for every ailment and occasion (just click here to see allll of our scrubs). But there is one overlooked body part that we have yet to cover—and that's practically begging for a little exfoliating action: the booty. Yes, booty scrub is a thing.
While the internet will have you believe otherwise, you don't need a "Brazilian butt lift" or a Kardashian-approved "butt facial" to preen your posterior. You can do it from the comfort of your own bathroom with the help of this DIY booty scrub. With just a few ingredients, you can say goodbye to everyday ailments like butt breakouts and dry, itchy skin, once and for all. This booty scrub is not only all-natural but suitable for sensitive skin and great for getting rid of butt acne (and body acne).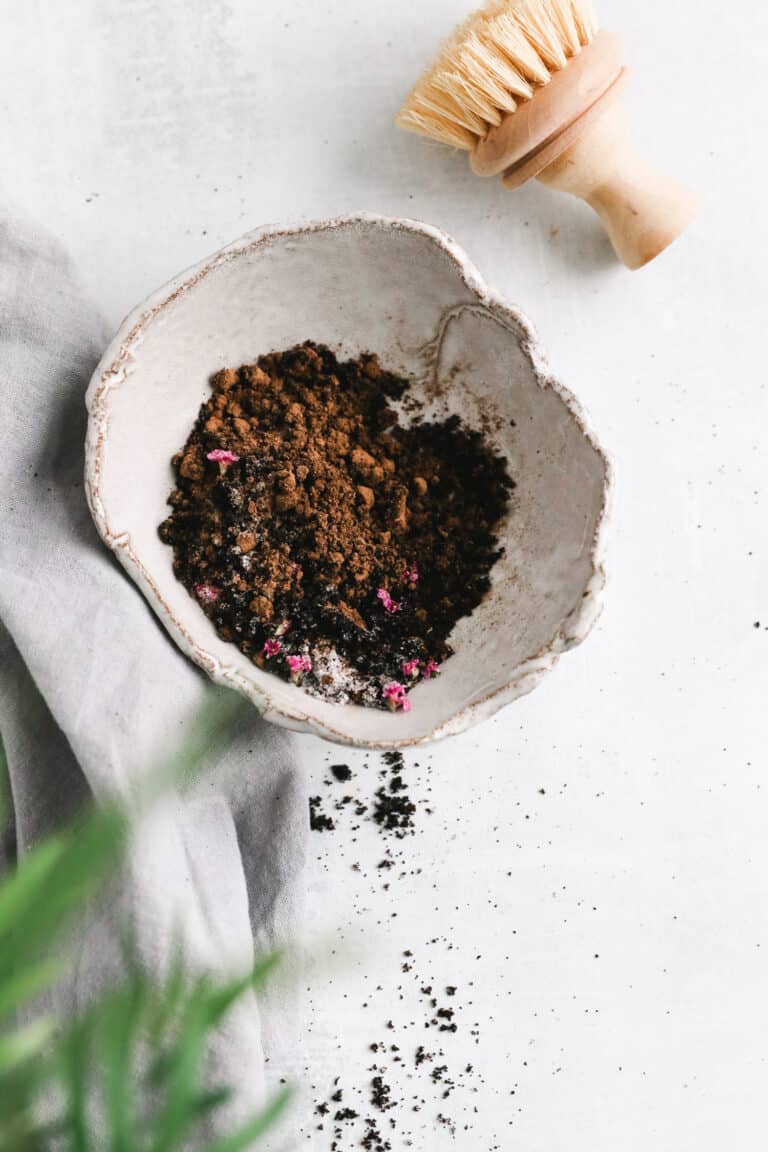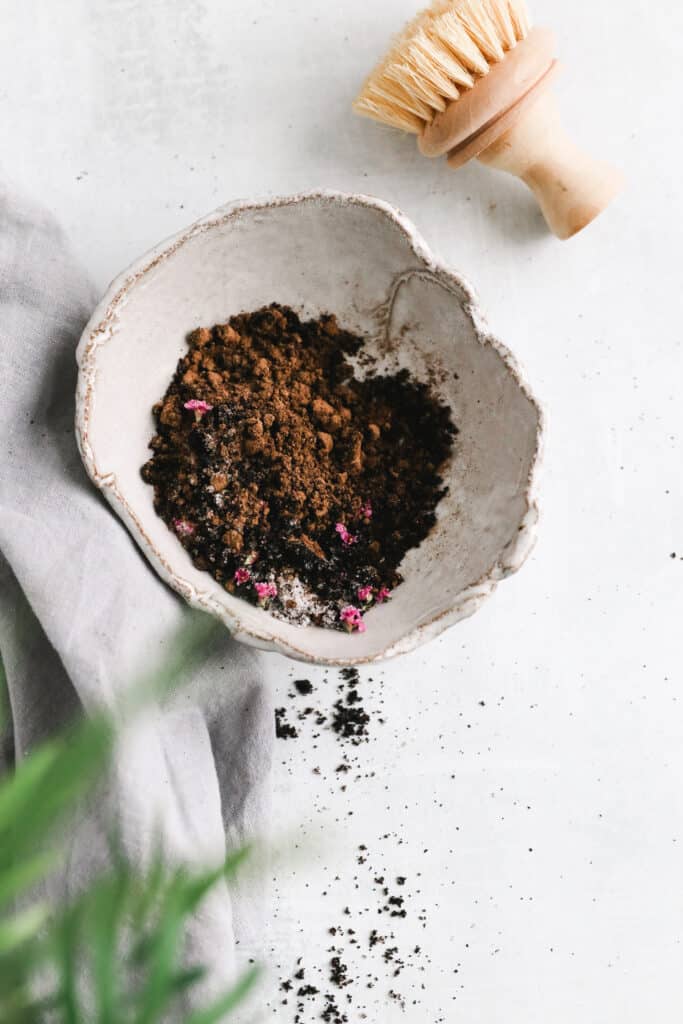 Yes, you should exfoliate your tush
Maybe you're still thinking, a butt scrub, tho? I know it's slightly awkward to talk about, but things like cellulite, stretch marks, and butt acne ("buttne" for short, you know, like "bacne") run rampant on many a rump. Like skin everywhere else on the body, sweat, dirt, oil, and grime can clog pores and lead to irritation and breakouts.
Butt acne is a common skin problem that can cause discomfort and self-consciousness. Fortunately, there are many homemade treatments available that can help improve the appearance of your skin. One important step to consider when treating butt acne is protecting your skin barrier, which helps to prevent irritation and dryness. To do this, it is recommended to use a body scrub or a booty scrub on damp skin to remove dead skin cells and unclog pores. Exfoliating your skin regularly also helps to improve cell turnover, which can lead to silky smooth and glowing skin.
It's safe to say that, when it comes to discoloration and booty breakouts, we've all been there, and it's absolutely nothing to be ashamed of. But if it bothers you, you can always grab an antioxidant-laden scrub and hit the shower.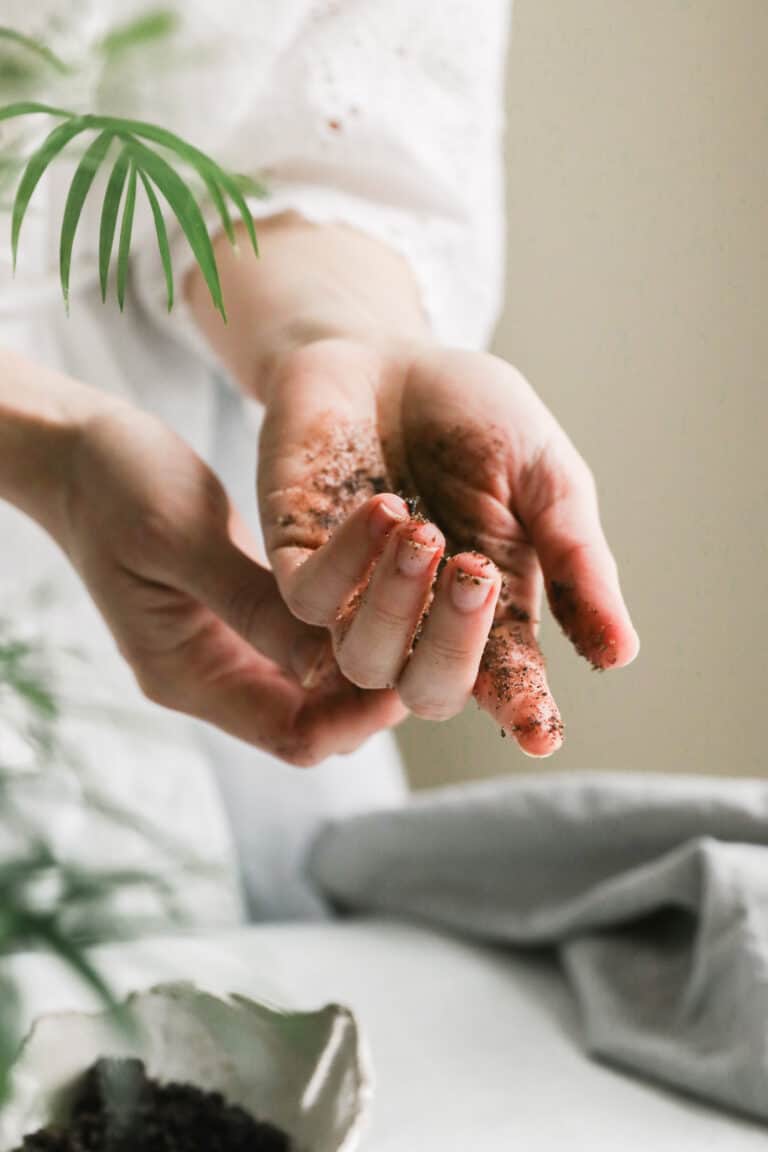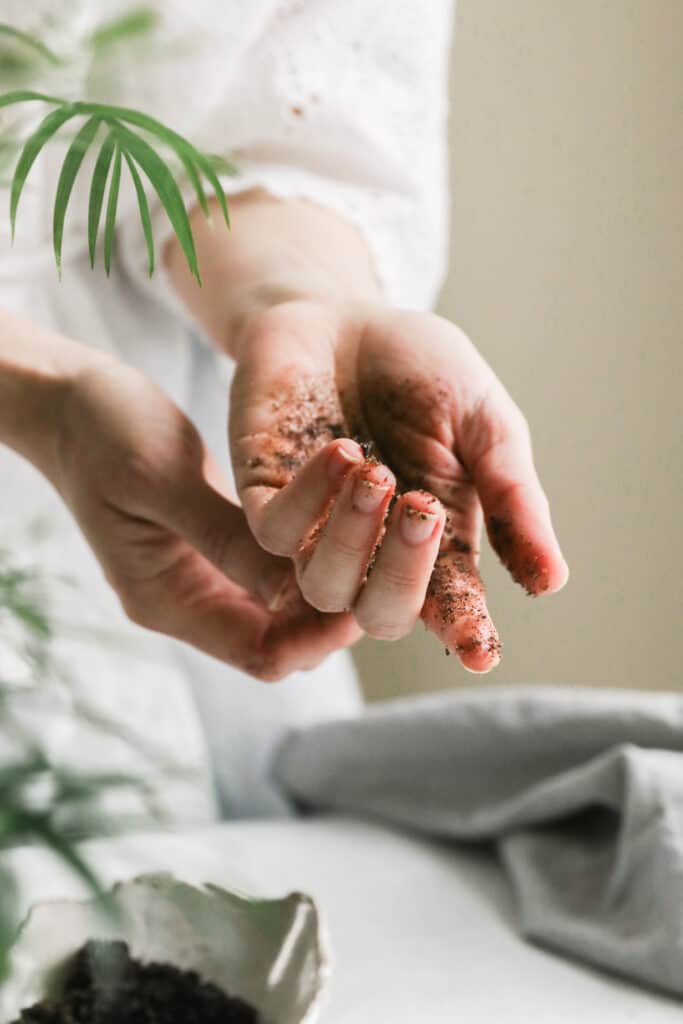 Sugar scrubs are a great way to tackle acne, scars, stretch marks, and dry, sensitive skin. They work by physically exfoliating debris and dead skin cells, creating the look of fresh, glowing skin.
Plus, they help clean your pores, thereby reducing the appearance of pimples, fine lines, and wrinkles. And the act of massaging skin can improve circulation and temporarily plump your posterior, making dimples and stretch marks less noticeable.
But this scrub doesn't stop there. It also blends walnut shell powder with coffee grounds, witch hazel, and organic essential oils known for their cleansing, toning, and tightening properties to really cover all your bases. Here's how it works:
Walnut Shell Powder
Said to be one of the best natural abrasives, ground walnut shells are hard enough to buff away dry skin yet soft enough to use on most areas of the body. Just be forewarned, even when finely ground (like this one), the shells can still be considered sharp and might not be suitable for the face or neck. The jagged edges have been reported to cause microtears in the skin, so while an excellent abrasive, it comes with some risk attached.
Coffee Grounds
Another natural abrasive, coffee grounds are often used in homemade scrubs because they're chock full of vitamins, minerals, antioxidants, and caffeine. Caffeine is especially great for using below the belt because it's said to help tighten skin and improve the appearance of fine lines, sagging, and cellulite [source]. You can also use it in a body scrub to combat body acne and cellulite all-over. Coffee seed oil can lighten dark patches of skin, reduce wrinkles and prevent acne scars.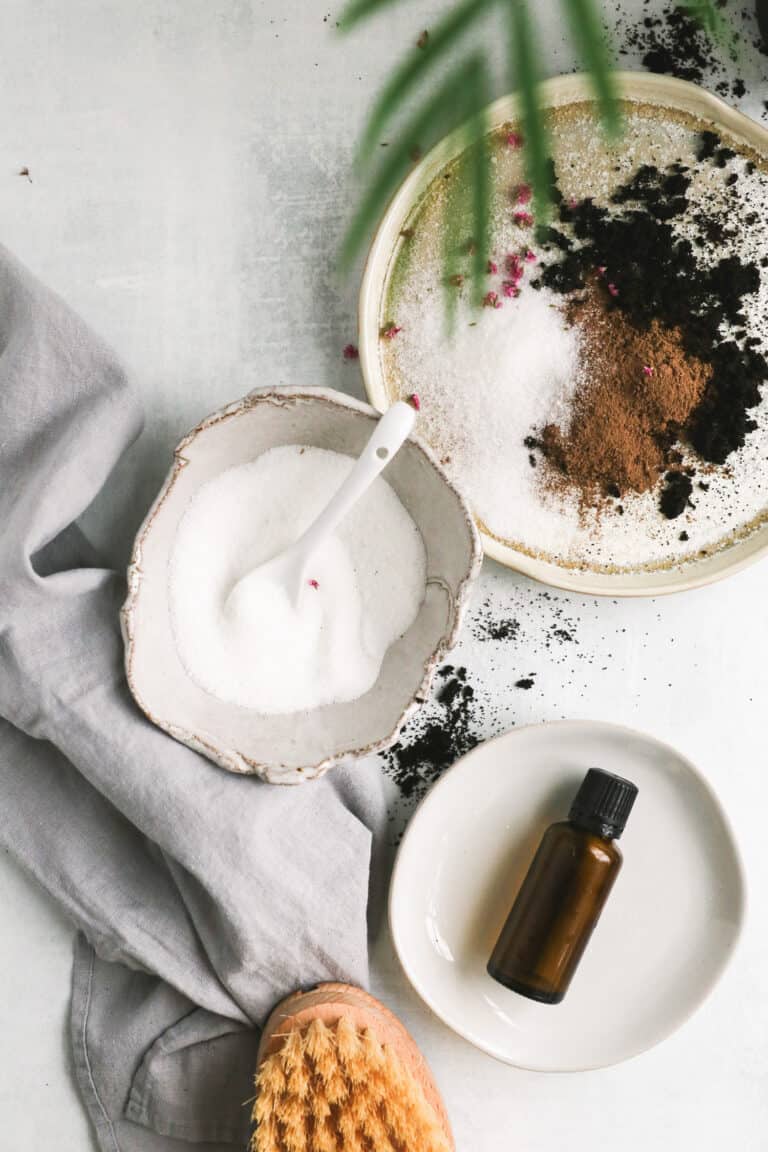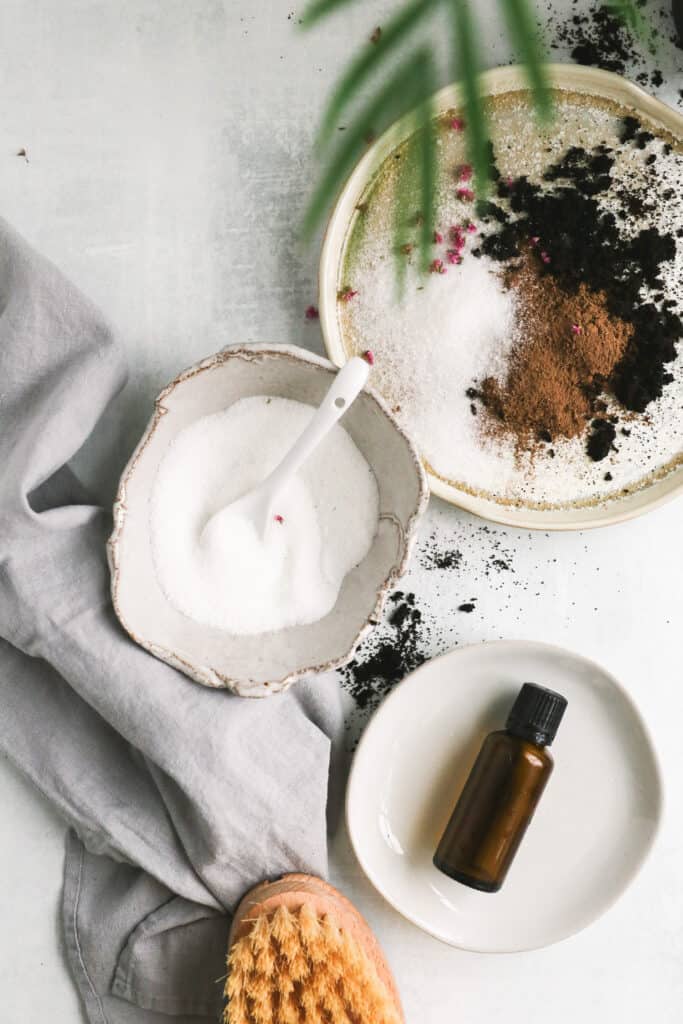 Jojoba oil has anti-inflammatory properties which help ease skin irritation, calm dry skin, and lock in moisture [source]. Vitamins E and B in jojoba oil [source] also help repair damaged skin.
A powerful anti-inflammatory [source], chamomile reigns supreme when it comes to soothing skin. Whether it's rosacea, irritation, acne, or any other skin concerns [source], chamomile oil calms them all, leaving you with seriously radiant skin. Feel free to add dried chamomile flower blossoms (or other dried flowers) to your scrub for a little extra exfoliating action.
Thyme oil is practically a panacea for skin ailments. It's antibacterial and antimicrobial [source], helping to keep acne at bay. It's loaded with antioxidants that help soothe and nourish the skin, repairing damage from the elements [source]. And it boosts blood flow, thus improving circulation and strengthening tissue.
Witch hazel acts as an astringent to help shrink pores, prevent breakouts, soothe irritation, and reduce inflammation.
Now, just to be clear, even the most expensive scrub won't get rid of cellulite, stretch marks, and wrinkles entirely. But it can help tighten skin and fade discoloration so your booty woes are less noticeable. Just use this butt scrub a couple times a week to gently tackle dimples, buttne, and other bugaboos (or shall I say, butt-aboos) at home.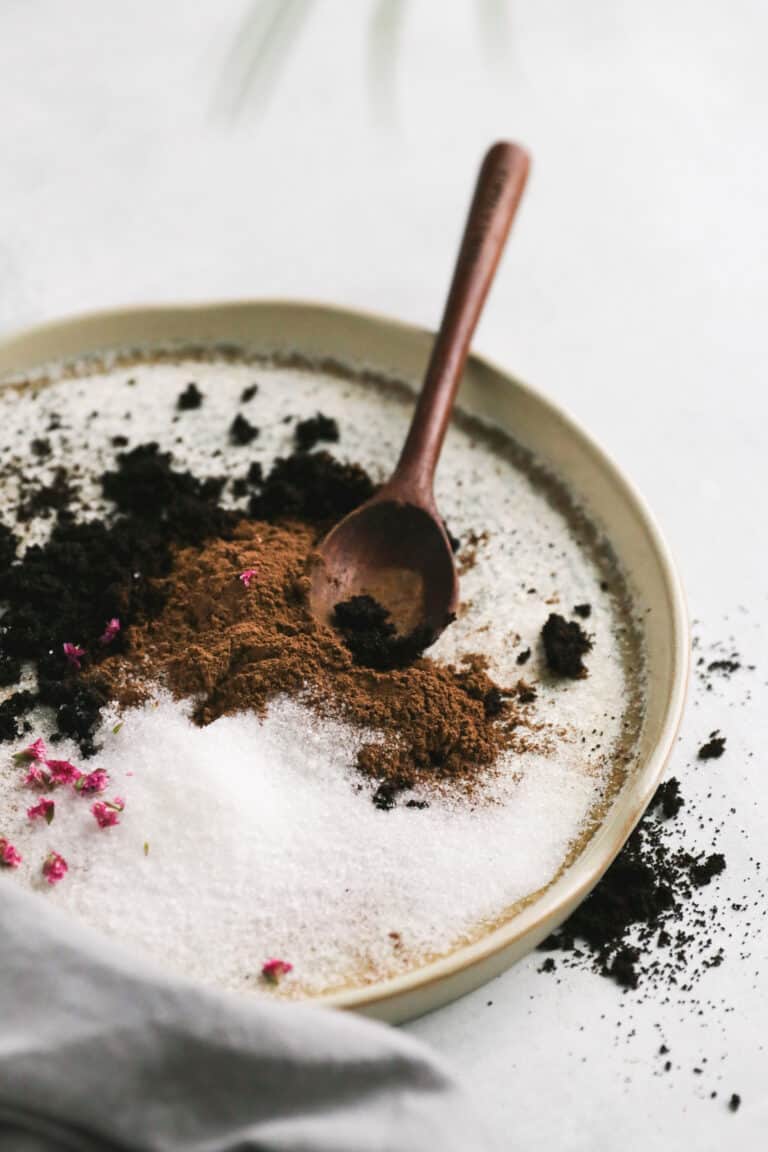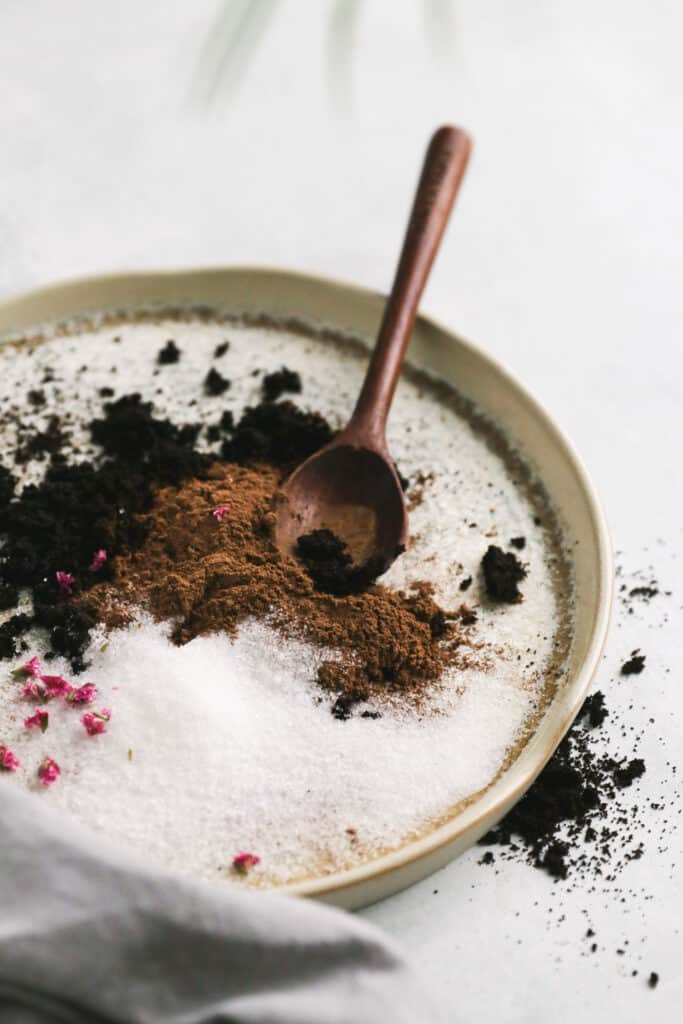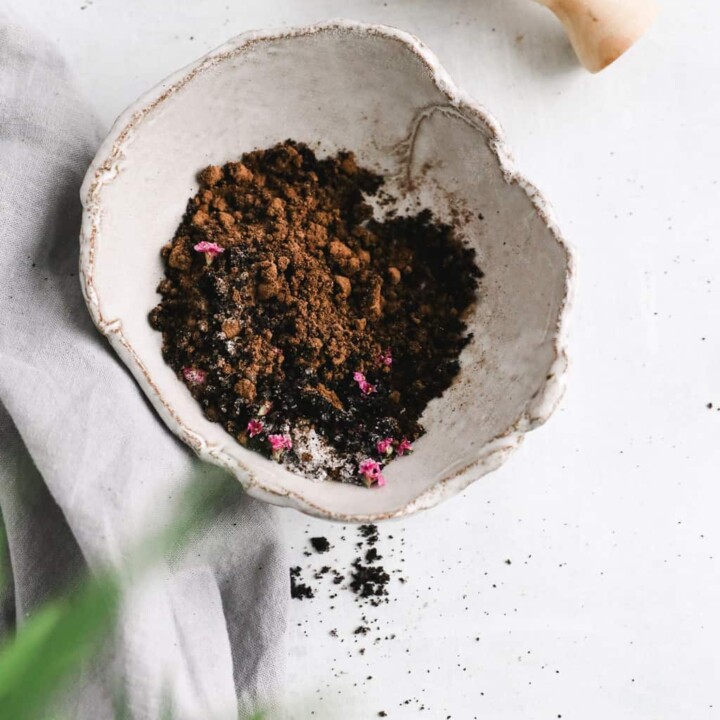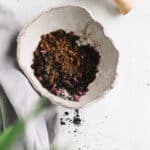 Print
DIY Butt Scrub Recipe
Exfoliate your tush with a toning DIY Butt Scrub.
Equipment
Coffee grinder (optional for coffee grounds)
Instructions
Combine all ingredients in a small bowl and mix well.

To use, take a small bit of scrub in your hands (add water if needed to make it easier to apply) and gently massage into skin. Rinse off and pat dry.
Notes
Use butt scrub 1–2 times a week, as needed. And as always, if you notice irritation or an adverse reaction, stop using it immediately.
Transfer remaining scrub to a lidded glass jar, where it can be stored up to 1 week on the bathroom counter or 2 weeks in the refrigerator. Feel free to halve the recipe if you can't use all the scrub before it goes bad.
This post was medically reviewed by Dr. Jennifer Haley, a board-certified dermatologist with extensive experience in medical, cosmetic, and surgical dermatology. Learn more about Hello Glow's medical reviewers here. As always, this is not personal medical advice, and we recommend that you talk with your doctor.
182