Almost everybody has a scar they'd really rather not see every day. I've got a few from the chickenpox I had 25+ years ago, one from accidentally stabbing myself while trying to whittle a piece of wood, another from a nasty steam burn while working in a coffee shop, and yet another from slipping on a dock and gouging my ankle.
And those are just the ones I notice on a daily basis. So first of all, not great memories! And secondly, even though the scars are faded, in my mind they're still a little unsightly.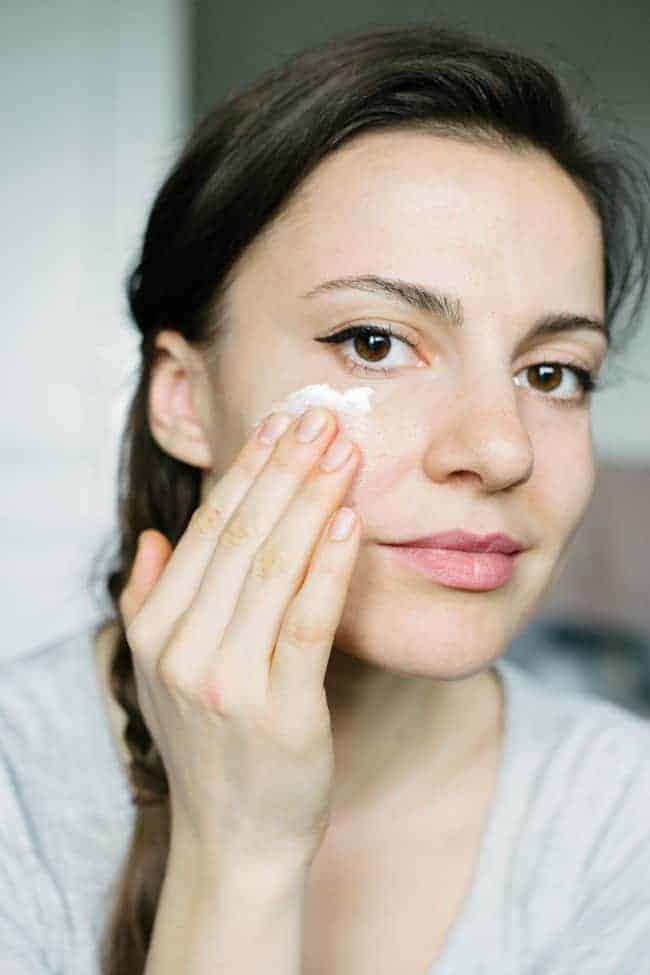 If you have scars from cuts and scrapes, injuries, acne, or surgery, chances are nobody else is noticing, but they can be annoying and make you feel self-conscious. While scars are inevitable (especially if you're clumsy like I apparently am), there are a lot of natural remedies you can use to minimize their appearance.
Note that it may take consistent applications—daily is ideal—for results to be noticeable over time.
12 Natural Scar Remedies
Putting everyday products into therapeutic use is fun and gives me a good feeling. Who knew that there is so much out there that you can use to help your body. If you have some nasty scars and you're also battling stretch marks (aren't we all?), these scar treatments are natural stretch mark remedies, too!
1. Cucumber
Cucumbers bring with them some anti-inflammatory effects from naturally-occurring phytochemicals called cucurbitacins (source) and the antioxidant effects of flavonoids (source). Especially helpful for acne scars, a cucumber mask or cucumber lotion can minimize inflammation and the appearance of scars on the face or body.
Cucumbers also have lightening agents (source) that will help reduce residual redness.
Try this easy combination at home:
1 peeled cucumber

1 tablespoon organic Greek yogurt
Puree the cucumber and then mix in the yogurt. Apply to the face or other affected areas and leave on for 10 minutes before rinsing thoroughly.
Bonus: You can eat it too!
This essential oil has well-known anti-inflammatory properties (source) and helps treat dry skin. It has been used to reverse the signs of aging, and reduce the appearance of stretch marks and scars.
3. Rosehip Seed Oil
Mix frankincense oil with another scar-fighting oil, rosehip seed oil, to make an anti-aging facial oil that also works on scars. Rosehip seed oil is high in antioxidants and essential fatty acids that heal damaged and dehydrated skin (source). It's a "dry" oil, meaning that it soaks into the skin easily and doesn't leave a greasy residue, so you can use it just about anywhere on your body.
4. Apple Cider Vinegar
Dilute ACV with anywhere from 1 to 4 parts water (depending on how sensitive your skin is) and dab or swipe that on using a cotton ball to help fade scars and sun spots. If you have acne-prone or oily skin, try this wonder ingredient in an acne-fighting turmeric-ACV astringent, to make use of the antibacterial effects in apple cider vinegar (source).
This worked wonders on my ankle scarring—you can still see some discoloration, but it's not nearly as raised as it used to be. Among many other benefits, aloe reduces inflammation, swelling, and redness (source).
6. Lemon Juice
Another great treatment for acne scars, lemon juice is known for its bleaching action when used in combination with the sun, and it helps to fade any dark discolorations in the skin. Combine it with aloe's inflammation-fighting power in an aloe-lemon face pack (you can use it on other parts of the body, too.)
Leafy greens are the best natural source of vitamin K, which helps in blood clotting. When it comes to skin, a topical application of vitamin K can help minimize spider veins, bruising, scars, and stretch marks.
Bonus: You can eat your kale and collards to promote healing from within, too.
8. Baking Soda
DIY beauty mavens swear by baking soda for discoloration and acne scars. It's also a gentle exfoliant. Baking soda is thought to work like a magnet, pulling any ickiness out of the skin.
Mix a little water with baking soda to make a paste and apply to wet skin, then let it sit for 10 to 15 minutes. (Hold a warm compress on it for even better results.)
Bonus: It leaves your skin baby soft afterward.
9. Extra Virgin Olive Oil
EVOO helps loosen dead skin cells and lighten and soften scars. It's inexpensive and readily available. You can even leave a little olive oil on the affected area overnight for extra moisturizing.
In addition to working well for stretch marks, cocoa butter (go for organic, raw versions if possible) is a highly concentrated fat that penetrates deep into the skin to heal, smooth, and soften. This is a great remedy if you have larger scars because you can cover more area easily with a jar of this popular oil.
Bonus: It smells like you are on vacation.
Lavender oil has been shown to improve collagen synthesis, which is the major building block of healthy skin (source). In addition to helping treat burns, eczema, and acne, lavender's healing and soothing properties may also help diminish scar tissue.
Lavender is gentle enough that you can apply a couple of drops to the affected area daily (do a small test patch on the inside of your elbow if you've never used it before).
Bonus: Lavender is great for anxiety and insomnia.
12. Maximum Moisture for Skin
It's important to keep the skin moisturized and protected. Natural emollients have lubricating properties that are super soothing to the skin and help minimize the appearance of scars. Try different combinations of oils for the perfect scent and smoothness, to send antioxidants and softening agents to any troublesome spots.
As an example, you can make something like this homemade scar lotion, which contains coconut oil, frankincense, aloe, wheat germ oil, and rosehip oil—a scar-fighting powerhouse.
Once you feel confident creating your own healthy products at home, you may not even want to revisit the drugstore for those chemical-laden moisturizers again!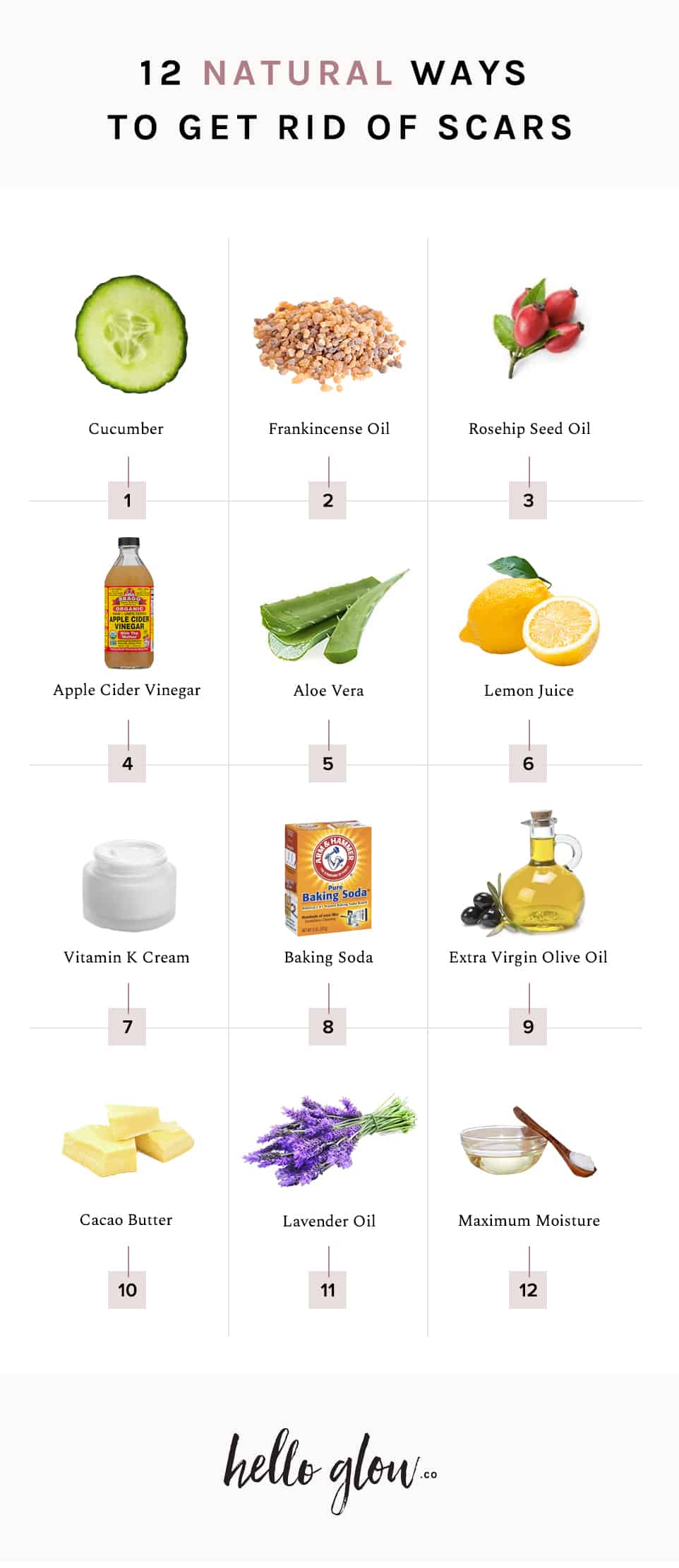 This article was medically reviewed by Dr. Gina Jansheski, a licensed, board-certified pediatrician who has been practicing for more than 20 years. Learn more about Hello Glow's medical reviewers here. As always, this is not personal medical advice and we recommend that you talk with your doctor.
712