While I'm definitely not a fan of dry, itchy skin, most body exfoliators are a little too harsh and only make my sensitive skin woes worse. Rather than buying an expensive off-the-shelf exfoliator, I like to whip up my own coffee scrub to tackle the flakes. These coffee scrub recipes are made from upcycled coffee grounds, so there's no need to rush out and buy a lot of supplies. And they're chock full of ingredients that help take care of pesky problems like scars, cellulite, and sun damage.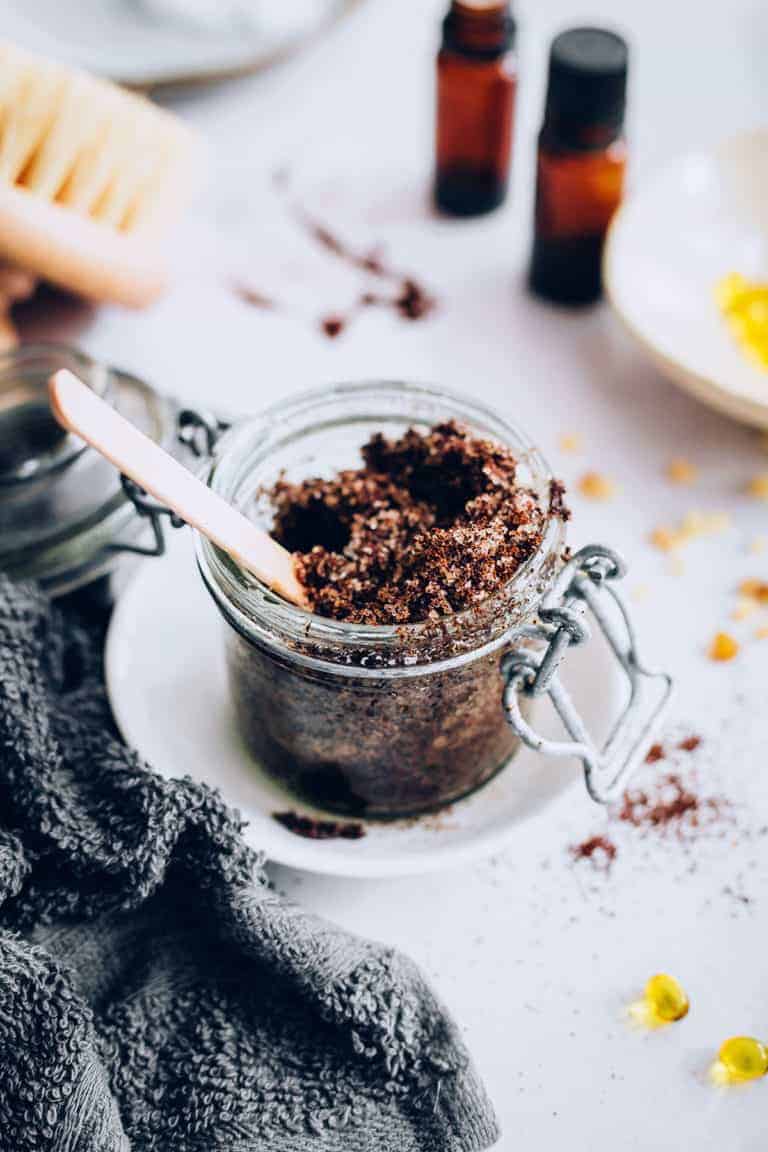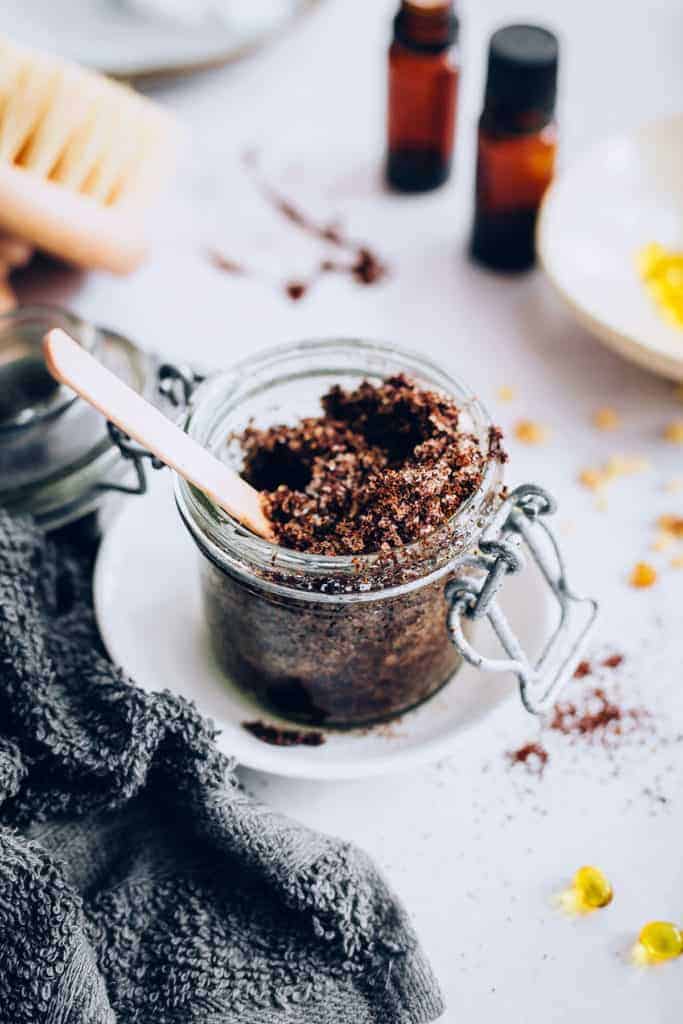 3 Coffee Scrub Recipes for Scars
,
Cellulite
,
and Sun Damage
Coffee is loaded with vitamins, minerals, and antioxidants [source] that help soothe and heal irritated skin. And even though we recommend used grounds, they still contain enough micronutrients to benefit skin without causing adverse effects.
Here are some of the body benefits of coffee scrubs:
1. Coffee is gentle on skin
Unlike a lot of other scrubs, coffee grounds are ever so slightly abrasive (perfect for gently tackling flakes), and used coffee grounds are mild enough to use all over the body.
While some folks say coffee scrubs should never be used on the face, I disagree! Lots of commercial coffee exfoliators say they're perfectly fine on sensitive facial skin. Just be gentle, make sure it's super finely ground, and use a light touch. But if you'd prefer to be safe, then skip the face and use this scrub on the body only.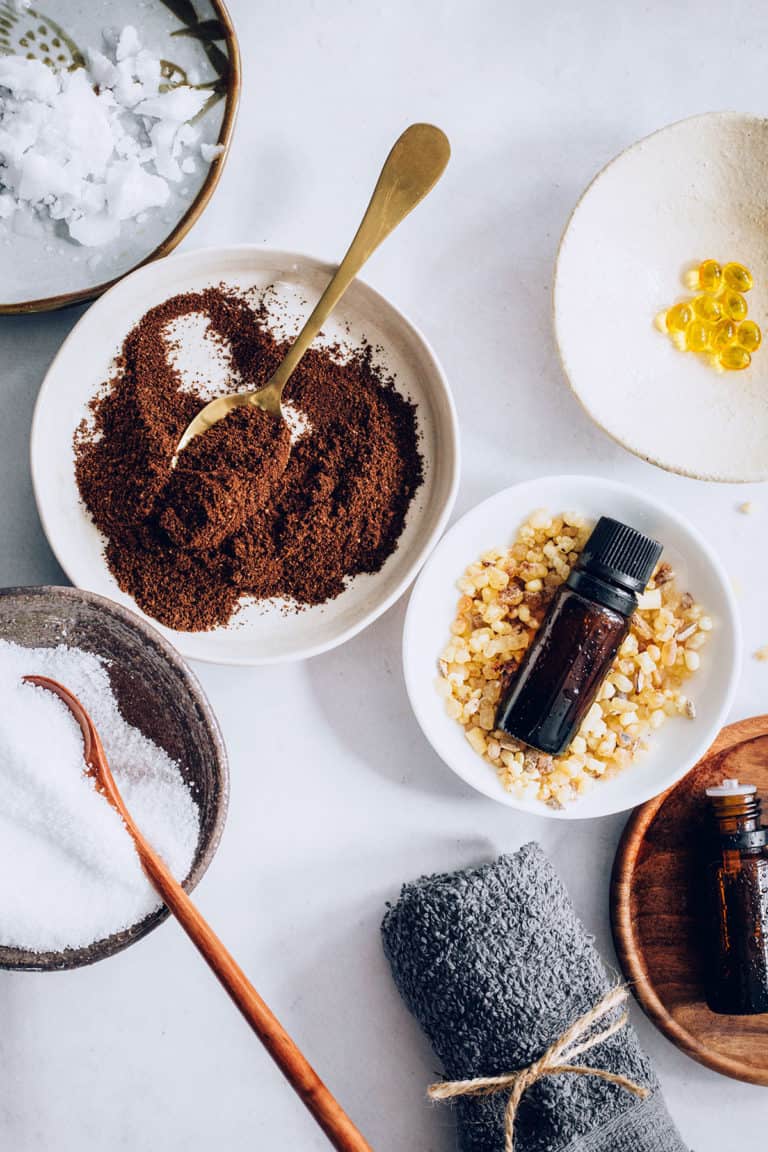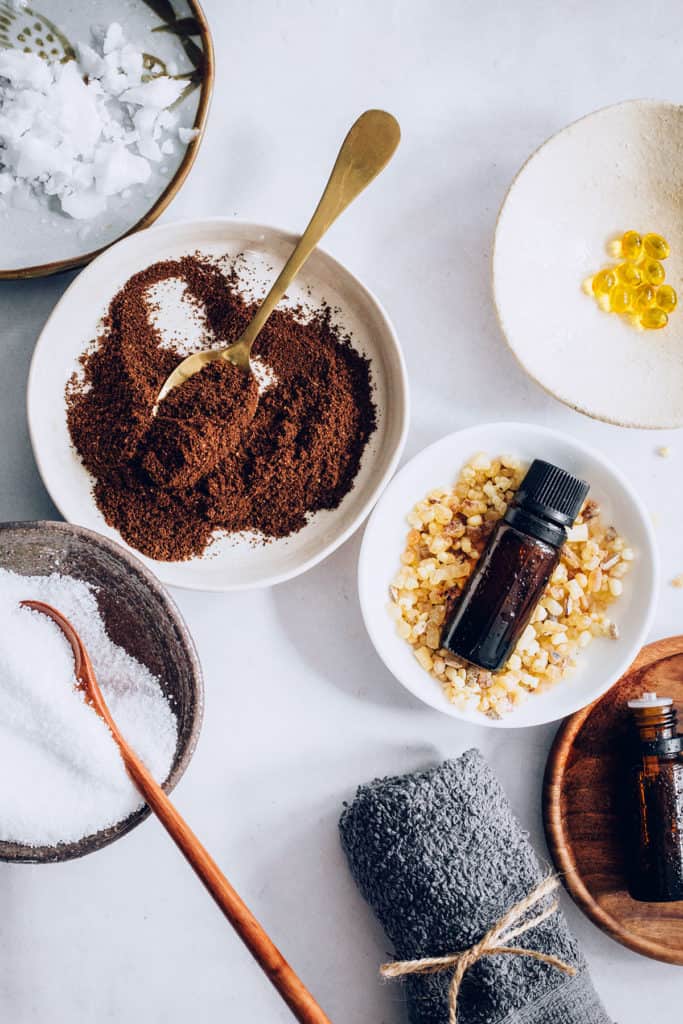 2. Caffeine stimulates blood flow and tones skin
But it's not just for revitalizing dry skin; the caffeine in coffee helps stimulate blood flow and prevents excess accumulation of fat cells [source]. By boosting circulation and keeping fat cells at bay, it's said to improve the appearance of cellulite.
While coffee may not completely get rid of the cellulite, it should at the very least make cellulite less noticeable. Either way, it might be worth a shot if it means getting those winter legs bikini ready.
3. Coffee's antioxidants protect against sun damage
Coffee is loaded with a variety of antioxidants, including chlorogenic, ferulic, caffeic, and n-coumaric acids [source]. Whether ingested or used topically, antioxidants work to neutralize free radical damage caused by the sun. I add vitamin E oil to my scrub to boost the coffee's natural antioxidant protection, encourage healing, and fade scars.
A note on coffee grounds: leftover grounds are still chock full of caffeine and antioxidants, which leave skin looking perky and toned, but unused coffee grounds will last longer and contain more caffeine. If you have sensitive skin like I do, just make sure to grind the coffee into a soft, powder-like consistency to prevent further irritation.
Now, if you're ready, here's how to make your own coffee scrub 3 ways!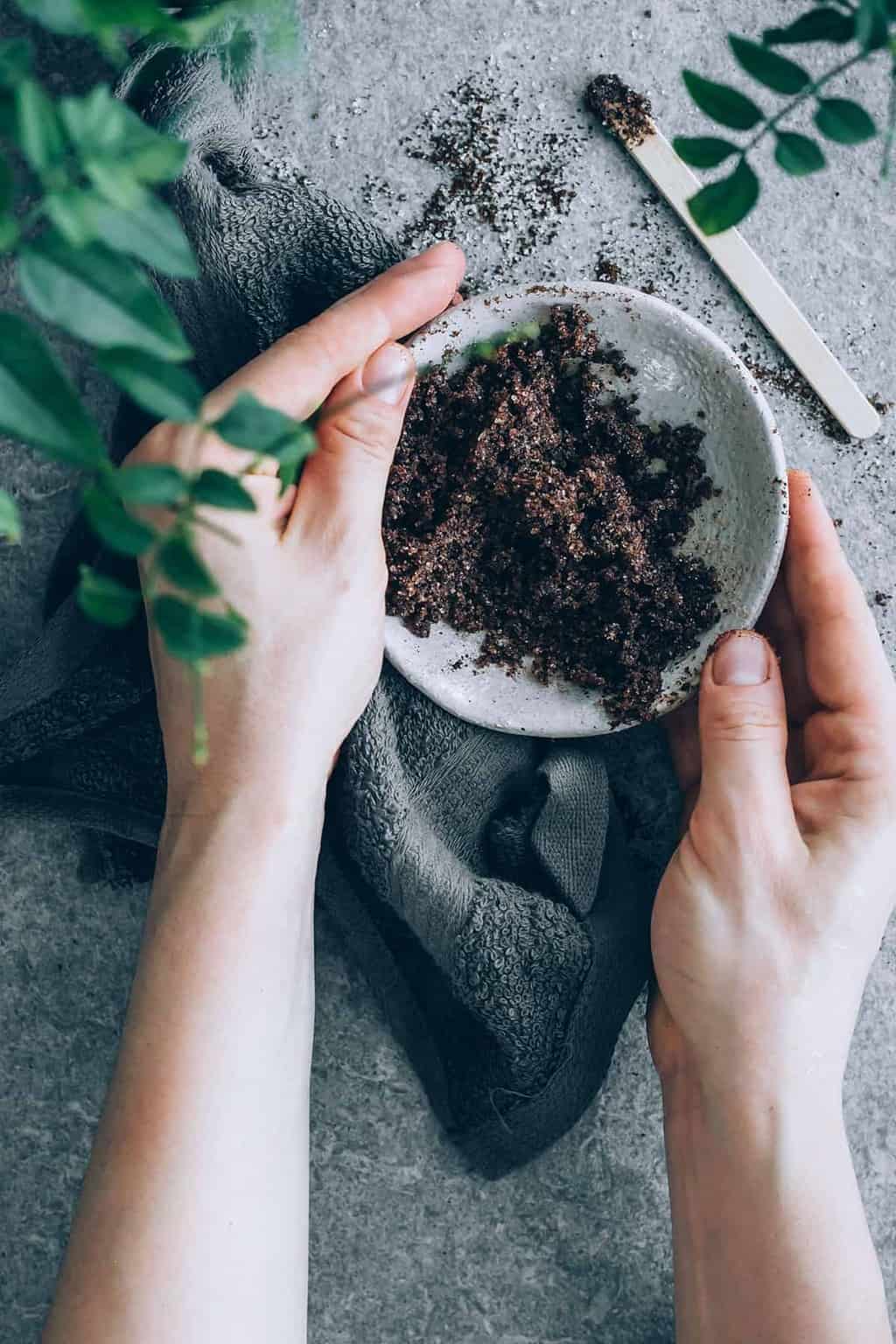 1. Homemade Coffee Scrub Recipe with Essential Oils for Scars

In addition to coffee and vitamin E oil, I also like to toss in some sea salt to tackle scaly skin and fight breakouts. Coconut oil softens and hydrates skin. And essential oils repair damaged skin and give the skin a fresh scent.
I love frankincense [source] and neroli [source] essential oils for their healing benefits, but you can't go wrong with just about any essential oils you have on hand. Here are a few of our favorite essential oils for scars:

Frankincense essential oil
Frankincense is extracted from the resin of the Boswellia tree, and its antiseptic, anti-inflammatory and antibacterial properties encourage the healing process, helping to prevent the inflammation that leads to greater scar formation.
Skincare enthusiasts celebrate this oil for its antiaging abilities as they say it increases cell turnover and reduces fine lines. When used on scars, frankincense helps to promote the formation of new skin cells and tightens the skin, making it ideal for existing scars that are difficult to fade.
Neroli essential oil
Neroli essential oil is an impressive healing oil known to reduce pain and inflammation in the skin [source], while its antimicrobial and antioxidant properties [source] minimize irritation of the healing area.
The oil is distilled from the white flowers of the bitter orange tree and fights free radicals with compounds like y-terpinene, nerol, and geraniol [source].
Lavender essential oil
The calming skin benefits of lavender make this oil a great choice post-surgery, especially if you are left with more scarring than expected and high stress levels. Lavender oil is particularly effective in the beginning phase of scar treatment as it has been shown to speed up wound closure [source]. Another significant benefit of lavender is its ability to encourage the production of new tissue cells and collagen [source].
Helichrysum essential oil
Helichrysum oil is often the go-to oil for injuries as it has numerous scar-erasing characteristics. This skin-loving oil soothes rashes, relieves infections, and has antimicrobial and antibacterial properties [source].
Helichrysum is also called "everlasting" or "immortelle," referring to the yellow flowers that appear to last forever when they are dried. Just as enduring as its flower, the oil maximizes wound healing by stimulating the production of new skin cells, giving the skin elasticity and youth.
DIY Coffee Scrub for Scars + Cellulite

—1 cup coffee grounds
—½ cup sea salt or sugar
—⅓ cup coconut oil, melted
—15 drops frankincense essential oil
—15 drops neroli essential oil
—1 teaspoon vitamin E oil
Combine ingredients in a small bowl and mix well.
To use, apply a small amount to damp skin, and lightly massage to remove flakes and improve skin tone and texture.
2. Coffee Scrub Cubes with Coconut Oil
These solid coconut oil scrub cubes with coffee grounds are the perfect size. You will waste so much less oil with these handy cubes.
Coffee is kinda messy so it's best to use in the shower so you only have to clean up coffee grounds once. And by clean up, I mean making sure they all go down the drain. Not hard but a little pesky.
Use a coffee face mask or coffee scrub first thing in the morning. A dose of caffeine—even via the skin—late at night might make it hard to sleep.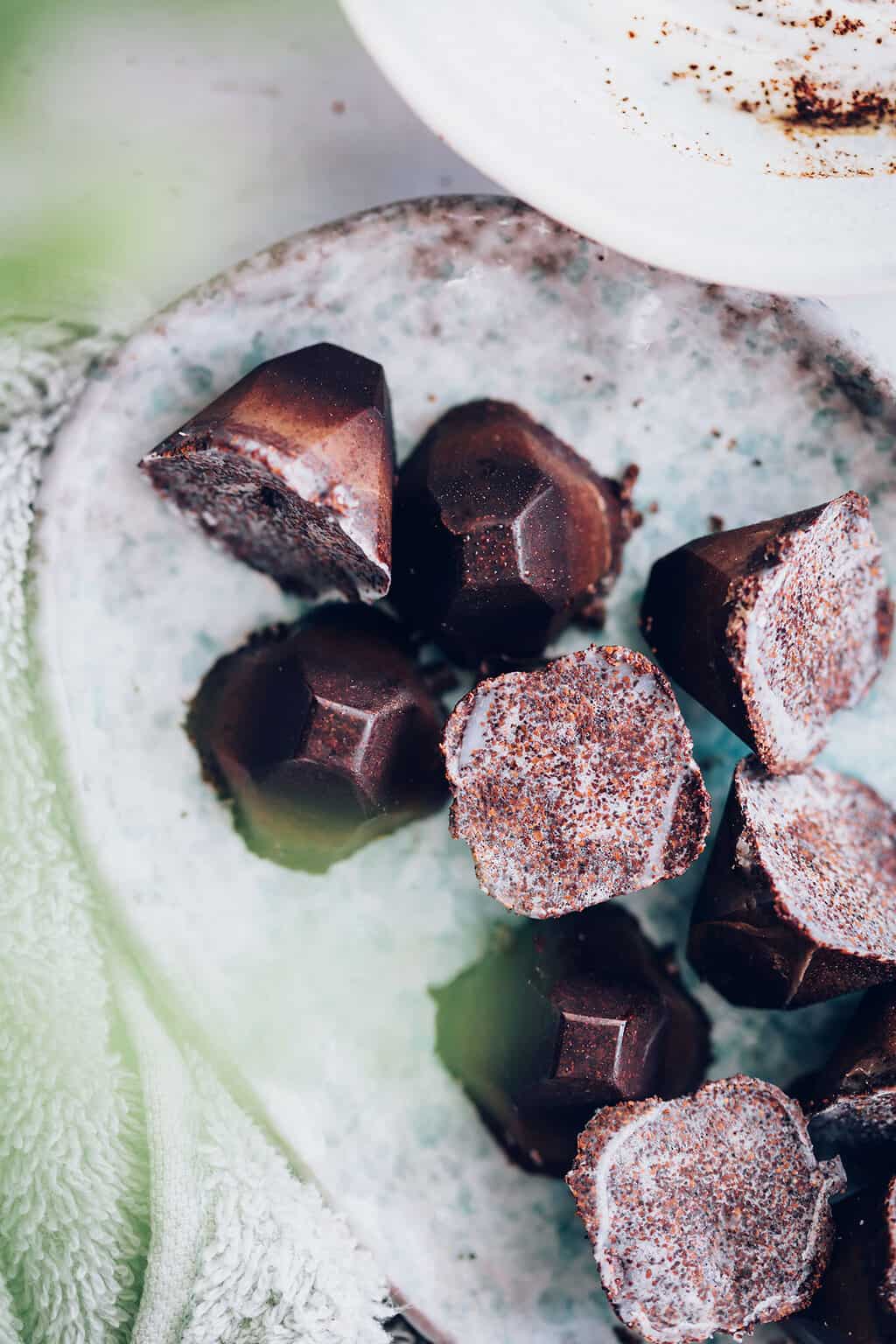 Coconut oil + coffee scrub cubes
—½ cup coconut oil
—½ cup coffee grounds
—Ice cube tray
—30 drops of essential oil, optional
Combine coconut oil (microwave briefly to liquify) with fresh coffee grounds and then divide the mixture into muffin tins or ice cube trays. Freeze until solid then pop them out and store in a Ziploc.
I used an ice cube tray and needed about 2 for a good scrub. A full-size muffin tin would probably be the perfect one-use size.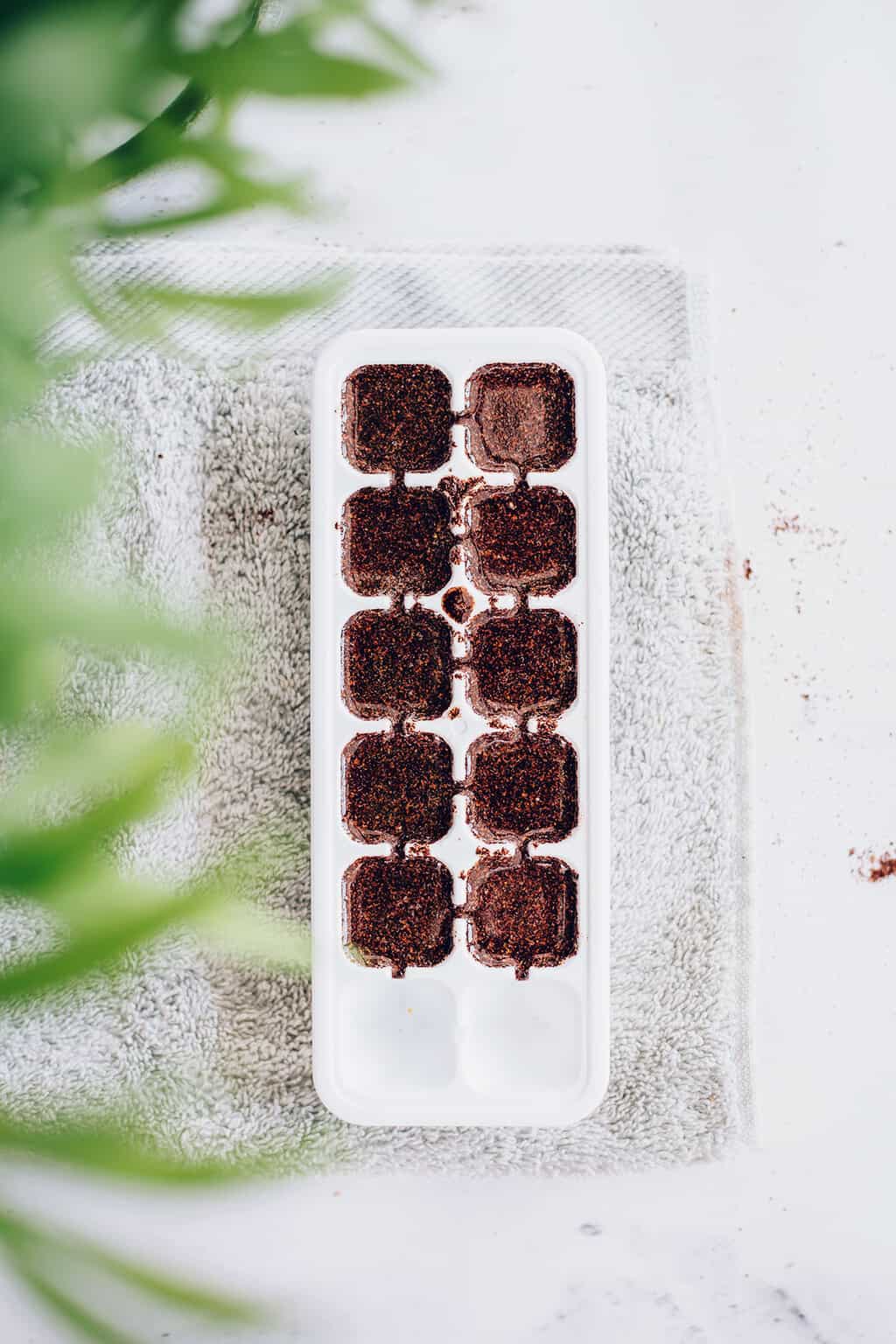 If you're not using them immediately, keep them in the freezer. If you leave them sitting out they will get soft (still totally fine to use) or possibly melt (also okay to use) and eventually go bad due to the moisture in the grounds (not so awesome to use).
3. Coffee Body Scrub with Shimmer
This scrub uses sugar to gently buff and polish and a dose of coffee (just avoid your face and sensitive areas if you go this route) to help tighten skin, reduce inflammation and decrease the appearance of cellulite. Then spike it with nourishing oils, like jojoba or olive oil, to moisturize and heal parched skin.
Thanks to the addition of mica, this scrub doesn't just buff away dry skin but it also leaves behind a soft, natural shimmer. Unlike glitter, mica is a soft powder that won't irritate sensitive skin or mysteriously end up all over every square inch of your house. Just hop in the shower and slough away dry skin.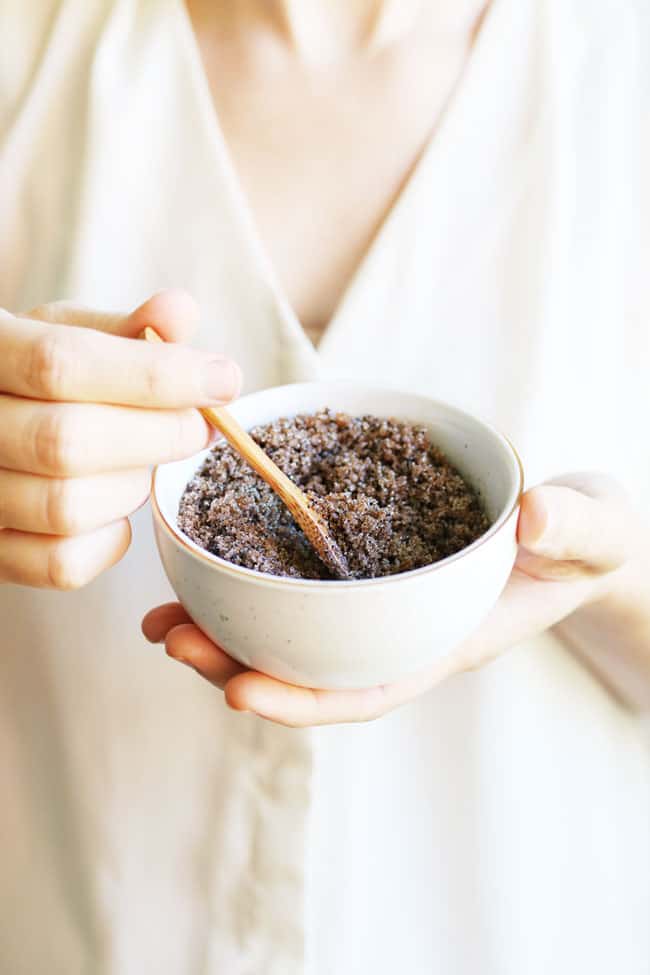 Shimmery Coffee Body Scrub
—⅓ cup finely ground coffee
—⅓ cup white sugar
—1 teaspoon silver or gold cosmetic mica
—2 tablespoons jojoba or olive oil
—12 drops of essential oil, optional
Mix everything together in a small bowl and scoop into a lidded jar.
Next time you're in the shower, scrub dry skin (while this can be used on the face, I would keep it as far away from the eye area as possible) and rinse off. You'll be left with radiant skin and a soft, barely there sparkle.
Coffee Scrub FAQs
How long does homemade coffee scrub last?
This really depends on whether you use fresh or used coffee grounds.
Used grounds are already wet, so they'll get moldy in a matter of days.
But fresh, unused coffee grounds can last a lot longer. As long as you're careful not to get any water in your scrub, it should last for a few weeks without the need for refrigeration. To be safe, I recommend making a fresh batch every 2 weeks. But as long as you don't notice an "off" smell or visible mold, you can try keeping it longer. You can always extend the shelf life by storing leftovers in the refrigerator.
Can a coffee scrub remove blackheads
?
Yes, coffee grounds are amazing at removing the built-up oil, dirt, and debris that often cause blackheads.
Does coffee brighten skin?
By boosting circulation and improving skin tone and texture, coffee may make your skin appear brighter, at least for a little while. But it probably won't whiten skin or remove discoloration.
Can I use decaf coffee for my scrub
?
While you won't get the cellulite-busting benefits of caffeine, decaf coffee will still make a great exfoliant. And if that's all you have on hand, go for it.
Can I use a coffee scrub every day
?
Even gentle scrubs can break down your skin's natural protective barrier, so I don't recommend using it every day. It's best to limit it to 2–3 days a week. And if you notice any redness or irritation, use it less often.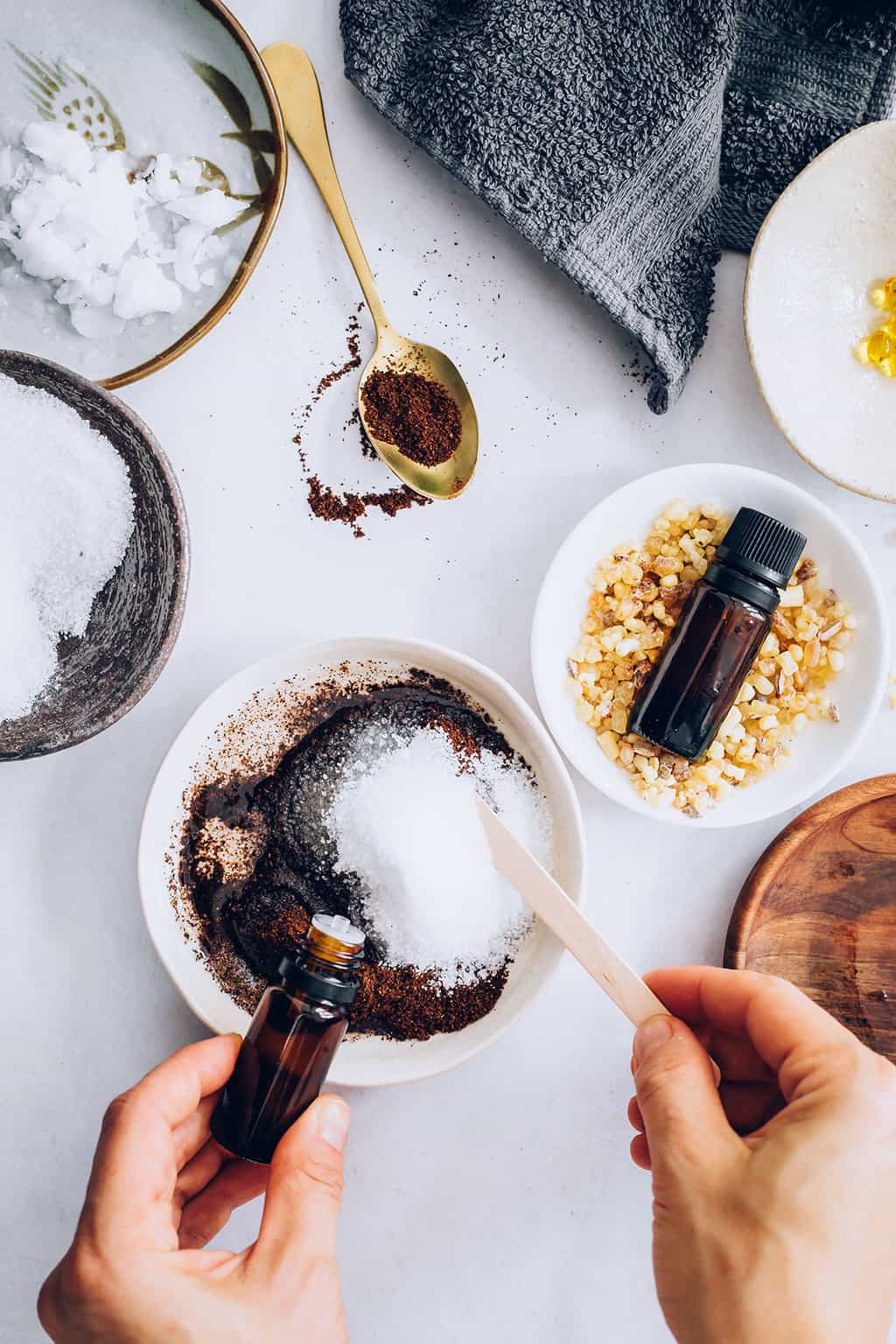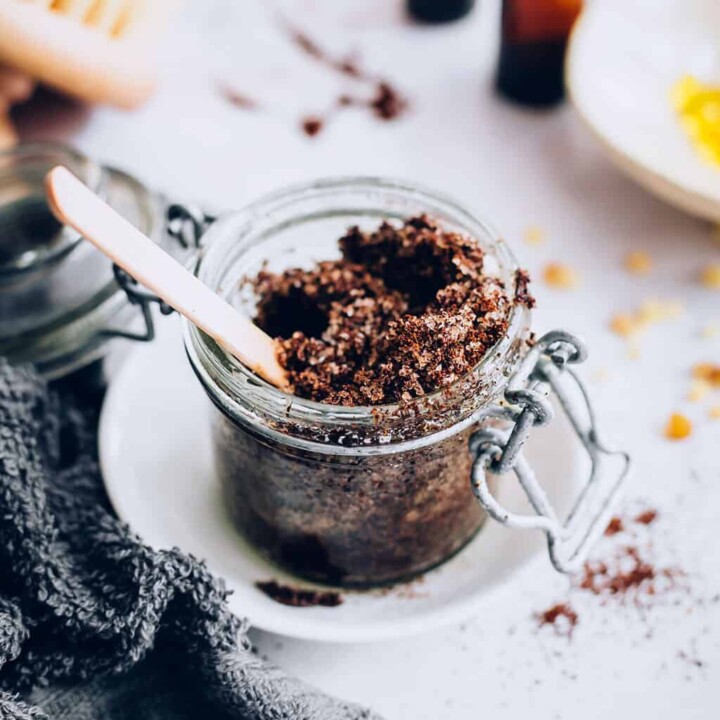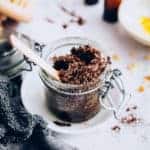 Print
DIY Coffee Scrub for Scars, Cellulite, and Sun Damage
Used coffee grounds make for an easy DIY coffee scrub recipe that exfoliates without irritating sensitive skin and helps heal scars and sun damage.
Equipment
Small bowl

Glass jar with lid
Instructions
Combine all ingredients in a small bowl and mix well.

To use, apply a small amount to damp skin, and lightly massage to remove flakes and improve skin tone and texture.
Notes
While you

'

re free to use fresh coffee grounds, leftover grounds are still chock full of caffeine and antioxidants, which leave skin looking perky and toned. If you have sensitive skin like I do, just make sure to grind the coffee into a soft, powder-like consistency to prevent further irritation. Otherwise, go with a coarse grind to help get rid of even the gnarliest flakes.
If you repurpose used coffee grounds for this scrub, your scrub will only last 1–2 days since the grounds are already wet (and water breeds mold).
If you use fresh, unused grounds, you can store leftover scrub in a lidded glass jar for up to 2 weeks. Just make sure to not get any water in your scrub whenever you use it.
This post was medically reviewed by Dr. Rina Mary Allawh, M.D., a dermatologist who practices adult and pediatric medical dermatology, skin cancer treatment, and cosmetic dermatology. Learn more about Hello Glow's medical reviewers here. As always, this is not personal medical advice, and we recommend that you talk with your doctor.
223