Say "homemade beauty" and the first thing that probably comes to mind is "sugar scrub". Other than our absolute favorite 1-ingredient recipes, nothing is easier than making an exfoliating sugar scrub!
The fine texture of sugar is naturally exfoliating without clogging the pores, it's moisturizing for the skin, and safe on even the most sensitive areas (such as your face!). Moreover, exfoliating with a sugar scrub will help remove dead cells, increase blood circulation, and prevent signs of aging. This is the one time you should totally be reaching for the sugar jar!
Homemade Sugar Scrubs – 4 Ways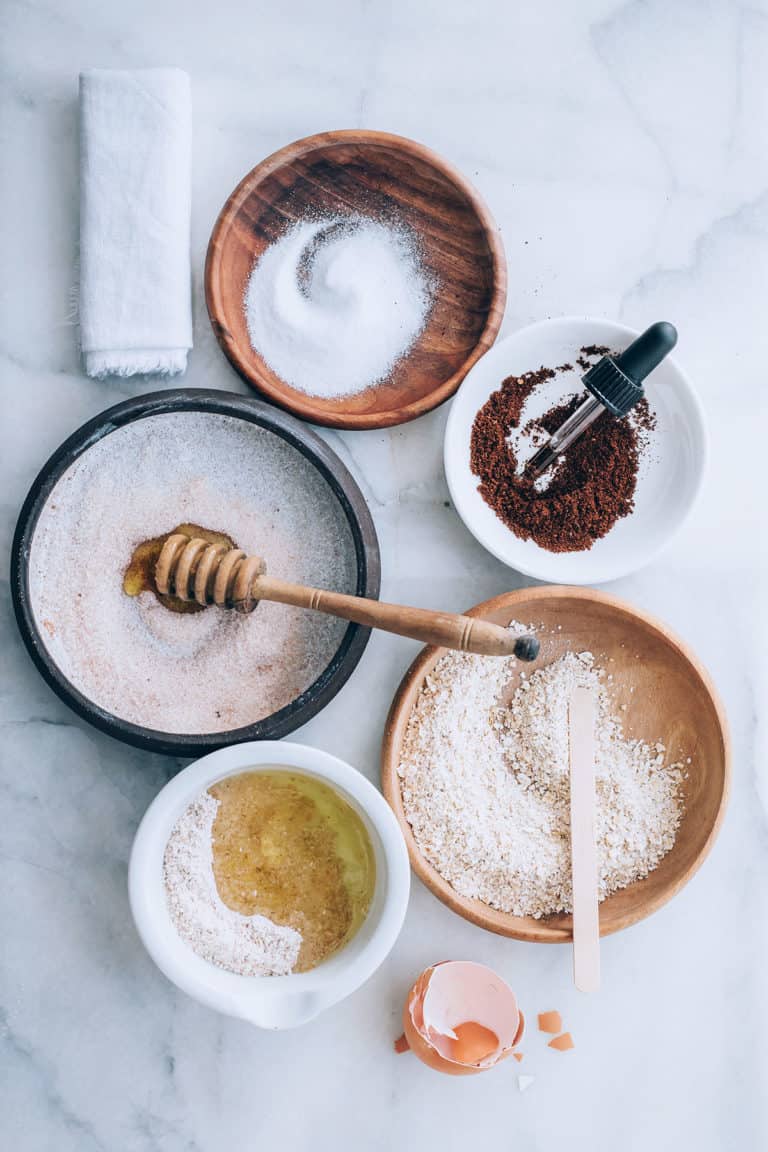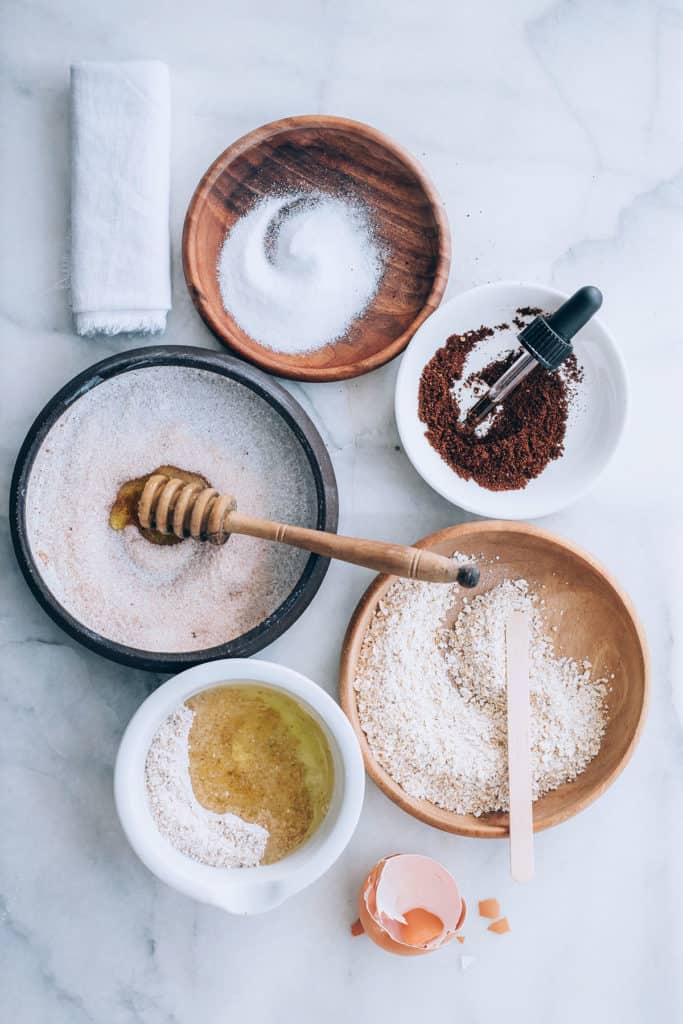 1. Brown sugar scrubs
Brown sugar is one of the more popular exfoliating sugar scrubs (and one of my personal faves) because it's excellent for almost every skin type. Unlike some other sugars, brown sugar is a super fine grain, so it's naturally gentle on sensitive skin (like that of the face) and won't cause microscopic tears that can make inflammation and irritation worse.
If stored properly, brown sugar is also pretty soft because it contains molasses, a natural humectant that draws in moisture and locks it in. When used as a scrub, that extra moisture then gets transferred to your skin, guarding it from germs and toxins and keeping skin looking healthy, nourished and glowing.
Lastly, brown sugar contains glycolic acid, an antibacterial and exfoliating agent that keeps acne in check and improves the look and feel of skin. It's said to help decrease sun damage and give aging skin a boost.
Whip up the recipe below and use skin-soothing herbs, like chamomile, bee pollen and almond oil, to nourish sensitive skin, fight inflammation and keep problem skin at bay.
Soothing brown sugar scrub with chamomile and bee pollen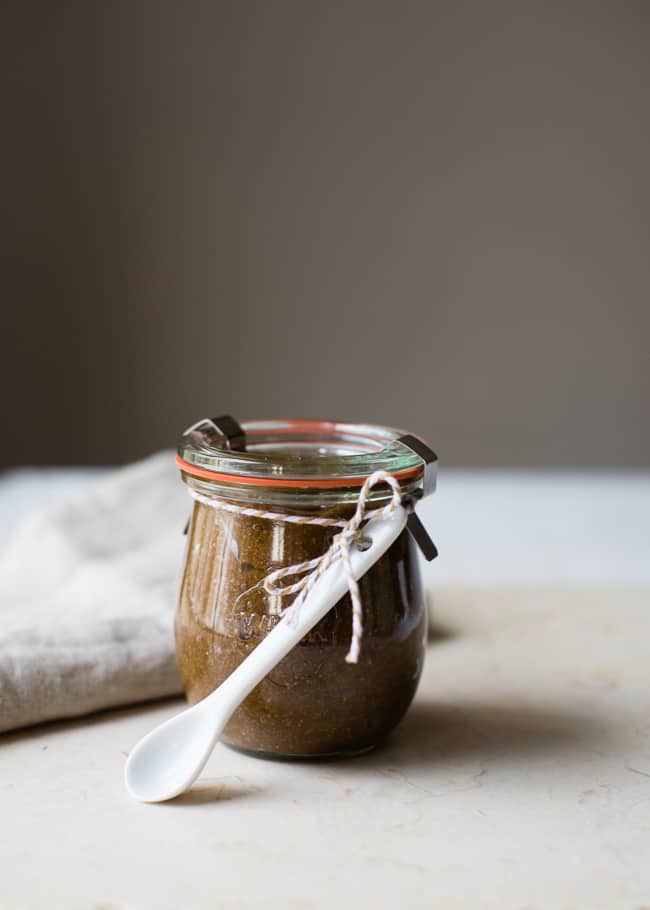 1/2 cup brown sugar
1 teaspoon bee pollen
1 teaspoon chamomile
1 tablespoon sweet almond oil
1 small wide-mouth glass jar
If you have sensitive skin, grind your chamomile into a fine powder with a mortar and pestle or a coffee grinder. Otherwise, toss it in whole and be gentle around irritated areas. Combine all ingredients in a small bowl and stir well. Apply to skin and massage in a gentle, circular motion to remove flakes. Rinse well. Store remaining scrub in the refrigerator for up to a month.
More brown sugar scrub recipes to try
Clove + Sugar Body Scrub
Vanilla Sugar Cookie Body Scrub
Chai Pear Sugar Scrub
Cinnamon Brown Sugar Scrub
Dark Chocolate Sugar Scrub
Unicorn Shimmer Sugar Scrub
Mint Chocolate Sugar Scrub
2. White granulated sugar scrubs
White granulated sugar is slightly more abrasive than brown sugar, making it ideal for the body and, if your skin isn't particularly sensitive, the face. If you're prone to dry, itchy skin, white sugar is great at buffing away flakes, improving circulation and increasing cell turn over so your skin looks fresh and healthy. It's also a humectant, although a little less so than brown sugar, so it locks in moisture and improves overall hydration.
I also love adding things like heather blossoms, vanilla beans and essential oils to my white sugar scrub recipe. Not only does it smell amazing but it also helps tighten skin and soothe itchiness.
Heather Vanilla Sugar Scrub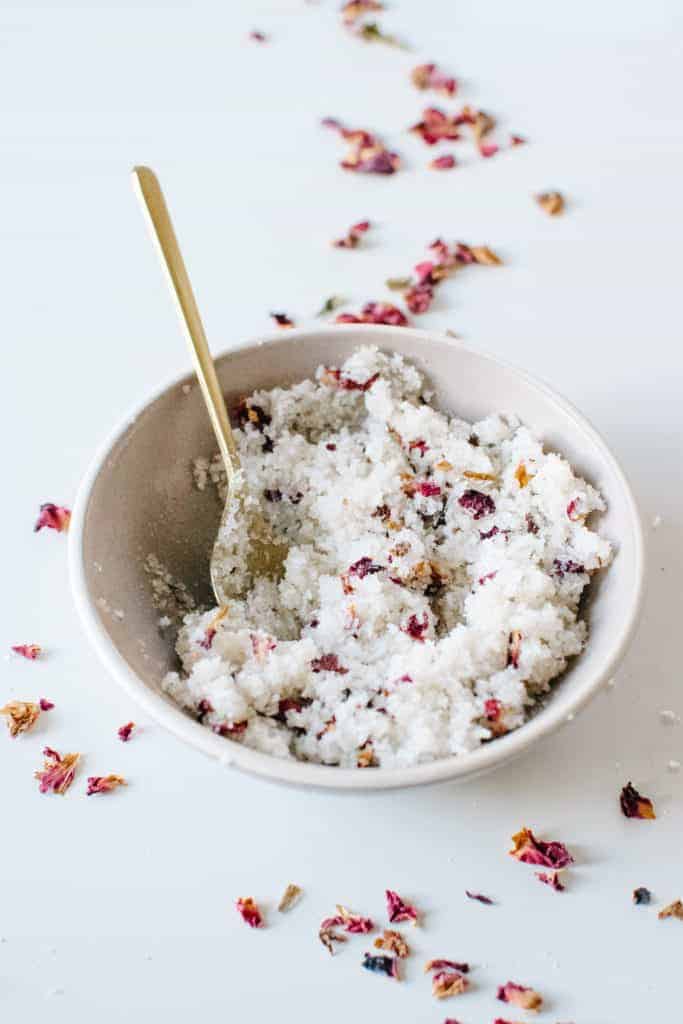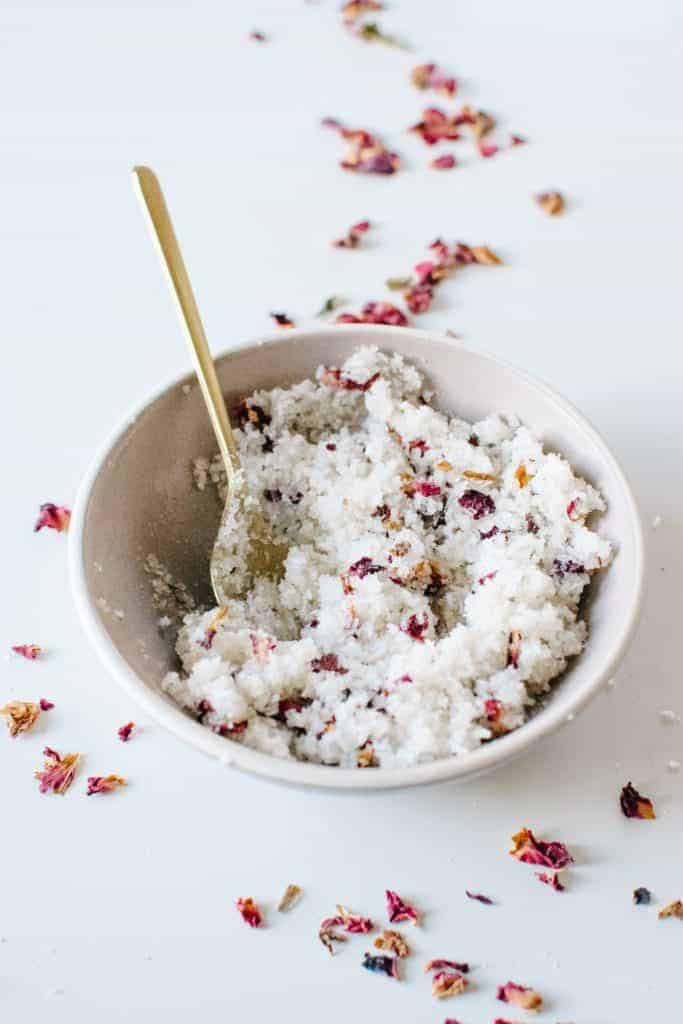 1 cup white granulated sugar
1/4 cup oil
10 drops sweet orange, jasmine or rose essential oils
Seeds from 1 vanilla bean
1 tablespoon dried heather blossoms (you can also use lavender or rose petals)
1 small wide-mouth glass jar
Combine all ingredients in a small bowl and stir well. Apply to skin and massage in a gentle, circular motion to remove flakes. Rinse well. Store remaining scrub in the refrigerator for up to two weeks.
More white sugar scrub recipes to try
When it comes to white sugar scrubs, we've tried everything from grapefruit juice scrubs for added antioxidants to hot cocoa body butter scrubs for seriously parched skin. Here are our favorites:
Grapefruit Sugar Scrub
Citrus Vanilla Sugar Scrub
Hot Cocoa Sugar Scrub
Holiday Sugar Scrub Trio
3. Coconut Sugar Scrubs
While not used nearly as often as brown and white sugars in exfoliating sugar scrub recipes, coconut sugar makes a wonderful scrub because it contains a slew of vitamins and minerals essential to skin health. Despite the name, coconut sugar isn't a sugar in the traditional sense. It's actually the dehydrated and boiled sap of the coconut palm tree, which is just ground into a fine sugar-like consistency.
Because it's not refined like other sugars, it can be a little too coarse for sensitive skin such as the face, neck and chest. Instead it's best used on the arms and legs to fight flakes, improve circulation and get rid of common skin conditions like ingrown hairs.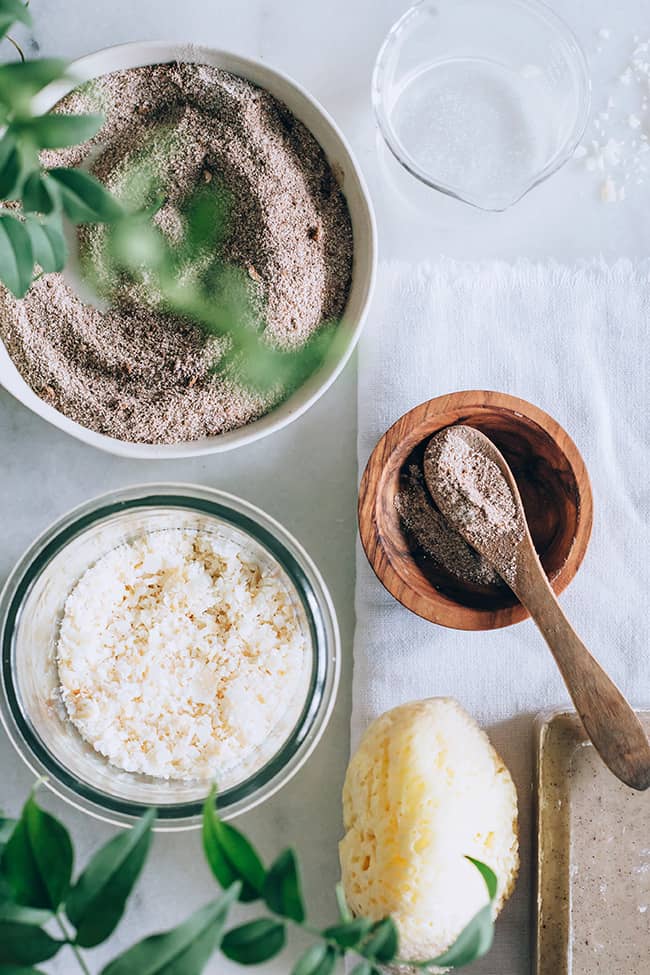 One of the main benefits of coconut sugar is that it naturally cleanses skin and breaks down dead skin cells that can exacerbate skin conditions such as keratosis pilaris. And when used regularly it can help unclog pores and keep skin clean. It also improves the look and feel of skin and replenishes much needed minerals that have been stripped by soap or hot water.
To make your own coconut sugar body scrub, all you need are a few simple ingredients like vitamin E oil, coconut oil and powdered ginger to boost hydration and improve circulation.
Ginger Circulation-Boosting Coconut Sugar Scrub
1 cup

coconut sugar

1/2 cup coconut oil

1/2 teaspoon vitamin E oil
1 teaspoon powdered ginger
8 ounce glass jar with lid
Combine all ingredients in a small bowl and stir well. Apply to skin and massage in a gentle, circular motion to remove flakes. Rinse well. Store remaining scrub in the refrigerator for up to two weeks.
More coconut sugar scrubs to try
4. Other types of sugar scrubs
Other sugars, like caster, turbinado and raw cane sugar, still have a place in natural beauty recipes depending on how you use them.
Caster sugar, also called sanding sugar, is a super fine white sugar often used in baking. Because it's finer than brown sugar, it can be used practically anywhere you might have dry skin. It's especially great for the face, neck, chest and back of the hands since it polishes sensitive skin without damaging it.
Cane sugar is the unrefined version of white granulated sugar. Much like coconut sugar, it's slightly coarse and can irritate sensitive skin. But because it hasn't been stripped of its nutrients, it can also help replenish much-need vitamins and minerals. Use it in body and foot scrubs to your heart's content but avoid the face and neck if you're worried about irritation.
Turbinado, or raw sugar, is the coarsest of all the sugars, so it's best reserved for only the toughest areas (think the feet, knees and elbows). Although it's not as gentle as other sugars, turbinado sugar makes tackling tough flakes a breeze.
Combine it with nourishing essential oils to add moisture and use a light touch, even on feet, so you don't end up with a fiery red rash when all's said and done. While some exfoliation is great for your skin, too much can be harmful so if your skin is red and tender, back off.
Check out some of the sugar scrubs below or scroll down to make a super hydrating Turbinado Foot Scrub:
Turbinado Sugar Foot Scrub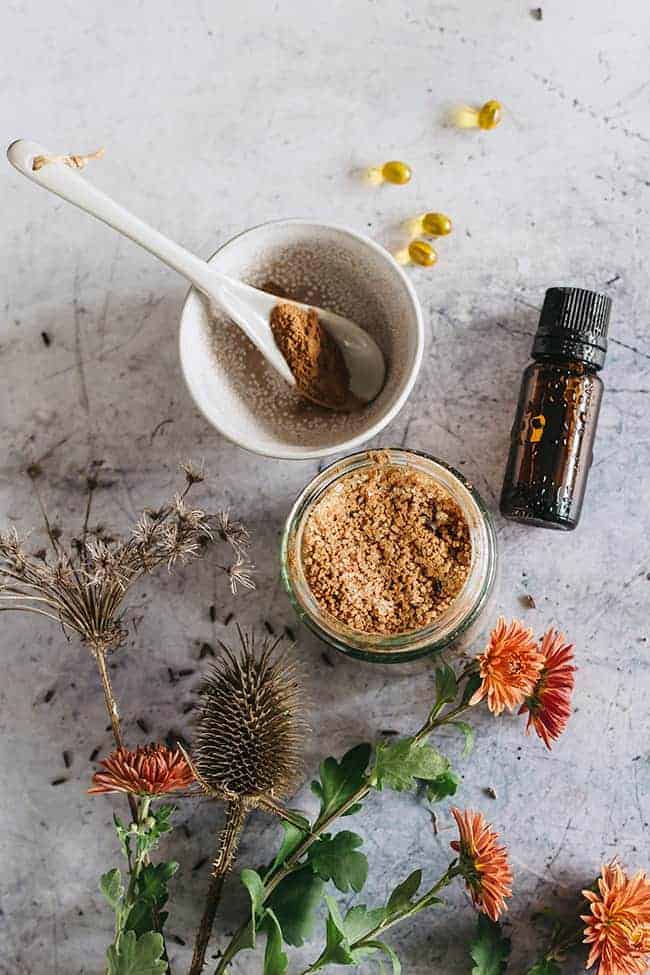 1 cup of Turbinado sugar
1/4 cup olive oil
10 drops geranium essential oil
1/2 teaspoon cinnamon
1/2 teaspoon vitamin E oil
1/4 cup milk
Combine all ingredients in a small bowl and mix well. Transfer the scrub to a glass bottle and use in the bath or shower to exfoliate, moisturize and soothe feets, knees, elbows and other non-sensitive skin. Store remaining scrub in the refrigerator for up to two weeks.
More sugar scrub recipes to try:
Holiday Sugar Scrub Trio
Coconut Milk Sugar Scrub
Paradise Mango Body Scrub
3 Tropical Body Scrubs
This post was medically reviewed by Dr. Jennifer Haley, a board-certified dermatologist with extensive experience in medical, cosmetic and surgical dermatology. Learn more about Hello Glow's medical reviewers here. As always, this is not personal medical advice and we recommend that you talk with your doctor.
70