Go looking for a bottle of good-quality jasmine essential oil, and you'll likely have a bit of sticker shock. It's one of the more expensive oils, mainly because it takes a lot of the small, sweet jasmine flowers to make this precious oil.
The good news is that, once you make the investment, the scent is so rich and intense that a little goes a verrrry long way. A more affordable option is to buy it diluted in a carrier oil. Not only is this option more affordable, but the work of diluting it is already done for you!
Jasmine is perfect for perfume blends (or even deodorant), and the luxurious floral scent is often associated with feelings of love and passion. For me, the aroma of jasmine evokes feelings of pure bliss and relaxation. It's one of my absolute favorite aromas, and I frequently use it as a perfume.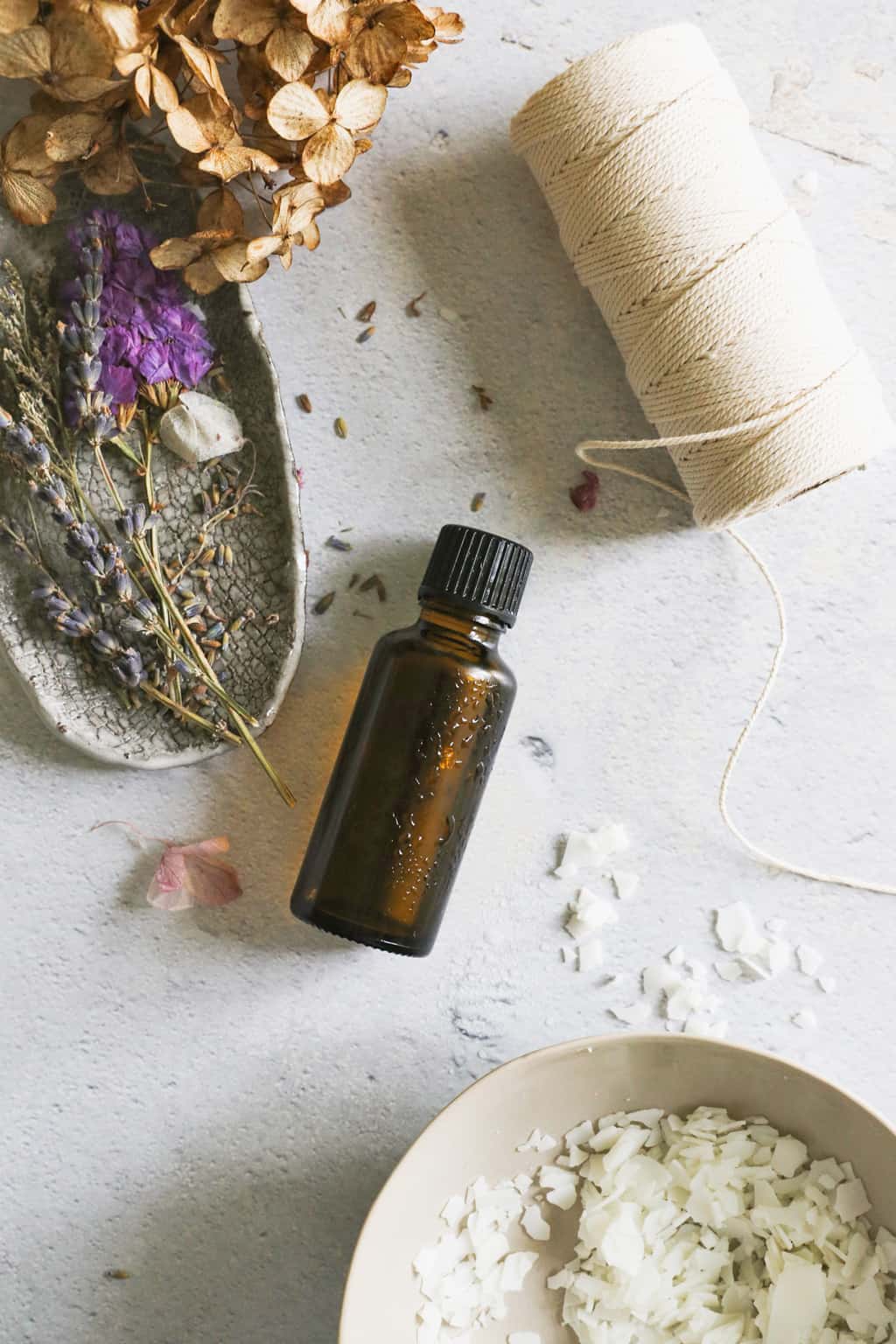 How to Use Jasmine Essential Oil (Jasminum officinale)
The scent of jasmine can be pretty powerful, so if you don't have a pre-diluted blend, make sure to dilute it to a 1% concentration or lower because it can occasionally cause headaches or nausea for some people.
Always start small when adding jasmine to an essential oil blend. I use a pipette because the oil is thick, and it makes it easier to get one drop at a time. I don't want to waste any of the precious oil!
Jasmine blends well with several other essential oils, including bergamot, cedarwood, frankincense, lavender, lemon, orange, cinnamon, rose, and sandalwood.
5 Jasmine Essential Oil Benefits + Uses
Aside from its gorgeous aroma, jasmine essential oil also has a number of beneficial qualities for the mind and body. Here are just a few:
1. Boost your mood
Did you know that jasmine essential oil can have a positive effect on your mood? I've found this to be true for myself, but science also supports this idea.
One study found that when applied topically, jasmine had a stimulating effect on participants both physically and emotionally [source]. This makes jasmine a great option for when you're feeling a bit down in the dumps, tired, or just "blah."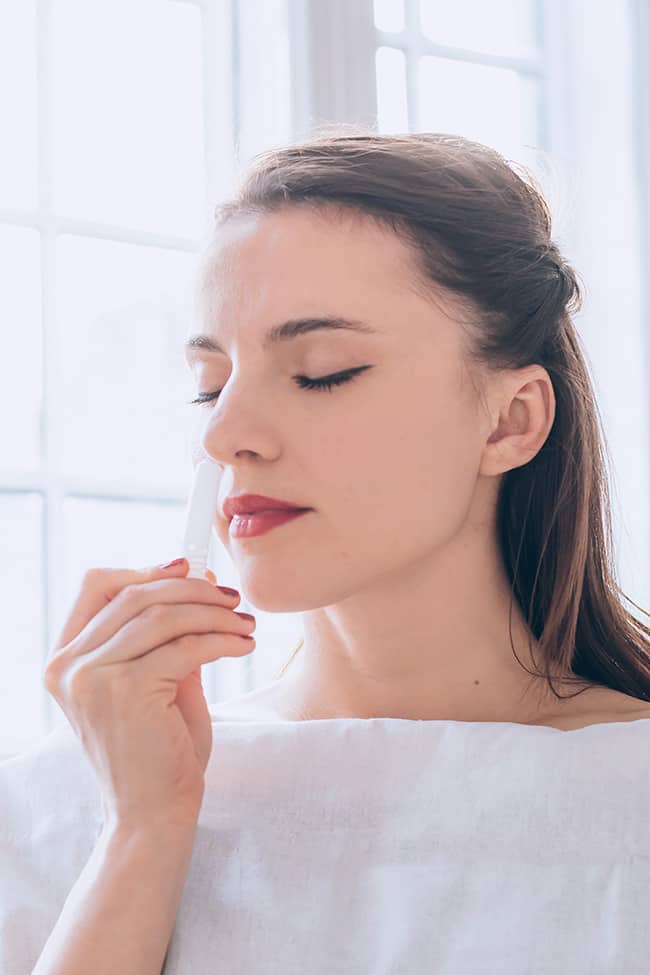 How to use it
:
Inhalation
I find that simply inhaling the exotic aroma for a couple of minutes can really boost my mood. A few easy options:
Add 2–3 drops to a diffuser

Directly inhale its scent from the bottle

Add 1 drop to an aromatherapy bracelet or necklace

Dab on the wrists and behind the ears to bring it with you for a more continuous effect.
How to use it
:
Mood-Boosting Essential Oil Spray
Making your own essential oil spray is a super simple way to help boost your mood. You can give it a quick spritz and then inhale deeply as needed, or you can even spritz your pillow before you lie down.
2 tablespoons vodka

6 tablespoons filtered water

10 drops

jasmine

essential oil
Simply combine all of the above ingredients in an 8-ounce spray bottle and then shake before each use.
2. As an Aphrodisiac
The aroma of jasmine has long been considered an effective aphrodisiac. The seductive and alluring aroma has been used for centuries to help with arousal. This isn't surprising, considering the study mentioned previously found that jasmine essential oil was stimulating for participants.
Sometimes, after a long day, it can take a bit of work to get "in the mood." So if you're needing a bit of help creating a seductive environment and the energy to go with it, try a jasmine massage oil or diffuser blend. It may be just what you need!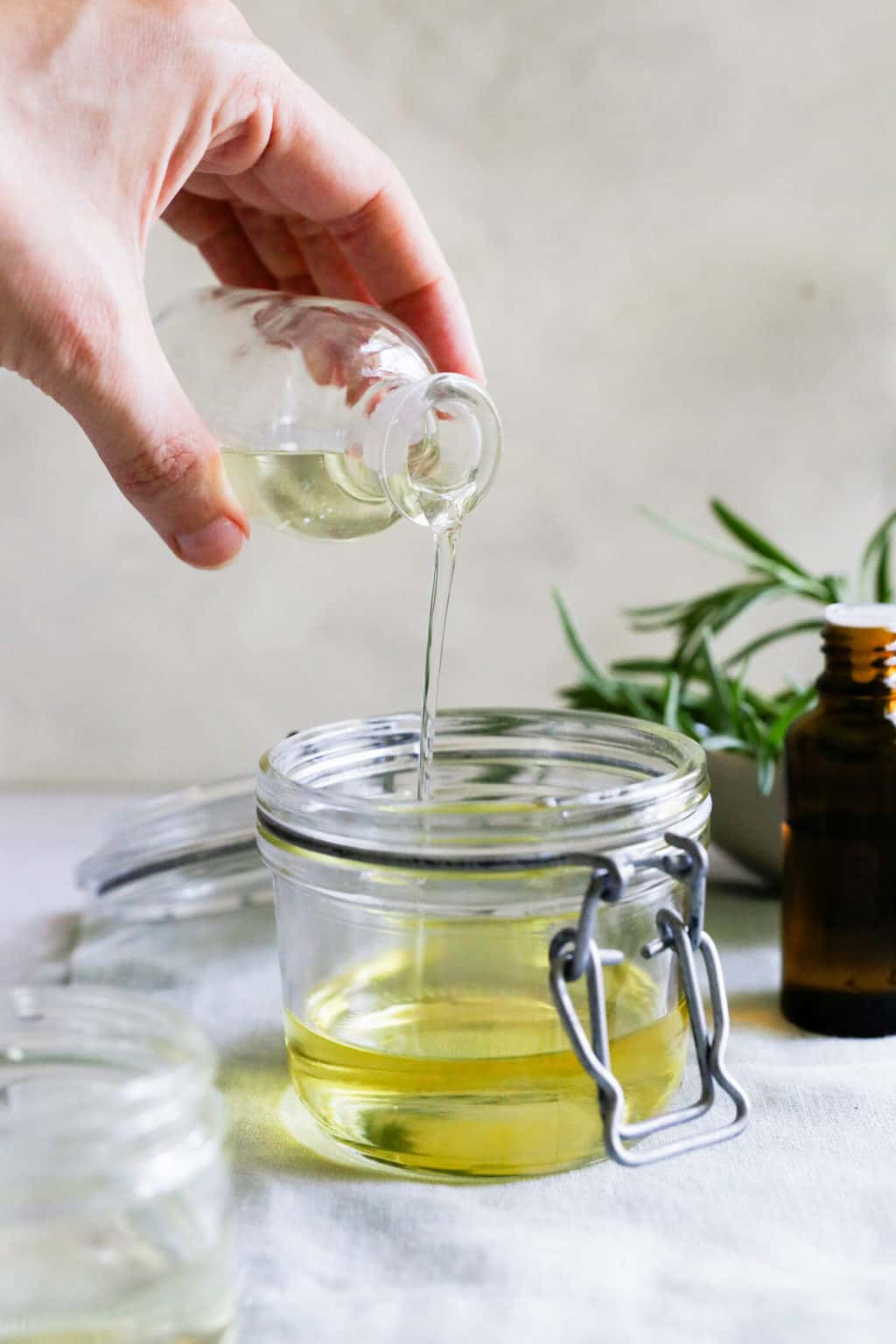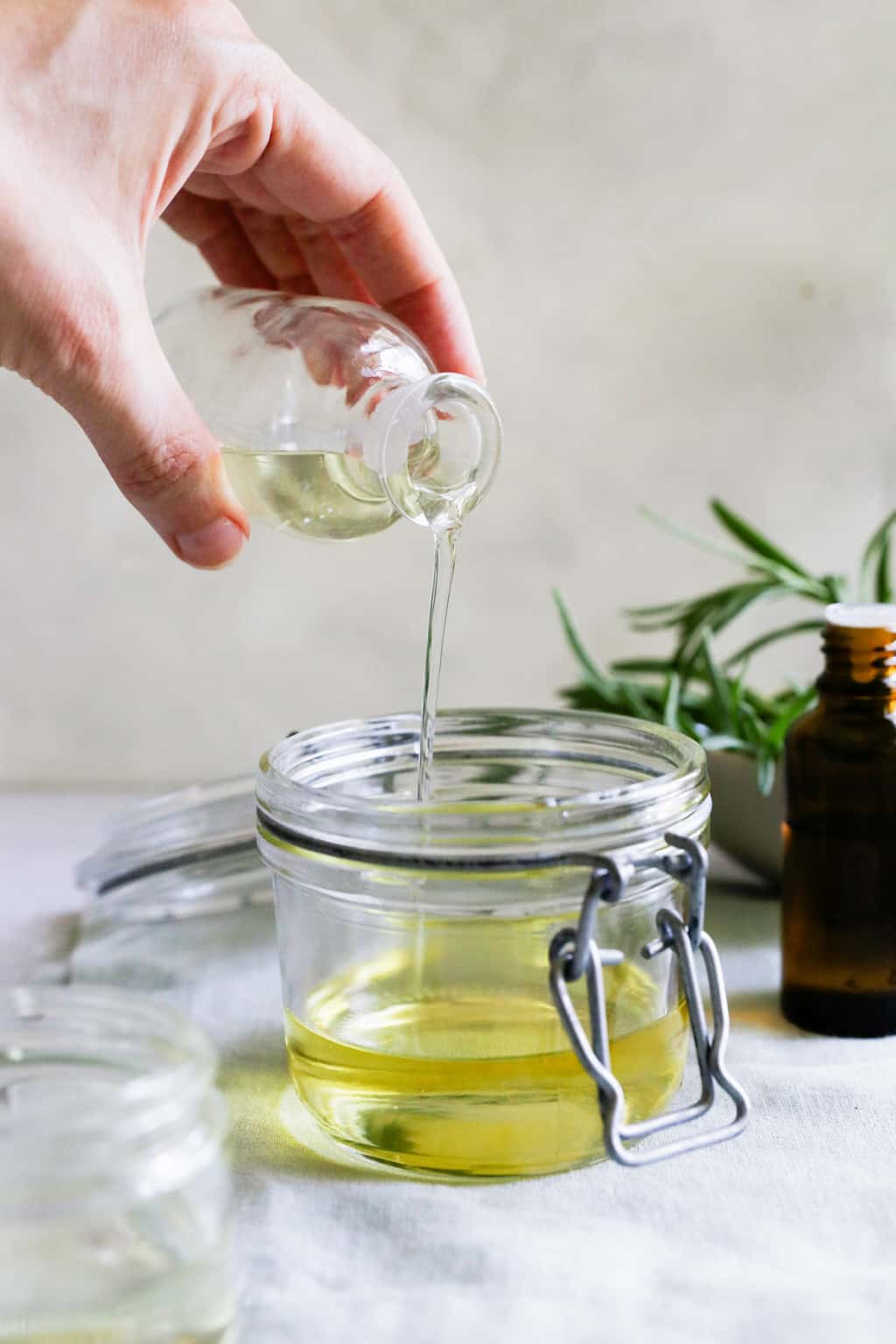 How to use it
:
Alluring Massage Oil
If you're trying to create an intimate environment and help set the mood, what better way than with a massage? Use a few essential oils that contain aphrodisiac properties, and you're all set!
You could even use the massage blend as a perfume or adjust the number of drops to create a romantic diffuser blend! Since we're not creating a blend for therapeutic massage, targeting sore muscles or joints, we can lessen the number of drops of essential oils to create a lower dilution.
Combine all ingredients in an essential oil-safe bottle and use as needed for a relaxing and sensual massage.
3. Support aging skin
One of the most common uses of jasmine essential oil is in skin care. It's frequently used in formulations for mature and aging skin, as well as for skin care in general.
It's one of the more commonly used essential oils in dermatology [source], especially in formulas for revitalizing the skin. I can't think of a more luxurious ingredient to add to your skincare routine!
If you're looking for an essential oil to help your skin appear more youthful, you might consider giving jasmine a try. It has been shown to have antioxidant activity [source], which will help knock out those nasty free radicals that cause so much damage to skin cells. Not only is it great for helping to support healthy skin, but it's pretty versatile and can be used on just about any skin type.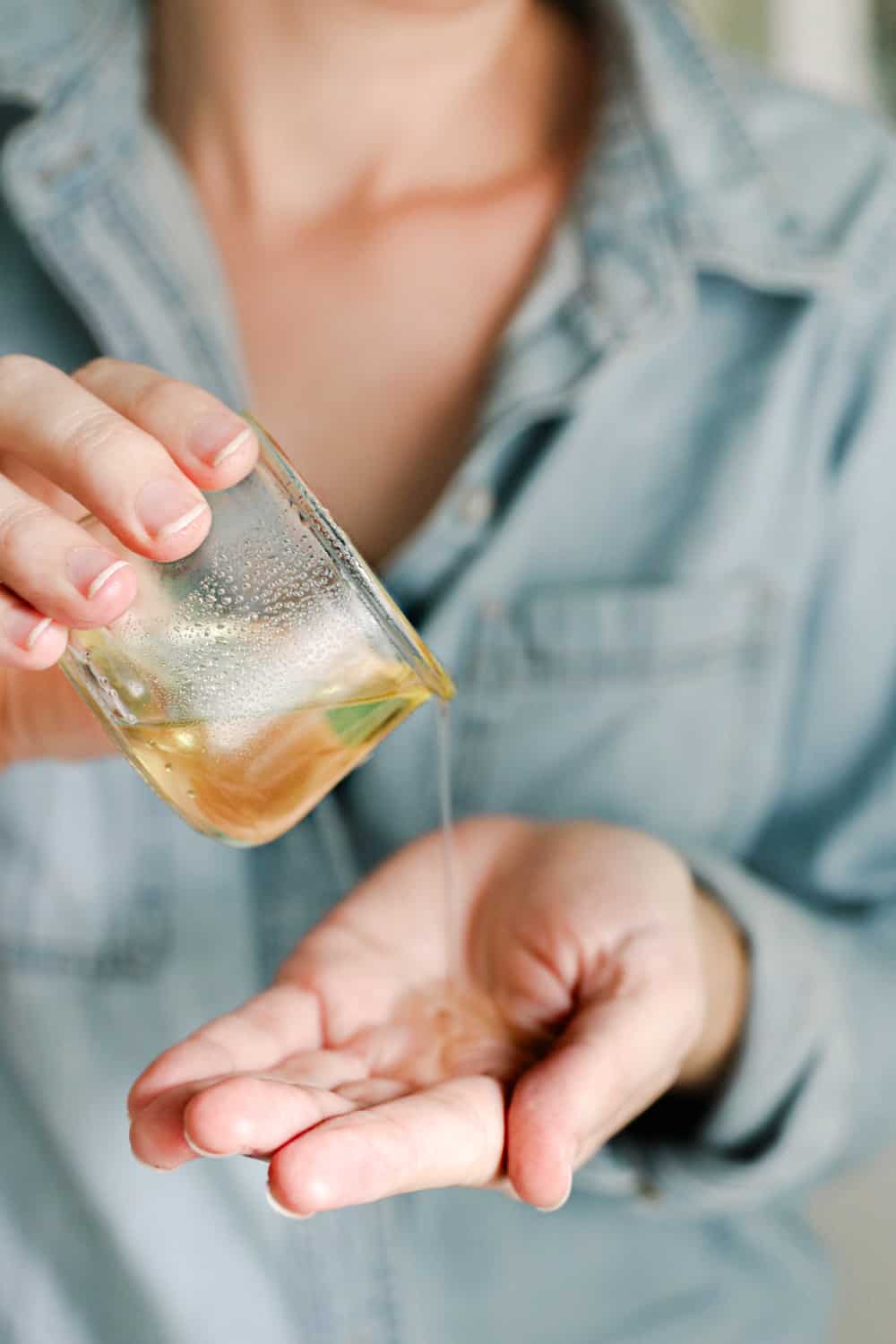 How to use it
:
Rejuvenating Facial Oil
Facial oils are incredibly simple to make. All you need to do is choose your favorite carrier oil for your skin type and add essential oils. Because facial oils are used daily, the dilution should be kept lower to prevent sensitization.
Combine all ingredients in a 1-ounce bottle, and shake or roll it between your palms before each use.
4. Antimicrobial
While I personally wouldn't use jasmine in any cleaning blends (it's just too pricey!), it can be a great oil to use when dealing with germs. One study found that a blend that contained jasmine showed antimicrobial actions [source], and another study conducted in 2008 showed that jasmine essential oil had antibacterial properties [source].
So to switch things up a bit, next time you formulate a germ-fighting diffuser blend, add some jasmine to the mix.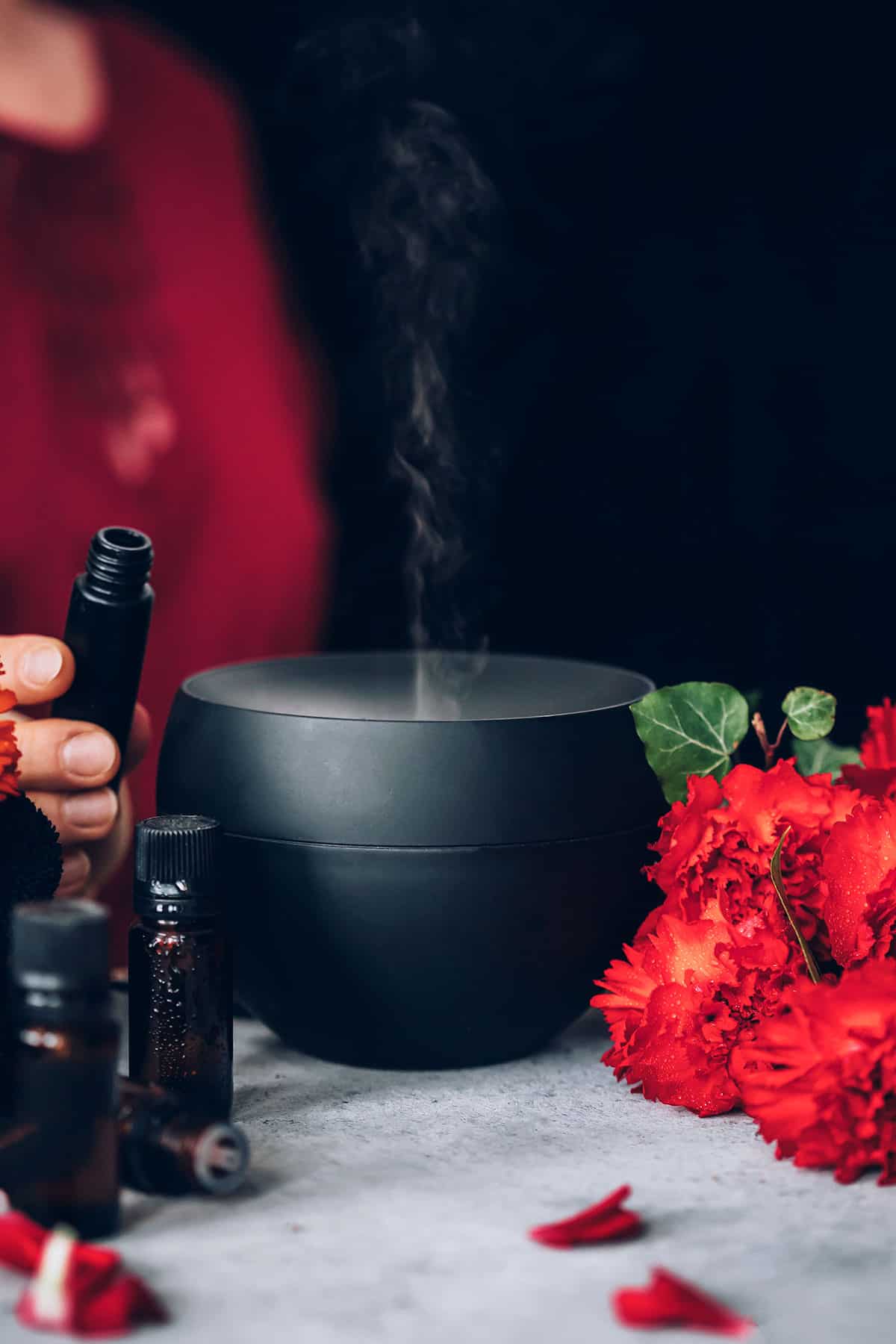 How to use it
:
Floral Diffuser Blend
Why not take advantage of the antimicrobial benefits of essential oils while using them to freshen up the house? Use this blend to remove stale odors AND help fight germs! Just make sure to adjust the number of drops to accommodate your diffuser.
5. Relieve stress
Even though jasmine can help stimulate the mind and body, many also find it to be beneficial when dealing with stress and anxiety. A lot of people find the aroma to be calming and relaxing—I know I do!
In fact, a recent study found that participants who inhaled jasmine essential oil before a medical procedure reported lowered anxiety and had lower blood cortisol levels [source]. When I've had a particularly rough day, jasmine is one of my absolute favorite aromas to reach for. Most of the time, I wear it as a perfume, but I also like to sniff it straight out of the bottle!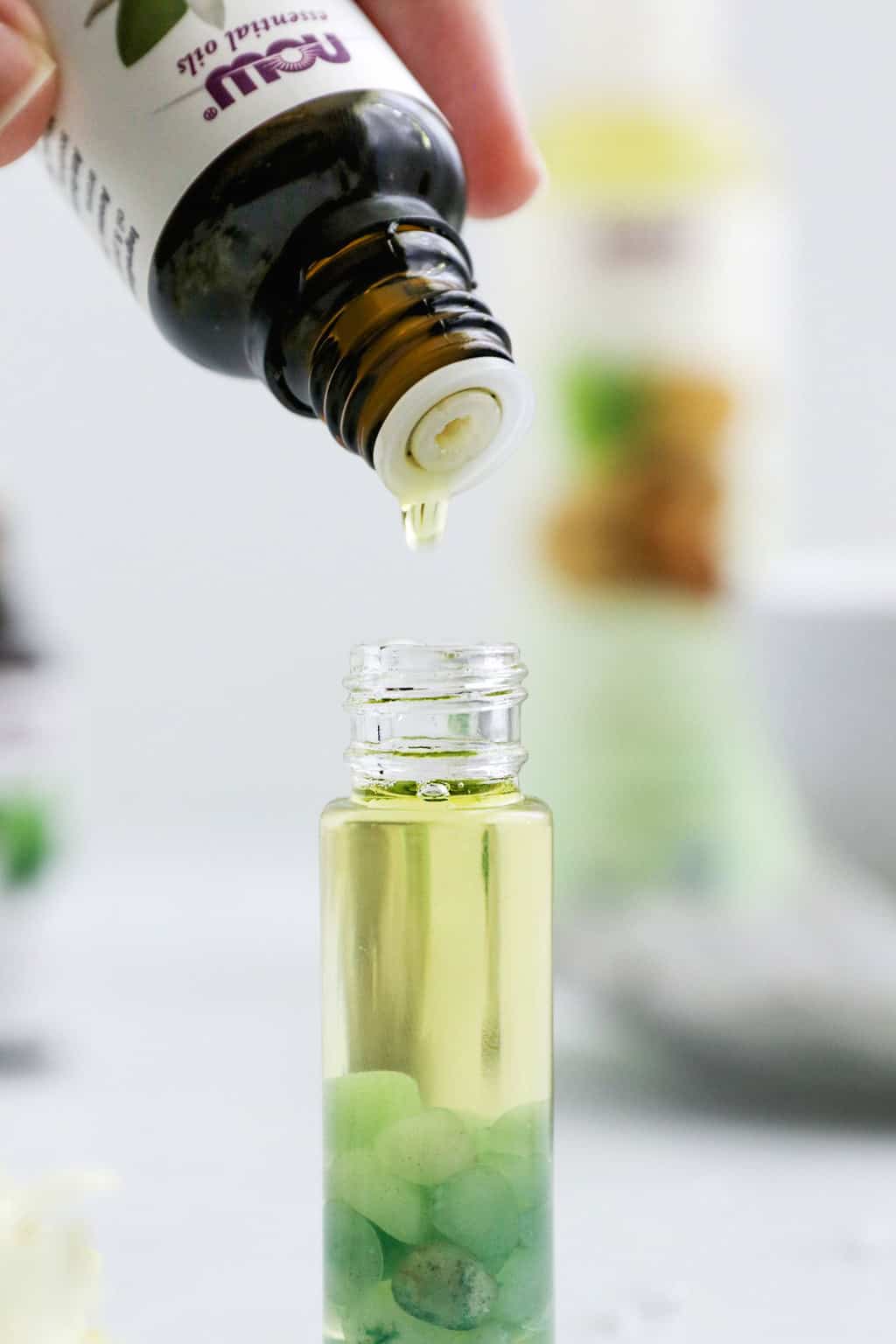 How to use it
:
Spicy Floral Perfume
I absolutely love making my own perfumes! Based on my mood, I can switch things up, and I don't have to worry about questionable ingredients going on my body—not to mention the fact that it is so incredibly easy to do. Here's a recipe to get you started on making your own perfume, but feel free to swap out essential oils to suit your preferences.
Combine all essential oils in the roll-on bottle and then top it off with carrier oil. After putting the rollerball and lid on, roll the bottle between your palms for a couple of minutes to thoroughly combine all the oils.

This article was medically reviewed by Dr. Gina Jansheski, a licensed, board-certified physician who has been practicing for more than 20 years. Learn more about Hello Glow's medical reviewers here. As always, this is not personal medical advice and we recommend that you talk with your doctor.
42