We've all heard about juice cleanses, but not everyone has heard about another hot health trend—the detox with soup. Soup cleanses are fantastic for long winter months when our bodies could use a warm boost of energy.
Unlike fruit juice cleanses, veggie soup cleanses are typically lower on the glycemic scale. This soup cleanse plan is packed with veggies that contain fiber and nutrients to help maintain your weight during those holiday pre- and post-overindulgences. They're also jam-packed with immunity-boosting antioxidants.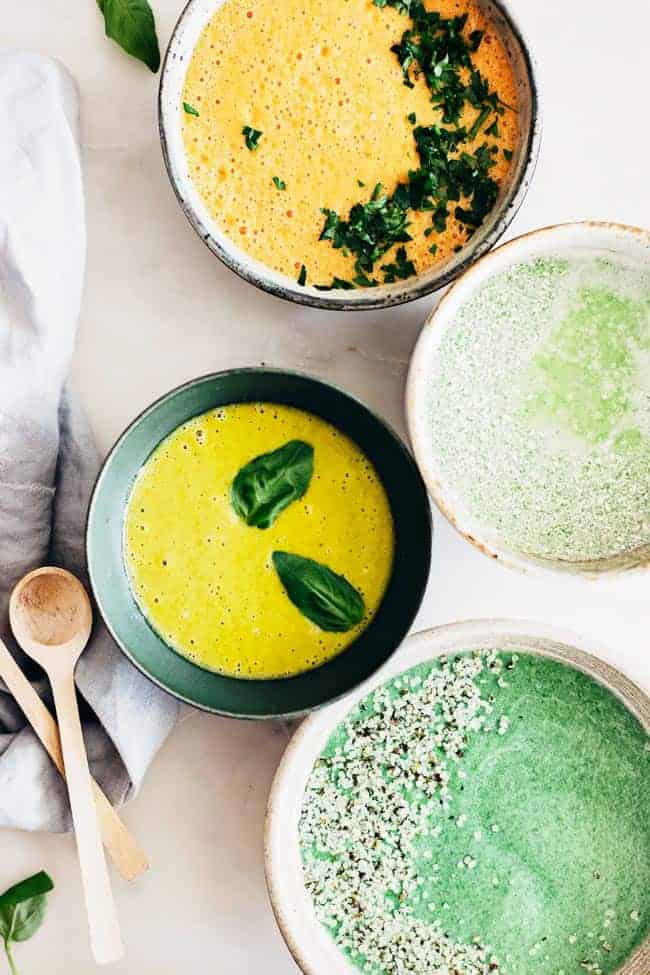 24-Hour Soup Cleanse
To make the soups, you'll need a high-speed blender. I also recommend purchasing glass Mason jars for storage and making all your soups in the morning, so a busy day doesn't ruin your plans. When shopping for soup ingredients, choose organic whenever possible, and be sure to stock up on water and herbal tea for maximum hydration.
Here are five recipes for breakfast, a morning snack, lunch, an afternoon snack, and dinner. If breakfast, lunch, and dinner fill you up, the morning and afternoon snacks are optional.
Note that the bone broth recipe will take 24 hours to make, so plan to make this recipe the day before your cleanse. For an evening snack, drink herbal tea.
Breakfast: Creamy Coconut
This creamy coconut breakfast soup could also be called a savory smoothie bowl. Combining healthy greens such as avocado, peas, and basil leaves, the raw soup gets its consistency from hydration friend coconut water.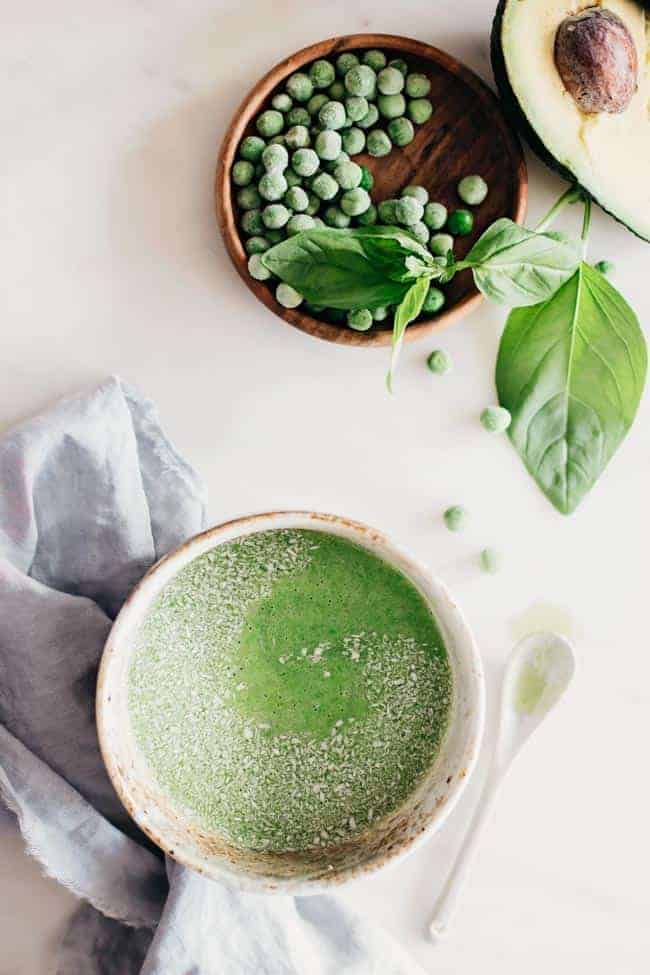 Morning Snack: Glowing Greens Soup
Sweet potato and turmeric add more than just color to your soup. The former is packed with vitamin A, which is in charge of keeping your eyes healthy and your immune system strong.
The latter is anti-inflammatory and a beauty powerhouse. It makes sense to include them both in your winter diet.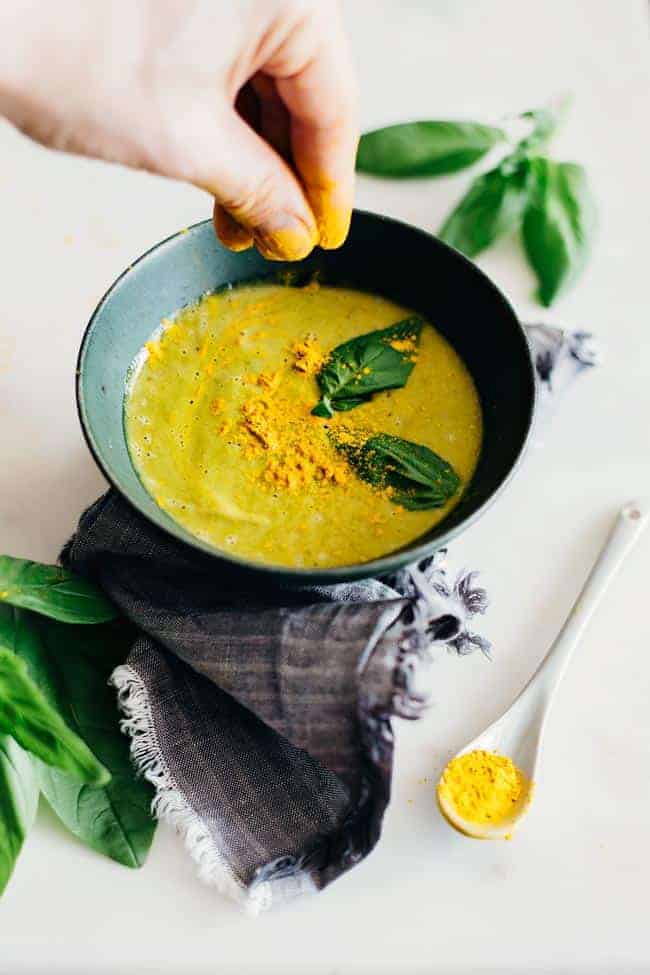 Lunch: Creamy Kale Soup
Fresh kale, creamy avocado, and hydrating coconut water make a delicious (and healthy) combination in this raw soup. Green peas add extra vitamins, fiber, and protein to the mix.
Hemp seeds and dulse flakes sprinkled on top add that coveted crunch you might be missing when doing a soup cleanse.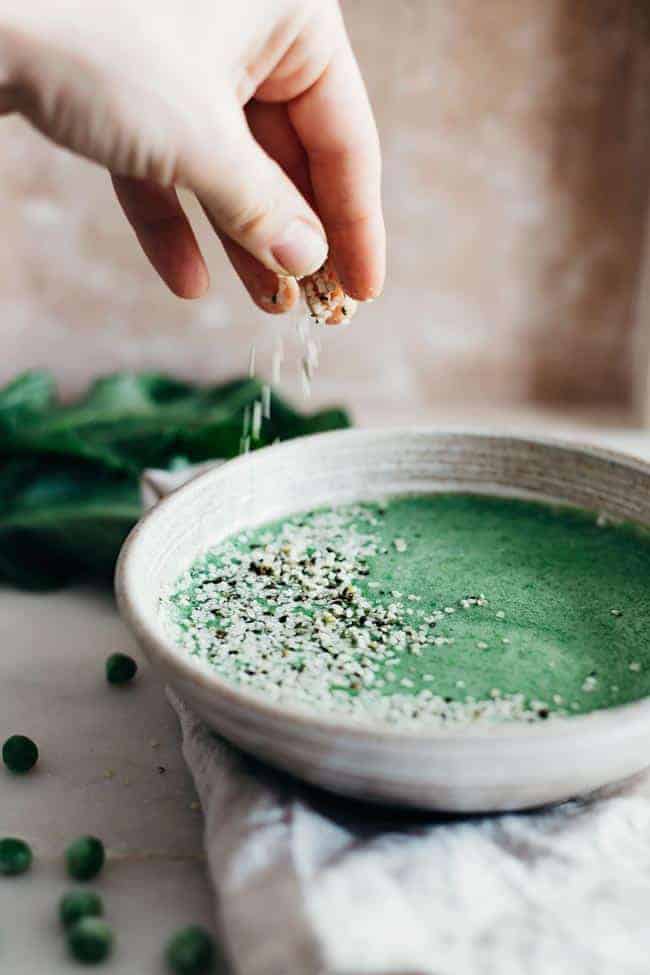 Afternoon Snack: Chicken Bone Broth Soup
*Note: Talk to your local butcher shop. Soup bones are usually very cheap, if not free!
MAKE YOUR STOCK. In a stockpot, add the soup bones and enough water to cover. Add apple cider vinegar. Bring to a boil, and then reduce to a simmer for 24+ hours.
STORE YOUR STOCK. After about 24 hours, strain the stock into mason jars. Set them in the fridge to cool. Skim off the fat that rises to the top, and close tightly with a lid, or put in ice cube trays for quick use.
This will keep in the fridge for a few days or four to six months in the freezer.
Dinner: Spiced Butternut Squash Soup
This dinner recipe is wintertime perfection in a bowl! Mixing seasonal goodies such as roasted butternut squash and carrots with cozy spices, this soup makes sure you go to bed satisfied.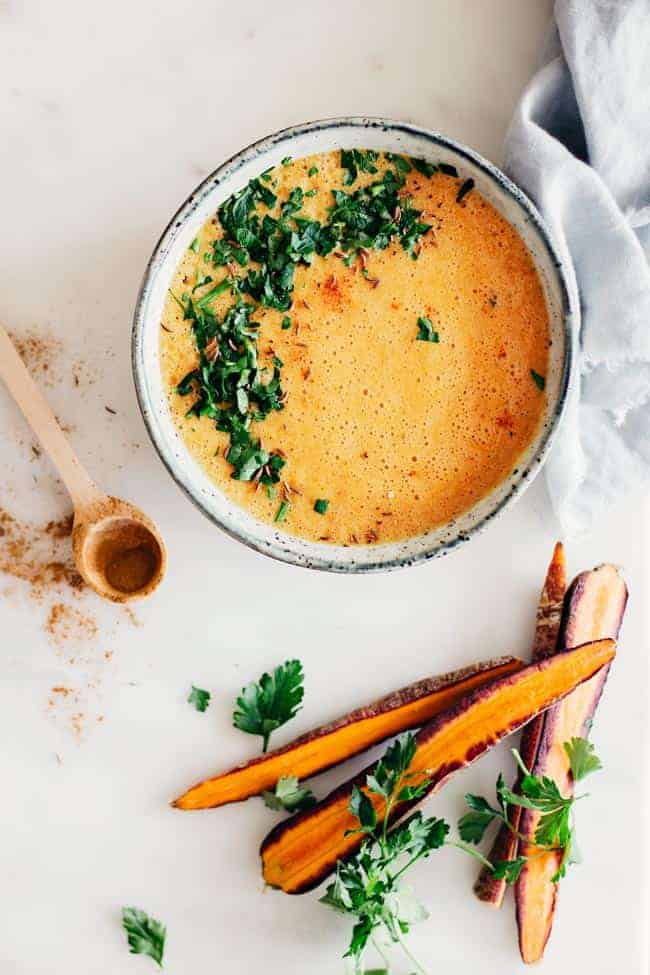 Want more soup recipes? This hearty white bean vegetable soup is sure to please! Or try these 3 raw detox soups.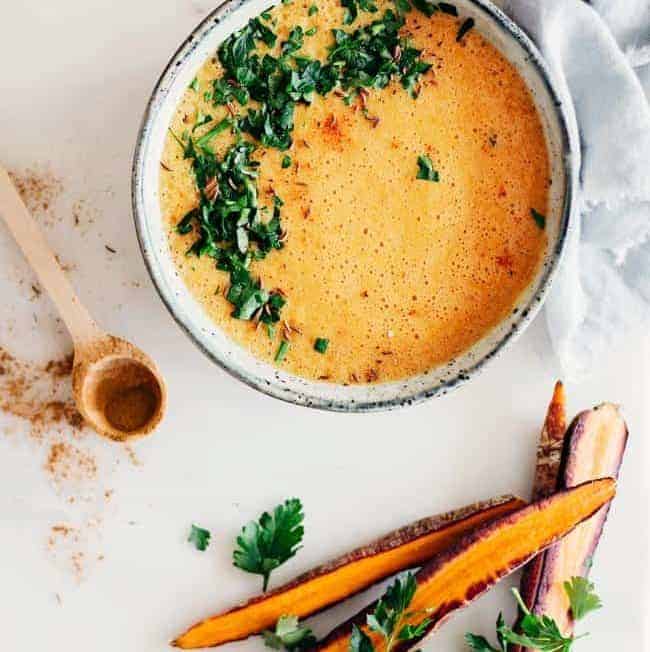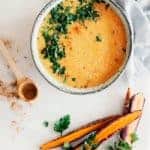 Print Recipe
1-Day Detox With Soup Recipes
Try our 24-hour detox with soup and get 5 soup cleanse recipes packed with veggies and flavor that won't leave you hungry.
Ingredients
Instructions
Creamy Coconut Soup
Blend using a high-speed blender until smooth.
Glowing Greens Soup
Blend using a high-speed blender until smooth.

Garnish with fresh basil.
Creamy Kale Soup
Blend using a high-speed blender until smooth.

Top with hemp seeds and dulse flakes.
Spiced Butternut Squash Soup
ROAST THE VEGETABLES. Heat your oven to 350°F. Put your chopped butternut squash and carrots into a bowl and massage with coconut oil, cumin, cinnamon, and nutmeg. Bake on a cookie sheet for 20–25 minutes until tender. Remove from the oven, and allow to cool.

ASSEMBLE THE SOUP. Add the vegetable broth and coconut milk to a large pot and mix together thoroughly. Add the cooled, roasted vegetables to a high-speed blender in batches with just enough broth/coconut milk mixture to cover. Blend until smooth. Add it back to the soup pot and set on medium heat for 3–5 minutes. Top with chopped parsley.
This article was medically reviewed by Dr. Gina Jansheski, a licensed, board-certified physician who has been practicing for more than 20 years. Learn more about Hello Glow's medical reviewers here. As always, this is not personal medical advice and we recommend that you talk with your doctor.
Photos by Ana Stanciu
13