Who knew a colorful spice could produce such remarkable benefits for your skin? Curcumin, the active ingredient in turmeric, is both an anti-inflammatory and a powerful antioxidant. That's why it is often found in many face masks, creams, and ointments. We've put together a variety of recipes to help you get the benefits of turmeric for skin—inside and out!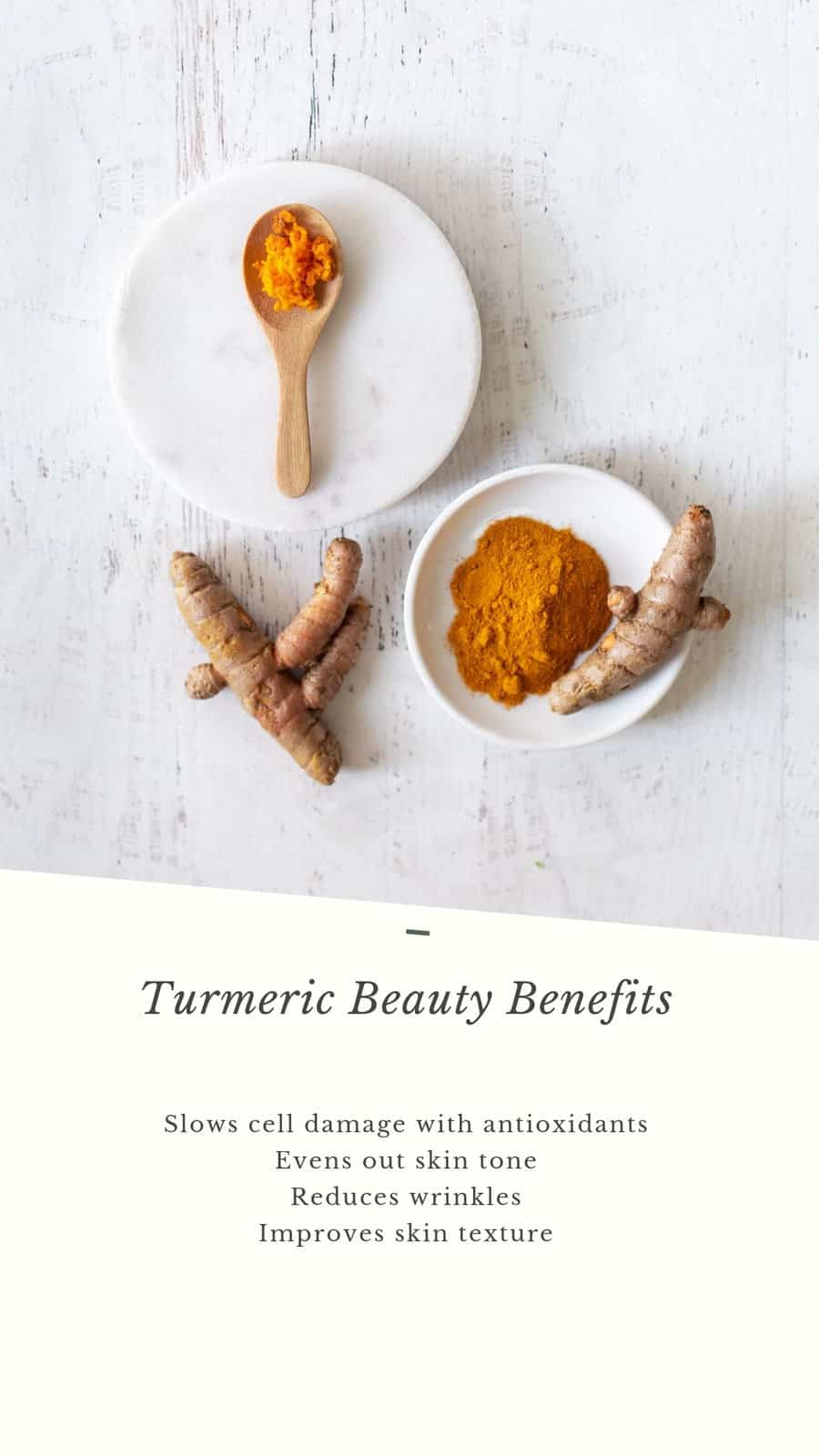 Benefits of Turmeric for Skin
Turmeric can be used to treat skin issues ranging from pigmentation to eczema. Also helpful for its antiseptic properties, turmeric is an ideal choice for fighting acne. Turmeric and its main component, curcumin, are great medicine for treating your body's largest organ: your skin!
When used topically
,
turmeric can
:
—Soothe psoriasis and atopic dermatitis
—Calm inflammation
—Fade acne scars
—Fight premature aging and sun damage
—Treat wounds
Needless to say, turmeric is a spice you will certainly want to keep in both your kitchen cabinet and your medicine cabinet.
5 Ways to Use Turmeric for Skin
There is one super important thing to know about turmeric, though—it stains like crazy. So with any of these DIY recipes, be sure to use tools and bowls that you don't mind looking a little stained over time. If you leave it on your skin for a little too long, it can also end up stained (something that I learned the hard way)!
Fortunately, turmeric stains are much easier to remove from the skin than from your favorite mixing bowl. Just massage in a natural plant oil (coconut is a good one), and it should help lift the stain. Now that you know what to do just in case, let's move on to what turmeric can do for you, along with my favorite turmeric recipes.
1

.

Turmeric fights acne

.
Acne is an inflammatory condition that also involves skin bacterial, dietary, and hormonal factors [source]. So, when treating acne, you want something that will address at least some or all of those factors.
Turmeric has antimicrobial effects, which hinder the growth of bacteria [source]. And it can be consumed by spicing up your foods India style, which has been proven to improve cancer and inflammatory disease conditions [source], and it may have beneficial effects on acne, too!
Another reason turmeric is beneficial for acne-prone skin is that it plays a role in regulating the production of the skin's natural oil called sebum [source]. Turmeric's texture provides excellent exfoliation, which helps to keep pores from clogging in acne-prone skin.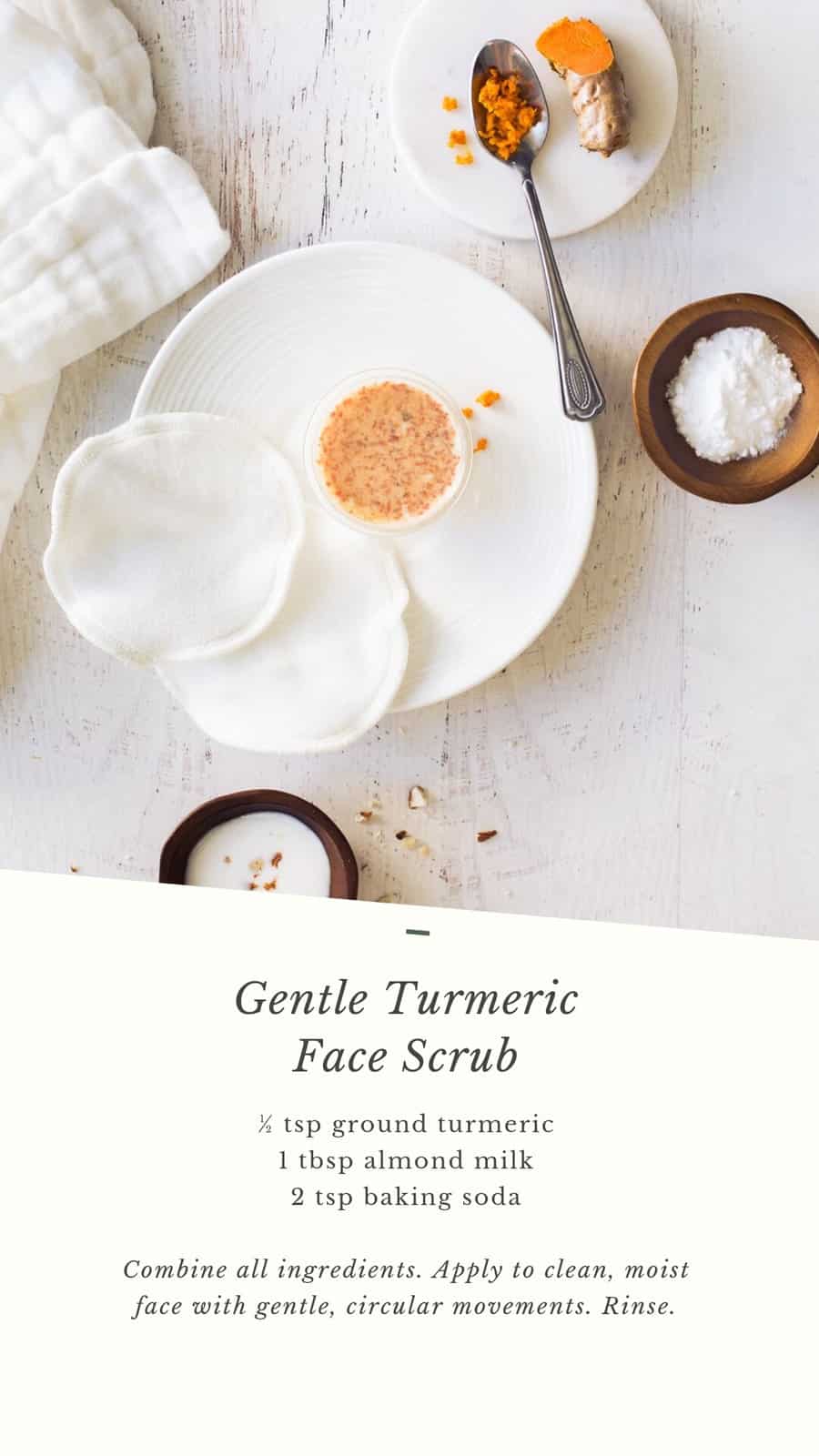 Gentle Turmeric Face Scrub
—1/2 teaspoon turmeric
—1 tablespoon almond milk
—2 teaspoons baking soda
Instructions
Combine all ingredients. Apply to clean, moist skin with gentle, circular movements. Rinse.
Why it works
Despite its bright color that has a tendency to stain whatever it comes in contact with, turmeric actually works well in homemade face scrub recipes because it helps to even out your natural skin tone. Try turmeric in a pore-cleansing turmeric acne mask when breakouts strike. And we all know sleep is essential for great skin. So if you're struggling to beat the blues and insomnia, try this soothing turmeric tea, perfect for sipping right before bed.
2

.

Turmeric fades age spots and scars

—

and it evens skin tone

!
Turmeric has been used to even out skin tone and fade acne scars. There are few studies on the subject, but a scientific review mentioned that a turmeric extract cream effectively lightened facial hyperpigmentation by 14% in just 4 weeks [source]. The only way to know for sure is to give it a try—but be patient!
And by inhibiting an enzyme in the skin that produces pigment [source], turmeric may also lighten age spots, scars, and other discolorations. A turmeric face mask is a great way to introduce this healing spice into your beauty routine. Just mix it up with egg and olive oil and let it sit for 20 minutes. You'll love how your skin feels after! And don't worry, it won't turn your skin orange.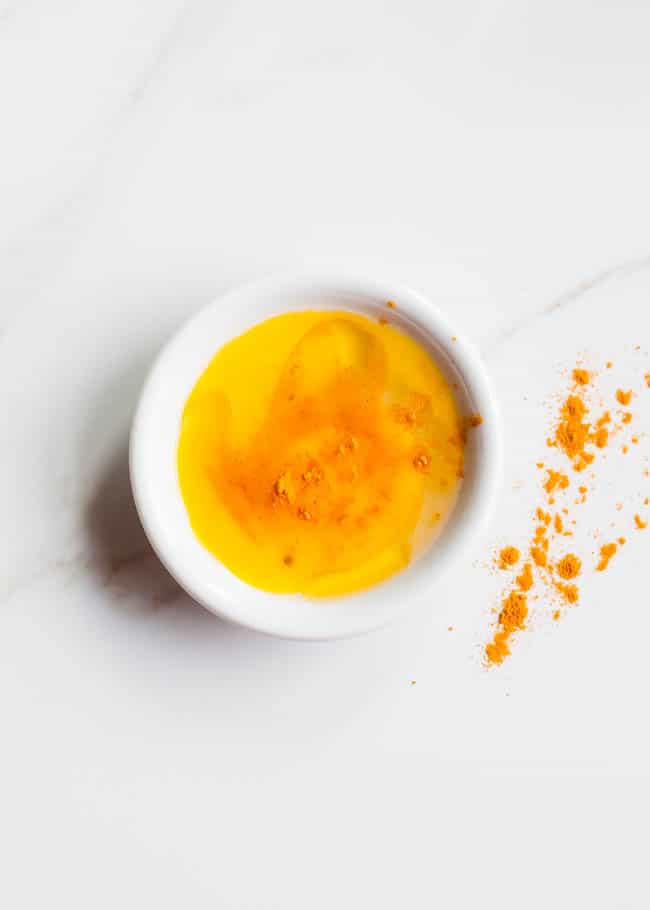 Egg yolk hydrating mask
—1 egg yolk
—1 pinch turmeric
—1 teaspoon olive oil
Instructions
Mix yolk, turmeric, and oil together to make a paste. Apply the mixture to your face, and let it dry for 20 minutes. Rinse with warm water. When using this mask, the oil isn't optional—if you leave turmeric on skin without an oil, it can easily stain the skin (and stay there for days!). Even though turmeric is an amazing anti-inflammatory, I don't want to end up with a yellow face!
Why it works
The egg proteins and B vitamins promote skin repair, olive oil hydrates and locks in moisture, and turmeric evens out the complexion.
3

.

Turmeric calms inflammation

.
Curcumin is a powerful antioxidant that also acts as an anti-inflammatory [source]. Its soothing properties calm skin irritation and relieve the itching that comes with eczema and other skin conditions [source].
Calm skin prone to redness and irritation by using this simple anti-inflammatory face mask made with honey and coconut milk in addition to turmeric and essential oil. Start the day with a turmeric honey anti-inflammatory elixir, a tasty way to say goodbye to redness and irritation and hello to healthy, glowing skin. End the day with a turmeric bath bomb to help you soak away stress and soothe irritation.
4

.

Turmeric fights aging

.
Environmental factors, such as UV light and pollution, are known to greatly impact the rate of natural aging [source]. Oxidative compounds and inflammation cause injury over time, leading to collagen breakdown and skin aging. Curcumin's anti-inflammatory and antioxidant properties help prevent the damage that results in wrinkles and other signs of aging for a more youthful appearance [source].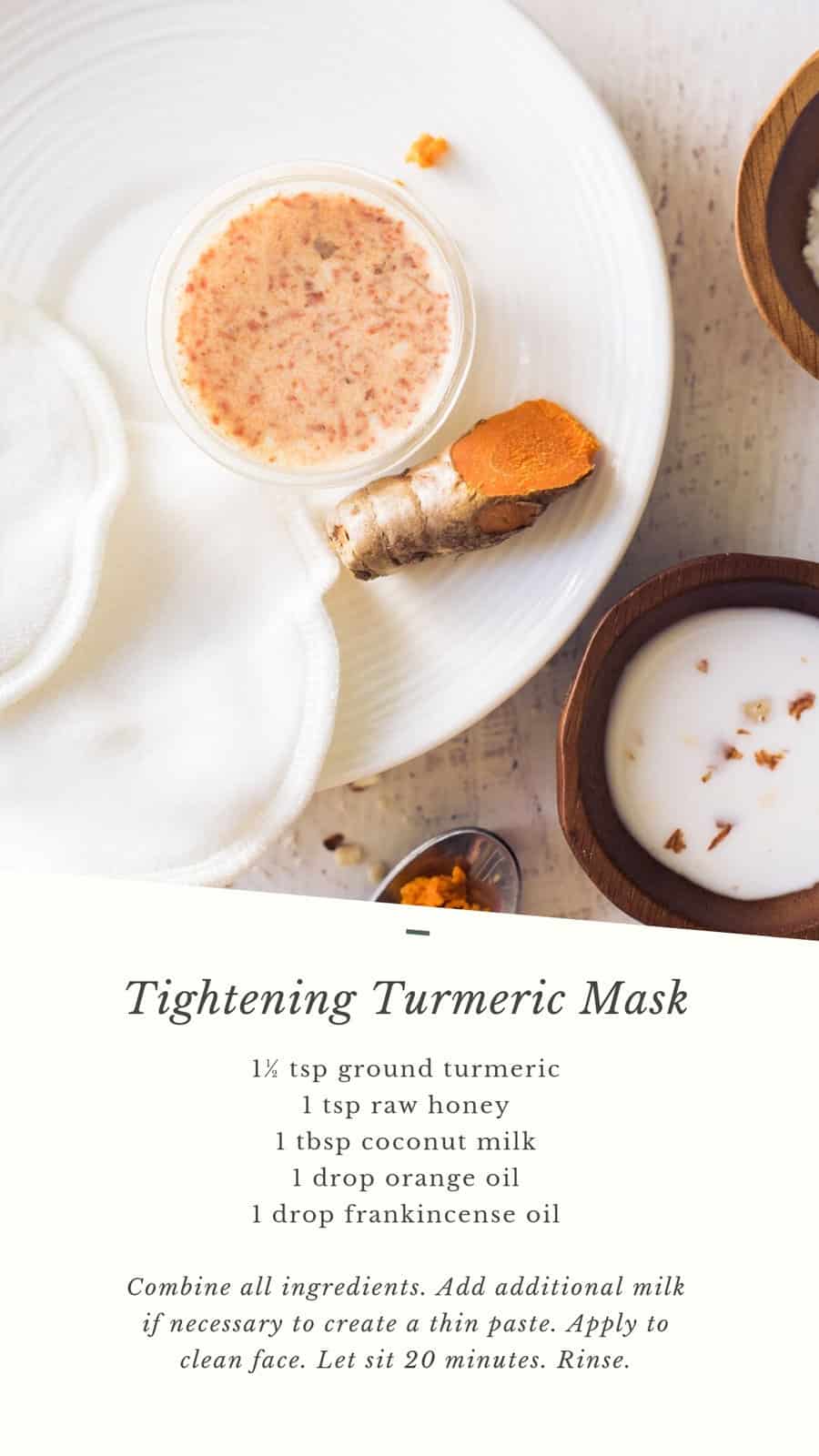 Turmeric tightening face mask
—1-1/2 teaspoons turmeric
—1 teaspoon raw honey
—1 tablespoon coconut milk
—1 drop orange essential oil (optional)
—1 drop frankincense essential oil (optional)
Instructions
Combine all of the ingredients in a small bowl. Add additional milk if necessary to create a thin paste. Apply the mask to a clean face. Let it sit for 20 minutes. Rinse.
Why it works
Put some turmeric on your face with this hydrating face mask, which tightens and replenishes dry skin. Pair the mask with one of these anti-aging turmeric smoothies to reap the beauty benefits of turmeric on the inside!
5

.

Turmeric inhibits the growth of skin cancer

.
Skin cancer is on the rise, and it's a good idea to think about cancer prevention when deciding on your skincare products. Numerous studies have shown curcumin's negative effect on the growth of skin cancer cells, and it also blocks cancer progression [source]. Not only does it slow their growth, but research has demonstrated that it can lead to their early demise [source]!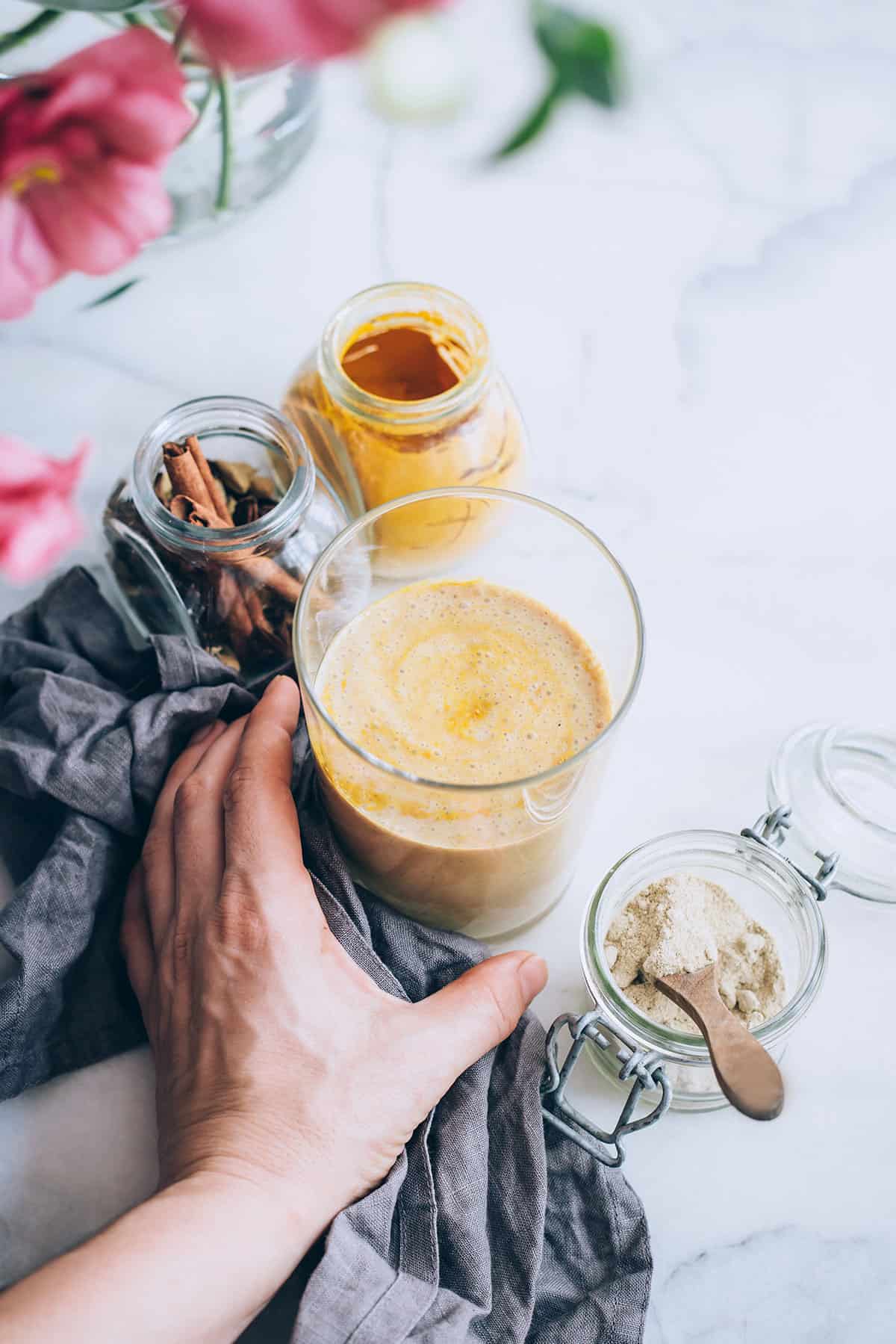 Turmeric Tocos Latte
We love a good turmeric latte, and this turmeric and tocos latte tastes like vanilla ice cream, but it's more than just tasty. Its ingredients actually enhance immunity, plump and hydrate the skin, and contribute to collagen synthesis!
—1 tablespoon coconut or almond butter
—1 tablespoon tocos powder
—1/2 teaspoon of any adaptogen powder you like, such as reishi, chaga, maca, ashwagandha (optional)
—1/2 teaspoon ground turmeric
—1/4 teaspoon ground cinnamon
—1/8 teaspoon ground ginger
—Sprinkle of ground nutmeg
—Sprinkle of ground cardamom
—1 pinch sea salt
—1 pinch black pepper
—4 drops of liquid monk fruit
—1 scoop collagen peptides (optional)
—12 ounces boiling water
Instructions
Combine all ingredients in a powerful blender and blitz until smooth and frothy.
Why it works
Tocos is considered a skin superfood due to its ability to plump and hydrate, contributing to collagen synthesis. It works together with turmeric in this adapt-o-latte to boost your beauty from the inside out.
Want more ways to try turmeric? Check out this fat-burning golden milk and these tropical turmeric smoothie recipes.
References:
1. Sarafian G, et al. Topical turmeric microemulgel in the management of plaque psoriasis; a clinical evaluation. Iran J Pharm Res. 2015.
2. Vollono L, et al. Potential of curcumin in skin disorders. Nutrients. 2019.
3. Cao H, et al. Complementary therapies for acne vulgaris. Cochrane Database Syst Rev. 2015.
4. Ahmad RS, et al. Biochemistry, safety, pharmacological activities, and clinical applications of turmeric: a mechanistic review. Evid Based Complement Alternat Med. 2020.
5. Zaman SU, et al. Effect of turmeric (Curcuma longa Zingiberaceae) extract cream on human skin sebum secretion. Trop J Pharm Res. 2013.
6. Hollinger JC, et al. Are natural ingredients effective in the management of hyperpigmentation? A systematic review. J Clin Aesthet Derm. 2018.
7. Tu CX, et al. Curcumin inhibits melanogenesis in human melanocytes. Phytother Res. 2012.
8. Józsa L, et al. Enhanced antioxidant and anti-inflammatory effects of self-nano and microemulsifying drug delivery systems containing curcumin. Molecules. 2022.
9. Khmaladze I, et al. The skin interactome: a holistic "genome-microbiome-exposome" approach to understand and modulate skin health and aging. Clin Cosmet Investig Dermatol. 2020.
10. Phillips JM, et al. Curcumin inhibits skin squamous cell carcinoma tumor growth in vivo. Otolaryngol Head Neck Surg. 2011.
11. Tang Y, et al. Curcumin inhibits the growth and metastasis of melanoma via miR-222-3p/SOX10/Notch Axis. Dis Markers. 2022.
655