Vitamin C is a gold-star ingredient for the skin. You'll find it in all kinds of skin creams for its antioxidant properties and ability to support healthy collagen [source]. As an antioxidant, vitamin C fights free radicals, which are caused by UV exposure.
Not only can it help prevent future sun damage, but it is also effective at treating hyperpigmentation [source]. If a dull complexion is your complaint, vitamin C should be added to your daily routine.
The benefits are many. We can also place adding extra hydration, balancing out skin tone, and regenerating skin cells on the list. A few months ago, I started using it—diligently—every morning before sunscreen, and I can already see results with a more even skin tone and lightening dark spots.
Want to make it yourself? Here are two recipes for making your own vitamin C serum.

Why vitamin C
?
Let's get into the why a little more. We often turn to vitamin C or load up on citrus when we're feeling yucky because it has internal benefits that boost immune health and help fight the common cold [source].
Vitamin C helps tissue repair, lowers blood pressure, and increases the body's ability to absorb iron [source]. Those may be some of the internal benefits of vitamin C, but how about the external rewards?
When applied topically, vitamin C does three awesome things for your skin [source]:
acts as an antioxidant that neutralizes free radicals and other nasties from daily environmental and sun exposure.
lightens the appearance of age spots.
accelerates collagen production, which prevents those fine lines and wrinkles from forming.
Vitamin C Serum with Camu Camu Powder
Instead of buying expensive creams with synthetic forms of vitamin C, you can make your own using camu camu, an antiviral, vitamin C-packed fruit found in the Amazon rainforest. Combined with aloe vera's healing properties, this vitamin C serum recipe with camu camu works to lighten and rejuvenate skin.

Why camu camu
?
L-ascorbic acid is a synthetic form of vitamin C that's often used in both expensive commercial and homemade skin serums. While it provides potent skin benefits, it can also degrade quickly. Serums with ascorbic acid usually only last about a week before they start to oxidize and turn yellow, which means the vitamin C has already become inactive.
The Amazonian camu camu plant contains the highest level of naturally occurring vitamin C in the world [source]. The small berries are at least 30 times more potent than oranges, and it is an excellent antioxidant [source]. So you get the vitamin C skin benefits—plus the antioxidants, vitamins, and minerals—from a naturally derived ingredient [source].
Downside: it doesn't fully dissolve in the liquid, so the texture isn't smooth, making it harder to apply.
Camu Camu Vitamin C Serum
Combine camu camu and glycerin in a small bowl, mix well. Add aloe vera and stir to combine. Transfer to a small container (one with a dropper is the easiest to use).
Vitamin C Serum with Vitamin C Powder
You can also use actual vitamin C powder. The major benefit is that it dissolves completely in water, so you don't end up with gritty sediment in your serum. You can use either L-ascorbic acid or ascorbic acid, but both will degrade rapidly.
Start with a small amount of vitamin C powder for two reasons: it breaks down quickly, losing its effectiveness after 1–2 weeks. So don't waste it by making a big batch. And it can cause skin irritation. More is definitely not better here.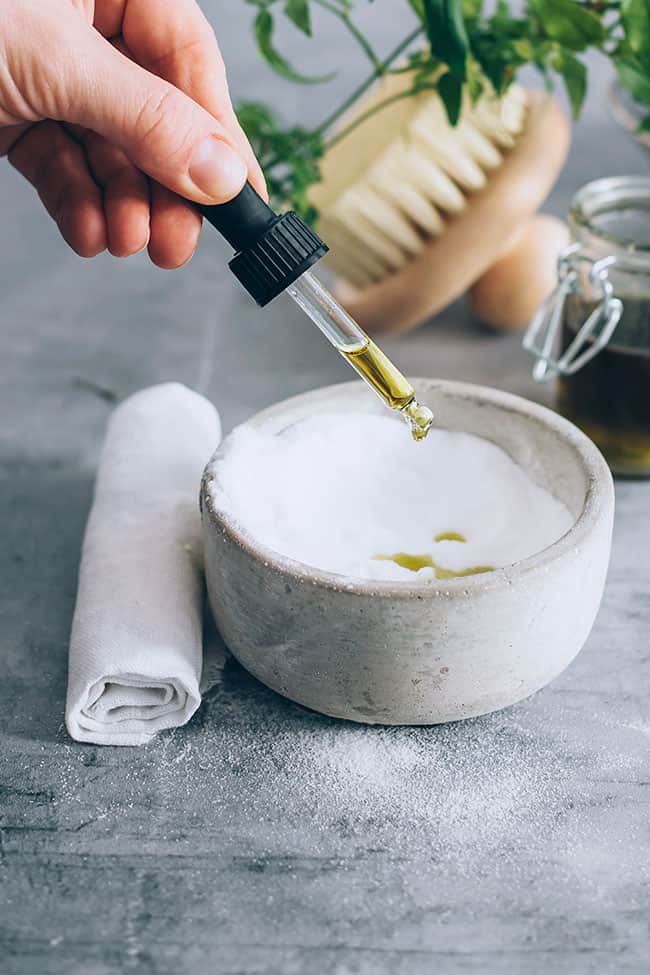 Vitamin C Serum with Ascorbic Acid
Combine the vitamin C powder and filtered water in a 1-ounce bottle. Swirl together until the powder is completely dissolved. Then add the glycerin and vitamin E oil. Store in the refrigerator for up to three weeks. If it starts to turn yellow, it's time to toss it.
How to use a vitamin C Serum
Ideally, vitamin C serums or drops should be applied in the morning, beneath sunscreen. Vitamin C actively fights free radicals, so apply to the skin before you step out into the world of pollutants.
You can also use the serum in the evening after washing your face and applying toner, but before applying moisturizer. Gently pat it onto the face and neck, avoiding the eye area.
Need more vitamin C in your routine
?
In addition to a daily serum, vitamin C can also be found in masks that can give your skin a concentrated boost of this powerful ingredient. Masks are applied to clean skin, typically at nighttime, and overnight masks give an opportunity for the vitamin C to work throughout the night, leaving your complexion with a beautiful glow when you wake up.
Toner is another great way to introduce additional vitamin C into your regimen. This Hibiscus Vitamin C Toner is great for all skin types and can be used twice daily for that extra shot of benefits.
This post was medically reviewed by Dr. Jennifer Haley, a board-certified dermatologist with extensive experience in medical, cosmetic, and surgical dermatology. Learn more about Hello Glow's medical reviewers here. As always, this is not personal medical advice, and we recommend that you talk with your doctor.
Photos by Ana Stanciu
270