Working up a sweat is good for many things, including purging toxins from your pores to get your skin glowing. But it can also be a cause of acne when trapped sweat clogs pores—thanks to your hat, mask, and sports bra. When you don't have time to shower or deep clean, these rose-infused witch hazel DIY face wipes are perfect for keeping oily skin in check with a post-exercise wipe down for your face and chest.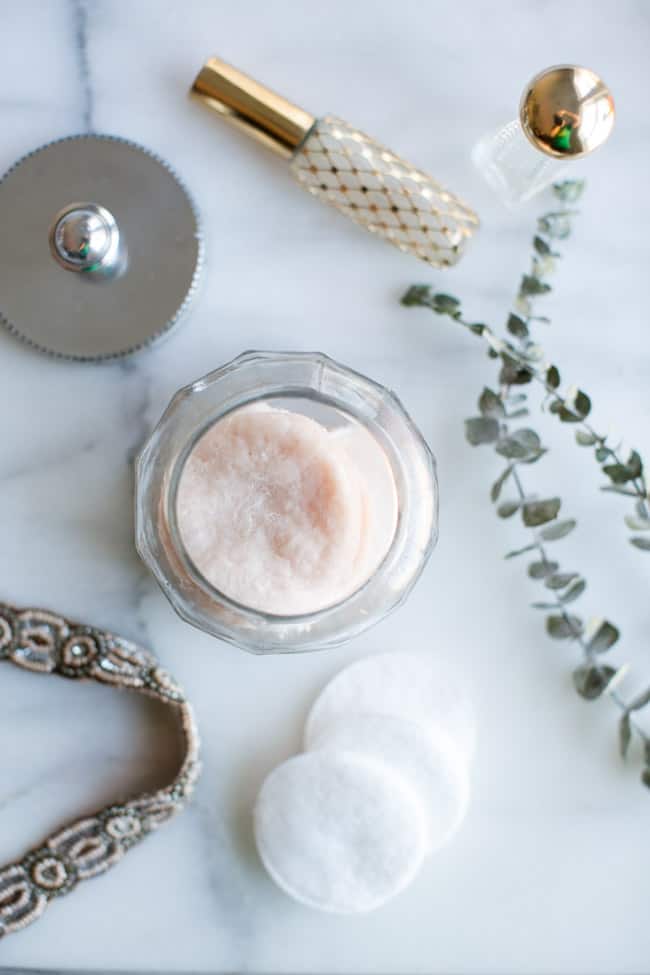 You don't have to wait for a sweat session to get the benefits of these wipes that exfoliate and hydrate the face. You can customize these DIY face wipes for oily skin and use them daily.
Witch hazel has long been used on the skin for its astringent properties, but it also contains compounds that help prevent photodamage that leads to aging [source]. The combination of witch hazel and aloe is perfect for oily skin, so you can use these wipes as a toner after washing your face in the morning and at night as well. In a pinch, they can double as makeup remover wipes.
Read on to learn how to make your own face wipes at home!
Jump to:
Ingredients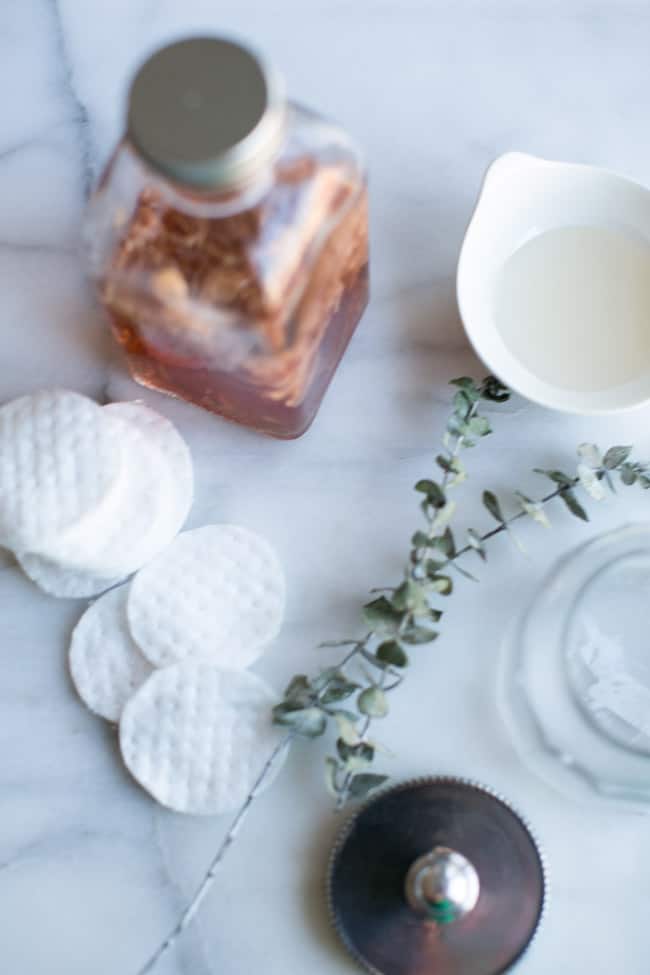 See the recipe below for quantities.
Instructions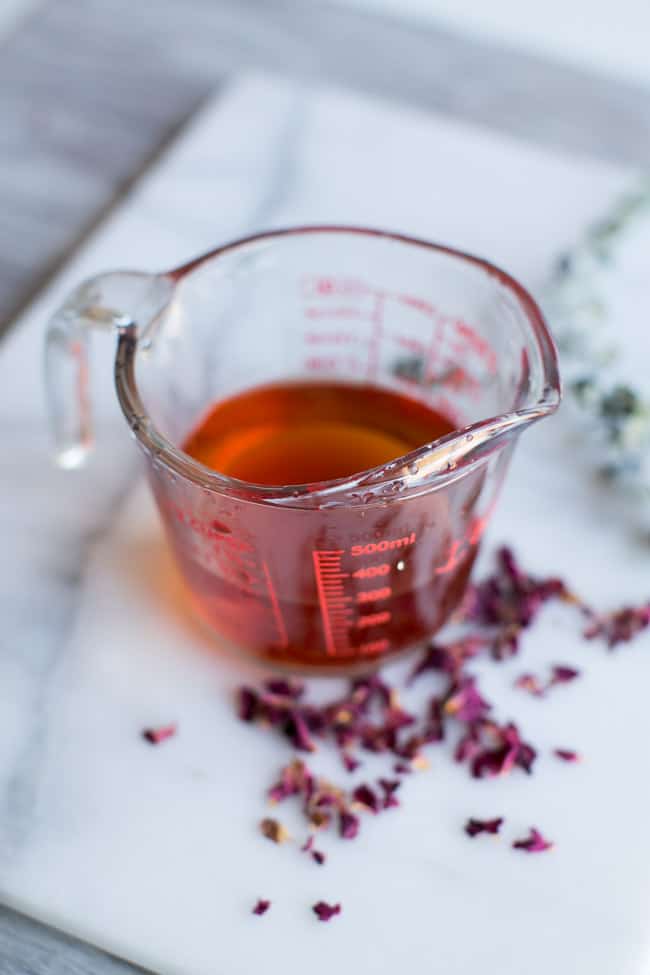 First, combine a cup of witch hazel with about ½ cup of dried roses in a clean jar with a lid. Let it sit for 1–2 weeks in a cool, dry place.
Witch hazel, a natural astringent and antioxidant [source], contains compounds with so many skin benefits, including reducing inflammation [source], speeding up healing [source], and tightening pores. But my favorite is just how cooling it feels. It's the perfect post-exercise pick-me-up.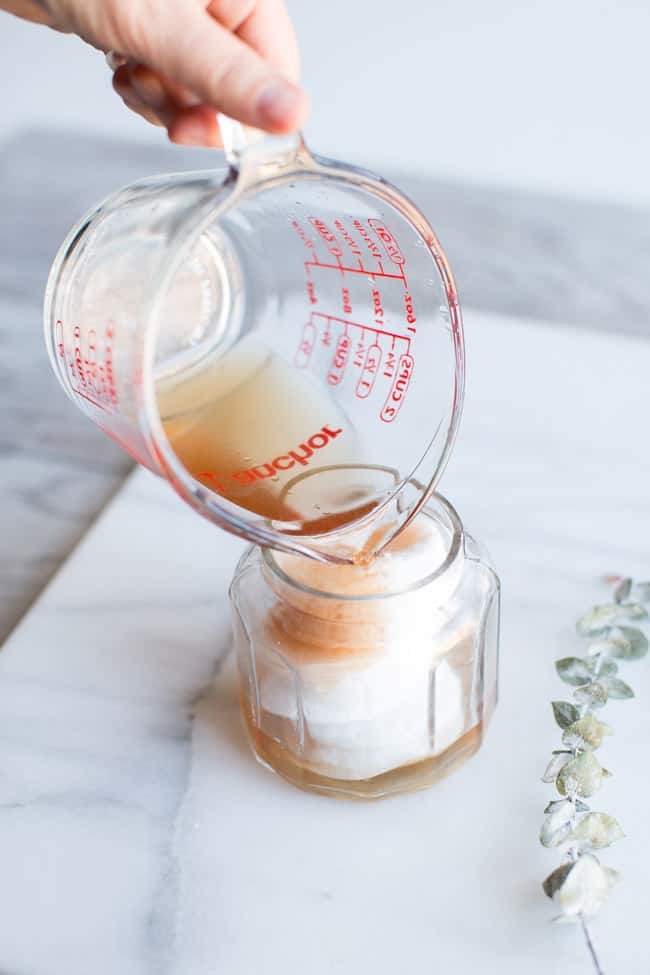 When you're ready to make the face pads, strain out the rose pieces. The witch hazel will have turned a really pretty shade of red! Both witch hazel and rose extract have powerful antioxidant and anti-inflammatory effects on skin cells [source].
If you run out of patience before 2 weeks, no worries. The longer it sits, the stronger the infusion.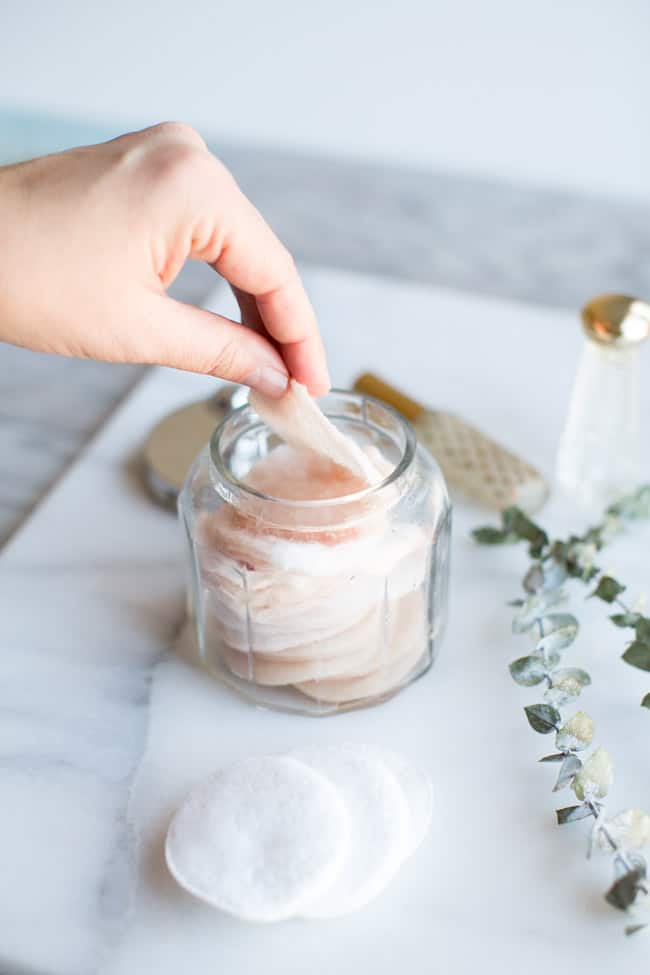 Combine 2 tablespoons of aloe vera with 6 tablespoons of witch hazel and stir together until combined. You can also add a couple of drops of essential oils for your skin type if desired. Tea tree oil is an amazing essential oil for acne-prone skin. Just 2–3 drops are potent enough for your entire batch.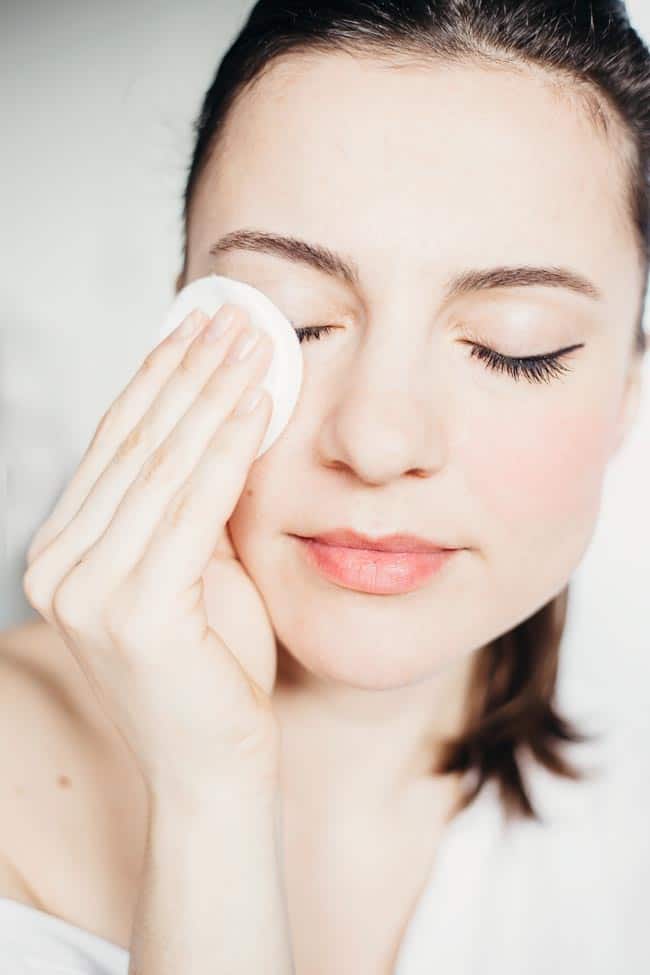 Stack your face pads in a jar, and pour the mixture over them. Give it about an hour for the pads to soak up all of the liquid.
Swipe over skin as needed for a cooling refresh!
Hint: The pads can get stuck together a bit, so just use your fingers to pry them apart when ready to use. Or, keep a pair of tweezers nearby to get the pads out—it's more hygienic and ensures that your witch hazel wipes don't accidentally get contaminated.
Substitutions
Cleansing pads — If you buy cotton cleaning pads (or make your own), you can reuse them multiple times. Rinse after using and then wash them in soap and water. Dry them out in the sun.
Essential oils — A few drops of essential oil can make face wipes for oily skin even more effective against acne and excess oil. Just make sure to follow the instructions above to dilute them appropriately for use on the face. Try 2-3 drops of tea tree, juniper berry, or cedarwood.
Variations
Once you learn how to make your own face wipes it's easy to customize them for your skin type or if you're on the go:
Travel-friendly solution: A jar isn't the most travel-friendly container, but silicone zip-top containers are perfect for this. Instead of using regular ziplock bags that need to be thrown away, these silicone ones are perfect for keeping a tiny stash of wipes in your gym bag.
Face mist: A spray bottle is also a great travel-friendly way to carry this solution with you. Just put a small amount in a dark spray bottle, and spritz your face and chest after exercising to reap the antioxidant benefits. Try adding geranium, frankincense, or lavender.
No-rinse DIY cleansing wipes: To remove even more dirt and grime, cover the DIY facial wipes with a homemade micellar water solution for a no-rinse cleanse.
DIY face wipes for dry skin: If your skin is dry, replace part or all of the witch hazel with a hydrosol like rose or lavender. Or keep the witch hazel and add a teaspoon of jojoba oil to the mixture. For essential oils, try ylang ylang, clary sage, or myrrh.DIY
Storage
The solution will be kept the longest and most potent if it's stored in a dark glass container or jar. Whenever we grab some cotton pads with our fingers, we introduce the possibility of contamination, so using them as you make them is best.
For long-term storage, I recommend keeping your homemade face wipes in the fridge—it ensures they're fresher for longer. Plus, a cold wipe will feel amazing after a hot, sweaty workout.
FAQ
I have rosacea, can I still use these?
Those with rosacea might want to avoid witch hazel as it can irritate sensitive skin and cause it to flush, especially if you're using witch hazel that has alcohol in it.
Can I use the solution as a toner?
Absolutely! You can make this solution and just spritz your face with it after cleansing. Its purpose isn't only for sweat removal.
Should this be used everywhere on my face?
Since witch hazel is an astringent, I would avoid the eye area. And since we don't have many sweat glands around this fragile area, it doesn't need an astringent anyway. Concentrate on the T-zone, chin, and chest, where we expel the most toxins when working out.
387