For the past few months, I've been using an activated charcoal soap on my face. This gal loves to take charcoal internally for all sorts of intestinal ailments. But on my face?
It was a hard sell at first—but let's just say I'm hooked. Loaded with 100% food-grade charcoal, vitamin E, and essential oils, this DIY charcoal face wash helps neutralize breakouts, minimize enlarged pores, and balance oil production.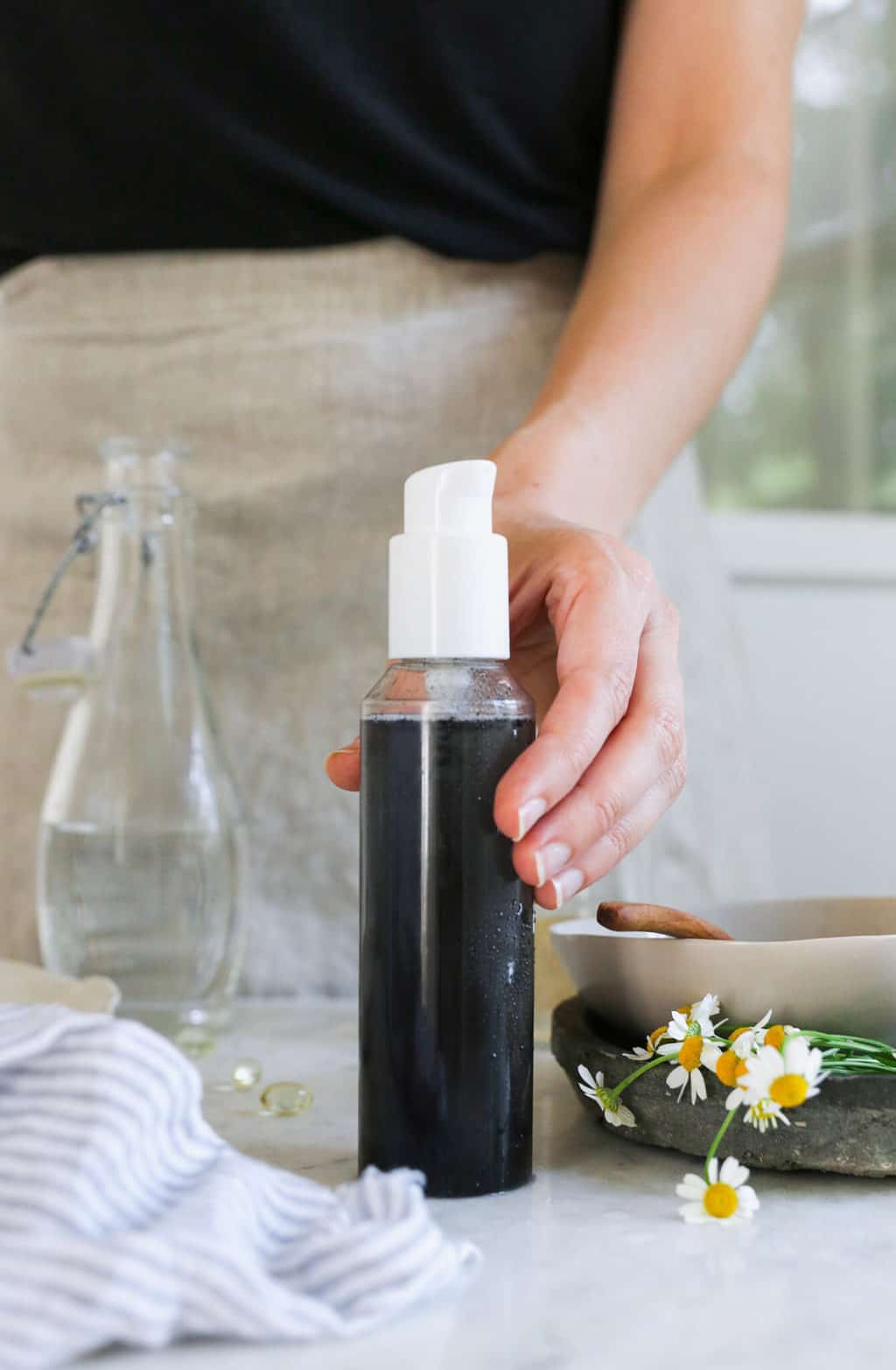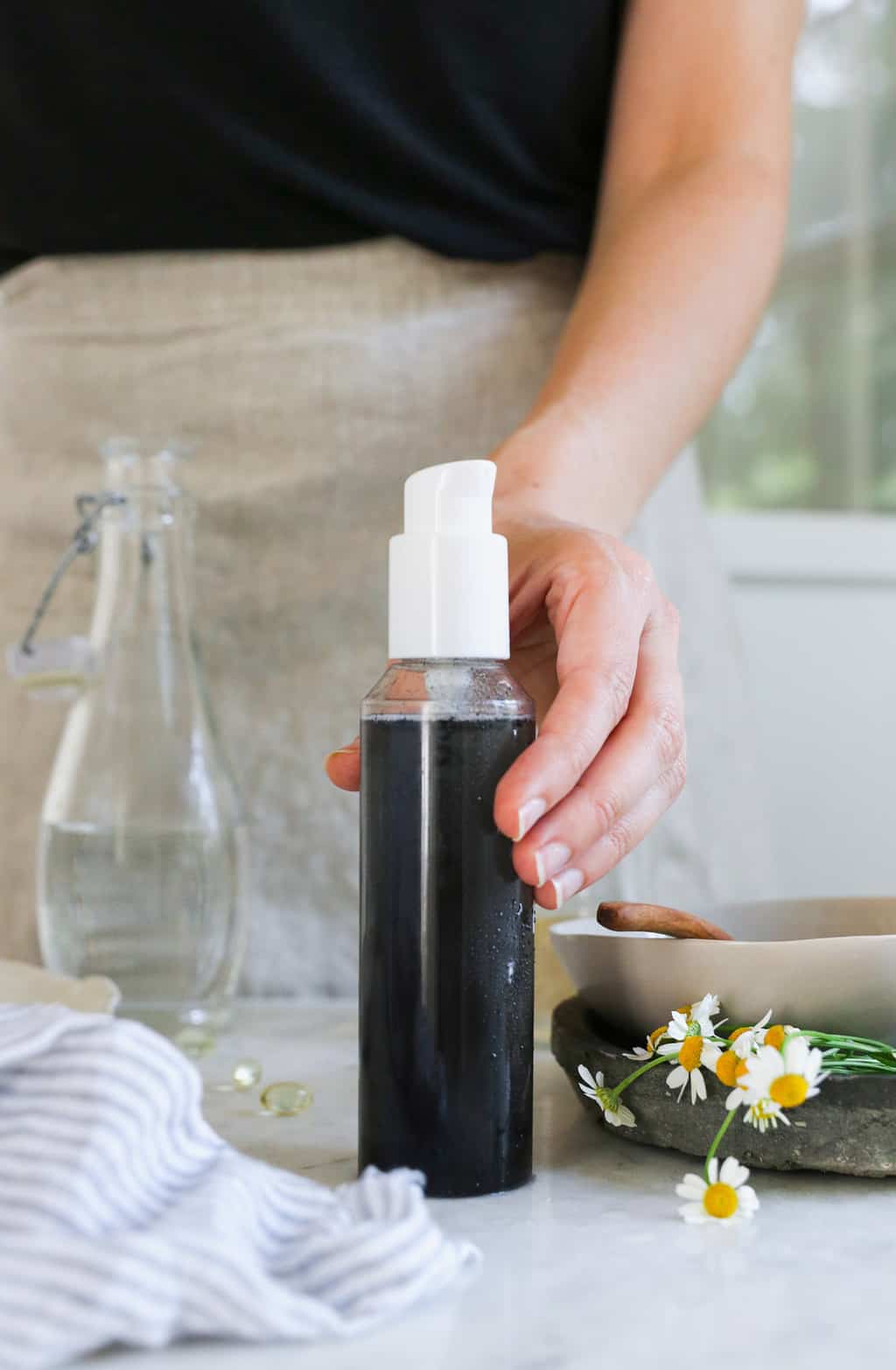 Benefits Of Activated Charcoal
Activated charcoal, sometimes called activated carbon, is what's left over after burning wood, coconut shells, olive pits, sawdust, or peat at very high temperatures. As a result of the burning process, the oxygen is removed from the source material, reducing the size of its pores and increasing the surface area (that's what makes it activated).
This results in a fine, highly absorptive black powder that draws in and traps toxins. Since your body can't break down and absorb the charcoal itself, it gets flushed out, along with the trapped toxins [source].
And, thanks to its drawing properties, activated charcoal has a ton of beauty benefits to boot.
Balances oily skin
Activated charcoal pulls in everything, including excess oil on the skin. This can make skin appear smoother and less greasy, especially in the T zone.
Reduces the appearance of pores
By removing dead skin cells, dirt, and debris from pores, they'll appear smaller and less noticeable. If you have blackheads, let your activated charcoal face wash sit on blackhead-prone areas for several minutes to absorb excess sebum.
Tames acne
Anyone with acne knows that dirt and impurities can make flare-ups worse. Activated charcoal helps to kill bacteria [source], cleanse the skin, and remove toxins that may lead to acne.
Gently exfoliates
The texture of activated charcoal makes it a wonderful exfoliant, especially for sensitive skin like that of the face. When washing your face, spend 10–15 seconds gently massaging your skin in a light circular motion to remove dead skin cells.
How To Make A Charcoal Face Wash
You could simply make a face wash with activated charcoal, Castile soap, and water. But I find that adding things like olive oil, essential oils, and vitamin E help make this recipe more hydrating and beauty-boosting.
Just note that charcoal is highly absorptive—but you knew that already—so any ingredients you include in your face wash may get absorbed by the charcoal, lessening their beneficial effects over time.
But that doesn't mean you shouldn't include them! They still provide some benefits. Just make sure to follow up with toner, serums, and face cream if you need extra TLC.

Castile soap
This gives your face wash its cleansing properties. I love Castile soap because it's light, natural, and it doesn't strip skin of vitamins or moisture.
Plus, a little goes a long way, allowing you to turn one bottle of Castile soap into countless bottles of face wash. Winner, winner, chicken dinner.
Activated charcoal
Just 2 teaspoons of activated charcoal are all you need to get the beauty-boosting benefits listed above.
Vitamin E
An antioxidant with skin-soothing benefits, vitamin E has long been used for its ability to heal chronic skin conditions, reduce UV damage, soothe inflammation, and fight free radicals [source].
Olive oil
Olive oil is an anti-inflammatory oil that also helps to repair the skin barrier [source]. Activated charcoal can be a bit drying, but the oil helps replenish moisture, making the skin feel soft and supple.
Essential oils
Chamomile and helichrysum essential oils are two of my favorites for beauty recipes. Chamomile is perennially soothing [source], while helichrysum is an antioxidant [source] said to have anti-aging benefits. Even if the charcoal diminishes the skin-soothing benefits of these oils, they still smell amazing!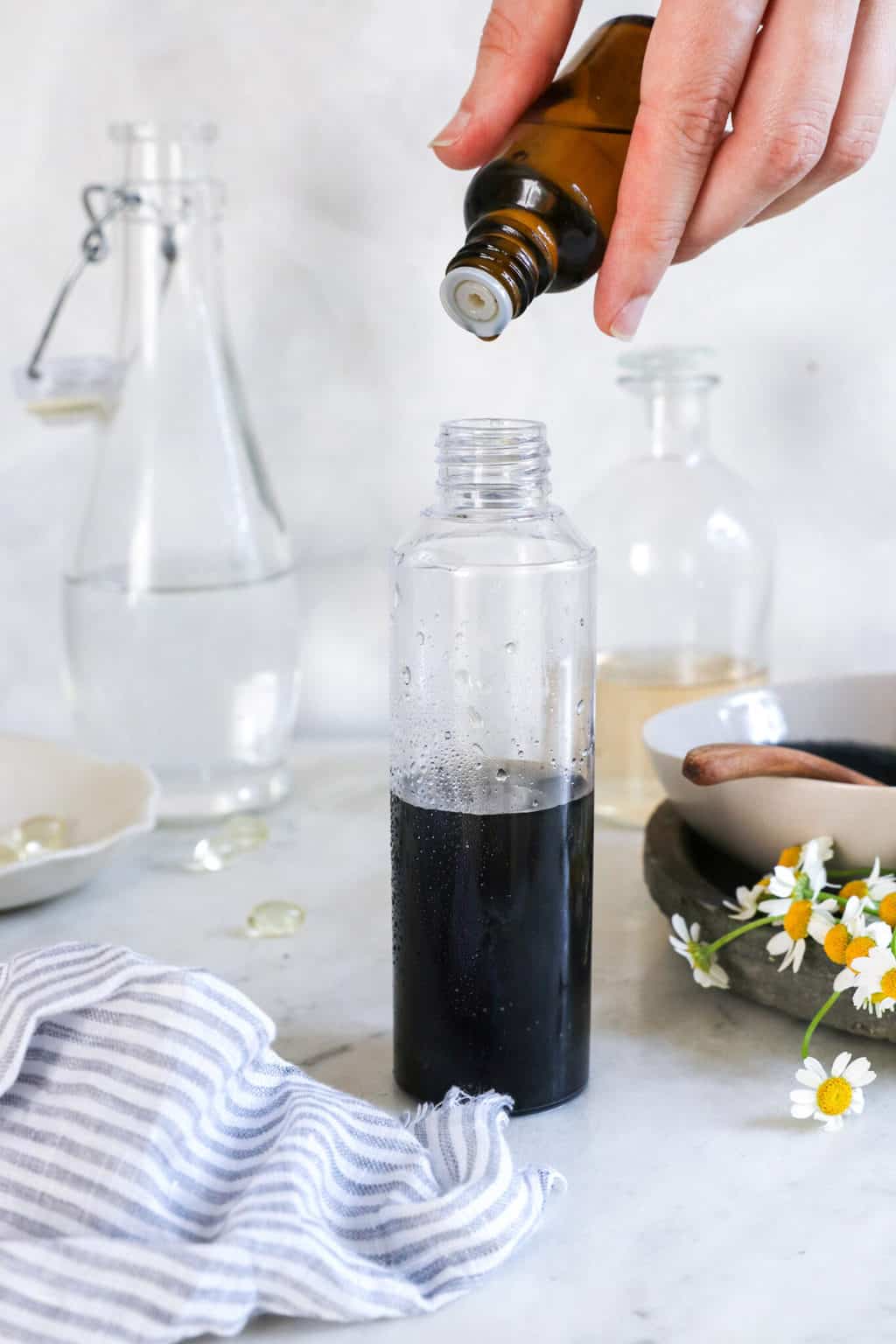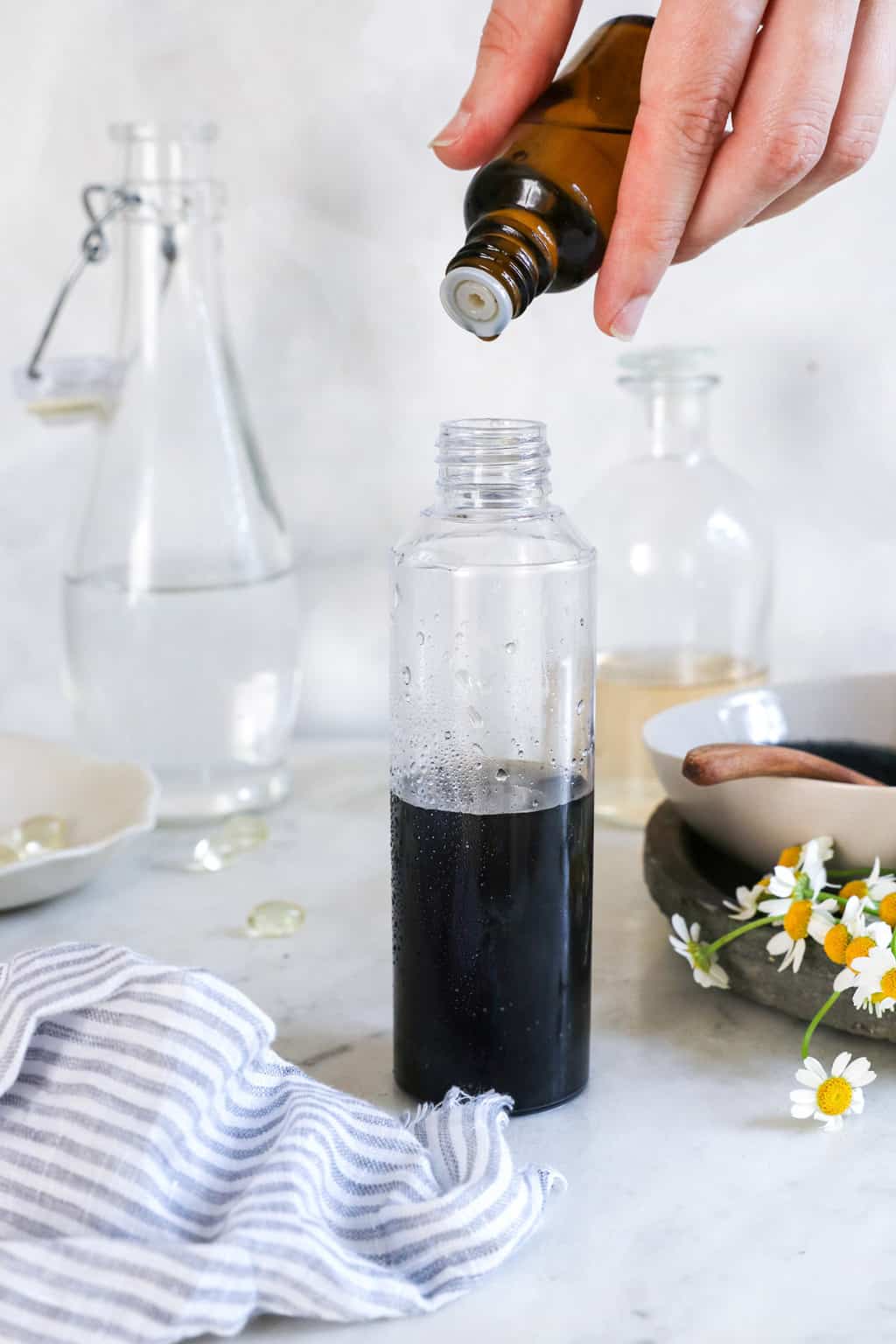 Charcoal Face Wash Ingredients
Instructions
Combine the ingredients in an 8-ounce pump bottle. Secure the cap and gently turn the bottle upside down several times to combine the ingredients without causing the soap to suds up.
Splash water on your face. Gently massage one pump into the skin to create a lather. Rinse clean with warm water. Use once a day, in the evening, to remove makeup and grime from the day. Follow up with your usual skincare regimen.
Use within 2–3 weeks.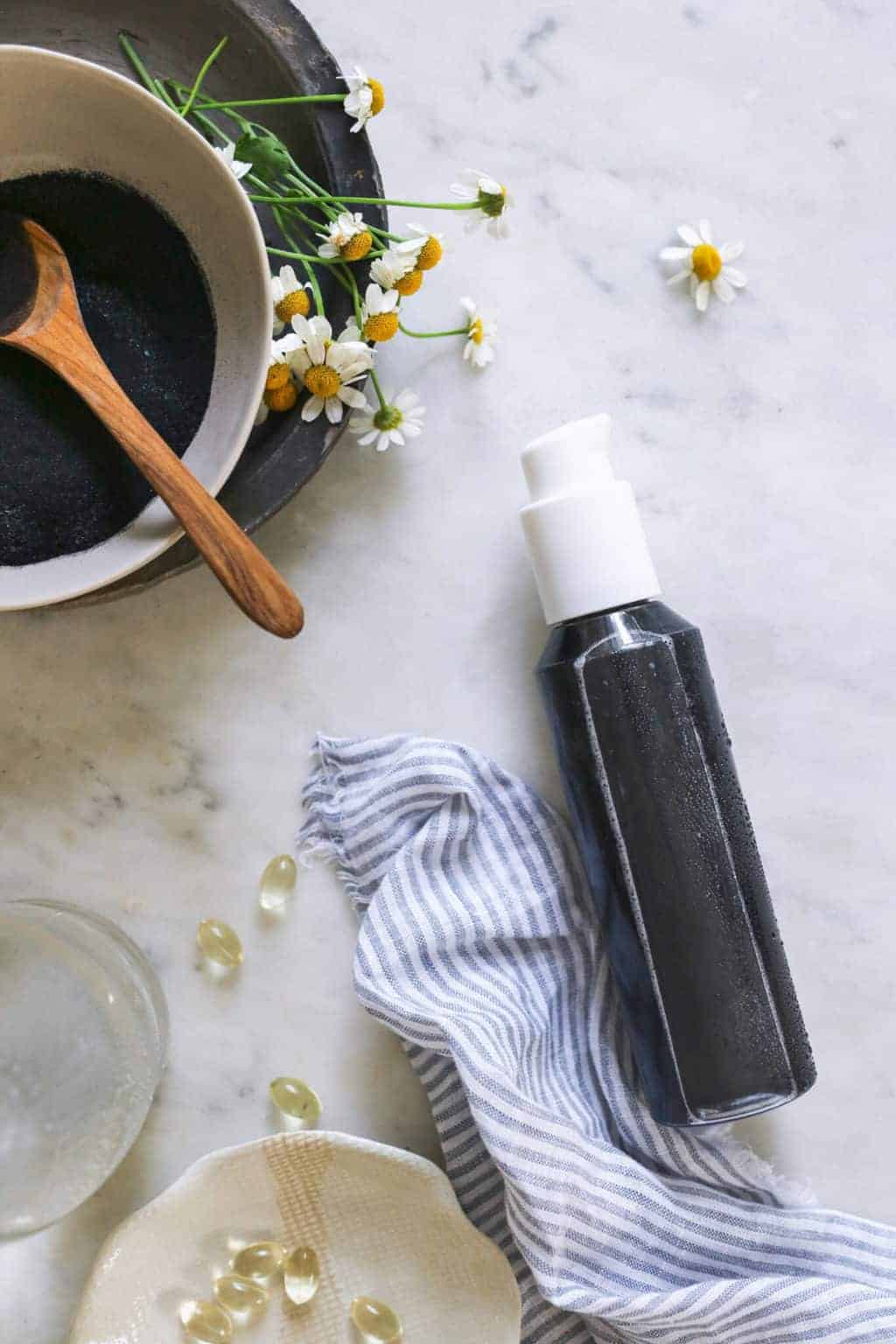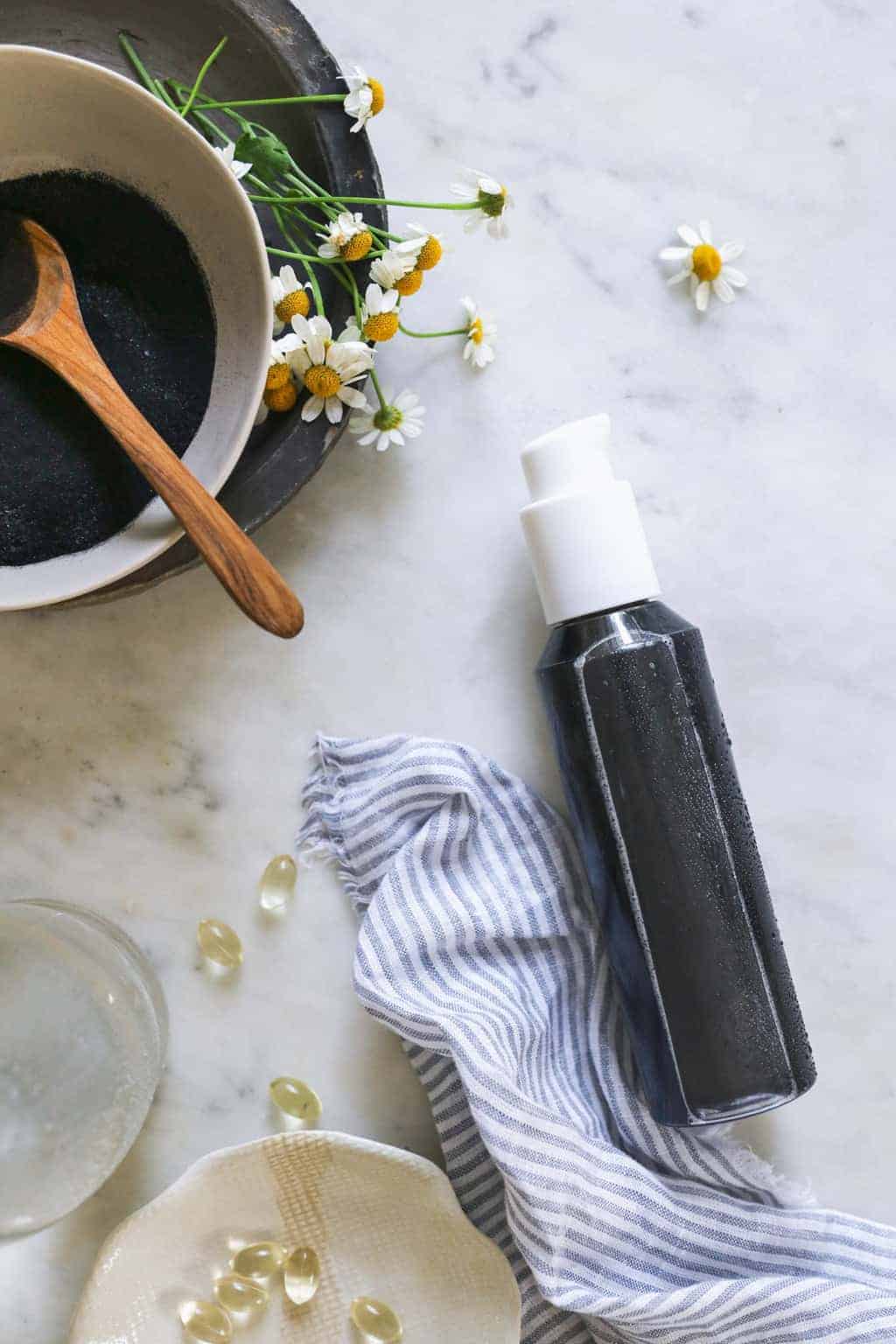 Charcoal Face Cleanser FAQs
Does charcoal face wash remove pimples
?
You may not notice a difference overnight. But over time, activated charcoal's drawing powers will help balance oil production and remove the impurities that lead to acne.
Can I use activated charcoal face wash twice a day
?
If you have sensitive skin, it's best to stick with once a day since charcoal can be slightly drying. But if you're struggling with acne or other skin issues, try using it twice a day and see if it makes a difference.
Does charcoal face wash cause breakouts
?
No, our recipe would not be expected to cause breakouts. The ingredients are so mild that you should notice acne getting better. And if you already have clear skin, charcoal should not clog pores or lead to acne.
Let's put that leftover charcoal to good use, shall we? Try these recipes…
This article was medically reviewed by Dr. Gina Jansheski, a licensed, board-certified physician who has been practicing for more than 20 years. Learn more about Hello Glow's medical reviewers here. As always, this is not personal medical advice and we recommend that you talk with your doctor.
12