What's that old saying? Happy feet, happy life? Okay, maybe no one's actually said that, but they should. Our feet have to be two of the most under-appreciated body parts.
Whether you're on them all day chasing after kiddos or just standing around the water cooler at work, your feet take a lickin' and hardly ever get any TLC in return. But an Epsom salt foot soak is the perfect way to relax those babies after a long day.
A hot soak helps soothe muscles, hydrate skin, and can relieve aches and pains from standing for hours or walking in uncomfortable shoes. Plus, Epsom salt soaks can help reduce swelling and work to keep bacteria and blisters away.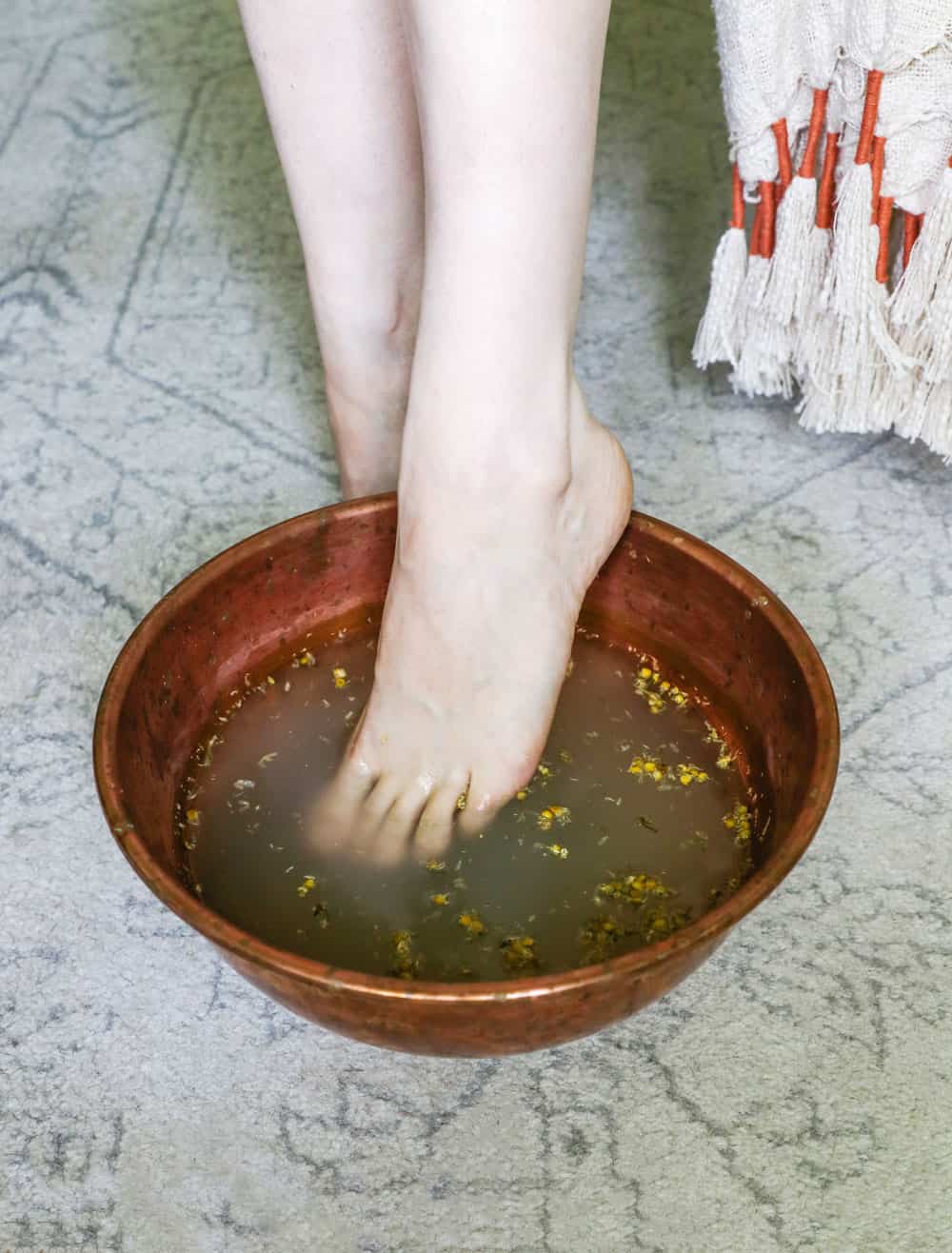 Epsom Salt Foot Soak
Epsom salt isn't actually salt like table salt. It's a naturally occurring mineral compound of magnesium and sulfate, both of which contain therapeutic properties [source]. Because it's chock full of beneficial minerals, it's a staple in a lot of beauty, household, and gardening recipes. But it's really Epsom salt's health benefits that stand out the most.
The combination of magnesium and sulfate is a highly effective tonic for all sorts of ailments. And simply soaking your feet in it can bring about some full-body benefits, ranging from improved sleep to less pain.
4 Benefits of an Epsom Salt Foot Soak
1. Reduces pain and inflammation
Soaking in warm water is one of the oldest forms of natural medicine. For centuries, people have been going to natural mineral water sources such as the Dead Sea to soak away their ailments, and many of these benefits have been replicated in studies [source].
Related to the feet, it seems that mineral baths have really helped people with arthritis [source] and other types of musculoskeletal pain [source].
And you can try and replicate this at home. Add Epsom salt to your bath, and you've got a highly therapeutic remedy for pain and inflammation [source]. Magnesium relaxes muscles, while the warm water dilates blood vessels to increase circulation.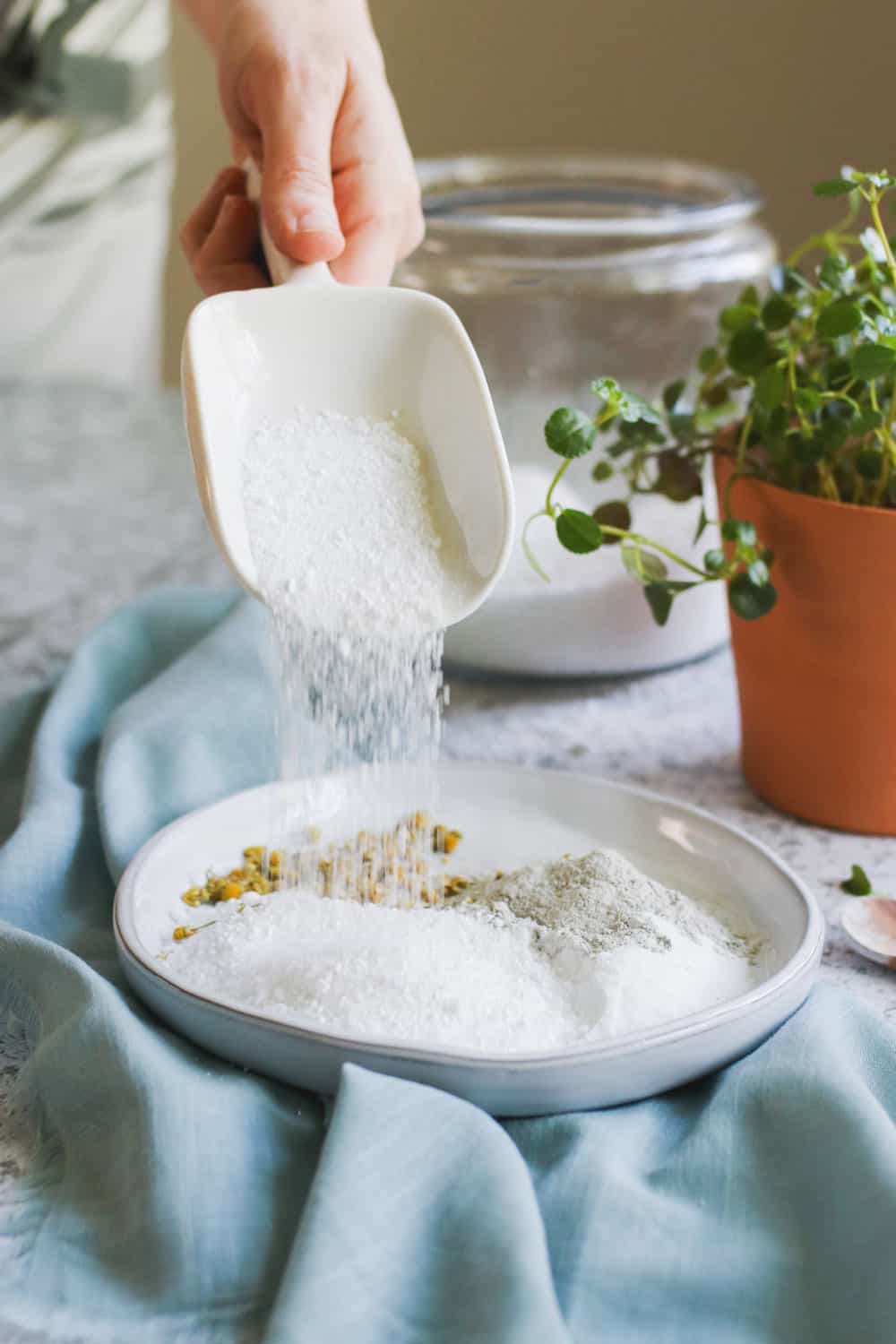 2. Improves sleep
Everyone knows that stress and insomnia go hand in hand. Not only does Epsom salt help relax muscles, but it also helps calm the mind and relieve stress. Evidence shows improvements in sleep quality in people with health conditions [source], particularly arthritis [source].
So if you suffer from insomnia on a regular basis, you may want to go beyond just the foot bath and get your whole body in on the soaking action!
3. Has antibacterial action
Kiss those smelly feet goodbye after using Epsom salt in your bath. Foot odor is caused by the buildup of bacteria, typically due to sweat combined with infrequent washing and the warm, closed environment of shoes [source]. Research has verified Epsom salt's antibacterial properties, even in wastewater [source], and may be due to its sulfur component [source].
Based on the contributors to bacterial growth on feet, after your Epsom salt soak, it makes sense to give those toes some air as often as possible and keep them dry.
4. Improves chronic skin conditions
Studies have shown the effects of mineral baths on certain skin conditions, such as eczema and psoriasis [source]. It makes sense that the anti-inflammatory action of Epsom salt would impact the course of these diseases because they are based in inflammation. Unlike drugs, Epsom soaks have no negative side effects, and the bonus is improved well-being [source]!
It is also said that skin is improved by the minerals in thermal water, so that means the benefits are not just found with the bath. In fact, research has shown anti-aging effects on the skin, such as increased cell division and limiting cell damage [source]. Studies on magnesium salt bathing have also demonstrated improvements in skin barrier repair, hydration, and roughness [source].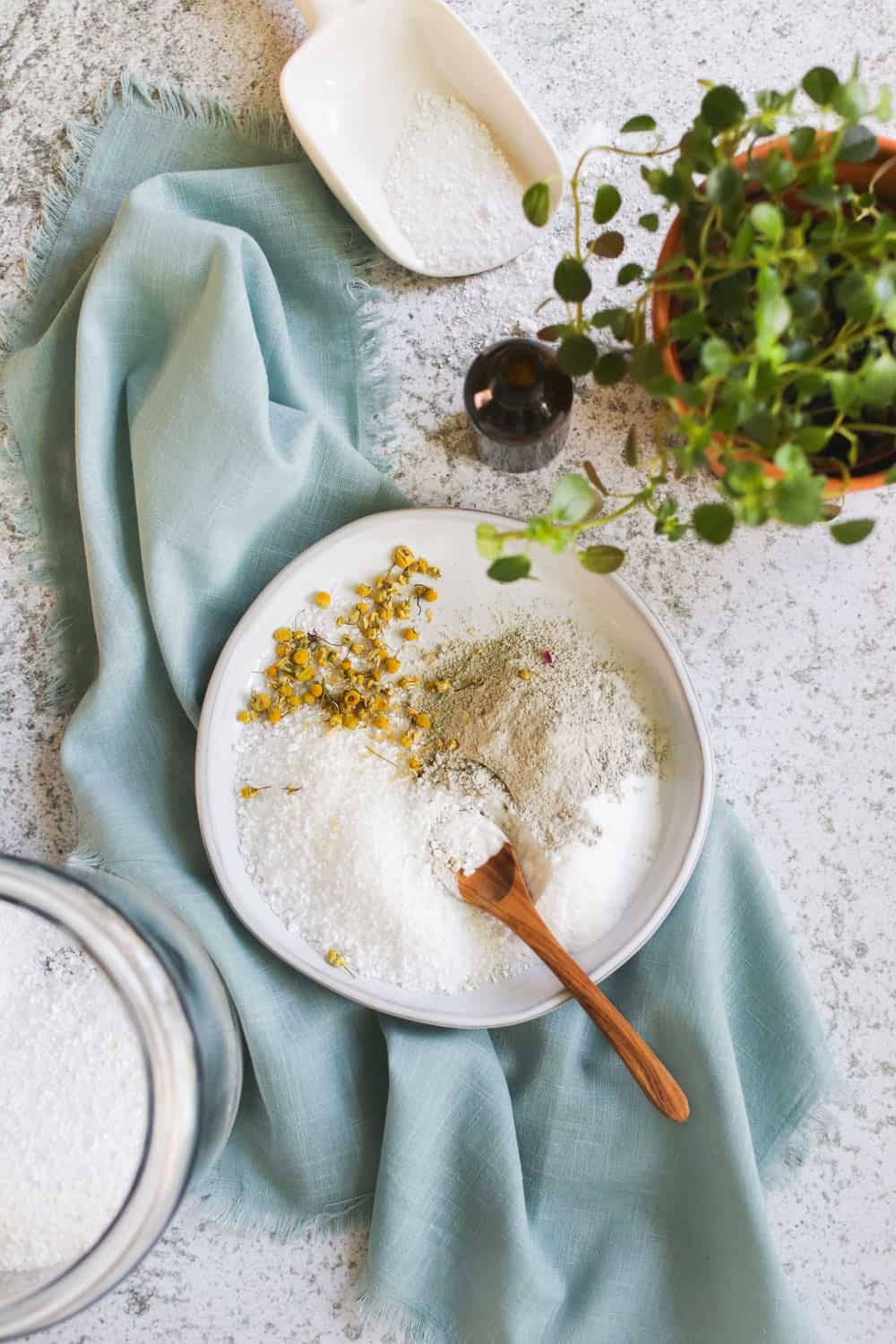 How to Do an Epsom Salt Foot Soak
Obviously, the star of this foot bath recipe is Epsom salt, but I like to add other purifying and relaxing ingredients to make my soak more beneficial.
Chamomile
I'm a little obsessed with dried chamomile, and I use it in practically everything. Chamomile is a relaxing botanical that helps reduce puffiness and inflammation [source]. It's also antimicrobial [source], which helps keep feet clean and germ-free.
Bentonite clay
Bentonite clay is a swelling clay. It traps toxins as it swells like a sponge and carries them out of the body. Clay is a known antibacterial [source] that has been used to treat dermatitis and skin wounds [source]. It also contains beneficial minerals that can help nourish the skin.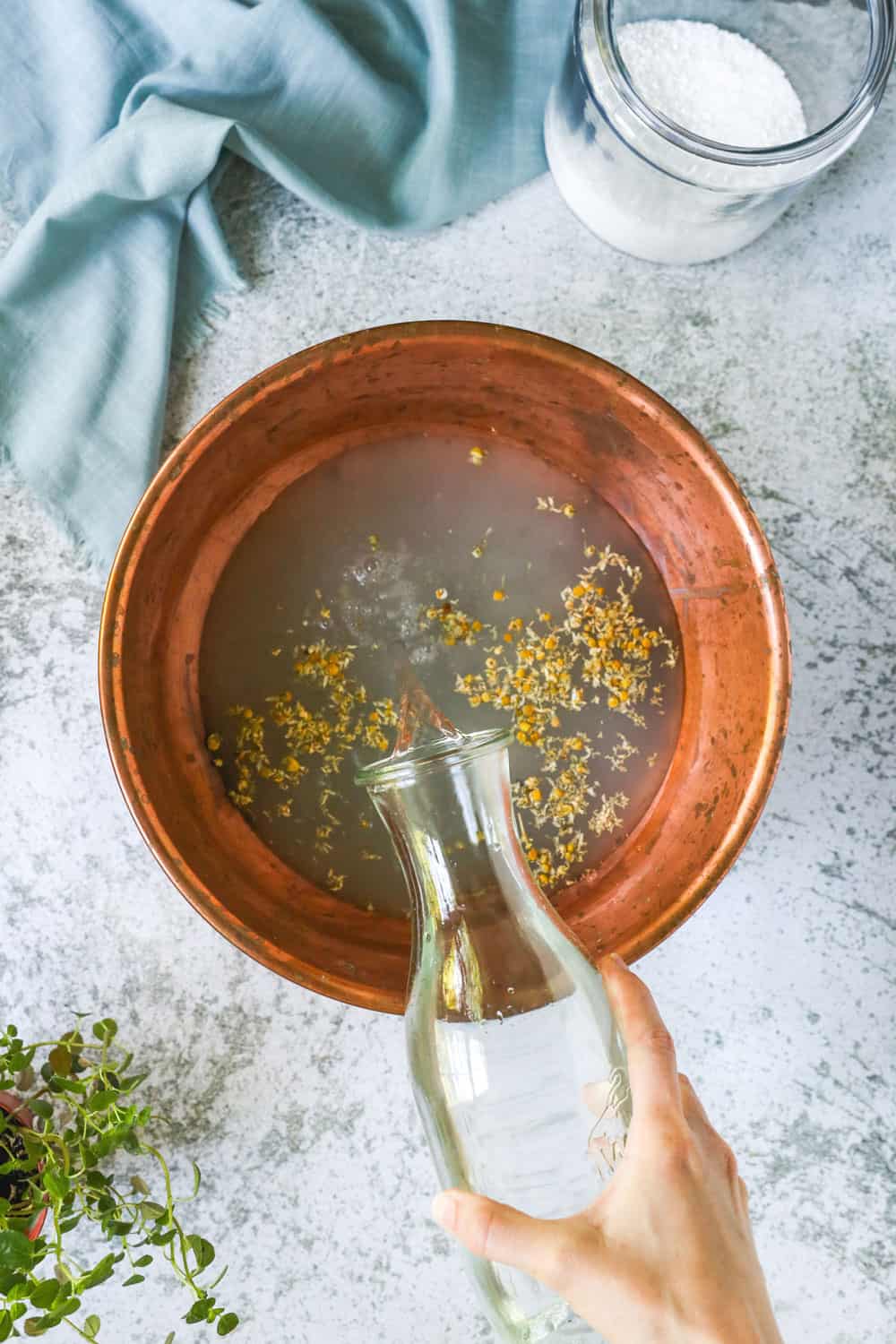 Essential oils
Besides adding an aromatherapy aspect, essential oils can help get rid of bacteria, relax muscles, and soften rough skin.
Here are a few of my favorites:
Cedarwood oil is antibacterial [source].
Sandalwood and cinnamon oils have been shown to have strong antifungal effects [source].
Cypress oil is another antibacterial [source] and a natural deodorant, making it perfect for preventing foot odors.
Lavender oil is a favorite for relaxation. It's also an anti-inflammatory oil [source] that helps reduce pain and soothe sore muscles and joints.
Thyme oil helps soothe tired muscles and has anti-inflammatory and antimicrobial properties [source].
Add it all together, and you've got yourself an amazing foot soak that provides so many benefits.
Ingredients
Instructions
1. Combine all of the ingredients and mix well.
2. Fill a basin with warm water until it's deep enough to cover your feet, then add 1/2 cup of the Epsom salt mixture to the water.
3. Soak your feet for 30–60 minutes while you sit back, relax, and read a good book or enjoy a glass of wine. The Epsom salt will take care of the rest.
Foot Soak FAQs
Will a foot soak help with toenail fungus?
It really depends on the fungus and how bad the infection is. But Epsom salt combined with an antibacterial, antifungal essential oil, like tea tree oil [source], can work wonders.
Try soaking your toes once a day for 15 minutes to see if it works. Just make sure to dry your feet off really well when you're done, and leave them open to the air for a while because fungus feeds on the combination of warmth and moisture!
Can I add vinegar to my foot soak?
Sure! Raw apple cider vinegar, in particular, makes a great foot soak because it's chock full of beneficial bacteria that help replenish the skin microbiome.
Does a foot soak remove dead skin?
A foot soak can help soften dry, dead skin cells, making them easier to remove. After soaking your feet for 30 minutes, use a dry brush or pumice stone to gently get rid of dry skin. Then slather with jojoba oil or a nourishing body cream to lock in moisture.
If I have dry
,

cracked feet

,

can I still do a foot soak?

Foot soaks can help speed up healing and replenish moisture if you have dry, cracked feet. Make sure to use cool water since hot water can strip moisture from the skin. Only soak 1–2 times a week, and always use a heavy-duty moisturizer to lock in moisture when you're done.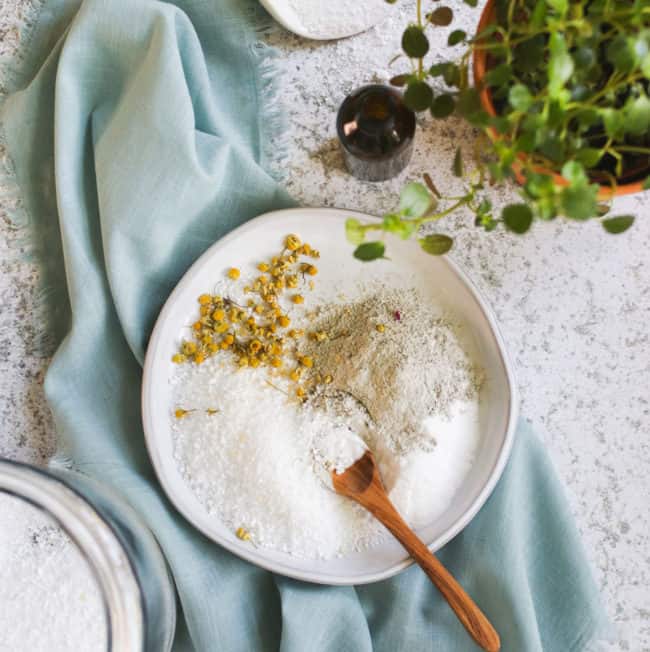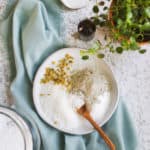 Print
Epsom Salt Foot Soak
This epsom salt foot soak combines detoxifying clay with chamomile and essential oils to soothe aching feet and help you relax after a long day.
Instructions
Combine all ingredients and mix well.

Fill a basin with warm water until it's deep enough to cover feet, then add 1/2 cup of the Epsom salt mixture to the water.

Soak your feet for 30 to 60 minutes. 
Notes
When you're done, p

at dry and then massage feet with

sweet almond or jojoba oil to lock in moisture.
Store any remaining soaking salts in a sealed jar on the bathroom counter for up to 3 months.
References:
1. Costantino M, et al. Sulfate mineral waters: a medical resource in several disorders. J Tradit Complement Med. 2020.
2. Katz U, et al. Scientific evidence of the therapeutic effects of dead sea treatments: a systematic review. Semin Arthritis rheum. 2012.
3. Scanu A, et al. Immunological events, emerging pharmaceutical treatments and therapeutic potential of balneotherapy on osteoarthritis. Front Pharmacol. 2021.
4. Cao CF, et al. Balneotherapy for fibromyalgia syndrome: a systematic review and meta-analysis. J Clin Med. 2021.
5. Silva A, et al. Anti-inflammatory potential of Portuguese thermal waters. Sci Rep. 2020.
6. Yang B, et al. Spa therapy (balneotherapy) relieves mental stress, sleep disorder, and general health problems in sub-healthy people. Int J Biometeorol. 2018.
7. Kaya E, et al. Effects of balneotherapy and physical therapy on sleep quality in patients with osteoarthritis aged 50 to 85 years. Arch Rheumatol. 2016.
8. Miao T, et al. Footwear microclimate and its effects on the microbial community of the plantar skin. Sci Rep. 2021.
9. Christy IC, et al. The effects of Epsom salt on microorganisms isolated from sewage. J Appl Sci Res. 2014.
10. Cacciapuoti S, et al. The role of thermal water in chronic skin diseases management: a review of the literature. J Clin Med. 2020.
11. Soroka Y, et al. Aged keratinocyte phenotyping: morphology, biochemical markers and effects of Dead Sea minerals. Exp Gerontol. 2008.
12. Proksch E, et al. Bathing in a magnesium-rich Dead Sea salt solution improves skin barrier function, enhances skin hydration, and reduces inflammation in atopic dry skin. Int J Dermatol. 2005.
13. Srivastava JK, et al. Chamomile: a herbal medicine of the past with bright future. Mol Med Report. 2010.
14. Iraj S, et al. A systematic review study of therapeutic effects of Matricaria recuitta chamomile (chamomile). Electron Physician. 2016.
15. Williams LB, et al. Evaluation of the medicinal use of clay minerals as antibacterial agents. Int Geol Rev. 2010.
16. Moosavi M. Bentonite clay as a natural remedy: a brief review. Iran J Public Health. 2017.
17. Zrira S, et al. Chemical composition and antibacterial activity of the essential of Cedrus atlantica (cedarwood oil). J Essent Oil-Bear Plants. 2016.
18. Powers CN, et al. Antifungal and cytotoxic activities of sixty commercially-available essential oils. Molecules. 2018.
19. Orhan IE, et al. Potential of Cupressus sempervirens (Mediterranean cypress) in health. The Mediterranean Diet. 2015.
20. Cardia GFE, et al. Effect of lavender (Lavandula angustifolia) essential oil on acute inflammatory response. Evid Based Complement Alternat Med. 2018.
21. Rezzoug M, et al. Chemical composition and bioactivity of essential oils and Ethanolic extracts of Ocimum basilicum L and Thymus algeriensis Boiss. & Reut. from the Algerian Saharan Atlas. BMC Complement Altern Med. 2019.
22. Pazyar N, et al. A review of applications of tea tree oil in dermatology. Int J Dermatol. 2013.
This post was medically reviewed by Dr. Jennifer Haley, a board-certified dermatologist with extensive experience in medical, cosmetic, and surgical dermatology. Learn more about Hello Glow's medical reviewers here. As always, this is not personal medical advice, and we recommend that you talk with your doctor.
140