By now, you're probably using a homemade scrub for your body. But what about your lips? That's one super sensitive area that often gets neglected.
According to NYC dermatologist Dr. Neil Sadick, your lips tend to become drier faster than other parts of your body because the surface skin on your lips is thinner. In addition, they have a lower water content than other facial areas [source], which sets them up for being parched naturally. So use a mild exfoliant to slough off any dead skin on the lips and uncover smooth, healthy lips.
A lip scrub combines exfoliation with much-needed moisture to keep lips softer longer, even in cold winter weather. It's a must, especially if you're dealing with dry, chapped lips.
18 DIY Lip Scrub Recipes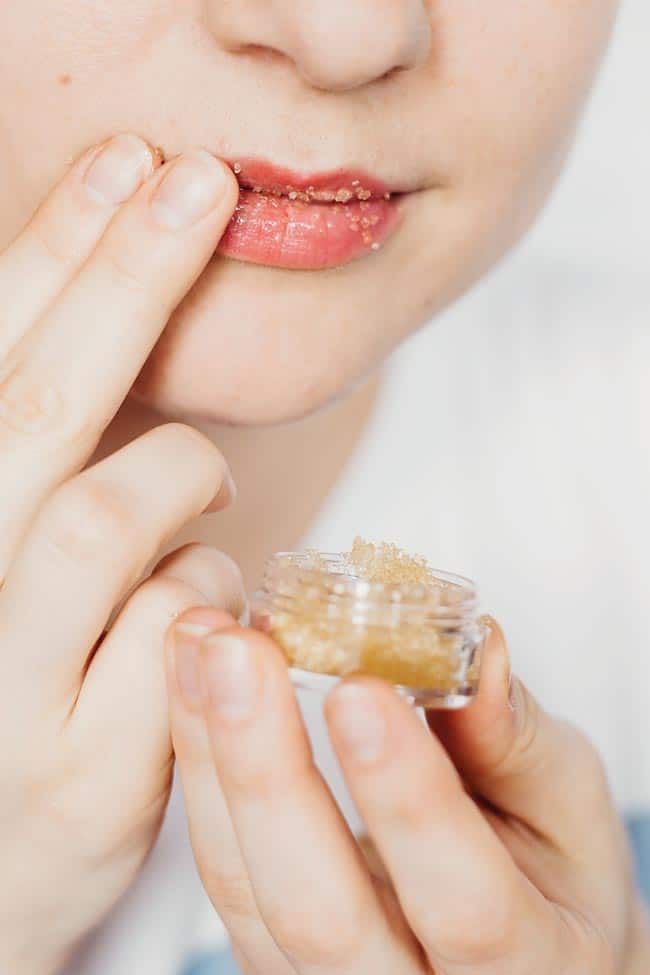 So get on the lip scrub wagon with these homemade recipes, and follow with a homemade lip balm for super soft, kissable lips! There's a recipe here for everyone's preferences, and they're all good enough to eat!
1
.
Soften lips with a chocolate polish
Scrubbing with brown sugar gently exfoliates while cocoa butter and coconut oil lock in moisture. A dash of cocoa powder adds a dose of nourishing antioxidants [source].
Melt cocoa butter in a microwave-safe bowl. Transfer to a small jar and stir in the coconut oil. Refrigerate until the mixture has partially hardened. Stir in the brown sugar and cocoa.
Apply to lips once a week. Let the mixture sit on your lips for 30 seconds, and then massage with your fingertip. Rinse and follow with lip balm.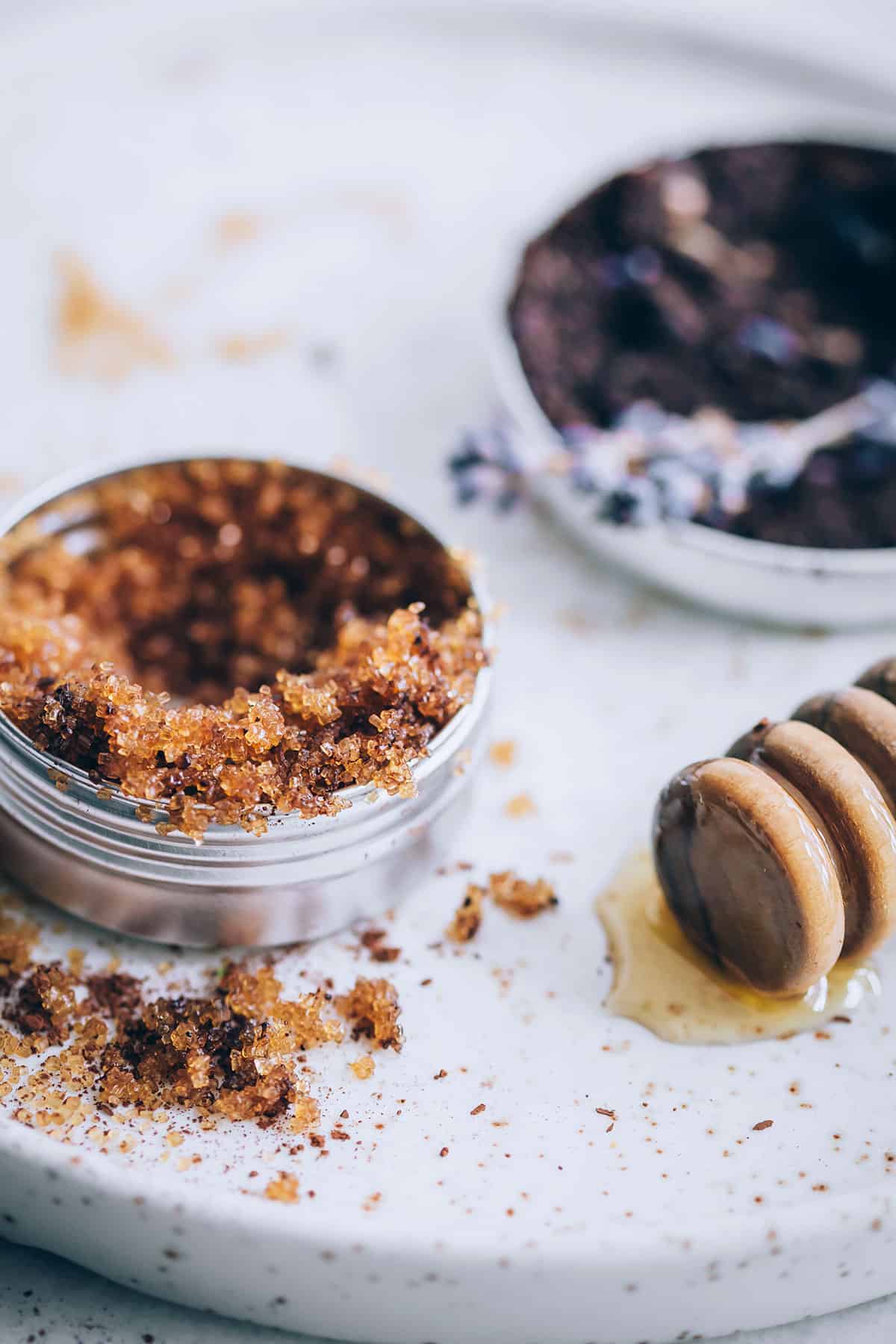 2
.
Moisturize lips with a lavender latte scrub
Coffee grounds buff away dry skin, and honey is a humectant to attract and lock in moisture [source]. Add a drop of anti-inflammatory lavender oil to soothe and heal irritated skin [source].
In a small bowl, combine the unused coffee grounds and honey. Add the lavender essential oil and stir to combine. Smooth a small amount of the scrub onto clean, dry lips. Let the mixture sit on your lips for 30 seconds, and then massage your lips with your fingertip. Rinse and follow with lip balm. You can store any extras in a small jar in the fridge.
3
.
Soothe cracked lips with a rose compress
My chapped lips loved this soothing mixture that uses milk's lactic acid to exfoliate [source], rather than a scrub. Rose oil is anti-inflammatory to ease irritated skin [source], and the subtle rose smell and flavor bring a relaxing bonus.
Combine the milk and essential oil in a small dish. Dip a cotton ball into the mixture and apply to the lips. Let the liquid sit on your lips for 5 minutes (you can hold the cotton ball to your lips if you want). Refrigerate any extras and use within 2 weeks.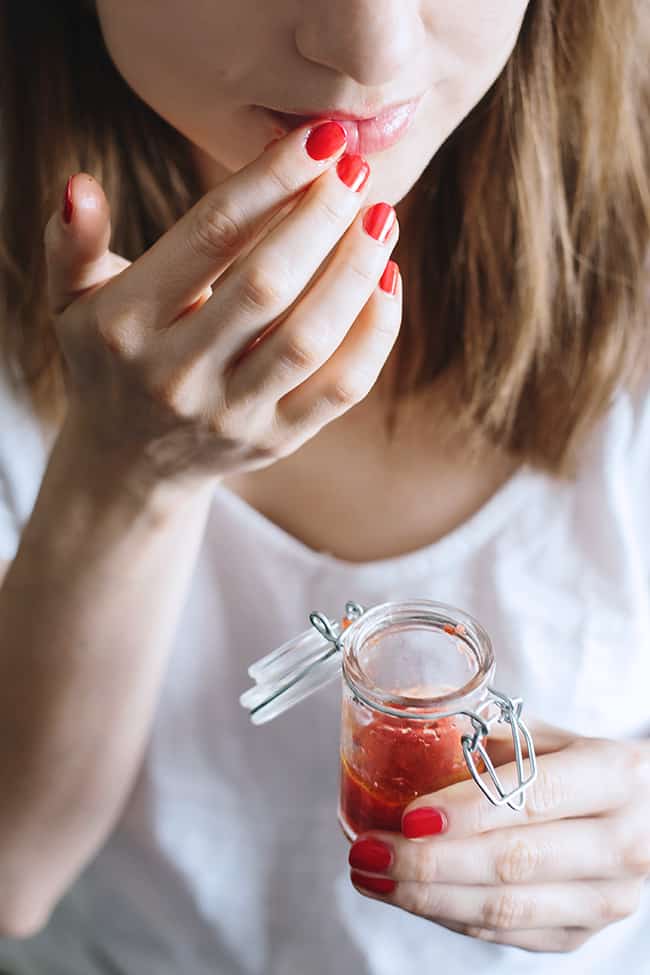 4
.
Smooth your lips with a berry lip polish
Strawberries are loaded with citric acid [source], which helps polish lips along with raw sugar. Plus, you'll get a dose of vitamin C from the berries to help combat signs of aging around your mouth [source].
Mash the strawberry with a fork, then add coconut oil, raw sugar, and honey. Gently massage a small amount into your lips. You don't really need to rinse it off; just blot away the excess.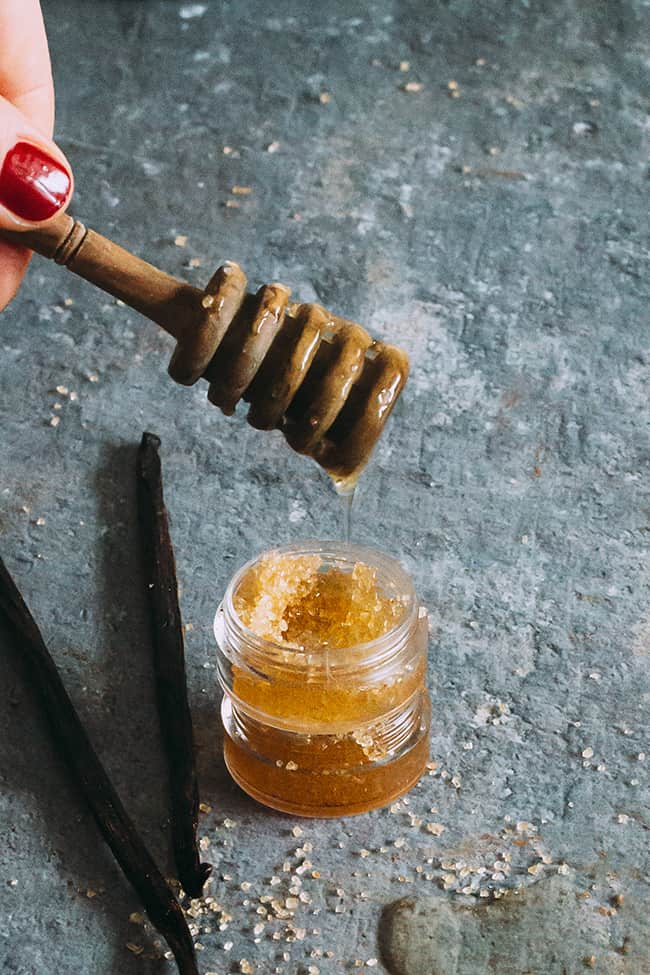 5
.
Get kissable lips with a honey vanilla lip scrub
This recipe relies on a super-sweet mixture of sugar, honey, and almond oil for lips that are exfoliated and hydrated at the same time—and perfectly kissable!
Mix everything together in a small bowl until you have a paste. Use your finger to massage into your lips and rinse with warm water. You'll be tempted to eat the mixture—it tastes pretty darn good!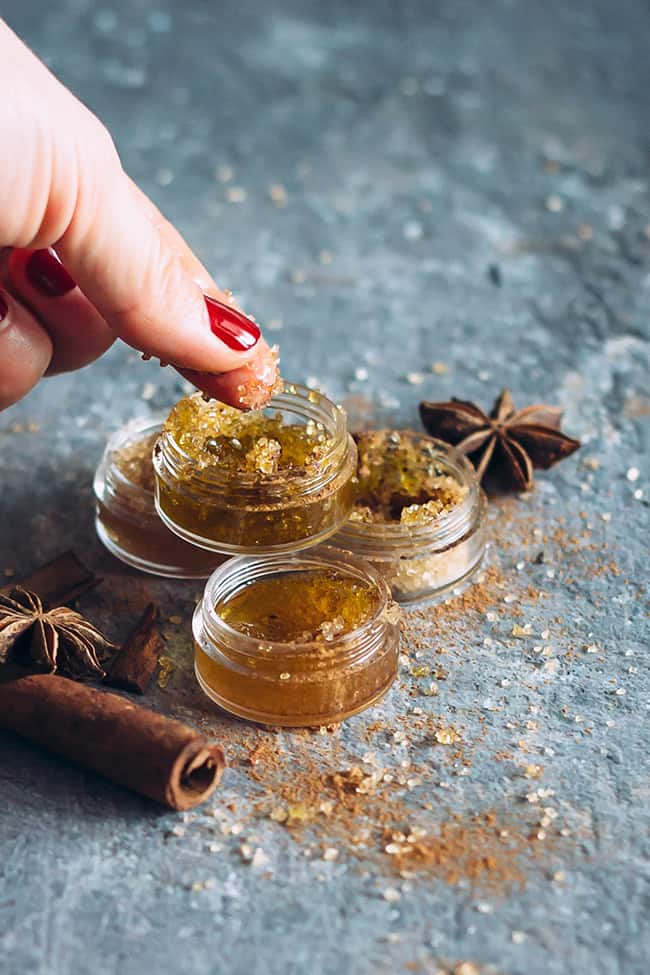 6
.
Plump lips with a cinnamon lip scrub
Cinnamon will make your lips naturally plumper, and the light exfoliation will prep them for absorbing all the lip balm goodness. If there is a little bit of a tingle, don't worry—that's totally normal and is just the cinnamon doing its job plumping your lips!
Combine the above ingredients in a mixing bowl. Apply to lips with fingertips and gently slough off dry, dead skin cells by scrubbing in circular motions. It is important to use a gentle technique and not over-exfoliate to prevent small tears in the skin.
Rinse with warm water and follow with lip balm. Use this scrub once or twice a week to transition into fall, and treat the chapped lips that occasionally accompany the season.
7. Soothe sensitive skin with a honey oat scrub
Oats are gentle enough to exfoliate sensitive or irritated skin. Use just to soften lips or apply all over as a facial scrub.
Use a coffee grinder to grind the oats into a fine powder. Transfer to a small jar and stir in remaining ingredients. Store in the fridge for up to 6 weeks.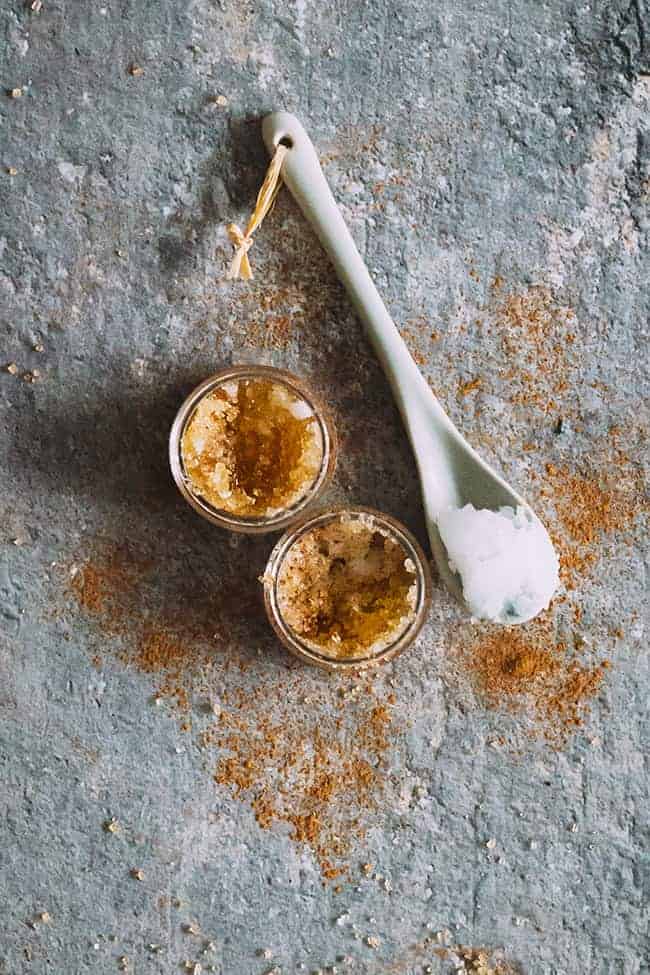 8
.
Get your PSL fix with a pumpkin spice lip scrub
If you're a fan of pumpkin spice like we are, you can enjoy the flavor all winter long with this DIY lip scrub. I mean, nothing's really stopping me from using it all year round, but making it when the temperature starts to drop definitely kicks off the wintertime for me!
Combine ingredients together in a small bowl and transfer to a covered jar or container. I've even reused clean Lush lip scrub containers—they're the perfect size! This makes more than you need for a single use, so keep the extra in a cool, dry spot or give it to friends (they'll love you).
Apply to lips with your finger and gently rub back and forth. Finish with an application of pumpkin pie lip balm. This combination of super hydrating scrub and moisture makes sure you get every single dry flake off while nourishing the new skin underneath to stop any more flaking from happening.
9
.
Hydrate lips with a strawberries and cream scrub
Antioxidant and vitamin-rich strawberries [source] revitalize parched lips while the ground rice sloughs off dead skin, and milk adds moisture.
2 ripe strawberries

2 teaspoon whole milk or half-and-half

2 teaspoon ground rice
Mash strawberries in a bowl with a fork. Add the rice and mix together. Pour in enough milk to make a paste. Use immediately, and don't store leftovers.
10
.
Soften lips with a banana scrub
Oats exfoliate dry skin while their hydrating, anti-inflammatory, and soothing compounds [source] help to heal lips in no time. Mix with banana for softer lips in a flash.
2 tablespoon oats, finely ground

1/8 cup mashed banana
Mash banana and stir in ground oats. Apply to lips with your finger and massage gently for 1–2 minutes. Rinse, pat dry, and slather on lip balm.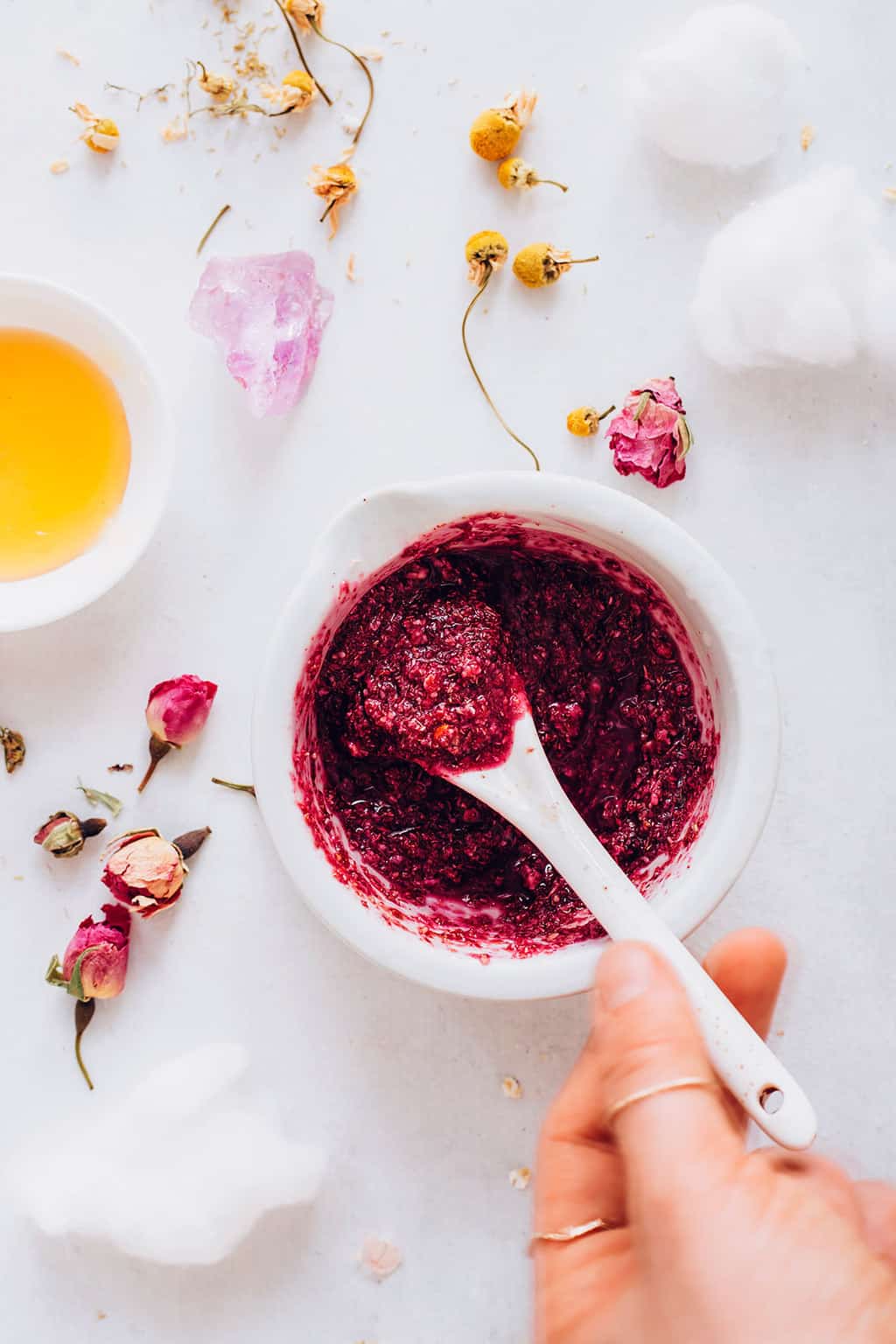 11
.
Nourish lips with a floral scrub
This is a simple scrub with roses and chamomile that your lips will love. The oats and dried flowers exfoliate while the honey and oil add moisture [source].
Combine the dried flowers and oats in a coffee grinder and pulse until finely ground. Transfer into a sealable container and stir in the oil.
To use, dip a clean spoon into the jar and put a small amount in your palm. Gently apply the scrub to your lips with your finger, using a circular motion, then rinse with warm water.
12
.
Nix lip acne with a tomato scrub
Lycopene, the red pigment found in tomatoes, is a potent antioxidant that works to reduce free radicals from exposure to sunlight and pollutants that can damage our healthy skin cells [source]. Plus tomatoes are an excellent acne fighter!

1/4 fresh tomato

½ teaspoon fine granulated sugar
Using half a tomato, sprinkle the fine granulated sugar on the exposed part of the tomato. Gently rub the tomato half onto your lips—you can exfoliate your cheeks, chin, forehead, and nose area too! Rinse the scrub off with warm water and follow with lip balm.
13. Buff lips with a margarita lip scrub
If your tastes run more toward salty than sweet, you'll love the zesty, tart flavor of this lip scrub. Super moisturizing avocado oil is excellent for dry, chapped skin [source] and balances the natural exfoliation of lime juice and zest.
Don't use this scrub on cracked lips (ouch!), and use finely ground salt to avoid irritation.
1 tablespoon fine salt or sugar
1 tablespoon lime juice
1/4 teaspoon lime zest
1 teaspoon avocado oil
In a small bowl, combine salt, lime juice, zest, and avocado oil. Stir to combine. Apply to clean, dry lips and gently buff the lips. Rinse with warm water.
14
.
Treat your lips with a tropical pineapple scrub
1 tablespoon fresh or canned pineapple

1 tablespoon coconut milk

1 tablespoon sugar
Apply to lips with your finger and massage gently for 1–2 minutes. Rinse, pat dry, and slather on lip balm.
15
.
Get a whiter smile with a turmeric scrub
Yes, you can use turmeric to whiten teeth—who knew? Apply this to your lips with your finger, and scrub away at your pearly whites at the same time.
1 tablespoon sour cream or yogurt

1 teaspoon turmeric
Combine ingredients and use immediately.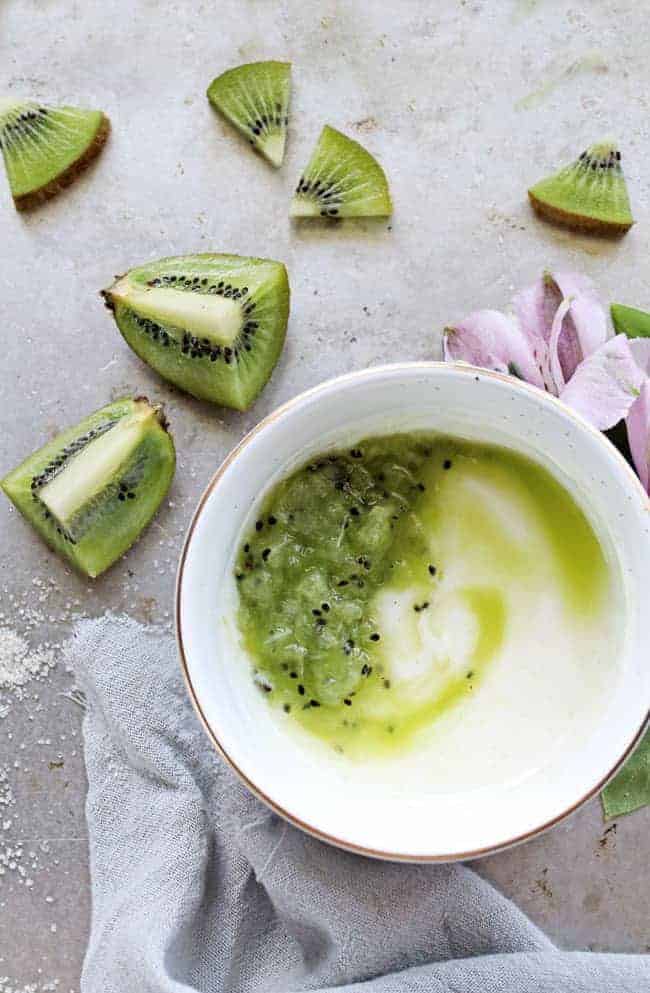 16
.
Exfoliate without scrubbing with a kiwi lip mask
If your lips are tender, exfoliating with a scrub can hurt. This lip peel uses the natural alpha-hydroxy acids in yogurt (lactic acid), cane sugar (glycolic acid), and kiwi (citric acid) to get rid of dead skin. The bright green fruit is a fun addition that brings a hefty dose of vitamin C (five times as much as an orange!) along with vitamins A, K, and E [source].
1 teaspoon Greek yogurt

1/4 teaspoon cane sugar

1 slice kiwi, about 1 to 1-1/2 teaspoons
Combine the sugar with the yogurt and let it sit for a few minutes to dissolve the sugar. Mash in a bit of kiwi. Apply liberally to lips and cover with a small square of plastic wrap. Let sit for 5 minutes and then rinse with warm water.
17
.
Plump lips with a honey lip mask
Sunflower (or safflower) oil contains linoleic acid, an omega-6 fatty acid. Our bodies can't manufacture this essential fatty acid, which moisturizes and helps restore and plump up the uppermost layer of skin, the lipid layer, that acts as a barrier.
Add in raw honey, a humectant that draws in moisture and has antibacterial and anti-inflammatory properties to nourish lips.
Combine ingredients in a small bowl. Apply all over and around lips. Cover with a small piece of plastic wrap. Leave on for 5 minutes, then remove with warm water.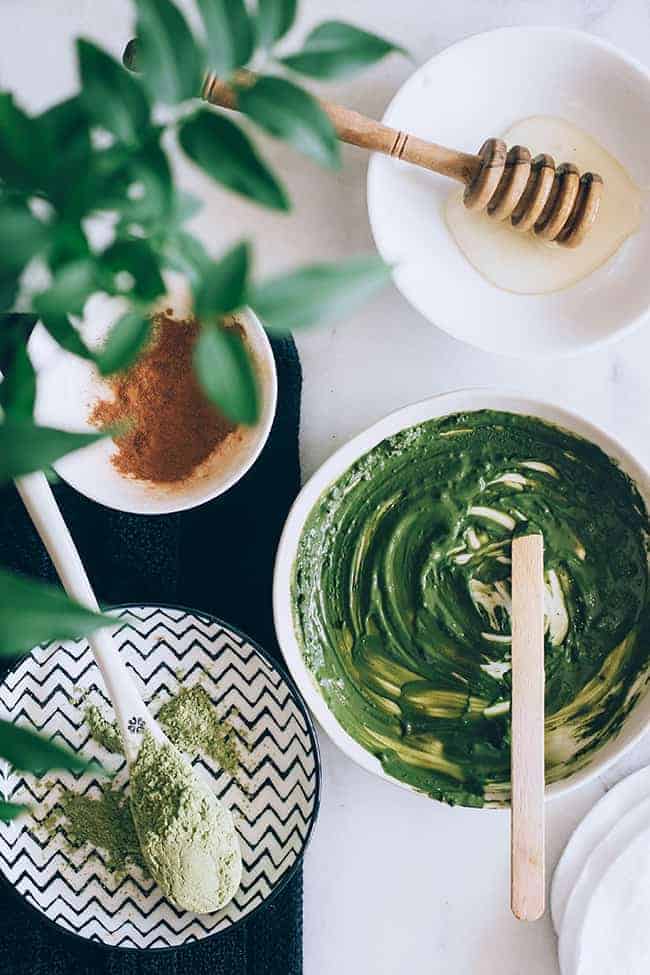 18
.
Rejuvenate lips with a gentle matcha scrub
Not only will matcha gently exfoliate, but it's also loaded with rejuvenating antioxidants [source]. Follow this scrub with a bit of matcha lip balm.
Combine ingredients and apply immediately.
We totally understand if you don't have time to DIY! So much, actually, that we handpicked these lip scrubs for you:

This article was medically reviewed by Dr. Gina Jansheski, a licensed, board-certified physician who has been practicing for more than 20 years. Learn more about Hello Glow's medical reviewers here. As always, this is not personal medical advice and we recommend that you talk with your doctor.
329