Summer is supposed to be a time to slow down and relax. But 'chilling out' seems impossible sometimes, especially with the kids out of school and family vacations looming! Whether you are running your essential oil diffuser in your home or wearing essential oil jewelry, the oils that you choose to diffuse/wear can certainly have an effect on your levels of stress and help you bring on the calm. We're sharing 5 of our favorite essential oil blends for stress relief.
5 Essential Oil Blends for Stress
Can aromatherapy help reduce stress?
Use of essential oils to help aid in stress relief is becoming more popular today as a natural alternative. Stress is caused by some sort of negative situation, and although essential oils can not magically make a situation disappear, one may benefit from relaxation effects that aromatherapy offers.
Anxiety (and, on the other side, joy!) originates from the limbic system, and the sense of smell is the only one of the senses that is linked to this part of the brain. Before we might even become aware of the effects an oil or fragrance may have on us, the molecules from the essential oils we smell are already at work on our limbic lobe.
What should I diffuse?
Some of the most popular essential oils used to combat stress are lavender, geranium, jasmine (a favorite of mine!), rose, frankincense and citrus oils. Our friends at Drops of Joy Jewelry have put together 5 "stress-away recipes" below for you to try in your home diffuser or essential oil jewelry.
Blend #1: Lavender, Frankincense, & Orange
Lavender has a very calming & relaxing scent which may be helpful in alleviating both physical and emotional stress. Studies have shown that smelling lavender increases beta waves in the brain which suggests greater relaxation & less mental stress. Lavender also has been shown to decrease blood pressure, heart rate, and skin temperature, which indicates a decrease of autonomic arousal (source).
Frankincense is a great essential oil that may help lift the spirits, decrease stress, and improve attitude. This oil has been used for thousands of years for medicinal purposes and in religious ceremonies.
Orange is very uplifting like many of the citrus oils. One university study found that orange and other citrus scents helped promote relaxation – something much needed this time of year!
Blend #2: Lavender, Roman Chamomile, & Ylang Ylang
Roman Chamomile has a calming scent that may help ease anxiety and stress. For many years, mothers have had success using chamomile for calming little ones.
The influence of Ylang Ylang ("flower of flowers") may help derail tendencies toward anger & help set aside negative energy. This oil has been used medicinally to help regulate heartbeat & to possibly ease anxiety and depression.
Blend #3: Bergamot, Patchouli, Ylang Ylang
Bergamot is another personal favorite of mine! I love the calming scent, which helps lift my mood almost immediately. This is another citrus oil that has been used for hundreds of years for it's medicinal benefits.
Patchouli has a relaxing effect (love using this one near the end of the day) that may help with thought clarity.
Blend #4: Lavender, Lime, Mandarin
Lime has been historically used to support and strengthen the respiratory system; Mandarin has a scent that promotes happiness and smells wonderful combined with Lavender and Lime.
Blend #5: Bergamot, Geranium, Lavender
Geranium is wonderful blended with Bergamot & Lavender, and together the three may help ease nervous tension, lift spirits and bring an overall sense of balance and calm emotionally.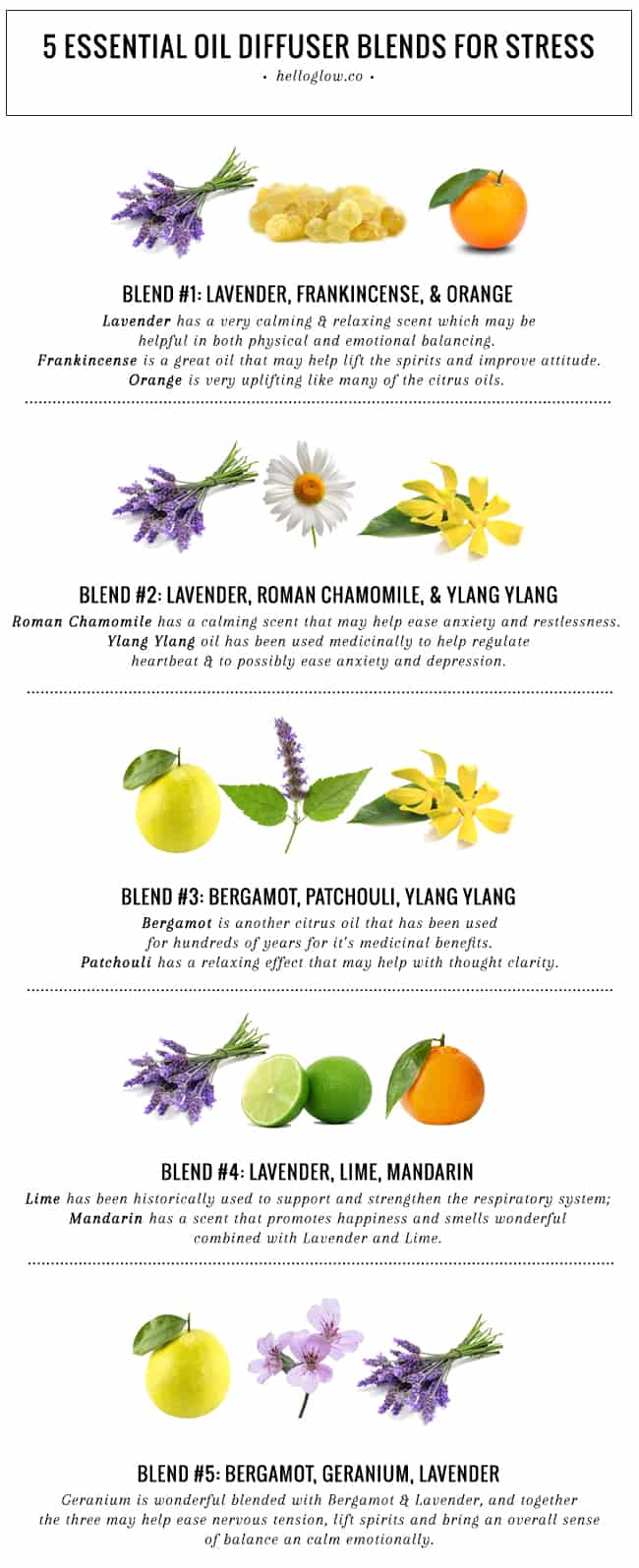 This post was medically reviewed by Dr. Holly Smith, a board certified physician in nephrology and internal medicine with a background in nutrition. Learn more about Hello Glow's medical review board here. As always, this is not personal medical advice and we recommend that you talk with your doctor.
293