Grapefruit peaks during the holiday season, so you have plenty of time to stock up on this delicious fruit that's high in vitamin C, fiber and lycopene. Add a grapefruit to your breakfast, and it will aid digestion, lower blood pressure and help with weight loss. Use the fruit on your face to exfoliate, detox and brighten your skin.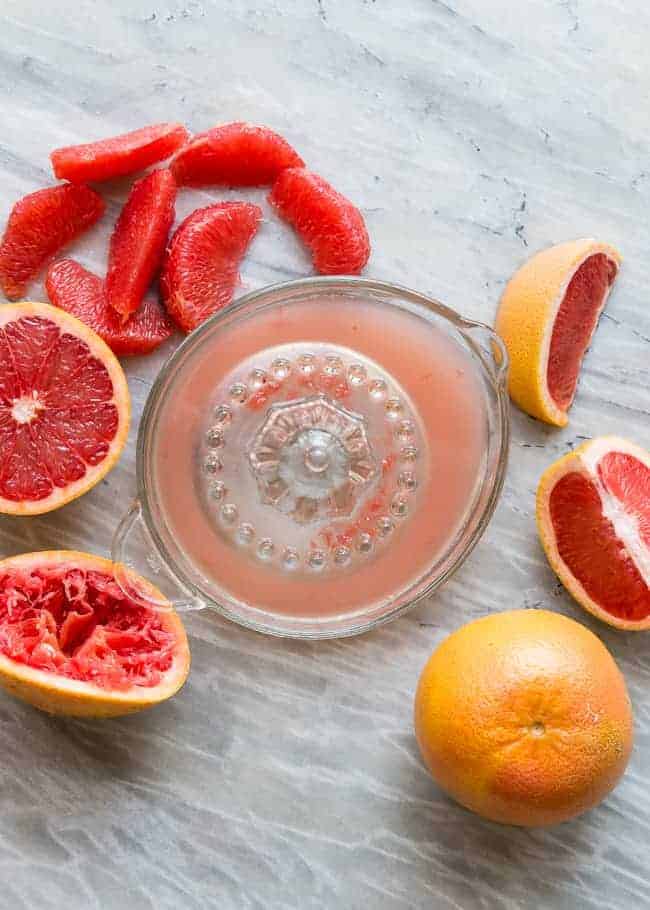 Grapefruit is high in antioxidants, which fight the free radicals that cause wrinkles, discoloration and dull complexion. Use of topicals high in antioxidants and vitamin C is a quintessential component in one's skin care regimen. Vitamin C has been shown to help prevent sun damage, increase collagen production, brightening agent and most importantly, improves overall skin tone.
How do they do this? They help by defending our cells from harmful damage and pollutants, delaying or minimizing damage from these unstable molecules found in the air. The next time you're browsing the fresh fruit aisle, pay attention to color, as only red and pink grapefruits contain lycopene as well as higher amounts of antioxidants (as opposed to yellow or white grapefruit).
Like lemons, grapefruit has natural acids that exfoliate dead skin, keeping your pores clean and complexion bright. Here are 3 of our favorite DIY ways to use grapefruit for the skin.
1. Fight Fine Lines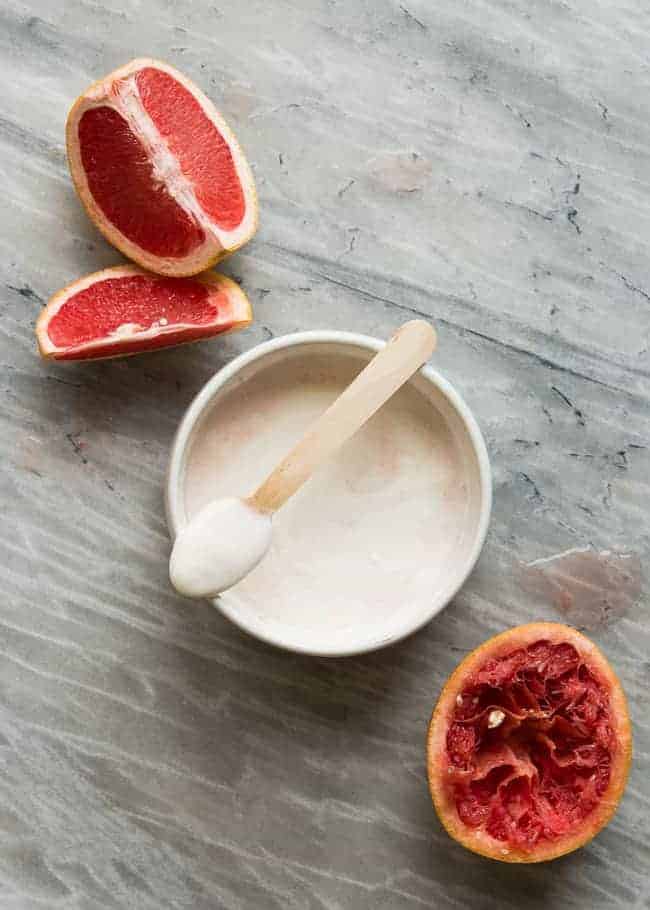 The probiotics in yogurt fight acne and discoloration while the vitamin C and retinol in grapefruit juice repairs skin damage, fights fine lines and tones skin.
1/2 grapefruit
1/2 cup plain organic yogurt
Mix yogurt with the juice from 1/2 grapefruit in a bowl. Apply thin layer to clean skin and leave on for 10 minutes. Rinse with warm water and follow with daily moisturizer. Apply weekly as a face mask.
2. Scrub off dry skin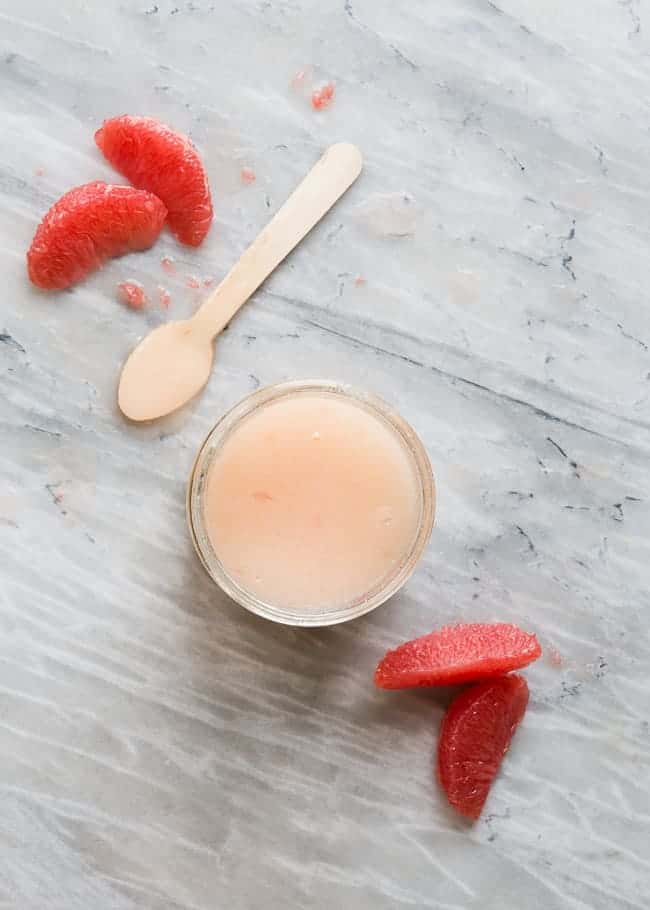 Apply this scrub all over your body and let the salicylic acid from the grapefruit juice work its magic on your elbows, knees and rough patches. Fruit acids help slough off dead skin and allow new cell growth to happen.
Juice 1/2 of a grapefruit and add above sugar and grapeseed oil measurements. Fold ingredients over with a spoon. Use this scrub in its entirety when you mix it because of the fresh juice, it should not be stored for later use. Or you can increase the oil amount and add a few drops of grapefruit essential oil as a substitute for the fresh juice.
3. Battle oily skin breakouts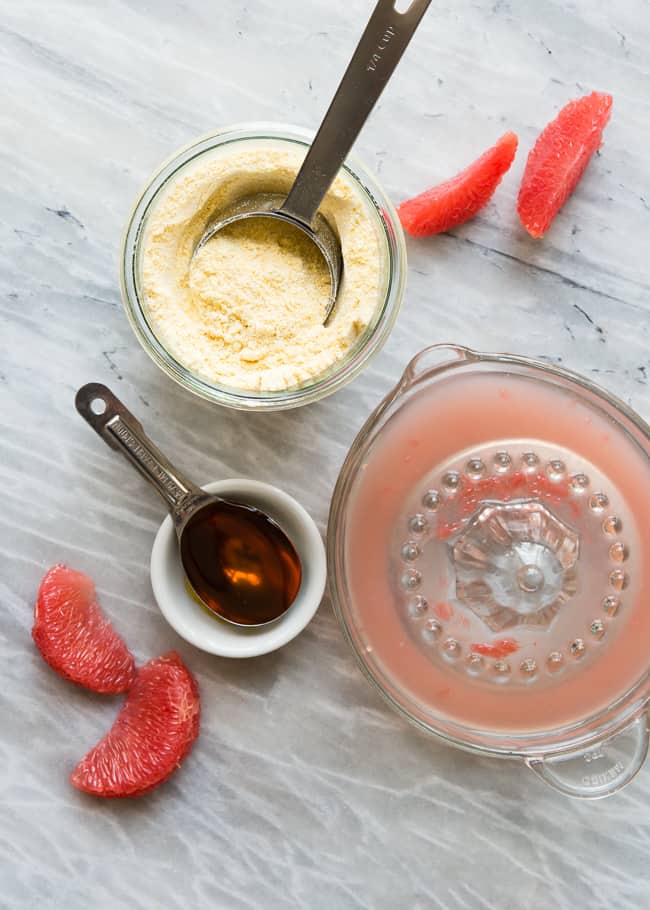 This clarifying mask is great for oily or clogged skin, and it's especially beneficial if you are battling back acne. The fruit acids will help dissolve debris and sebum in the pores.
The honey is both anti-bacterial and anti-inflammatory making it a wonderful ingredient to help fight acne. This mask can be used either on the face or the back if back acne is present.
1/2 grapefruit
1 tablespoon honey
1/2 cup cornmeal
Combine honey and cornmeal along with the juice of 1/2 grapefruit. Leave on face and/or back for 10 minutes and then rinse off with warm water.
4. Boost mood with natural perfume
The scent of citrus is a known mood booster so why not enjoy the fragrance all day long? Use grapefruit essential oil to make a scented perfume or use grapefruit peels to infuse botanical cologne. If you have a history of eczema, inflammatory skin disease or contact dermatitis, discuss with your board-certified dermatologist before applying fragranced topicals on the skin.
The next time you slice open that grapefruit for your breakfast, save half for your face (or body)!
This post was medically reviewed by Dr. Rina Mary Allawh, M.D., a dermatologist who performs adult and pediatric medical dermatology, skin cancer treatment and cosmetic dermatology. Learn more about Hello Glow's medical review board here. As always, this is not personal medical advice and we recommend that you talk with your doctor.
497