Recently my kiddos have started wanting to make themselves "look pretty." Unbeknownst to me, this roughly translates to "I must douse myself in copious amounts of perfume." Forced to endure the lingering effects of a White Linen atom bomb in my bedroom, I decided to experiment with making my own perfumes.
As it turns out, it's not that difficult—and a whole lot less expensive. Plus, you know what ingredients are (or, better yet, aren't) lurking in your perfume.
Have you ever gotten a terrible headache a few minutes after spritzing on a certain scent? It can happen—and if a perfume or cologne has the ability to cause a panging headache, just imagine the havoc it could wreak on your skin or when it seeps into your bloodstream.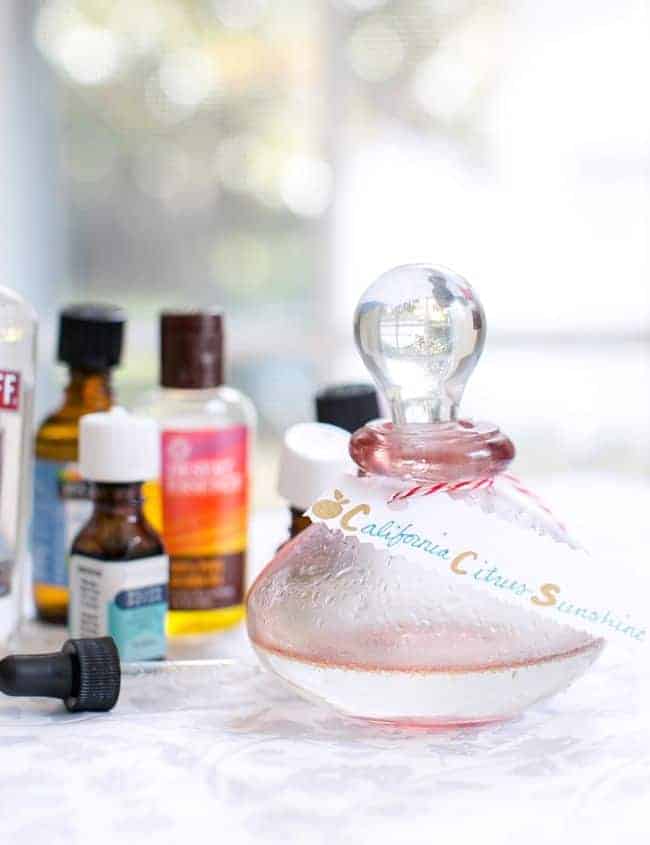 The Environmental Working Group (EWG) reports that many perfumes on the market today are filled with chemicals—even the ones that claim to contain "natural essences," actually don't.
To make matters worse, makers of fragrances aren't required to reveal the myriad of hazardous ingredients they might be using. Crazy, right? Needless to say, it is nice to know what you're putting on your body.
Another added bonus of making your own perfume is the fact that you get to experiment with different ingredients to find the scent that appeals to you most.
Personally, I'm always drawn to the clean scents of citrus and peppermint, so we concocted this homemade perfume that layers orange and grapefruit along with lavender and peppermint. And I'll be the first to admit that it smells heavenly!
California Citrus Sunshine Perfume
Supplies needed
Small glass container for blending the perfume
Dark glass container for storing the perfume
Pretty glass perfume bottle to keep perfume in
1 tablespoon jojoba oil
2 tablespoons pure grain alcohol or vodka
30 drops of essential oil. We used sweet orange, grapefruit, peppermint and a lavender/chamomile blend.
1 tablespoon distilled water
Note: It is important to use glass, not plastic, when mixing the perfume as the essential oils will eat through the plastic.
Instructions
Step 1
Start by adding the jojoba oil to the glass container. Then add the alcohol.
Step 2
Add the essential oils in this order:
Base Note – 10 drops of grapefruit
Middle Note – 10 drops of sweet orange and then 5 drops of peppermint
Top Note – 5 drops of chamomile/lavender blend. If you don't have a blend, then just use lavender.
Step 3
Add distilled water with a dropper.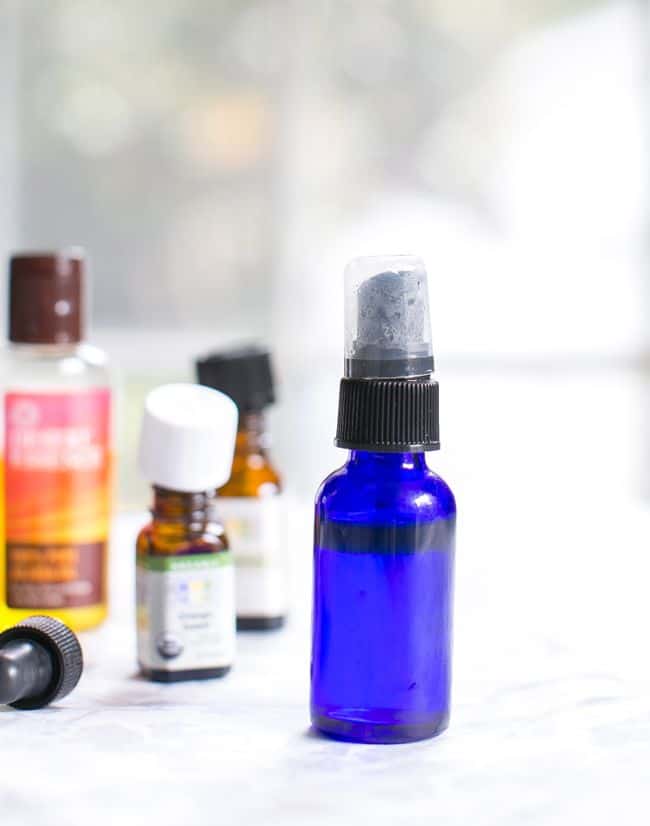 Step 4
Mix well and transfer to a dark glass container to store for 48 hours or up to six weeks. The longer it sits the stronger the scent will be.
Note: if you're not in the mood to be patient (or just short on time) try a perfume made by mixing essential oils with a carrier oil.
Step 5
Transfer to a pretty perfume bottle after it has reached the desired scent.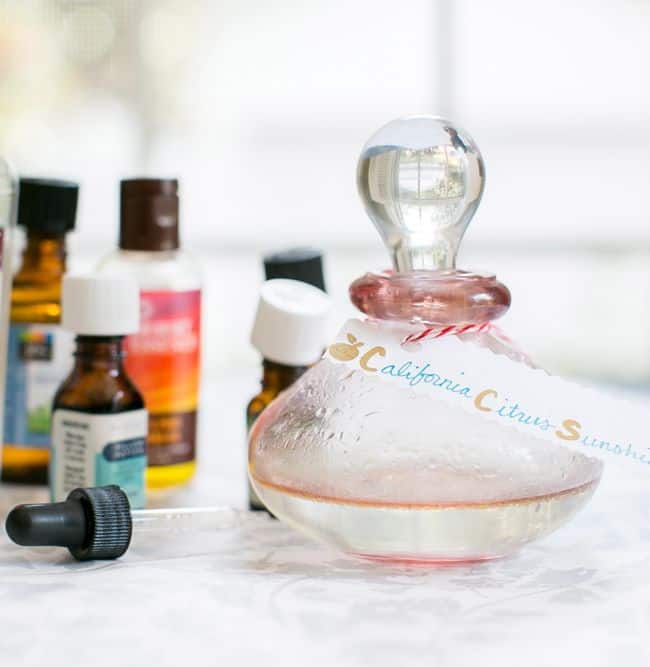 Have you ever tried making your own perfume? What's your favorite scent? If you love citrus like I do, check out this handy guide to winter citrus and smoothie recipe.
Not ready to DIY? Try one of these phthalate-free perfumes that we love.
276