Do you remember those old hot oil hair treatments from the 90s? They were my first introduction to the magic of hot oil (yours, too?). While I've moved on from the brands of my youth, I'm still a fanatic when it comes to regularly moisturizing my hair with oil. Like hair masks, a weekly hot oil treatment can make damaged locks look healthy and shiny in a matter of minutes. And luckily for those of us with dry, frizzy strands, they're incredibly easy to make at home, too. Here's how to make a hot oil treatment no matter your hair type.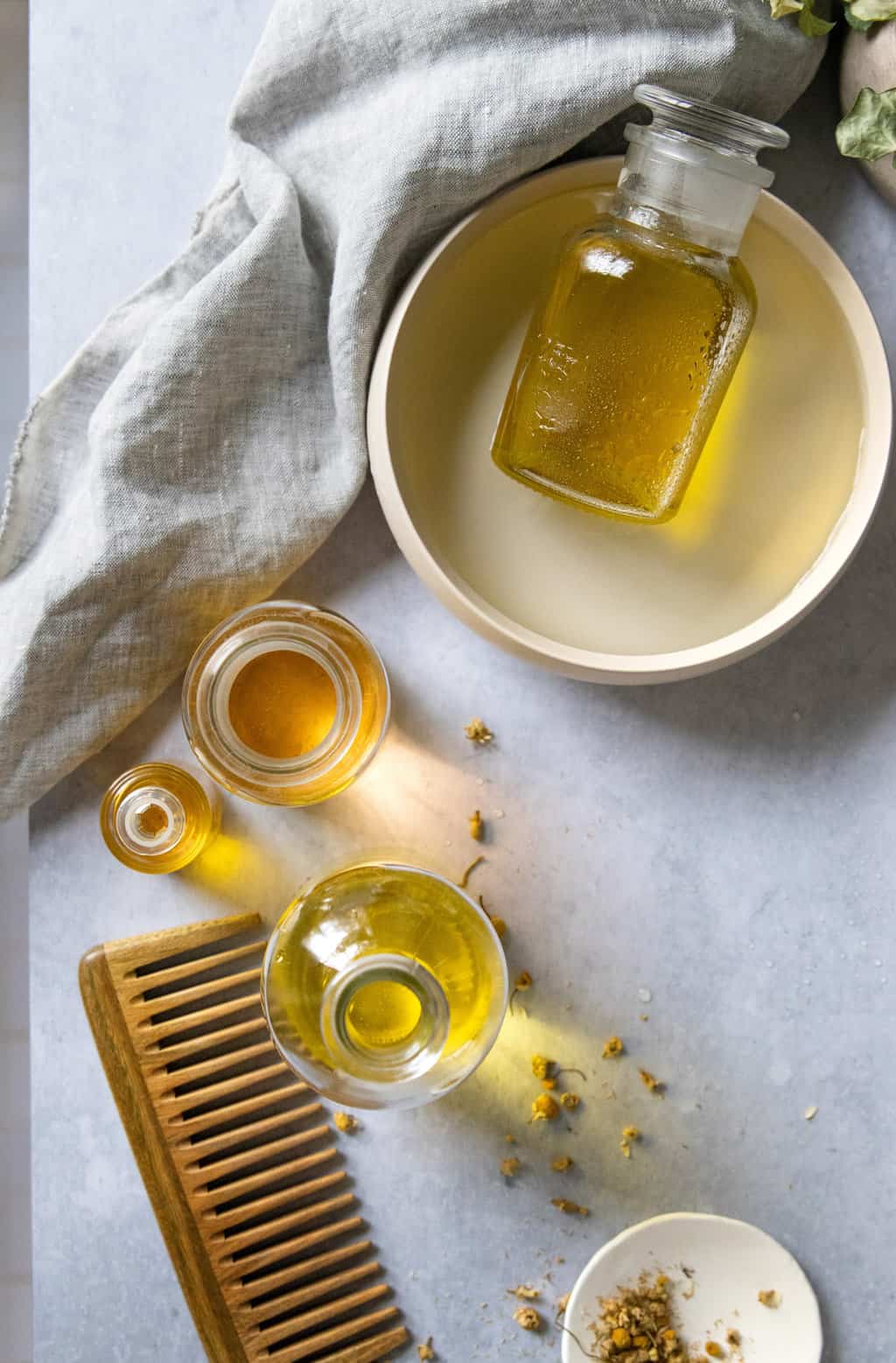 What Is a Hot Oil Hair Treatment
?
Hot oil treatments involve coating hair in a light layer of warm vegetable oil to help hydrate hair follicles and repair damaged locks. Because vegetable oils are incredibly nourishing, hot oil hair treatments are a great way to replenish moisture and add shine without using chemicals.
Hot oil treatments can be used on all hair types, making them an ideal choice for anyone looking for an easy way to keep their locks looking their best.
Benefits of Hot Oil Treatments for Hair
Since hot oil treatments work by restoring moisture, they mostly benefit those of us with dry, frizzy, or damaged hair. But anyone can use them to make their hair healthier and shinier.
Regular hot oil treatments can help:
—Moisturize dry hair
—Seal the hair cuticle and add shine
—Reduce split ends
—Prevent frizz
—Nourish the scalp
—Relieve dandruff
—Prevent damage from heat and over-styling
—Make hair color last longer
—Prevent breakage
—Regulate oil production
The Best Oils for a Hot Oil Hair Treatment
The best oils for hair conditioning treatments contain essential fatty acids to moisturize, protect, and repair damaged hair and nutrients to help promote healthy hair growth.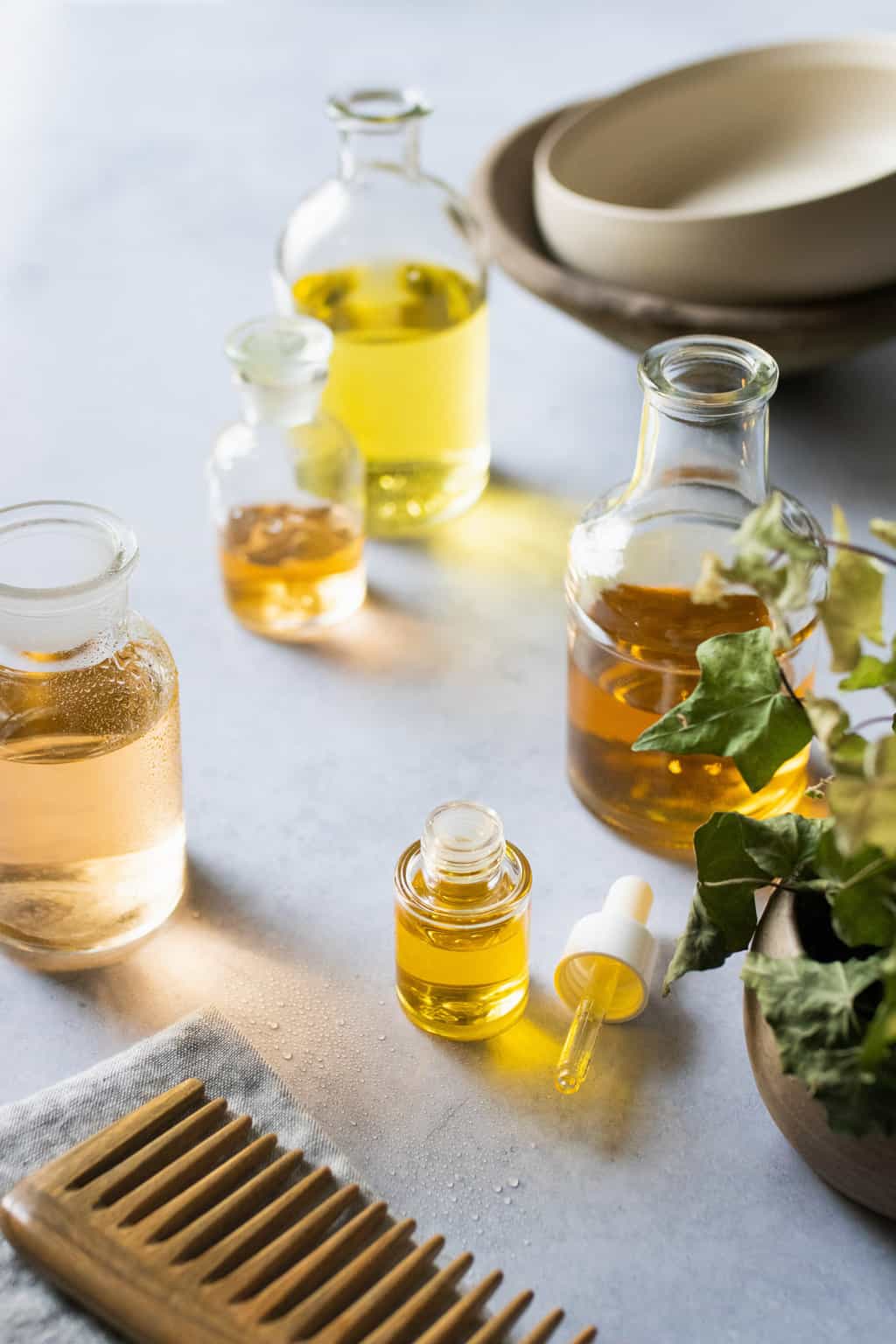 1
.
Coconut oil
Rich in essential fatty acids, vitamins, and minerals that nourish the hair and scalp, coconut oil is a great choice for people looking to maintain a healthy scalp and promote hair growth. In addition to its moisturizing properties, coconut oil has been shown to help modulate the scalp microbiome, effectively reducing dandruff and scalp inflammation [source].
2
.
Argan oil
Thanks to its antioxidant properties, argan oil has been shown to protect hair from sun damage and oxidative stress. When used prior to sun exposure, argan oil may help prevent thinning and protein loss caused by UV damage [source]. Full-strength argan oil is best for thicker or curlier hair, while lighter argan oil blends are ideal for fine hair.
3
.
Avocado oil
Avocado oil is a popular choice for treating hair and scalp problems because it's incredibly nourishing and super easy to find. It's rich in vitamins, minerals, and essential fatty acids that nourish the scalp and promote healthy hair growth. Avocado oil also has anti-inflammatory properties that may help reduce itching, flaking, and other scalp irritation [source].
4
.
Jojoba oil
Jojoba oil has been used for centuries to keep hair looking shiny and healthy. It's rich in hair-boosting nutrients, like vitamins A, D, and E, omega-3 fatty acids, and powerful antioxidants. It's also similar to the scalp's natural sebum and won't weigh hair down or leave it feeling greasy, making it ideal for people with fine or thinning hair [source].
5
.
Almond oil
Because it is a natural emollient, almond oil helps to soothe, soften, and boost moisture levels in the skin and hair. When used regularly, super-hydrating almond oil may help reduce flakes, prevent split ends, and improve hair texture. While all hair types can use it, dry or damaged hair types can benefit the most from its rejuvenating properties [source].
6
.
Castor oil
Rich in fatty acids, minerals, proteins, and vitamin E, castor oil is great for treating dandruff, dryness, split ends, and thinning hair. Since castor oil has a thick, almost sticky consistency [source], it's ideal for thick, coarse, or dry hair types that may benefit from the extra moisture.
Hot Oil Hair Treatments for Different Hair Types
It's important to understand your hair type before applying a hot oil treatment. Whether your hair is prone to breakage or appears dull and flaky, choosing the right oil blend can help you meet its particular needs. The sky's the limit when making your own hot oil treatment blends, but here are a few to get you started.
Note: You may need to scale these recipes up or down depending on your hair's length and thickness.
1
.
Hot oil treatment for dry
,
damaged hair
A combination of avocado oil and sweet almond oil hydrates damaged locks, while cedarwood essential oil helps balance your hair's natural oil production.
—2 tablespoons avocado oil
—2 teaspoons sweet almond oil
—5 drops cedarwood essential oil
2
.
Hot oil treatment for fine or thinning hair
Jojoba oil lightly coats thin hair, while rosemary and peppermint essential oils encourage growth.
—3 tablespoons jojoba oil
—6 drops rosemary essential oil
—3 drops peppermint essential oil
3
.
Hot oil treatment for dandruff
Naturally antibacterial coconut oil is mixed with thyme and lemongrass essential oils to kill dandruff-causing bacteria. If you have some on hand, adding a little honey can help soothe the scalp.
—3 tablespoons organic coconut oil
—5 drops thyme essential oil
—4 drops lemongrass essential oil
—Optional: 2 teaspoons organic raw honey
4
.
Hot oil treatment for thick
,
curly
,
or
coarse
hair
A mixture of castor oil and argan oil provides maximum hydration, while lavender essential oil soothes and protects the scalp.
—1 tablespoon organic castor oil
—2 tablespoons argan oil
—6 drops lavender essential oil
5
.
Hot oil treatment for oily hair and scalp
Jojoba oil is considered a "dry" oil that sinks in quickly, helping to hydrate hair without weighing it down. And tea tree essential oil clarifies hair, making it feel cleaner and less greasy.
—3 tablespoons organic jojoba oil
—6 drops tea tree essential oil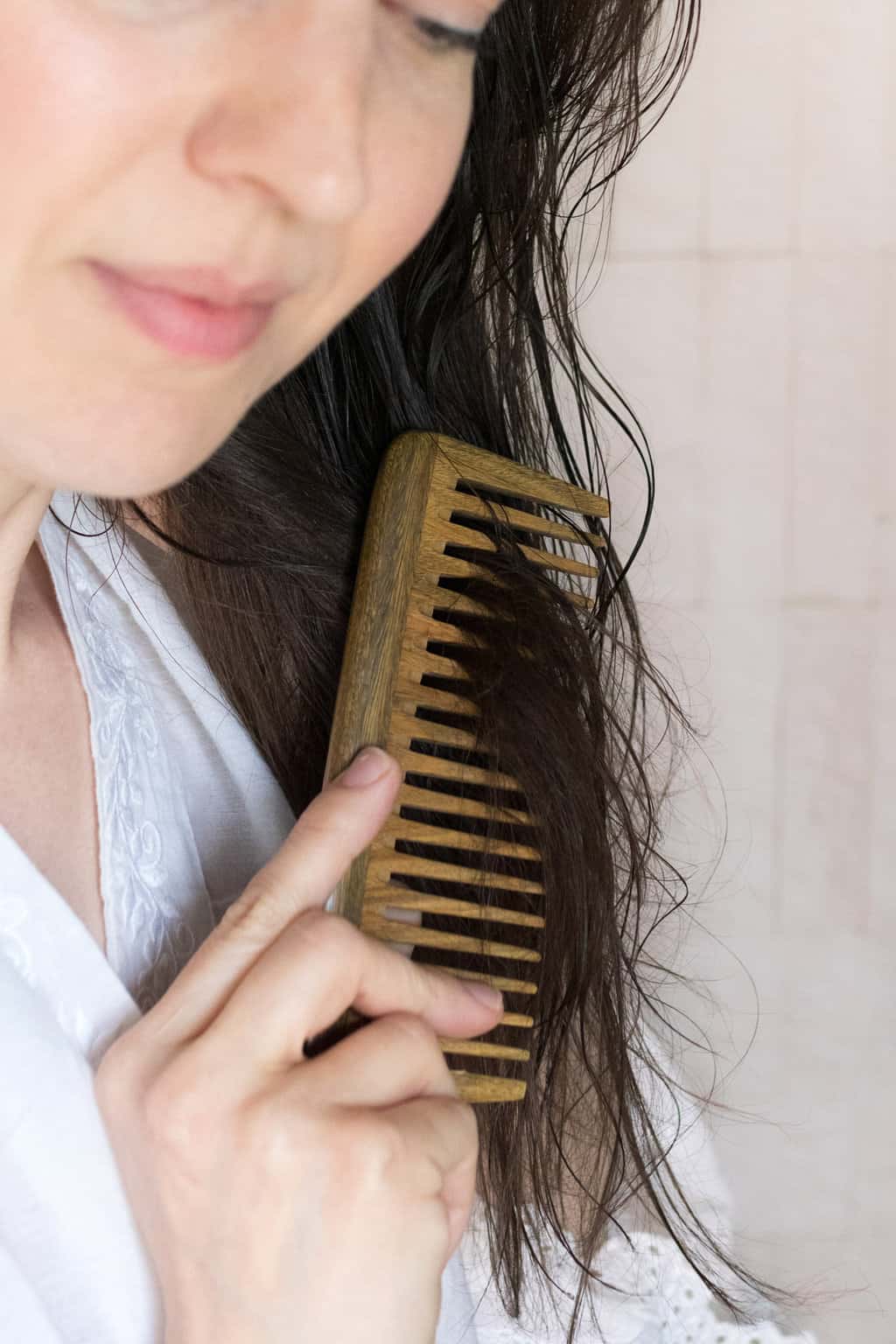 How to Do a Hot Oil Treatment at Home
You'll need the following:
—A single oil or oil blend
—Heat-safe bowl or glass container
—Hot water
—Comb
—Shower cap or towel
—Shampoo and conditioner
—Optional: Baking soda to help remove the oil
Step 1
|
Choose your oil or make an oil blend
Depending on your hair type, choose an oil that meets your needs. You can also whip up a hair oil blend from the recipes above.
If you're missing one or two of the recommended oils, feel free to make up your own blend using the oils you have on hand. Just remember: thick, heavy oils are better for curly or coarse hair, while thin oils are better for fine hair.
Place your oil in a heatproof jar or bottle with a lid.
Step 2 | Heat the oil using a hot water bath
Bring roughly 8 ounces of water to a boil on the stove or in the microwave. When it's ready, slowly pour the water into a heatproof bowl, then place your bottle of oil into the hot water. (Tip: if any of your containers are ceramic/glass, you should warm the container first, so it doesn't shatter from the hot water.)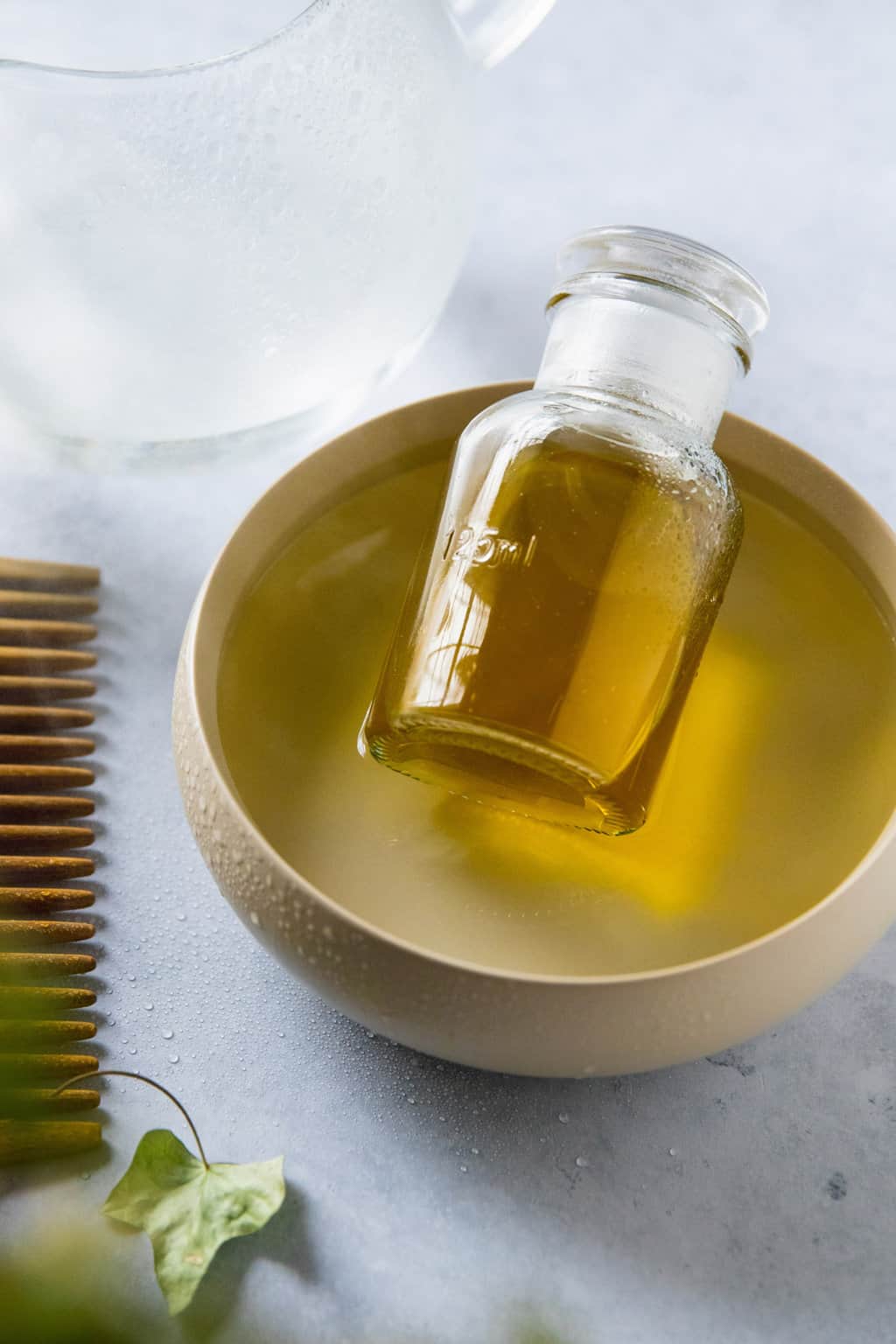 Step 3
|

While the oil sits, prepare your hair

Your hair type will determine whether you want to apply the hot oil treatment to wet or dry hair. If your hair is thick, curly, or coarse, you may find it easier to apply the treatment to dry hair. If you have medium or fine hair, it may be easier to apply when your hair is wet. Either way, choose the method that's easiest and most effective for you.

And always make sure to brush your hair thoroughly to remove any knots or tangles before you treat with oil.
Step 4
|
Test the oil temperature using your wrist
After about 5 minutes, the oil should be warm to the touch but not so hot it burns you. Place a few drops of oil on the inside of your wrist to test the temperature. If it's too hot, remove the oil from the hot water bath, and let it cool for 5 minutes.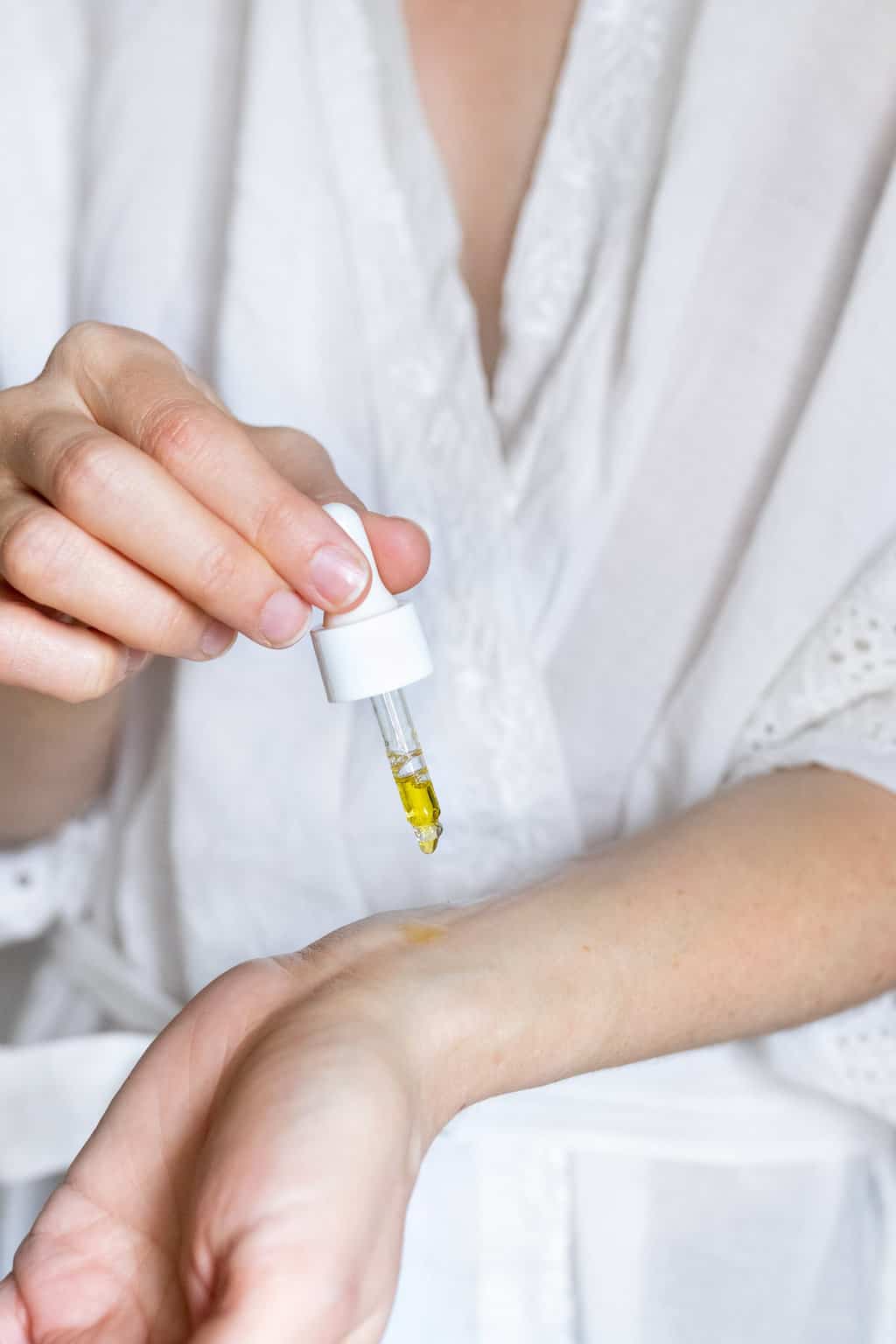 Step 5
|
Massage a teaspoon of oil into your roots
Pour a teaspoon of oil into your hands and rub your palms together. Using your fingertips, massage a tiny bit of oil into your roots and scalp.
Pro tip: you don't need to saturate the hair to see results. Lightly coating hair provides all the benefits of a hot oil treatment while making it easier to get the oil out later.
Step 6
|
Work the oil through to the ends of your hair
Use your palms to apply a thin layer of oil to the rest of your hair. Then, with your fingertips or a comb, pull the oil through the hair to evenly distribute it from root to tip. If you have split ends, make sure to generously coat the ends of your hair as well.
Step 7
|
Cover hair with a shower cap or warm towel
To lock in moisture, cover your hair with a plastic shower cap or warm towel. Applying extra heat at this stage can help open hair follicles and encourage the oil to sink in.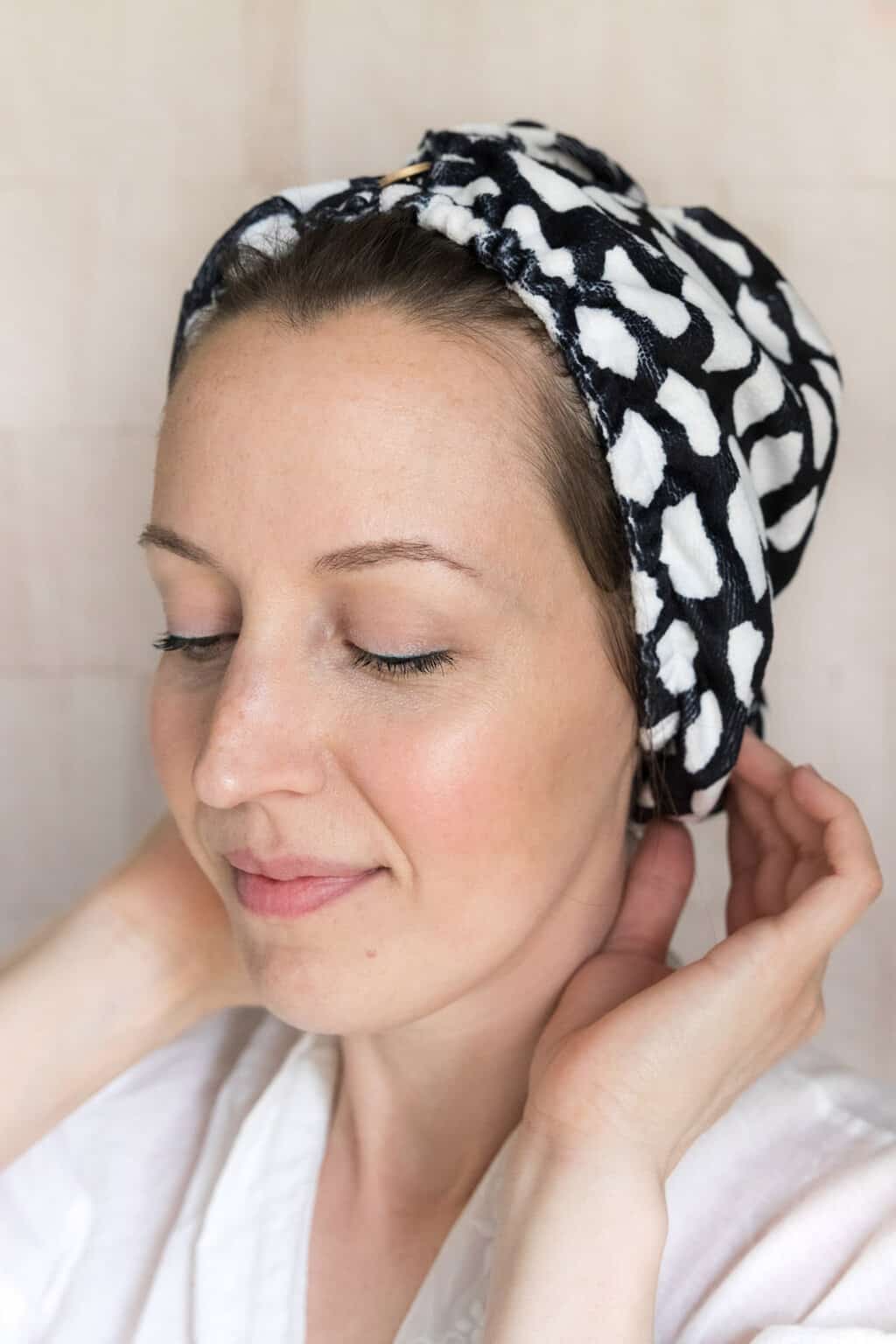 Step 8
|
Leave the oil in for 30 minutes
With your hair covered, let the hot oil treatment sit for 30 minutes. If the hair is especially damaged, you can leave the mask on for a couple of hours or even overnight to maximize the conditioning treatment.
Step 9
|

Shampoo hair 2–3 times to remove the oil

Hop in the shower and rinse your hair with water, then shampoo 2 to 3 times to remove the oil. If you have a hard time getting the oil out, baking soda works wonders. Simply sprinkle some in the palms of your hands and gently massage it into the hair. Rinse well and shampoo again.

Follow up with conditioner, if desired.
Step 10
|
Repeat once a week
Feel free to do the treatment once a week or once every two weeks, depending on your hair's needs.
Hot Oil Frequently Asked Questions
What does hot oil do to your hair
?
Hot oil treatments are a great way to nourish and repair dry or damaged hair. Heat helps open up the follicles and allows the oil to penetrate deeply into the scalp and hair shafts. The oil strengthens hair, prevents breakage, reduces split ends, and even promotes healthy hair growth.
Do hot oil hair treatments help with hair growth
?
Thanks to improved blood flow to the scalp, hot oil treatments not only encourage hair growth but they also help prevent hair breakage, so the hair appears longer and healthier.
Which oil is best to use for hot oil treatments
?
If you can only choose one oil for your hot oil treatments, go with coconut oil. It's inexpensive, easy to find, and ideal for all hair types. It's also antibacterial, so that it can nip scalp issues in the bud, too.
Can hot oil damage your hair
?
If used incorrectly, hot oil treatments can damage hair. While hot oil is great for adding moisture and shine, if the oil is too hot, it can actually burn the scalp and cause hair breakage. It's important to test the oil temperature before applying it to your hair.
Do you put hot oil treatments on wet or dry hair
?
Whether you apply your hot oil treatment to dry hair or wet hair depends on the type of hair you have. For thick, coarse hair, I would recommend applying the oil to dry hair. For thin hair, try applying it when your hair is wet.
At the end of the day, though, it's a matter of personal preference. Choose whichever method you find easiest and most effective.
Can I leave hot oil treatments in my hair overnight
?
Yes, absolutely. Leaving a hot oil treatment on overnight shouldn't damage your locks, but it may damage your pillowcase! Make sure to protect your bedding by putting down a towel and keeping hair covered while you sleep.
You can also try one of these overnight hair masks to transform your tresses while you sleep. Here is how to get oil out of your hair if it won't go away.
How do you apply hot oil treatments
?
Squeeze a little of the warm oil into your palms and apply it to your hair, starting at the scalp. Make sure you evenly coat the roots, scalp, and hair shaft. Cover your hair with a shower cap, and let it sit for 30 minutes. Shampoo 2–3 times until the oil is fully rinsed from your hair. Follow up with conditioner, if desired, then dry and style as usual.
References:
1. Saxena R, et al. Longitudinal study of the scalp microbiome suggests coconut oil to enrich healthy scalp commensals. Sci Rep. 2021.
2. Sharifi N, et al. Argan oil as a pretreatment of human hair before exposure to oxidative damage: attenuated total reflectance and protein loss studies. Cosmet Dermatol. 2022.
3. Flores M, et al. Avocado oil: characteristics, properties, and applications. Molecules. 2019.
4. Gad HA, et al. Jojoba oil: an updated comprehensive review on chemistry, pharmaceutical uses, and toxicity. Polymers (Basel). 2021.
5. Ahmad Z. The uses and properties of almond oil. Complement Ther Clin Pract. 2010.
6. Patel VR, et al. Castor oil: properties, uses, and optimization of processing parameters in commercial production. Lipid Insights. 2016.
6