If you ask me, candles are one of life's little luxuries. Nothing makes a home feel warm and inviting quite like the soft glow of candlelight combined with a fresh, relaxing scent. And especially around the holidays, they can really set a festive mood when sprinkled throughout your home. These DIY crockpot candles take the guess work and the mess out of making your own candles. You no longer have to worry about using a double boiler (and setting your house on fire) or getting melted wax everywhere. Simply place a few wax-filled jars in the base of your slow cooker, turn it on and come back in a couple hours to mess-free candles.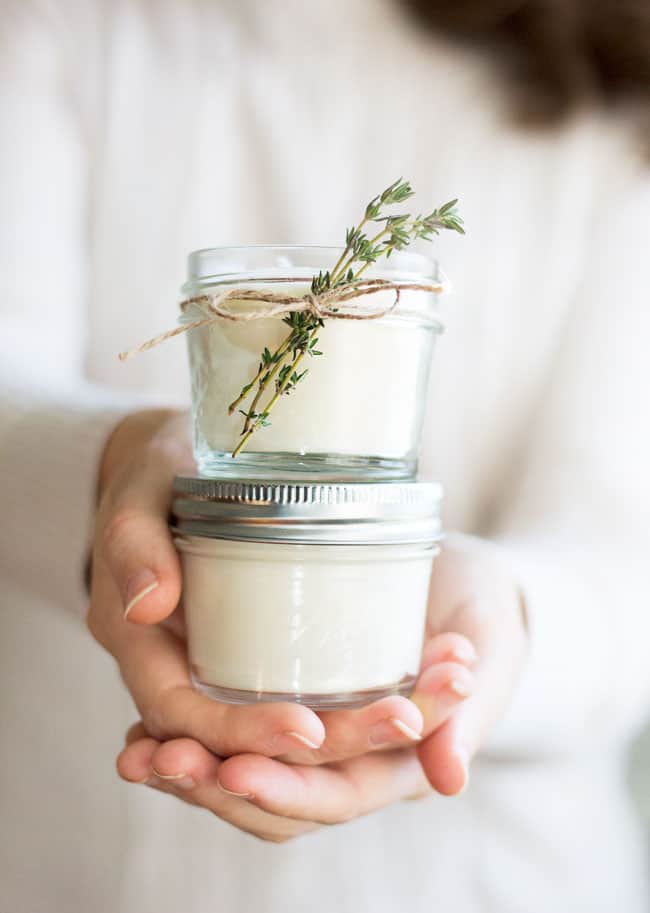 How to Make DIY Candles in the Slow Cooker
I'm sure we're all pretty familiar with the health issues that come with commercial candles by now, yes? These slow cooker candles are just as pretty but without any of the nasty ingredients. They're made with nontoxic soy wax and 100% cotton wicks so you don't have to worry about creating toxic fumes when you burn them. And for a fresh, subtle scent, use essential oils like cedar, peppermint and lavender to fill your home with holiday cheer.
Since you're using essential oils as opposed to artificial fragrance, you need to measure with a pretty heavy hand in order to achieve a noticeable scent. I have recently started measuring my oils by the teaspoon as opposed to the number of drops. Once the wax cools, you'll be amazed by how subtle the scent really is so don't be afraid to add more oils than you think you might need.
Supplies
Start by filling your mason jars to the top with wax. Place the jars in the bottom of an empty slow cooker and slowly pour boiling water around the jars until it reaches about halfway up the sides. Place the lid on your slow cooker and set the temperature to high.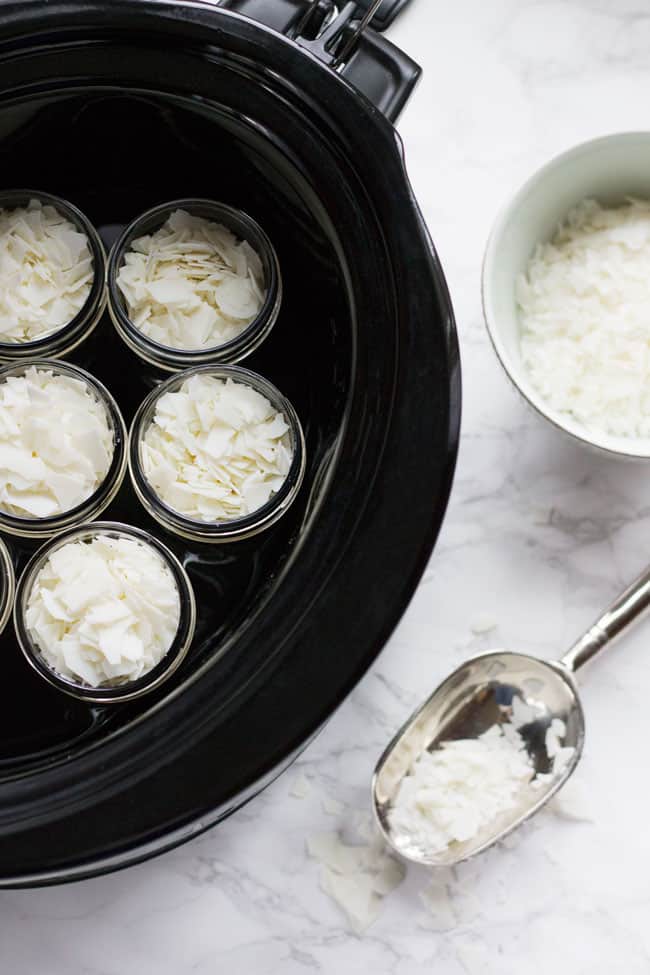 After two hours, the wax will have melted down to about half the volume of when you started, so go ahead and add more wax and stir. If you would like to add color to your candles, do that now. Then place the lid back on the slow cooker and let sit for another hour.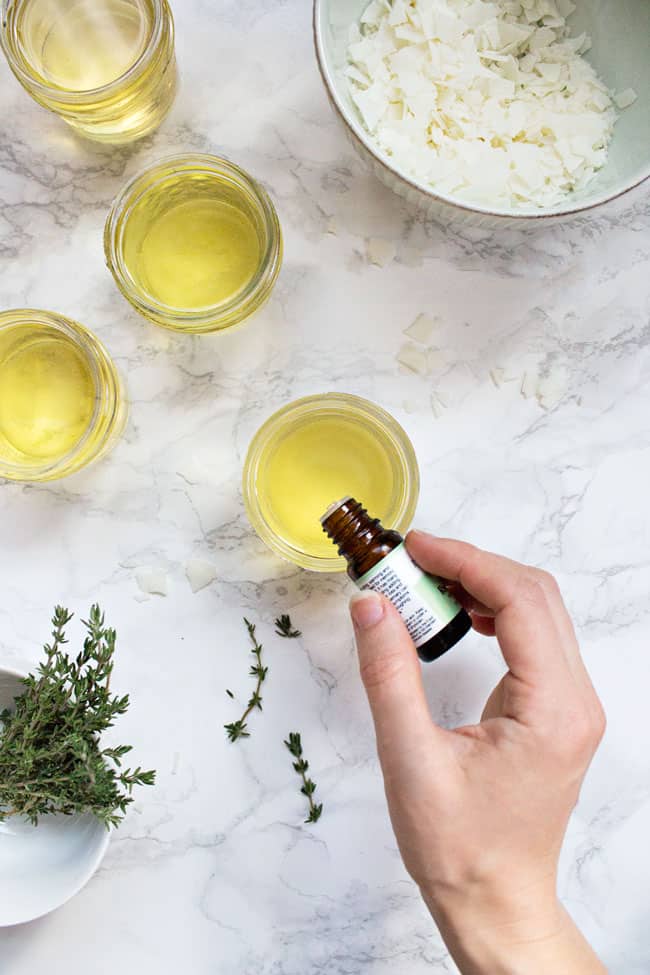 Once all the wax has melted, remove the jars from the slow cooker and let sit at room temperature for 10 minutes. Add your essential oils. When the wax just starts to set, insert your wicks (you may need to use a knife or chopstick to make a hole in the wax). To keep the wick upright while the wax cools, tie a piece of twine around the wick and secure it to either side of the jar with tape. You can also insert the wick through the hole in the center of a wooden clothespin, then rest it on top of the upper rim of the jar while the wax sets.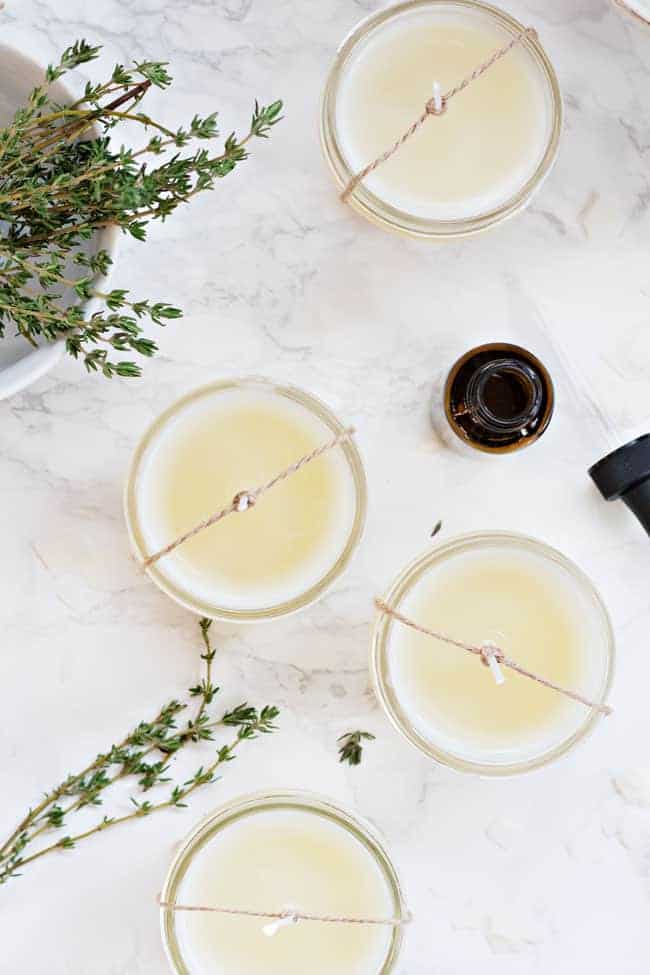 Let your candles cool for several hours before trimming the wicks, putting the lid on and decorating with twine and fresh herbs. For a last minute Christmas gift, stack two or three candles together and secure with pretty ribbon and a small a gift tag.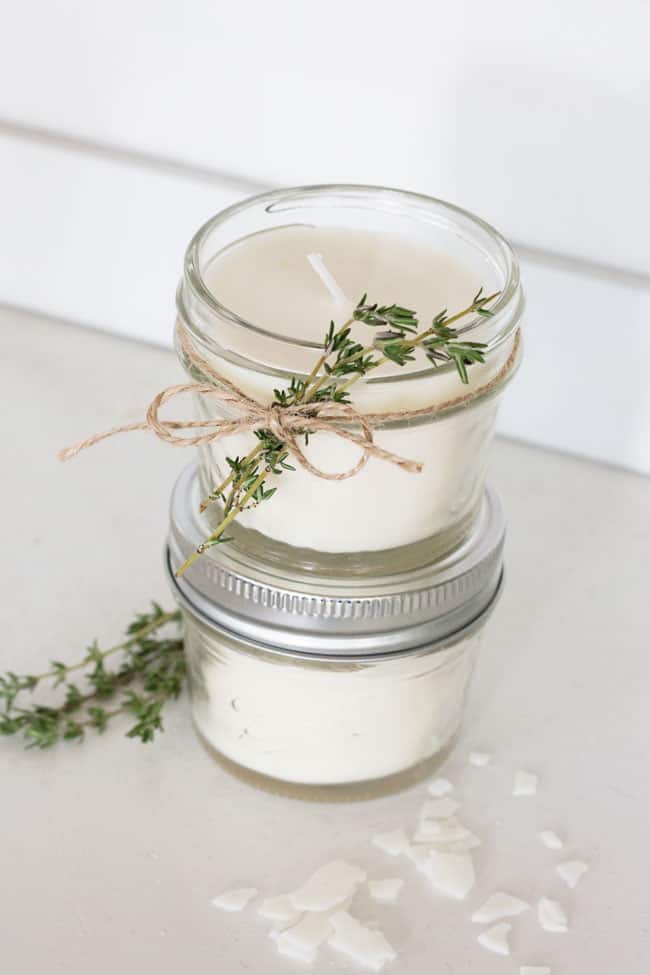 356