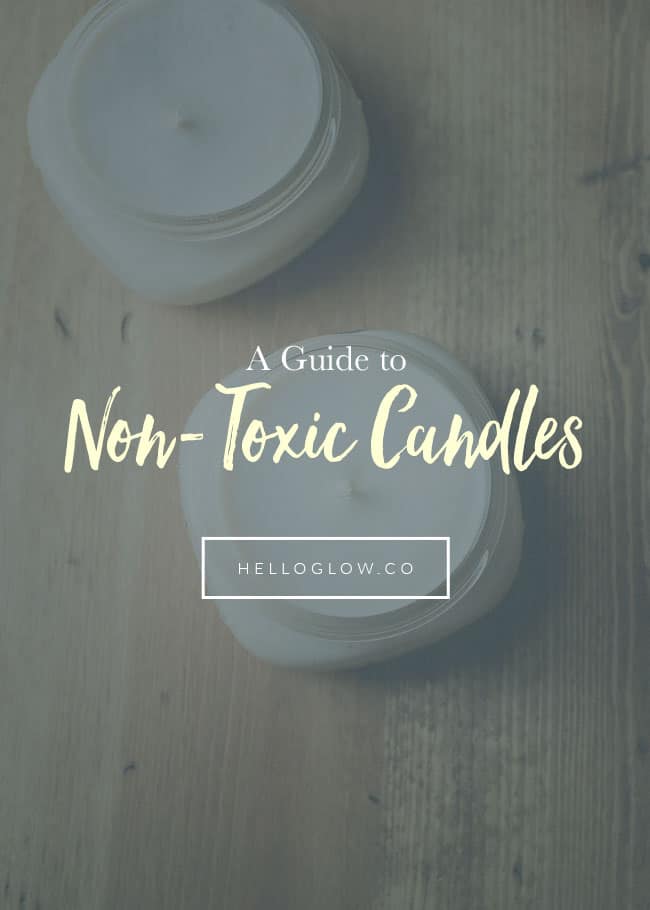 It's winter, and everyone is all about hygge lately, so I bet you've been spending lots of time bundled up in layers and blankets, drinking mugs of chai and burning candles all over your house. And I hate to be that person, but you might not be doing yourself any favors with those candles.
Cheap candles send a lot of junk into the air [source]. And when you've got your windows closed during winter, that junk has no place to go, so it lingers in your home. Burn candles every night, and the air in your house can get pretty unhealthy.
So how do you find non-toxic candles? Well, you could make your own, but when you're shopping for candles, look for the following:
Natural Fragrance
Essential oils are ideal. I've found that if a scent is true to nature, it's more likely to be natural.
If you pick up a candle that's supposed to smell like fresh linen or a sandy beach, it's a pretty safe bet that the fragrance it contains is synthetic. (Why do candle makers think beaches smell like cheap perfume?!)
Studies have looked at specific types of scented candles and found that they release formaldehyde into the air, along with many other toxic volatile compounds—even when not lit [source]! Of course, to be 100% sure, check the label or the manufacturer's website and see if the fragrance they use is free of phthalates and other chemicals.
Cotton or wood wicks
You know how sometimes there's a little wire in the center of a candle wick? That's a lead core, and burning a candle with it emits lead into the air [source].
Burn these candles often and in enclosed spaces, and there's even a potential for lead poisoning. There's no amount of lead that's safe to ingest. While it's now illegal to manufacture candles with lead-cored wicks in the United States, cheap candles from overseas may still have them. So if you have candles that have a lead-core in your house, throw them out—especially if you have children.
Non-paraffin wax
Paraffin is a byproduct of the petroleum industry, and it's the most commonly used wax in candles. We put paraffin candles on our birthday cakes and dinner tables, but it's probably time to ditch them because paraffin wax releases toxins like toluene and benzene into the air while it burns. Instead, opt for candles made with natural waxes like soy, coconut, or beeswax.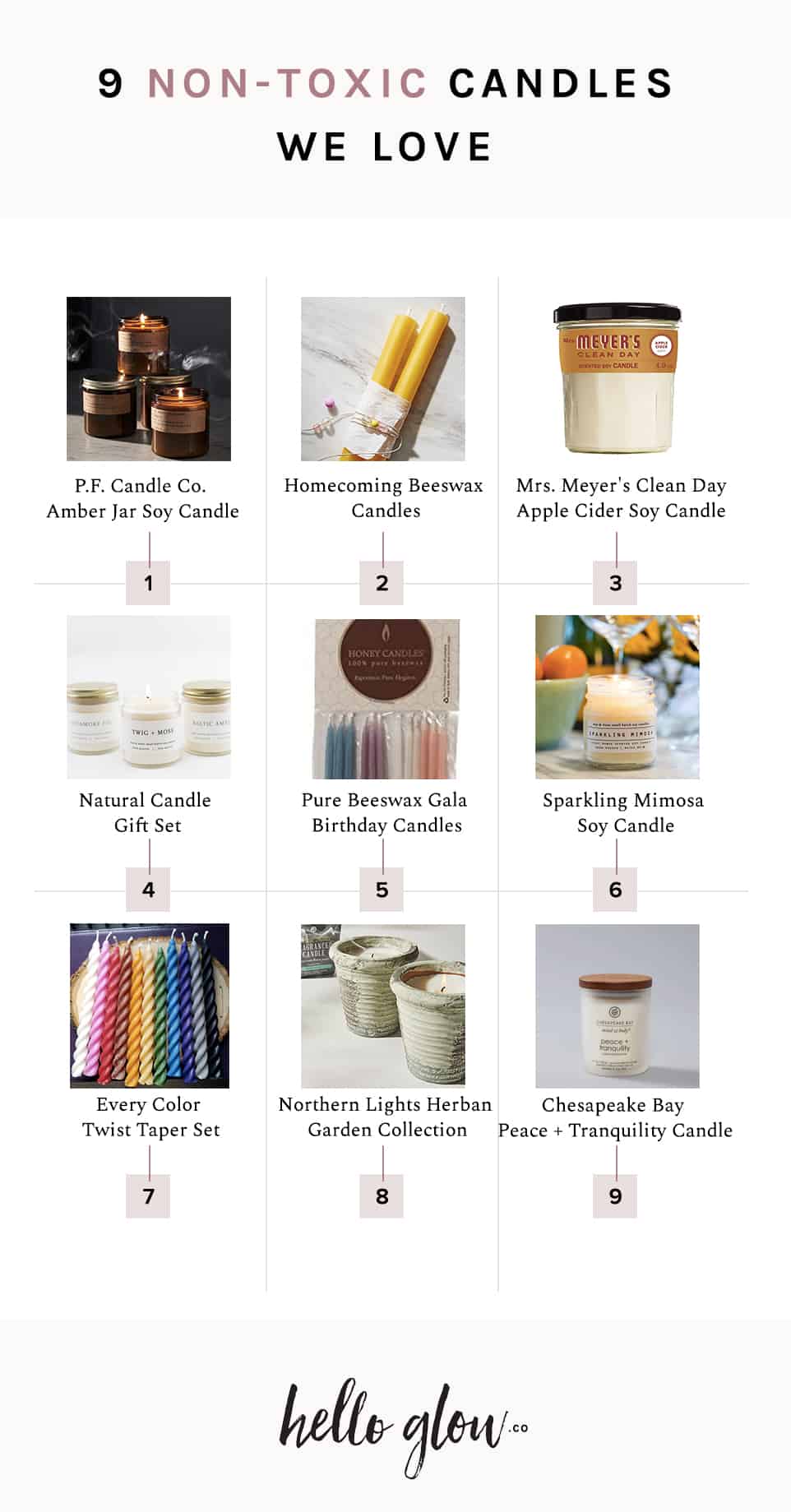 9 Non-Toxic Candles We Love
P.F. Candle Co. Amber Jar Soy Candle // These soy wax candles are handcrafted in L.A. and poured into beautiful apothecary-style amber jars.
Homecoming Beeswax Candles // Hand-rolled in Canada, these 100% beeswax candlesticks are made with zinc-free cotton wicks and a pretty, natural color.
Mrs. Meyer's Clean Day Apple Cider Soy Candle // These apple cider-scented natural candles have a 25-hour burn time, which is ideal for the cold season!
Natural Candle Gift Set // Give the gift of soft and cozy light with a 3-piece set of natural candles. Scents include sycamore fig, baltic amber, and twig & moss.
Honey Candles 100% Pure Beeswax Birthday Candles // Celebrate every birthday in style—but non-toxic and all natural. These beeswax candles are safe, and they look so pretty!
Sparkling Mimosa Soy Candle // Cheers to this sparkling mimosa soy candle, which blends notes of grapefruit, tangerine, lemon peel, and ginger and burns for more than 40 hours.
Every Color Twist Taper Set // Twisted candles are the trend on Instagram right now! This set includes one in every color of the rainbow.
Northern Lights Herban Garden Collection Candles // The candles that keep on giving! After your candle is completely burned, you can reuse the container as a planter, using the herb seeds it comes with.
Chesapeake Bay Peace + Tranquility Candle // We could all use some peace and tranquility right now, and this candle diffuses a pleasant aroma of cashmere and jasmine to do just that.
Making Your Own Candles
Making your own non-toxic candles is a great way to ensure that the candles you're burning in your home are safe for you and your family. One of the best materials to use for non-toxic candles is soy wax. Soy wax is made from soybeans and is a natural and renewable resource that burns cleaner than paraffin wax.
To make your own soy wax candles, you will need soy wax, essential oils, a wick, and a container to hold the candle. You can also use other materials, such as coconut oil or beeswax, to make your candles. However, soy wax is an excellent choice because it is affordable and readily available.
When choosing essential oils for your candles, it's important to select pure essential oils rather than synthetic fragrances. Synthetic fragrances contain toxic chemicals that can be harmful to your health. Some suggested essential oils for candles include lavender, eucalyptus, peppermint, and citrus scents like lemon and orange.
To make your candles, simply melt the soy wax in a double boiler, add 2-4 drops of essential oils for every 4-6 ounces of wax, and pour the mixture into your container. Make sure to center your wick before pouring the wax, and allow the candle to cool completely before trimming the wick.
If you want to create a blend, you can use a combination of soy wax and other waxes like coconut wax or beeswax. You can also use an unbleached cotton wick for a more natural candle.
Avoid using synthetic fragrances or fragrance oils in your candles as they contain toxic chemicals that can be harmful to your health. Instead, opt for natural fragrances or pure essential oils.
When making your own non-toxic candles, it's important to take into account the search volume and relevance of keywords. For example, natural candles, essential oil candles, and organic candles are all popular searches. Additionally, including specific scents like orange blossom or seasonal candles can help your candles stand out.
In conclusion, making your own non-toxic candles is a great way to ensure that you're using safe candles in your home. With the right materials and a little bit of creativity, you can create beautiful, natural candles that fill your home with lovely scents.
183