Rosehip oil is packed with antioxidants, which makes it a fantastic anti-aging serum to have in your beauty regimen. Combine the rich oil with rosewater for a skin-soothing DIY face serum that battles aging and acne.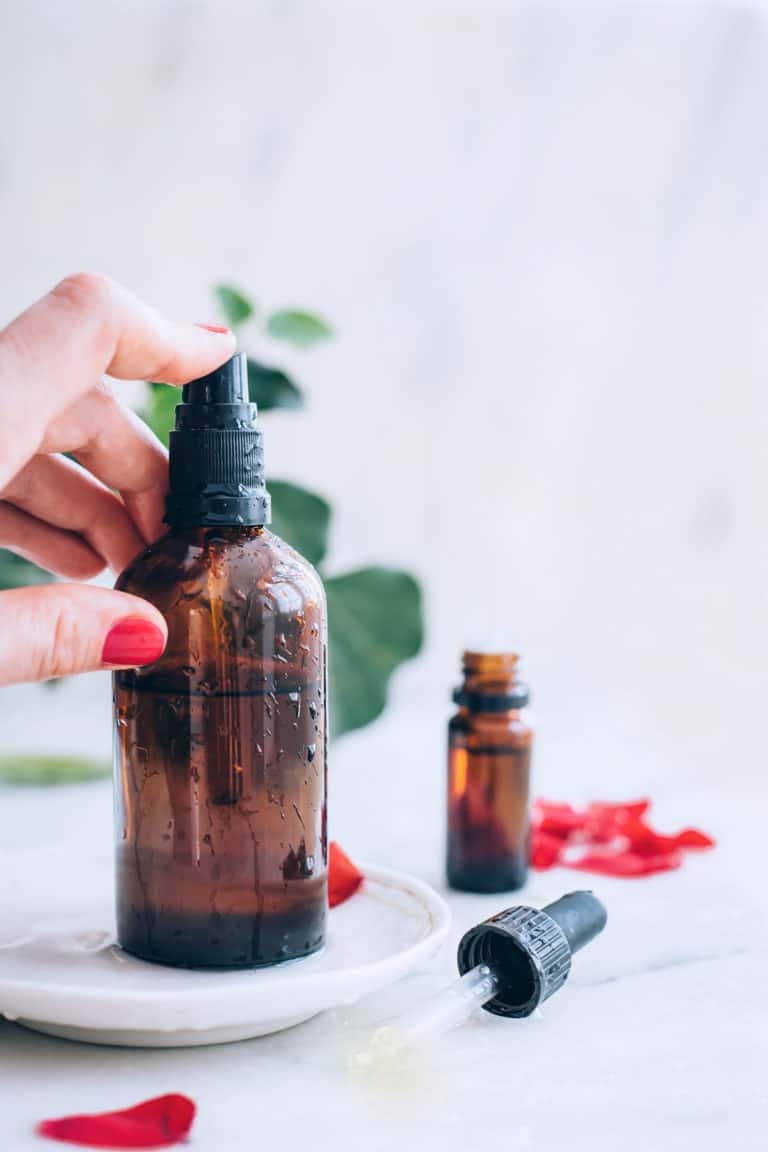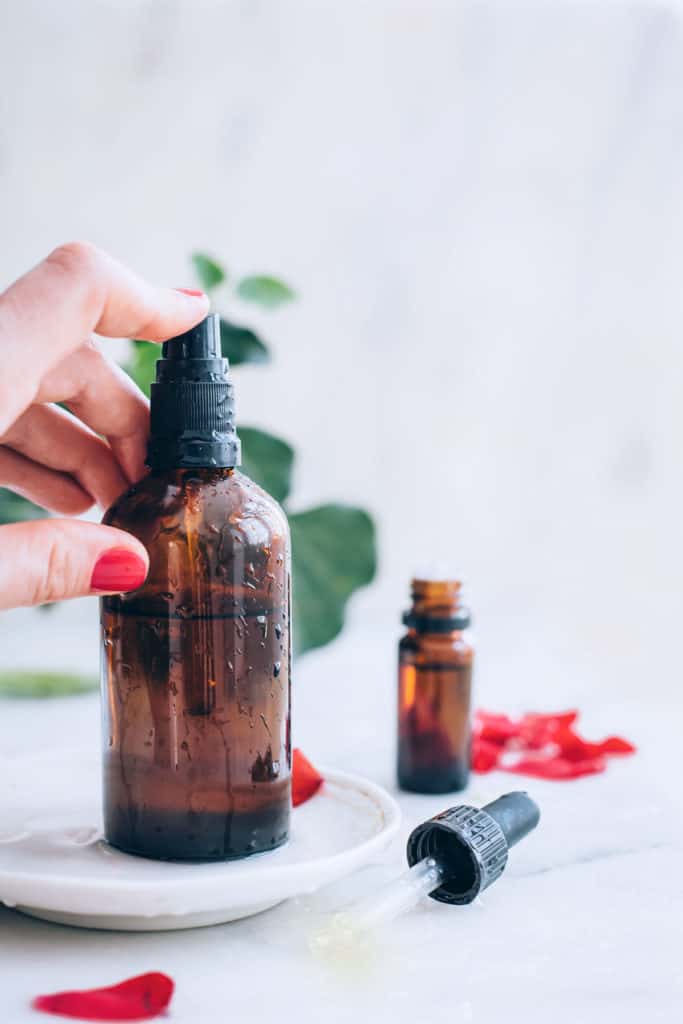 Why rosehip oil?
We love rosehip oil in DIY beauty recipes. Rosehip (seed) oil is filled with antioxidants, vitamins, and fatty acids, but why is that important? Here are three great reasons to add rosehip oil to your skincare routine:
It can stimulate collagen production
Rosehip oil can deeply penetrate the layers of your skin and help stimulate collagen production. One of the super-powered antioxidants in this oil is Vitamin A, a powerful vitamin that improves skin in almost every single way.
Vitamin A is present in the form of beta-carotene, a form of vitamin A that the skin easily absorbs. It works to protect the skin from harmful free radicals that cause dull skin, dark marks, and premature fine lines and wrinkles.
To a degree, it can also reverse the damage caused by stimulating the fibroblasts in skin. Dermal fibroblasts are responsible for tissue generation and skin recovery, boosting the skin's own healing process and collagen production. To put it simply, it helps to make skin look younger and firmer—win-win!
It helps balance acne-prone skin
Rosehip oil also has a unique blend of essential fatty acids that work to deeply moisturize the skin, soothing any dryness and irritation away. These same essential fatty acids also make this a great oil for acne-prone skin—the high level of linoleic acid (aka omega-6) works to balance out our skin's naturally high sebum levels of oleic acid.
What does this have to do with acne, you ask? Low linoleic acid levels have been associated with acne-prone skin—by balancing skin out with the right types of oils, you just might have the solution to your persistent breakouts. Who would have thought that oil could be a great, natural solution for some types of acne? It's all about balance!
It soothes skin inflammation
It's also an excellent anti-inflammatory thanks to high levels of polyphenols and vitamin E. These two antioxidants work in tandem to soothe overstimulated skin, making rosehip oil a promising way to calm down eczema and dermatitis-prone skin. Anti-aging, anti-acne, and anti-eczema—is there anything this oil can't do?!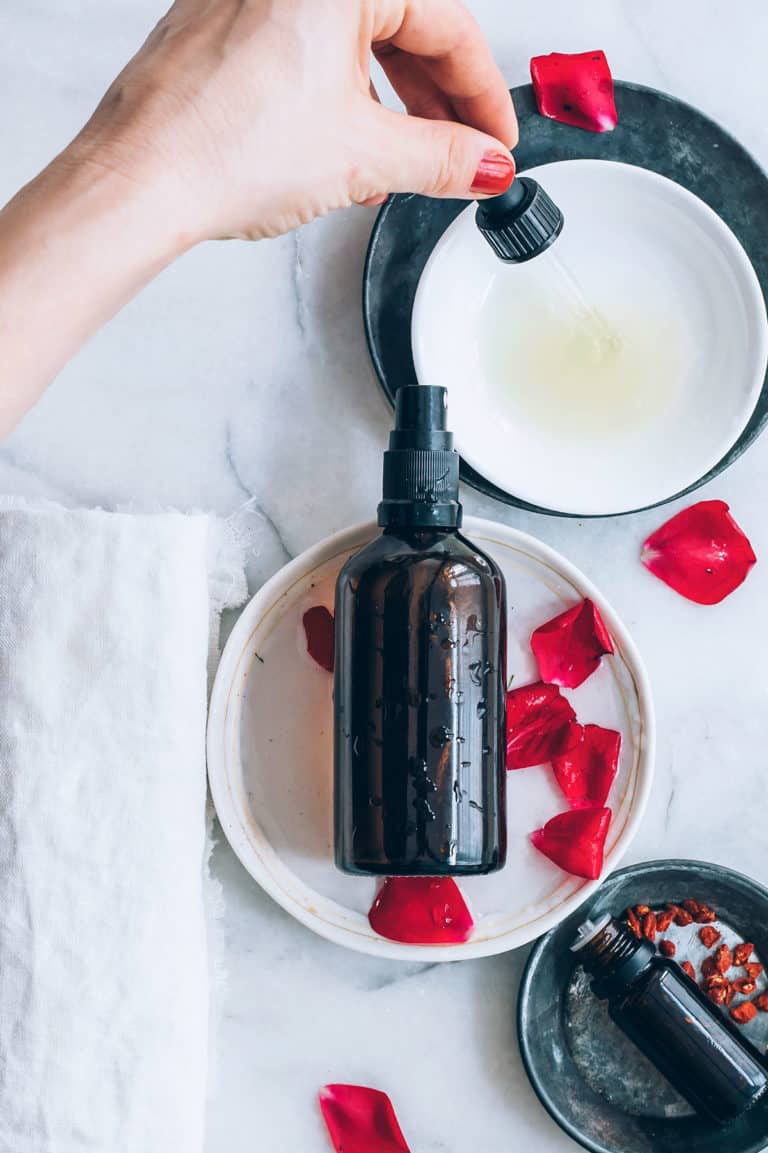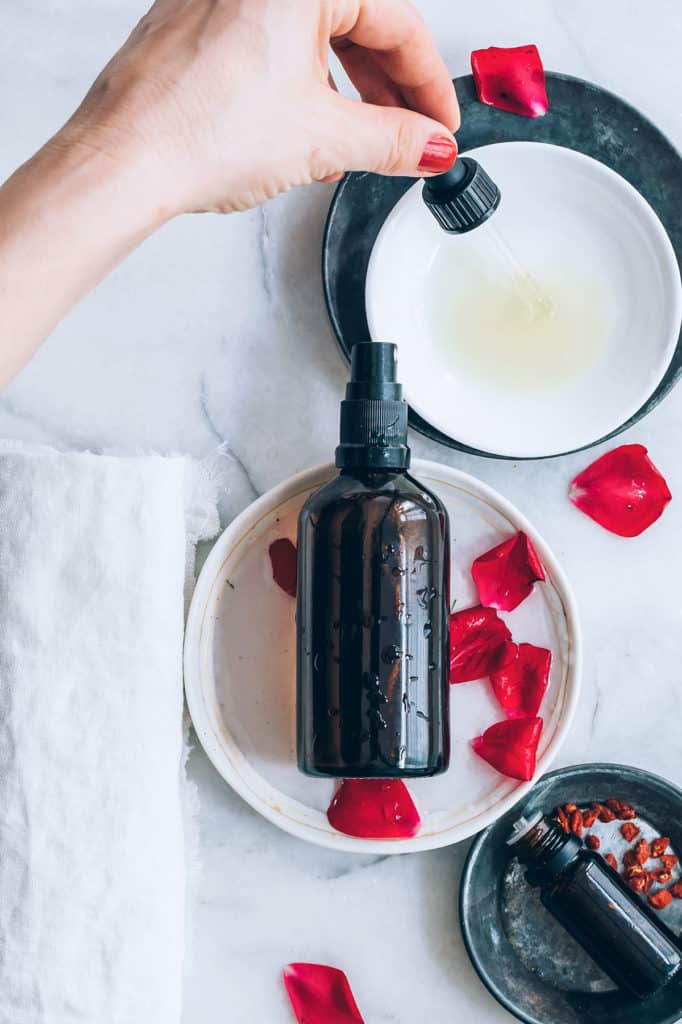 DIY Anti-Aging Rosehip + Rosewater Face Serum
Since this oil is oh so fabulous, we wanted to use it to make a serum that not only does amazing things for our skin, but smells amazing as well. So, to do that we're mixing up a few simple ingredients that you probably already have.
Here's what you'll need to make it:
Combine all of the ingredients in a small bottle and shake well to combine. If the mixture isn't fragrant enough for you, add more rosewater, or you can even add a few drops of geranium or ylang ylang essential oils. That's the beauty of DIY—tailoring any recipe to suit you.
Shake well before each use, and apply this super moisturizing serum on your face at night after cleansing and first thing in the morning. You can also put the serum in a mister bottle and mist throughout the day to alleviate dry skin.
Summer tip: keep the mister bottle in the fridge! This does two really important things—first, how good does a cold spray feel on a hot summer day? Amazing, right? Secondly, keeping this solution cold ensures that it's fresher for longer—and at its most potent for your skin.
This post was medically reviewed by Dr. Jennifer Haley, a board-certified dermatologist with extensive experience in medical, cosmetic and surgical dermatology. Learn more about Hello Glow's medical review board here. As always, this is not personal medical advice and we recommend that you talk with your doctor.
350