When you start putting food on your face, you look at everything you eat in a new light. Maybe I should slather myself with this smoothie? Am I making an omelet or a pore strip? Should I drink this tea or make a face mask? The answer for this iced chia seed green tea is to do both! Combine antioxidant-rich green tea with nutritional powerhouse chia seeds, and get the beauty benefits inside and out.
Green tea benefits
Now, there's a reason that green tea has been a thing since nearly 3,000 BC. It all started when Chinese Emperor Shennong was drinking his usual hot water (now that's a good thing to drink, too) when a dried leaf from a tea bush happened to blow into it, and it steeped—he liked it so much more than his usual hot water, and the rest is history.
While we all enjoy a good tea from time to time, here are some of my favorite things about green tea—and why I'm obsessed with drinking it and putting it on my face!
Green tea has no calories! It also contains a small amount of caffeine, making it a good coffee alternative.
Green tea boosts metabolism. It's loaded with polyphenols that speed up calorie burn.
Green tea is anti-aging. The antioxidants in green tea work to repair skin and eliminate wrinkles. Putting green tea on your skin has been proven to repair sun damage.
Chia seed benefits
Now, this is another one of those plants that have been used for centuries (if not millennia) and is now popping up again in popularity because of its amazing health benefits. Chia is native to South America, where it was a huge part of the ancient Aztec diet.
It was eaten whole, ground into flour, and even the oil was pressed out of it. We're using the whole chia seeds today as they help keep you fuller for longer, alongside my other four favorite reasons for using chia:
Chia seeds are a good source of calcium. In fact, 2 tablespoons of chia seeds provide 5 times more calcium than a glass of milk.
Chia seeds help control appetite. The seeds are packed with fiber and also absorb liquid to expand in your stomach, keeping you fuller longer.
Chia seeds are loaded with omega-3 fatty acids. These healthy fats are great for your heart and also boost metabolism.
Chia seeds hydrate the skin. The omega-3 fats also hydrate the skin, reducing inflammation and wrinkles.
This is the best way (by far) that I've found to get some green tea in. For some reason, it tastes much better to me chilled than hot!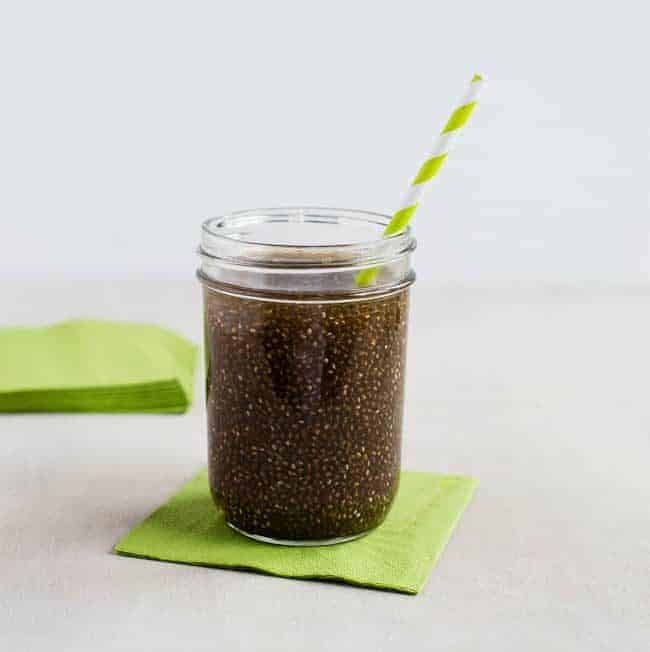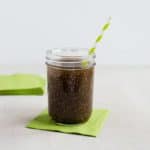 Print
Iced Green Tea with Chia Seeds + Moisturizing Face Mask
The nutritional benefits of Iced Chia Seed Green Tea make a powerhouse beverage and face mask.
Materials
2

cups

steeped green tea

2

tablespoons

chia seeds

3

teaspoons

honey

(or to taste)
Instructions
Brew 2 cups of green tea and let cool.

Add chia seeds and let the mixture sit for 10 minutes or until the consistency thickens.

Add honey and stir.

Pour off about a 1/4 cup of tea, and apply it to your face with clean hands.

Let the mask sit for 10 minutes and remove with warm water, massaging the skin as you rinse.

Drink the rest of the chilled tea.
Notes
It's best to use this face mask right away.
Feel free to use any tea you like for this—our favorites are white, chamomile, and hibiscus teas.
Are you a chia seed fan?
179