Green tea is not just another liquid – sure, it counts in your daily hydration dose, but it's so much more than that! As you may have heard by now, it's an antioxidant because of the polyphenols inside it, and it's been linked with anti-aging effects. More than that, it looks like the infused drink leads to better concentration, increased energy levels, and even fat burning. By the way, no one says you have to drink pure green tea – you can cheat a bit with these improved versions, all of which conserve the benefits of the tea, but have a plus on the taste side. Here are our 25 favorite healthy green tea drinks.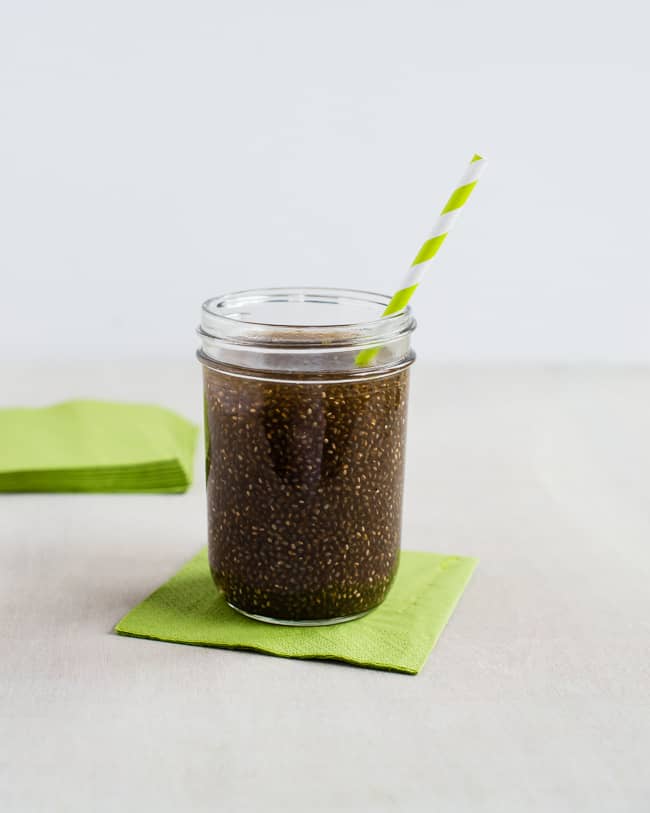 25 Green Tea Drinks
1. Chia green tea energy drink by Hello Glow. This recipe is a nutritious, healthy coffee alternative, which you can also throw on your face as a mask.
2. Cold brew green tea caipirinha by The Little Epicurean. Learn how to cold brew green tea, then make this refreshing summer cocktail with it.
3. Iced berry green tea by Phenomenal. The already beneficial green tea is improved with powerful berries, which you can buy frozen during cold months.
4. Mint peach green tea cooler by Hello Little Home. Green tea is known for its calming properties, which you can enjoy in this cold drink all year round.
5. Blackberry mojito tea lemonade by The Merrythought. A flavorful, green tea based lemonade garnished with blackberries and mint leaves.
6. Green tea + berry metabolism boosting smoothie from Hello Glow. This super simple 4-ingredient smoothie will jump start your metabolism and keep you burning calories all day long.
7. Green tea smoothie by Brittany's Pantry. This green smoothie can very well pass for a meal, containing coconut milk, matcha powder, spinach and banana.
8. Lemongrass lavender green sun tea by Boulder Locavore. Tea is an easy way to drink liquids even in fall-winter, when it becomes a chore, and this recipe is a good place to start.
9. Honeydew green tea with boba by Tiffany Bee. Tapioca pearls make this drink fun, while the green tea and honeydew make it healthy.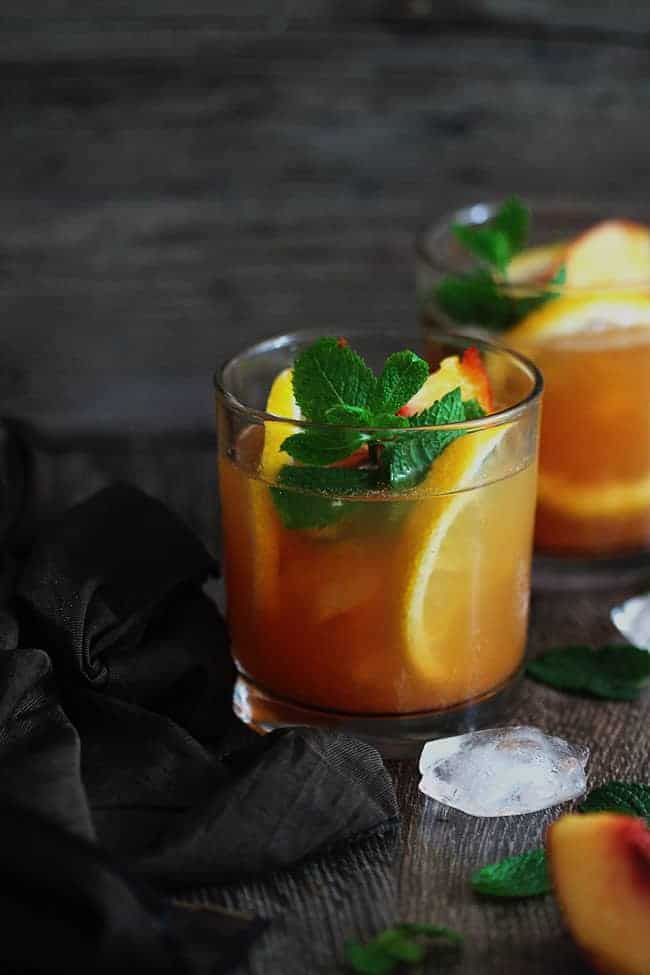 10. Green tea and peach julep by Hello Glow. A posh cocktail for your next party, which also counts as medicinal because of the green tea.
11. Honeydew and watermelon green tea by Hello Glow. Summer in a glass, this iced green tea is sweetened with nothing but watermelon and honeydew.
12. Blueberry green tea smoothie by Sweet Cannela. This delicious smoothie is packed with antioxidants, being made with green tea and blueberries in addition to chia seeds and yogurt.
13. Energizing peach green tea smoothie by Keeping it Kind. Sweet peaches and mango give a nice flavor to this smoothie, while the leafy greens and matcha powder keep it healthy.
14. Detox lemon ginger green tea by Everyday Eileen. Perfect for detoxing your body after the holidays, but also a good option for flu season!
15. Ginger peach green tea smoothie by Garnish with Lemon. Juicy peaches, protein-rich Greek yogurt, fresh ginger, and green tea make this smoothie both healthy and delicious.
16. Peach green tea lemonade by Plant Well. Refreshing, sweet, fruity, tart and naturally-sweetened, this green tea lemonade is a must on hot summer days.
17. Citrus pomegranate mint tea by The Tart Tart. There's plenty of Vitamin C in this tea, which recommends it for cold weather.
18. Rosemary hot white chocolate by Golubka Kitchen. Indulge in hot chocolate, but give it a healthy twist with green tea.
19. Green tea pumpkin shake by Food Recipes HQ. Replace the dairy in a pumpkin shake with green tea for a super healthy snack or meal.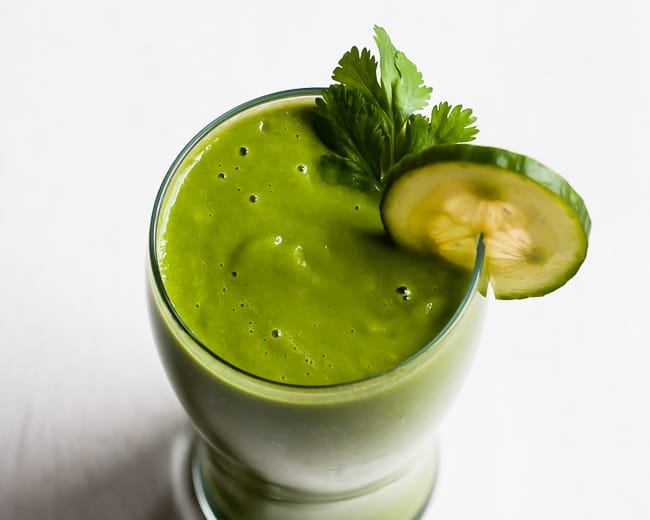 20. Spring detox smoothie by Hello Glow. Detox your body from the inside out with this green tea, cucumber and lemon based smoothie.
21. Kashmiri pink tea by Chilli and Cakes. This impressive-looking pink tea will also impress your taste buds! Floral, sweet, salty, and a tiny bit spicy, it's ideal for hygge moments.
22. "Goguma" green tea latte by Little Leopard Book. This unusual Korean drink is a treat made with sweet potato, green tea and spices.
23. Mint green iced tea by Add Some Veg. Easy to make and perfect for any season, this mint green iced tea is a treat everyone will enjoy!
24. Green tea, melon and ginger cocktail by Cate in the Kitchen. A cocktail that promises to be enjoyed even by those who don't like the taste of green tea.
25. Guava green tea with coconut jelly by Thirsty for Tea. A tasty, tropical way to have your green tea input, with coconut and agar flakes.
62