Bug bites and stings are an inevitable part of summer. Despite using bug-repelling plants, citronella candles, and swatting away pesky mosquitoes, I can't seem to avoid those itchy bites! This 100% natural bug bite balm, made with a few simple ingredients, provides soothing relief for the redness, itching, and swelling.
And it doesn't sting like other bug bite remedies, which is a huge bonus. Oh, and—did I mention?—it also smells wonderful!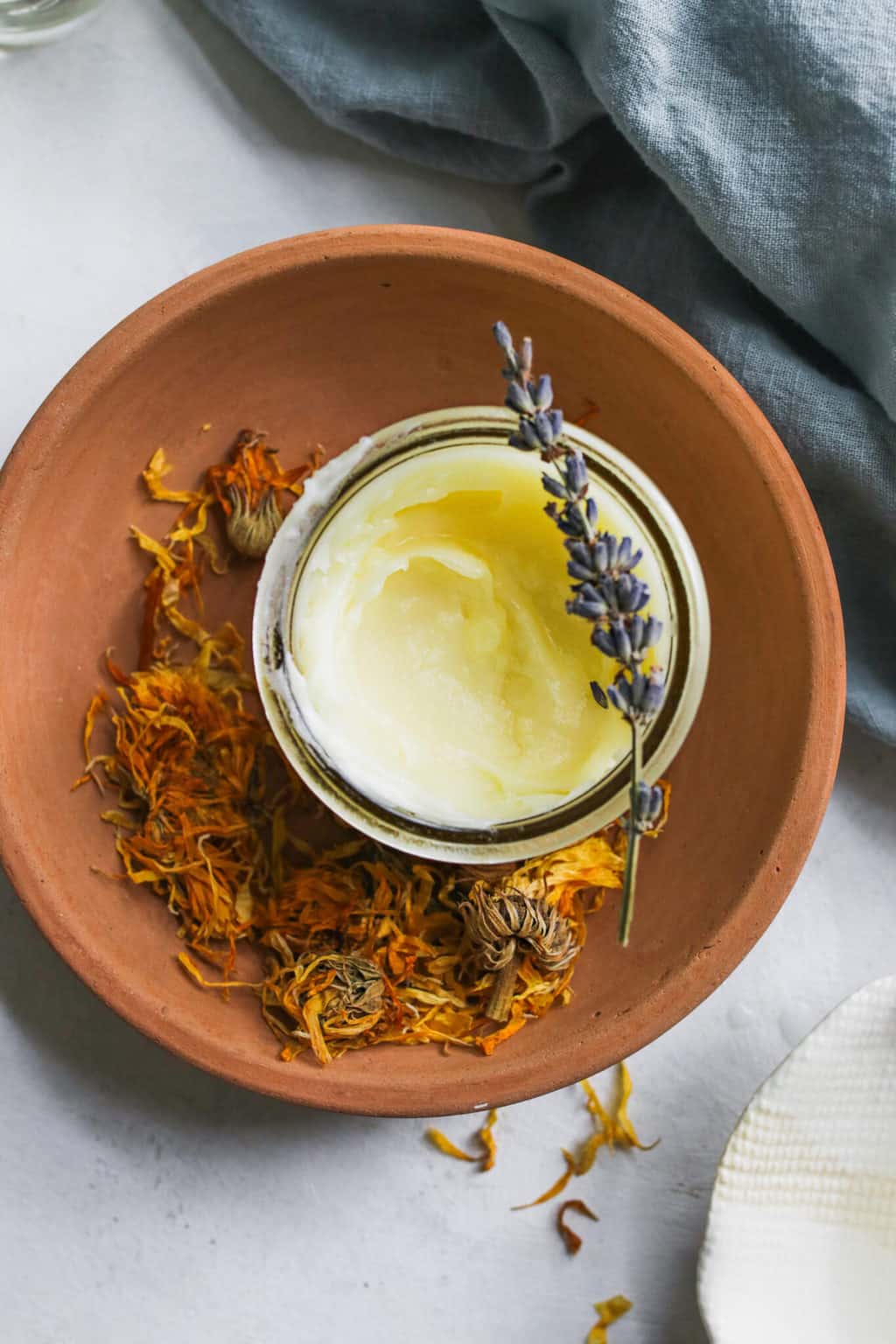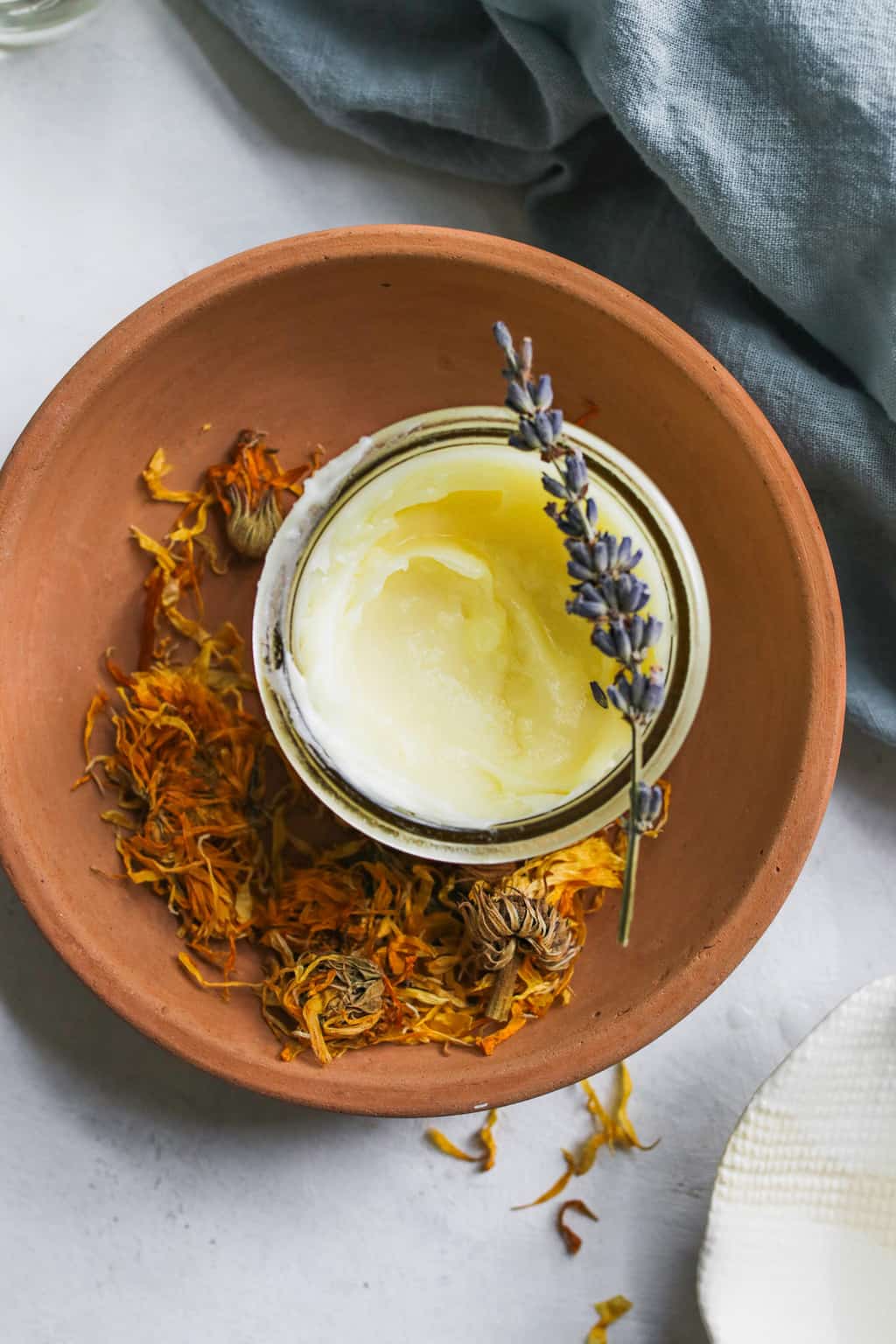 How to Soothe Bug Bites Naturally
For this balm, I chose ingredients based on how well they take the sting out of bug bites. If you have children (or even if you don't), you know how impossible it can be to get them to stop. scratching. Those. Nasty. Bites.
It's all they want to do! So it's important to choose essential oils and butters that have been shown to soothe inflammation, calm the fire, and get rid of the itch.
Here are my go-to ingredients for whenever I make my own soothing bug bite balm:
Calendula – Not only is calendula super soothing, but it's also a major anti-inflammatory that's been used for centuries to treat wounds [source] that just won't seem to heal. If you're in a hurry, you can buy calendula oil at the store, but we recommend making your own fresh calendula oil for maximum skin-soothing benefits if you have the time.
Tea tree – Tea tree essential oil is known for its anti-pain, anti-swelling, and anti-itching qualities. It's also antibacterial and antifungal, so it should help keep those annoying bug bites from getting infected [source].
Lavender – Lavender is a powerful anti-inflammatory [source] with soothing pain-relieving effects [source] that quickly take the pain and itch out of bites.
Beeswax – All-natural beeswax provides healing and moisturizing properties. Plus, it gives this bug bite balm a solid, balmy consistency. If you're vegan or would prefer to use a cheaper alternative, you can use natural candelilla wax in place of beeswax.
Shea butter – Often used as a natural body lotion, shea butter contains many types of fatty acids that work as moisturizers, antioxidants, and a high vitamin E content [source].
Avocado – Avocado oil has been shown to promote collagen formation [source], moisturize chapped skin, reduce age spots, and it has a thick, soothing consistency that I love.
How to Make a DIY Bug Bite Balm
This recipe is pretty versatile. While the ingredients are tried and tested in my home, they're not the only ones you can use. It's pretty hard to mess this up, so feel free to test out different combinations of oils until you find something that works for you.

Ingredients
-2 tablespoons raw shea butter
-2 tablespoons avocado oil
-1 ounce pure beeswax
-1 teaspoon calendula oil (not essential oil)
-15 drops lavender essential oil
-15 drops tea tree essential oil
Instructions
To get started, melt all of the ingredients in a small pan over low heat. The mixture will be very hot—so be careful!
It needs to be hot enough to melt the wax so that the other ingredients can be combined properly. It does set quickly once it's off the heat, so you'll want to work fast.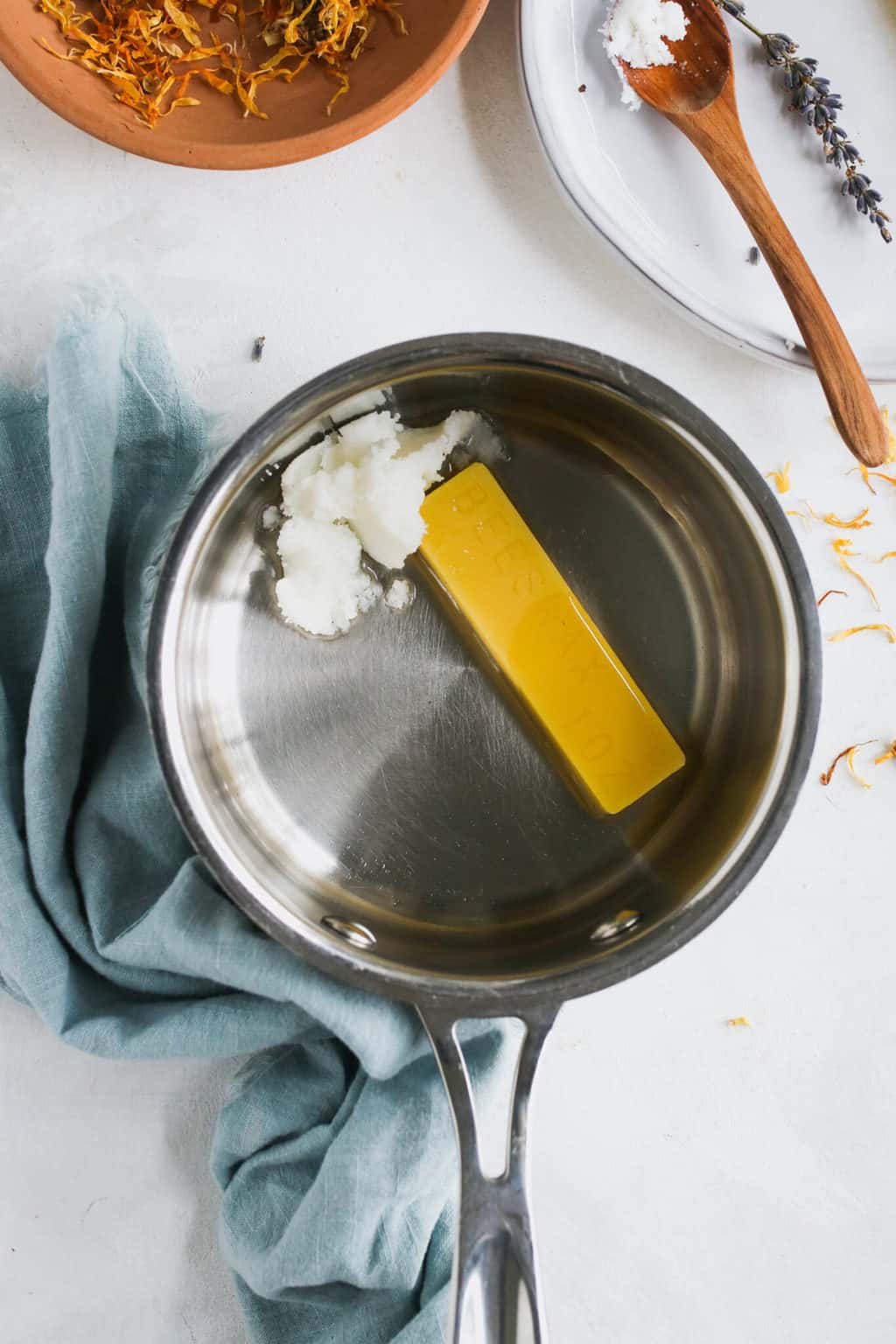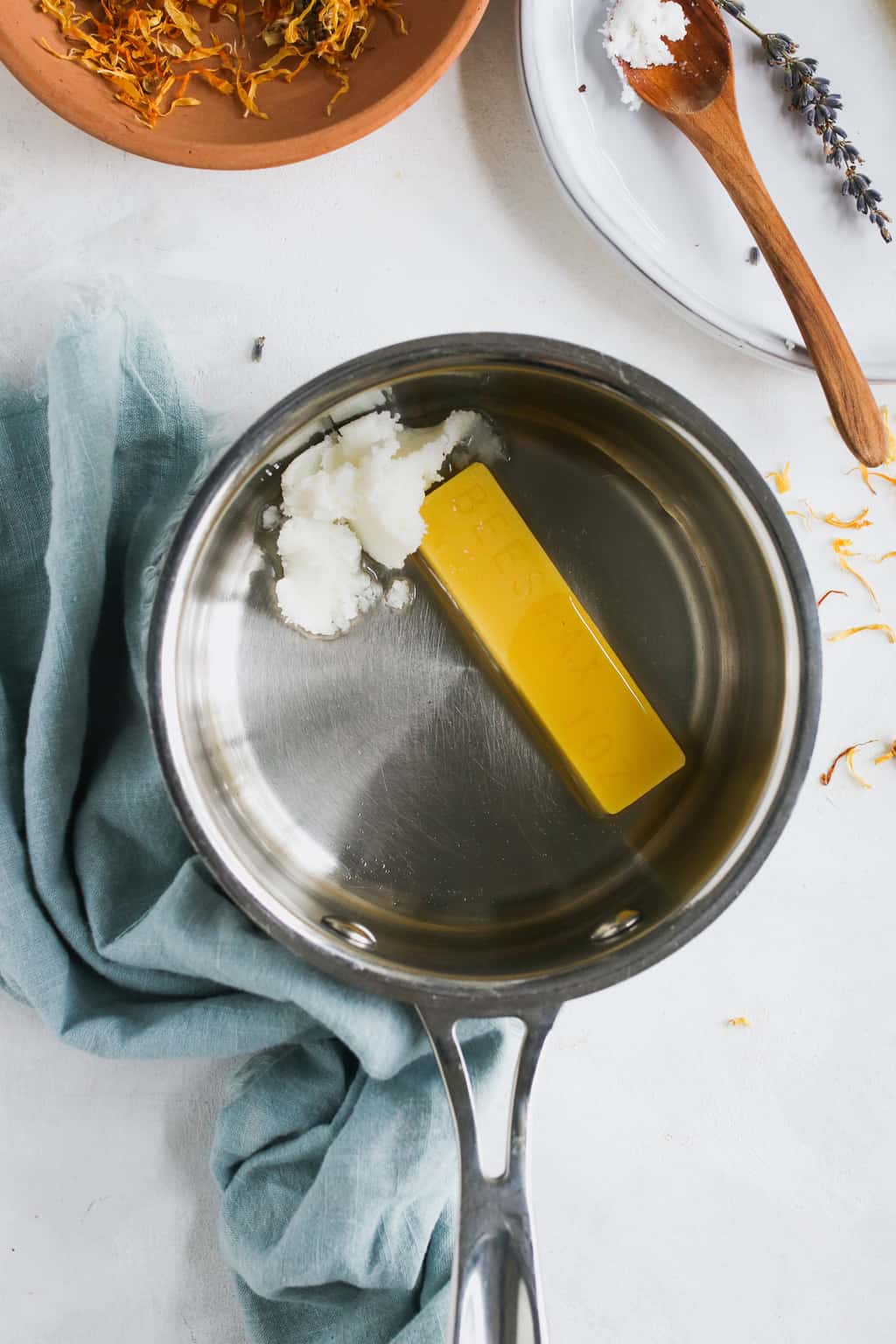 Pour the melted oils into a small glass jar and let cool for several hours or overnight.
(I prefer to use several small jars that are easy to toss in my bag or keep in the medicine cabinet, but your bug bite balm can easily be poured into an empty lip balm tube for hands-free application.)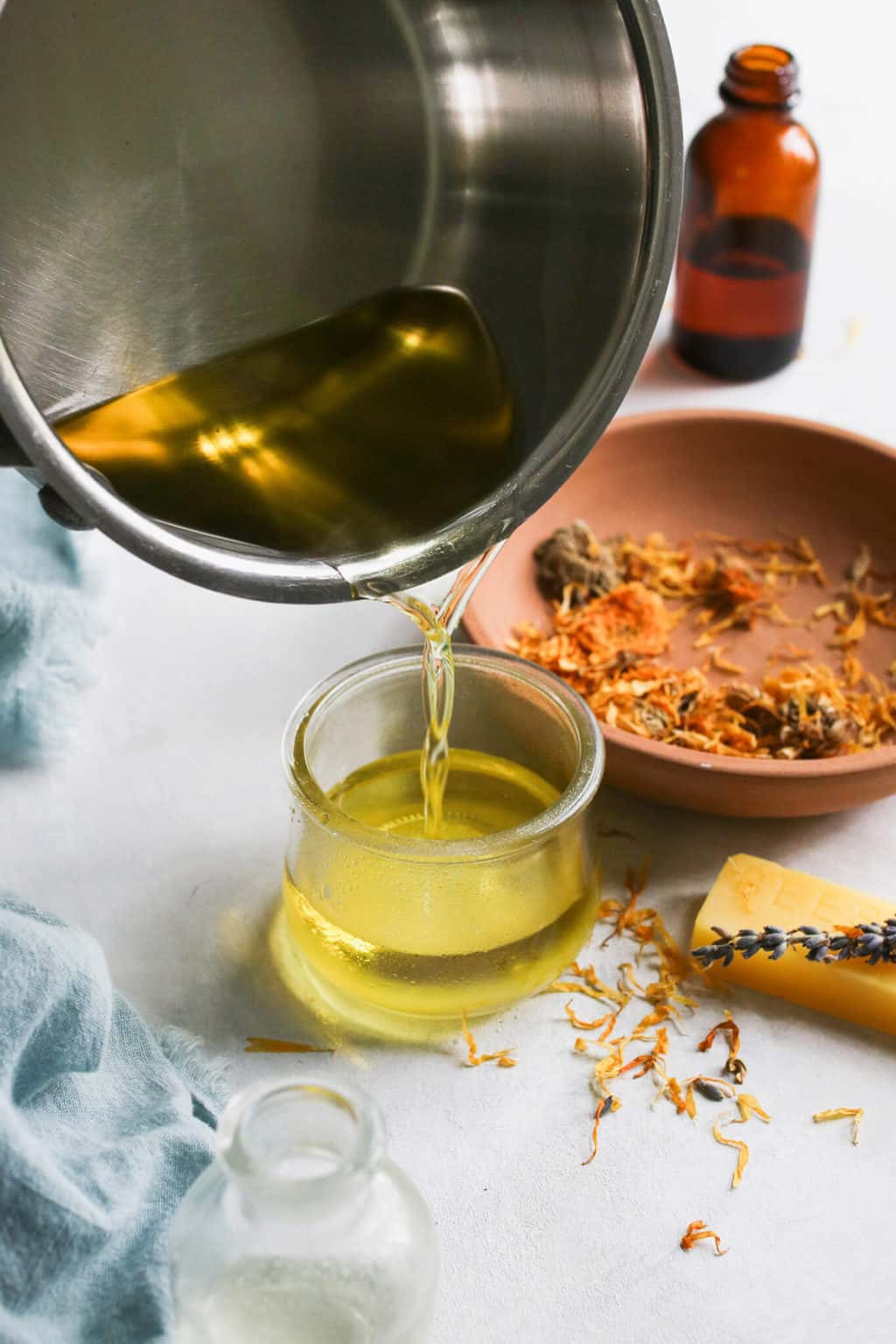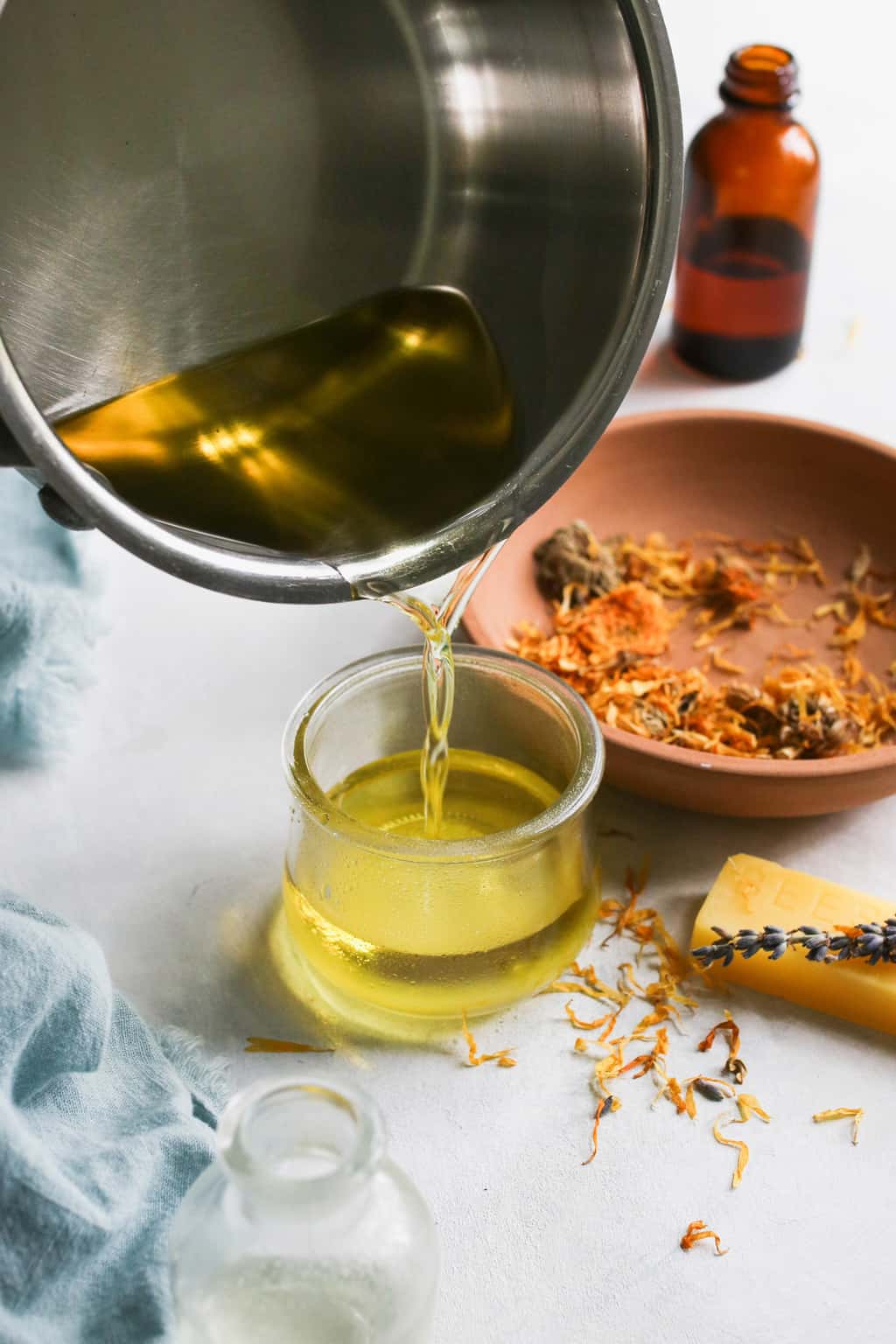 And that's it! This recipe makes a pretty solid bug bite balm that won't melt in the heat of the summer. If you prefer a softer cream, use half as much beeswax. It makes about 5 ounces of balm, which should last one person the entire summer.
Bug Balm FAQs
Can this bug bite balm be used as a lip balm
?
Sure, I don't see why not! You can also use it to moisturize dry hair or soften parched skin after spending time in the sun.
Will this go bad or get moldy after a while
?
Since we don't use any liquid or food-based ingredients in this recipe, it shouldn't. But oils can still go rancid after a while, so keep an eye out for weird smells or a change in consistency.
Can I add peppermint oil to this
?
Yes, peppermint oil is wonderful for soothing itchy, irritated skin. Its scent is incredibly strong, though, so only add 2–3 drops at most.
Is calendula oil the same as calendula essential oil
?
No, when we say "calendula oil" in this recipe, we're referring to a carrier oil, such as olive or jojoba, that has been infused with calendula, like the process here.
Do you have any recipes for natural bug repellant
?
Of course, we do! This one is an all-time favorite.
Is 1 ounce of beeswax measured by weight or by volume
?
It's measured by weight. An ounce of solid beeswax is approximately 2 tablespoons melted.
What else can I use besides lavender essential oil
?
Chamomile, peppermint, and rose geranium are all soothing essential oils that can help take the itch out of bug bites. Just make sure to keep the same number of total drops in the recipe when switching out essential oils.
What can I use in place of the avocado oil
?
Any neutral carrier oil will work, but you can try olive, coconut, jojoba, or almond oil.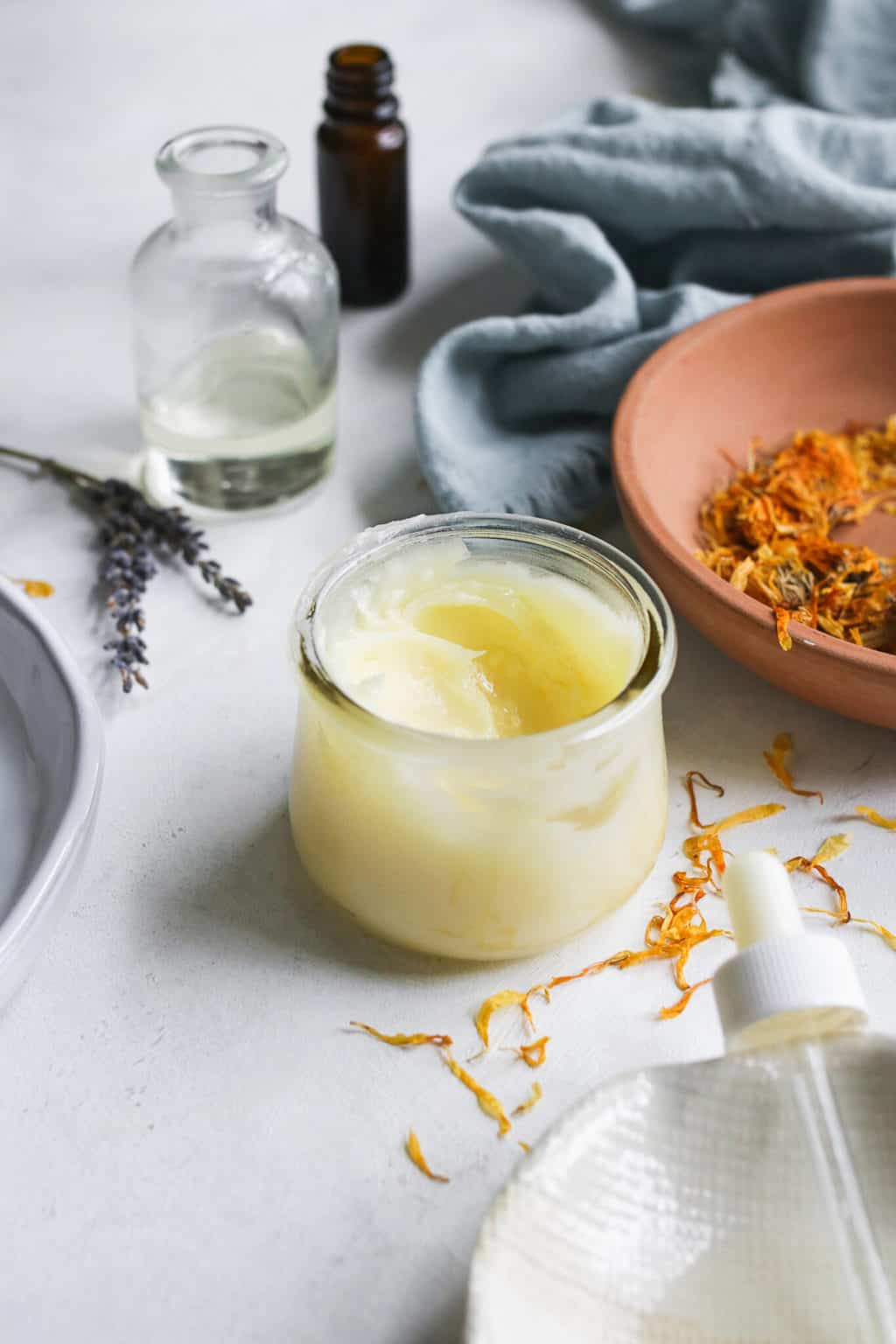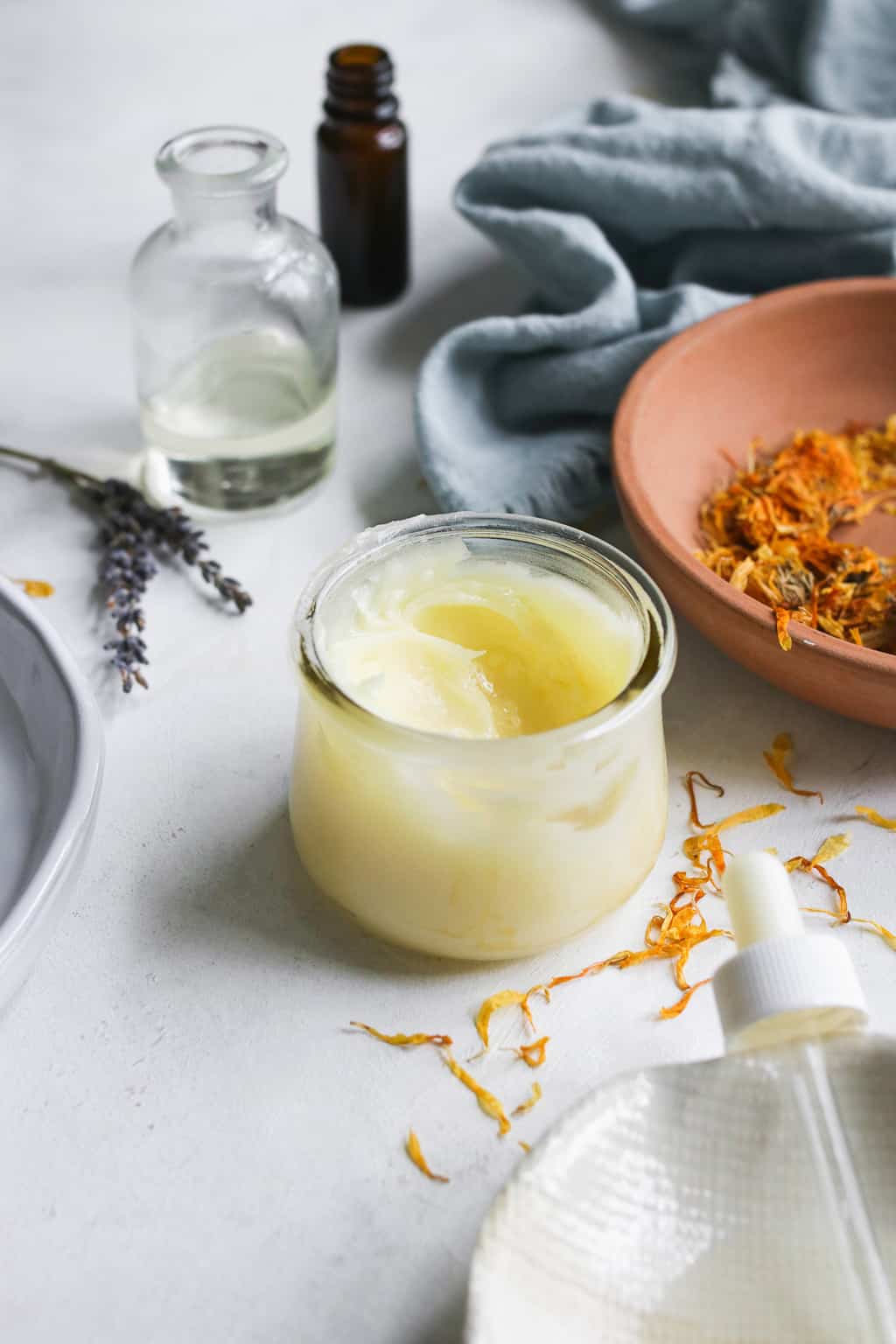 View this post on Instagram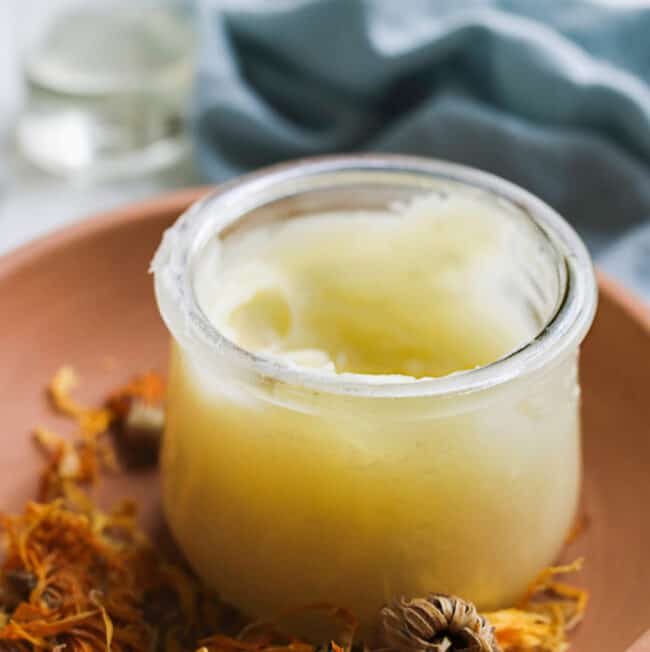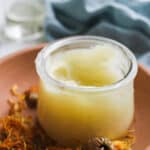 Print
All-Natural Bug Bite and Sting Balm
Made with 100% natural ingredients to soothe the itch and pain of bug bites and stings.
Equipment
One 4-ounce jar or several smaller containers
Instructions
In a small pan, melt shea butter, avocado oil, and beeswax. Stir well.

Remove from heat and stir in calendula, lavender, and tea tree oils.

Let cool slightly, then pour into small jars or lip balm containers. Let cool completely.
Notes
This recipe makes a pretty solid balm that won

'

t melt in the heat of the summer. If you prefer a softer cream, use half as much beeswax. It makes about 5 ounces of balm, which should last one person the entire summer.
To use, apply directly to bug bites 2–3 times a day, or as often as needed to keep itching at bay.
This balm should keep for at least a year without going bad. If you notice an off smell, the oils may have gone rancid, in which case you should make a fresh batch.
References:
1. Givol O, et al. A systematic review of Calendula officinalis extract for wound healing. Wound Repair Regen. 2019.
2. Carson CF, et al. Melaleuca alternifolia (tea tree) oil: a review of antimicrobial and other medicinal properties. Clin Microbiol Rev. 2006.
3. Cardia GFE, et al. Effect of Lavender (Lavandula angustifolia) essential oil on acute inflammatory response. Evid Based Complement Alternat Med. 2018.
4. Da Silva GL, et al. Antioxidant, analgesic and anti-inflammatory effects of lavender essential oil. An Acad Bras Ciênc. 2015.
5. Lin TK, et al. Anti-Inflammatory and skin barrier repair effects of topical application of some plant oils. Int J Mol Sci. 2018.
This article was medically reviewed by Dr. Gina Jansheski, a licensed, board-certified physician who has more than 20 years of practice experience. Learn more about Hello Glow's medical reviewers here. As always, this is not personal medical advice, and we recommend that you talk with your doctor.
158