Winter wreaks complete havoc on my hands. I'm talking peeling and cracking, itching, and lots of irritation. It's such a bummer and makes me kind of cranky. I've tried loads of different moisturizers and lotions, and though they've helped, they've also fallen short. Awhile ago, a friend shared some beeswax salve with me. My hands were in heaven. I decided I needed to start making some at home so I could always have a jar next to the kitchen sink and my bedside. The healing hand salve really helps keep my hands soft and supple. What more could I ask for?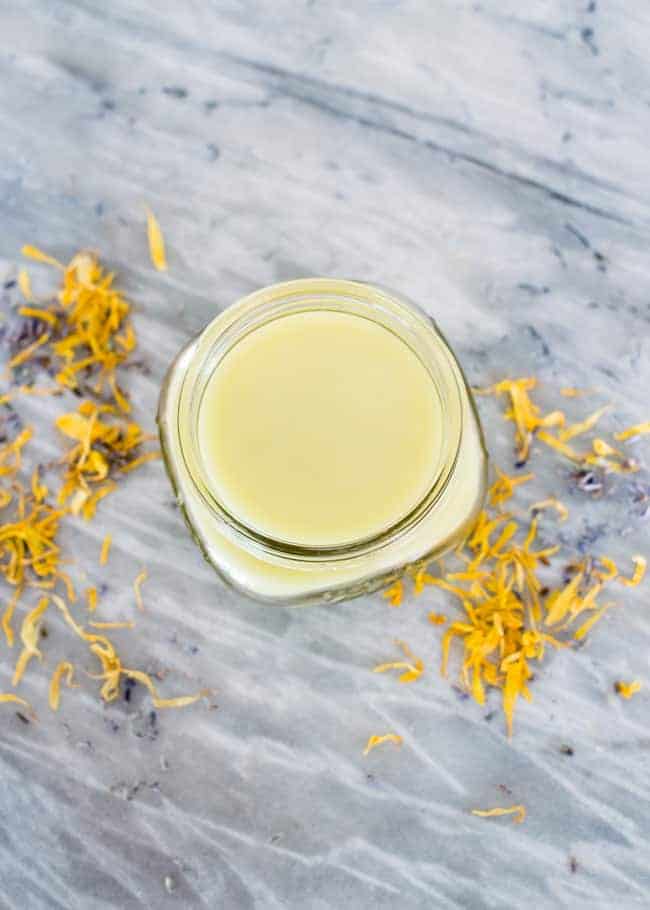 Lavender Calendula Hand Salve
Calendula, or marigold, as it is commonly know as, is very healing. The evidence has been well-documented. Salves and poultices made with calendula have been used for hundred (and probably thousands!) of years. The dried petals are available in bulk in some health stores and online.
The infused oil is usually easier to find. But if you can find the dried petals, it's super easy to infuse olive oil with it. (And it's quite a bit cheaper too.) Lavender is another favorite when it comes to healing salves and balms. Plus it smells amazing.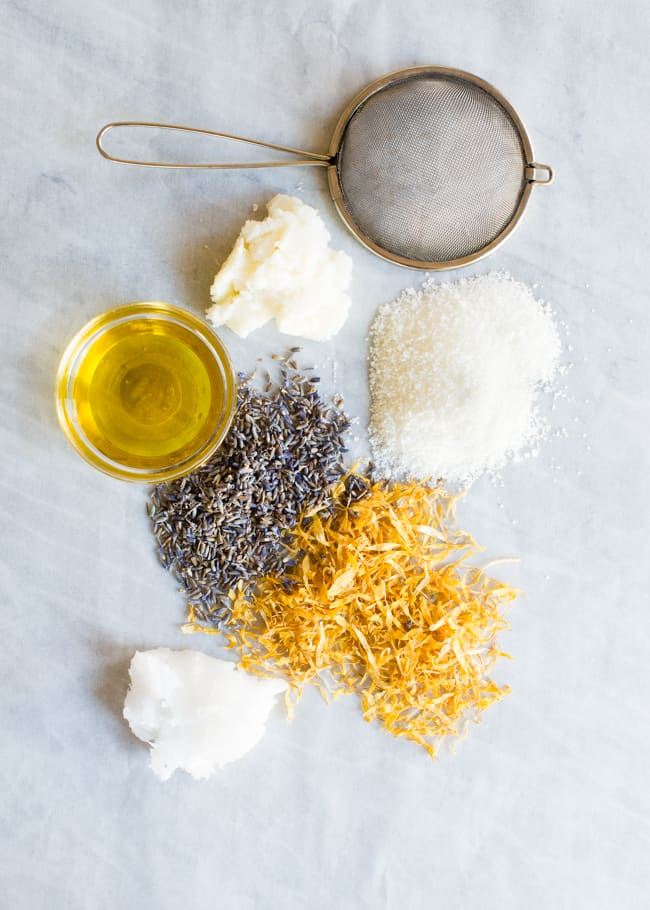 The beeswax is also very healing and helps seal in moisture. Shea butter and coconut oil, along with the olive oil, are very moisturizing and will help protect hands from drying out when mixed with the beeswax. The coconut oil also adds anti-microbial benefits. The salve is a little oily as it melts on your skin, but is absorbed pretty quickly. Use it as often as needed. It isn't just for hands either – use it on your feet, lips, elbows, and knees, or anywhere that needs some TLC.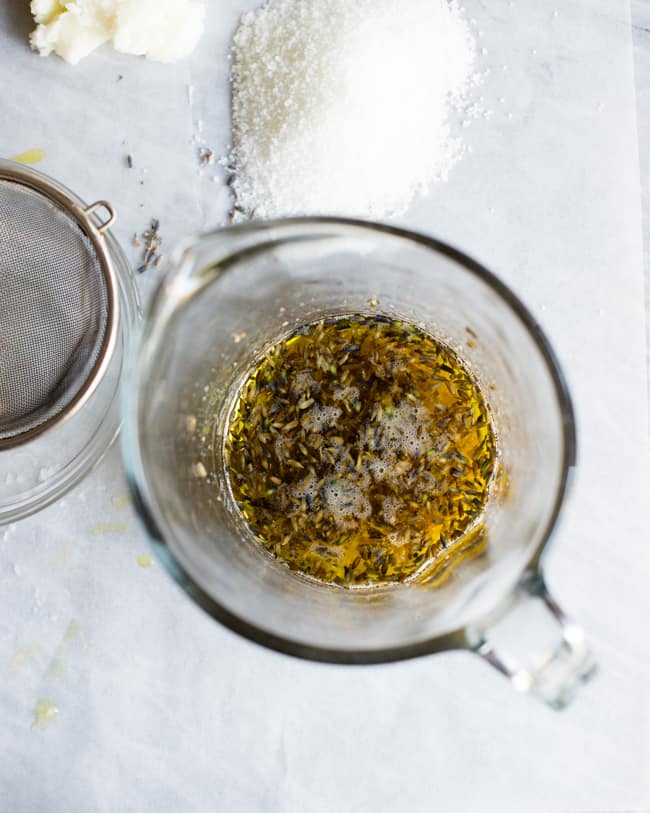 Warm the olive and coconut oils in a small pan or in a glass measuring cup in the microwave. Add the lavender and calendula to the warm oils and let steep for about 30 minutes. Strain through a fine mesh sieve, pressing gently to extract as much oil as possible.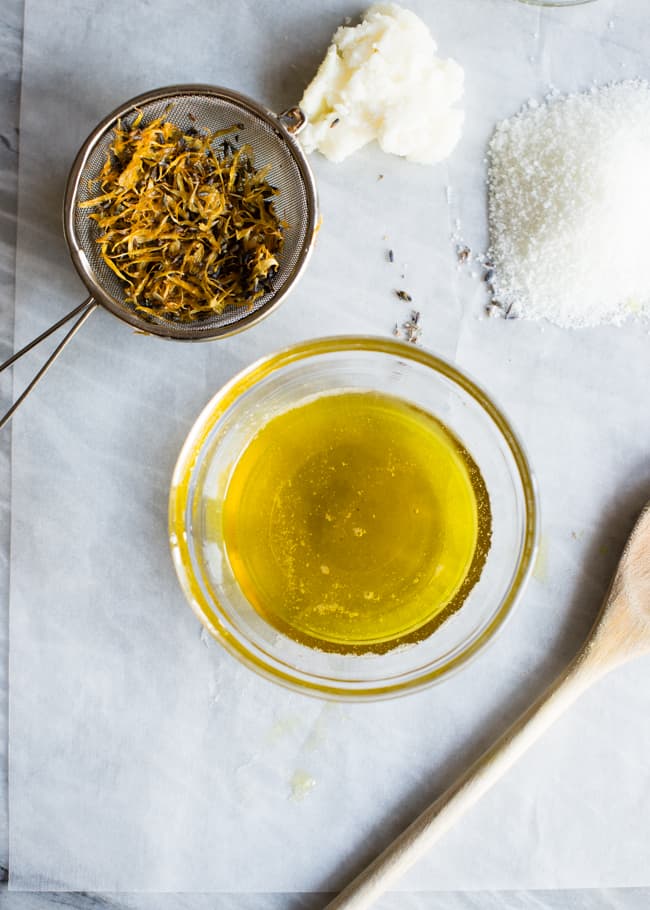 Pour back into the glass measuring cup and add the beeswax. Heat in the microwave for 1-2 minutes or in a pan of simmering water. Stir in the shea butter. It should melt quickly. Let cool for a few minutes, then add the lavender essential oil, if using. Pour into a heat-safe, shallow jar with tight-fitting lid.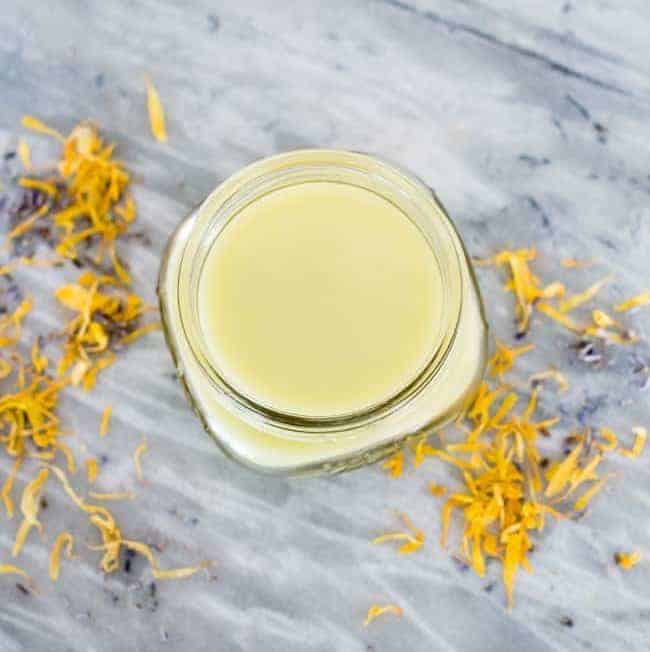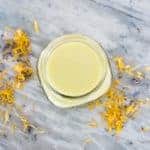 Print
Lavender Calendula Healing Hand Salve
Heal your hands with a soothing, moisturizing hand salve made with calendula, lavender, and beeswax.
Equipment
Glass measuring cup

Pan of simmering water

Fine mesh strainer

8 ounce jar with lid
Instructions
Gently heat coconut and olive oils in a glass measuring cup in the microwave or place it in a small pan or simmering water.

Add the dried calendula petals and lavender buds. Let stand for 30-60 minutes then strain. (Warm again if it's too thick to strain.)

Place the infused oil back into the measuring cup and add the beeswax. Melt again either in the microwave or in the pan of simmering water.

Remove from heat and add the shea butter. It will melt quickly. Stir well to combine.

Let cool slightly, the add the lavender essential oil, if using.

Pour into a clean jar with a tight-fitting lid. Let cool completely before using.

Will keep for several months. Use as often as needed.
190