Winter wreaks complete havoc on my hands. I'm talking peeling and cracking, itching, and lots of irritation. It's such a bummer and makes me kind of cranky. I've tried loads of different moisturizers and lotions, and though they've helped, they've also fallen short.
A while ago, a friend shared some beeswax salve with me. My hands were in heaven. I decided I needed to start making my own version at home so I could always have a jar next to the kitchen sink and my bedside. This lavender calendula healing hand salve really helps keep my hands soft and supple. What more could I ask for?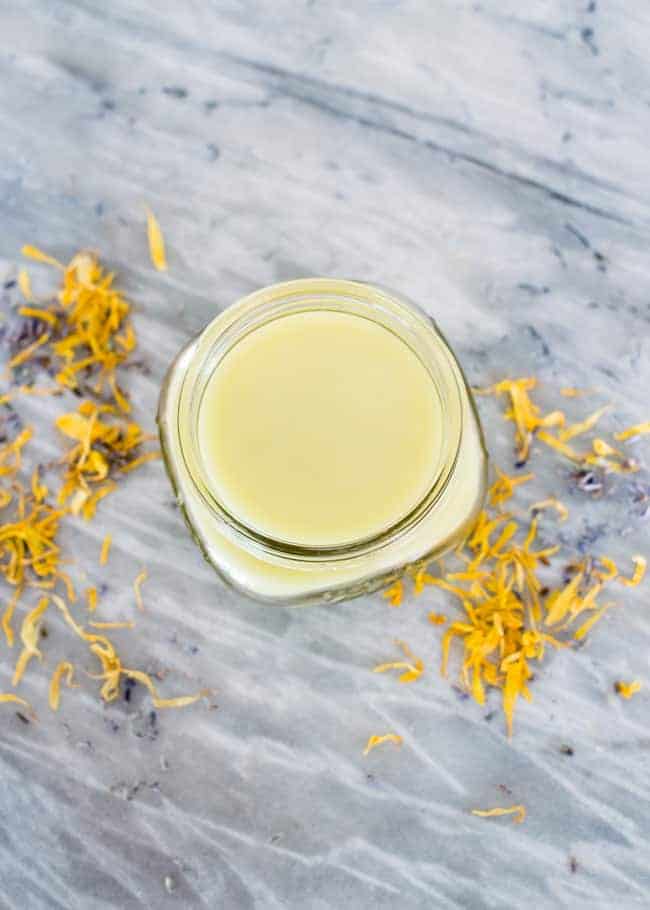 How to Make a Healing Hand Balm
Calendula, also known as pot marigold, is a very skin-healing herb—and the scientific community agrees, as studies have shown its use in wound care [source]. Salves and poultices made with calendula have been used for hundreds (and probably thousands!) of years.
The dried petals are available in bulk in some health stores and online. But the infused oil is usually easier to find. If you can find the dried petals, it's super easy to infuse olive oil with it to make your own skin-soothing oil. (And it's quite a bit cheaper too.)
Lavender is another favorite when it comes to healing salves and balms [source]. Plus, it smells amazing.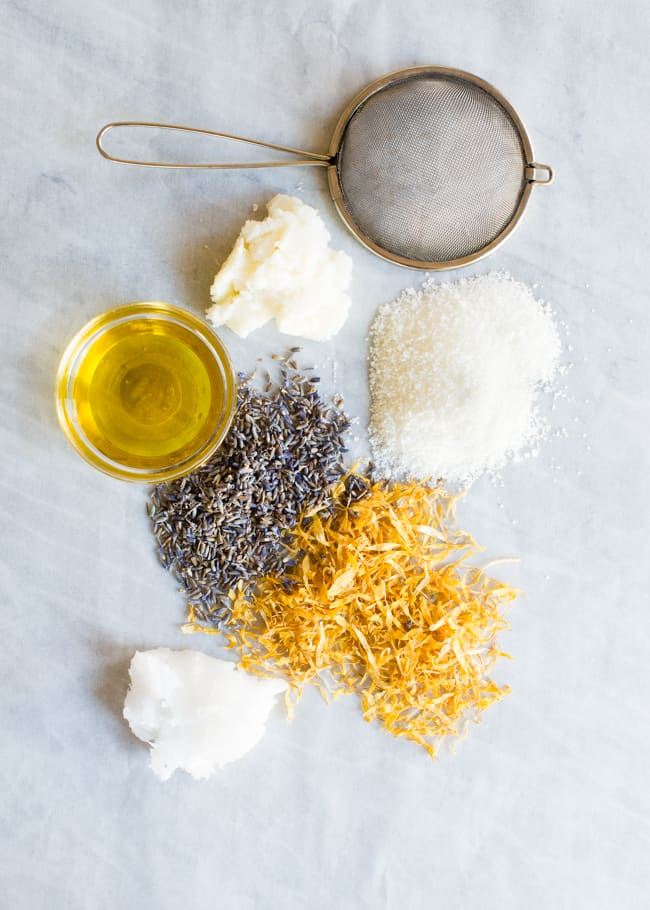 The oils and butters in this recipe are also very healing for the skin. Beeswax helps seal in moisture, while shea butter and olive oil replenish essential fatty acids and repair the skin's moisture barrier. The coconut oil also adds antimicrobial benefits to keep skin healthy [source].
Best Herbs for Wound Healing
Although I rely on calendula and lavender to give this salve its healing powers, there are a lot of other herbs you can use instead. We like to use peppermint for headaches! If you'd like to experiment, try some of these:
Burdock

Astragalus Root

Angelica

Camphor

Turmeric

Myrrh
[source]
Lavender Calendula Hand Salve
This salve is a little oily (it's mostly oils, after all!) as it melts on your skin, but I find that it gets absorbed pretty quickly. Use it as often as needed to keep cracks and inflammation at bay.
Oh, and it isn't just for hands either—use it on your feet, lips, elbows, knees, or anywhere that needs some TLC.
Ingredients
Instructions
1. Combine the olive and coconut oils in a small pan or glass measuring cup and microwave in 30-second intervals until just melted.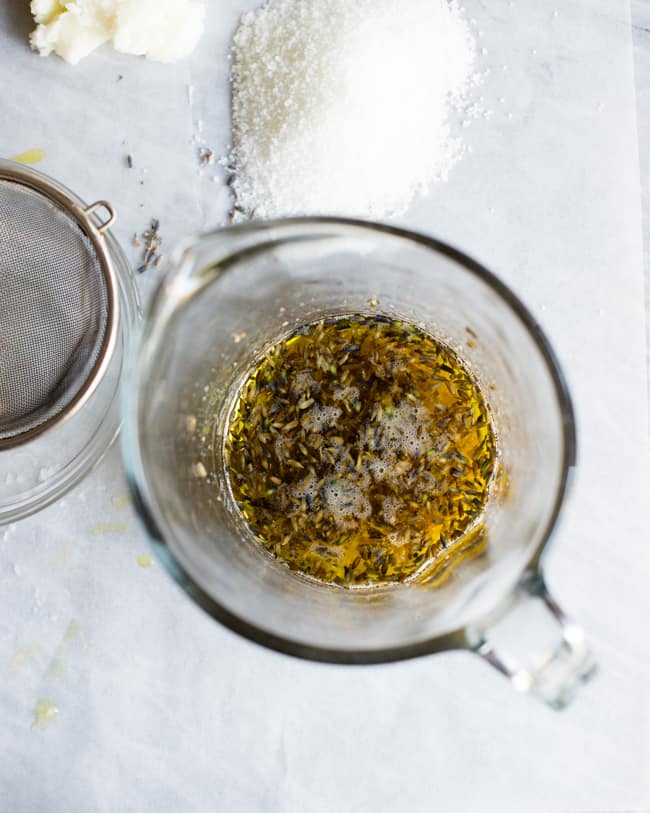 2. Add the lavender and calendula to the warm oils and let steep for about 30 minutes. Strain through a fine mesh sieve, pressing gently to extract as much oil as possible.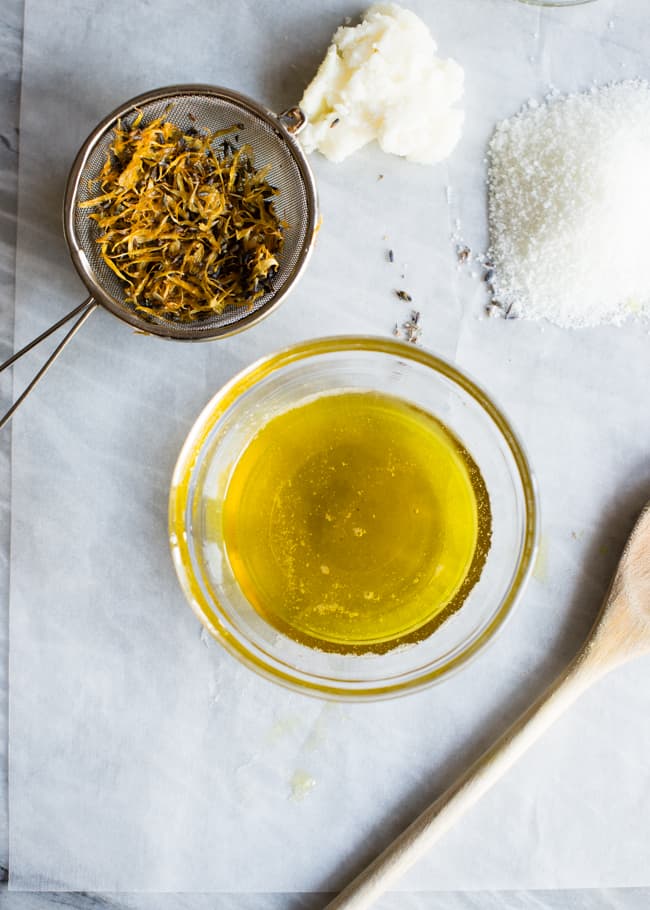 3. Pour back into the glass measuring cup and add the beeswax and shea butter. Heat in the microwave for 1–2 minutes, stirring frequently. (If you're worried about breaking down the beneficial properties in the herbs, place the measuring cup in a saucepan filled 1/3 of the way with water and heat on low until the beeswax and shea butter are melted.)
4. Let cool for a few minutes, then add the lavender essential oil, if using.
5. Pour into a heat-safe, shallow jar with a tight-fitting lid.
How to use
To speed up healing, apply at night before bed and wear gloves to lock in the moisture.
The consistency of this hand salve can be adjusted depending on your preferences. Use less beeswax for a softer salve and more beeswax for a firmer salve. To test the consistency ahead of time, place a spoon in the freezer right before making your salve.
After combining all your oils (step 4 above), dip the cold spoon in the oil mixture and quickly pull it out. The salve should solidify on the spoon within a few seconds, letting you test the consistency. Simply add more liquid oils for a creamier consistency and more beeswax for a firmer one.
Homemade hand balm FAQ
Can you put this healing hand salve on an open wound?
To keep the infection risk to a minimum, I recommend waiting a day or two for the wound to scab over before applying a homemade salve.
Is there a vegan wax I can use in place of beeswax?
Carnauba wax is my favorite vegan wax. Since it has a slightly different texture than beeswax, feel free to adjust the measurements until your balm reaches the right consistency.
Are the measurements in this recipe by volume or weight?
I measure by volume with measuring cups.
How long will the recipe last?
This healing salve will keep for 6 months to a year.
Can I add honey?
Yes! Try this honey hand balm recipe.
Want more balms?
Check out these 13 Homemade Herbal Balms and Salves
This article was medically reviewed by Dr. Gina Jansheski, a licensed, board-certified physician who has been practicing for more than 20 years. Learn more about Hello Glow's medical reviewers here. As always, this is not personal medical advice and we recommend that you talk with your doctor.
217