Confession: I love brushing my teeth. It was drilled into me as a kid to brush at least twice a day (now it's usually three) for a minimum of two minutes. It's the very first thing I do in the morning and the last before bed. I'm a little addicted to the feeling of a clean mouth.
Usually I alternate between homemade toothpaste and several natural brands, so when Livionex Dental Gel asked if I would try out their dental gel – that retails for $20! – I was curious. And whoa – total toothpaste game changer!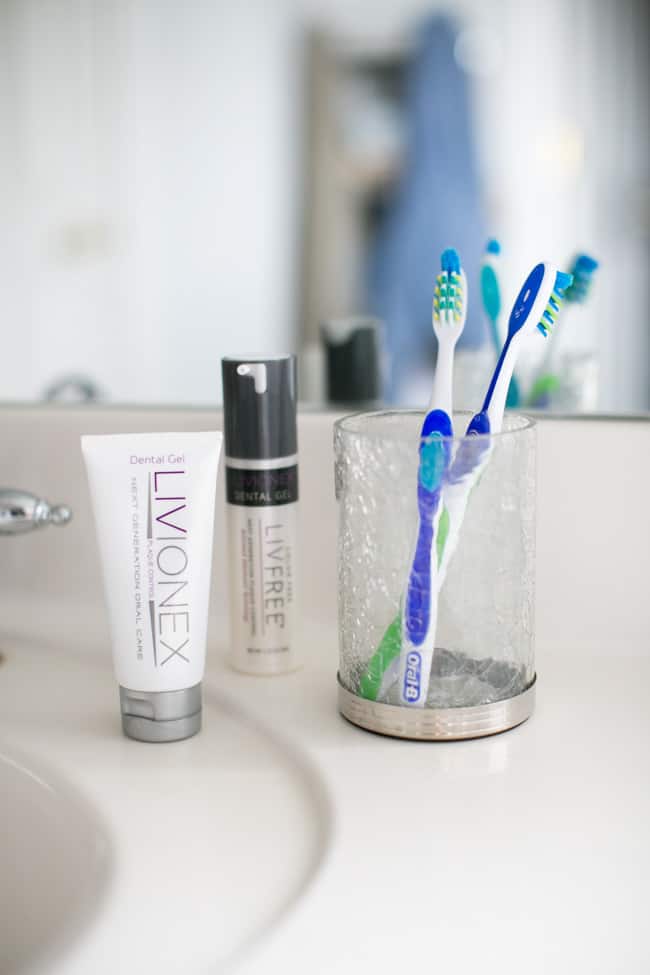 I mean, most of us don't spend that much time on our toothpaste decision, right? You find one you like and stick with it. My husband is die hard toothpaste loyalist, and my kids each have a favorite brand. But Livionex is different for a couple of reasons:
You'll get cleaner teeth
It is 2.5 times more effective at cleaning teeth than a leading toothpaste. It eliminates plaque—the leading cause of common gum diseases like gingivitis and periodontitis—at a molecular level and helps prevent new plaque from sticking to teeth. Let that sink in a minute….
You'll skip the nasty ingredients
Livionex is made from the safest, most effective ingredients and does not contain harsh detergents like sodium lauryl sulfate or abrasives like silica. It's safe for kids – and even pets! I have a hard time finding a toothpaste that works for everyone, and I'm happy to report that the very mild minty taste of this toothpaste was a winner with my picky 4-, 6-, and 8-year-old.
My experience with Livionex
I've used this toothpaste for over two weeks now, and I'm going to the dentist tomorrow with total confidence. A couple of important things to remember with this toothpaste:
It's a gel that doesn't bubble or foam when you brush with it. This can feel weird as first if you're used to the foaming action that comes from the detergents in regular toothpaste.
But it doesn't get nearly as watery as homemade toothpaste. As mentioned before, I like to brush for a pretty long time that's rather difficult with baking soda based toothpastes. It dissolves so much it your mouth that it's impossible to keep going.
If you're used to wetting your toothpaste, you'll have to change up your routine. Wetting the toothbrush can break down the gel before it gets into your mouth. Small thing, but old habits can be hard to break!
Livionex Giveaway + 10% Discount Code
Livionex is giving away 1 lucky ready a Livionex Dental Gel and a Livionex Dental Gel pump ($44 retail value).
Please leave a comment to enter
18+ and US only
Giveaway ends at midnight on September 24. 2016
Plus you can use the the code GLO10AUG to get 10% off on Amazon until Sept 25, 2016.
If you try it, I'd love to know what you think!
This is a sponsored conversation written by me on behalf of Livionex Dental Gel. The opinions and text are all mine.
1