Aloe vera is both anti-inflammatory and cell renewing, making it a wonderful ingredient for all skin types. This hydrating gel is moisturizing, yet it doesn't clog pores, so even the oiliest of skins can benefit. Its regenerative properties are beneficial for mature skin, and it's anti-inflammatory properties provide benefits for sensitive skin.
Raw aloe vera plant gel has over 75 biologically active compounds and naturally-occurring compounds that benefit almost all parts of the body—truly a wonder plant! These compounds range from polysaccharides to antioxidants to anti-inflammatories.
Aloe vera is one of the best ingredients from nature, and this versatile skin care product should be a staple in everyone's shelfie.
7 Aloe Vera Face Mask Recipes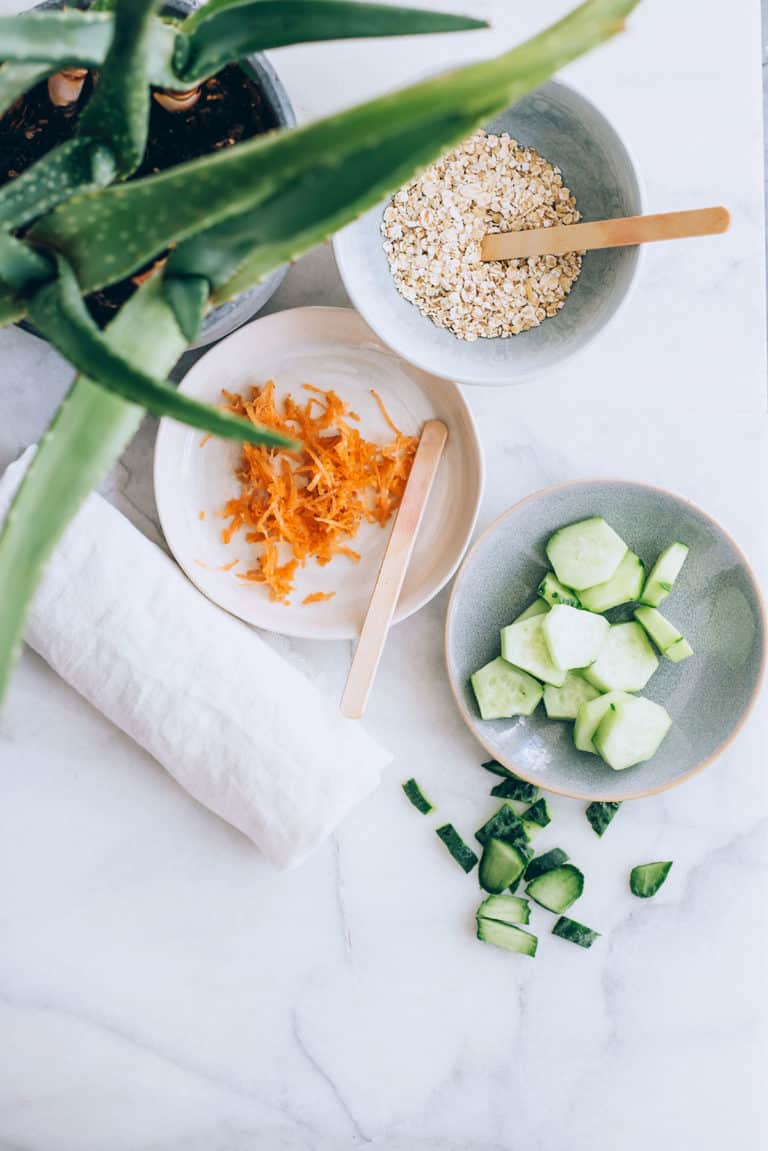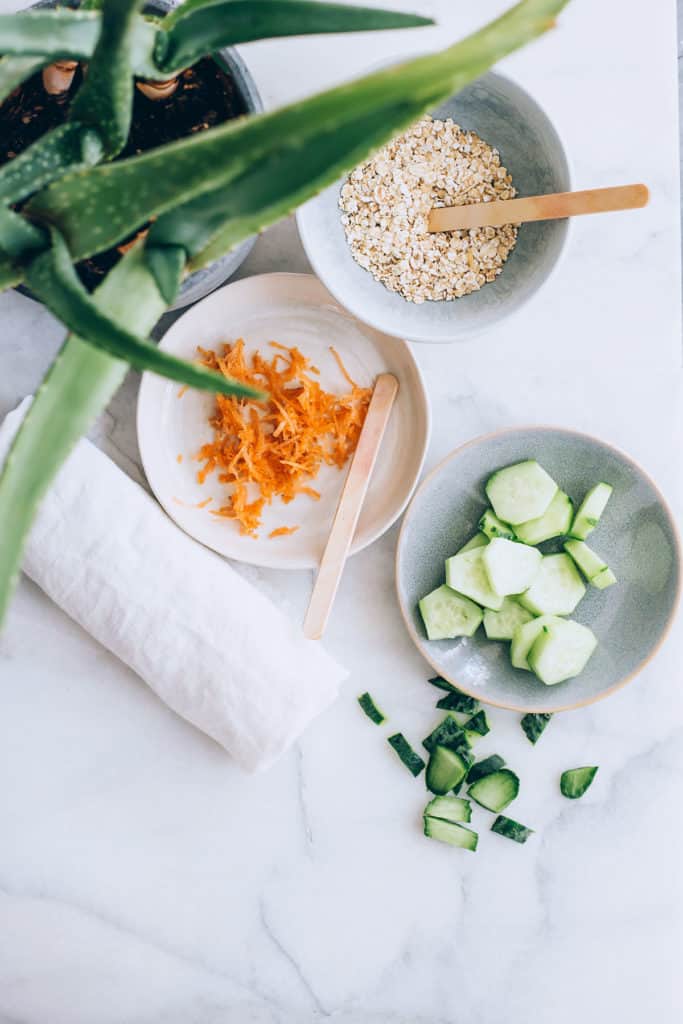 1. Firming Aloe Vera Mask for Mature Skin
Carrots are a rich source of beta-carotene, a skin-friendly form of vitamin A that supports healthier, younger-looking skin. It's a powerful antioxidant and protects the skin against environmental damage—specifically, the kind that you get from too much sun exposure and even from pollution.
That's why it's so crucial to use a regular carrot instead of the baby ones. Baby carrots lose a lot of their natural nutrients when turned into little nubs while whole carrots are still packed full of all the things that are good for you, inside and out. Plus, the rest of the carrot is the perfect skin-nourishing snack to munch on while you're waiting for your mask to dry!
1 egg white
1 tablespoon finely shredded carrot
1 teaspoon aloe vera gel
Combine egg white, carrot and aloe vera in a small bowl. Beat mixture together with a fork until frothy (about 1 minute).
With clean hands or a brush, apply the mask to the face and eye area. Let the mask dry for at least 15 minutes or up to 30 minutes. You may feel the mask tightening your skin, but if it gets uncomfortable, go ahead and remove it. Remove with warm water.
2. Aloe Vera Mask for Acne Prone Skin
Tea tree oil is an amazing (and highly potent) skin care ingredient that does more than just banish acne. It's antibacterial – zapping zits by killing the acne-promoting bacteria.
Tea tree is also an anti-inflammatory, calming down skin that's red and inflamed from zits for skin that's a little less irritated. Combined with cucumber, another soothing and hydrating ingredient, this mask calms down angry skin in a jiffy.
Blend all ingredients well and apply to face with fingertips or facial brush. Leave on for 10-15 minutes.
The aloe and cucumber will soothe inflamed skin while the cucumber seeds themselves are rich in potassium and vitamin E, which help reduce blemishes.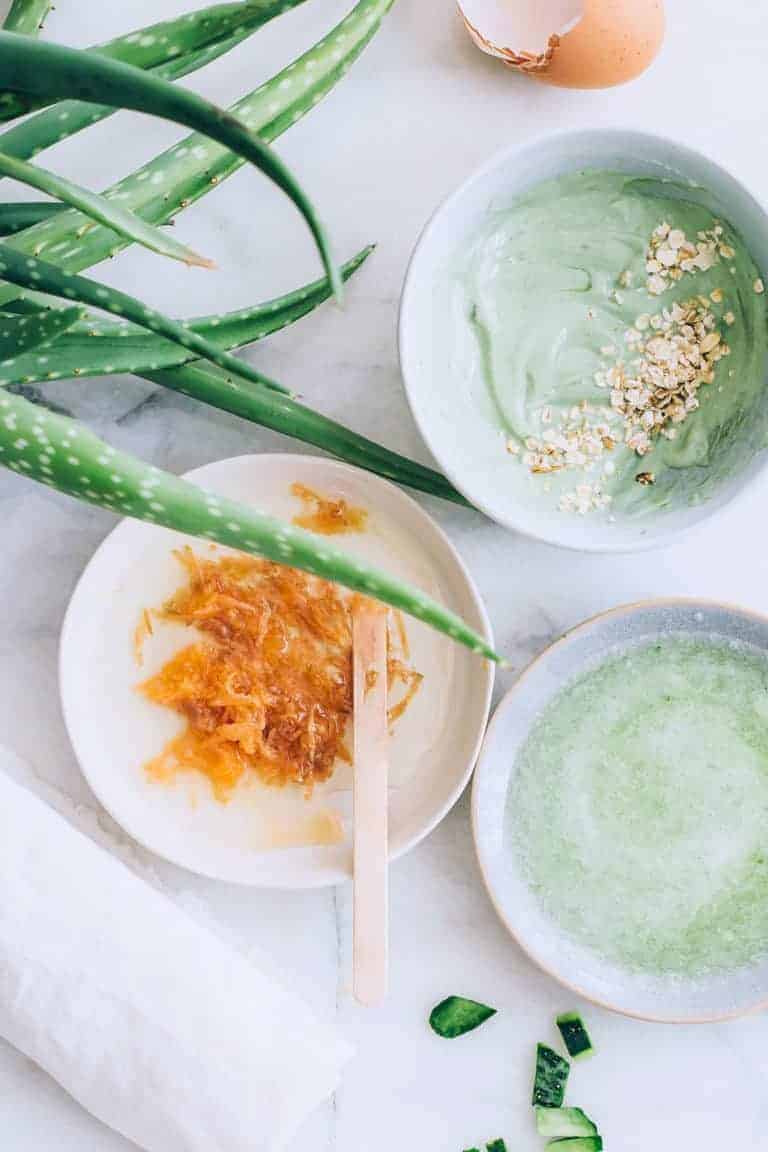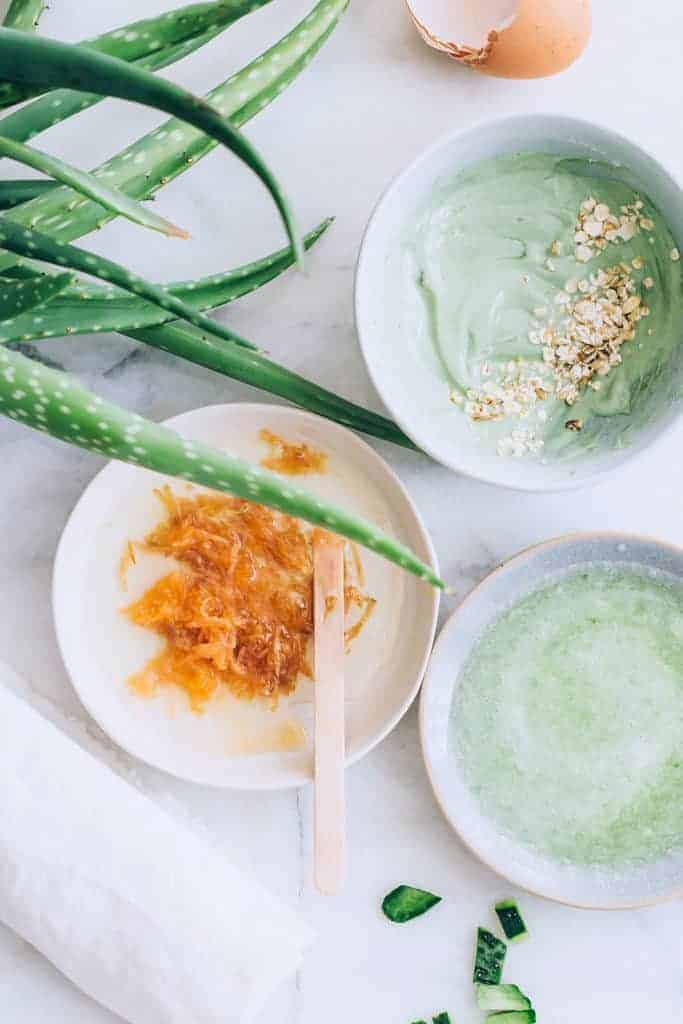 3. Moisturizing Aloe Vera Mask for Dehydrated Skin
Avocado face masks are super soothing for dry, dehydrated skin. The healthy fat in avocado helps maintain moisture in the epidermal layer of the skin, keeping it soft and supple, while the omega-fatty acids soothe inflammation, facial redness and irritation.
Combine mashed avocado with aloe and oats. Apply to face and leave on for 10-15 minutes before rinsing with warm water. As you remove, you can gently massage the mask into your skin for a little exfoliation.
For a smoother mask, you can grind up the oats a little bit using a coffee grinder or food processor! Grinding up the oats also helps to ensure that your skin can make the most of their soothing abilities.
The compounds responsible for the incredibly nurturing power of oats are avenanthramides and beta-glucan. Avenanthramides are unique to oats, and display unique anti-inflammatory, antioxidant, and anti-itching abilities to soothe skin.
Beta-glucan works as an intense hydrator to skin, relieving dryness and promoting a healthy skin barrier. It's no wonder there are entire skin care lines based around oats—but who really needs them when you can just use the real thing?
4. Balancing Aloe Vera Mask Oily Skin
Most often recommended for balancing oily skin, white kaolin clay (China clay) is found in the soil in hot, moist climates. This particular type of clay is added to a number of beauty products such as scrubs and deodorants because of its drying effects.
Aloe vera, we have learned, is moisturizing without clogging pores which might be a concern for those with oily skin types.
Mix ingredients together in a ceramic bowl using a non-metal utensil, adding more water if the mask needs to be thinned out. Apply to your face, and allow 10–15 minutes to dry. Rinse with warm water and follow with moisturizer.
If you can't get ahold of aloe vera juice, you can use fresh aloe vera or 99% aloe vera gelly.
5. Detoxifying Aloe Mask for Clogged Pores or Irritated Skin
Combine charcoal with an aloe mask for a moisturizing treatment that won't clog pores or send oily skin into overdrive. Aloe skin benefits also include faster healing and reducing inflammation [source], so you can also use this mask to soothe itchy, irritated, or dry skin as well.
Mix ingredients together in a small bowl, and use your finger to mix them together before applying to the skin. In circular motions, work the charcoal mixture around your face for 1 minute, then let the mask sit for 10–15 minutes. Rinse thoroughly with warm water.
6. Brightening Face Mask for Pigmentation
If you are looking for a brightening mask, possibly a light peel for your skin at the same time as infusing some hydration, this aloe mask is just the ticket. Rich in vitamin C, the natural compounds in lemon help to ward off free radicals that contribute to aging skin. Lemon juice is a natural exfoliant that can be used as a gentle peel for those top few layers of dead skin and to unclog pores.
1 tablespoon aloe vera gel
Juice from ½ a lemon
1 tablespoon raw honey
Be sure this mask is applied at night time so you do not have photo sensitivity due to the citric acid in the lemon. Mix all 3 ingredients well and apply to face and neck evenly.
Leave on for 5 minutes and then rinse thoroughly. This mask can be applied once a month.
7. Aloe Mask for Aging Skin
The antioxidants in blueberries brighten dull skin while the coffee reduces puffiness.
6-8 blueberries
1 teaspoon aloe vera
1/2 teaspoon finely ground coffee
In a small bowl, mash the blueberries then add the aloe vera gel and ground coffee. Refrigerate for 1 hour. Gently apple to your face, avoiding the eye area, then rinse with warm water for 15 minutes.
This post was medically reviewed by Dr. Jennifer Haley, a board-certified dermatologist with extensive experience in medical, cosmetic and surgical dermatology. Learn more about Hello Glow's medical reviewers here. As always, this is not personal medical advice and we recommend that you talk with your doctor.
358