When used regularly, gentle clay cleansers will leave skin clean, soft, exfoliated, and soothed. Personally, I love a product that can work double duty and clay cleansers can often double as a mask with just a little extra time.
Bentonite clay is the easiest clay to find and also the most common. It is made from volcanic ash and pulls toxins from the skin and soothes irritation.
This Bentonite clay cleanser can work for almost any skin type--all you need to do is customize the formula for your skin's individual needs. Bentonite clay is high in minerals and while drawing out impurities it heals skin and shrinks the appearance of pores.
I added chamomile powder to this recipe, which is ideal for dry, aging or inflamed skin, while vitamin C powder is rich in antioxidants and baking soda will give your skin a gentle scrub to slough off any dead skin cells.
Whip up a batch of this gentle cleanser and get ready for beautiful, glowing skin!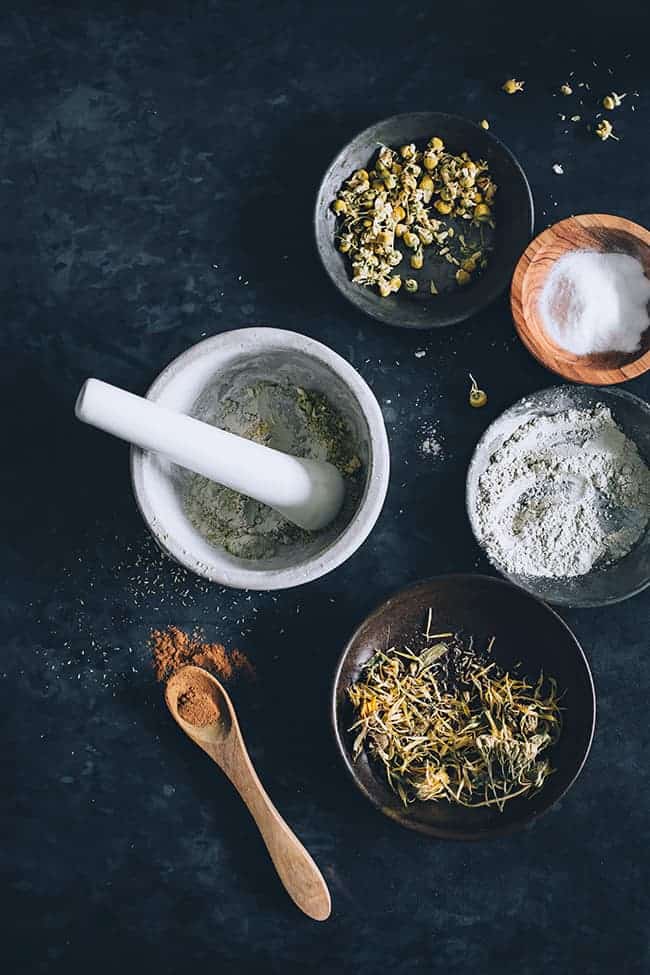 Chamomile & Bentonite Clay Cleanser
This powder cleanser can be made in a large batch and stored in a small jar for easy use.
—4 tablespoons Bentonite clay
—1 teaspoon baking soda
—2 teaspoons calendula powder
—2 teaspoons chamomile powder
—½ teaspoon vitamin C powder
—¼ teaspoon ground cinnamon
Combine all of the ingredients in a bowl and mix well. Store in a small non-metal jar.
To use as a cleanser
Shake the jar, then place a dime-sized amount (½ teaspoon) of powder in the palm of your hand and add a few drops of water at a time until a paste is created.
Rub the mixture on your face and neck for 2 minutes, then rinse and pat dry. Follow with hydrating facial oil or serum.
To use as a mask
You'll want to use a little more powder so you have enough to cover your face. Mix with water, apply the mixture to your face and leave it on for 5-10 minutes before rinsing thoroughly. Follow with hydrating facial oil or serum.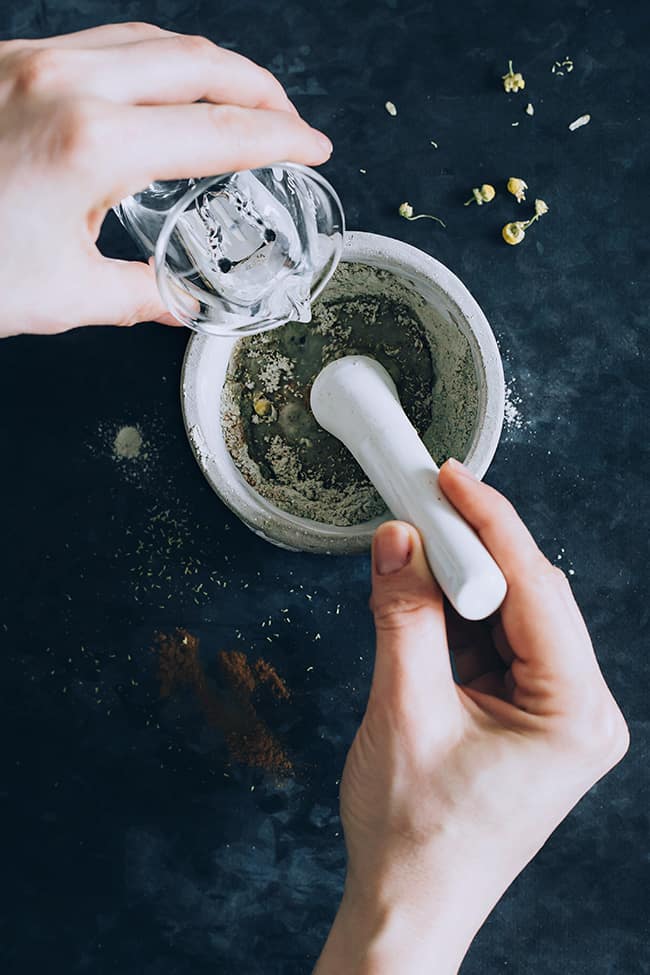 FAQs about Clay
Should clay only be used for oily skin?
No, clay can be used for all skin types, but you may want to use a particular clay product less often if you have dry or aging skin.
What about acne, I have acne and don't know what clay to use?
Try adding Moroccan Red Clay to your routine. This clay has a high magnesium and silica content and can help with all kinds of clogged skin, blackheads, and acne. Once or twice weekly this clay can be used as an acne mask.
Can clay help me with my pigmentation problem?
Fuller's Earth is a sedimentary clay that carries lightening properties. This would be the clay to help treat pigmentation issues.
How long will my clay mask last once I mix it?
The mask should last about 3-4 days in the refrigerator.
Is redness normal after using a clay product?
A bit of redness is normal and will dissipate over a few hours. But if you notice stinging or swelling, immediately remove. If you have sensitive skin or any allergies, always do a test patch first before using.
188