Treating your skin with the one-two punch of double cleansing keeps skin soft and smooth and actually improves the effectiveness of your other products. It may add an extra step to your nightly routine, but it's well worth it! Read on to learn how to double cleanse at home.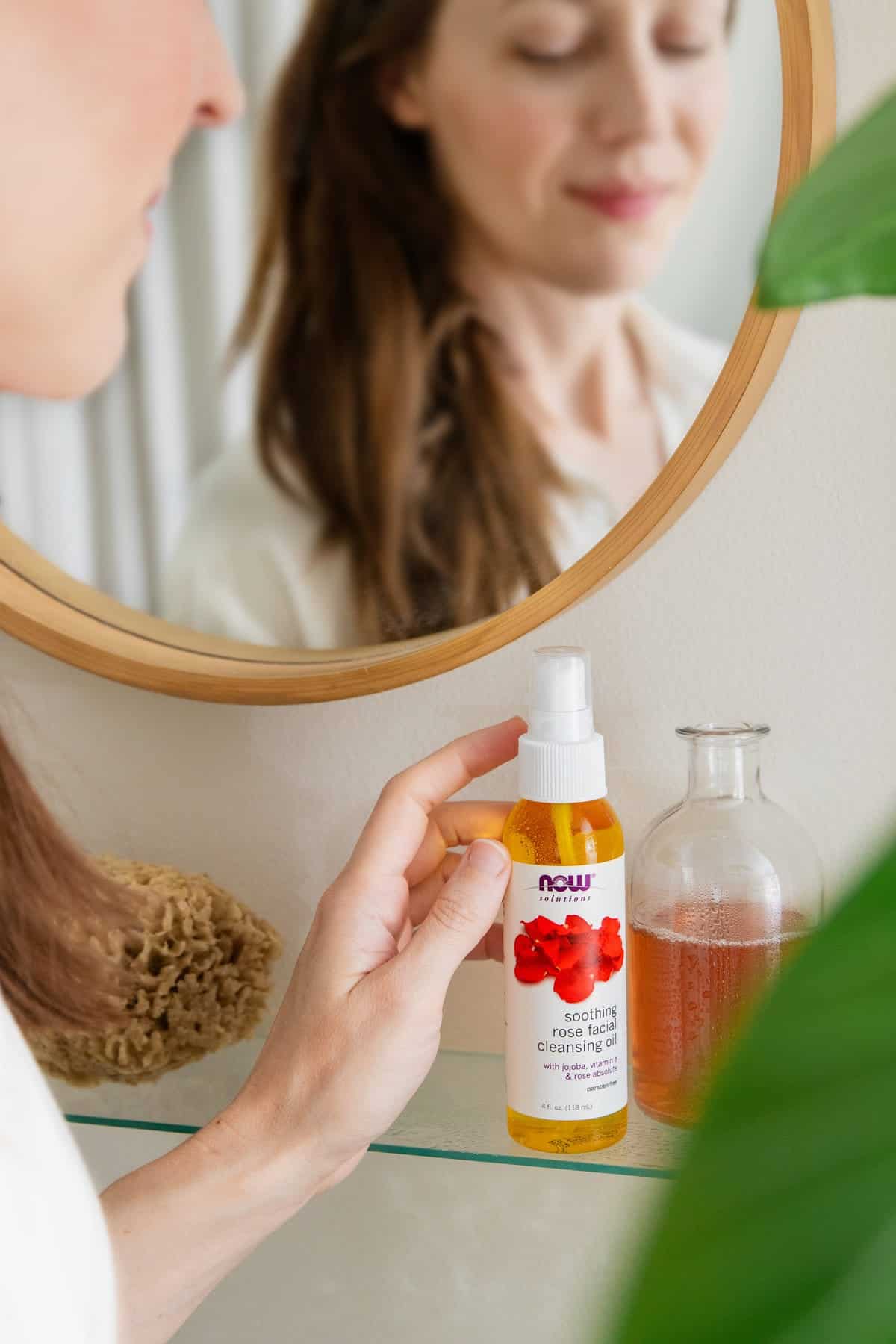 Jump to:
What Is Double Cleansing?
Double cleansing is a skincare method that involves using two different types of cleansers—usually an oil-based cleanser and a water-based cleanser—in sequence to thoroughly and effectively remove makeup, sunscreen, and other impurities on your face.
The oil breaks down the grimy buildup on your skin and in your pores while a targeted water-based cleanser addresses particular skin concerns, such as acne, fine lines or dryness.
Oil cleansing saved my adult skin from that tight, flakey feeling. And while I thought things couldn't get much better, I recently added a second cleanser to my routine—a gentle cleansing essence, like a micellar water but without the soap!
Double Cleansing Supplies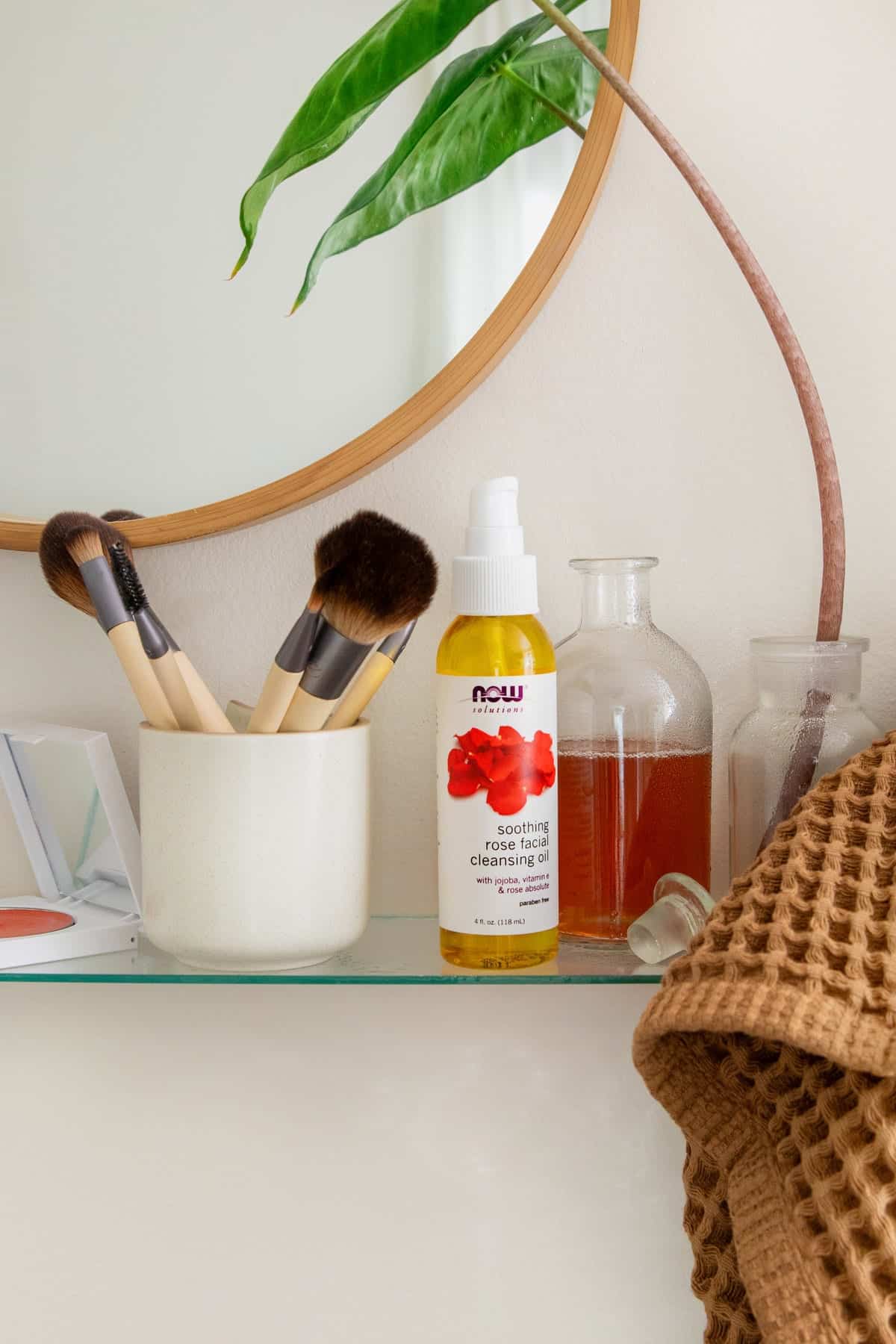 Now Solutions Soothing Rose Facial Cleansing Oil — this lovely oil is loaded with squalene and vitamin E to gently remove makeup without stripping skin of much-needed nutrients. You can also DIY a cleansing oil or use a cleansing balm.
Homemade micellar water — made with organic green tea, aloe gel and vitamin C it removes any lingering oil and also soothes and nourishes skin.
Double Cleansing Routine
The best 2-step beauty routine only requires a couple of things: a nourishing oil and a gentle cleanser. From there, you can add serum, moisturizer, eye cream, or anything else you like to target trouble spots—but it's optional.
Step 1: Apply Oil-Based Cleanser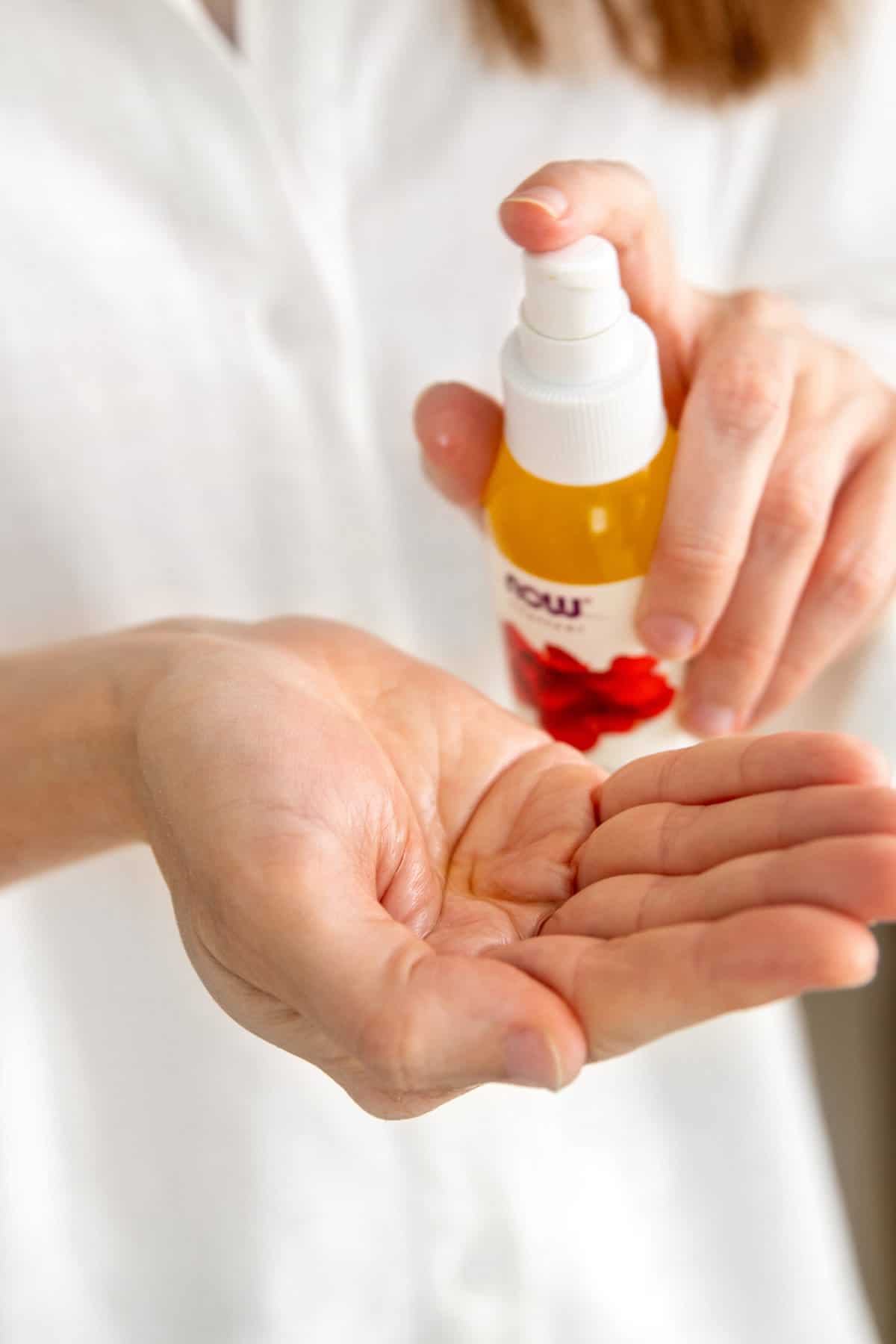 Cleansing with oil is recommended as the first step to remove makeup and break down any dirt and sunscreen residing on the skin's surface. This should be done at the end of the day, ideally before bedtime.
You don't need much: Take a nickel-sized amount of NOW Foods Soothing Rose Facial Cleansing Oil in your hands and gently massage it into dry skin.
Focus on dry areas: Apply it to your face in circular motions, starting at the outer edges and working your way toward the T-zone and eye area. This will keep the oil on the dryer parts of your skin the longest, such as the cheeks.
Remove eye makeup: Massage for at least a minute or two; you can even cleanse your eyelids and lashes with the oil. Oil is wonderful for removing eye makeup and conditioning the eyelashes. Just make sure your eyes remain closed the entire time, or you could experience some eye burning or visual cloudiness.
Steam pores: If you have acne or occasional breakouts, hold a washcloth under hot running water for several seconds. Wring out the washcloth and drape it over your face, allowing the steam to open pores and the oil to sink in.
Rinse: After a minute, splash your face with warm water to remove the oil and everything else that comes with it. If you have trouble getting all the oil off, continue massaging the skin for another 30-60 seconds.
Step 2: Apply Second Cleanser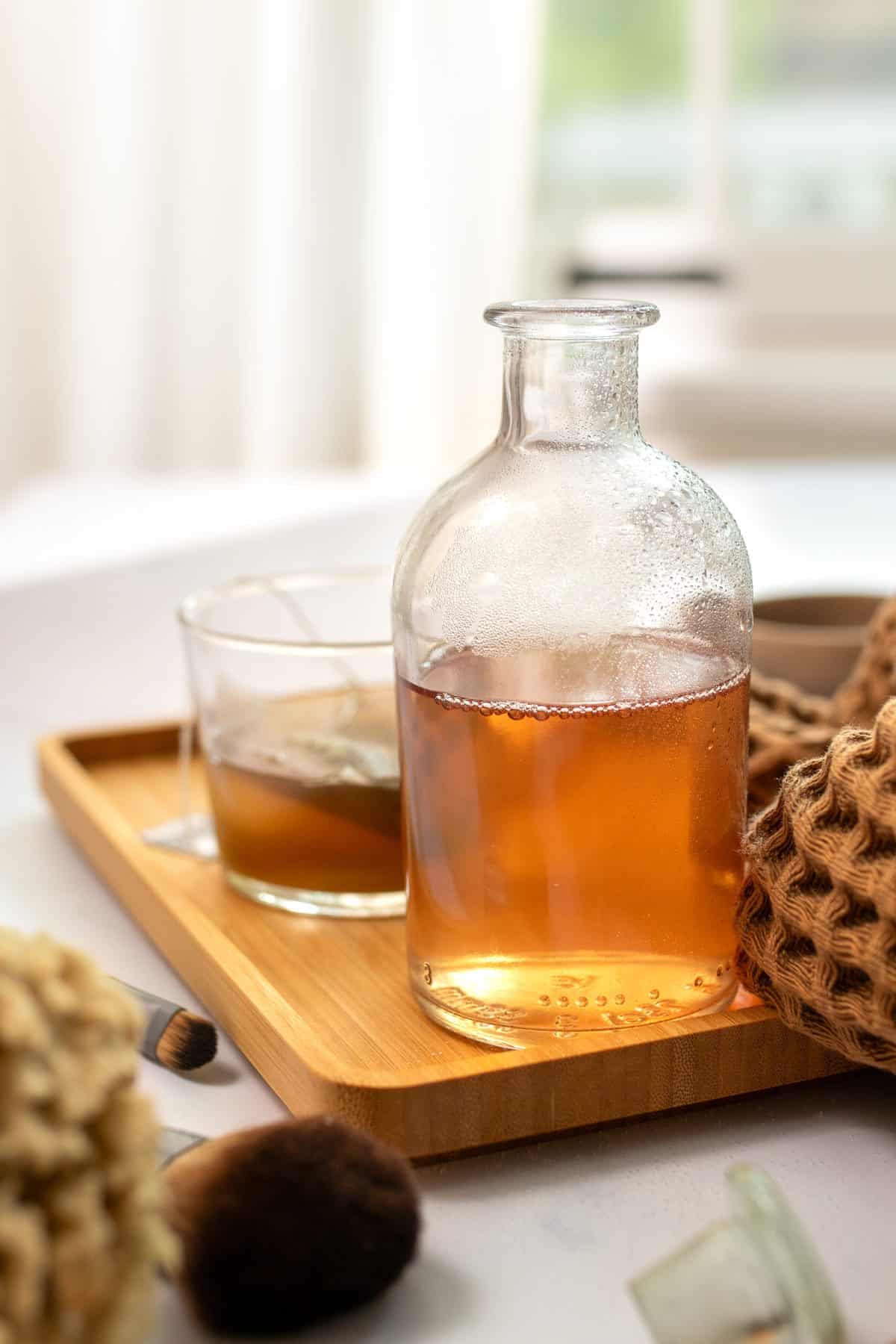 Now that the oil-based impurities have been removed, it's time to apply the water-based cleanser. You can use a foaming cleanser, a cleansing milk or a micellar water.
We love micellar water because it's gentle and effective without harsh scrubbing or rinsing. Most micellar waters use a diluted soap to cleanse skin, but our homemade micellar water gets its cleansing properties from a combination of aloe vera and green tea. We also added a bit of vitamin C for an antioxidant boost.
Aloe Green Tea Gentle Cleanser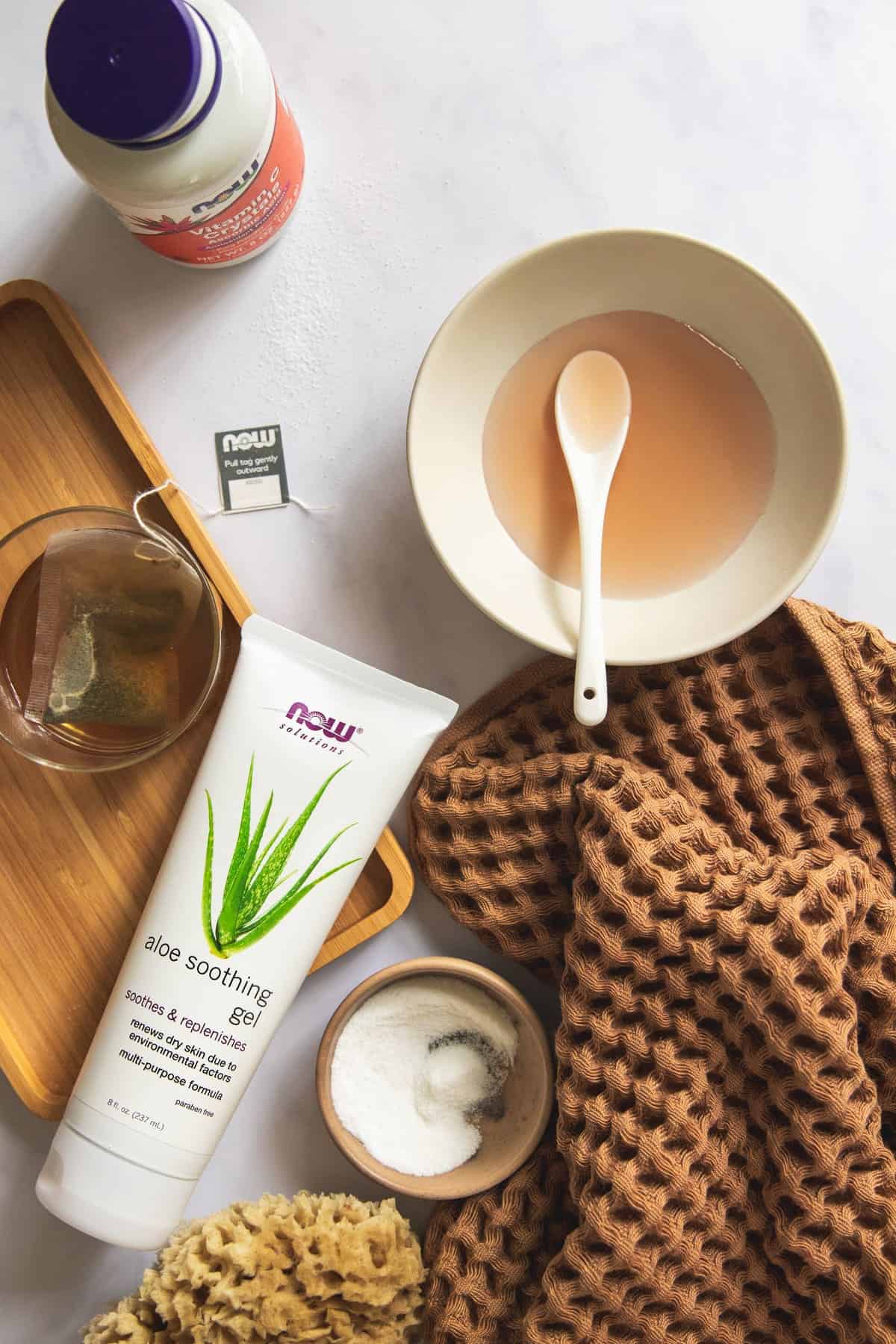 You'll need:
Instructions
Combine everything in an 8-ounce bottle. Replace the cap and gently swirl or shake until all the ingredients are combined. Store in the refrigerator and use within 7-14 days.
Pour some of your homemade micellar water onto a soft cloth or cotton round. Gently swipe the cleanser over your face, making sure to avoid the eye area. Again, pay special attention to the cheeks, forehead, lips, or anywhere else you may find lingering oil or makeup.
Step 3: Finish Your Skincare Routine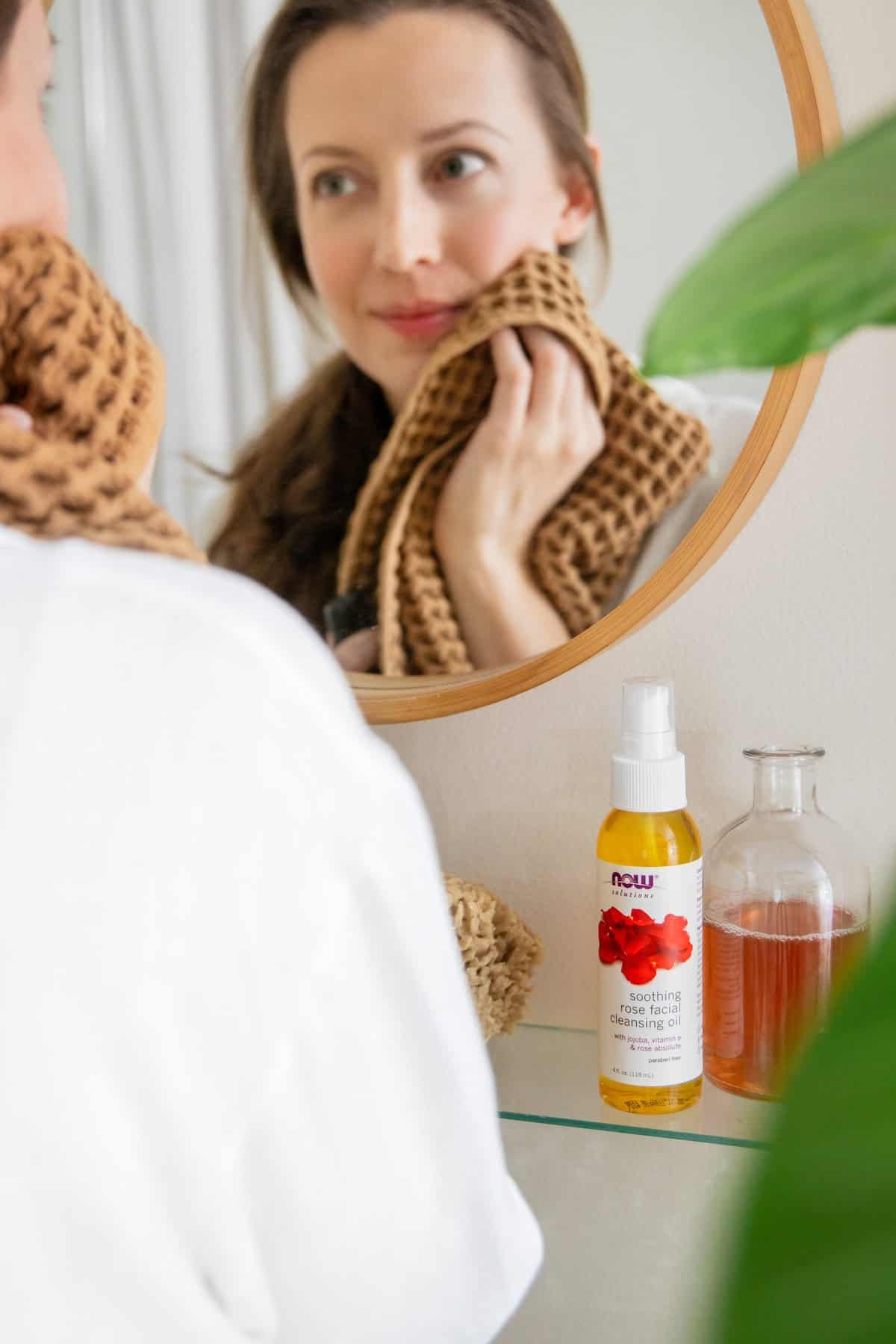 At this point, you can proceed with the rest of your skincare routine, such as toning, applying serums, moisturizer, and sunscreen (if it's daytime).
Remember, double cleansing doesn't need to be done every single day, especially if you're not wearing makeup or heavy sunscreen. It's more essential when you have makeup or products with high SPF to ensure a thorough cleanse.
Additionally, be mindful of your skin type and any specific concerns you might have, as certain products might be more suitable for your needs.
This post was created in partnership with Now Foods.
11