I've got good news for you. You know those expensive scrubs you see in department stores and spas? They cost hardly anything to make and they're so, so easy to whip up. Even if you have problem skin, all you need are a few simple ingredients to soothe inflammation and fight oil and you'll be on your way to clearer skin in no time.
Rice water has been used for centuries to brighten skin, but this scrub takes things a step further. It uses rice flour and soothing botanicals like chamomile flowers and essential oils to scrub away dead skin cells and calm acne-prone skin. So if you're ready, let's get scrubbing.
Rice Flour Scrub for Acne
You may have already heard about the benefits of rice water for skin, but I'm personally convinced that rice flour is one of the best-kept beauty secrets around.
Not only does it contain a ton of vitamins and minerals that soothe skin from the outside in, but it may also naturally brighten and whiten skin discoloration (a must if you suffer from occasional breakouts and post-inflammatory hyperpigmentation) leaving it soft, smooth and glowing. And as if that weren't enough, it has anti-aging, anti-inflammatory and oil absorbing properties to boot.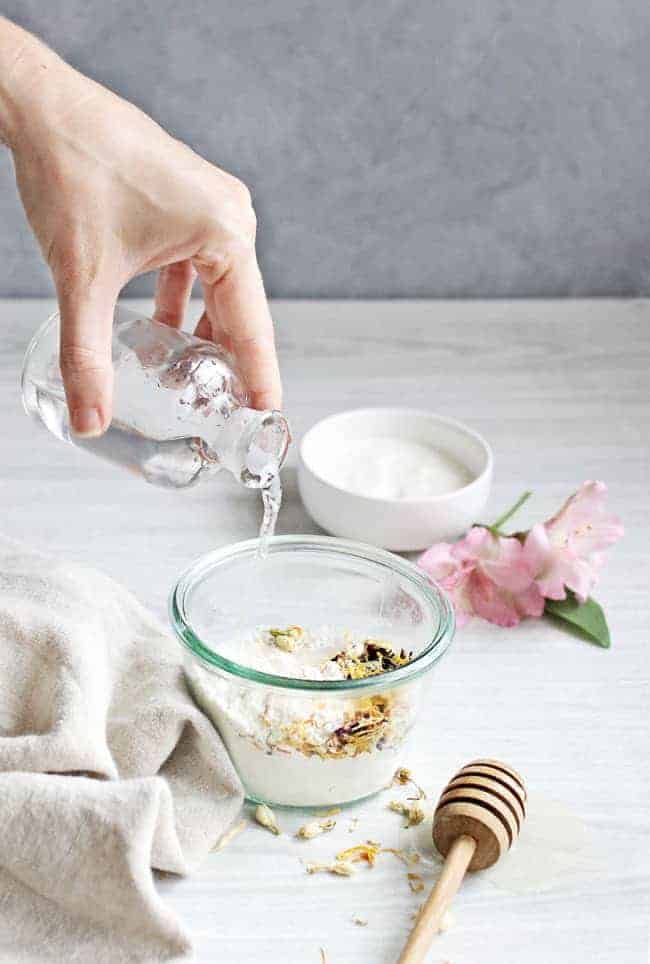 But what I love most about rice flour is that the grain is so fine that it's almost like getting a microdermabrasion treatment at the spa. If used once a week, it will help polish away dead skin cells and lessen the appearance of acne marks (as well as wrinkles, dark spots and sun damage). And since it's so fine, you don't need to worry about it damaging the sensitive skin of your face and neck.
Without a barrier of dead skin or a layer of old makeup, dirt and sebum, your serums and moisturizers can now penetrate more deeply, and work their magic more easily. If you experience frequent acne breakouts, gentle exfoliation may help open up clogged pores.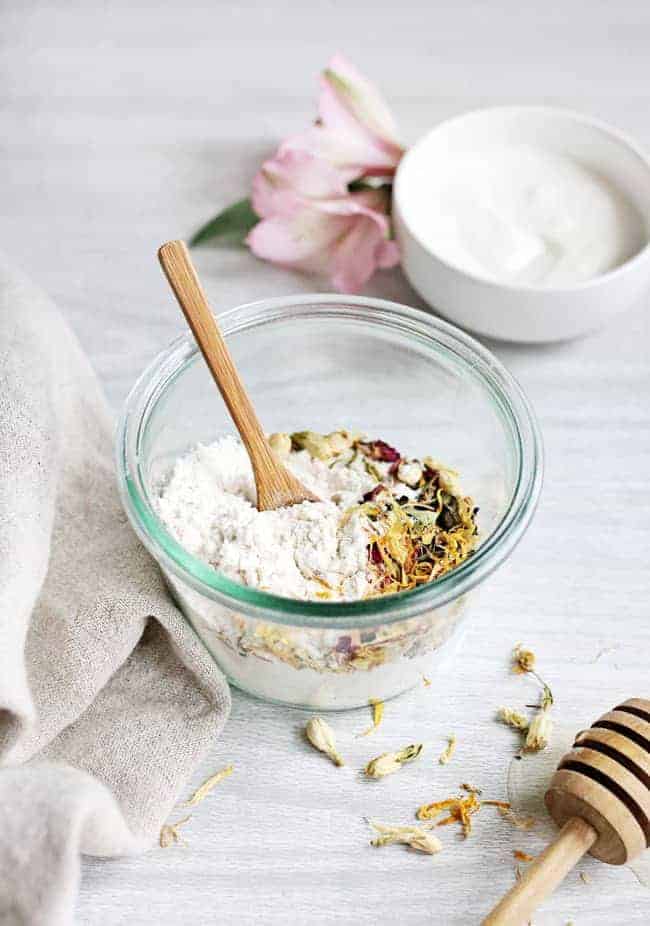 In addition to rice flour, this scrub is infused with soothing ingredients like honey, tea tree oil and yogurt so it will leave your skin satin-smooth and soft. Honey is wonderful for sensitive skin because of its healing and natural antimicrobial properties.
Tea tree oil is naturally disinfecting, anti-inflammatory, and soothing, but unlike other acne treatments, it won't cause further damage by stripping your skin of its natural oils. And last but not least yogurt is a natural source of lactic acid, which is ideal for rejuvenating sensitive skin, and probiotics to help restore your skin's microbiome.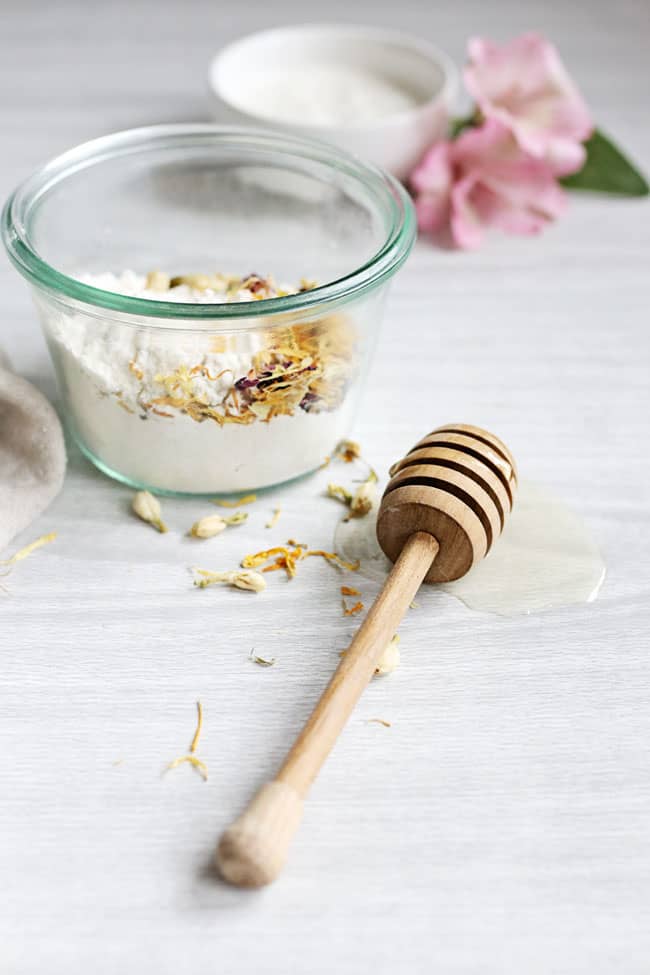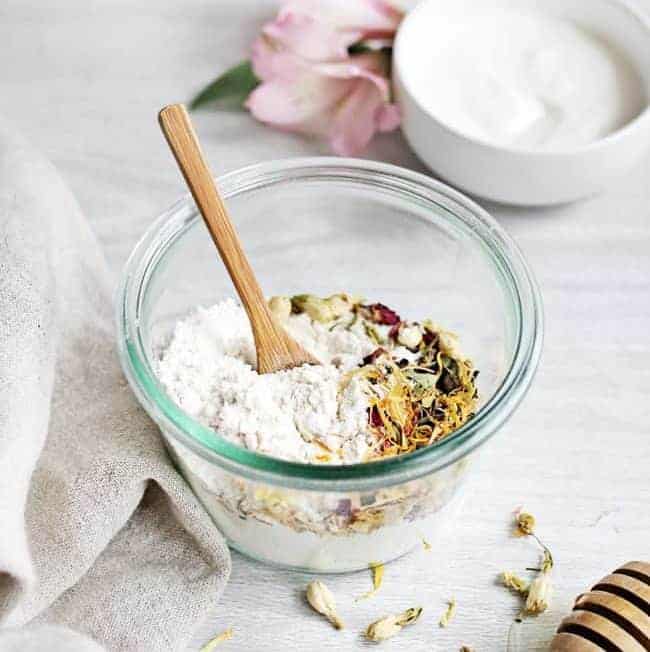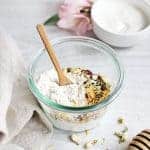 Print
Rice Flour Face Scrub
Exfoliating your skin is essential for keeping breakouts at bay and this rice flour scrub does the trick--but without irritation.
Equipment
Small bowl or airtight glass container
Instructions
Combine everything except the water in a small bowl and mix well.
Notes
To use, pour a bit of scrub into the palm of your hands and add 1-2 tablespoons water to make a paste. A

pply the scrub to freshly cleansed skin and use gentle circular motions to slough away dead skin cells. Rinse with warm water and follow with moisturizer.
Dry scrub can be stored in an airtight container for up to 6 months. Add water right before using.
This post was medically reviewed by Dr. Rina Mary Allawh, M.D., a dermatologist who performs adult and pediatric medical dermatology, skin cancer treatment and cosmetic dermatology. Learn more about Hello Glow's medical review board here. As always, this is not personal medical advice and we recommend that you talk with your doctor.
302