Shea butter face moisturizers are a major step up from water-based moisturizers. You can use this face cream from the best-selling Plant-Powered Beauty year round (I use it at night because my skin is always dry), but it's especially helpful during cold, dry months, when you need a deeply hydrating moisturizer. Your parched skin will gladly soak up all of the reparative oils.
Why we love shea butter
When you start making homemade beauty recipes, you discover a whole host of moisturizing 'butters' that are amazing for your skin. You can whip up body wash, lip balm, and lotion with cocoa butter, kokum butter, and, my favorite, shea butter. Unlike oils, these butters are solid at room temperature but easily melt with a little heat and absorb into the skin. It's kind of an amazing discovery after years of thin, watery lotions.
Soothing and anti-inflammatory, shea butter often gets a starring role in beauty recipes. It's rich in vitamins A, D and E, along with fatty acids. Plus it helps protect the skin from sun damage and spurs the production of collagen, helping you ward off sagging, wrinkles and fine lines.
Essential Oil Synergy
This recipe includes an essential oil blend that specifically targets aging. Called a synergy, it's a master essential oil blend created by aromatherapy pros Amy Galper and Christina Daigneault in their best-selling book, Plant-Powered Beauty. Their book combines do-it-yourself natural beauty recipes with specifically targeted essential oil blends for cleansers, masks, scrubs and face oils.
I took an essential oil class with Amy, and she has a crazy amount of essential oil knowledge. If you want to learn the ins and outs of adding essential oils to your face and body care, this book is the perfect place to start.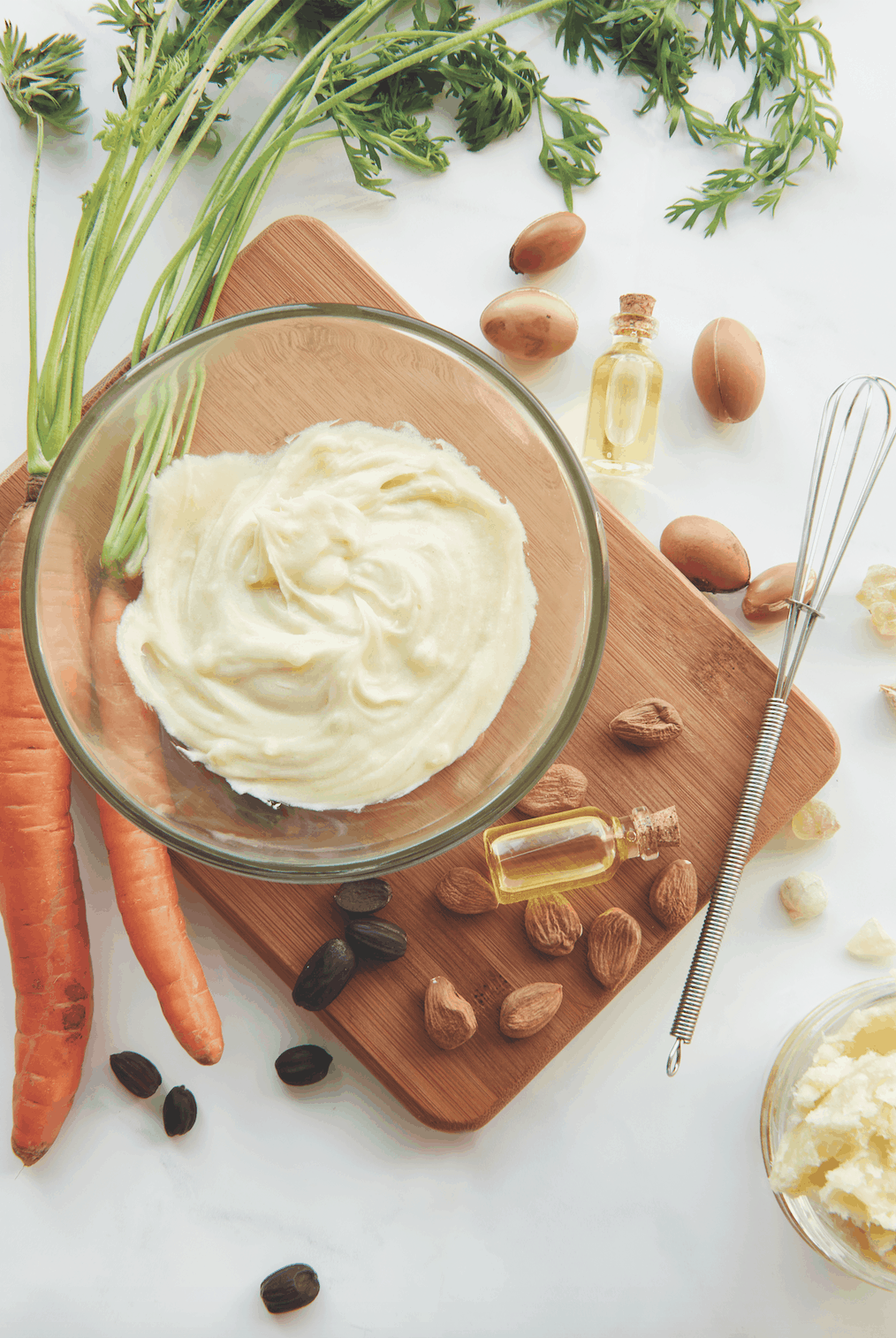 Print
Shea Butter Face Cream and Anti-aging Essential Oil Synergy
Excerpted from Plant-Powered Beauty. Copyright © 2018 BenBella Books Used by permission of the publisher. All rights reserved.
Equipment
glass or stainless steel bowl

wooden stick or metal spoon

small stainless steel whisk

1 (2-ounce) glass jar with a tight-fitting lid
Materials
Anti-aging Essential Oil Synergy
Instructions
Shea Butter Face Cream
In a glass or stainless steel bowl, mash the shea butter using the back of a spoon or a wooden stick until there are no lumps visible and it is entirely smoothed out.

Begin whisking the shea butter until it starts getting creamier.

Slowly drizzle in the carrier oils as you continue to whisk the creamed shea butter, until a silky, smooth consistency emerges.

Add the synergy right into the cream and stir together.

Transfer the mixture to the glass jar, cap, and store away from heat. You can use the face cream for one month.
Anti-aging Essential Oil Synergy
Combine oils in a small, dark 5ml bottle with an orifice reducer.
Notes
Your shea butter face cream can be stored in an airtight container for 1-2 months. If you plan to keep it longer, store it in the refrigerator to keep the oils from deteriorating over time. 
Your essential oil synergy can be stored in the refrigerator indefinitely.
This post was medically reviewed by Dr. Jennifer Haley, a board-certified dermatologist with extensive experience in medical, cosmetic and surgical dermatology. Learn more about Hello Glow's medical review board here. As always, this is not personal medical advice and we recommend that you talk with your doctor.
109