Coffee is the best thing about mornings. In a half-asleep state, you clumsily put your clothes on and make your way to the kitchen, where the magical elixir awaits. But aside from giving you the energy needed to successfully get through the day, it's also good for your skin—a coffee face mask is simple and cheap solution for tightening and toning saggy or puffy faces.

Coffee has various advantages when used topically, which is why it's a popular ingredient in many masks. If you're looking for new skincare tips, learn about the benefits of coffee masks and how to make a DIY coffee face mask.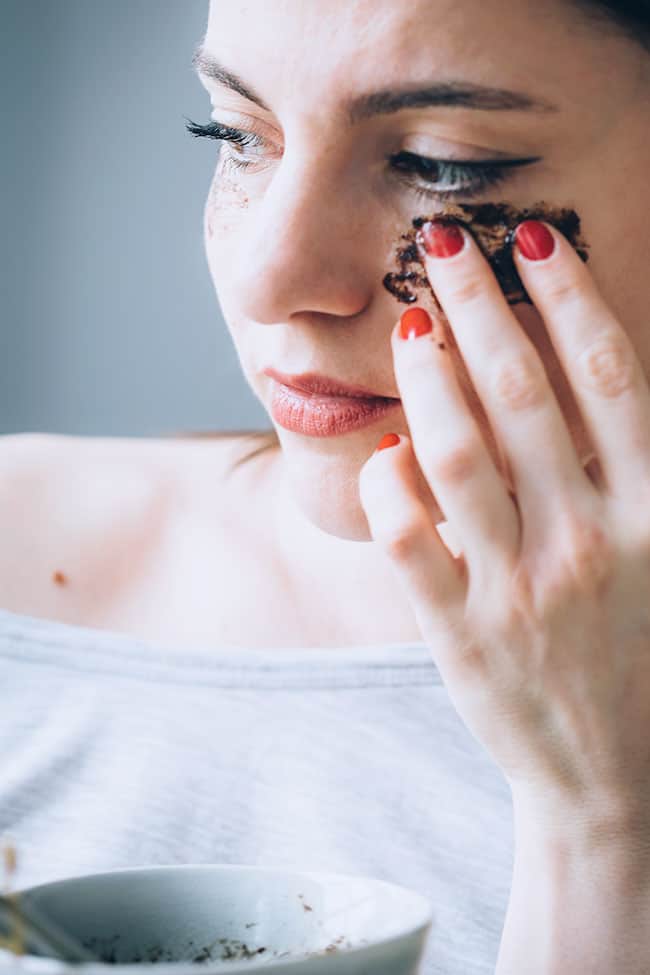 Benefits of Coffee Face Masks
Coffee may have anti-aging properties for the skin [source]. When applied regularly as part of your skincare routine, it can reduce dark circles, redness, stretch marks, fine lines, and sun spots, giving you a more youthful appearance.
Caffeine has been shown to protect the skin against oxidative stress and the forces that contribute to aging [source]. Using DIY coffee face masks on your skin may prevent some of the damage caused by pesticides, smoke, and pollution.
Coffee contains melanoidins rich in polyphenols [source], antioxidants that scavenge free radicals and improve your complexion.
Unlike its effects when ingested, coffee can calm the skin when applied topically as it's rich in anti-inflammatories.
Thanks to its cleansing and purifying properties, caffeinated coffee may be able to reduce the risk of melanoma, the most dangerous type of skin cancer [source].
Nowadays, coffee is very renowned in skincare for its exfoliating ability. It can eliminate impurities and remove dead skin cells, giving your skin a smoother surface.
Coffee is a real go-to ingredient in products that combat cellulite. Why? Well, caffeine is known to be lipolytic [source]. That means it enhances fat metabolism or breakdown. It has the ability to penetrate the upper layers of skin to induce its action beneath, making it one of the best home remedies for cellulite [source].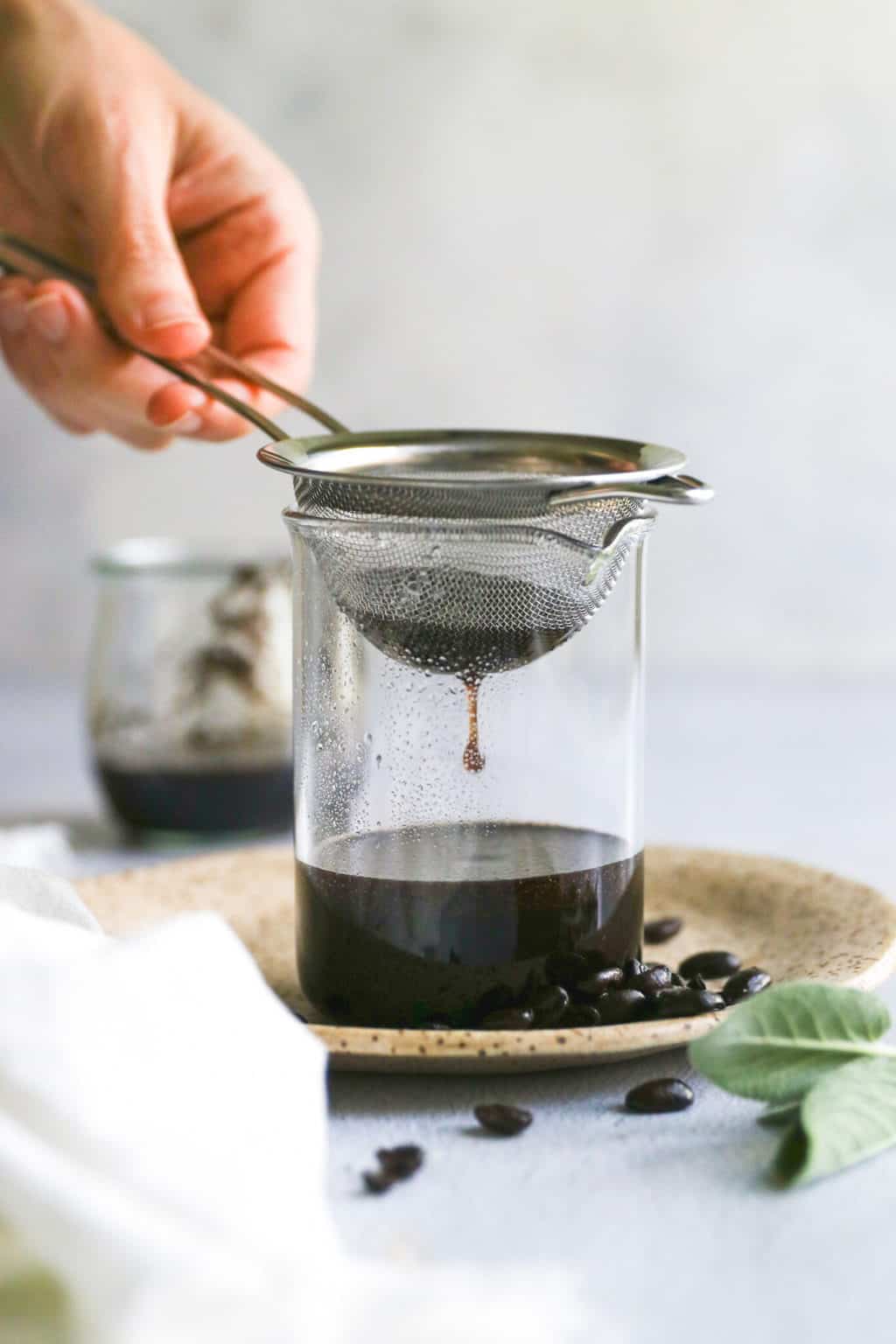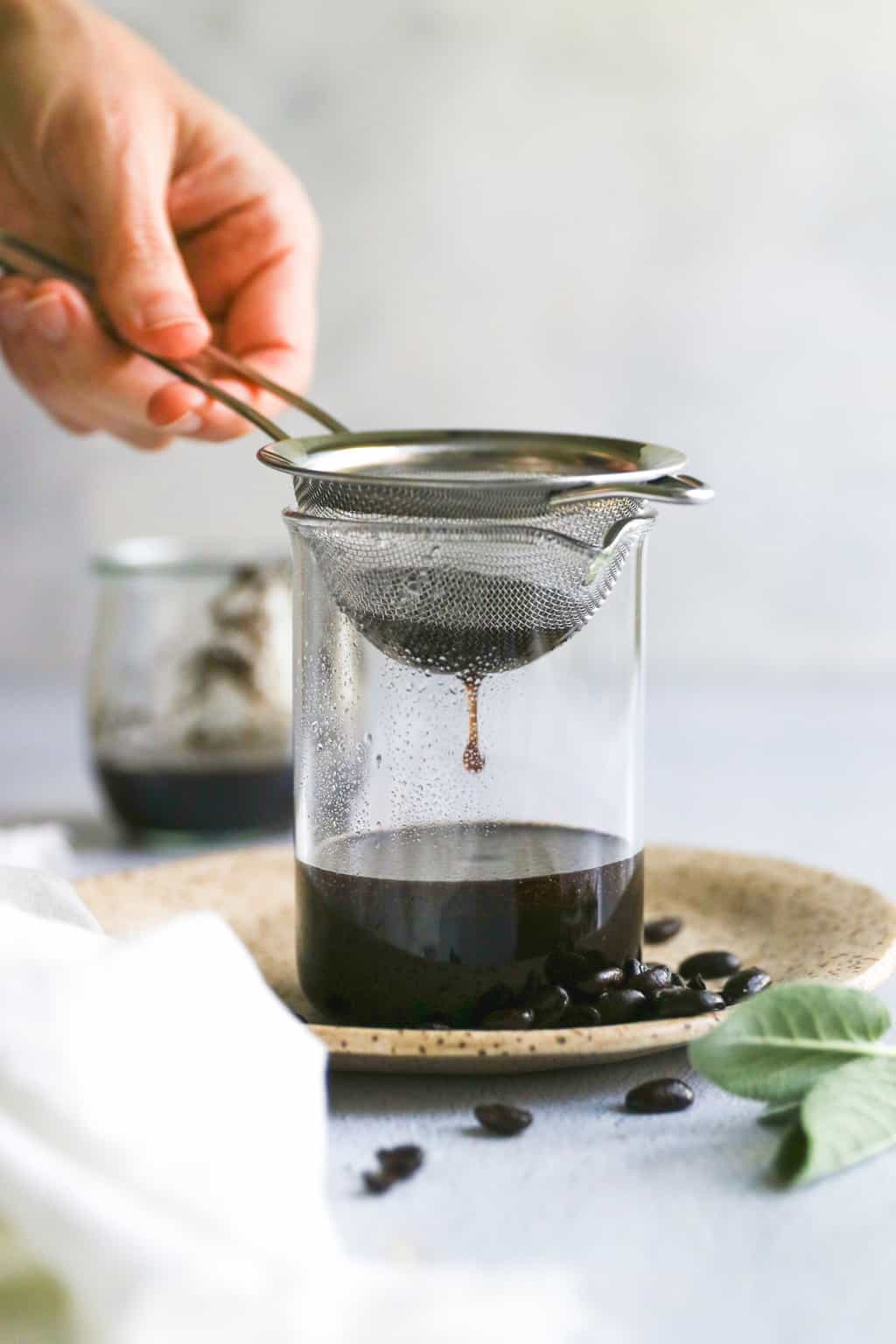 What Kind of Coffee Should I Use
?
There are several ways to use caffeinated coffee in masks:
—Unused coffee grounds
—Used coffee grounds
—Cooled coffee
—Espresso powder
All of them can be effective and bring positive results, but they are a bit different in terms of their effects. For instance, while ground coffee can be added to your masks both in used and unused form, used coffee grounds may contain less caffeine. This doesn't mean the coffee will be ineffective, but if you want all the caffeine you can get, ground coffee is a better option.
Cooled coffee, created by leaving coffee beans to soak in room-temperature water, is also great to use for coffee masks. It allows you to enjoy the full benefits of caffeine for your skin.
If you want to ensure gentler skin exfoliation, you can choose espresso powder. Its mild effect allows you to get rid of oil, bacteria, and dirt on the skin without being too harsh. It's suitable if you have more sensitive skin.
Coffee Face Masks vs
.
Face Scrubs
Coffee face masks and scrubs benefit your skin in different ways.
While a coffee scrub will simply remove your dead skin cells, a coffee face mask will be more effective because it can do more. It will not only exfoliate, but it can also nourish, provide anti-aging benefits, reduce inflammation, and offer relaxing effects for the skin.
So, between the two, a coffee face mask is a better option for promoting skin health.
How to Use a Coffee Mask on Your Face
So now you know how much DIY coffee face masks can benefit your skin, but how do you use them? Here are some steps to follow:
1. Mix coffee grounds with your chosen ingredients. You can mix equal parts coffee grounds and olive oil, or simply mix coffee with different essential oils and other ingredients.
2. Once the mask is done, you will apply it to your face with circular motions.
3. Allow the mask to sit between 15 and 20 minutes.
4. Next, rinse it off using warm water.
9 Recipes for DIY Coffee Face Masks
Let's see how you can make the perfect mask for you: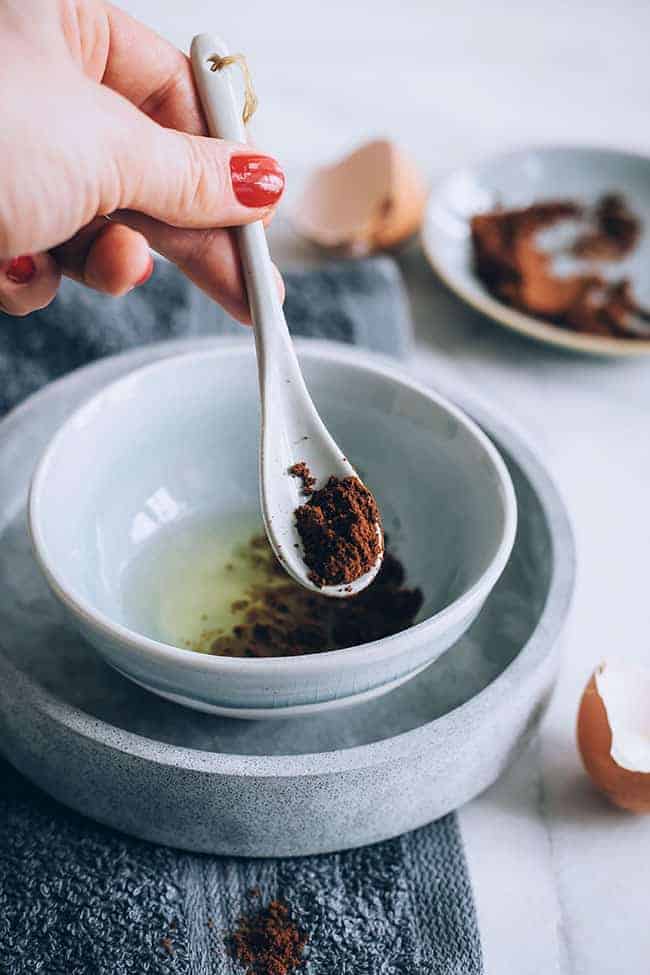 1. Coffee and Lemon Face Mask for Acne-Prone Skin

Ingredients
—1 tablespoon organic caffeinated coffee powder
—1 tablespoon lemon juice
—1 egg white

Instructions
1. Put the egg white in a bowl and whip with a fork for 30 seconds or until frothy.
2. Add coffee powder and lemon juice and mix them together.
3. Apply the mixture to your face, and leave it on for 15–20 minutes.
Why It Works
Coffee can cleanse and purify your skin, and the lemon juice can provide your skin with vitamin C and help prevent excessive sebum. It's perfect for acne-prone skin and for treating acne scars.
2. Skin-Soothing Coffee and Cocoa Mask
Ingredients
—2 tablespoons organic cocoa powder
—1 tablespoon organic raw honey
—3 tablespoons yogurt
—2 tablespoons organic caffeinated coffee grounds
Instructions
1. Mix the cocoa powder and coffee.
2. Add the honey and yogurt into the mixture and mix well.
3. Apply the mask to your face.
4. Leave it on for 15–20 minutes.
5. Rinse with warm water.
Why It Works
Struggling with oily skin? Cocoa is full of polyphenols [source] that provide UV protection. Moreover, it can get rid of excess oil and make your skin smoother and shinier.
3. Hydrating Coffee and Coconut Oil for Dry Skin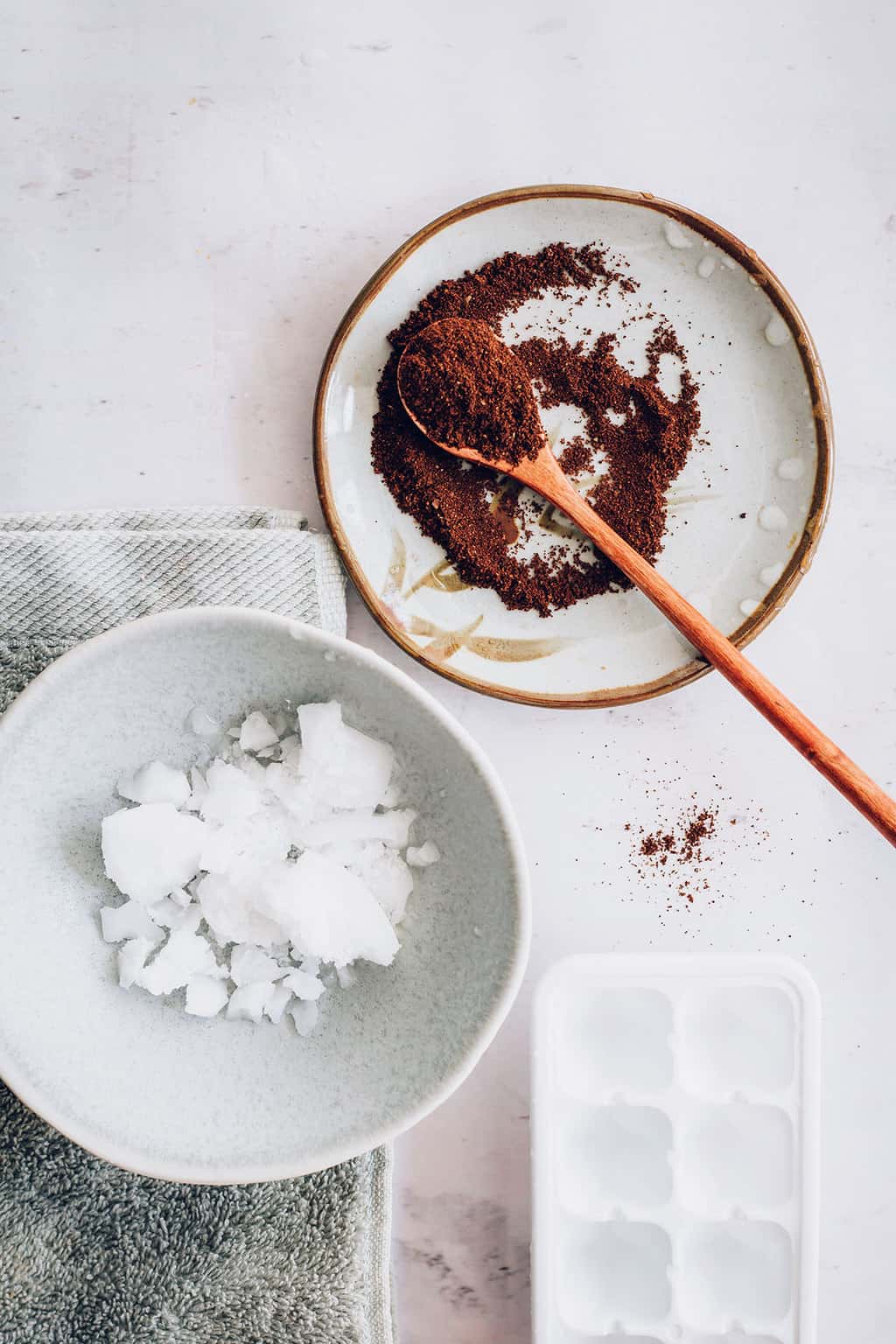 Ingredients
—1 tablespoon organic fractionated coconut oil
—2 tablespoons organic caffeinated coffee powder
—2–3 drops rosemary essential oil
Instructions
1. Mix the coconut oil, coffee powder, and essential oil until you obtain a paste.
2. Apply the mixture to your face.
3. Leave it for 15 minutes.
4. Rinse off using warm water.
Why It Works
Coffee gets rid of dead skin cells and impurities, offering a great glow. Coconut oil is an effective moisturizer that hydrates skin [source]. Lastly, rosemary essential oil works as an antibacterial that can help combat acne [source].
4. Coffee and Milk Mask for Skin Cleansing
Ingredients
—1-½ tablespoons full fat milk
—1 tablespoon organic caffeinated coffee powder
—3 drops lavender essential oil
Instructions
1. Mix the milk with the coffee powder, then add the lavender essential oil.
2. Mix until you get a paste.
3. Apply the paste on your face, and leave it on for 15 minutes.
4. Use warm water to rinse it off gently.
Why It Works
If you are struggling with dull skin and uneven skin tone, it's time to whip up a few coffee face masks. Lavender has calming effects on the nervous system [source], while the coffee and milk will not only exfoliate your face but also give it a nice glow.
5. Slim a Puffy Face with a Light Coffee Compress
Ingredients
—¼ cup brewed coffee
—1 tablespoon coconut milk
Instructions
1. Mix the coffee and coconut milk.
2. Saturate a washcloth in the mixture, and place it on your face for 5 minutes.
Why It Works
While coffee can exfoliate your skin and exert its antioxidant and anti-inflammatory effects, the fatty acids in coconut milk will provide needed moisture.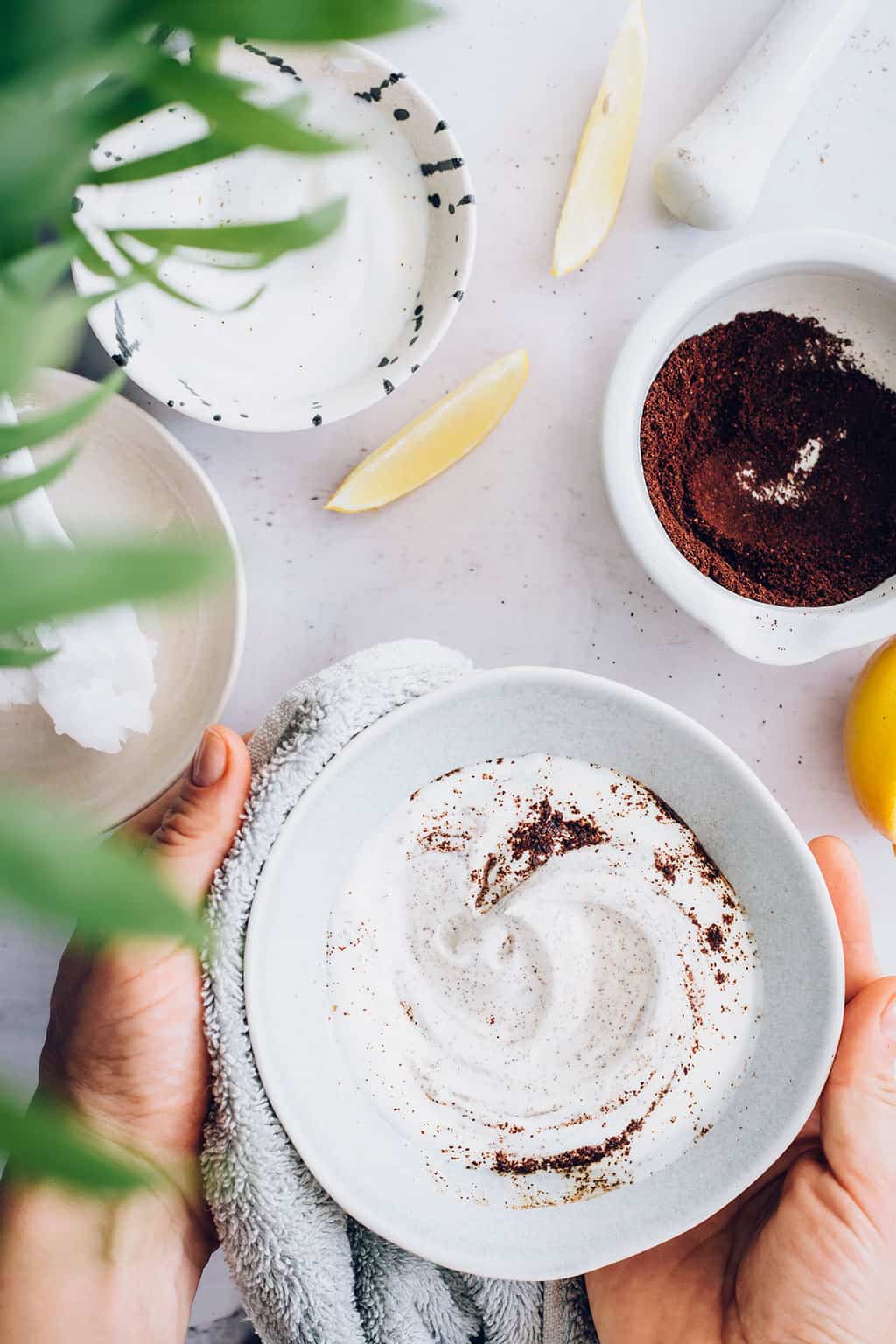 6. Skin Brightening Greek Yogurt Coffee Mask
Ingredients
—¼ cup plain Greek yogurt
—2 tablespoons used coffee grounds (the fresher the better)
—1 tablespoon sweet almond oil
—Juice from ½ a lemon
Instructions
1. Mix ingredients together and massage the mask onto your face and neck.
2. Let it sit for 10-15 minutes.
3. Rinse in the shower, exfoliating the skin very gently while you remove the mask. For a quicker pick-me-up try this homemade face scrub with coffee.
Why It Works
Coffee combined with the lactic acid in Greek yogurt will exfoliate and brighten your complexion [source].
7. Coffee Mask To Get Rid of Dark Circles
Ingredients
—Cooled caffeinated coffee
Instructions
1. Soak 2 cotton pads in a bowl filled with cooled coffee.
2. Put them on your eyes for 5 minutes.
3. Repeat 3 times a week.
4. Follow with coffee-infused eye cream.
Why It Works
Coffee has soothing, anti-inflammatory effects, which are helpful for the area around your eyes.
8. Refresh Your Eyes with a Cooling Coffee Mask
Ingredients
—6 blueberries
—½ teaspoon aloe vera gel
—½ teaspoon organic instant coffee granules
Instructions
1. Mix the ingredients in a bowl.
2. Carefully apply the mixture to your eye area, making sure not to get it in your eyes.
3. Gently remove after 15-20 minutes.
Why It Works
The cooling feeling of the eye mask can reduce the effects of stress and make your eyes feel rested. To tighten facial skin and the fine lines around the eyes, try this coffee eye mask with egg whites.
9. Overnight Coffee Lip Mask
This is where using an overnight lip mask is a brilliant idea. Just apply the mask on your lips as you're climbing into bed, and sleep away while the magic happens.
Ingredients
—1 tablespoon coconut oil
—½ teaspoon organic honey
—1 drop coffee essential oil
Instructions
1. Combine ingredients and apply to lips before bed.
2. Rinse in the morning.
Why it works
Coffee essential oil has skin-rejuvenating properties. In a study published in 2009, researchers found that coffee oil stimulated the synthesis of collagen and elastin when tested on skin cell cultures [source].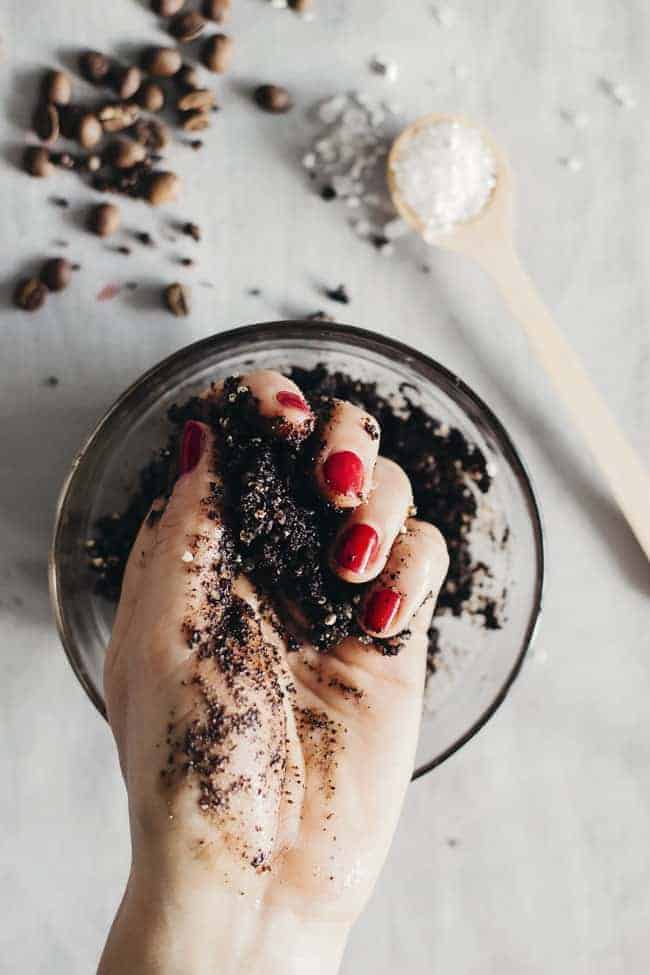 Coffee Face Mask FAQs
Can you use coffee on your face every day?
We recommend using coffee on your face 2 to 3 times a week to boost blood circulation, provide vitamins and antioxidants, and eliminate toxins. If your skin shows signs of irritation, then cut back to once a week.
What type of coffee is the best for a face mask?
Unused organic caffeinated coffee grounds may be the best for your face mask, but you can also try used coffee grounds, caffeinated coffee powder, espresso powder, and cooled coffee, according to the recipes above.
How long should a coffee mask stay on your face?
After applying the coffee face mask, you should leave it on for around 15 to 20 minutes, depending on how much time you have on hand.
Are coffee masks good for your face?
Coffee masks can be amazing for your face. They have anti-aging, anti-inflammatory, and antioxidant properties. These masks can reduce swelling, acne, and the signs of aging while providing calming effects.
Before you go...

Coffee face masks are simple to make and can do wonders for your skin. They can reduce the effects of aging, improve skin glow, exfoliate, hydrate, and combat acne. So, don't limit yourself to just drinking that cup of Joe—you're missing out on some of coffee's biggest beauty benefits! Coffee scrubs, face masks, and exfoliating soaps are all easy to make and a great way to use up those fresh grounds.
References:
1. Fukushima Y, et al. Skin photoprotection and consumption of coffee and polyphenols in healthy middle-aged Japanese females. Int J Dermatol. 2015.
2. Li YF, et al. Caffeine protects skin from oxidative stress-induced senescence through the activation of autophagy. Theranostics. 2018.
3. Zhang H, et al. Melanoidins from coffee, cocoa, and bread are able to scavenge α-dicarbonyl compounds under simulated physiological conditions. J Agric Food Chem. 2019.
4. Liu J, et al. Higher caffeinated coffee intake is associated with reduced malignant melanoma risk: a meta-analysis study. PLoS One. 2016.
5. Katz DL, et al. Cocoa and chocolate in human health and disease. Antioxid Redox Signal. 2011.
6. Koulivand PH, et al. Lavender and the nervous system. Evid Based Complement Alternat Med. 2013.
7. Lin TK, et al. Anti-Inflammatory and skin barrier repair effects of topical application of some plant oils. Int J Mol Sci. 2017.
8. Orchard A, et al. Commercial essential oils as potential antimicrobials to treat skin diseases. Evid Based Complement Alternat Med. 2017.
3