I'm on a mission to detox my beauty products and replace them with natural DIY alternatives. Whipping up a homemade body scrub is an addicting starting point because pretty soon you start thinking, what about the stuff I use every day?
The first two I tackled were biggies—deodorant and toothpaste—and now I'm on a roll! Next up: a homemade body wash with 2 of my favorite ingredients, honey and coconut oil.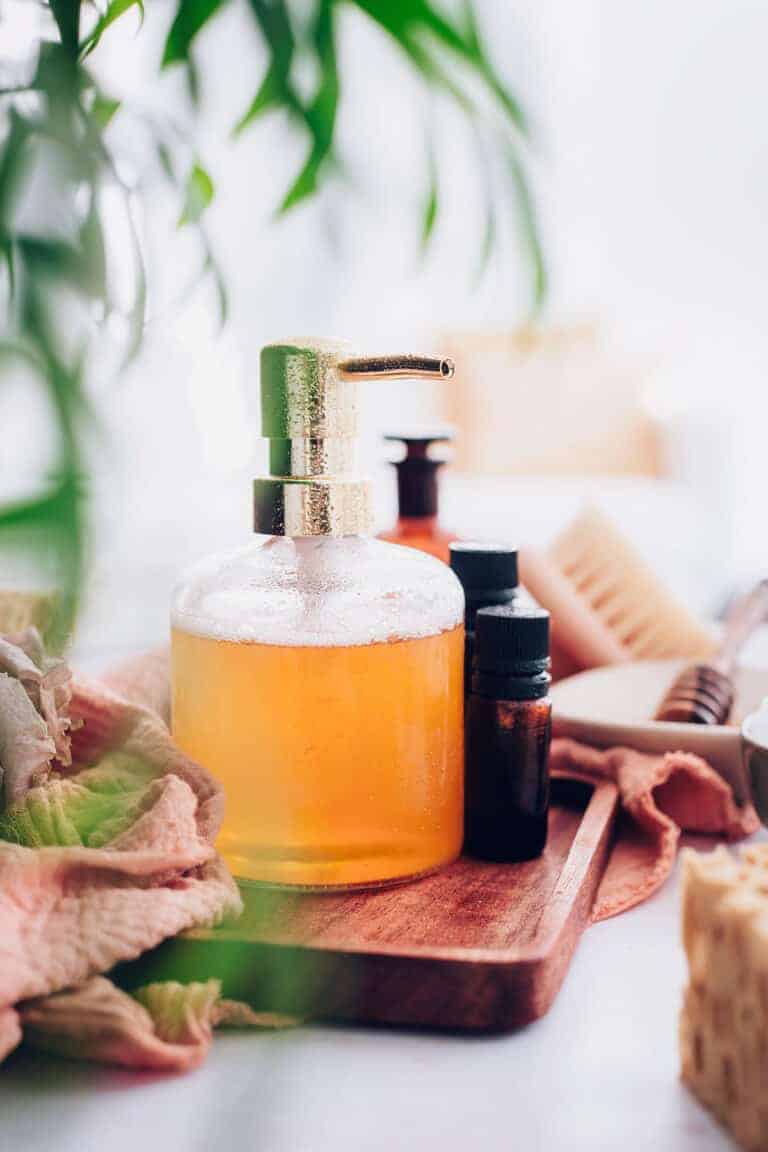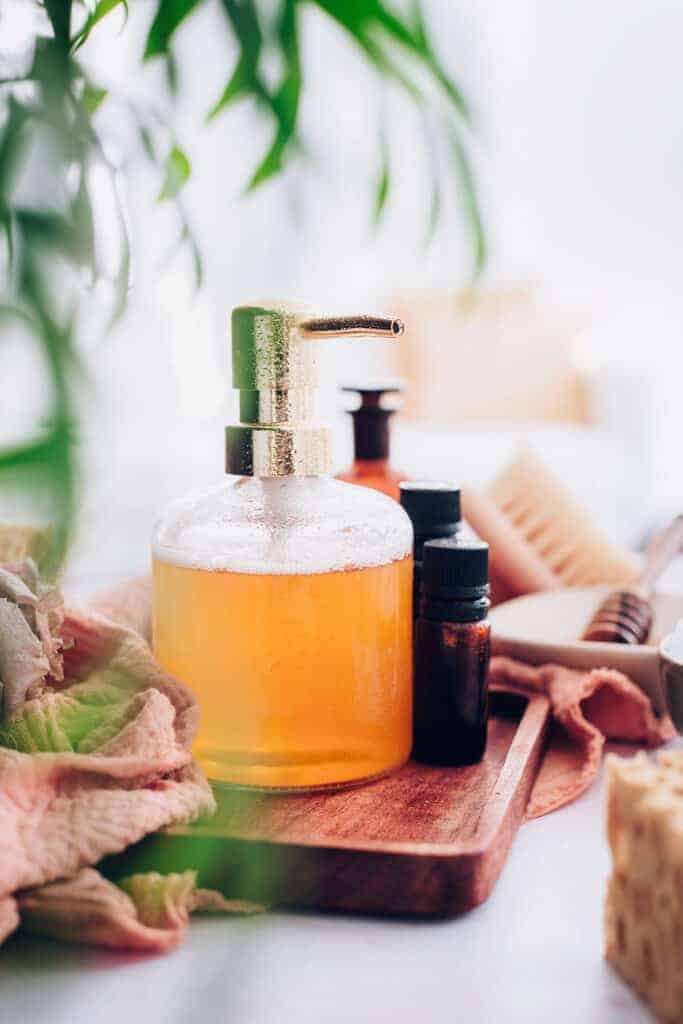 Coconut and Honey Body Wash
I made this originally as a potential homemade shampoo, and it might have worked if I hadn't (accidentally) used coconut oil instead of coconut milk. It lathered up great (I love suds), but my hair ended up a tad greasy.
Instead of letting it go to waste, I tried it as a body wash. Lather-y moisturizing perfection!
Thinking about starting your own beauty detox? You can pretty much replace everything in your personal care arsenal with just 4 ingredients.
What are those 4 ingredients?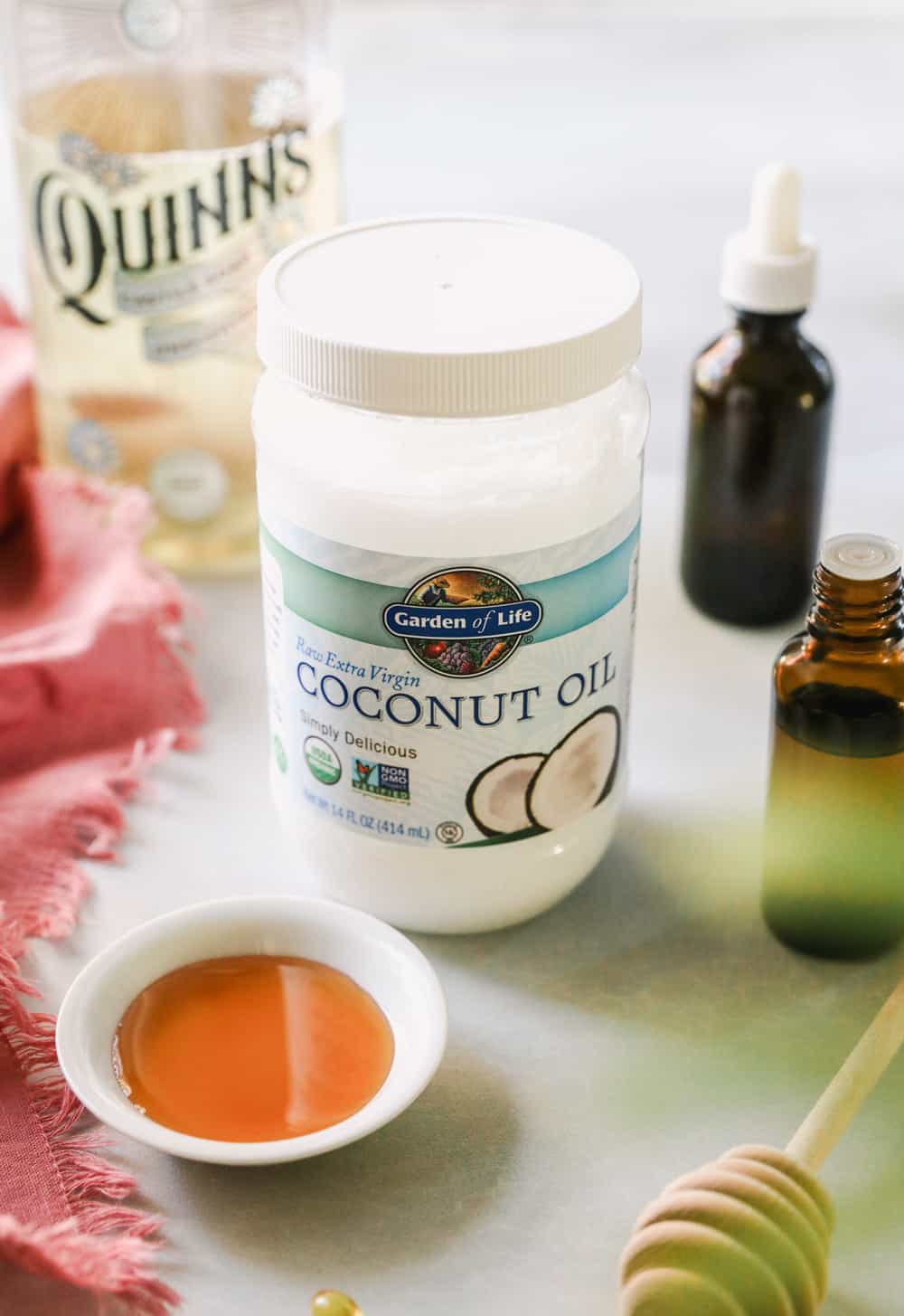 Coconut oil
My coco-nuttiness is well established now (see our 101 favorite coconut oil uses). It is easy to find in stores and smells like you spent the day at the beach.
Studies have shown that coconut has superior moisturizing powers to nourish and replenish the skin barrier [source]. Not to mention, the fatty acids in coconut oil can help encourage wound healing and skin regeneration [source].
Raw honey
I was reading not long ago about the incredible healing powers of honey. Studies show it works better than traditional medicine for healing some burn wounds [source]!
And as if that weren't enough, raw honey has antioxidant, anti-aging, and photoprotective properties as well. Use raw honey for its antibacterial and anti-inflammatory effects on the skin [source].
Liquid Castile soap
I'm already cleaning everything from dishes to toilets with Castile soap. I resisted using this in personal care products for a long time because soap usually leaves my skin feeling dry and filmy. So wrong!
This gentle soap is made from nourishing oils, so it won't strip your skin or make you feel tight and itchy when you're done. Plus, it's great if you like a bit of suds.
Essential oils
My essential oil collection is getting out of control. For bath wash, citrus and eucalyptus are sure-fire ways to start the day.
Homemade Body Wash Recipe
You'll notice the body wash separates as it sits, so just shake it up before each use. I haven't had any problems with the coconut oil solidifying, but if you're worried about that, you can use almond oil or even coconut milk instead.
Otherwise, just hop in the shower and use a pump or two of this nourishing body wash to soothe skin and gently cleanse dirt and grime.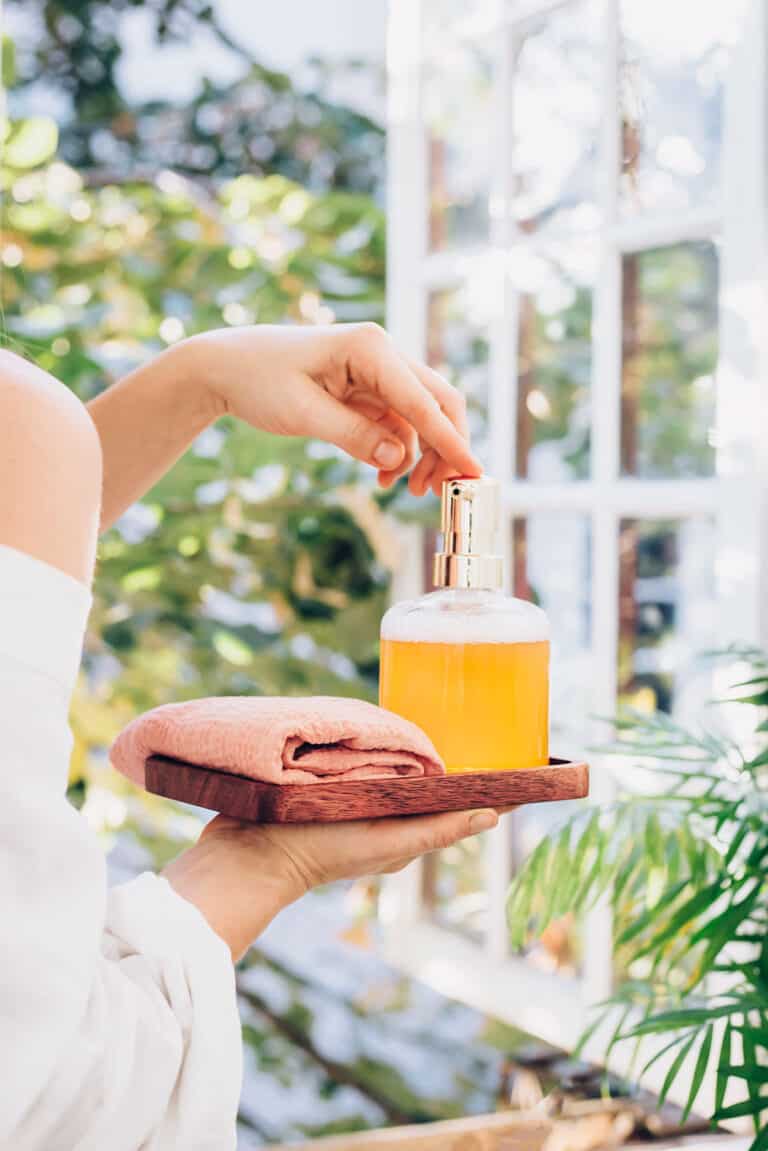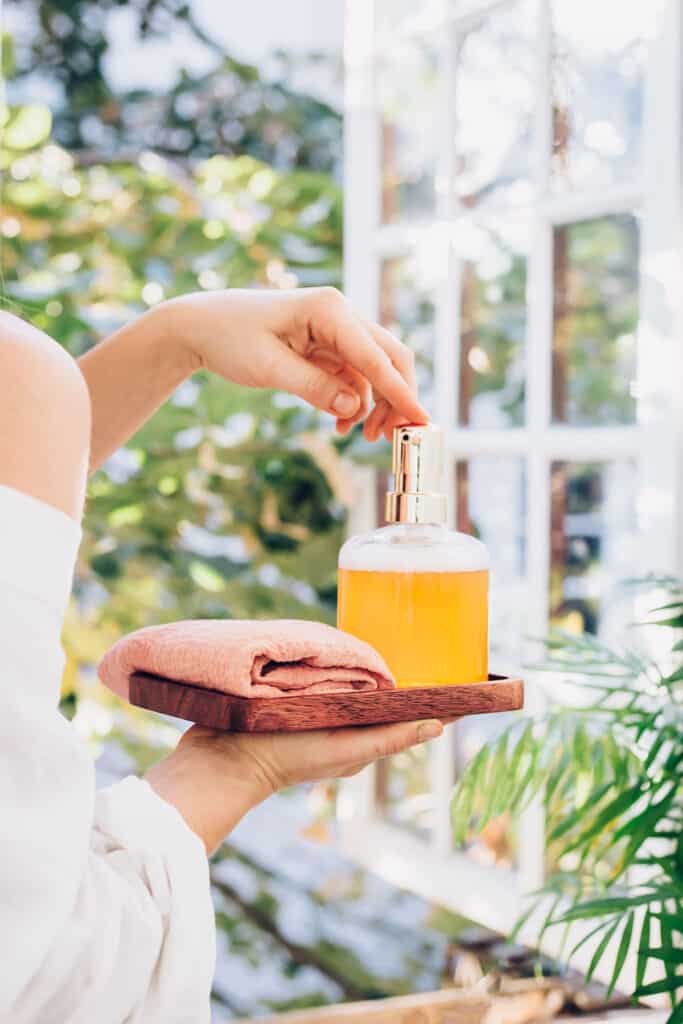 Ingredients
Instructions
Scoop the coconut oil into a microwave-safe bowl and heat on a medium setting for 30 seconds until melted.

Add essential oils, honey, and vitamin E oil and whisk together.

Add Castile soap slowly, stirring gently to avoid creating suds.

Transfer to a glass or plastic bottle. Shake before each use.
Use within 2–3 months.
Homemade Bodywash FAQ
Is it possible to make my own body wash without soap?
Since oils can leave your skin feeling greasy, skipping the castile soap in this recipe might make you feel grimier than when you started. I recommend making a soap-free cleanser that contains oats or milk, like one of these 5 DIY facial cleansers. Although they're technically meant for your face, they'll work just as well on your body!
Can I use this body wash on babies?
Since honey isn't recommended for babies, I would leave out the honey altogether. And since some essential oils aren't safe for babies, you'll need to do your research before choosing your oils.
If you'd still like to use this on baby, it's best to consult your pediatrician just to make 100% sure it's safe for baby's skin.
Can I replace the coconut oil with another oil?
Of course! Jojoba, argan, sweet almond, and carrot seed oils are great for skin, but you can use any oil you like.
You can also use fractionated coconut oil if you're having problems with regular coconut oil solidifying.
Does this soap require a foaming dispenser
,
or will a regular one work?
A regular soap dispenser should work just fine, although the soap may be a bit more liquid-y than you're used to. If that's the case, then a foaming soap dispenser will create a nice, thick lather.
Can I thicken this with beeswax?
Since beeswax is an oil, you'll have a hard time getting it to mix with the other ingredients. If the texture of this body wash bothers you, I would suggest using a foaming soap dispenser to create a thicker consistency.
Can I use this body wash as a shampoo?
I don't think it would hurt! Give it a try and see how your hair responds.
Can I dilute my body wash mixture with water
,
so it's not as strong?
Water causes homemade body products to grow mold, so it's best not to add water ahead of time. If needed, when you are ready to use it, pump some soap into the palm of your hands, and then add a splash of water. Mix it together before applying.
Why does my body wash smell funny?
Some people in the comments have mentioned their body wash having a strange smell. While I didn't notice a smell, it could have something to do with your particular brand of ingredients and how they respond when mixed together.
Will this clog my drain?
Not in the small amounts that we're using. An 8-ounce bottle of this body wash should last you at least a month, so you'll only be using 1–2 teaspoons at a time.
After slathering it on your body and letting it sink in, only a fraction of that will actually make it down the drain. You should be fine!
Where can I find that cute pump bottle?
We get most of our pump bottles from Rail19.
Do I need to worry about the citrus essential oils causing photosensitivity issues?
This is a somewhat passionate topic discussed frequently on internet sites. Citrus oils like bergamot and lemon can cause your skin to be more sensitive to the sun [source]. But honestly, I have never noticed any issues despite my sensitive skin. I think it's because the oils are heavily diluted, and they get rinsed off in the shower.
That being said, I'm not a scientist or a dermatologist, so I don't know for sure. If you're concerned about citrus oils, use fewer drops or leave them out altogether. The beauty of making your own bath products is that you can make them however you like!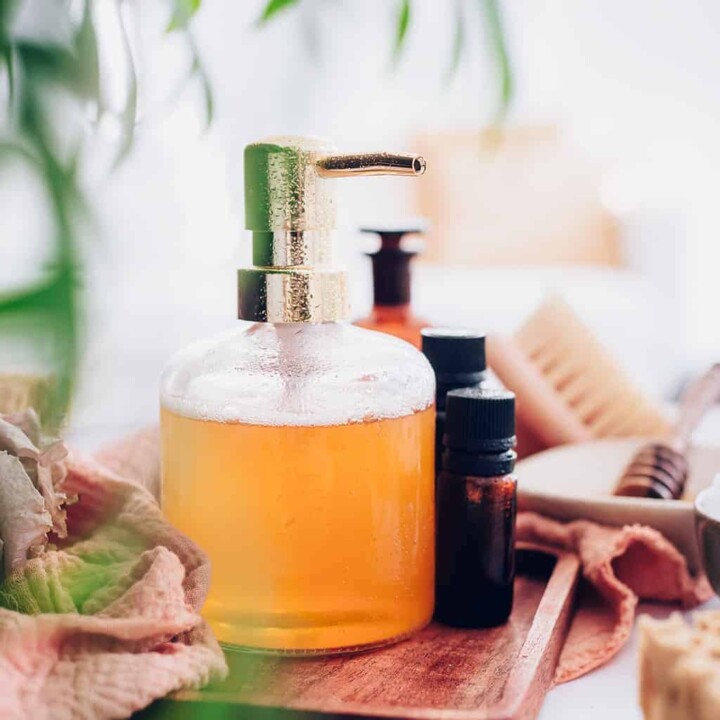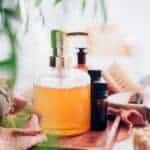 Print
DIY Honey & Coconut Body Wash
An easy recipe for homemade body wash with honey and coconut. It's moisturizing and feels great on your body!
Equipment
Medium microwave-safe bowl

8 ounce pump bottle
Instructions
Scoop coconut oil into a microwave-safe bowl, and heat on a medium setting for 30 seconds until melted.

Add essential oils, honey, and vitamin E and whisk together.

Add Castile soap slowly, stirring gently to avoid creating suds.

Transfer to a glass or plastic bottle. Shake before each use.
Notes
Coconut oil, on the one hand, contains high levels of linoleic and lauric acids, which are helpful for those with acne-prone skin. Coconut oil cleanses and removes excess oily residue and make-up from skin. But some coconut oils have a tendency to cause breakouts. I recommend using Dr Bronner's Coconut Oil, as it's the only one that doesn't cause my sensitive skin to break out.
You'll notice the body wash separates as it sits, so just shake it up before each use.
Use within 2–3 months.
This post was medically reviewed by Dr. Rina Mary Allawh, M.D., a dermatologist who practices adult and pediatric medical dermatology, skin cancer treatment, and cosmetic dermatology. Learn more about Hello Glow's medical reviewers here. As always, this is not personal medical advice, and we recommend that you talk with your doctor.
Photos by Ana Stanciu
517