When it comes to Mother's Day, gift giving can be tricky. I mean, what can you give all the mothers in your life to truly show them what they mean to you? Most gifts just don't feel thoughtful enough. Plus, if your mom is anything like mine, she'll be the first to tell you she already has everything she wants anyway!
Instead of picking a gift off the shelf this Mother's Day, why not give your mom these handmade flower petal soaps. They smell like a freshly picked bouquet and they're made with melt-and-pour soap so they can be whipped up in a jiffy. Tie everything together with a pretty card, a heartfelt note and some gorgeous paper (and don't forget the tissues!).
Flower Petal Soaps for Mother's Day
These pretty floral soaps are so beautiful and fragrant, and not to mention easy, you'll want to make extras to give all the ladies in your life. It's the perfect way to use fresh blooms from the garden or make a store-bought bouquet do double duty. And since cold spring air can still be pretty brutal, soothing goat's milk soap helps nourish parched skin until summer comes around.
You can find melt-and-pour soap at your local craft store or online. Or you can pick up some regular bar soap, add 2 ounces of water and melt like usual. It will take on a chunkier texture than the melt-and-pour stuff, but it will still be perfectly usable.
Ready to make your own soaps? Here's how.
DIY Flower and Rose Petal Soaps
Supplies needed
32 ounces goat milk melt-and-pour soap base
Fresh or dried flowers of your choosing
Soap mold
Essential oils (I used rose and lavender)
Pretty paper and ribbon for wrapping
Step 1 | Dry flowers
If you're using fresh flowers, dry petals in a 200 degree oven for 1-2 hours before you get started. They'll hold their shape and color much better than fresh petals. Just keep an eye on the oven while they dry to keep them from burning.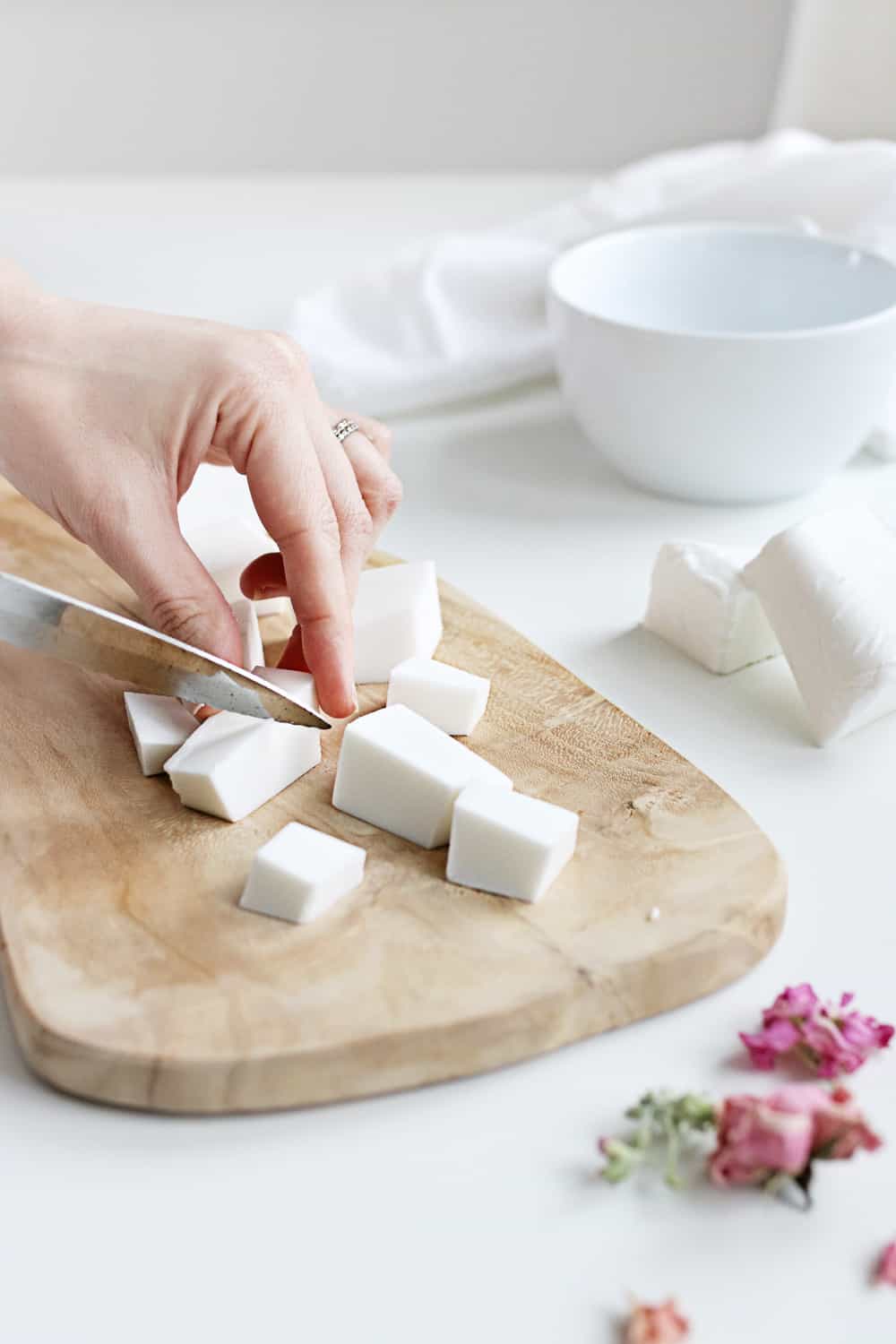 Step 2 | Chop soap base
Chop your soap base into small chunks. The amount you need depends on the size of your soap mold, but I used all 32 ounces for my mold.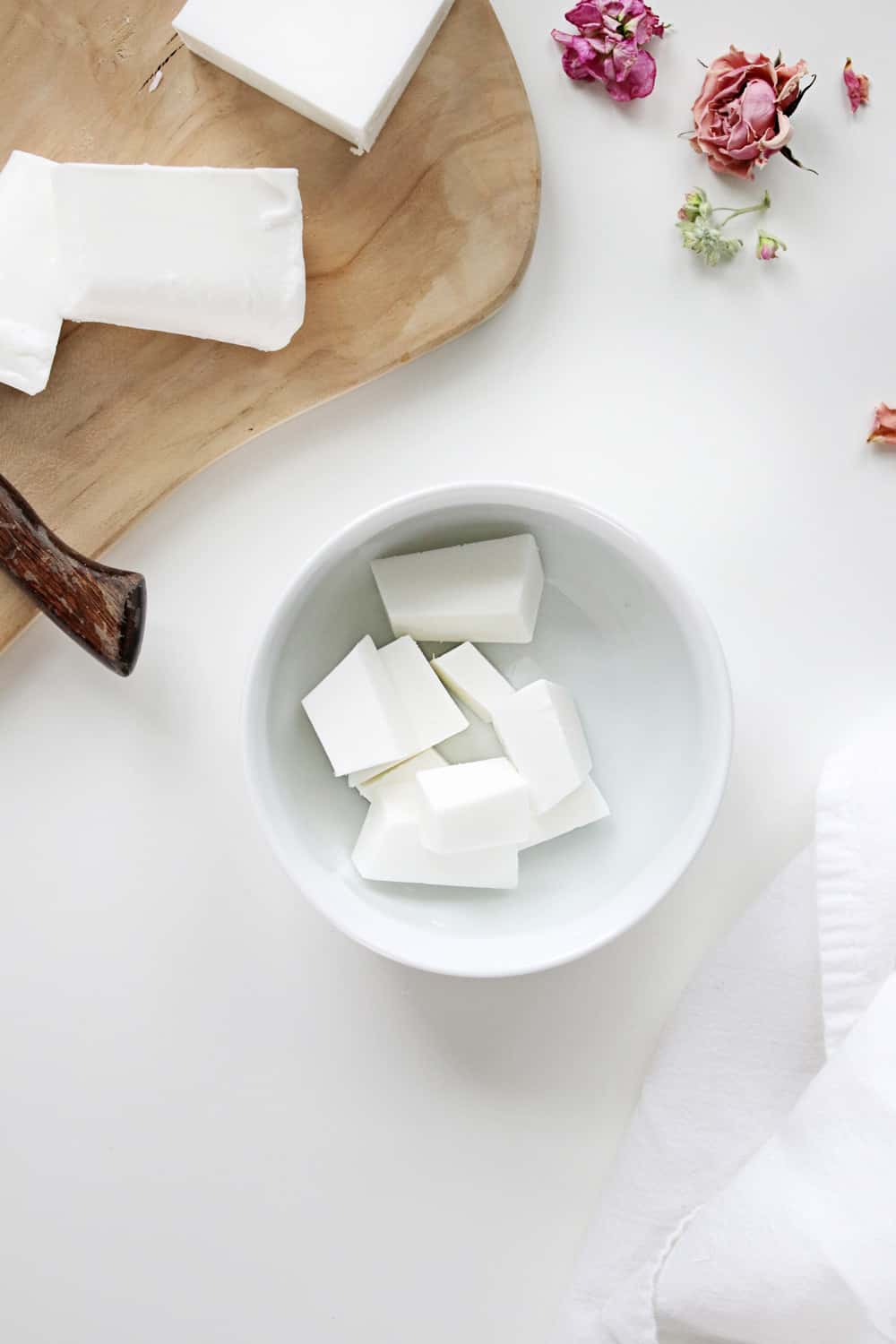 Step 3 | Melt soap
Place soap chunks in a small microwave safe bowl and microwave in 30-second intervals until melted. Stir to make sure all chunks have been incorporated. Add 30 drops of essential oil and stir again.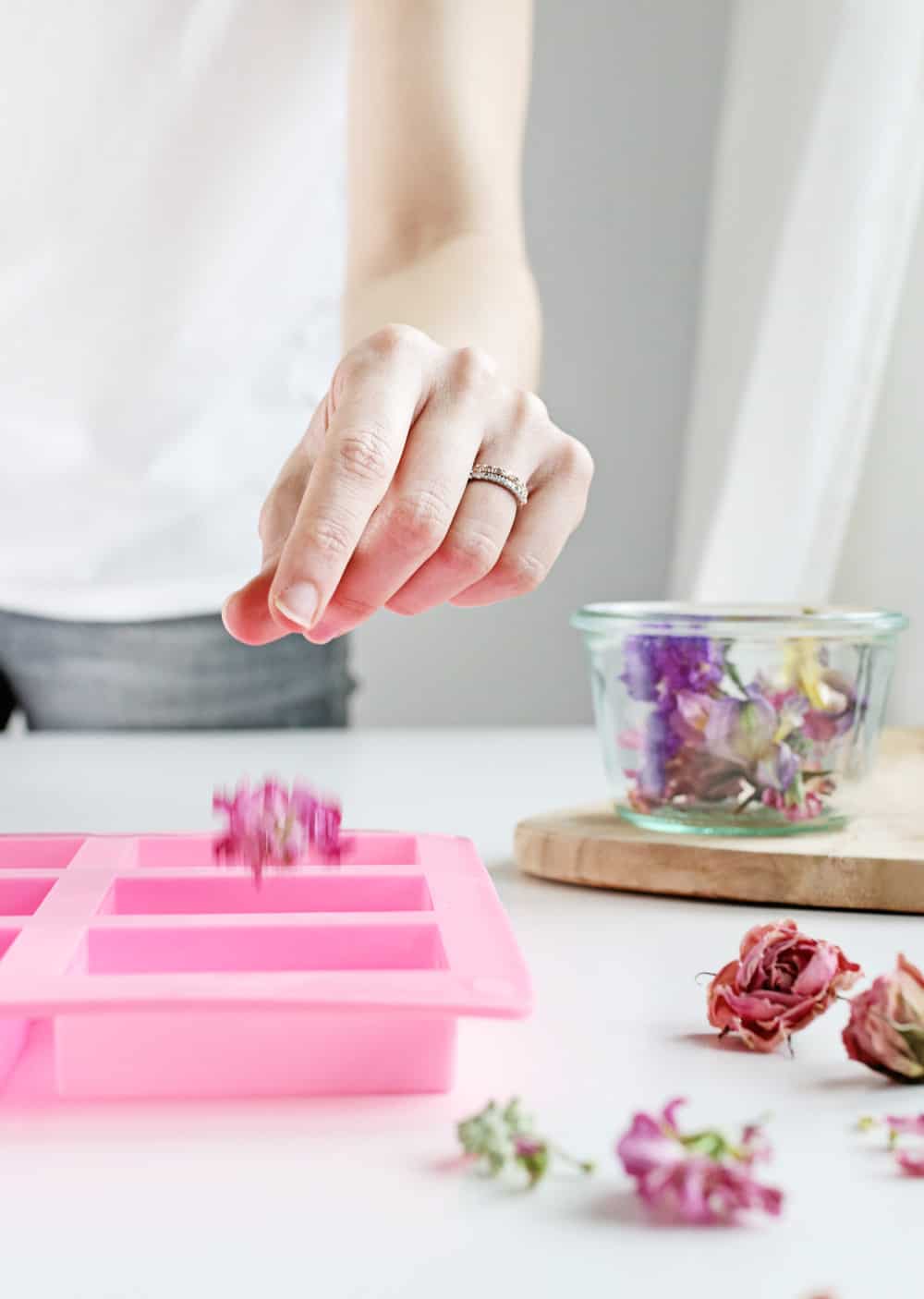 Step 4 | Add flowers to soap mold

Place flower petals of different shapes and sizes in the bottom of your mold.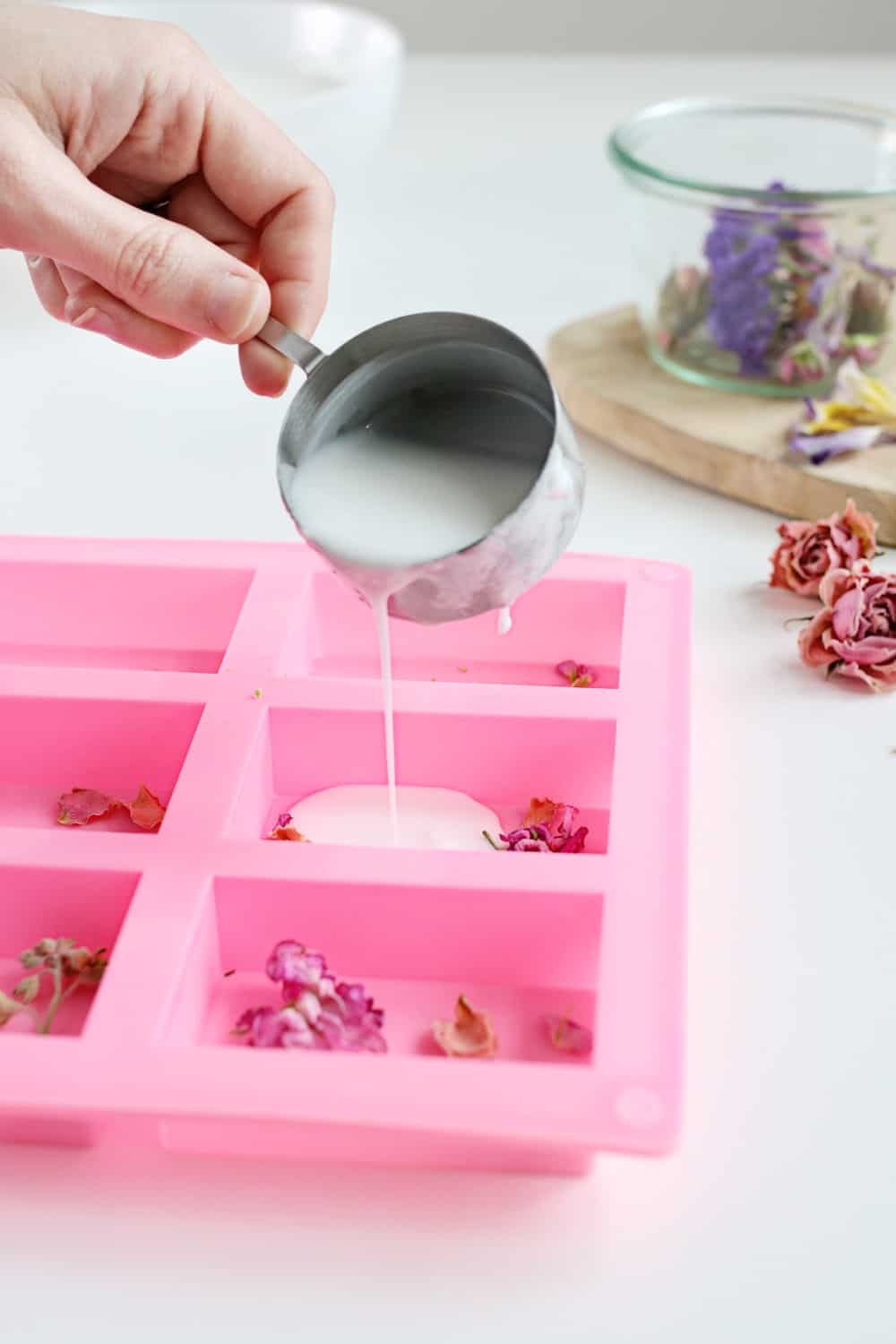 Step 5 | Pour in melted soap
Spoon melted soap into each of the molds until full. Top with more flowers, then let cool for 1 – 2 hours.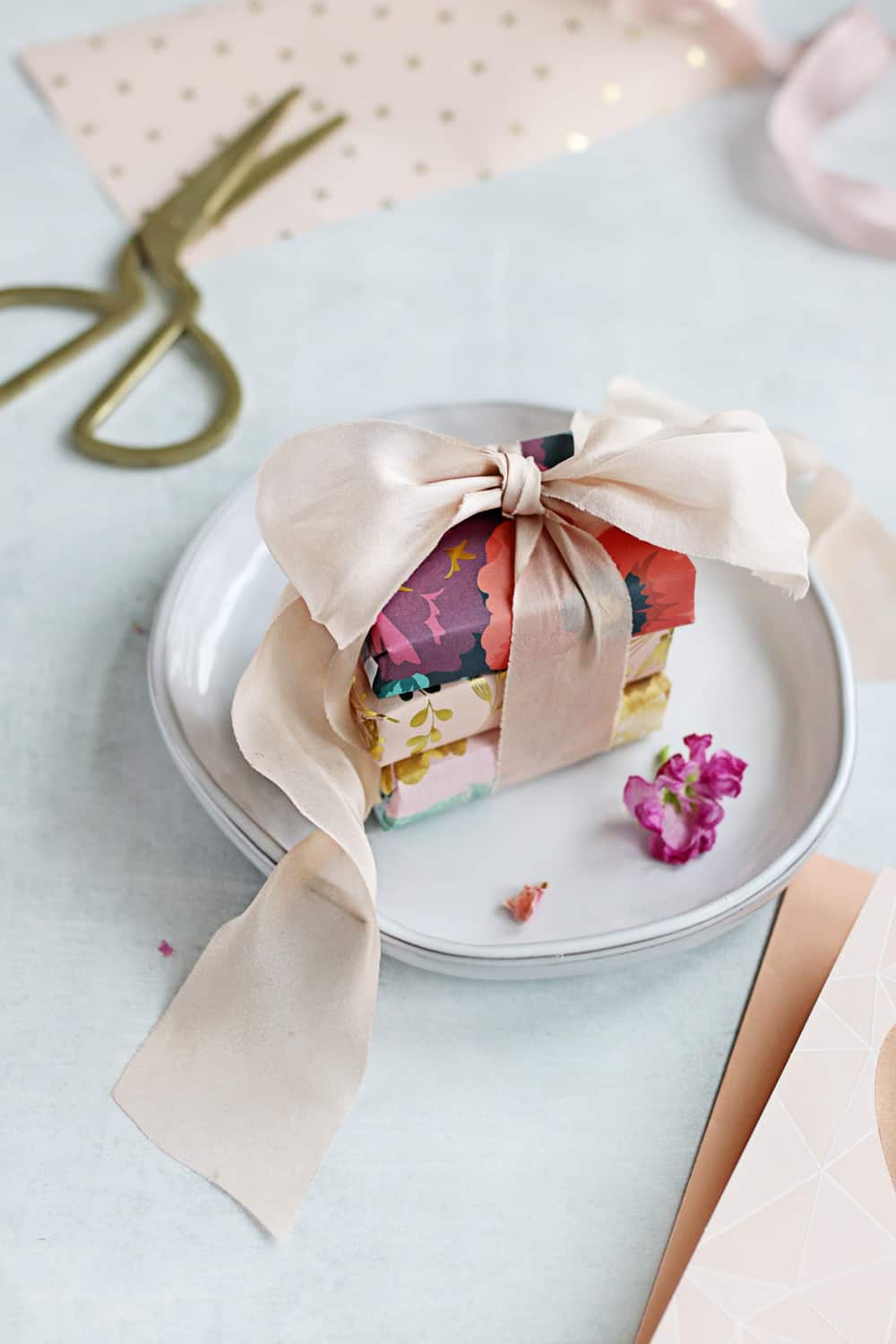 Step 6 | Gift wrap
Wrap each bar in gorgeous paper and tie with a pretty ribbon.
147