When it comes to Mother's Day, gift giving can be tricky. I mean, what can you give all the mothers in your life to truly show them what they mean to you? Most gifts just don't feel thoughtful enough. Plus, if your mom is anything like mine, she'll be the first to tell you she already has everything she wants anyway!
Instead of picking a gift off the shelf this Mother's Day, why not give your mom these handmade flower petal soaps. They smell like a freshly picked bouquet, and they're made with melt-and-pour soap so they can be whipped up in a jiffy. Tie everything together with a pretty card, a heartfelt note, and some gorgeous paper—and don't forget the tissues!
Petal soap is a beautiful and luxurious product that's perfect for those who want to indulge in a little self-care. This type of soap is made with real flower petals that are carefully mixed into the soap base, giving it a beautiful and natural appearance. Petal soap is a great way to add a touch of elegance to your daily cleansing routine, and it makes for a lovely gift for someone special.
The petals in petal soap are not just for show, as they can also provide a gentle exfoliating effect that helps to remove dead skin cells, leaving your skin feeling soft and smooth. The use of natural ingredients in petal soap can provide additional benefits, such as nourishing and hydrating the skin. If you're looking for a unique and indulgent way to pamper your mom, petal soap is definitely worth trying.
Flower Petal Soaps for Mother's Day
These pretty floral soaps are so beautiful and fragrant, and not to mention easy, that you'll want to make extras to give all the ladies in your life. It's the perfect way to use fresh blooms from the garden or make a store-bought bouquet do double duty. And since cold spring air can still be pretty brutal, soothing goat's milk soap helps nourish parched skin until summer comes around.
Goat's milk is a popular ingredient in petal soap because it offers several benefits for the skin. First, it contains alpha-hydroxy acids that help remove dead skin cells and reveal a brighter complexion. Goat's milk is also high in vitamins and minerals, including vitamin A, which is known to reduce the appearance of fine lines and wrinkles. Additionally, the natural fats in goat's milk moisturize and nourish the skin, leaving it feeling soft and smooth. Goat's milk is gentle and non-irritating, making it an excellent choice for those with sensitive skin.
You can find melt-and-pour soap at your local craft store or online. Or you can pick up some regular bar soap, add 2 ounces of water, and melt it like usual. It will take on a chunkier texture than the melt-and-pour stuff but will still be perfectly usable.
Ready to make your own petal soap? Here's how.
DIY Flower and Rose Petal Soaps
Supplies needed
32 ounces goat milk melt-and-pour soap base
Fresh or dried flowers of your choosing
Soap mold
Essential oils (I used rose and lavender)
Pretty paper and ribbon for wrapping
Step 1 | Dry flowers
If you're using fresh flowers, dry petals in a 200°F oven for 1–2 hours before you get started. They'll hold their shape and color much better than fresh petals. Just keep an eye on the oven while they dry to keep them from burning.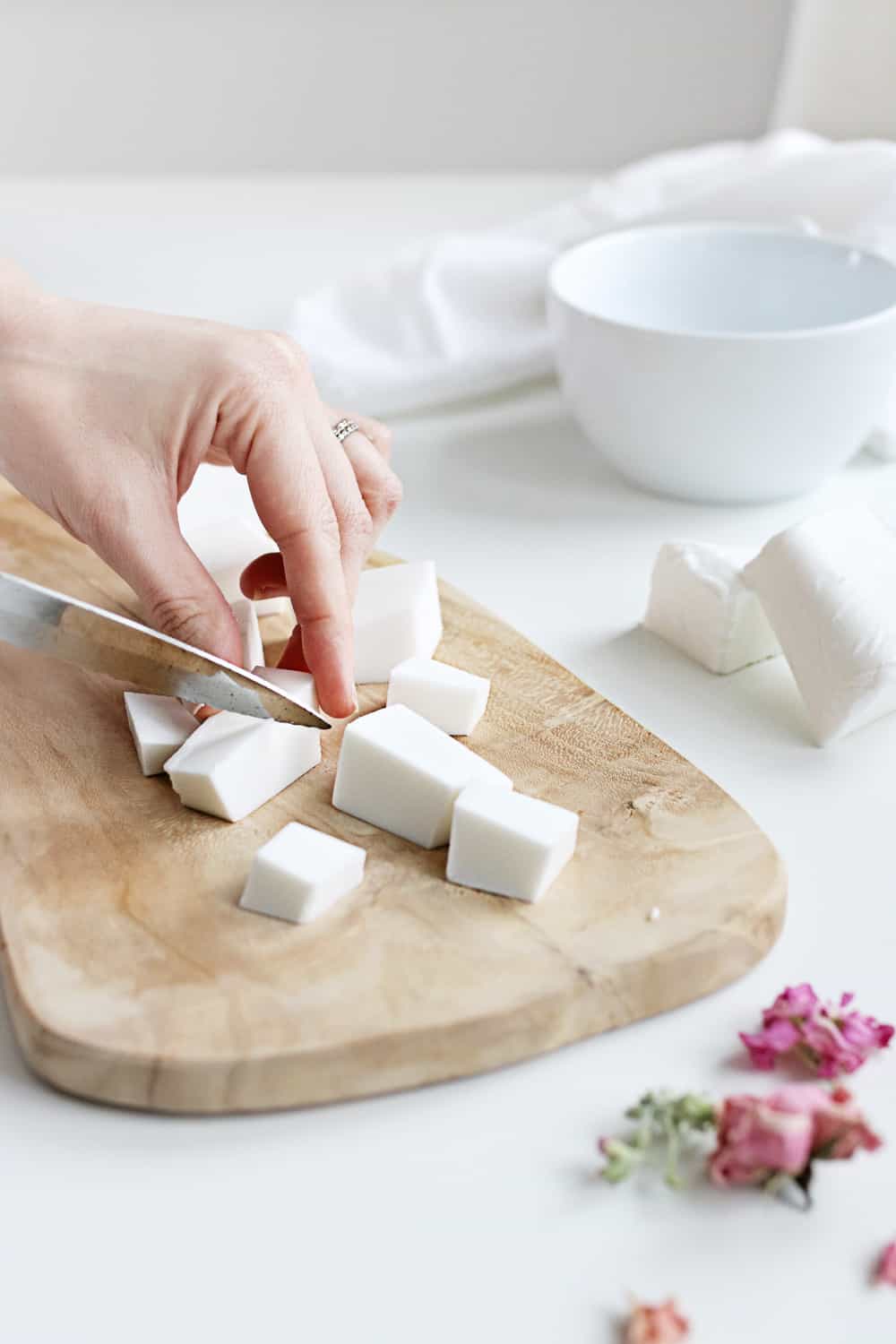 Step 2 | Chop soap base
Chop your soap base into small chunks. The amount you need depends on the size of your soap mold, but I used all 32 ounces for mine.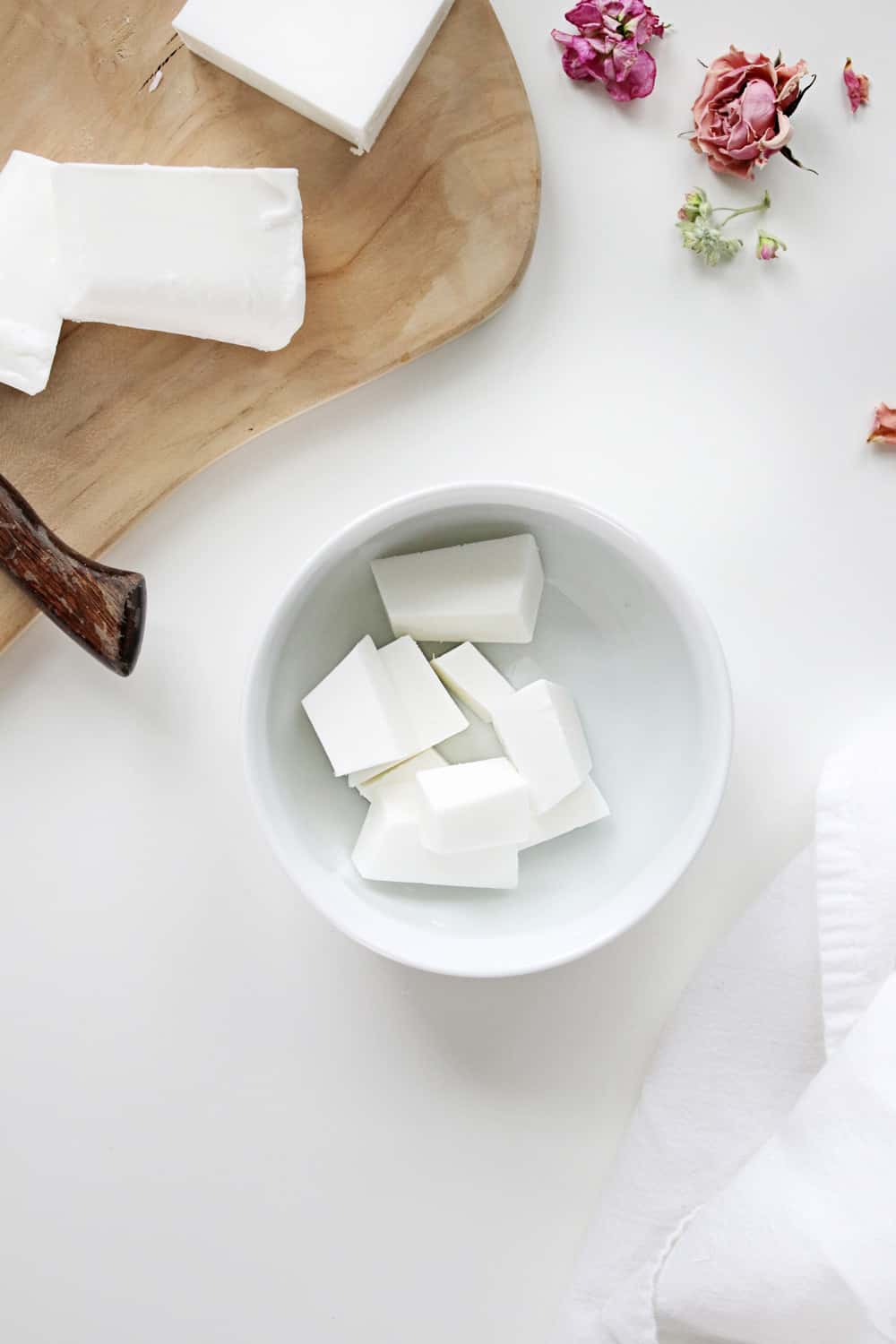 Step 3 | Melt soap
Place soap chunks in a small microwave-safe bowl and microwave in 30-second intervals until melted. Stir to make sure all chunks have been incorporated. Add 30 drops of essential oil and stir again.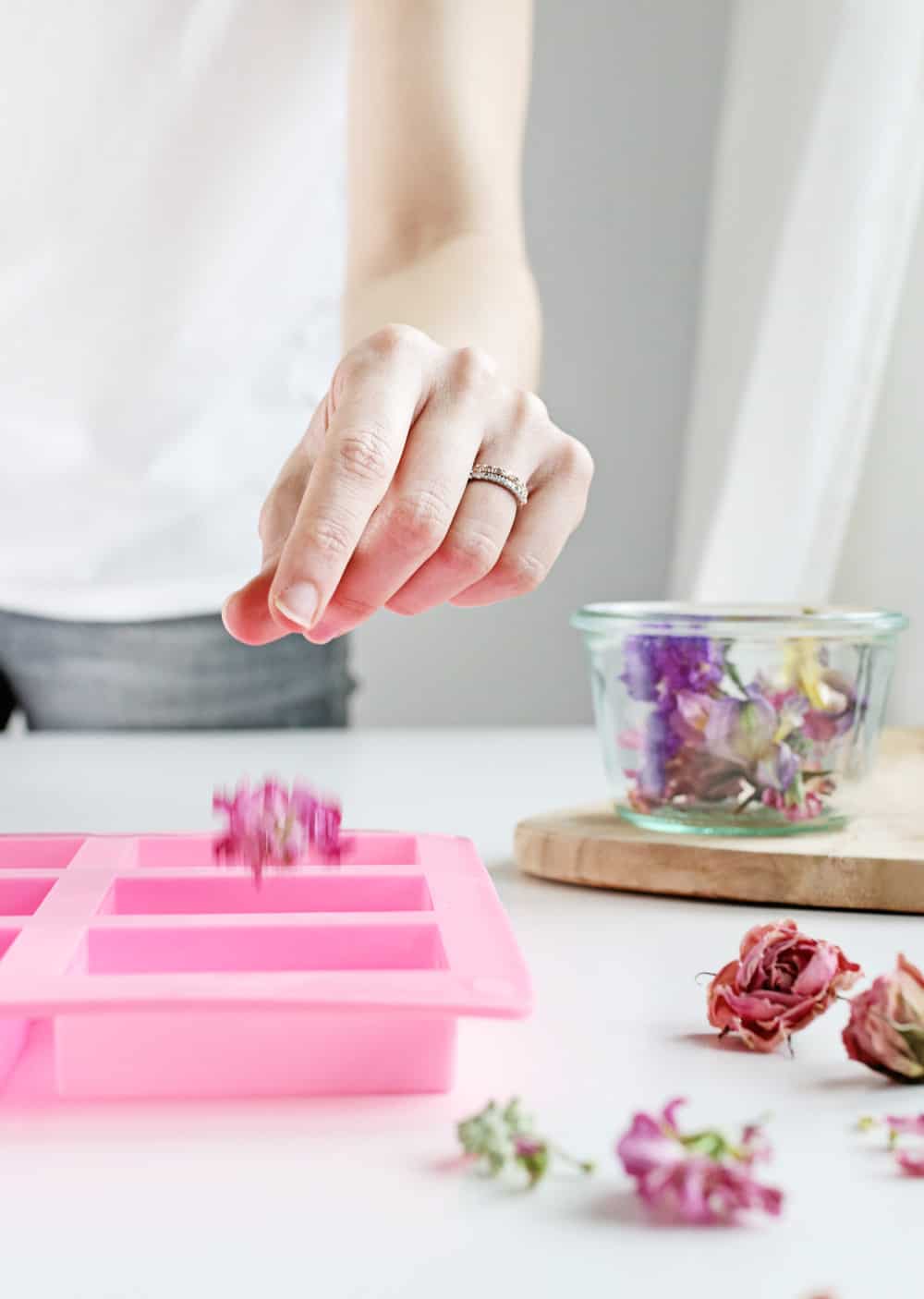 Step 4 | Add flowers to soap mold

Place flower petals of different shapes and sizes in the bottom of your mold.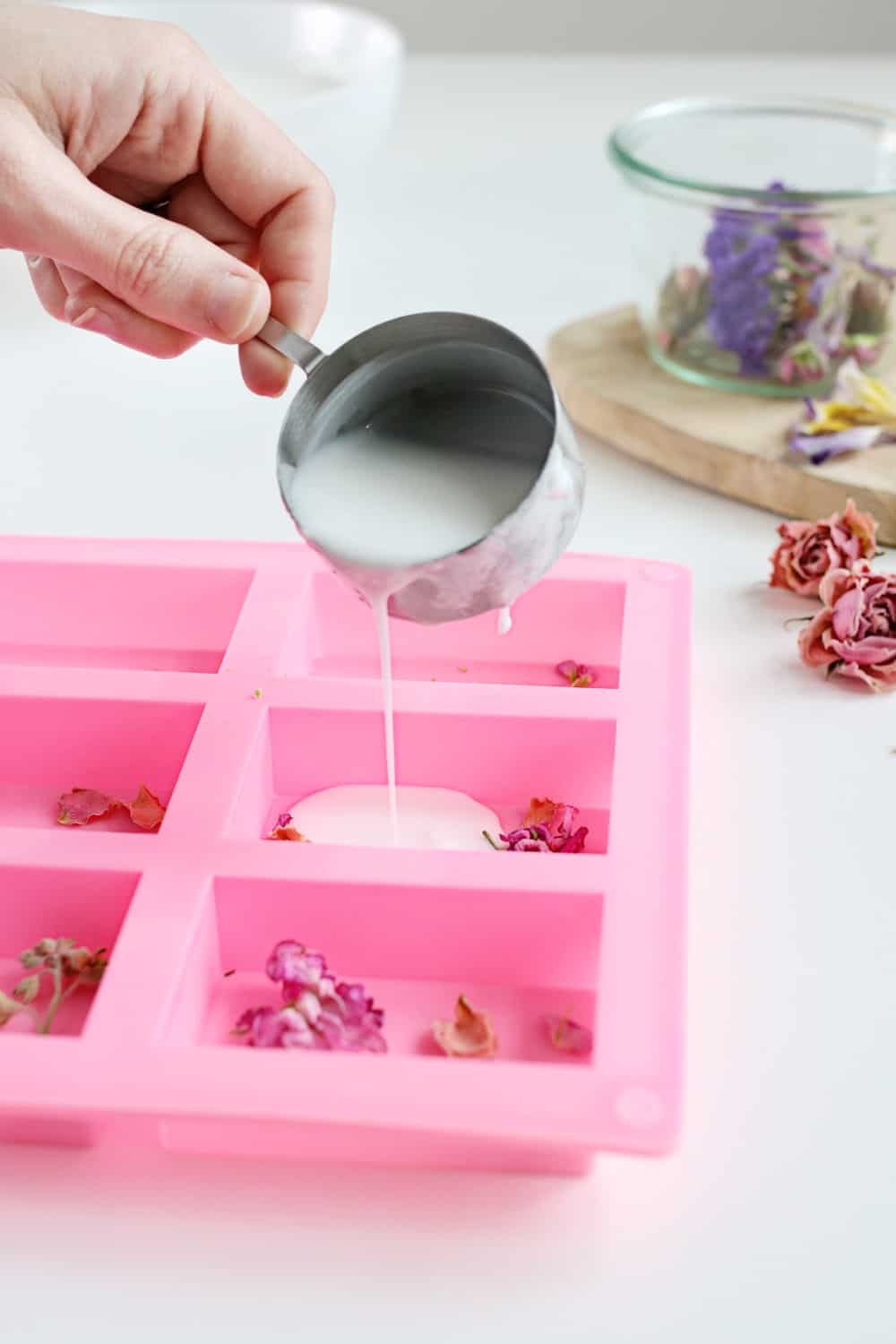 Step 5 | Pour in melted soap
Spoon melted soap into each of the molds until full. Top with more flowers, then let cool for 1–2 hours.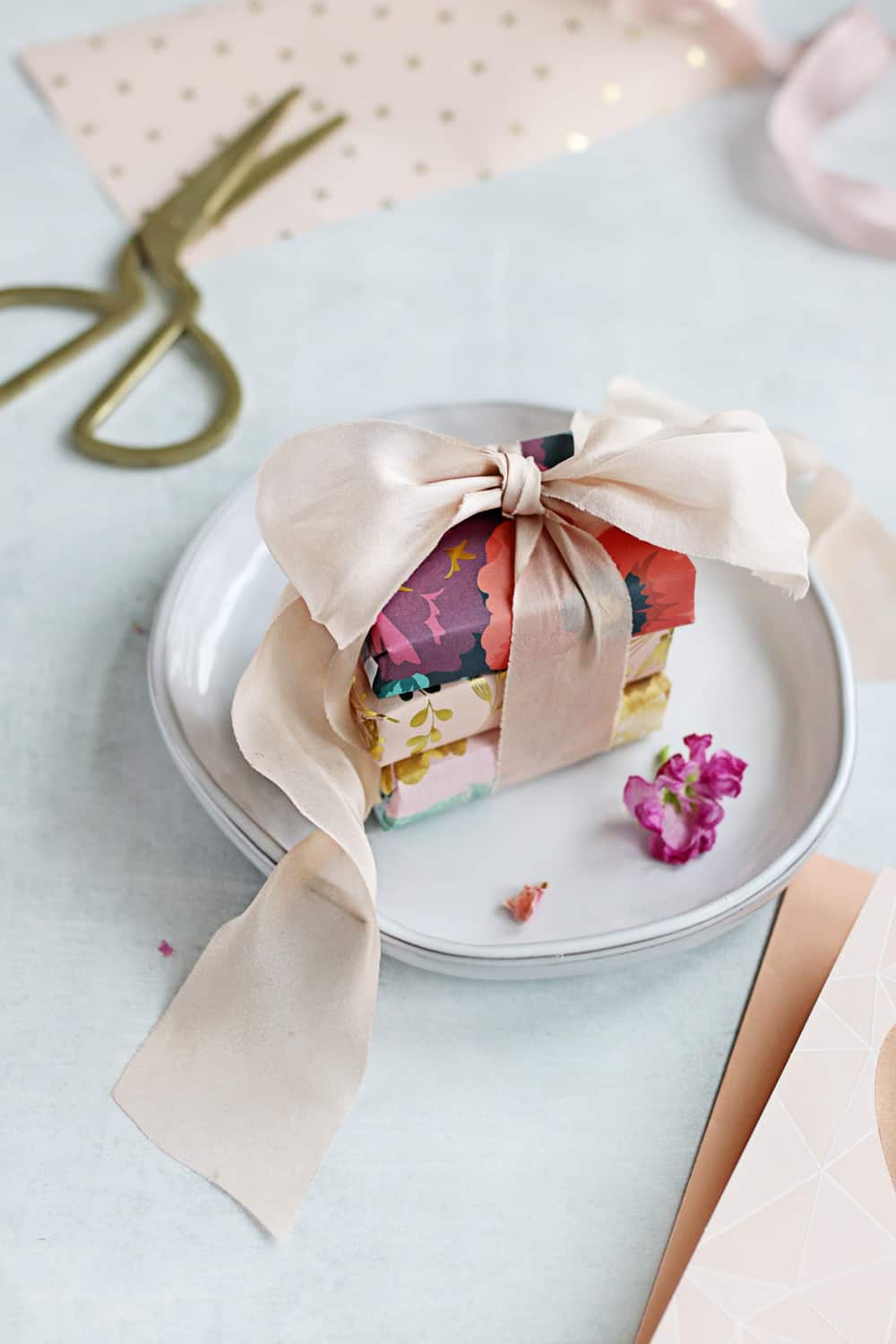 Step 6 | Gift wrap
Wrap each bar in gorgeous paper and tie with a pretty ribbon, or place it in a special box with tissue paper inside.
Alternative Recipe
There are several variations you can try, including a shea butter moisturizing flower petal soap. Shea butter is a type of fat extracted from the nuts of the shea tree, which is native to Africa. It has a rich, creamy texture and is widely used in skincare products due to its many benefits for the skin. Here is a recipe for DIY flower petal soap using shea butter soap as a base:
1–3 bars shea butter soap
3–11 cups flower petals (dried or fresh)
Purified water
1–3 teaspoons soybean protein
1–3 teaspoons titanium dioxide (mineral whitener)
1–3 teaspoons your favorite essential oil
Tissue paper
Classic white gift box
Petal stand (optional)
Gift wrapping (optional)
Instructions:
Cut the shea butter soap into small pieces and melt it in a double boiler or microwave.
Add 1–3 teaspoons of soybean protein and mix well.
Slowly add purified water while stirring continuously until you achieve a smooth consistency.
Add 3–11 cups of flower petals to the mixture and mix well.
Add 1–3 teaspoons of titanium dioxide to the mixture and stir until the soap turns white.
Add 1–3 teaspoons of your favorite essential oil and mix well.
Pour the soap mixture into soap molds, and let it cool and harden for at least 4 hours or overnight.
Once the soap is fully hardened, gently remove it from the mold and wrap it in tissue paper.
Place the wrapped soap in a classic white gift box with some more tissue paper inside.
Optionally, you can add a petal stand to showcase the soap and gift wrapping and make it even more special.
Enjoy the petals in your soap for a luxurious and moisturizing full body cleanse!
Adjust the amount of shea butter soap and flower petals to increase or decrease the quantity. Just make sure to use flower petals that are free from pesticides and chemicals.
154