We love ourselves some homemade soap around here. Over the years, we've made almost every kind of soap we can think of (herbal, flower petal, soap on a rope, and pink clay soap, to name a few), and we're not even close to calling it quits just yet.
That's because melt-and-pour soap takes the pain out of soap making and lets you focus on the more creative aspects, like choosing colors, scents, shapes, and more. The sky's the limit!
But despite its simplicity, we've picked up a few tips and tricks along the way that make melt-and-pour soap even easier.
Here's our complete guide to using melt-and-pour soap.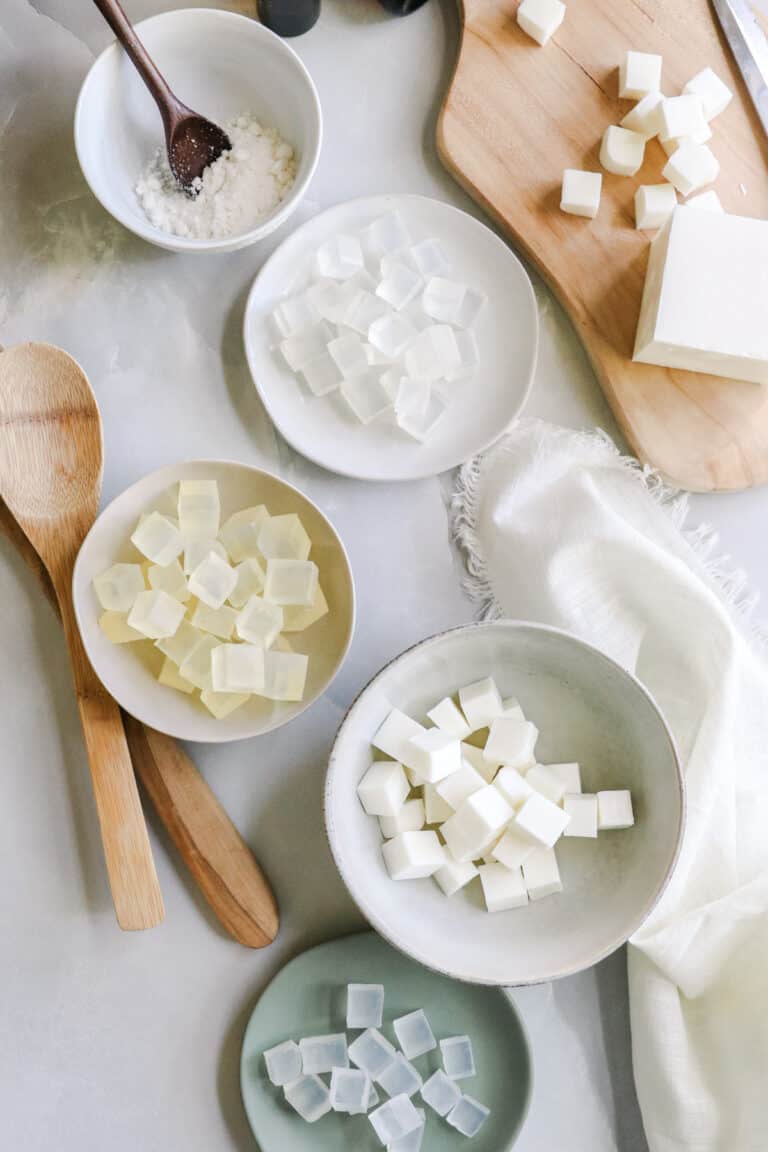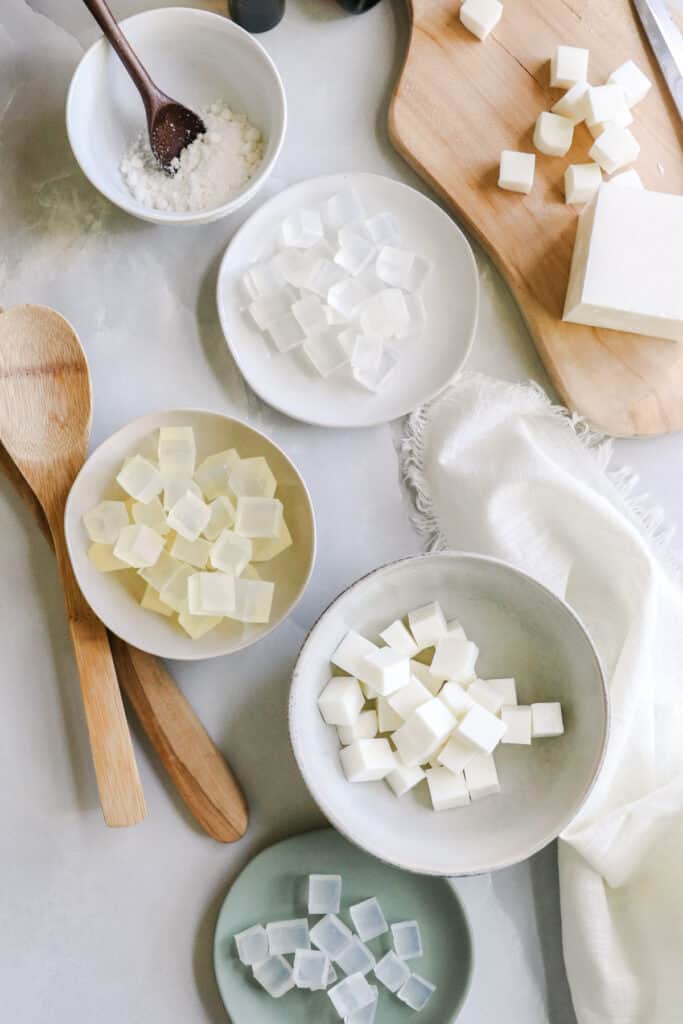 Guide to Using Melt-and-Pour Soap
What is Melt-and-Pour Soap?
Soap base, also known as melt-and-pour soap, is simply pre-made soap that you can melt down, add scent and colorants to, and let harden using your own molds. It's an easy way to make customized soap at home without handling some of the more caustic chemicals (like lye) or purchasing safety gear.
Because it's already been through the full saponification process (the chemical reaction that makes lye safe for skin), you can enjoy your soap immediately, rather than waiting 4–6 weeks for it to cure completely.
Melt-and-pour soap is especially great for novice soap makers because it allows them to focus on the more fun aspects such as scents, colors, and designs, without worrying about making soap from scratch.
Melt-and-Pour Soap Bases
The first step to using melt-and-pour soap is choosing the base. All melt-and-pour soaps primarily consist of coconut oil, palm oil, safflower oil, glycerin, water, and sodium hydroxide (lye). From there, things like goat milk, shea butter, and other natural ingredients are added to make the different bases.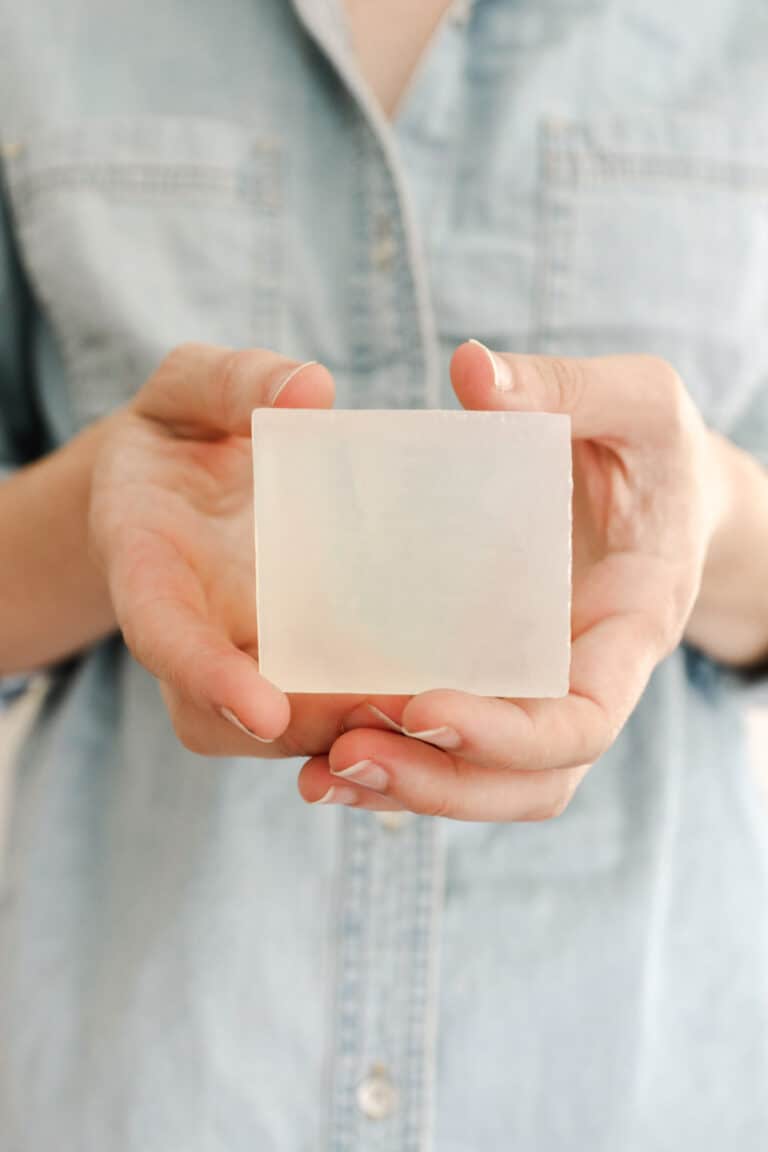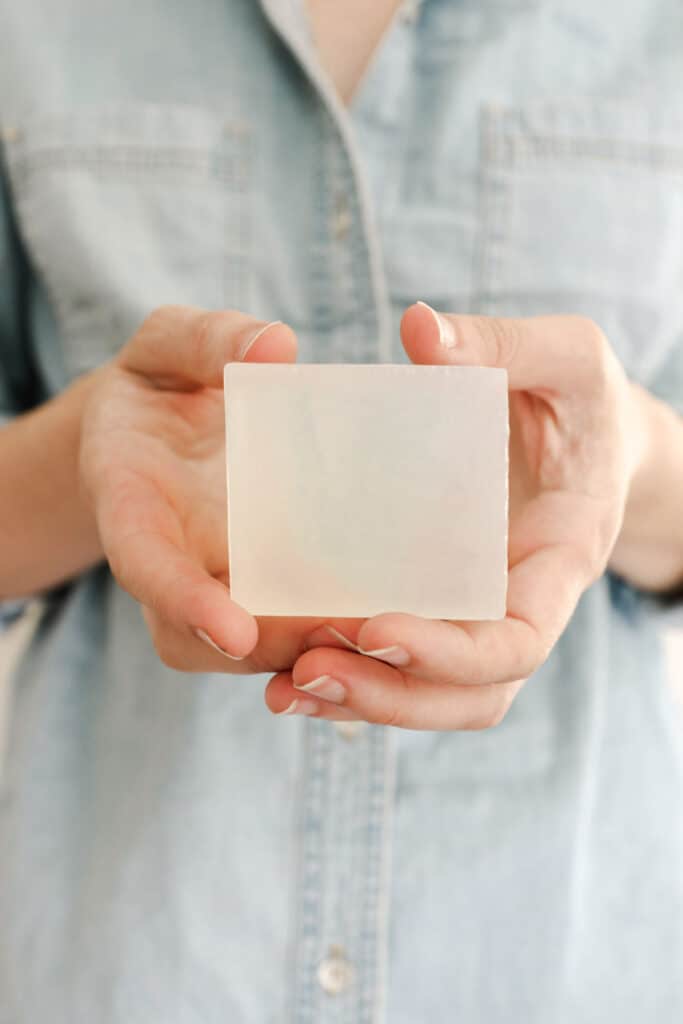 Glycerin (Clear) Melt-and-Pour Soap
Glycerin melt-and-pour soap is a clear soap base that doesn't contain any of the other additives like shea butter or goat's milk. Because it dries clear, it's perfect for coloring and for embedding objects such as flower petals, herbs, or other kinds of soap. However, without the moisturizing additives, it has a tendency to dry out sensitive skin when combined with dry air and super hot showers.
Here are some of our favorite glycerin soap recipes:
Shea Butter Melt-and-Pour Soap
Most shea butter soap bases contain about 5% shea butter, which gives it a smooth, creamy consistency and an off-white color. Because it's so creamy, it doesn't always lather as well as other bases, but it's still just as effective. It holds colors and scents well, but I've found that it's naturally soft, so adding too much additional oil (even essential oils) can make it dissolve more quickly.
Here are our favorite shea butter soap recipes:
Goat's Milk Melt-and-Pour Soap
Goat milk soap is a soft white soap base that has been infused with real goat's milk. It's chock full of vitamins, proteins, and minerals that nourish dry skin and support overall skin health. Although it melts the same as glycerin soap, its opaque color can make it more difficult to achieve a deep, rich hue using natural colorants.
Here are two goat milk soap recipes we swear by:
Specialty Soap Bases
Honey, oats, aloe, hemp oil, and olive oil are considered more "specialty" forms of glycerin soap base. They're easy enough to make yourself simply by adding those ingredients directly to the melted glycerin soap base. Or you can save a step (and maybe some money) by buying a base with it already included. It's up to you!
Colorants for Melt-and-Pour Soap
There are plenty of options for coloring melt-and-pour soap. Micas and herbs are easy to use, and they look great in the finished soap. They're also natural, so you don't have to worry about toxins or skin irritation when using your soap. While there are artificial colorants available to choose from, they may irritate skin and aren't recommended for bath and body products.
My favorite natural options are herbs and spices that you can add directly to your melted soap base. Because they're powders, they sometimes sink to the bottom as the soap cools and don't always give you a uniform color throughout.
That doesn't bother me (even when I'm giving soap as gifts), and I much prefer it to artificial colors. Here's what I use most often:
Turmeric powder (yellow)
Beet root powder (pink or red)
Matcha powder (light green)
Spirulina (dark green)
Iron oxide powder (rusty red)
Mica powders (there are lots of different colors to choose from)
You should never use crayons or food coloring for your soap. Not only are they toxic and shouldn't be applied directly to skin, but they're not colorfast—so they may fade quickly.

Fragrance for Melt-and-Pour Soap
Fragrances aren't a necessity, but they can make your soap more enjoyable to use.
Essential Oils
My personal favorite, essential oils give your soap skin-soothing and aromatherapy benefits. Choose your oils based on your particular skin type or the aromatherapy benefits you'd like to enjoy. If you're giving your soap as a gift, tailor the fragrance to your recipient.
Some of my favorite essential oils are:
A good rule of thumb is to use about 2 teaspoons (0.3 oz) of scent per pound of soap base. If using essential oils, make sure to let your base cool slightly before adding your oil, or you might degrade the fragrance.
Fragrance Oils
Fragrance oils are skin-safe fragrances made specifically for use in bath and body products. While most are said to be "all-natural," brands don't often disclose their ingredients—so I'm skeptical. I prefer to stick with essential oils since it's easier to tell exactly what's in them.
Note that potpourri, craft, or candle fragrances should never be used in soap.
Molds for Melt-and-Pour Soap
You'll need to choose a mold that can withstand higher temperatures so it doesn't melt from the heat of your soap base. Metal baking tins, muffin pans, silicone molds, and wooden soap molds are the types most often used in soap making.
Silicone Molds
I prefer silicone molds with individual bar-sized cavities because they're flexible, meaning you can easily pop out the cooled bars. They also come in fun shapes and sizes, that are perfect for storing in a glass jar in the bathroom or giving as gifts during the holidays. While they do have silicone soap molds, I often look for silicon baking or ice molds as well.
Wood and metal molds
Baking or muffin tins are perfect for making your own soap. Simply pour your melted soap base into the individual tins, and allow it to cool completely.
If your soap doesn't pop out easily, place the tin in the freezer for 20 minutes, then try again. You can also use large wooden or metal soap molds if you would like to create bars of soap with layers, marbling, or patterns.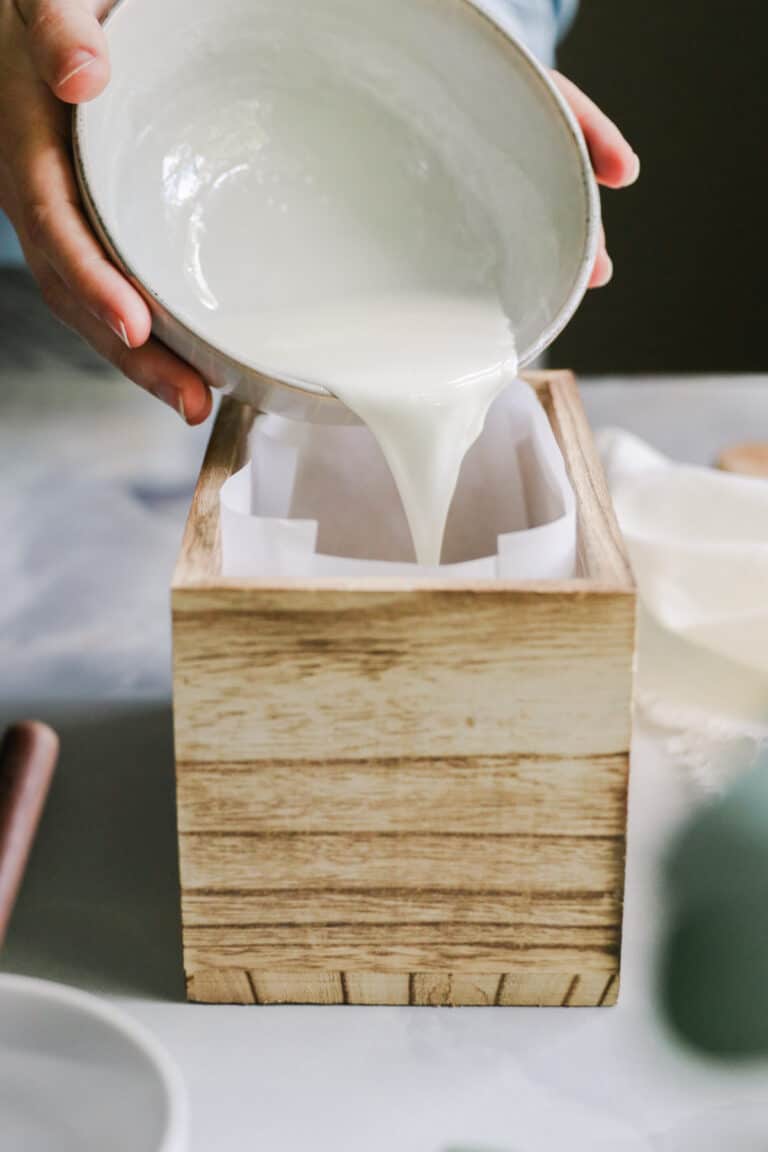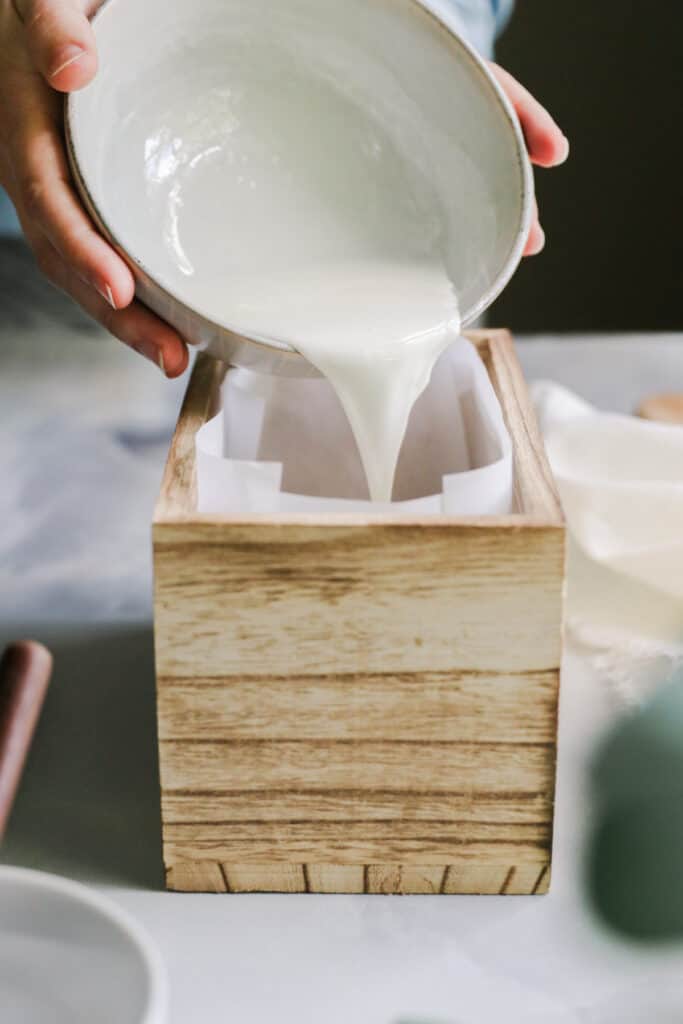 How to Use Melt-and-Pour Soap
As the name suggests, it's as simple as just melting your soap base and pouring it into a mold. But there are a few basic supplies you might need:
Microwave-safe bowl

Knife

Soap base

Essential oils and herbs/pigments

Mold of your choosing
1. Cut your soap base into small chunks, and place them in a microwave-safe bowl or a microwave-safe measuring cup.
2. Microwave your base in 30-second intervals until melted.
3. Let it cool for a couple of minutes before adding your fragrances and colorants. Stir to combine.
4. Pour the soap into your mold of choice and let cool completely.
5. When the soap is hardened, pop it out of your mold and enjoy right away!
Other helpful tools
Scale – for measuring the exact amount of soap
Cutting board and knife – for cutting your soap base into manageable cubes
Measuring spoons – for adding oils or colorants
Metal whisk – for mixing your additives
Mixing bowls in various sizes – for keeping bases and colors separate
Rubbing alcohol in a spray bottle – a light spritz can help keep bubbles from forming in your soap
Rubber spatula – to get the last little bit of soap out of your mixing bowl
Cloths and paper towels – for cleaning up spills
One last thing…
Is Melt-and-Pour Soap Safe?
Absolutely. But like other types of soap, melt-and-pour soap is only as safe as its ingredients. You should look for a high-quality soap base that uses natural oils without any alcohol, artificial colors, scents, or harmful products that may dry out your skin.
I love this one because it uses all natural ingredients without any fillers or chemicals, but there are lots of other brands out there. Feel free to try a few and see which one works best for you.
18 Melt-and-Pour Soap Recipes
You'll quickly realize that melt and pour soap is magic. You buy it, melt it, add color or texture or scent, and pour it into shapes. Done!
If you find yourself with way too much soap on your hands, gift away. Homemade soap makes a great gift, and we think these recipes will inspire to plan a trip to the craft store ASAP:

Made with rosewater and pink clay, this luscious-looking soap is also good for the skin. Use it on your face and body to help fight acne, oil, and debris.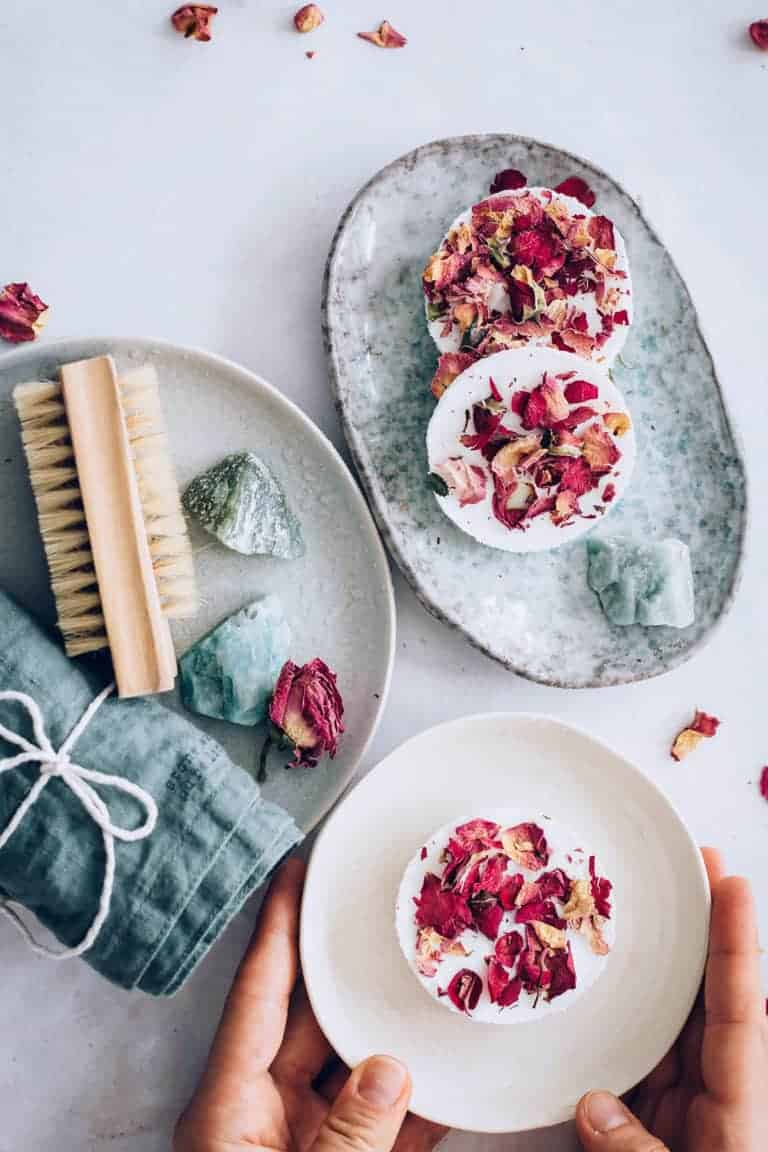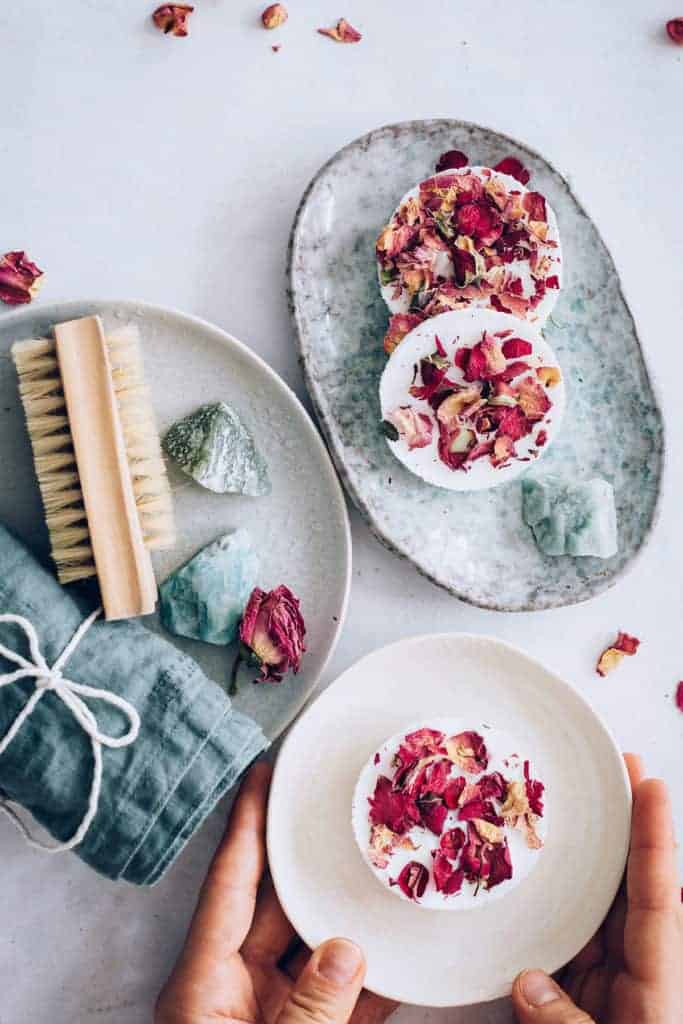 Rose petals and a vanilla scent make this soap totally giftable. The shea butter soap base also makes it super moisturizing, anti-inflammatory [source], and all in all, good for your skin.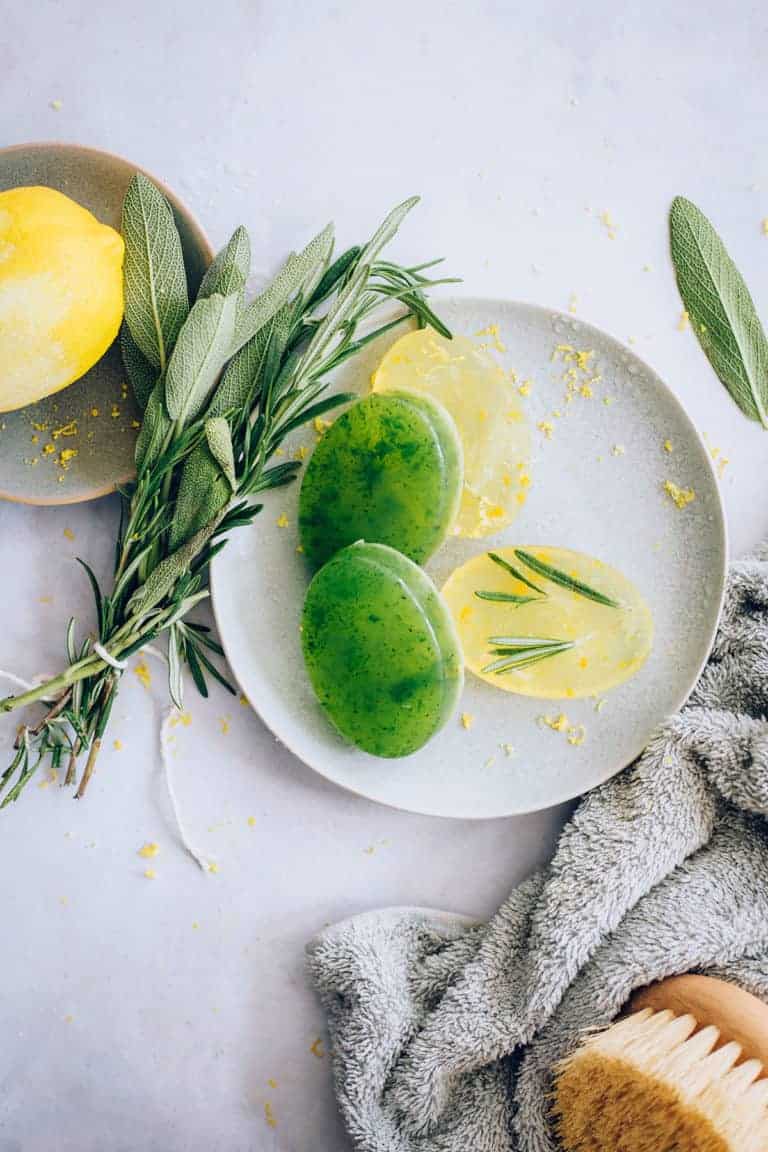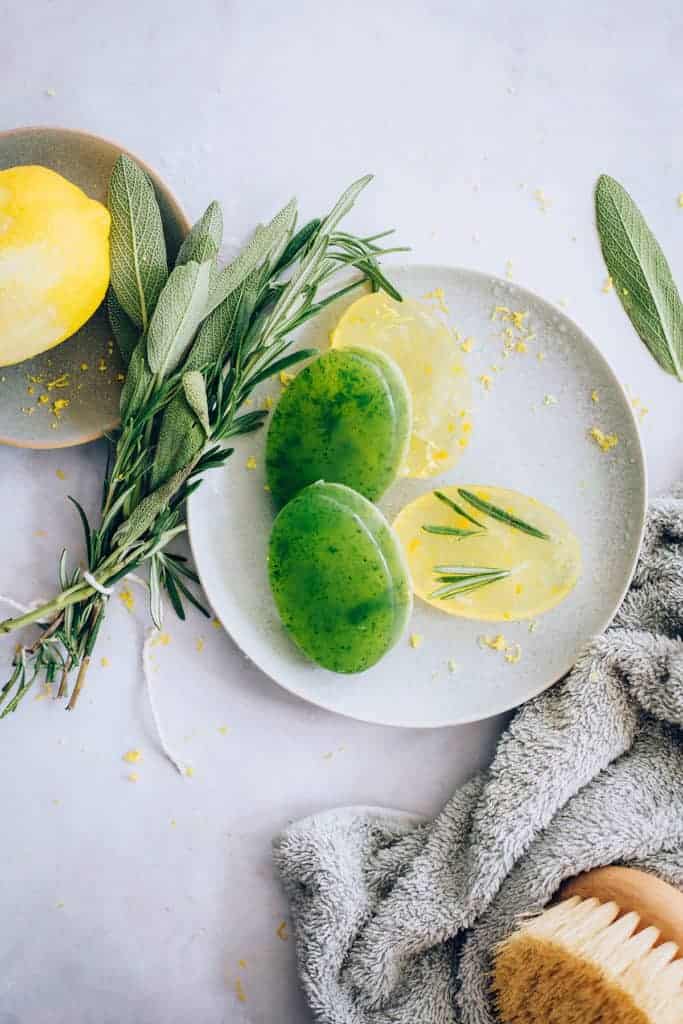 Fresh herbs like mint and rosemary will add a beautiful scent to your soap, not to mention how pretty they look! Glycerin soap base is perfect for showing off the add-ins, as it's naturally transparent.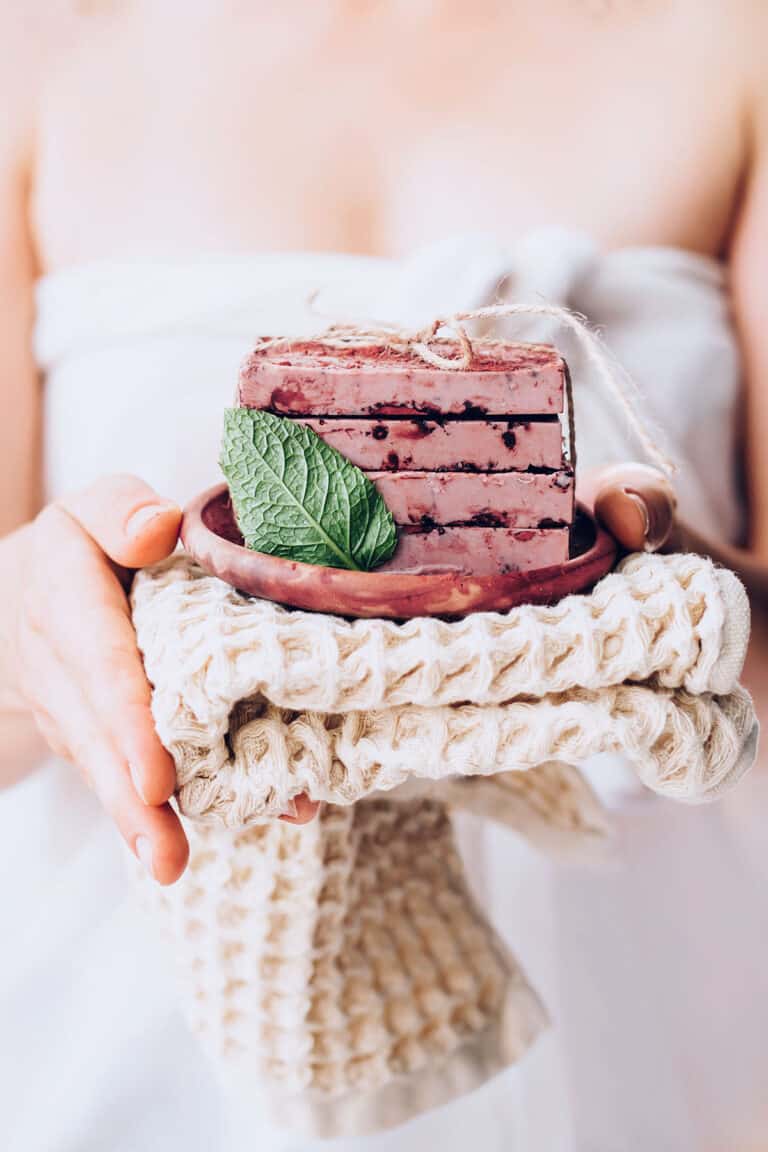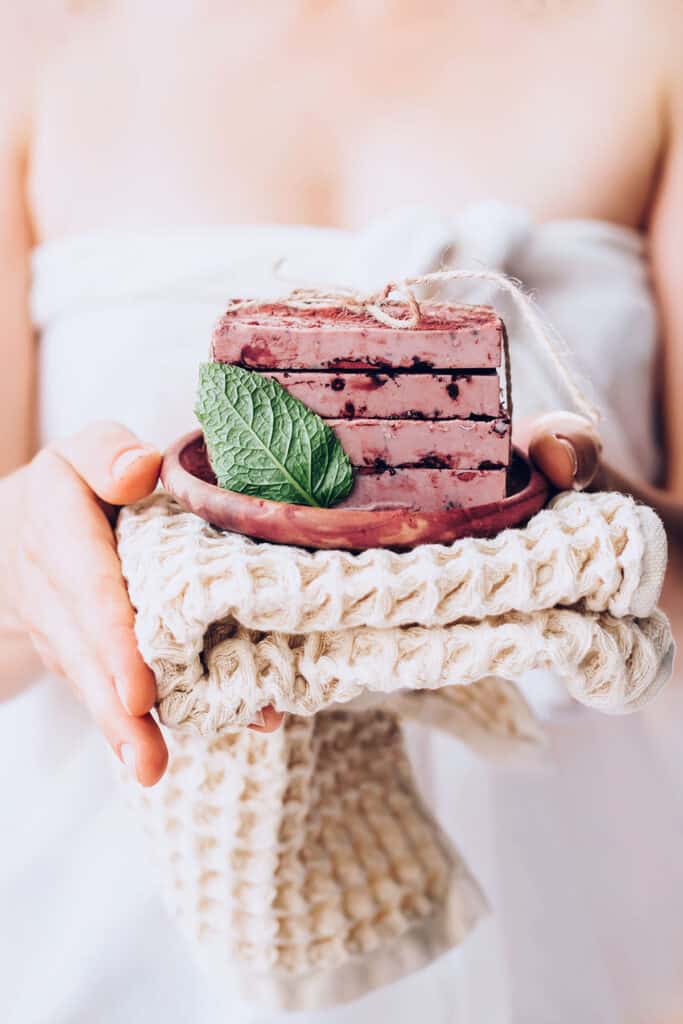 This soap is like the embodiment of mint chocolate chip ice cream! It smells good enough to eat, and it's made with a rich, moisturizing shea butter base that's absolutely dreamy.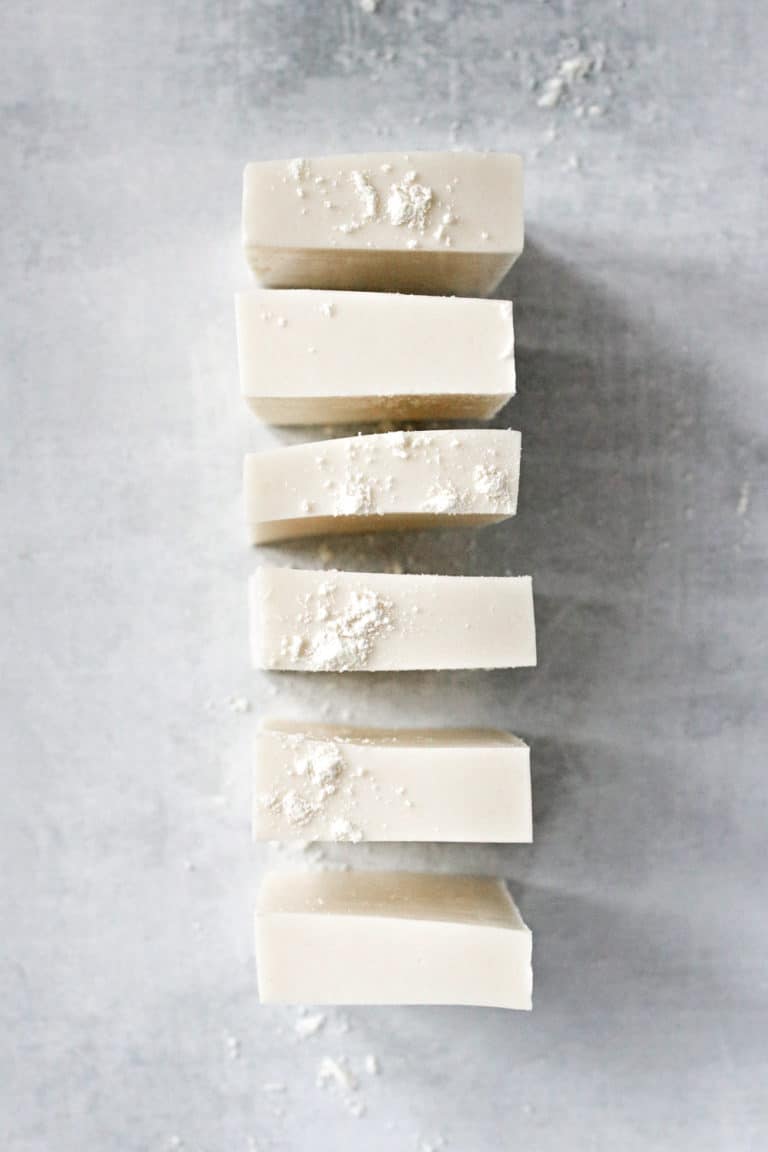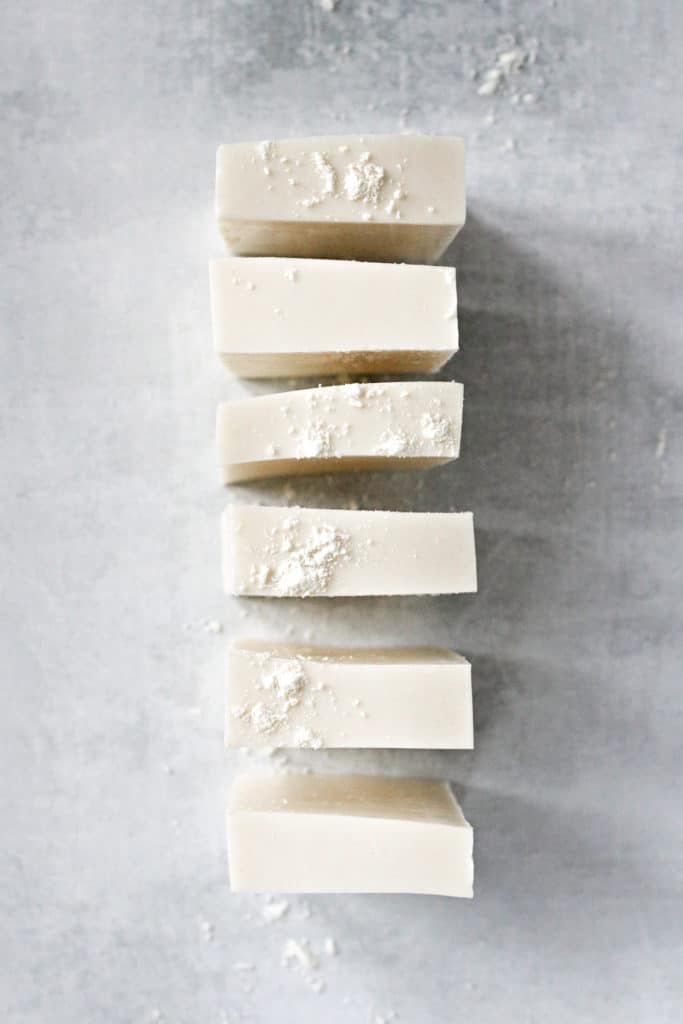 Goat milk balances skin pH and fights infections, it prevents premature aging and soothes sunburns, but it's also great for sensitive skin and even eczema. Use

powdered goat milk

to make this wonderful soap for the face and body.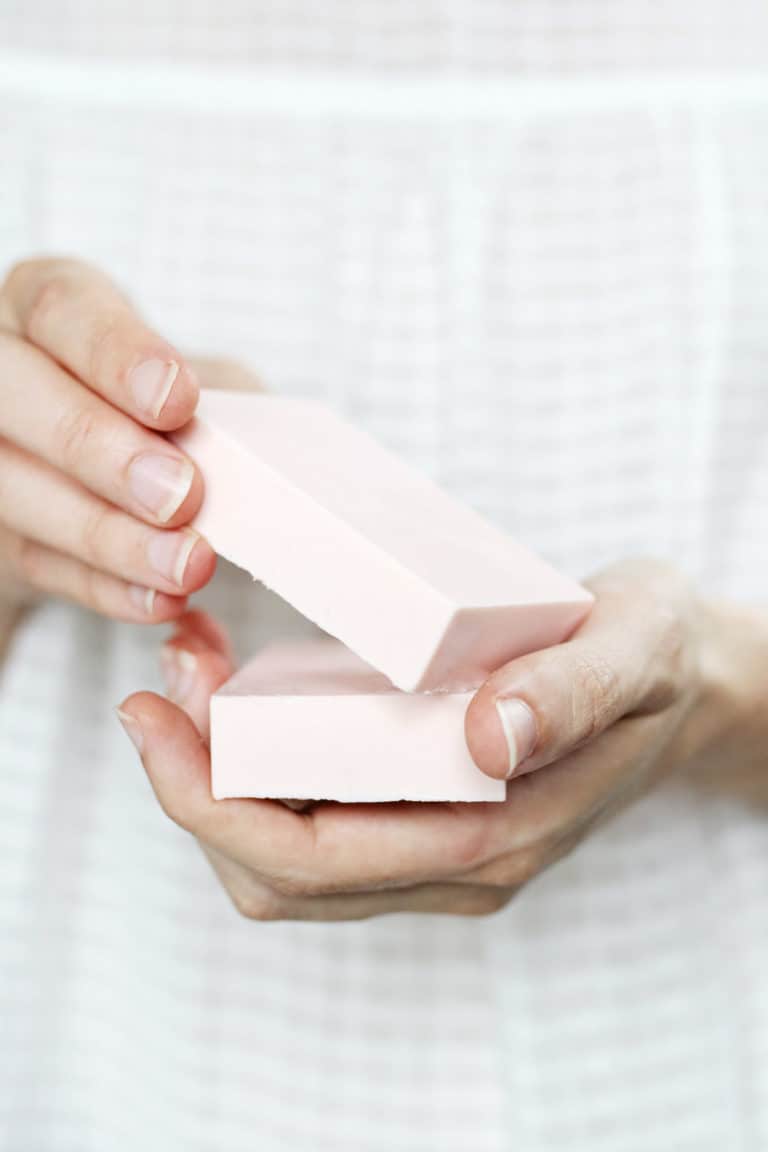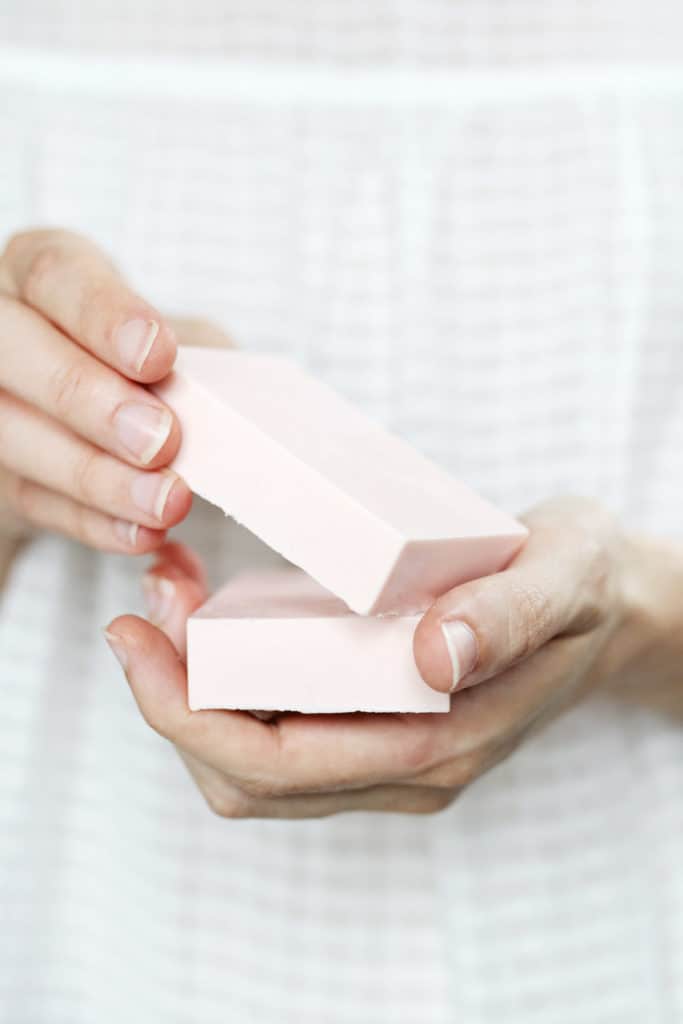 This healing calamine and chamomile soap is meant for sensitive skin, and it's a blessing for dry, itchy winter skin. It's perfect for easing those troubling conditions back into balance and taking care of cracks, flakes, and hot spots.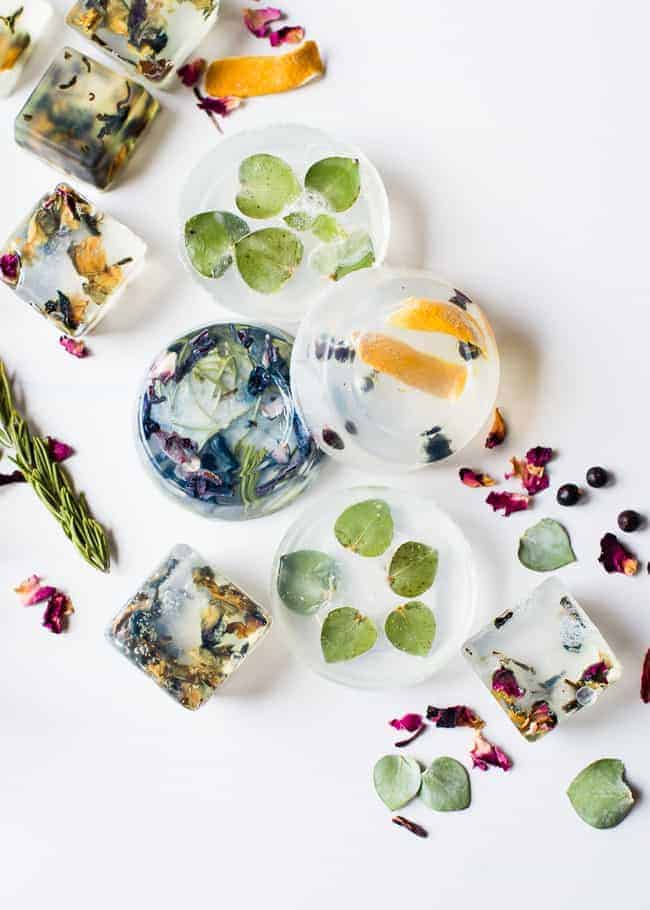 The winter holidays are a great excuse to make these soaps. You can customize them with different herbs any time of the year. They are great for using around the house— but you can gift them, too!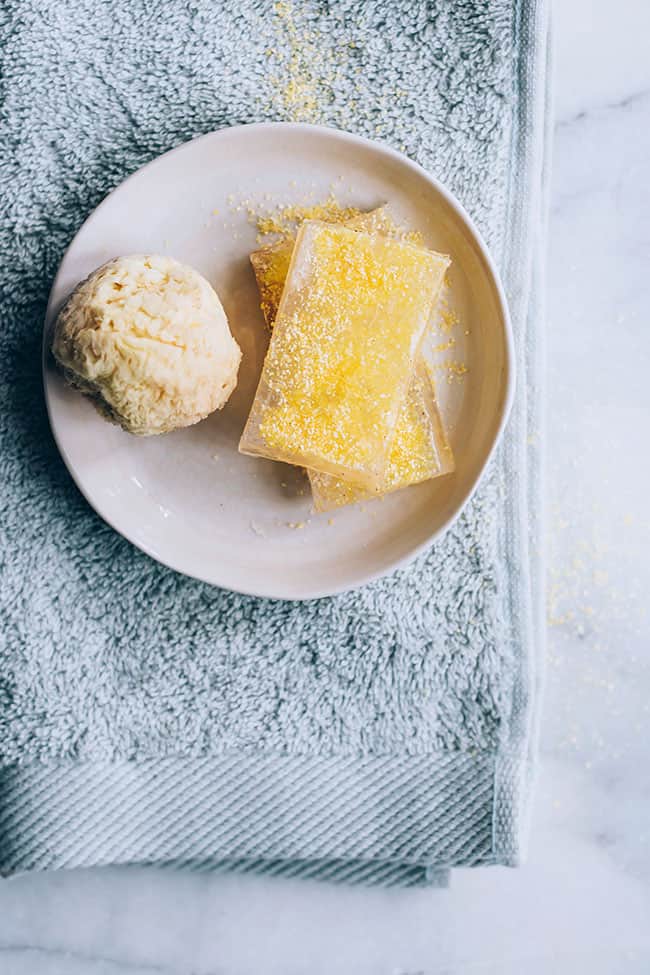 Exfoliation is the solution to more skin problems than you would think! Remove dry and dead skin and moisturize with any of these homemade exfoliating soaps: chia seeds, cornmeal, oatmeal, or coffee grounds.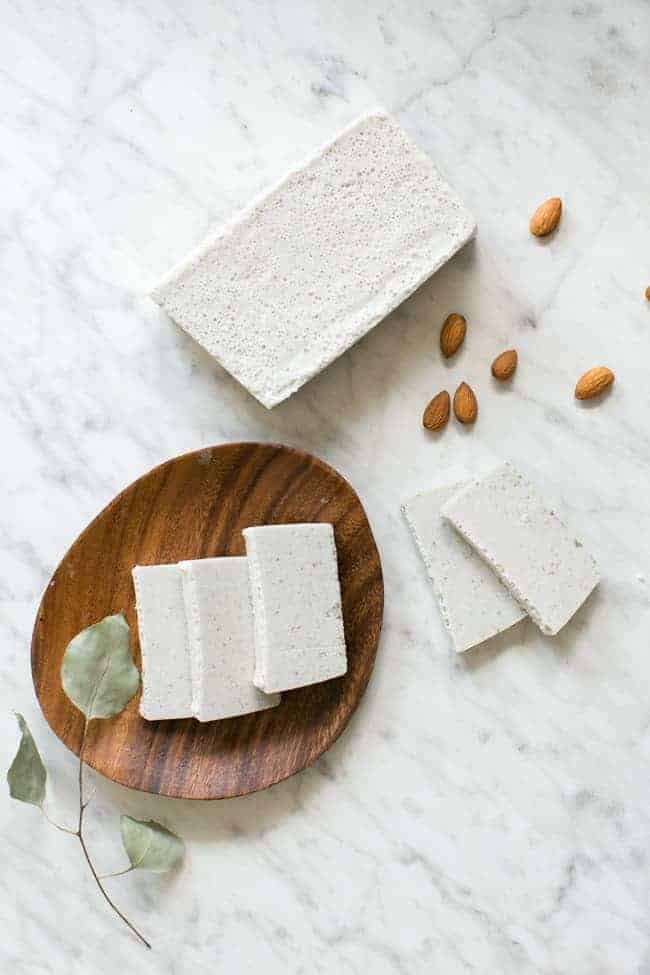 This goat's milk soap with soft bentonite clay, almond oil, and vanilla soothes as well as cleanses. It also shows that you don't need fancy molds to make soap—a simple almond milk carton will do!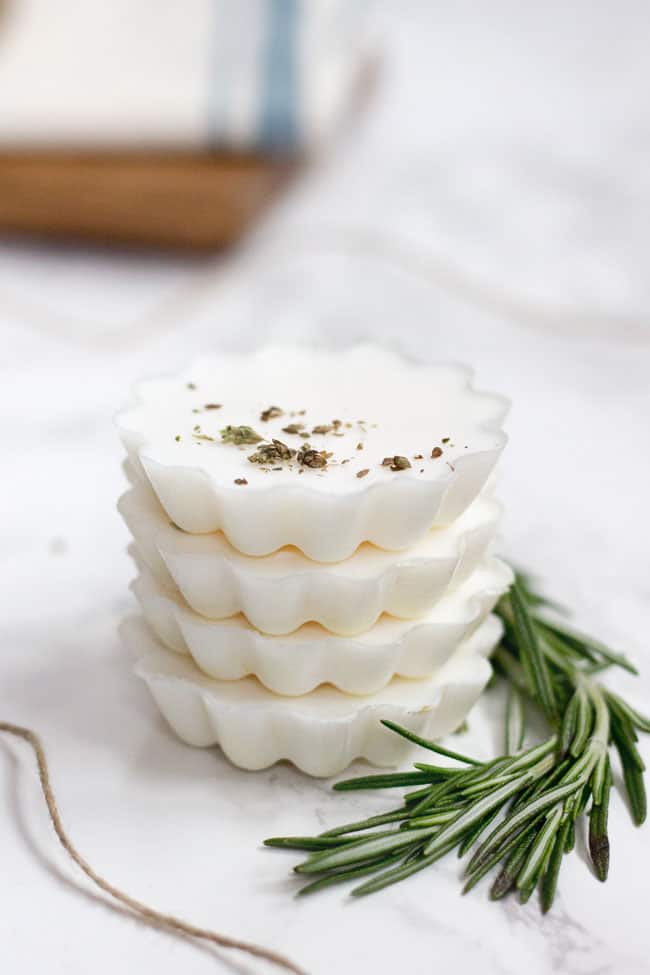 Not only are these rosemary and eucalyptus soaps moisturizing and luxurious, but they're so inexpensive and easy to whip up, you'll wonder why you waited so long to make them.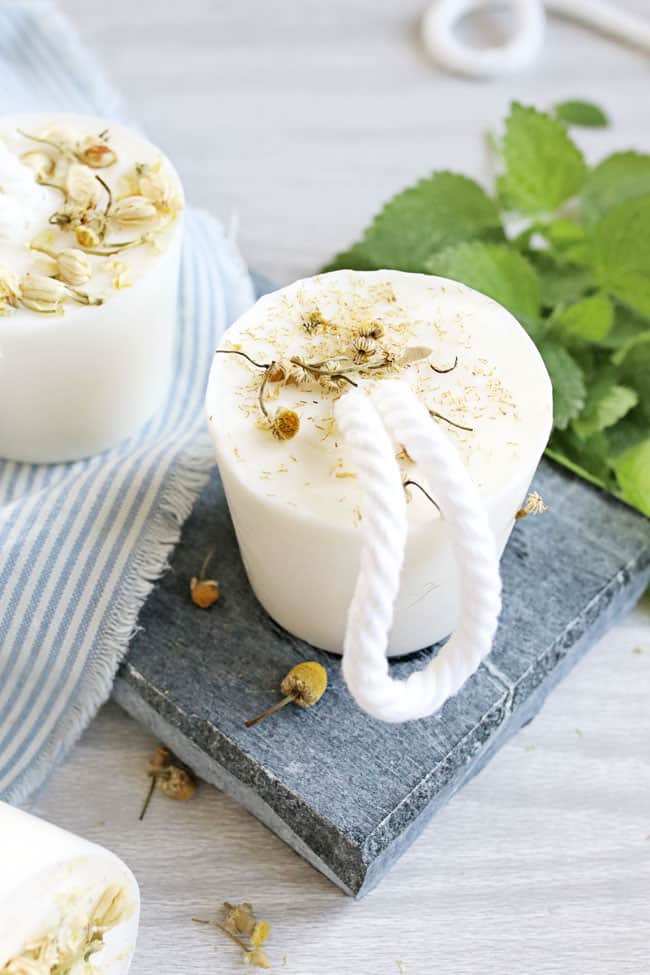 Before you throw away that yogurt container, have you considered using it as a mold? It's actually the perfect shape to make soap on a rope!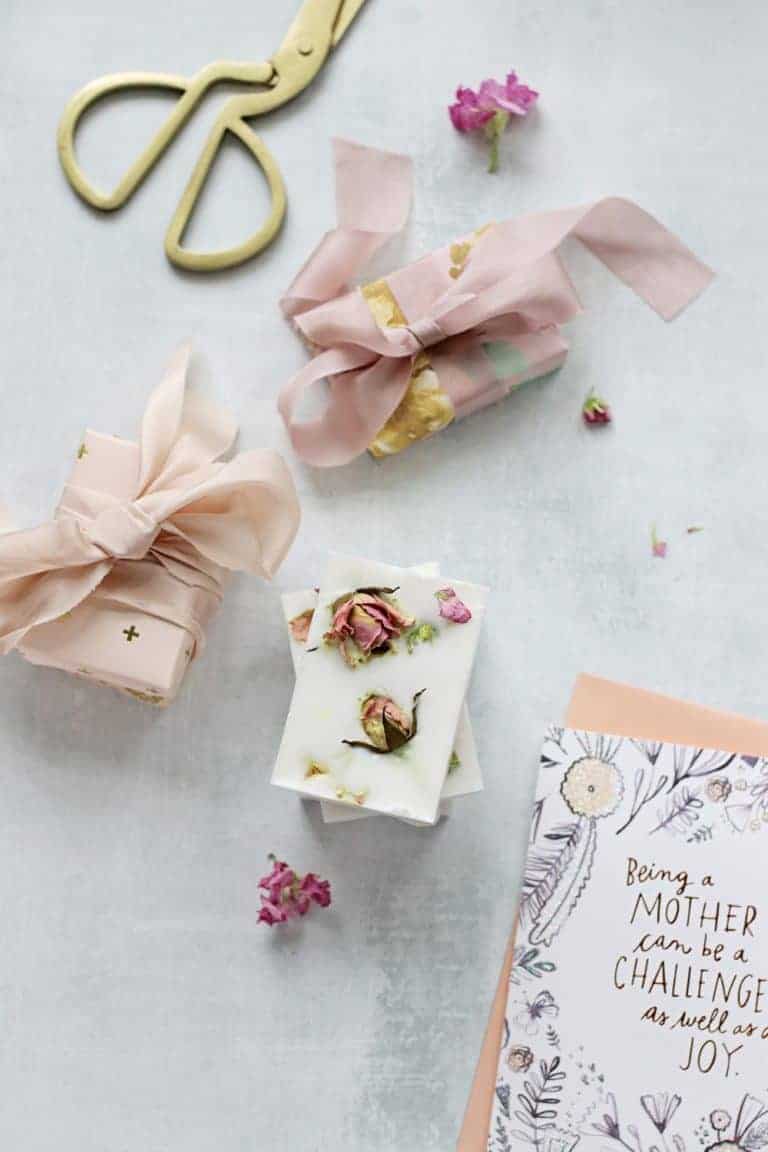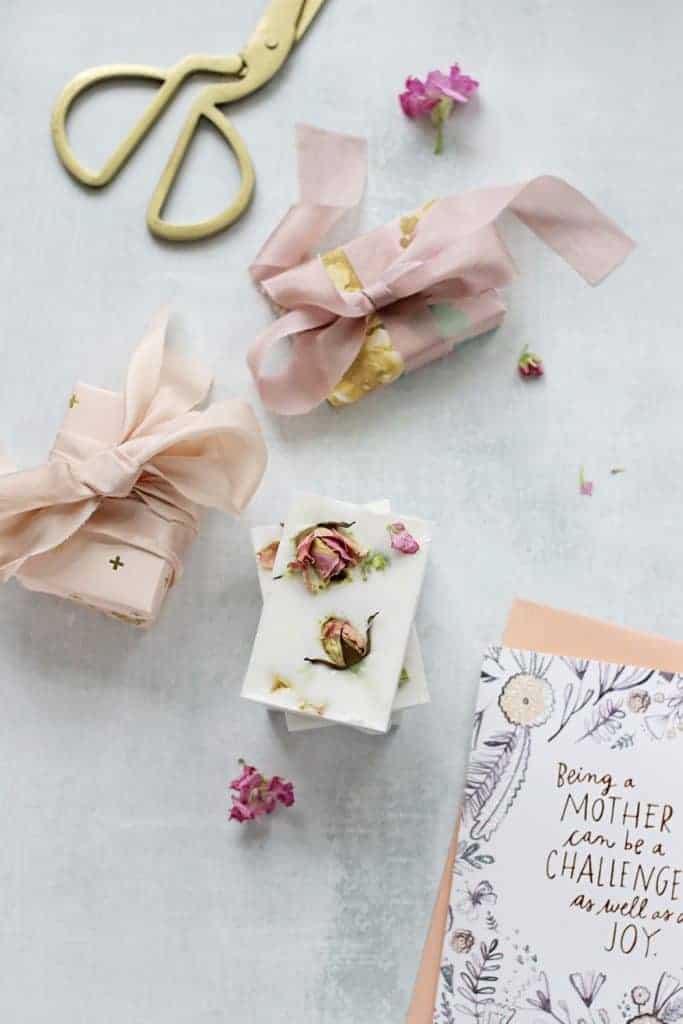 With flower petals inside, these soaps smell and look delightful. They make a thoughtful gift and a good way to use up dried flowers from bouquets and arrangements.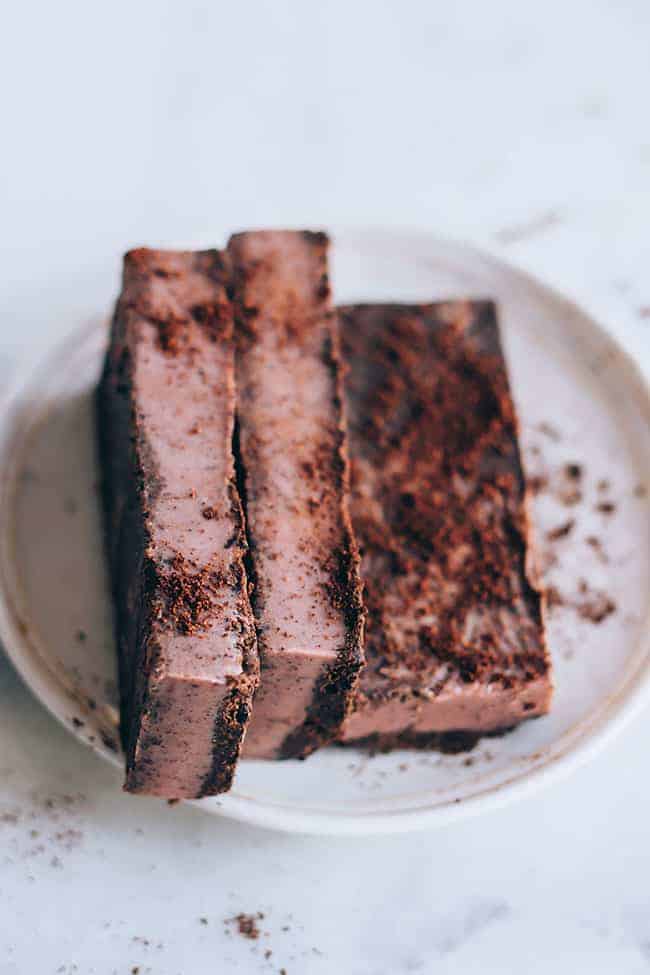 Yes, these soap bars smell like coffee and chocolate, which is pretty much our dream scent. But you know what else? They also banish cellulite by exfoliating [source], protecting, and repairing skin damage [source] at the same time.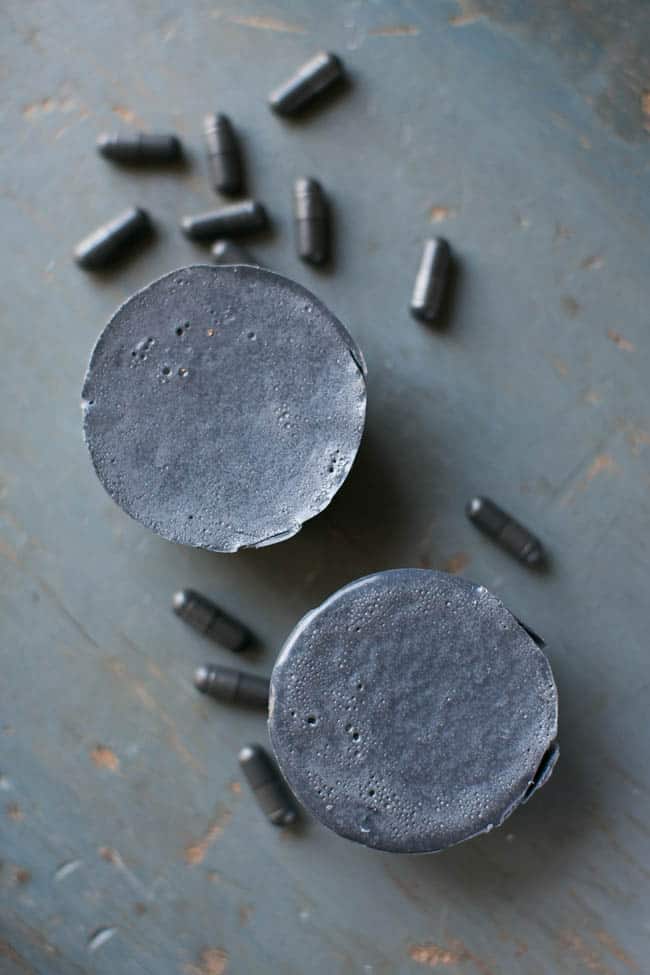 A power combo for the face! It detoxes and helps acne-prone skin with the aid of activated charcoal, tea tree oil [source], and a shea butter soap base.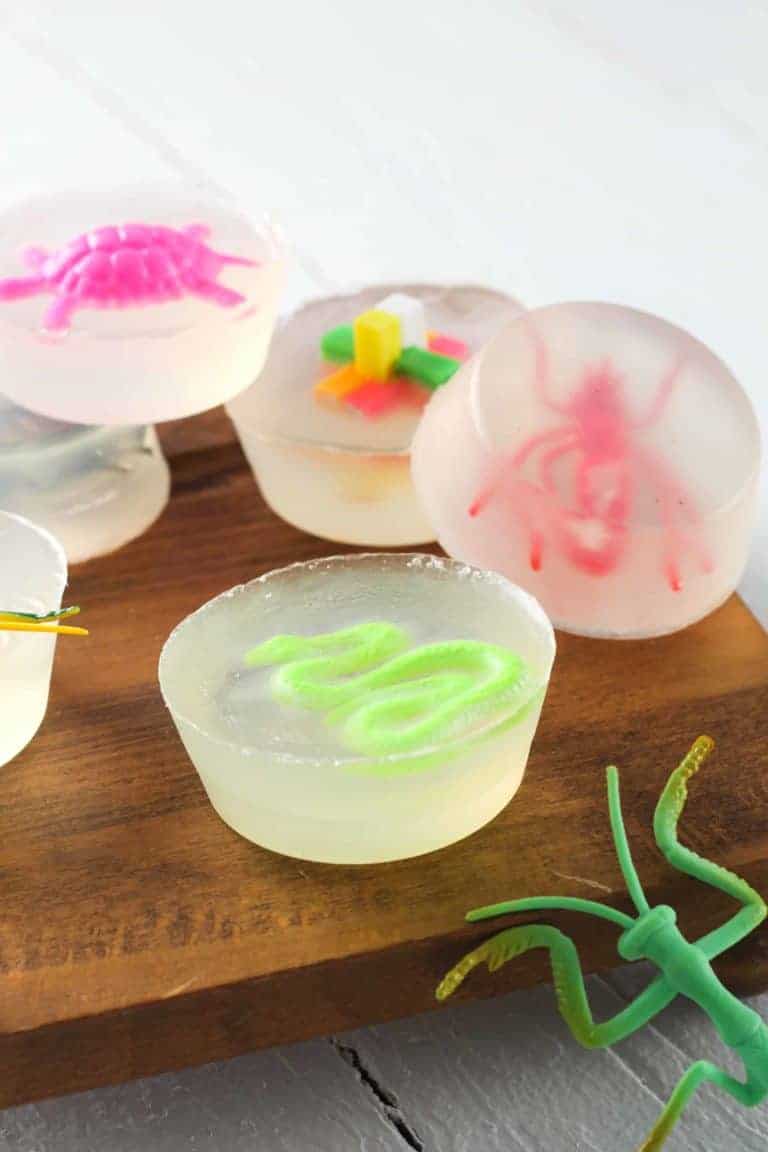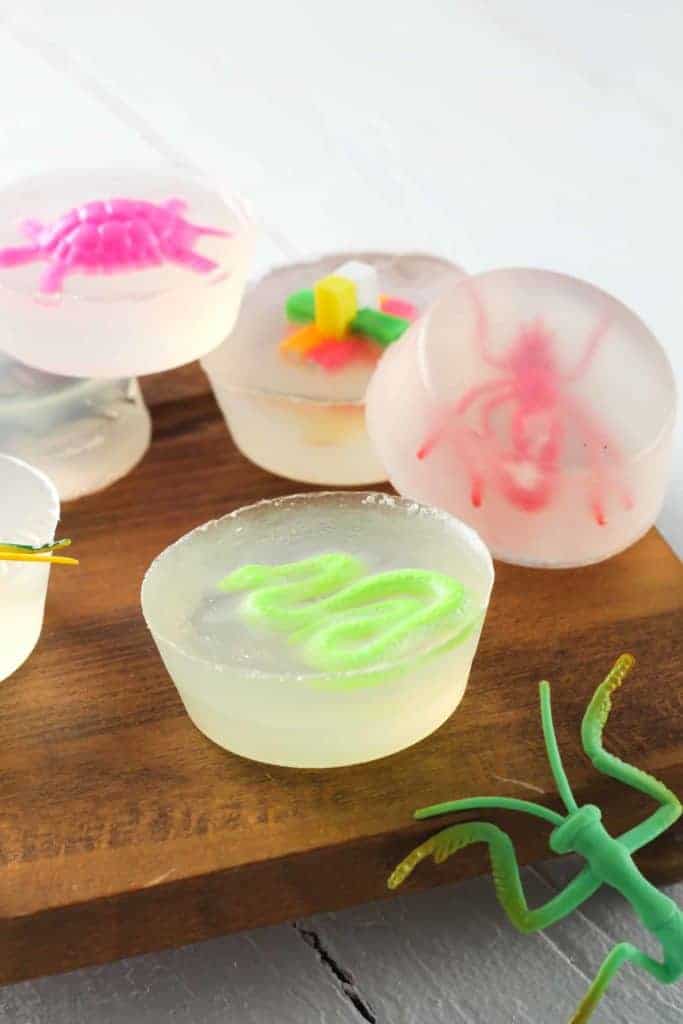 If convincing little ones to wash their hands is taking too much of your time, make some of these hidden toy soaps. They're guaranteed to make handwashing something they can't wait to do!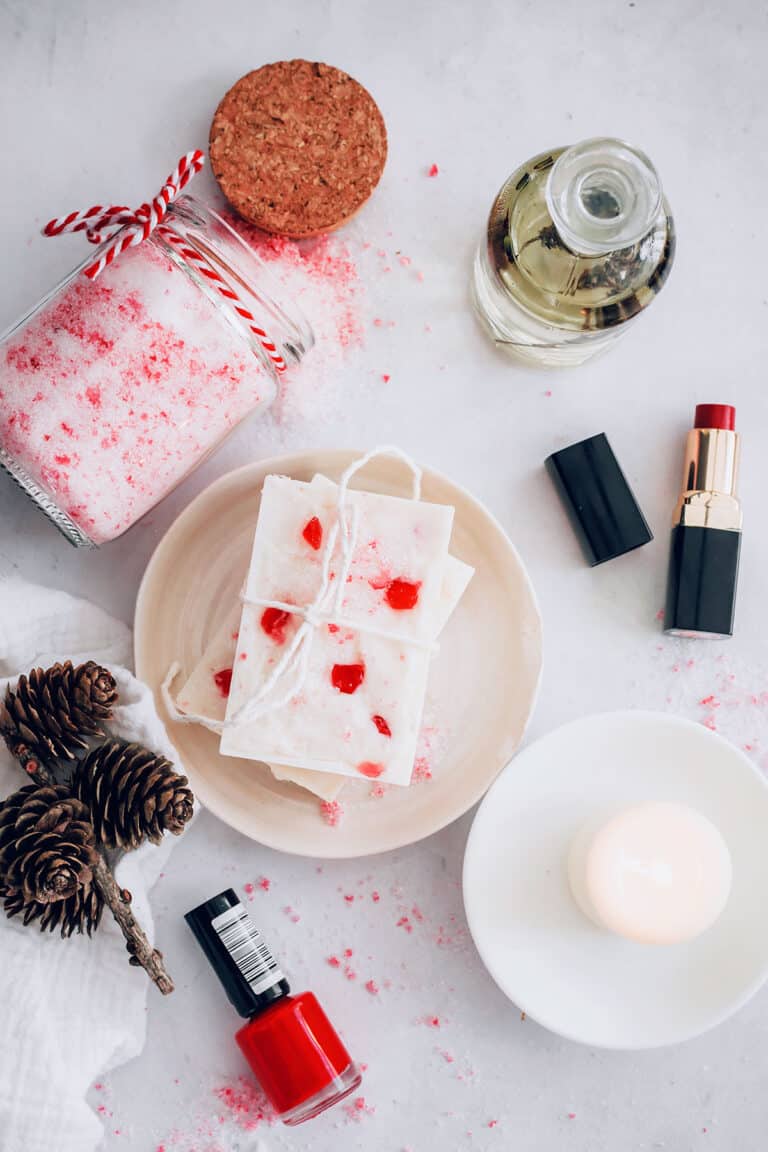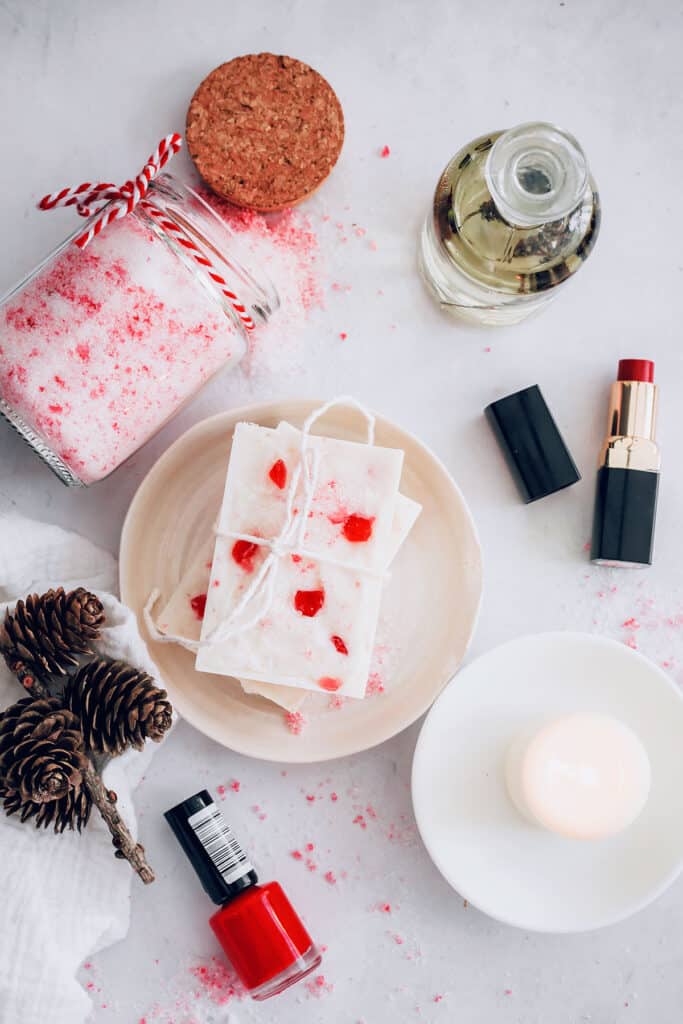 When it comes to the winter holidays, you can never have too many gift ideas! These peppermint soap bars are not only good looking, but their scent is lovely, too.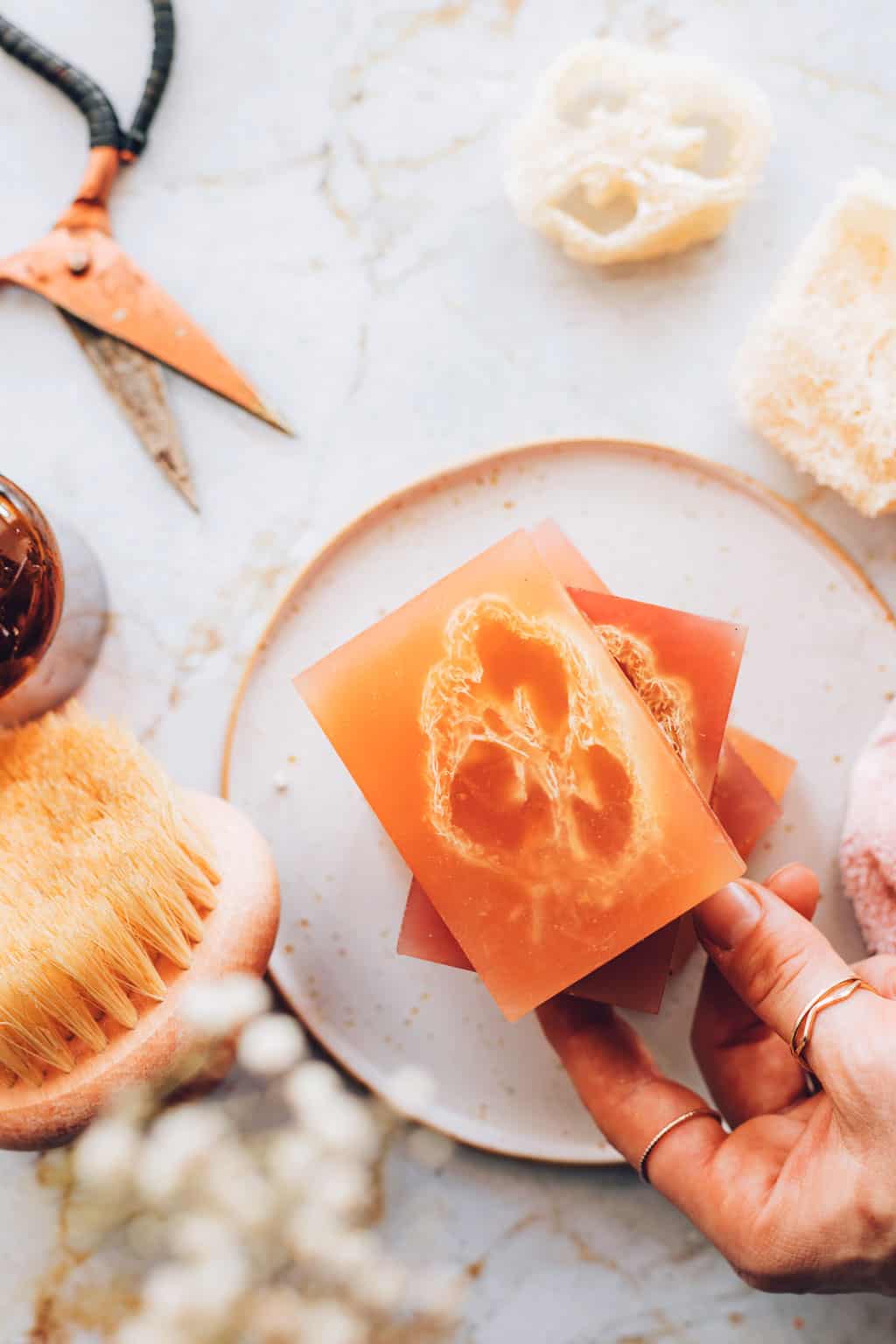 Loofah naturally scrubs away dirt, which makes it a great addition to soap. This tutorial shows you how to make your own exfoliating soap in pretty orange and pink tones.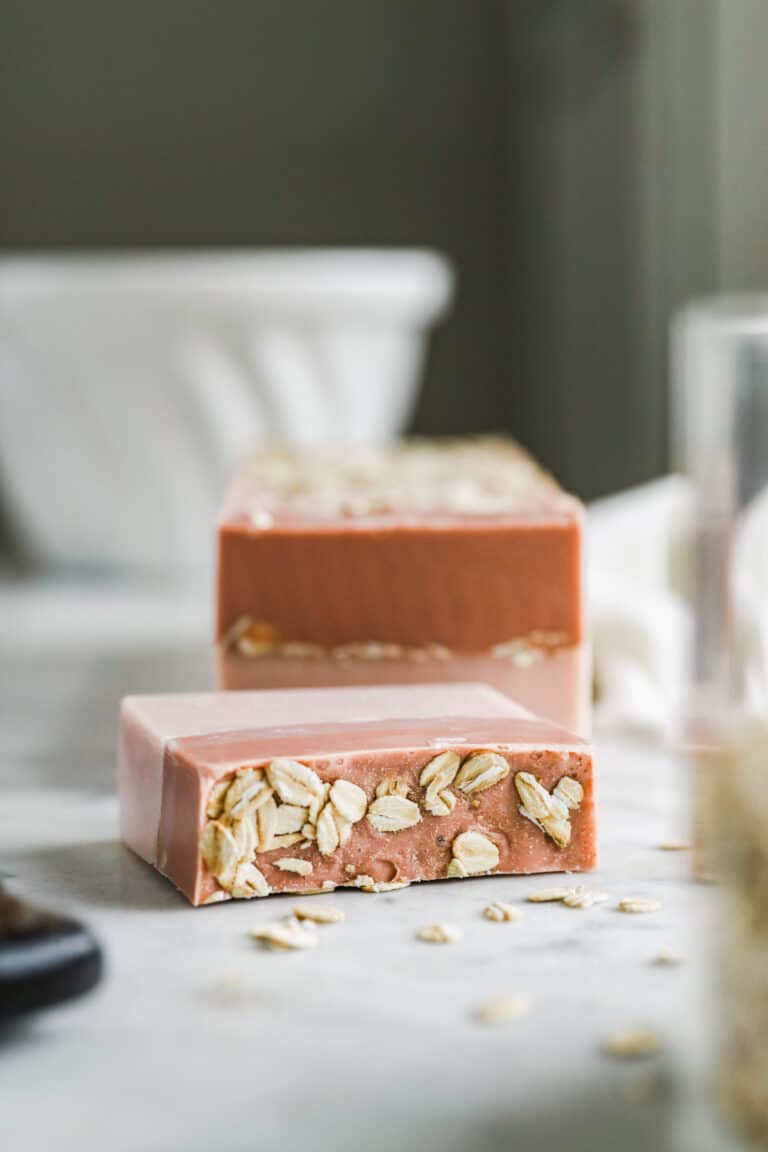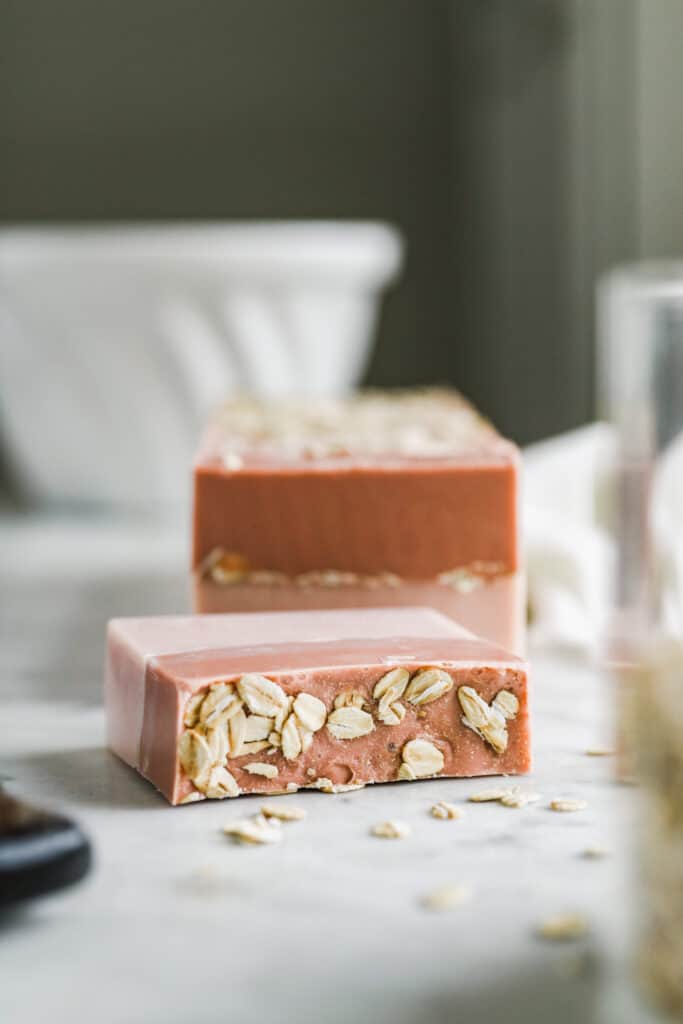 Combine skin-soothing oats with moisturizing ingredients like goat milk powder and honey [source], and you've got yourself a hydrating soap your dry, itchy skin will love.
This post was medically reviewed by Dr. Jennifer Haley, a board-certified dermatologist with extensive experience in medical, cosmetic, and surgical dermatology. Learn more about Hello Glow's medical reviewers here. As always, this is not personal medical advice, and we recommend that you talk with your doctor.
916