I never really had soap on a rope growing up. I always wanted it, especially at summer camp when other kids got it in their care packages, but it was a splurge my parents would never go for. Like most other novelties, they said there wasn't really a purpose.
But it turns out they were wrong—there is one! (And yes, I've been waiting years to say that.)
Not only is soap on a rope fun but hanging the soap up and away from water helps keep it clean and dry (as opposed to a mushy, germ-ridden mess). Plus, a dry bar of soap actually lasts much, much longer than soft, water-logged soap so it will save you money in the long run.
Fewer germs and more money in my pocket? Yes and yes!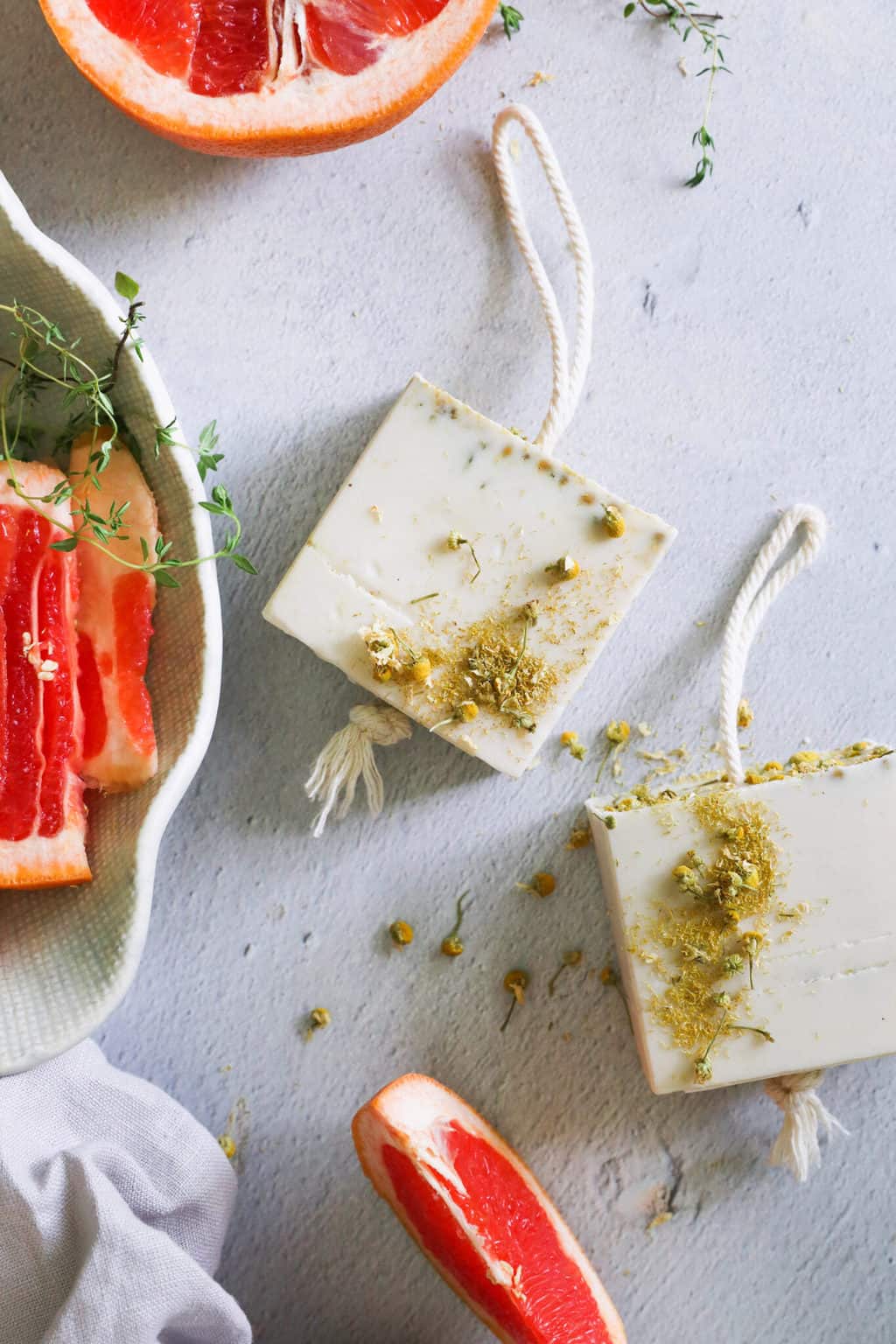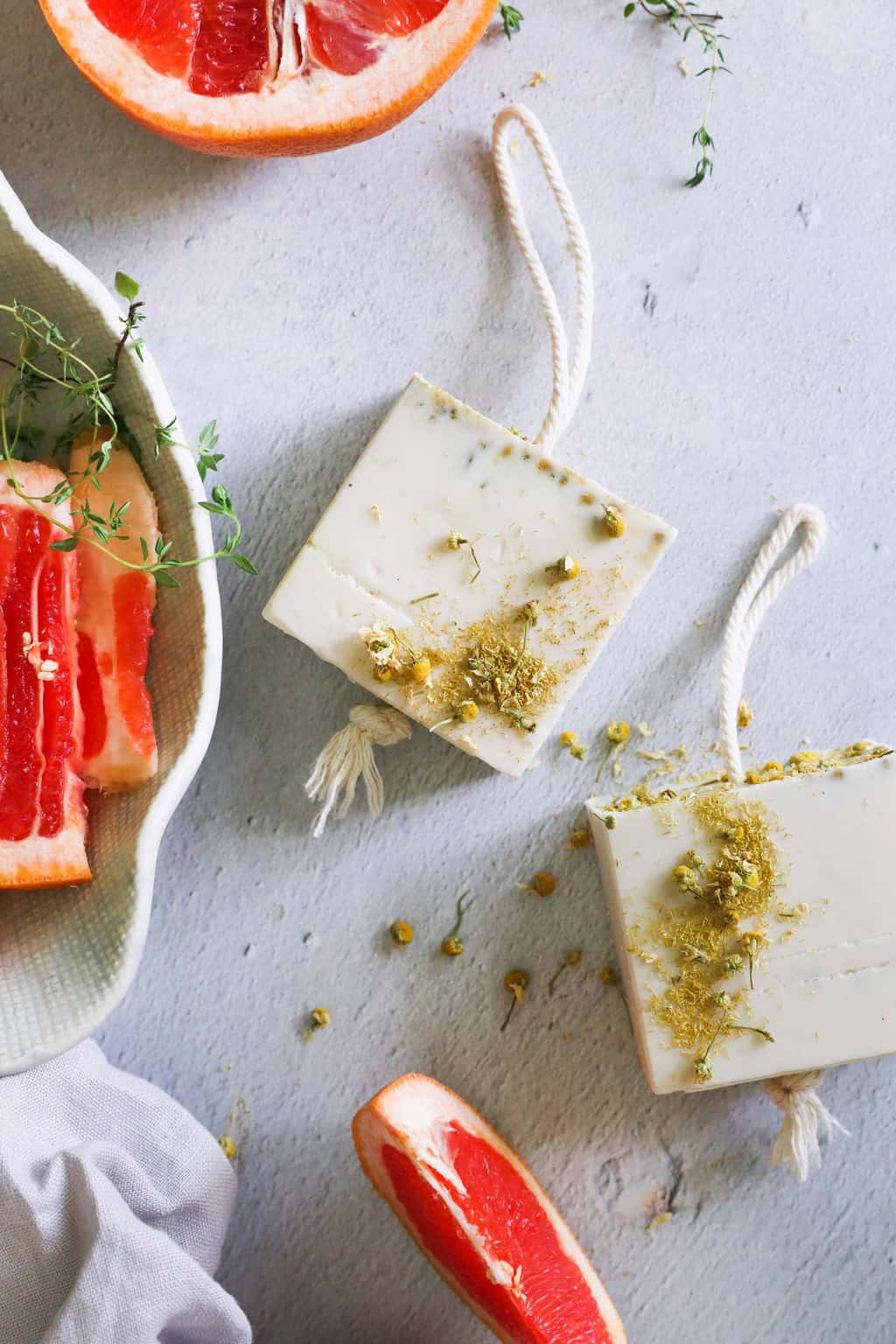 Benefits of Thyme, Grapefruit + Goat Milk Soap
This homemade soap is amazing because it's made with super nourishing goat milk and chock full of good-for-you herbs and oils. Plus, it smells delicious thanks to grapefruit, chamomile and thyme essentials oils, if I do say so myself.
Goat milk is loaded with fatty acids, probiotics, vitamin A and lactic acid, all of which support healthy skin. I like to use goat milk melt-and-pour soap base for this recipe, but for added skin benefits, you can always add extra teaspoon or two of powdered goat milk. Because it's a powder, it won't go bad nearly as quickly as the liquid, so you can use your soap for months to come.
Essential Oils
In addition to a fresh, happy scent, grapefruit and thyme essential oils have antimicrobial properties, which help skin healthy and clean. You don't need to go too heavy with these!
Thyme oil is quite strong and grapefruit has phototoxic effects, which means too much of it can make skin sensitive to the sun. Add a few drops at a time until you get the desired scent or feel free to use any other essential oils you like.
Chamomile
Skin-soothing chamomile helps calm inflamed skin, treat wounds and encourage healing [source]. Chamomile essential oil is an easy option, if you have it. You can also grind up some dried chamomile and toss it in for some gentle exfoliation.
Sprinkle a few dried flowers on top to give your soap on a rope a pretty feel and help exfoliate dry skin. Then hang it in your shower and step back to admire your new and improved (i.e., non-germy) bar of soap.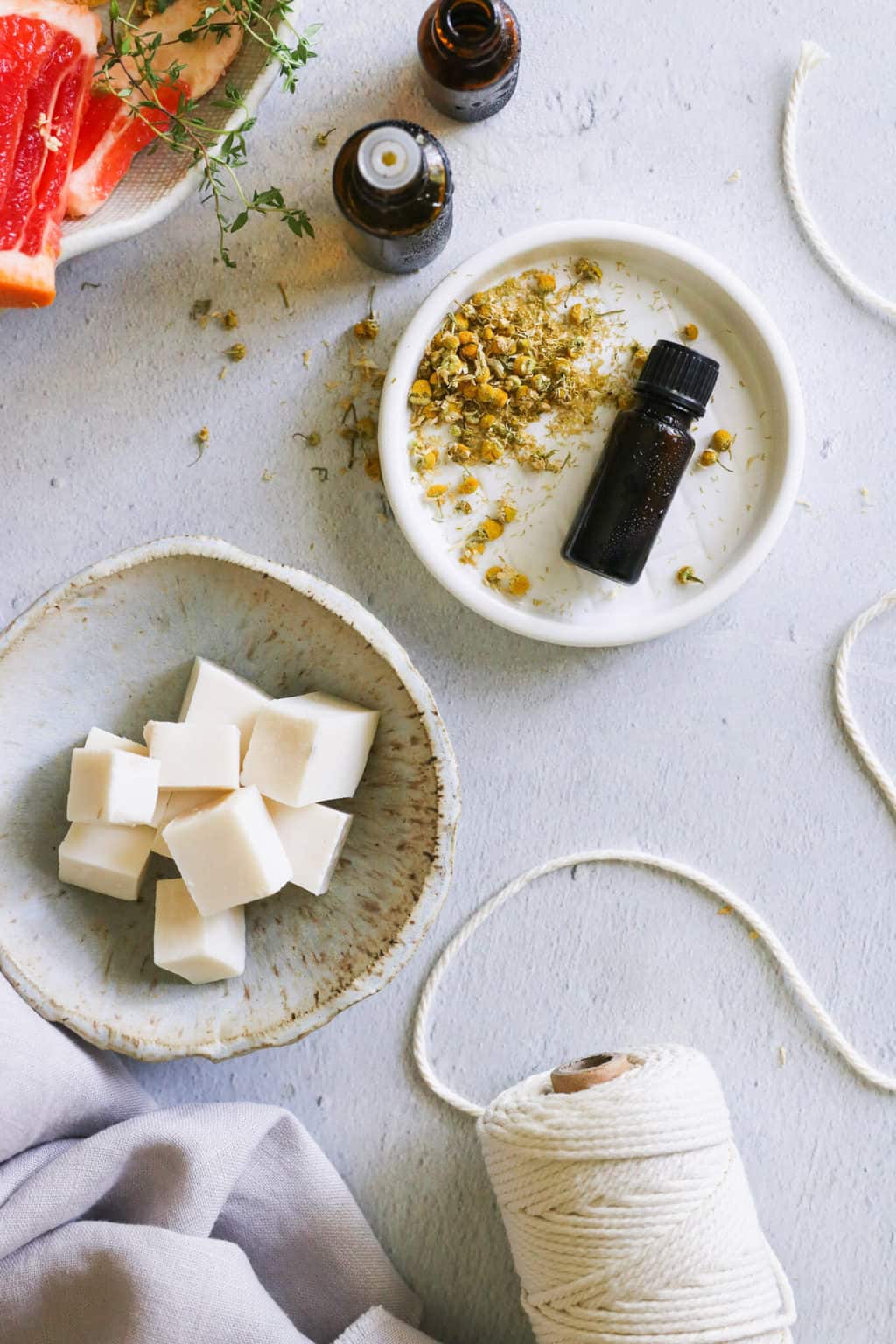 How to Make Soap on a Rope
If making soap from scratch isn't really your idea of a good time, go ahead and opt for the melt-and-pour method. While I have always wanted to dive headfirst into the DIY world of soap, I usually opt for a pre-mixed soap base like this goat's milk soap to save time.
Simply melt it in the microwave, then pour it into some disposable molds that have an opening at the top for your rope (I use plastic old Jello boxes that I could simply peel off and throw away).
Just melt your soap in a small bowl and add your essential oils. Let cool for 2-3 minutes before pouring it into your molds.
Feed your rope through the bottom of the box and prop it up using a clothespin laid across the top of your mold. Once the soap hardens (I let mine sit overnight just to be safe), your rope will be firmly affixed in the soap and you won't have to worry about it coming out.
It seriously couldn't be easier.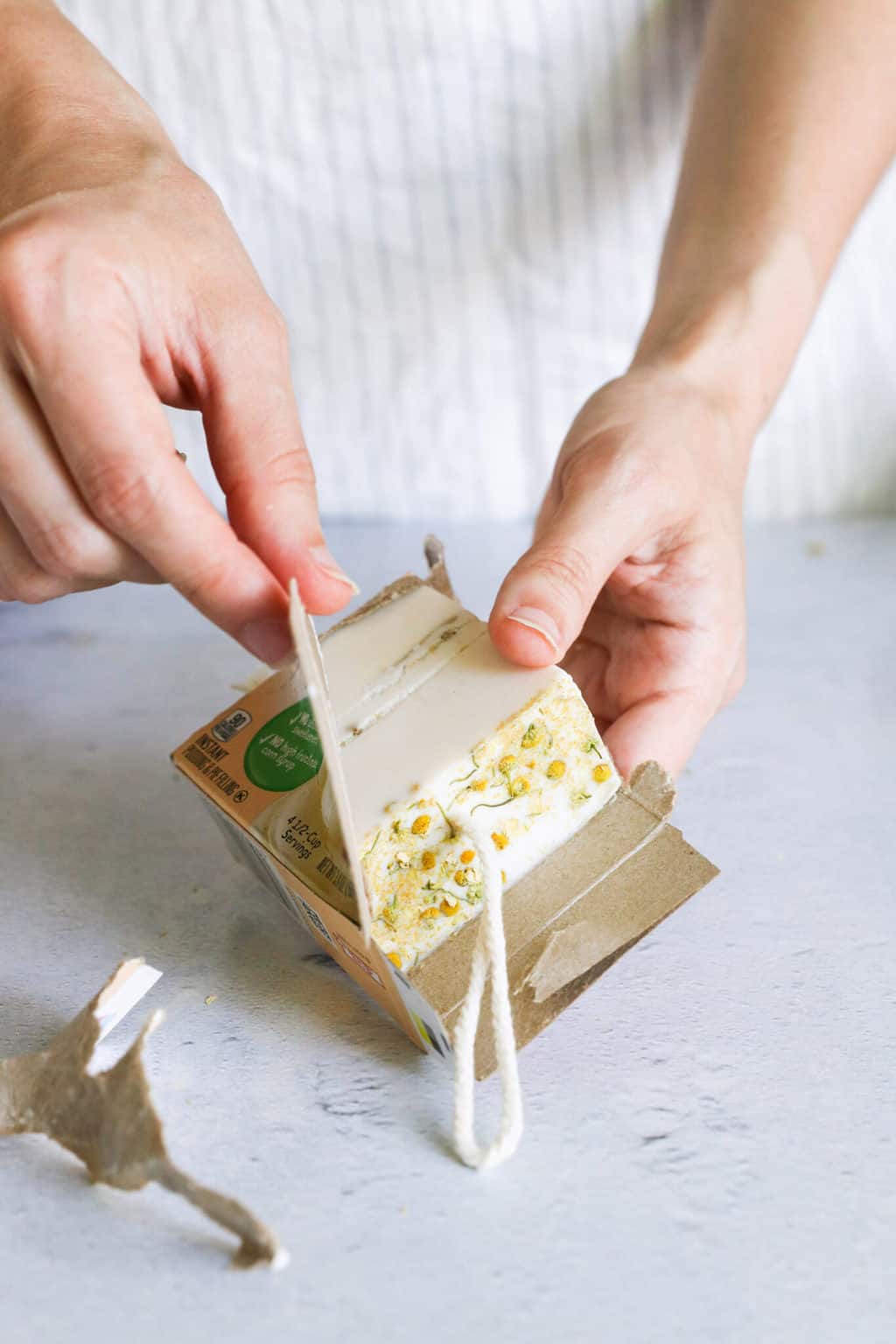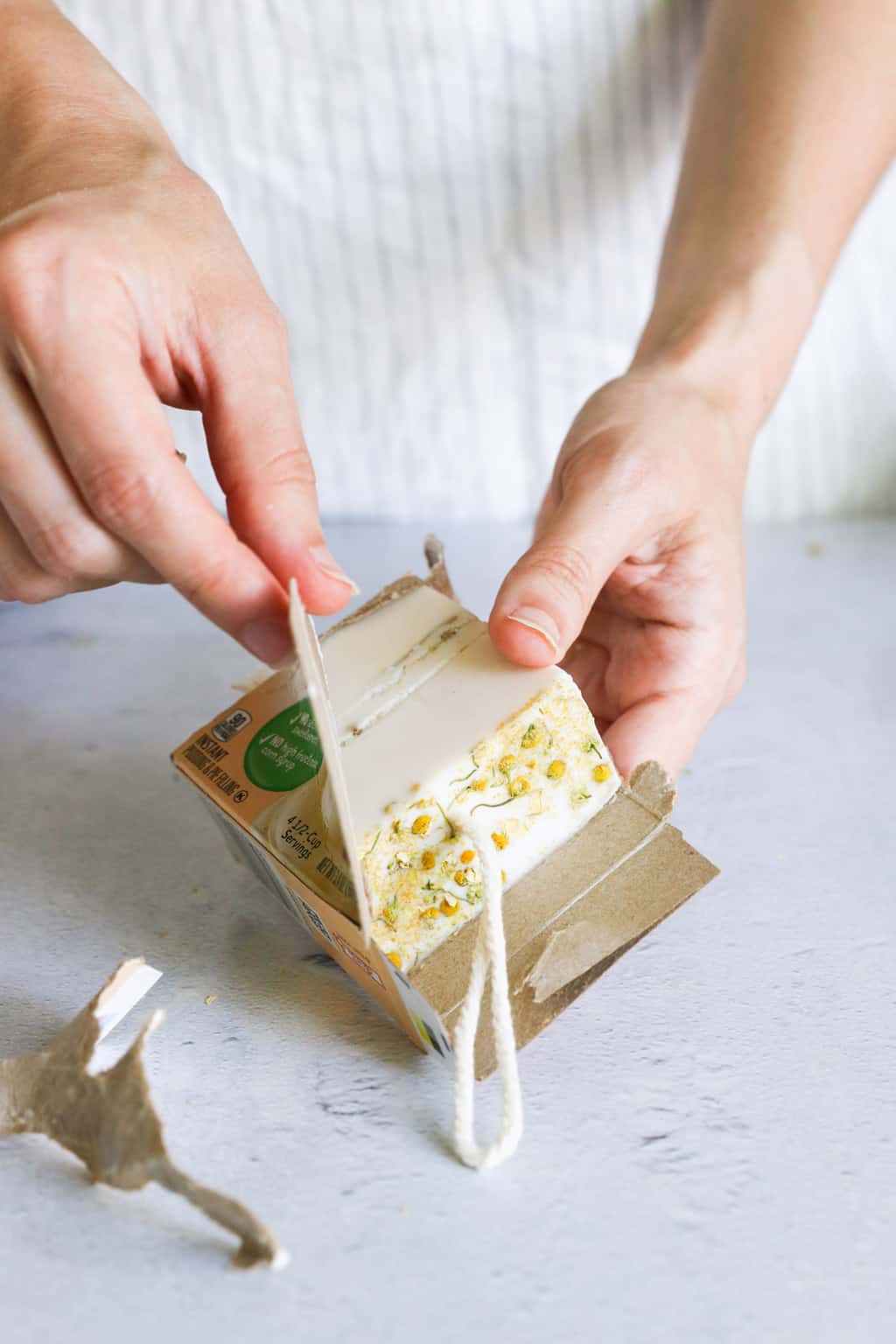 Soap on a Rope FAQ
Do I have to use goat milk melt and pour soap?
Nope! You can use any kind of melt and pour soap you like. You can even use plain soap base and add powdered goat milk to make your own goat milk soap.
Is there a vegan alternative to goat milk?
If you're vegan, I'd recommend using a shea butter soap base and adding your own skin-soothers, such as powdered coconut milk or colloidal oatmeal.
What's the best rope to use for soap on a rope?
You want something relatively water resistant to keep the rope from growing mold. The first time I made this, I used a simple polyester rope, because it's all I could find.
But I'd recommend using a wax-coated rope, if you can find it. If you'd prefer to use standard cotton or polyester rope, then use your soap on a rope quickly or let it dry out fully between uses to keep mold at bay.
You can make soap on a rope with any of our soap recipes!
Try it with:

View this post on Instagram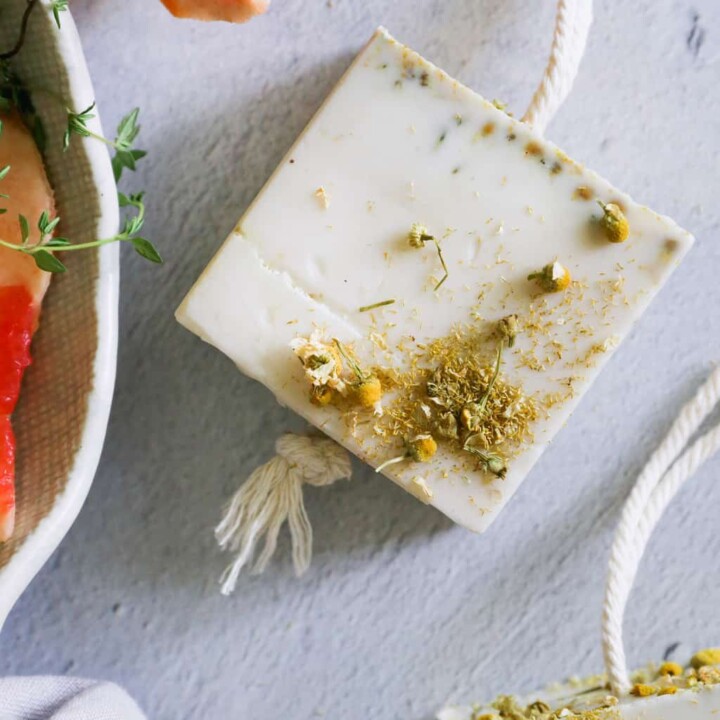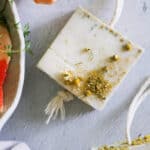 Print
Grapefruit-Thyme Soap on a Rope
Recycle your used yogurt cups to make your own soap-on-a-rope. So easy!
Equipment
Clean, empty Jello boxes (or any other small box)

Rope, cut into 8" segments

Clothespin (for holding rope in place)

Sharp knife

Cooling rack + parchment paper
Instructions
Cut your soap base into small chunks and place in a microwave-safe container. A little soap base goes a long way, so I started with about 1 pound of soap and added more if needed to fill my yogurt cups. Microwave the soap in 30 second intervals until it is completely melted.

Once your soap has melted, add 10 - 15 drops of each of the essential oils and stir with a plastic spoon or popsicle stick.

Prep your empty Jello box by punching a small hole in the unopened end with a sharp knife.

Fold the rope in half and feed the folded end up through the hole. Tie the loose ends together.

Place the Jello box on the cooling rack with a piece of parchment paper underneath. Pour the melted soap base into the box (it will drip a bit, but not too much!) and use a clothespin to hold the rope in place. Sprinkle with dried chamomile flowers (optional).

Let cool for about 2 hours before slowly peeling off the box.
Notes
After using your soap, put it somewhere it can dry when not in use, otherwise the rope may mildew.
96