It might not sound like the sexiest ingredient to slather on your precious mug, but there's no denying that mud can be incredibly beneficial when used on skin for a myriad of reasons. In fact, it's been used in the beauty world for thousands of years. Even Cleopatra was known to don a face full of clay—from the Dead Sea, no less—twice a week.
But it wasn't only to enhance beauty. Since ancient times, mud has been used to draw out toxins [source] and as a treatment for skin wounds [source] and a slew of skin disorders, including psoriasis, dermatitis [source], rosacea, and even acne.
And still today, it has therapeutic value when used on the skin. One study published in the journal Clinical Therapeutics noted the benefit of mud bath therapy for those plagued by psoriasis flare-ups [source].
Interestingly, patients with psoriasis have found benefits from bathing in the saltwater and mud in the Dead Sea to rejuvenate and regenerate new skin and slough away the thickened, dead skin.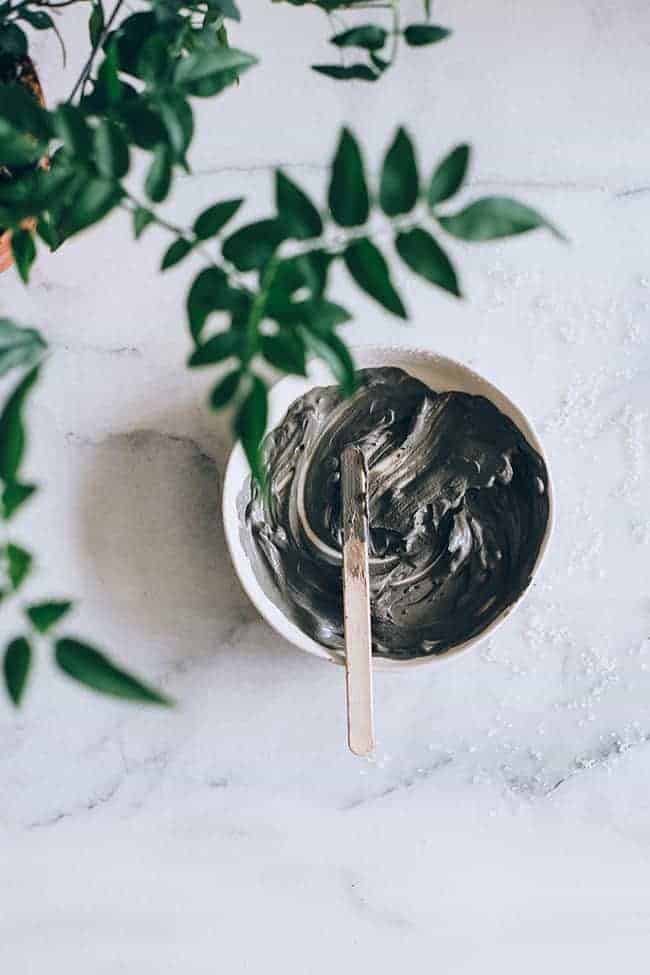 One of the best things about using mud in a face mask is that it is, after all, completely natural. It's a mere mixture of water and soil and can be found pretty much anywhere, so you don't have to worry about what kind of unknown chemicals (and their side effects) you might be using on your face.
The biggest benefit of using mud in your skincare routine, and especially as a face mask, is, without a doubt, its impressive oil-absorbing abilities. It can draw out and expel impurities from the skin [source], as well as tighten and even smooth out lines and wrinkles.
Mud masks are hydrating and soothing, and let's not forget they provide some degree of exfoliation, promoting skin turnover.
All the while, mud replenishes the skin with its impressively high concentration of salts and minerals, most notably magnesium, potassium, calcium, and sodium.
Mud Mask Benefits
Here's a look at some of the other ways mud can benefit the skin when used as a face mask:
Reduces pore size: Another side effect of drawing out the oil, dirt, and grime in your pores is that it makes them appear smaller as a result. It'll also feel significantly less oily, which is always a plus!
Reduces the look of cellulite: Thanks to its large concentration of nutrients, which help increase blood circulation and detoxify, you can expect to see a reduction in the appearance of cellulite—all without the use of creams loaded with a ton of chemicals you can hardly pronounce.
Cuts back on arthritic pain: It's true! Research published in the journal Rheumatology International has demonstrated that the use of mud compress therapy was beneficial in reducing the pain and swelling associated with rheumatoid arthritis [source].
10 Mud Mask Recipes to Try
Need we say more? Since mud is as natural as it gets, you don't need to head to your local beauty store or drugstore to reap the skin-saving benefits. Here are some homemade mask recipes for you to try on the comfort of your own couch!
1
.
Exfoliating Mud Mask for Dry Skin
This mud mask not only leaves your face feeling soft and smooth, but it also leaves skin aglow, thanks to the increase in blood supply.
Combine all the ingredients in a non-metal bowl, adding the warm water slowly until the consistency is smooth and spreadable. Apply to the face and neck, avoiding the eye area. Leave the mask on for 10–15 minutes before rinsing off with warm water.
2
.
Energizing Mud Mask for Puffy Skin
Antioxidant-rich cacao powder is mixed with exfoliating, energizing coffee and detoxifying clay for a power-packed anti-aging treat for your skin. Fairly common and easy to find, Bentonite clay is made of volcanic ash and can be extremely effective in pulling out toxins and impurities from the skin. Your skin will be as soft as a baby's behind after a clay mask! Check out our guide to clays to find the best fit for your skin type.

Combine the ingredients in a non-metal bowl, using a wooden spoon to mix. Add water as needed for a smooth paste consistency. Apply to your face, and allow the clay to dry before removing, and rinse after a total of 15 minutes.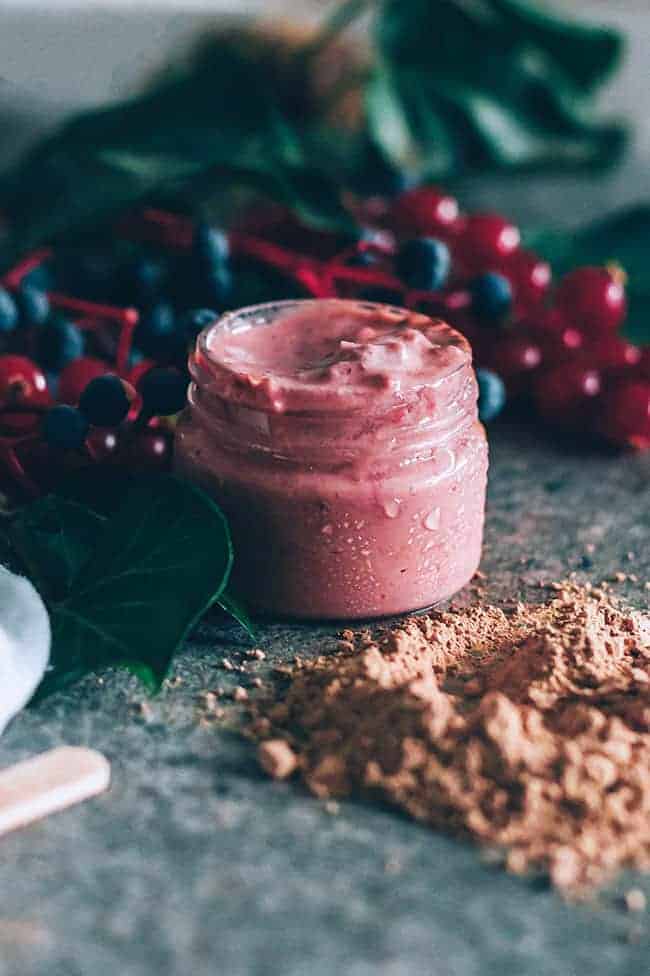 3
.
Cranberry Mud Mask for Dull Skin
The next time you whip up a batch of cranberry sauce, you might want to set a few berries aside for this brightening facial mask. Cranberries' natural acidity lifts away dead skin and excess oil. If it's not the season for cranberries, you can substitute pure cranberry juice (read the label carefully) or try a different type of berry, like strawberries.
Start by mashing the cranberries in a bowl until they are pasty in texture. Then add the clay, yogurt, and honey. To make it thinner, mix in a little water slowly until it reaches your desired consistency. You'll want the mask to be easy to apply but not too watery where it will slide off the face. Leave it on your face for 10–15 minutes, and then rinse thoroughly with warm water to remove.
4
.
Clarifying Mud Mask for Acne-Prone Skin
If you're battling acne and blackheads, Moroccan red clay is the one for you. When you combine it with the health-promoting monounsaturated fat in the avocado [source], this mask will help nourish and balance the skin's natural oils.
Combine the ingredients in a bowl. Using clean fingers or a brush, apply to the t-zone or acne-prone areas. As soon as the mask starts to lighten (usually a sign the mask is dry), rinse with warm water.
5
.
Pore-Cleansing Mud Mask for Sagging Skin
As we age, our skin gets more lax, which can make pores look bigger. The solution? A tightening clay mask that's turbo-charged with activated charcoal, which binds to impurities in the pores and lifts them away [source]. The application of clay has been shown to increase collagen production, which forms the foundation of skin [source].
Combine the ingredients into a paste. Use a brush or your fingers to apply to your face, avoiding the eye area. Let the mask dry for 10–15 minutes, then rinse and apply moisturizer.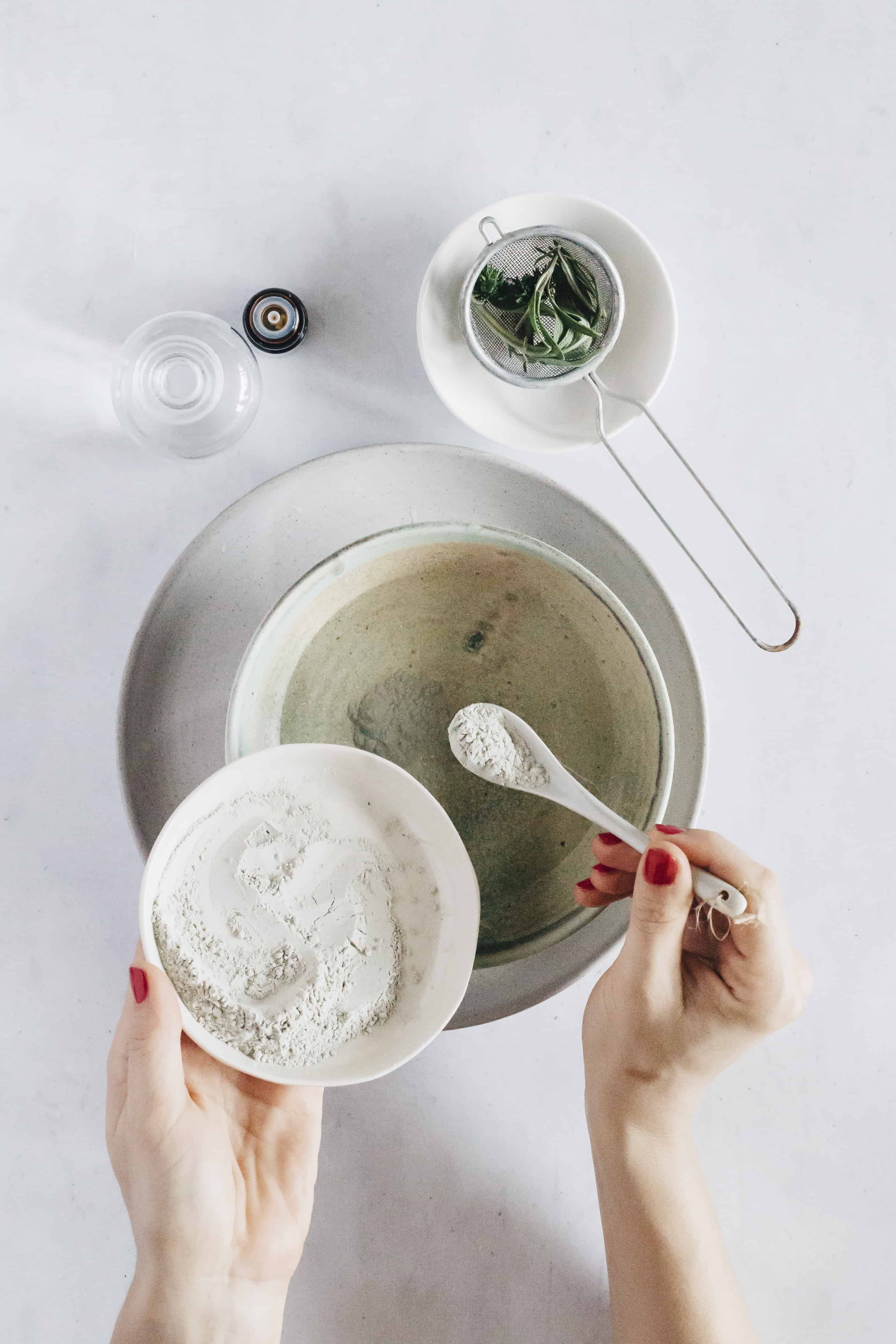 6
.
Firming Mud Mask for Cellulite
If you're battling cellulite, a caffeinated mud mask will temporarily help tighten and tone unsightly dimples. The caffeine in coffee and green tea reduces excess water in the tissues to reduce puffiness [source] and prevents the accumulation of fats in the cells [source], while the clay helps firm and tighten to smooth out the skin.
Steep tea bags for 10 minutes in water, then discard them. Let the tea cool. Stir in coffee, sugar, grapeseed oil, clay, and cypress oil, if using. Smooth the mask onto cellulite-prone areas like the belly, hips, and thighs.
Firmly wrap each area with plastic wrap and then wrap yourself in a warm towel or robe. Lie down (in the tub if things get too messy) and rest for 20–30 minutes. Then remove the wrap(s) and rinse with warm water.
7
.
Coconut & Hibiscus Radiance Mud Mask for Aging Skin
Combine firming mud with the phytonutrient and vitamin C-rich hibiscus [source] for an antioxidant brightening mask that absorbs impurities and fights free radicals. If your skin is acne-prone, you can switch out the coconut oil with water or plain yogurt.
Combine the ingredients in a bowl. Apply the mixture to your face and let sit for 15 minutes, then rinse.
8
.
Detox Mud Mask for Your Pits
Simply whip up this bentonite clay mask according to the recipe below, and apply it daily before jumping in the shower. Bentonite clay helps draw out chemicals and impurities from the skin [source], so your armpits can detox more quickly.
Combine clay, water, and the essential oil of your choice in a small bowl, and stir until smooth. Apply the mask to clean, dry underarms, and let sit for 10–20 minutes before rinsing off in the shower.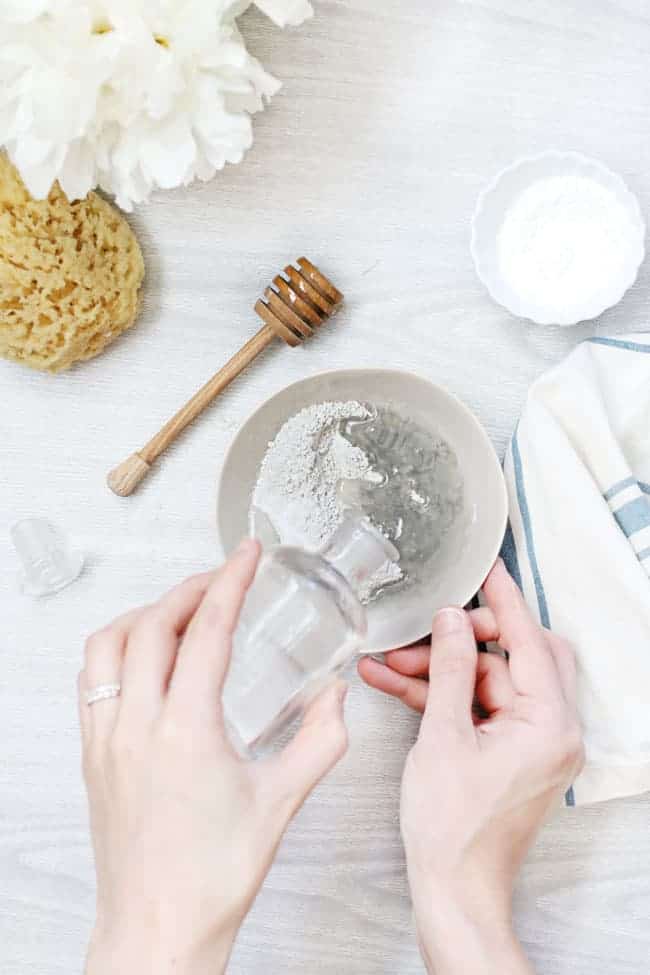 9
.
Carbonated Clay Mask
This DIY carbonated bubble mask uses citric acid to get the same fizzy tingle you'd get from store-bought masks containing carbonic acid. And while looks may be deceiving (e.g., your face may not puff up like a cloud), you'll still benefit from the delightfully effervescent effect and walk away with fresh, clear skin.
—2 tablespoons bentonite clay
—1 teaspoon baking soda
—1/2 teaspoon citric acid
—1/2 teaspoon glycerin
—1 teaspoon raw honey
—2 tablespoons rosewater
—optional: 1/2 teaspoon activated charcoal or matcha powder
Combine the clay, baking soda and citric acid in a small bowl and stir (for extra detox power, you can add the activated charcoal and matcha powder now too). Add the glycerin and honey. Stir again.
At the last minute, add the rosewater and stir quickly. It's going to start to fizz so you want to work fast!
To use, use your fingers to apply the mask to your face and neck. Let sit for 5 minutes then use a warm washcloth to gently massage the mask into skin. Rinse your face and pat dry.
This mask is a copycat version of Dr. Jart+'s Shake & Shot™ Rubber Masks. In addition to the agar agar, there's clay, rice flour, and oatmeal in it to help absorb oil and clean out your pores.
More Mud Masks We Love
No time to DIY your own mud mask? No problem. Here are a few retail masks that you can purchase for at-home use.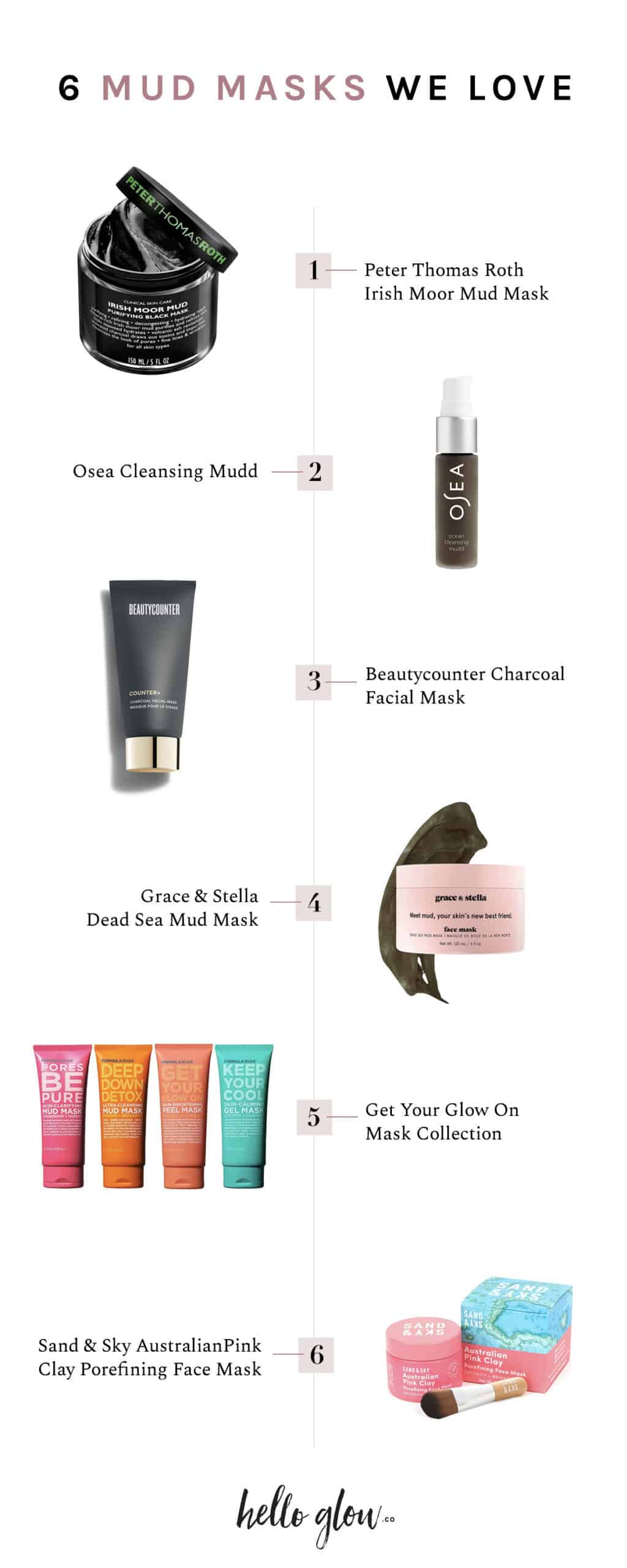 Peter Thomas Roth Irish Moor Mud Mask – if you have oily, clogged, or acne-prone skin, this mask is great for pulling out impurities and excess oil while helping with enlarged pores.
Osea Cleansing Mudd – this exfoliating cleanser can be used daily if you have oily or blemished skin, and once a week for normal skin as a deep, exfoliating treatment.
Beautycounter Charcoal Facial Mask – this clay mask is mineral-dense while purifying the skin and absorbing excess oil. It can be used routinely 1–2 times a week or more often as needed to spot treat problem areas.
Grace & Stella Dead Sea Mud Mask – a vegan, paraben- and sulfate-free mask with gentle (but effective!) ingredients.
Get Your Glow On Mask Collection – This set includes 4 different mud masks, so you can change up your weekly mask ritual to hydrate, purify, cleanse, or brighten. It's also vegan and paraben-free.
Sand & Sky Australian Pink Clay Porefining Face Mask – Who can resist a pink mask? The star ingredient is Australian pink clay, which works like a magnet to deeply cleanse your pores.
This post was medically reviewed by Dr. Rina Mary Allawh, M.D., a dermatologist who practices adult and pediatric medical dermatology, skin cancer treatment, and cosmetic dermatology. Learn more about Hello Glow's medical reviewers here. As always, this is not personal medical advice, and we recommend that you talk with your doctor.
133