What is agar, and how can we use it? Agar (or agar-agar) is made from seaweed—more specifically red algae [source]—and it's commonly used in cooking as a plant-based alternative to gelatin. It's usually found in Asian groceries and health food stores, but today I'll share with you how to put it to use in your beauty routine too!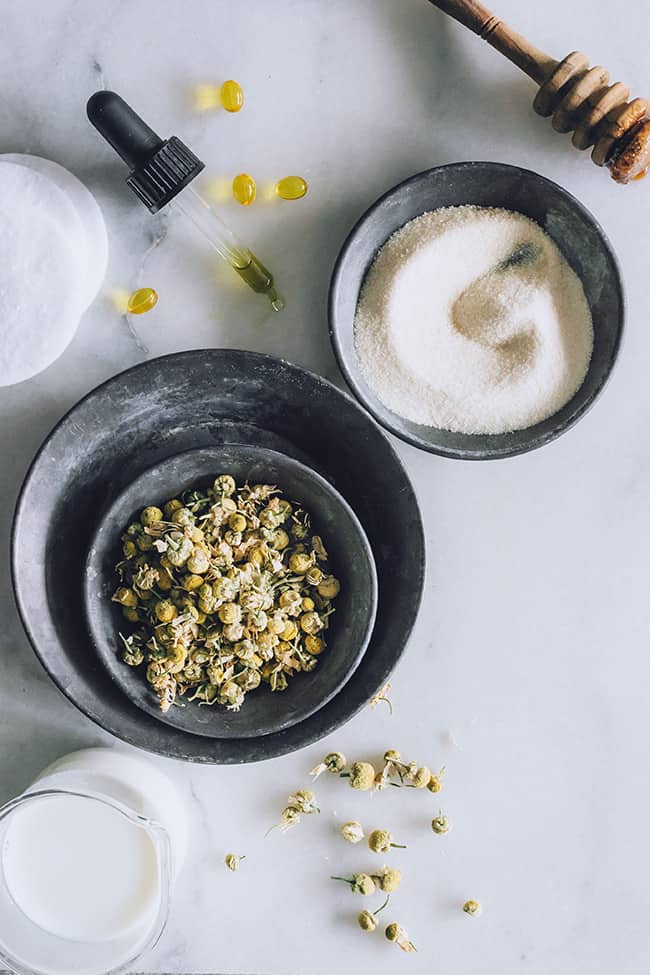 Agar-agar softens, whitens, and moisturizes skin [source]; it also helps thicken and bind other ingredients together. Rich in minerals, this seaweed boasts calcium, magnesium, iron, and copper. Powder is the easiest form to use in beauty recipes, but it also comes in flakes, strips, and bars.
This mask, while hydrating, is excellent for exfoliating, removing surface dead skin cells as you peel it off, and revealing glowing and fresh skin. Agar-agar is extremely versatile, so don't be afraid to experiment a little with your recipe.
It's a great vegan option for DIY peel-off masks—to make this recipe totally vegan, you could skip the milk or swap it for a plant-based one. I think the best would probably be oat milk as oats are anti-inflammatory and supposed to have super soothing properties for skin [source].
An added plus to an algae-based peel-off mask is less chance of irritation for sensitive skin types. Agar-agar is a great substitute exfoliant if alpha-hydroxy acid masks make the skin red, inflamed, or irritated.
Agar-Agar Peel-Off Mask for All Skin Types
You'll want to steam the milk in a heat-safe bowl, then add the agar powder. Mix well and add the honey and essential oil.
Keep mixing until the consistency is even. Apply while the mask is still warm but not hot.
If you're not sure, dab a little on the inside of your wrist. The mask should be comfortably warm on your face. If you put it on and it's a little too hot, rinse it off right away to avoid burns.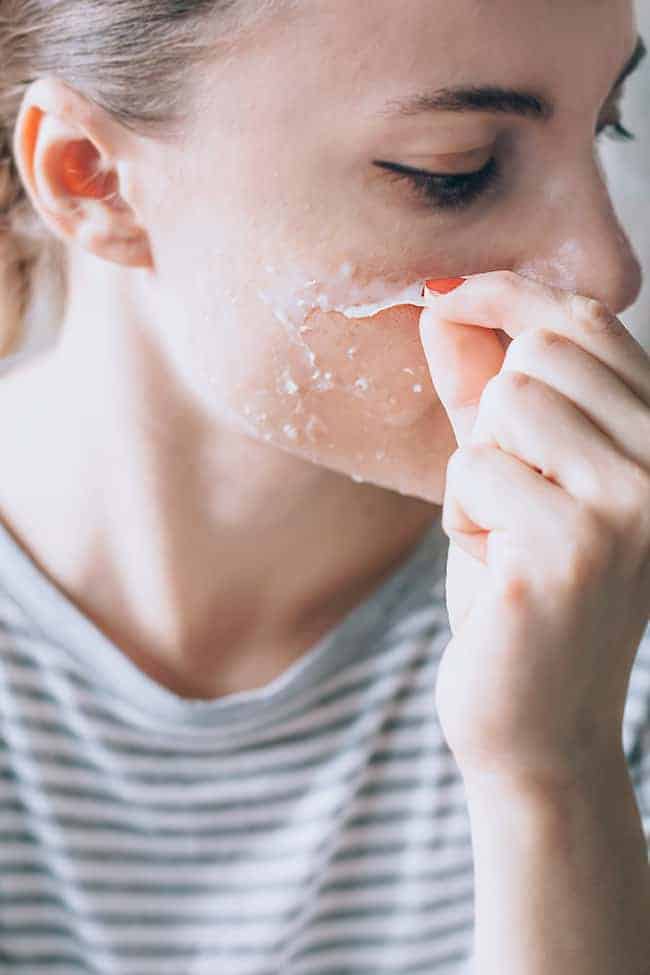 Application Tips: An old, flat makeup brush works wonders for applying this mask precisely! And believe me, accuracy matters when you're putting this baby on the face.
While applying the mask with a face or makeup brush, be sure to avoid the eyebrows and eye area, as it can pull and tug during removal. You might even find that you have fewer hairs there than you would like—something that I, unfortunately, know from experience! Apply an even layer from chin to forehead, concentrating on the nose or any area with concentrated clogged pores or blackheads.
Once dry—it usually takes 10 to 20 minutes—you'll feel your face tighten. Start to peel in an upward motion, beginning with the chin area. Gently peel the mask upward all the way through the forehead section. It may peel off in several sections, which is fine.
If the mask is being particularly stubborn in some spots, don't try and force it off—you could really irritate your skin! Instead, just wet that part a little with some warm water to help loosen it. It should then come off much easier!
After you've peeled off most of it, use a warm washcloth and remove any leftover mask. Now, your skin is optimized to absorb the active ingredients in your routine! Finish with a hydrating moisturizer or serum.
Homemade Face Mask FAQs
How many types of masks are there
?
Simply put, a lot. There are all different natural masks that serve various skin needs. Masks can be exfoliating, moisturizing, stimulating, clarifying, firming, calming, and they can target pigmentation, acne, oil, fine lines, or dryness. We know you'll find at least one to try in this list of 50 homemade face mask recipes.
How often should I use a face mask
?
If a mask is exfoliating, once a week is ideal. A hydrating or moisturizing mask can be used more often.
I'm not sure where in my routine a mask would fit
.
Help
!
Masks are typically best applied at nighttime to clean skin and before your serums and moisturizers. A mask's effects are best realized when they have time to work in conjunction with the healing and rejuvenation that occurs overnight.
On a night you plan to use a mask, your lineup would look something like this: Cleanse, double cleanse, gentle scrub, mask, toner, serum, eye cream, moisturizer.
This post was medically reviewed by Dr. Jennifer Haley, a board-certified dermatologist with extensive experience in medical, cosmetic, and surgical dermatology. Learn more about Hello Glow's medical reviewers here. As always, this is not personal medical advice, and we recommend that you talk with your doctor.
194