Can I tell you a secret? I don't actually own or wear much makeup. It kind of started when I had my first baby. I was bleary-eyed all the time, and makeup was just not worth the effort.
By the time I had more kids, all of my makeup was destroyed by tiny, inquisitive children, and I never bothered to replace it. Instead, I opted for simple mascara, lip gloss, and maybe a little blush now and then. (My skin has never felt better, so I guess that's a win!)
Who knew less is more when it comes to saving time and creating healthier skin. A great tip to skipping foundation is to use tinted sunscreen—it provides sun protection and just a bit of coverage.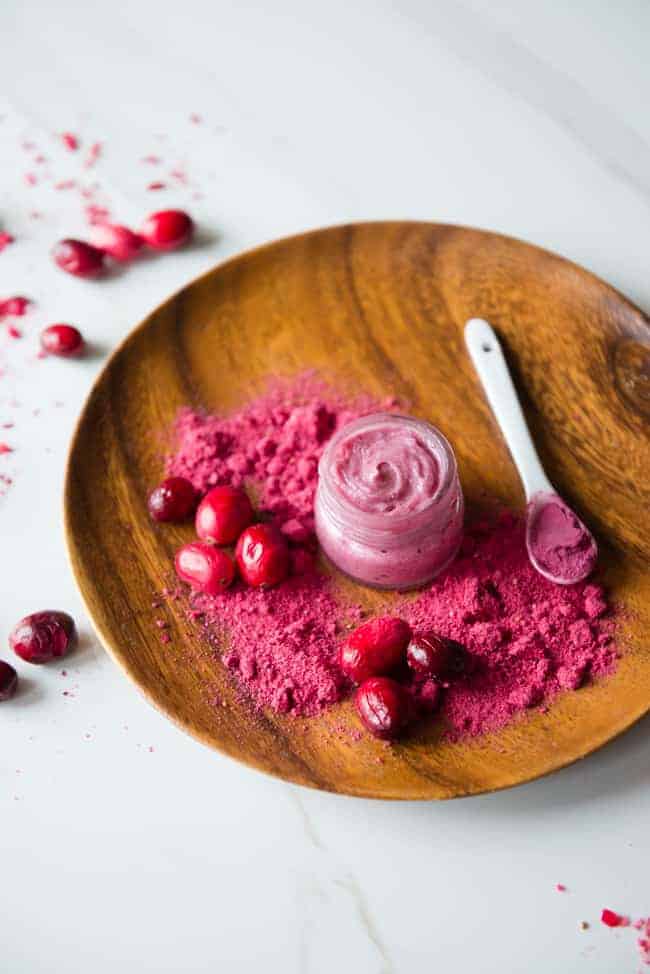 I'm kind of addicted to making my own beauty products now. Because I have super sensitive skin, I'm pretty picky about what I will put on it. Both of these plant powders, cranberry [source] and beetroot [source], contain anti-inflammatory compounds and powerful antioxidants called phytochemicals that heal damaged cells.
Coconut oil is my saving grace (add another to the 101 uses list)! I use it for everything. And it just so happens to make the perfect lip gloss and cheek stain, too. How many commercial blushes or lip glosses are safe enough to eat? Exactly.
DIY Coconut Oil Lip Gloss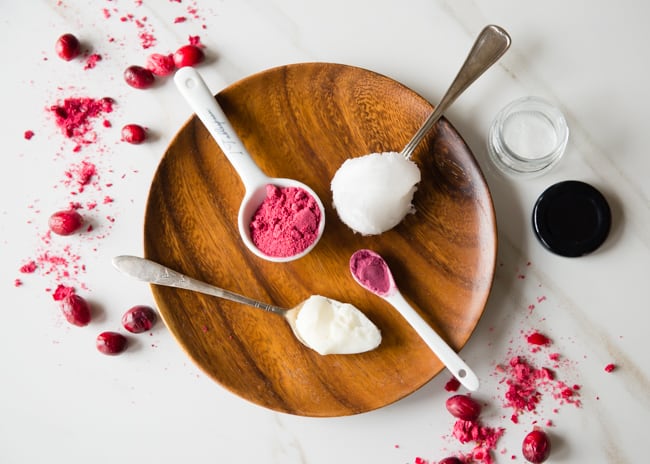 This recipe calls for four ingredients: coconut oil, shea butter, cranberry powder, and beetroot powder. My local health food store carries both of those powders in the bulk spice and herb section. But I've also seen the cranberry powder at Whole Foods.
I have also been buying freeze-dried cranberries for a few years, and they work great here, too. Just give them a spin in a clean spice grinder. Cold weather means chapped lips, at least for me. Shea butter adds extra moisturizing and a bit more firmness to the texture.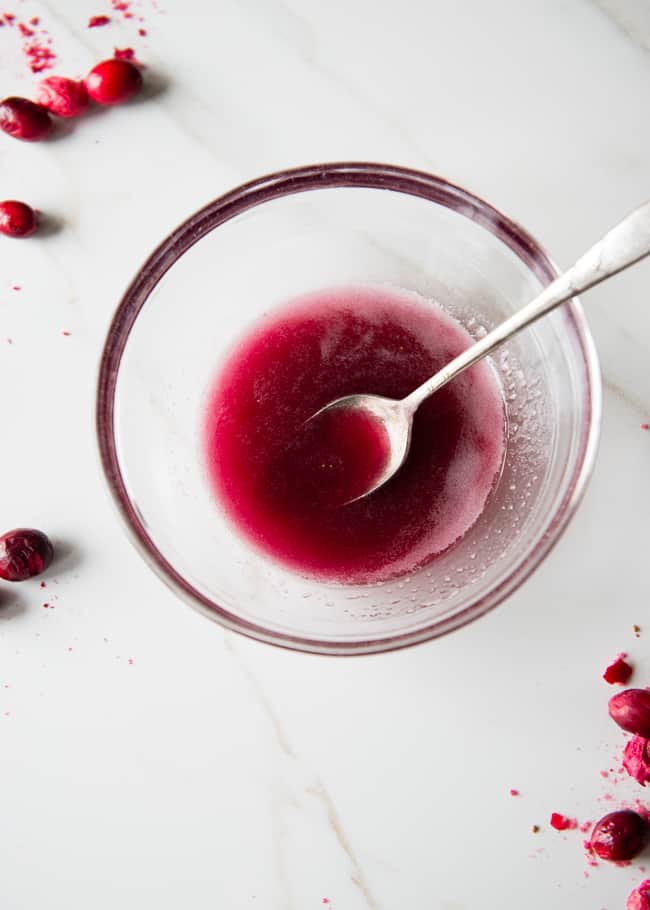 It's important to let the mixture cool before transferring to a jar. As it cools, the coconut oil and shea butter will solidify. The color might separate a little bit from the main mixture. I made sure to keep stirring while it was cooling down to keep the color particles suspended, and it worked great.
When it came to room temperature, I beat the mixture with a spoon to give it an almost whipped texture that was very creamy and smooth. A little dab or two is all you need for pretty cheeks and lips.
Both coconut oil and shea butter melt at body temperature and will absorb into the skin, leaving that light layer of color on top of your cheeks and lips. For a more balm-like texture, beeswax can be added.
This cheek stain and gloss will keep for a few months if stored in a cool, dry place. The mixture can melt a bit if the room temperature is too hot. Adding beeswax will also help with that if you live in a warm climate or make this during the summer.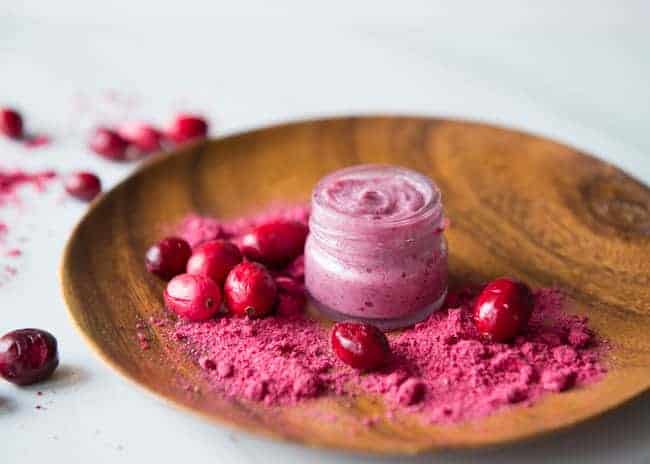 Want an even simpler two-ingredient lip stain to try?
2-Ingredient Lip Stain
In a double boiler, heat the vegetable glycerin until small bubbles appear. Place sliced beets into the warmed glycerin and see the color begin to appear.
Continue to heat the beets and glycerin mixture until a dark color appears. The beets will remain semi-solid.
Once the desired color appears, remove from the heat, take out the beets, and pour your product into a container. The shelf-life may be shorter because of the fresh beet ingredient, so plan on using it up in 1–2 weeks.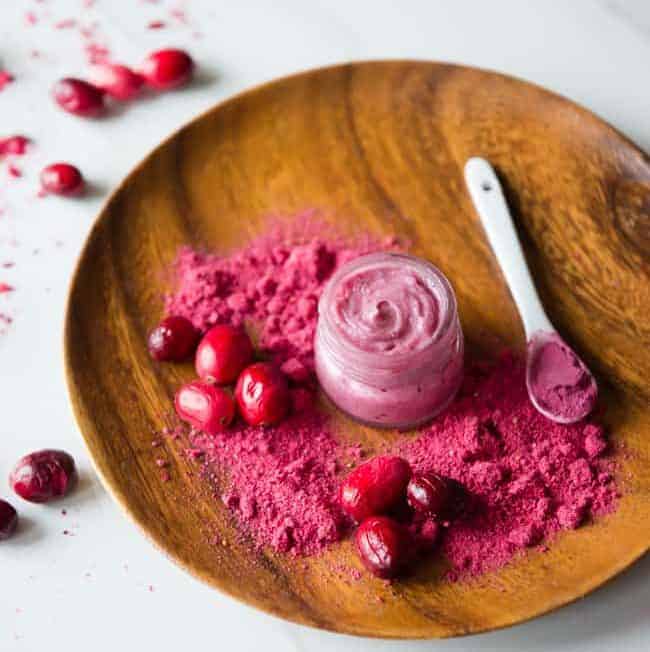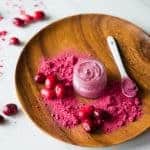 Print
DIY Cranberry Coconut Lip Gloss + Cheek Stain
Whether you have a minimalist approach to makeup or just have sensitive skin, this easy-to-make coconut oil lip gloss will be right for you.
Equipment
Small saucepan

2-ounce glass jar with lid
Instructions
For freeze-dried cranberries, give them a spin in a clean spice grinder (a mortar and pestle or old coffee grinder) before infusing.

In a small saucepan, melt the coconut oil. Add the cranberry and beetroot powders and mix. Let stand for 30–60 minutes, or longer, to infuse the oil.

If using the beeswax, heat the coconut oil again and add the beeswax, allowing it to melt completely.

Let cool until still fairly warm, but not too hot. Strain the warm oil through several layers of cheesecloth placed over a fine mesh sieve. Press gently on the solids to extract as much of the oil as possible.

Stir in the shea butter (it should melt easily if the oil is warm enough), and let cool.

As the mixture cools, it may start to separate a little bit. Stir to keep the color particles suspended in the coconut oil.

When it's solidified, gently beat it with a spoon until light and creamy.

Transfer to a small jar with a tight-fitting lid. If placed somewhere cool, it will keep for several months.
Notes
The beeswax is optional. It will give the gloss a firmer texture, more like a balm. The gloss melts easily on the skin, so only a small amount is needed.
For a darker shade, add more beetroot powder. For a different shade, mica powder, cinnamon, turmeric, or even iron oxides could also be added.
This article was medically reviewed by Dr. Gina Jansheski, a licensed, board-certified physician who has been practicing for more than 20 years. Learn more about Hello Glow's medical reviewers here. As always, this is not personal medical advice and we recommend that you talk with your doctor.
240