To say I love lavender is an understatement. I have lavender dish soap, hand soap, laundry detergent, lotion, creams, and perfumes. I'm always looking for more everyday uses for lavender.
About eight or nine years ago, I started making my own lavender linen spray. I just wasn't going to pay the steep price for a bottle from a fancy store anymore—especially when making it at home is so inexpensive and easy to do.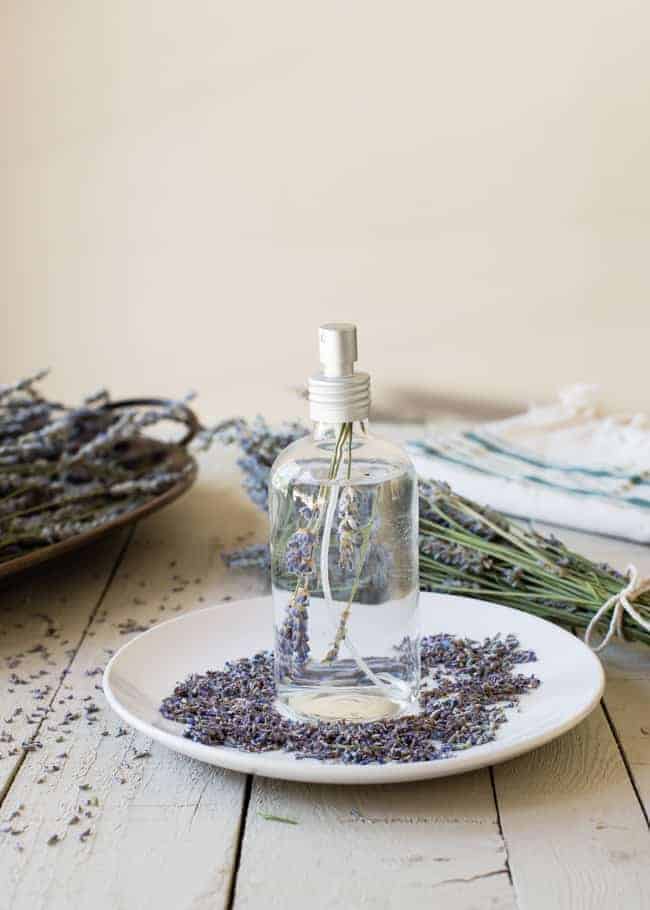 You can make lavender linen spray one of two ways, but first, let's talk about the process of cutting and drying lavender.
How to Dry Lavender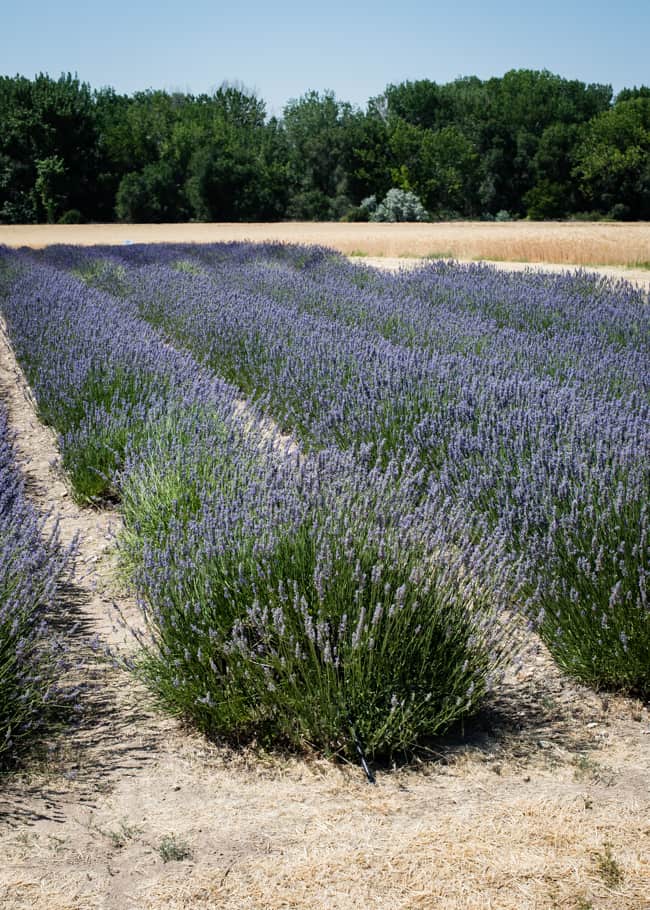 Where I live, there are several lavender farms, and summer is the perfect time for visiting to cut some fresh lavender to dry. If you have a lavender farm near you—or a lavender plant growing in your yard or in the yard of a friend or neighbor—it's a great time to take advantage of it and dry a few bunches to enjoy for the rest of the year.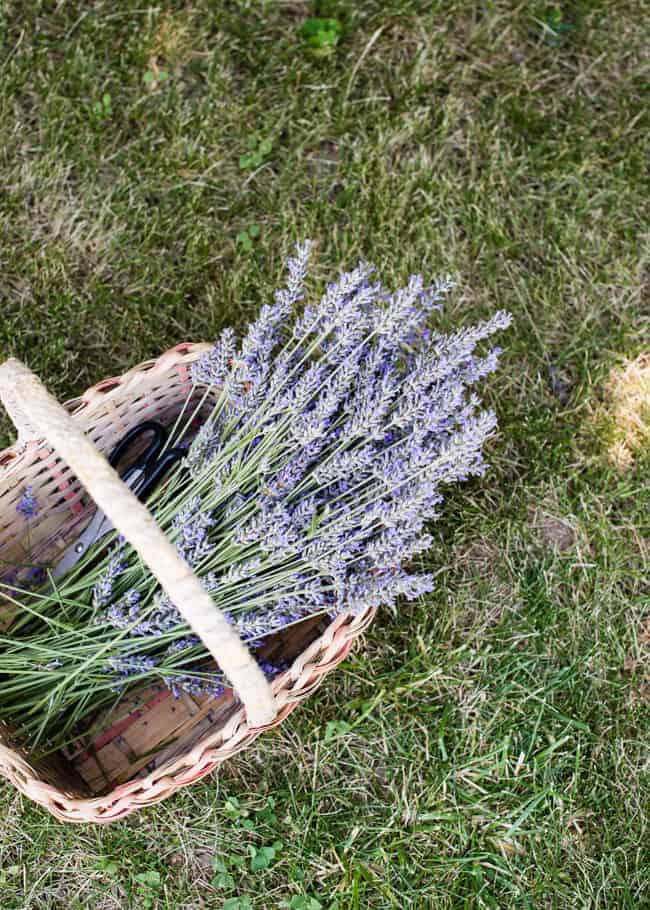 When you cut fresh lavender, make sure to cut all of the stems about the same length to make drying easy. Grab a handful of stems about 4 inches above the bottom of the plant, and make a clean cut with sharp garden shears.
Lavender can be dried in a single layer on a cooling rack or similar type surface to allow the air to circulate.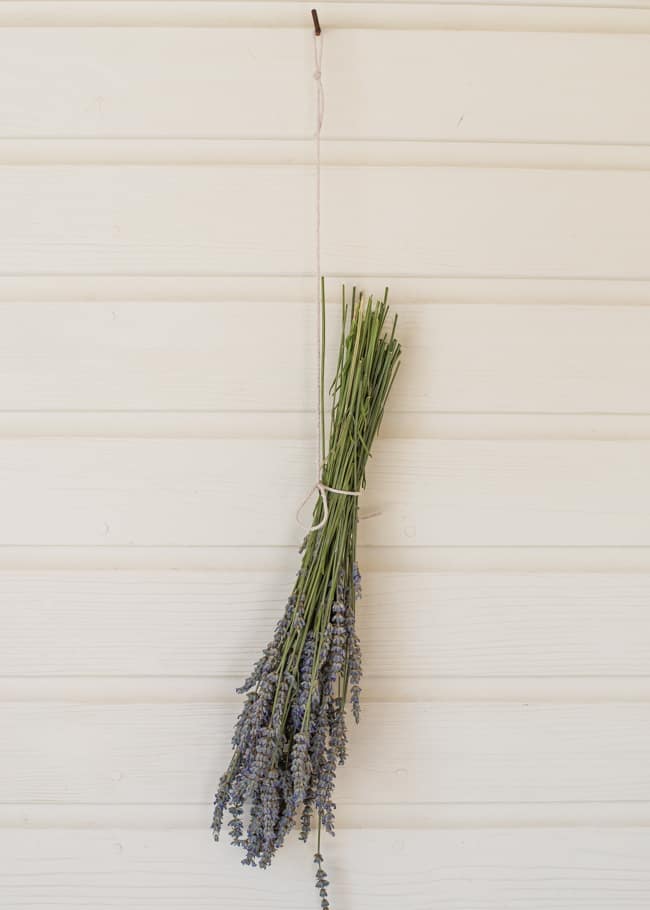 I prefer creating small bunches, tying them with string, and hanging them. Loosely cover the buds with cheesecloth, if needed, to keep bugs out of them as they dry.
Making smaller bunches is important, so the stems and buds don't grow mold. Drying the lavender outside in a shady spot is fine, as is a garage or even a basement or kitchen.
I prefer not to dry the bunches in a sunny spot because I feel like the heat is too damaging. The goal is to keep the natural oils from dissipating.
The lavender should be completely dried after three to five days, depending on the size and freshness of the bunch. If you want to use only the buds, run your fingers over the dried flowers, and they should come right off the stem.
Store in an airtight container. The dried whole lavender stems should be stored somewhere dry, preferably covered (unless they are a decoration) to prevent spiders and pests from creating a home for themselves.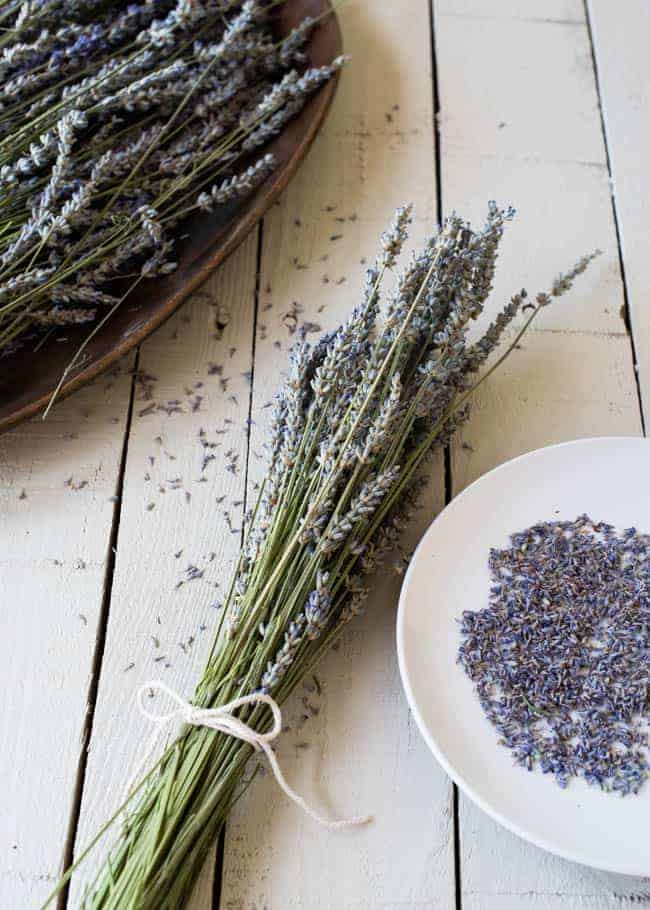 Now, to make the lavender linen spray, you'll need:
– Distilled water
– Vodka or rubbing alcohol
– Lavender essential oil (or fresh lavender)
DIY Lavender Linen Spray
It takes a little longer, but you can place fresh lavender into a jar with vodka, cover it with a lid, and place it in a dark, cool place for about a week. The lavender will infuse the vodka during that time.
You'll notice that the color will have transferred to the vodka. I don't use this method simply because I'm nervous it will stain my linens. (But you could use it to make some delicious cocktails!)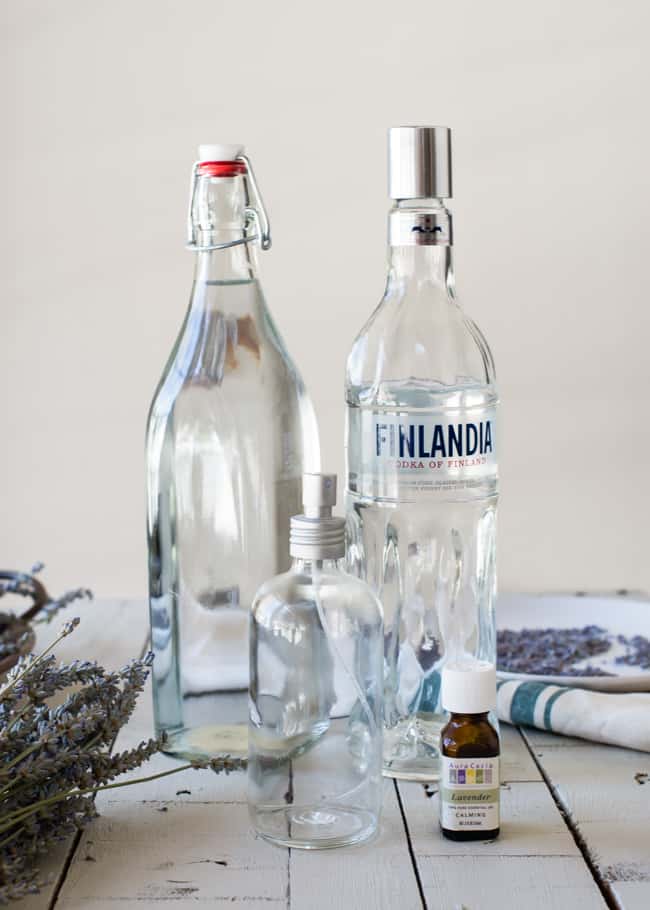 The method I use is to mix about 2 tablespoons of vodka with 2 cups of distilled water and add 15–20 drops of lavender essential oil. The alcohol helps keep the oil dissolved in the solution and preserves the scent. (But I always shake it before using it anyway.)
You can spritz it on bedding to freshen it up. We also use it for ironing. It makes the whole house smell lovely.
If you don't want to use alcohol, I've read that witch hazel is a good substitute, but I haven't tried that yet, so no guarantees! And that's it! Super easy.
You can even change it up by using different essential oils—rose, geranium, citrus, or various herbs—to create a custom scent blend.
What are your favorite ways to use lavender at home? I'm planning a spring cleaning spree, and you can bet I'll be incorporating all of the lavender oil green cleaning ideas I can find!
DIY Dried Lavender + Lavender Linen Spray FAQ
How long does dried lavender last?
While DIY dried lavender may start to lose its signature hue after about a year, if stored properly, it can last and maintain its scent for more than a decade! To ensure longevity, store your dried lavender in the best conditions.
You'll want to keep it in an airtight container, away from light, humidity, and heat to preserve the fragrance and discourage mold growth.
Do I need to use alcohol to make this DIY lavender linen spray?
While you can eliminate this ingredient, we included it because alcohol helps the essential oils bind to and mix with the water, discourages the growth of bacteria and mold, and helps the scent last longer.
How can I make the scent of dried lavender last longer?
To release the scent of dried lavender when it's begun to fade, you can squeeze or crush the flowers gently. If you'd like, you can also add a few drops of lavender essential oil to the dried flowers themselves to recharge the scent.
Can I use dried lavender instead of essential oil to make this DIY linen spray?
You can substitute dried lavender buds for the lavender essential oil used in this recipe, but keep in mind that the color of the fresh lavender may stain or discolor light-colored fabric. I would suggest testing out the spray in an inconspicuous spot on the fabric on first use.
To recreate this DIY linen spray with dried lavender, you can substitute 1–2 teaspoons of dried buds for the essential oil. Depending on how strong the scent of your lavender is, you may require more or less, so adjust according to your preference.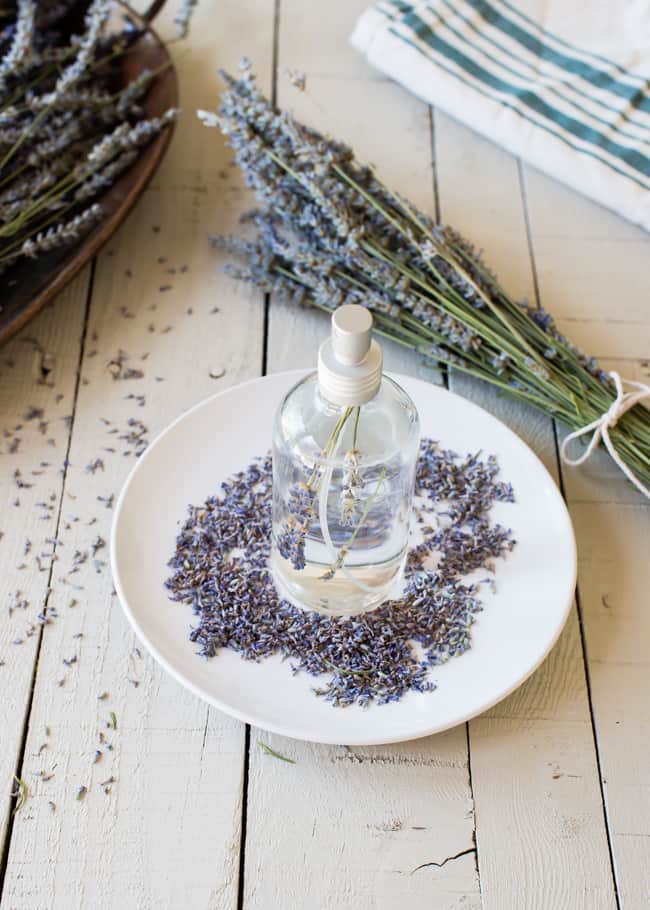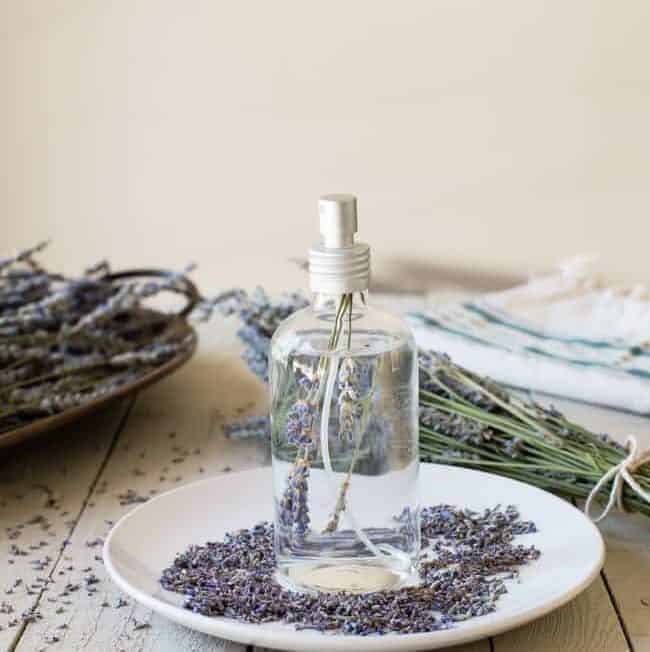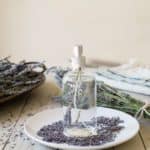 Print
DIY Lavender Linen Spray
Make an easy lavender linen spray from three simple ingredients.
Instructions
Add vodka or rubbing alcohol and essential oil drops to the spray bottle. Let sit 5–10 minutes. Then fill the bottle with distilled water.

Replace the spray nozzle and shake well.
Notes
You can spritz it on bedding to freshen it up or just before bed to help you fall asleep. We also use it for ironing.
Will keep indefinitely when stored in an airtight container.
This article was medically reviewed by Dr. Gina Jansheski, a licensed, board-certified physician who has been practicing for more than 20 years. Learn more about Hello Glow's medical reviewers here. As always, this is not personal medical advice and we recommend that you talk with your doctor.
195