I used to think the only way to make my own lavender perfume was with essential oils. While it's true that mixing essential oils, alcohol, and water makes a great 2-minute DIY perfume, making a lavender-infused floral water (also known as a hydrosol) may be a better option, especially if you want to use it as a cocktail mixer, face mist, room spray, fabric refresher, you name it.
It may take a little longer, but you get more bang for your buck if you ask me. So go ahead and grab some dried lavender, a pot, and some ice, and we'll show you how to make a simple lavender water perfume in less than an hour.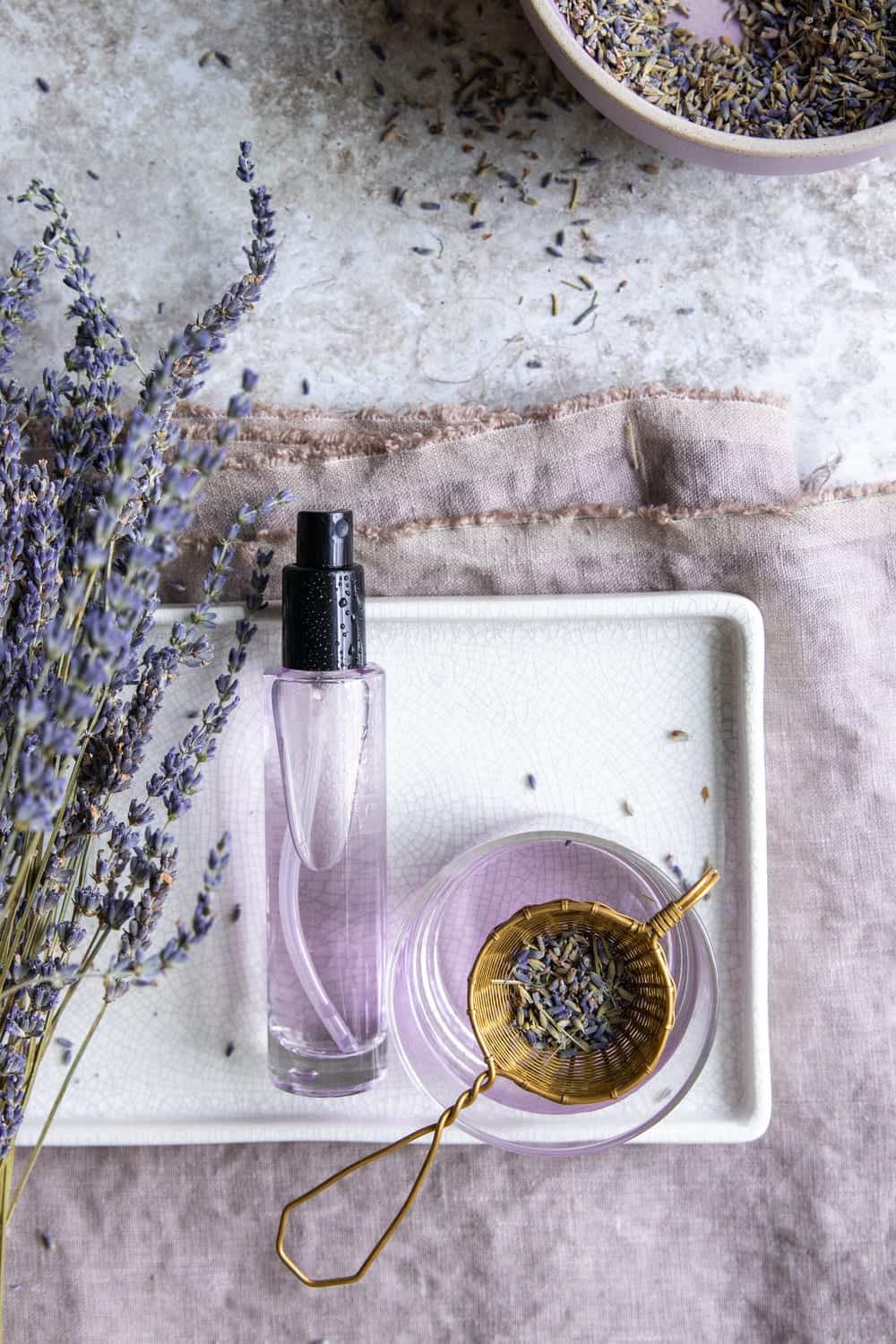 What is lavender hydrosol
?
Hydrosol is a byproduct of the essential oil-making process. More specifically, it's the water-based remnants left behind after the essential oil has been extracted from the plant material.
Because they're mostly water, hydrosols are weaker and more versatile than essential oils. But they still contain many of the beneficial compounds you'll find in essential oils, such as linalool, linalyl acetate, and camphor, but in much lower concentrations.
Lavender hydrosol is used in numerous cosmetic and health products. It has been shown to have antioxidant and antimicrobial effects, as well as help with anxiety [source].
More ways to make a hydrosol
—Rosewater Hydrosol
—Rosemary Mint Hydrosol
—Grapefruit + Juniper Berry Hydrosol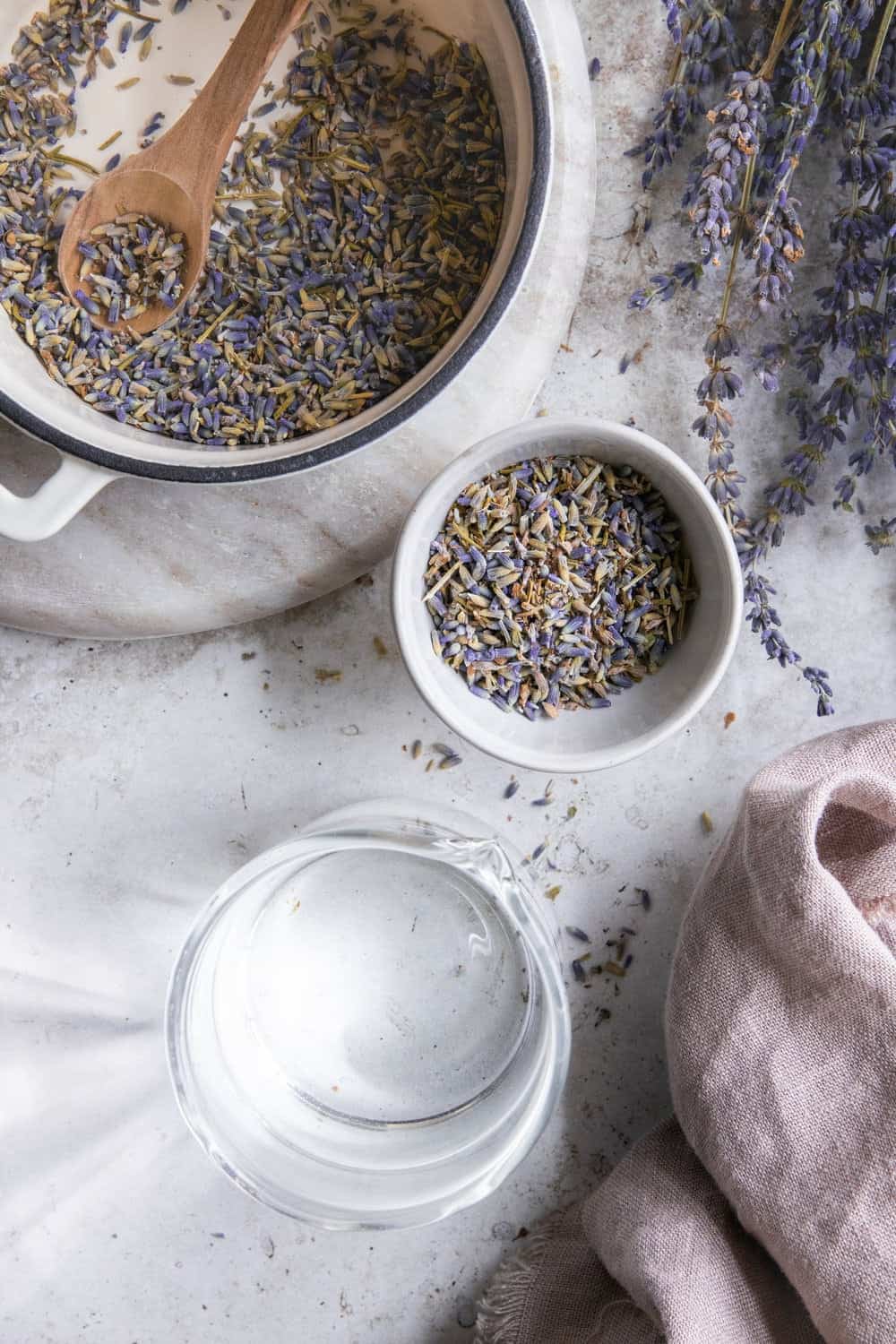 How to Make Lavender Floral Water
Store-bought hydrosols are typically made using special distillation equipment. But lucky for you, you can make your own hydrosol with nothing more than a lidded pot, dried flowers, water, and ice.
As the flowers boil, the infused steam condenses on the upside-down pot lid and collects in a small bowl. What you're left with is a pure hydrosol that can be used alone as a perfume or in a variety of beauty, cleaning, and drink recipes.
Lavender water recipe

—2 cups dried organic lavender flowers
—3 cups distilled water
—Ice, placed in a ziplock bag
—Pot with a lid
—Small, heat-safe bowl or ramekin
Instructions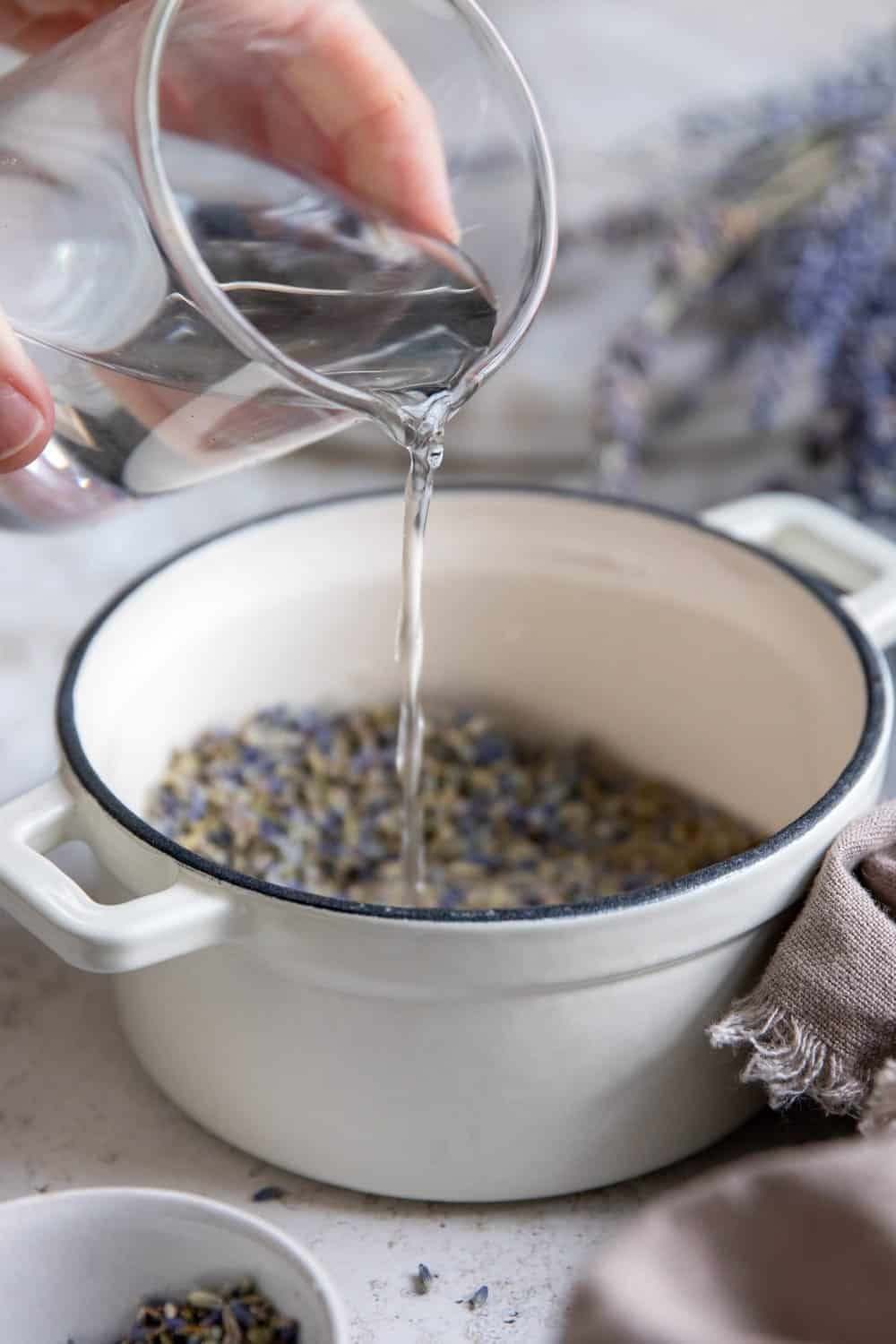 Step 1 | Combine the flowers and water in a pot.
Place the dried flowers in the bottom of the pot, and cover them with distilled water. Give it a good stir.
Step 2 | Place a ramekin on top of the flowers.
Place a small, heat-safe bowl in the center of the pot, on top of the flowers. Ideally, you want the edge of the ramekin to sit above the water line.
But if your ramekin isn't tall enough, place a second small bowl or ramekin upside down in the water. Then set your ramekin on top of that. This should give it some height.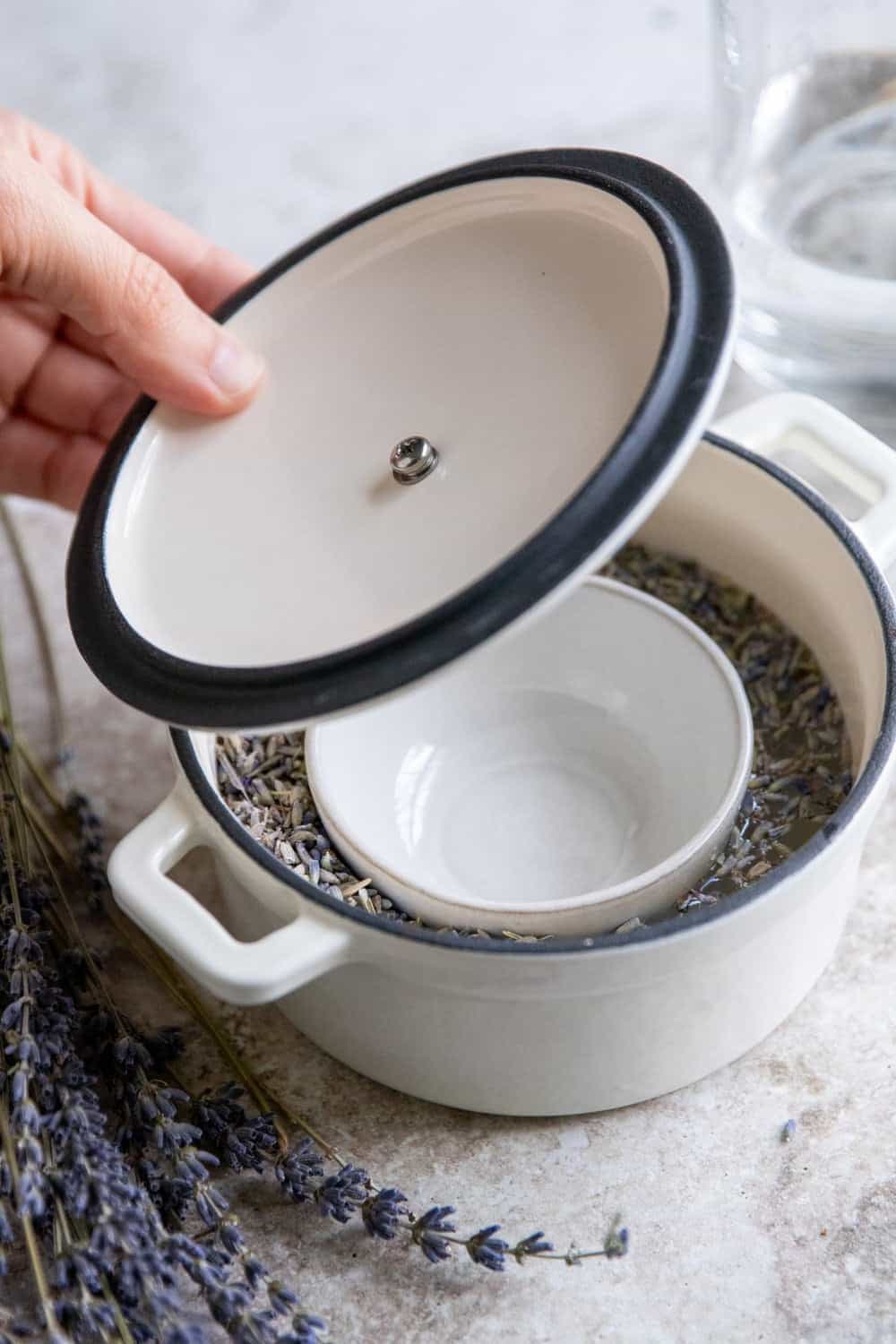 Step 3 | Place the lid upside down on the pot.
Turn the heat on low, and place the lid upside down on the pot. There should be about 2 inches between the bowl and the inverted pot lid so that the hydrosol can collect in the ramekin.
Step 4 | Place a bag of ice on top of the lid.
Place ice cubes in a Ziplock bag and set it on top of the lid. As the steam rises, it will condense on the cold inverted lid, run down the center, and collect in the bowl inside the pot.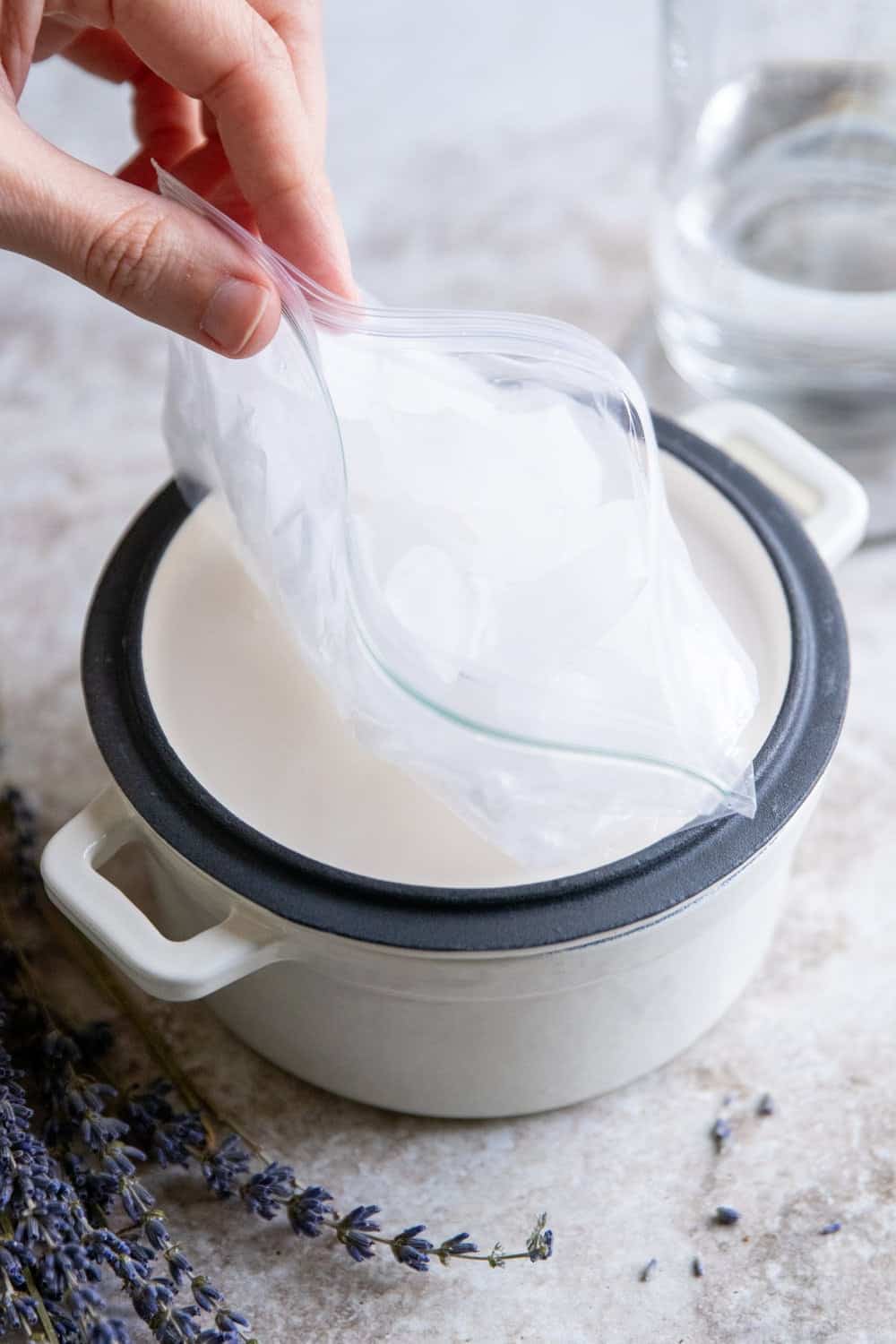 Step 5 | Let it simmer for 30
-

40 minutes.

Bring the water to a simmer and let the lavender-infused steam rise and collect on the underside of the lid. After about 30–40 minutes, remove the lid and carefully lift the bowl of hydrosol out of the pot.
Step 6 | Transfer lavender water to a clean spray bottle.
Allow the hydrosol to cool to room temperature before transferring it to a clean, airtight container.
Lavender floral water can last for years if stored in a cool, dark place away from direct sunlight (the refrigerator is ideal).
Lavender Water Tips
To intensify the lavender scent: A dd more dried flowers to the pot while keeping the amount of water the same.
You can use fresh lavender flowers: But you may need more of them to make a fragrant hydrosol.
Speed up the cooling process: Place the bowl of hydrosol in an ice water bath or the freezer for several minutes.
Make your hydrosol last longer: Store it in an amber bottle to help slow the degradation process.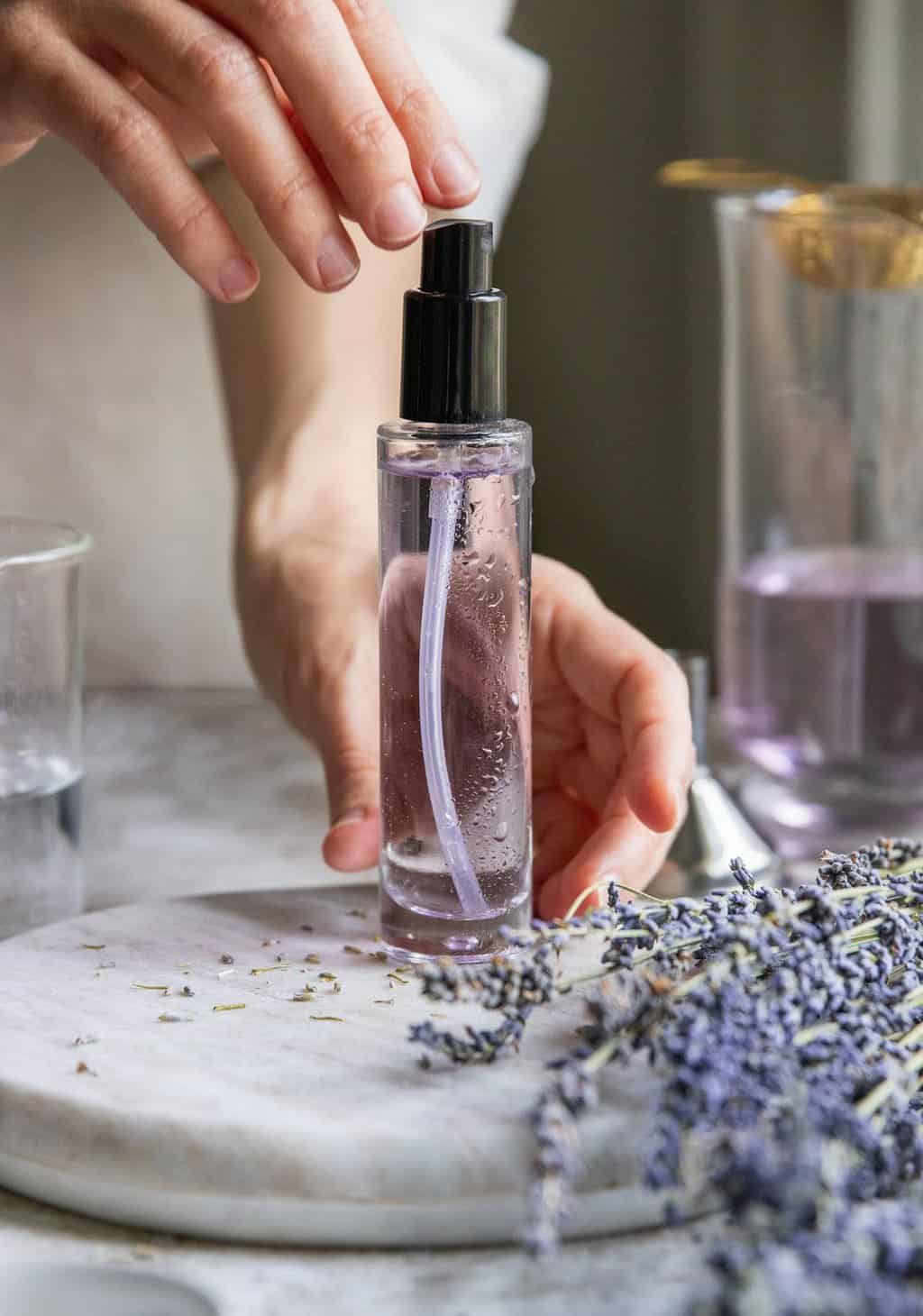 8 Ways to Use Lavender Floral Water
As a perfume or body spray. Spritz floral water on the wrists, in the crook of the elbow, or behind the ears for a fresh, subtle perfume. Combine it with a citrus hydrosol to a more layered scent.

As a facial toner. For a soothing addition to your skincare routine, simply spritz it onto your face after cleansing to help balance the skin's pH and soothe irritation.
As an air freshener. Lavender water makes for a great all-natural room mist, linen spray, or fabric refresher! Just spritz it around your home to create a calming and relaxing ambiance.
In a bath. Add some lavender hydrosol to your bathwater for a soothing soak.
In a facial steam. Pour a little lavender floral water into a bowl of hot water, lean over the bowl, and drape a towel over your head to reap the steam's skin-soothing benefits.
In a hair rinse. After shampooing, rinse your hair with lavender hydrosol to help soothe your scalp and give your locks a fresh, pleasant scent.
In homemade cleaning solution. Feel free to add lavender floral water to your next batch of all-purpose cleaning solution to give it a refreshing scent.
In cocktails. Dress up your next gin and tonic or sparkling rosé spritzer by adding a small splash of lavender water.
It's important to note that while lavender floral water is generally considered safe for topical use, you should always do a patch test first and consult with your doctor if you run into any issues.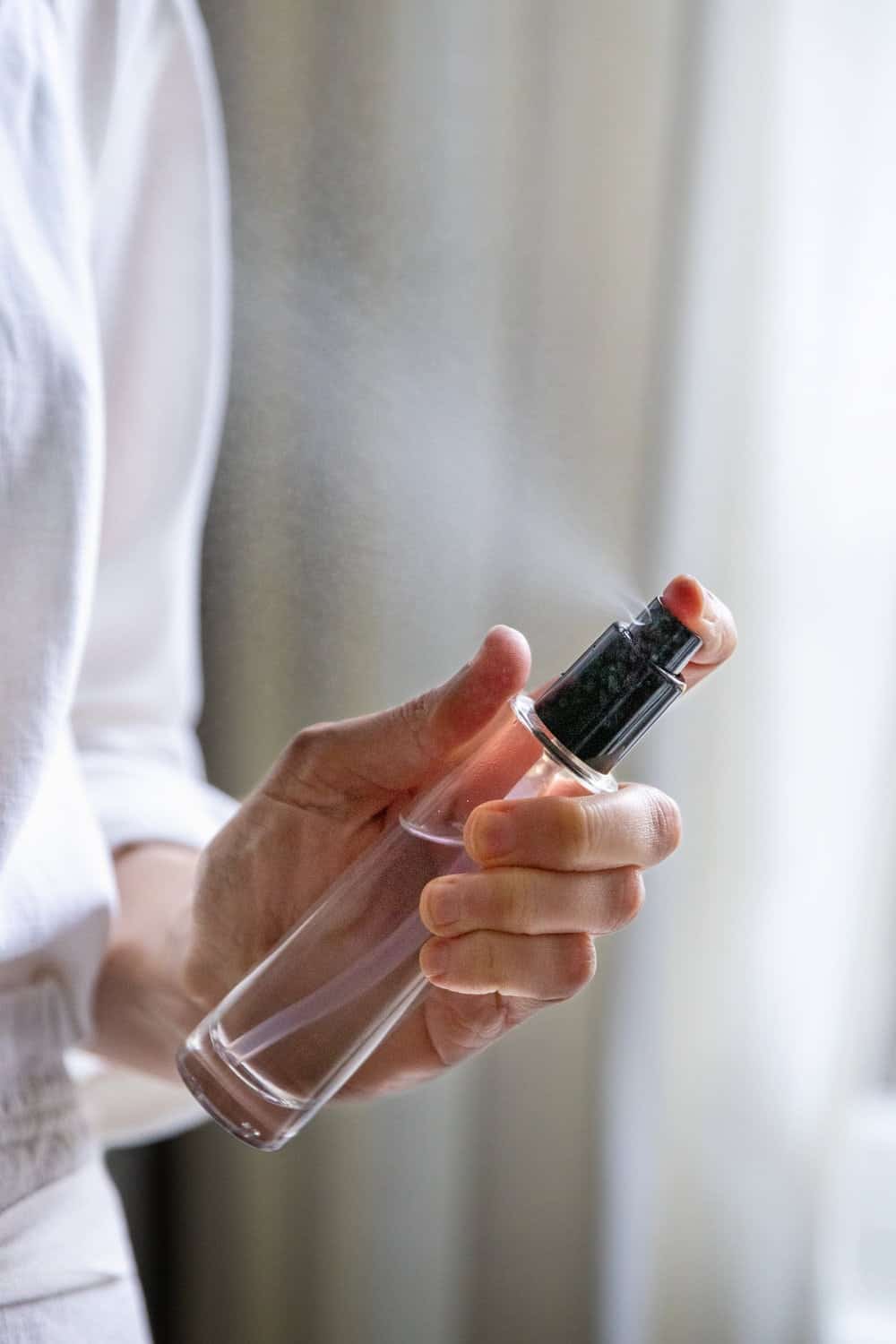 Lavender Water FAQs
How is lavender hydrosol different from lavender essential oil
?
Lavender hydrosol is the flower-infused water that's created while making lavender essential oil. While they have similar properties, the essential oil is much more concentrated and has a stronger scent. Hydrosol, on the other hand, has a higher water content and is gentler on the skin.
Is lavender hydrosol safe to use on all skin types
?
Lavender hydrosol is generally safe for all skin types, including sensitive skin. However, as with any skincare product, it's always a good idea to patch test first to make sure you don't have an adverse reaction.
Is it safe to ingest lavender hydrosol
?
Most hydrosols are considered safe to consume in small quantities if they are adequately diluted [source]. If you're not sure, it's best to consult your doctor before using homemade hydrosols in drink or food recipes.
Before you go...
There's nothing more frustrating than spritzing on perfume and having the scent fade before you even walk out the door. Find out how to make your perfume last longer with these tips and tricks.
References:
1. Al-Mansour B. Review on the medicinal properties of some aromatic hydrosols. Zeugma Biol Sci. 2021.
2. D'Amato S, et al. Hydrosols: biological activity and potential as antimicrobials for food applications. Food Control. 2018.
15