The older I get, the harder it is to fall asleep at night. Maybe it's the endless to-do list going through my mind or the running loop of worries. Ah, the joys of being an adult, right?
I'm a big fan of routines to calm my head and get me ready for sleep—simple, mindful tasks like taking a bath, making a cup of tea, or filling my diffuser with a sleep oil blend. So instead of counting sheep, I use the calming powers of essential oils to help me wind down and drift off into dreamland.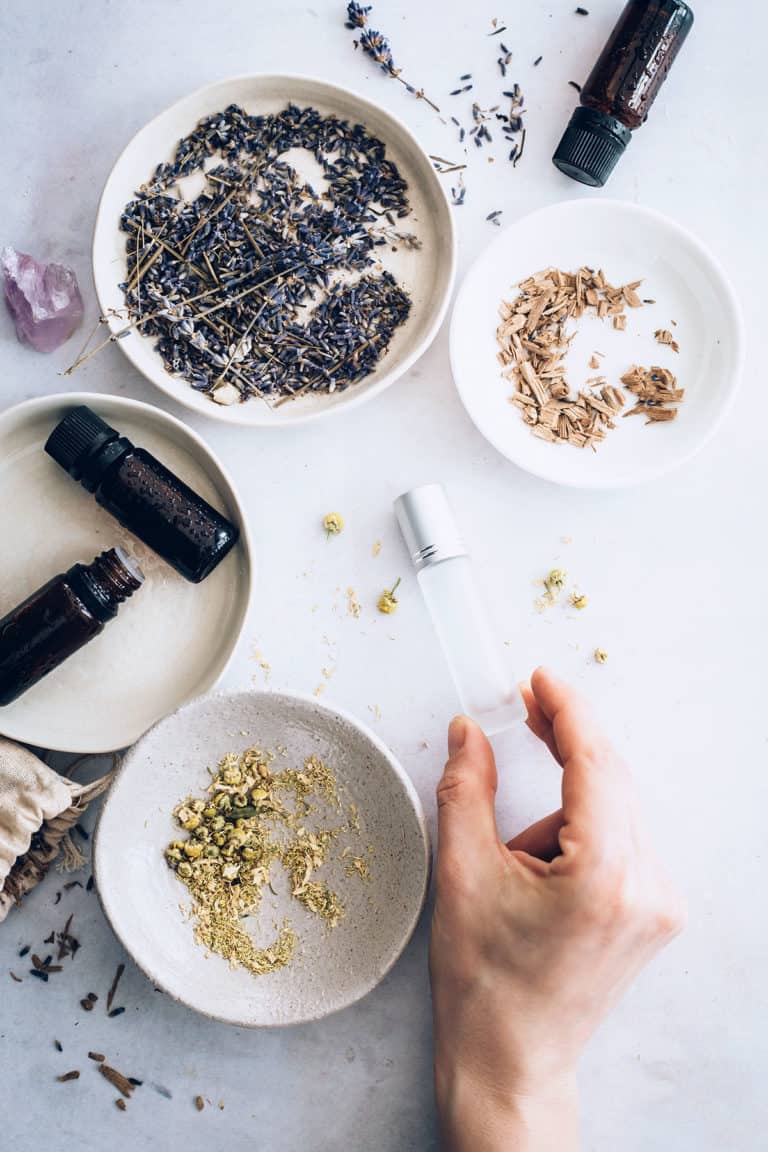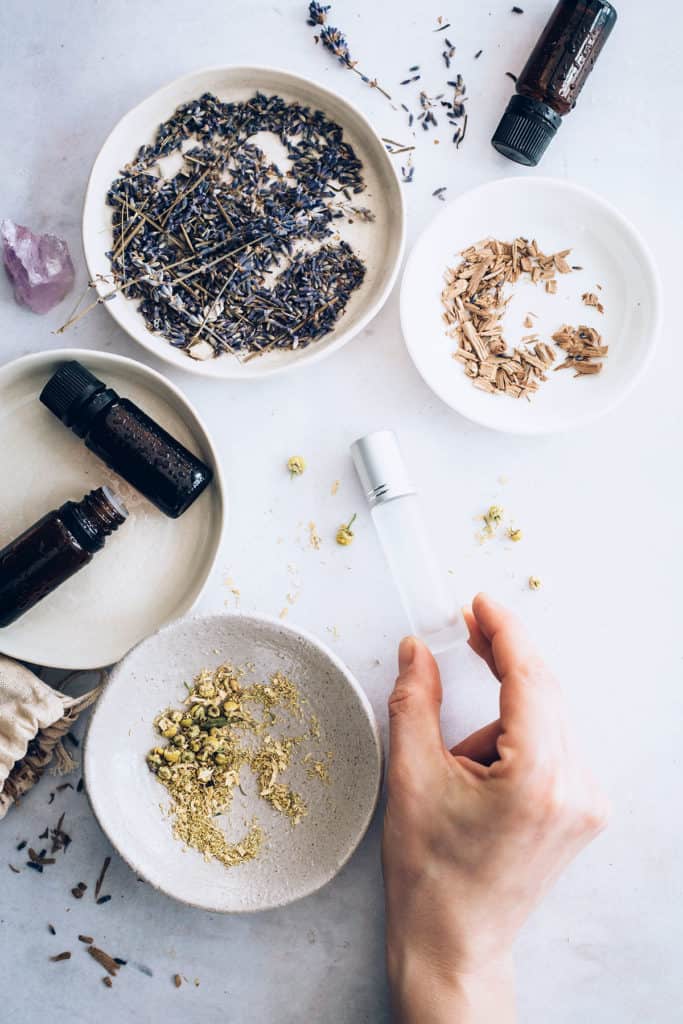 All of these oils have relaxing properties, so you can diffuse them on their own or in a blend. Playing essential oil mixologist is where things get fun! I've noted which other sleep oils they blend well with, so you can find the combination that best suits your needs—and your nose.
12 Essential Oil Diffuser Blends for Sleep
My essential oil diffuser has been in regular use with blends for colds and cough season. But, for now, everyone is well (fingers crossed), so I'm trying out some of the best essential oils for sleep.
You probably already know the soothing scents of Roman chamomile and lavender are wonderful to diffuse at bedtime. But if you're ready to go beyond those two favorites, you'll find there are a lot of options!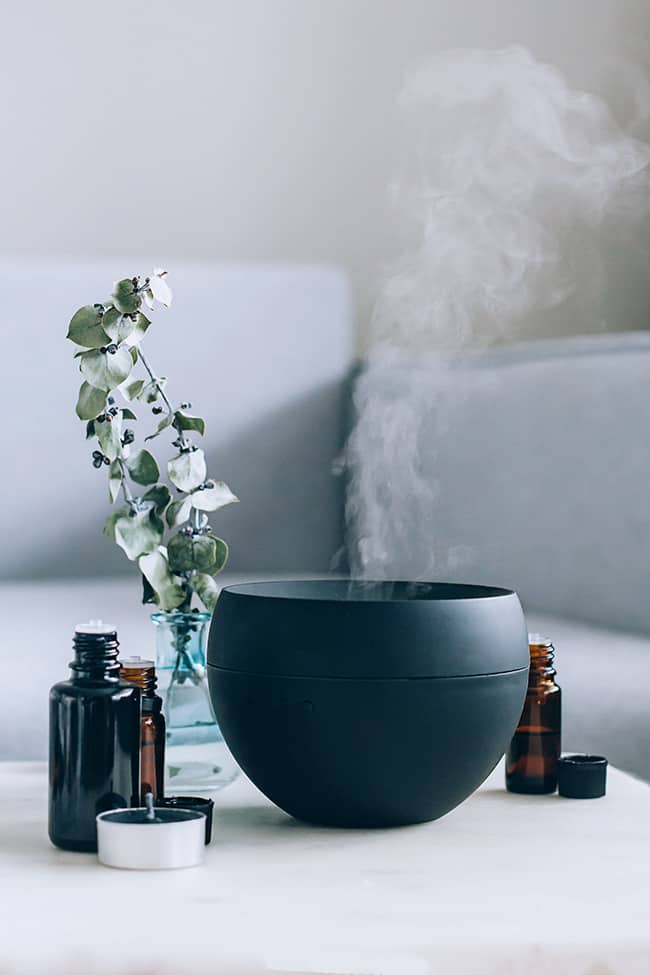 Here are some of my favorite diffuser blends for a better night's sleep. If sleep isn't your issue, try these blends for stress or anxiety—or just pick oils to make your room smell good!
My diffuser uses about 10 drops of essential oil, but read the instructions on yours and revise accordingly.
Blend
#
1
:
Bergamot
This blend has a rich, spicy scent. Citrus oils are typically thought of as bright and uplifting, but they can calm emotions [source], and some can even be sedating [source]. The citrus scent of bergamot isn't as overpowering as sweet orange, which makes it great for diffusing. It blends especially well with grounding oils like vetiver and frankincense.
Bergamot - blends well with cedarwood, lavender, patchouli, sandalwood, and ylang ylang
Blend
#
2
:
Cedarwood
Surprisingly, cedarwood is actually a great option to consider when choosing essential oils to help promote sleep. Not only can it help with feelings of stress [source], but it actually has sedative properties [source] that are beneficial when trying to get a good night's rest.
Because of this, it's probably best to use cedarwood right before bed. And since it has a strong scent, I like to combine it with other relaxing essential oils in a diffuser blend.
Cedarwood - blends well with bergamot, frankincense, lavender, and sandalwood
Variation
: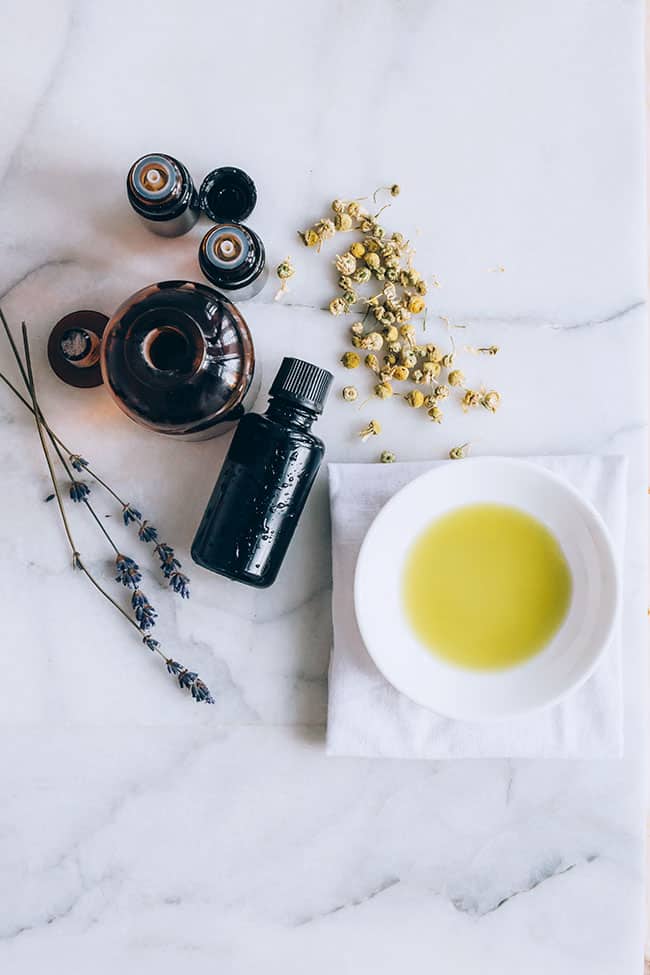 Blend
#
3
:
Chamomile
Chamomile has a long history of being beneficial for stress and anxiety and helping to promote sleep [source]. The good news is that the essential oil shares many of the same characteristics! Chamomile is great to use when tensions are high, and you want to promote calmness and relaxation [source].
Roman chamomile - blends well with cedarwood, clary sage, lavender, patchouli, sandalwood, and sweet marjoram
Blend
#
4
:
Clary sage
When looking to calm your nerves and create a sense of peace, clary sage works well. You can easily turn this diffuser blend into a massage or bath oil by adding the essential oils to 2 tablespoons of carrier oil.
Clary sage - blends well with cedarwood, lavender, sandalwood, and ylang ylang
Blend
#
5
:
Frankincense
Calming frankincense is especially helpful when you're tired but feeling so overwhelmed that you can't fall asleep.
Frankincense - blends well with bergamot, cedarwood, clary sage, lavender, patchouli, sandalwood, and ylang ylang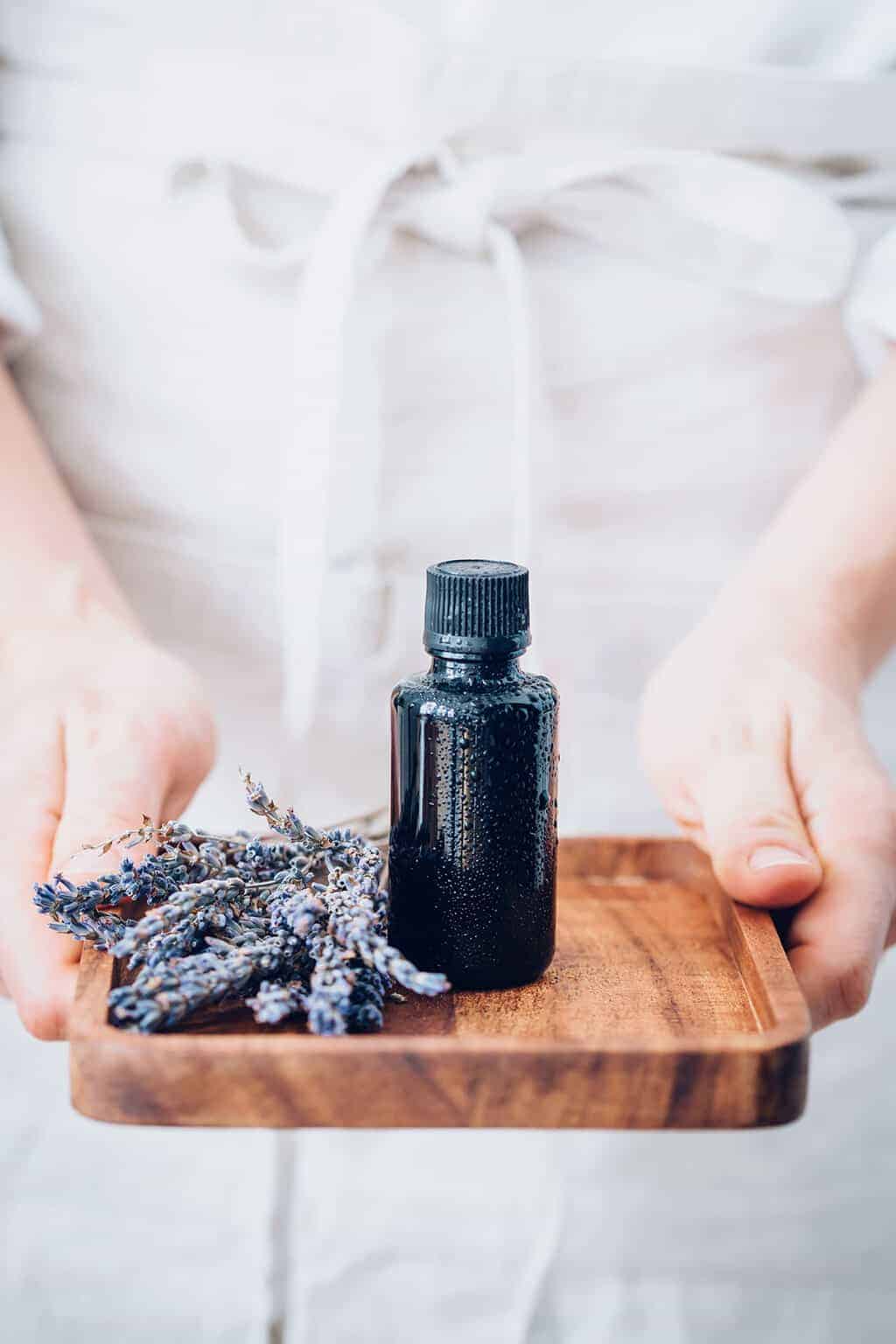 Blend
#
6
:
Lavender
Lavender is a true multi-tasking oil. It contains calming esters that help with restlessness [source], relax the body, and ease headache pain.
Lavender - blends well with bergamot, clary sage, sandalwood, ylang ylang
Blend
#
7
:
Patchouli
There's a reason patchouli is so often used in incense; its earthy scent is deeply relaxing [source]. And it has been shown to calm the sympathetic (flight-flight) nervous system [source].
I like it with the sweet, woody fragrance of sandalwood, which can soothe irritability and nervous tension [source]. But if patchouli is just not your thing, try using chamomile in this blend instead.
Patchouli - blends well with bergamot, cedarwood, and sandalwood
Blend
#
8
:
Sandalwood
Sandalwood can be pricey, and a pre-diluted blend is a relatively inexpensive way to enjoy this lovely oil and its rich, woody scent. Often used in meditation, sandalwood is known for soothing tension [source], calming a hyperactive or nervous mind, and encouraging sleep [source]. Plus, it can help ease breathing and is also considered an aphrodisiac.
Sandalwood - blends well with bergamot, vetiver, and ylang ylang,
Variation
:
Blend
#
9
:
Sweet marjoram
Despite its name, sweet marjoram doesn't really smell sweet. It has a spicy, earthy, camphor-like aroma that promotes relaxation and supports restful sleep. It pairs well with two oils that do have a sweeter scent, lavender and cedarwood, to create a calming, peaceful environment.
Not only can it help calm the emotions [source] and help you relax if you have nervous tension, but it also has sedative properties and is considered beneficial for insomnia [source]. Additionally, it is believed to soothe and relax tired muscles. This can be especially helpful if you struggle with muscle cramps or restless leg syndrome.
Sweet marjoram - blends well with bergamot, cedarwood, chamomile, clary sage, lavender, and patchouli
Variation
: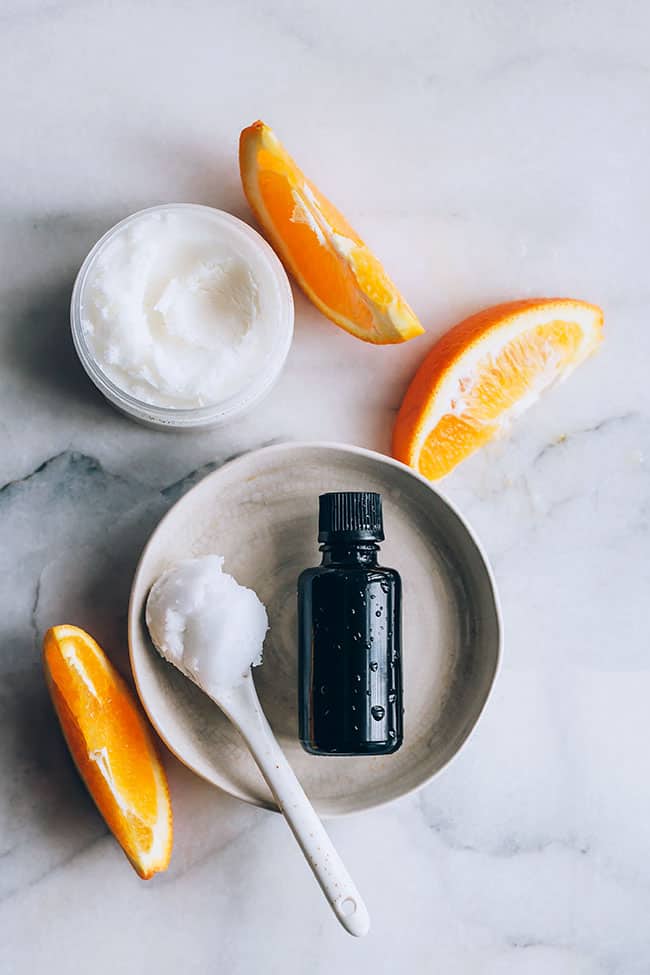 Blend
#
10
:
Sweet orange
Sweet orange also makes this list due to its ability to help promote relaxation when dealing with stress, anxiety [source], or tension. A 2017 study found sweet orange helpful in reducing sleep disturbance in older individuals [source]. Plus, with its sweet, citrus aroma, I find it to be incredibly uplifting if I've been feeling a bit down in the dumps.
It's one of the few citrus oils that are not phototoxic, so it can be safely used on the skin if you need a massage oil or relaxing body lotion. It's also a perfect addition to pillow or linen sprays or diffused throughout the bedroom before sleep.
Blend
#
11
:
Vetiver
Vetiver is a new oil for me. Known as the oil of tranquility, it has an earthy, woody scent that's calming and relaxing. But note that this essential oil is super thick (it takes forever to get one drop out of the bottle!), and you don't need much.
Vetiver - blends well with bergamot, clary sage, frankincense, lavender, patchouli, sandalwood, and ylang ylang
Variation
:
Blend
#
12
:
Ylang ylang
Ylang ylang is another one of my favorite scents; it's lovely in essential oil perfume. The sweet, floral aroma enhances feelings of peace and harmony and can improve sleep, according to this study of college students [source].
Pair it with the herby scent of clary sage, which can relax the body, reduce stress [source] and blood pressure [source], and is thought to help with dream recall.
Ylang ylang - blends well with bergamot, cedarwood, lavender, patchouli, and sandalwood
Variation
:
References:
1. Han X, et al. Bergamot (Citrus bergamia) essential oil inhalation improves positive feelings in the waiting room of a mental health treatment center: a pilot study. Phytother Res. 2017.
2. Dosoky NS, et al. Biological activities and safety of Citrus spp. essential oils. Int J Mol Sci. 2018.
3. Zhang K, et al. The anxiolytic effect of Juniperus virginiana L. essential oil and determination of its active constituents. Physiol Behav. 2018.
4. Kagawa D, et al. The sedative effects and mechanism of action of cedrol inhalation with behavioral pharmacological evaluation. Planta Med. 2003.
5. Srivastava JK, et al. Chamomile: a herbal medicine of the past with bright future. Mol Med Report. 2010.
6. Moss M, et al. Expectancy and the aroma of Roman chamomile influence mood and cognition in healthy volunteers. Int J Aromather. 2006.
7. Koulivand PH, et al. Lavender and the nervous system. Evid Based Complement Alternat Med. 2013.
8. Swamy MK, et al. A comprehensive review on the phytochemical constituents and pharmacological activities of Pogostemon cablin Benth.: an aromatic medicinal plant of industrial importance. Molecules. 2015.
9. Haze S, et al. Effects of fragrance inhalation on sympathetic activity in normal adults. Jpn J Pharmacol. 2002.
10. Sheen J, et al. Self-perceived effects of sandalwood. Int J Aromather. 2001.
11. Setzer WN. Essential oils and anxiolytic aromatherapy. Nat Prod Commun. 2009.
12. Okugawa H, et al. Effect of alpha-santalol and beta-santalol from sandalwood on the central nervous system in mice. Phytomedicine. 1995.
13. Chang YY, et al. The effects of aromatherapy massage on sleep quality of nurses on monthly rotating night shifts. Evid Based Complement Alternat Med. 2017.
14. Ali B, et al. Essential oils used in aromatherapy: a systemic review. Asian Pac J Trop Biomed. 2015.
15. Goes TC, et al. Effect of sweet orange aroma on experimental anxiety in humans. J Altern Complement Med. 2012.
16. Takeda A, et al. Effects of inhalation aromatherapy on symptoms of sleep disturbance in the elderly with dementia. Evid Based Complement Alternat Med. 2017.
17. Sayorwan W. Effect of ylang ylang oil aroma on sleep quality of Kanchanaphisek Medical and Public health technology (KMPHT) college students, Nonthaburi, Thailand. Altern Integr Med. 2017.
18. Lee KB, et al. Changes in 5-hydroxytryptamine and cortisol plasma levels in menopausal women after inhalation of clary sage oil. Phytother Res. 2014.
19. Seol GH, et al. Randomized controlled trial for Salvia sclarea or Lavandula angustifolia: differential effects on blood pressure in female patients with urinary incontinence undergoing urodynamic examination. J Altern Complement Med. 2013.
This article was medically reviewed by Dr. Gina Jansheski, a licensed, board-certified physician with more than 20 years of practice experience. Learn more about Hello Glow's medical reviewers here. As always, this is not personal medical advice, and we recommend that you talk with your doctor.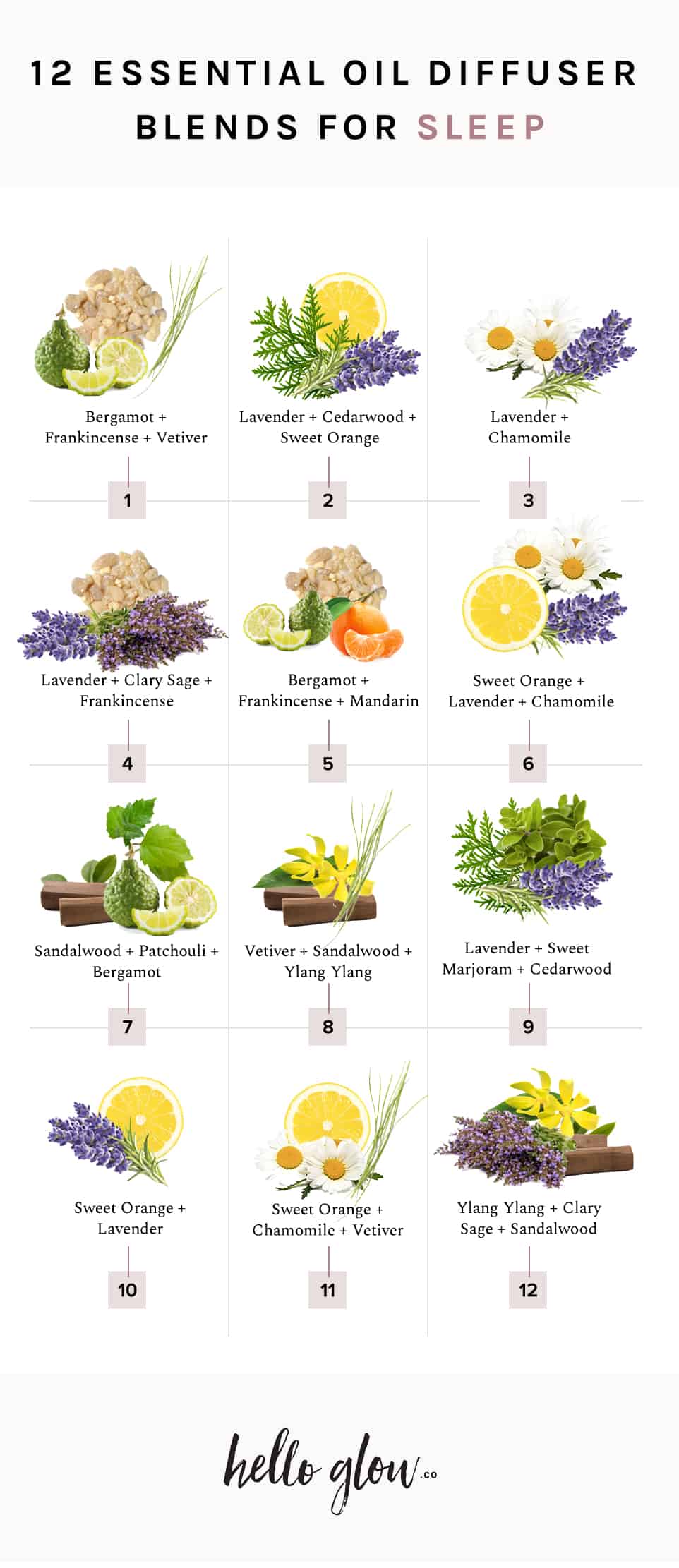 71