Craving a mug of hot chocolate as the weather turns cooler? Well friends, this DIY is most definitely for you. Blending rich cocoa powder, sweet vanilla and a few amazing exfoliants and moisturizers, this shea butter body butter and scrub reminds you of a decadent cup of cocoa plus it's great for your skin. Add it to your own skincare routine, or store it in a cute jar and give it to a friend as an adorable, easy and inexpensive gift!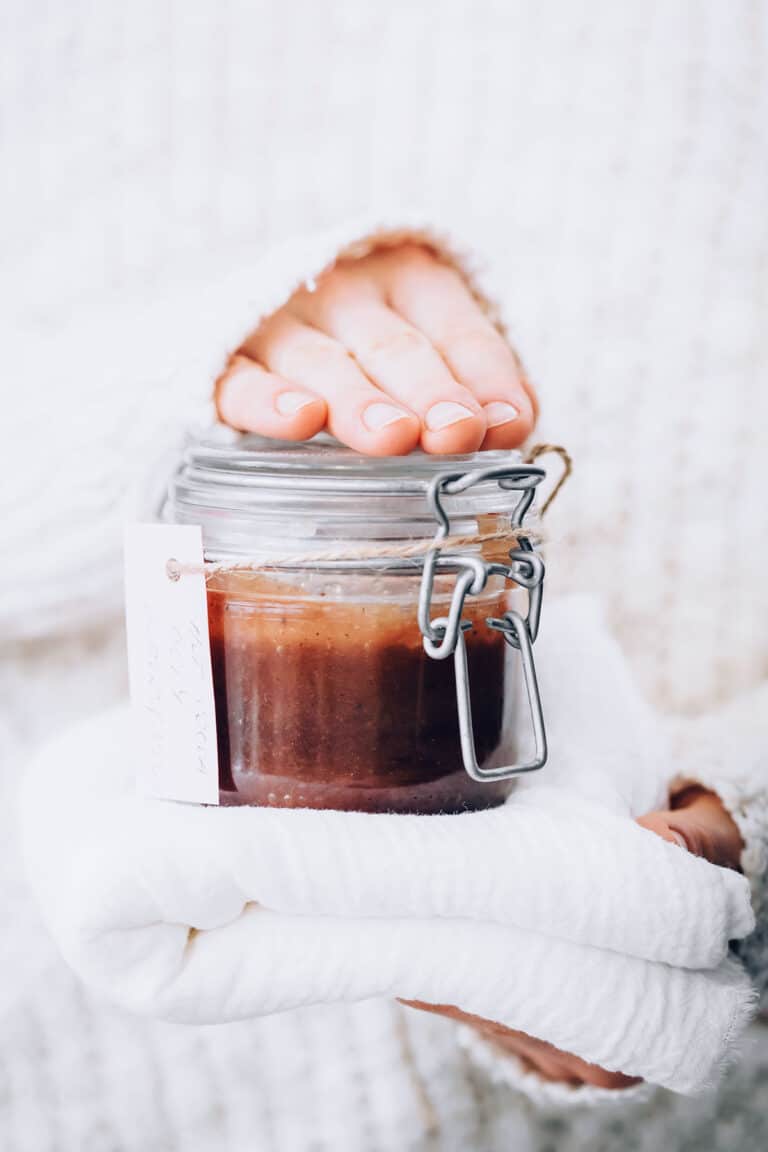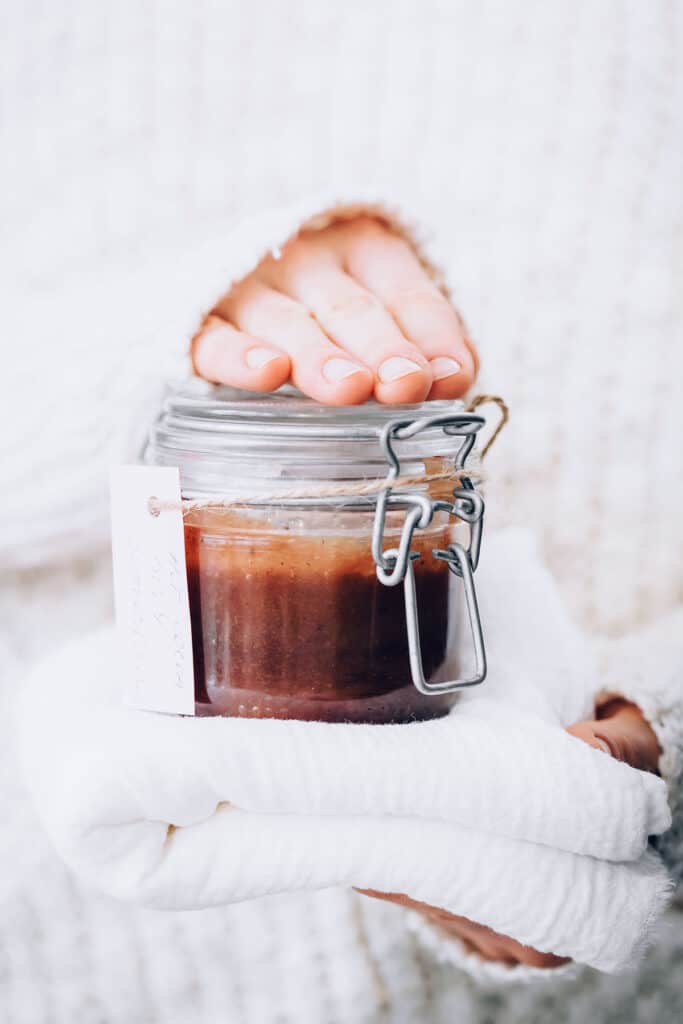 Cocoa & Shea Butter Body Scrub
This scrub is a cross between a body butter and a body scrub. So just think of it as an 'exfoliating body butter.' Let's take a closer look at these delightful ingredients...starting with cocoa, of course.
With antioxidants that help repair damaged skin, cocoa powder quickly becomes more than just a nice flavor in this body butter and scrub. tons of anti-aging antioxidants to help renew and refresh your skin.
Next, enjoy the gentle scent of pure vanilla extract as it calms your mood and soothes the skin.
Then put some sweetness to good use by using sugar as an exfoliant to remove dead skin cells without being too abrasive and damaging tender skin.
And don't forget the shea butter and coconut oil that will soften and moisturize, even after you've rinsed off the scrub.
Mix these beautiful ingredients together and gently rub them on areas of the skin that need a little extra love this winter. It will leave you feeling smooth, soft and generously moisturized, something you AND your cocoa-craving friends will love!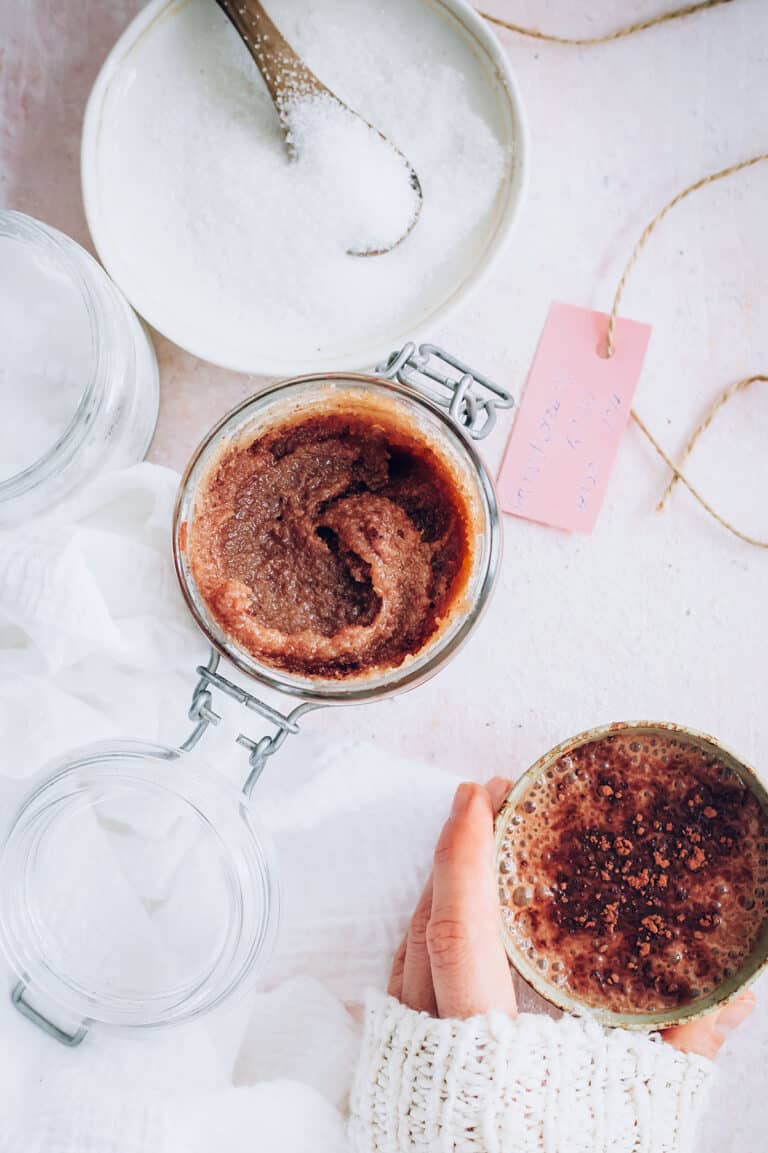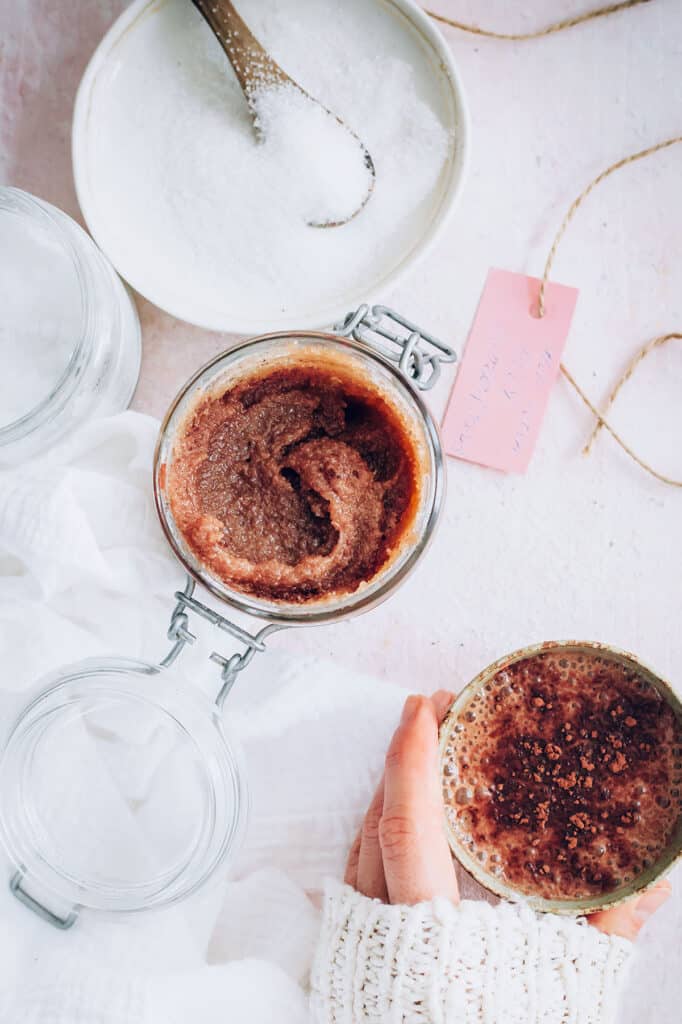 How To Make an Exfoliating Body Butter
Start your DIY by softening the shea butter and coconut oil in a double boiler (or in a heat proof bowl on top of a saucepan) over a low simmer. Alternately, you can microwave them for 30 seconds at a time until softened, stirring often.
When the shea butter and coconut oil are softened, add the sugar, cocoa powder, and vanilla and stir until they are all completely combined. Transfer your mixture over to the clean glass jars (I found some cute ones while browsing at a local thrift store) then decorate them with a label and some twine or ribbon.
On my gift jar, I put two labels--one for sharing the name of the recipe, one for writing a little friendly note and a brief description of how the body butter and scrub should be used.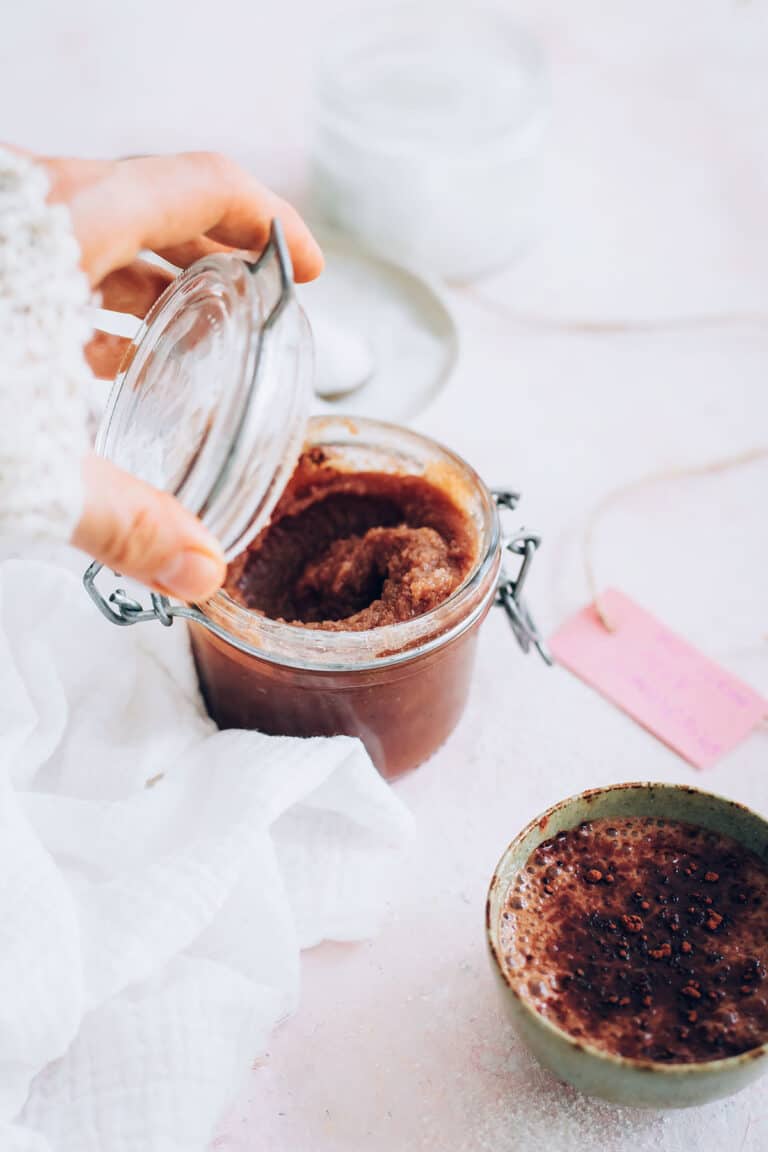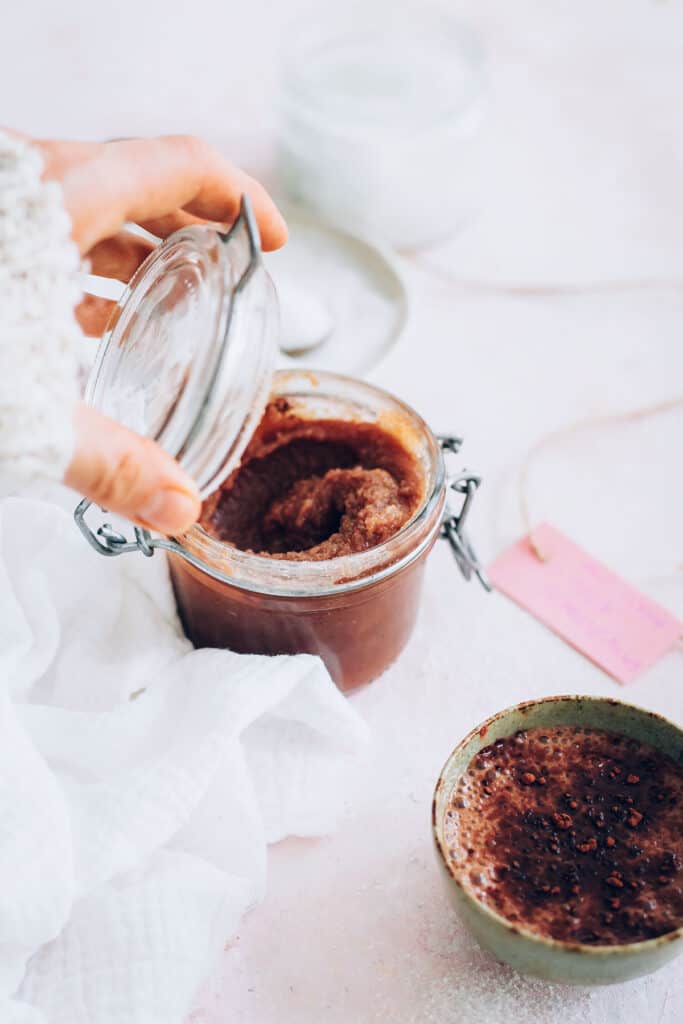 Looking for a hot chocolate recipe to indulge in while you whip up this decadent scrub? You're in luck because this chocolate milk bath lets you indulge your sweet tooth without the guilt!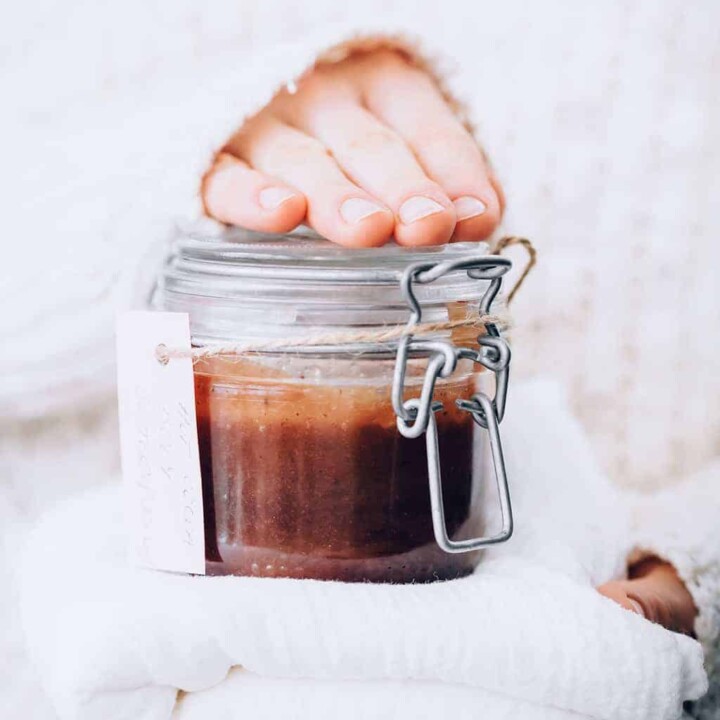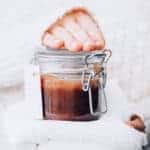 Print
Hot Cocoa Body Butter & Scrub
Combine moisturizing shea butter with the gentle exfoliation of sugar and cocoa powder for a body scrub that leaves your skin smooth, soft and moisturized.
Equipment
Double boiler or microwave-safe bowl
Instructions
Soften the shea butter and coconut oil over a double boiler or in the microwave.

Add the sugar, cocoa powder and vanilla; stir until completely combined.

Transfer the mixture to glass jars and use frequently, or add a label and give it as a gift.
Notes
To use, hop in the shower and gently massage a handful of scrub into damp skin. Rinse thoroughly.
Feel free to store any leftover body butter in the shower for next time and use within one week.
This post was medically reviewed by Dr. Jennifer Haley, a board-certified dermatologist with extensive experience in medical, cosmetic and surgical dermatology. Learn more about Hello Glow's medical review board here. As always, this is not personal medical advice and we recommend that you talk with your doctor.
Photos by Ana Stanciu
61